Family photos are memories and can recall the perfect moments that the family has spent together. Beach family photos present an even better solution that will help take stunning family photos.
You can try candid shots, sandcastle ones, or just relaxing shots on a beach that you'll definitely enjoy for the years to come. But taking the best shot can require a bit of expertise and expensive equipment.
No one wants to spend astronomical amounts of money on pricey equipment just to use it for a day or two a year to get a good family photo. The perfect beach family photo is indeed a souvenir that you can enjoy and VanceAI appreciates these moments more than anyone does.
VanceAl brings the power of AI to an average user's screen so you can do the best family portrait shots using VanceAI Portrait Retoucher tools. VanceAI tools will handle any photo you upload and convert it into the perfect beach family shot that you've longed for.
Retouch For Better Performance Instantly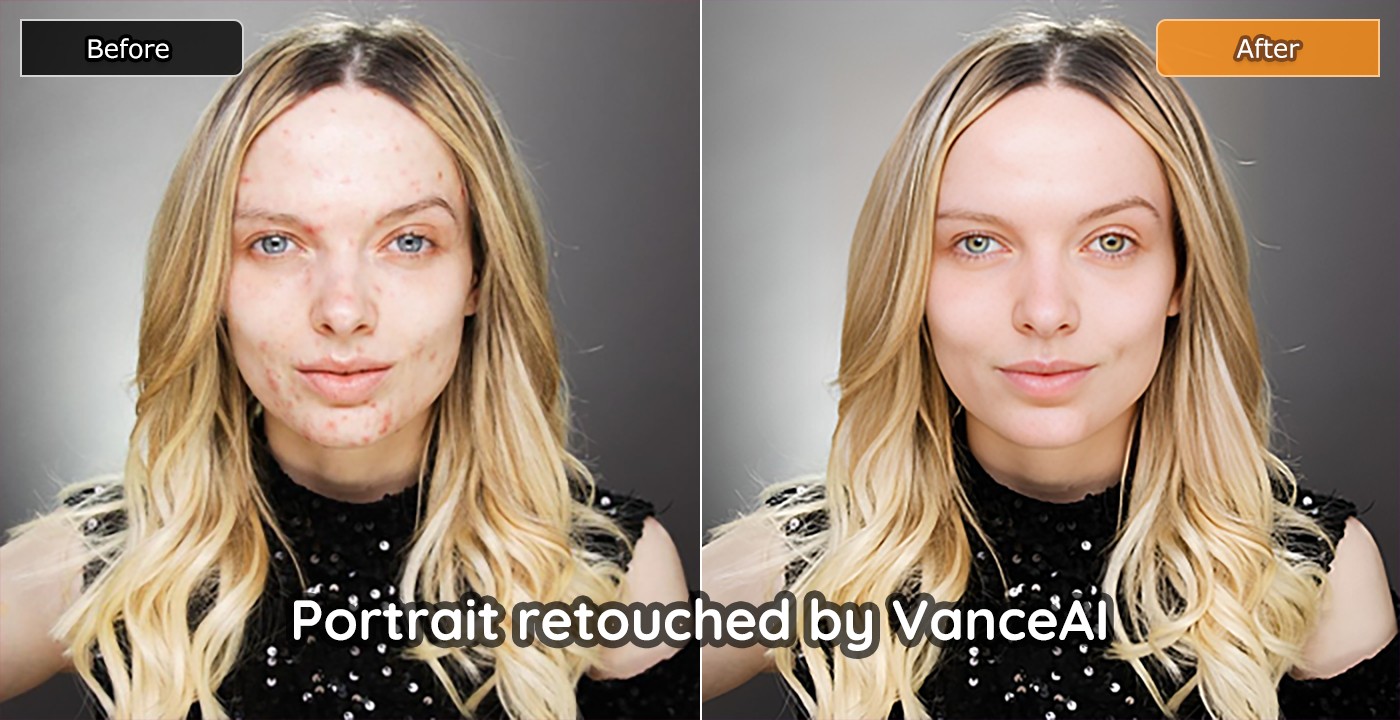 Using the power of AI can provide the best portrait shots you can ask for. Even a few years back there was nothing you could do to help with facial imperfections or if your skin decided to have a tantrum right before an event.
VanceAI's state of the art tech allows you to live your best life and produce excellent quality images without hassle and make photo hd.
VanceAI Portrait Retoucher helps get the best shots with a click and will smoothen out facial imperfections in a perfect portrait shot. The blemish remover is not just for improving portraits and skin imperfections, it can even upscale an image effortlessly to eliminate noise and provide sharpness that you can flaunt about.
VanceAI services are easy to use and are completely safe as any upload is automatically deleted within 24 hours and the privacy concerns are fully addressed as the power of AI keeps privacy and facial recognition out of question.
Here's how you can get the best family portrait with VanceAI's portrait retoucher:
Step 1
Got to the VanceAI website and hover on AI solutions. Click on Portrait Retoucher in the dropdown menu. To start upscaling, click on the yellow upload button and the following window will open on your desktop. Enlarge and increase the quality of your images by using our powerful AI-powered Portrait Retoucher.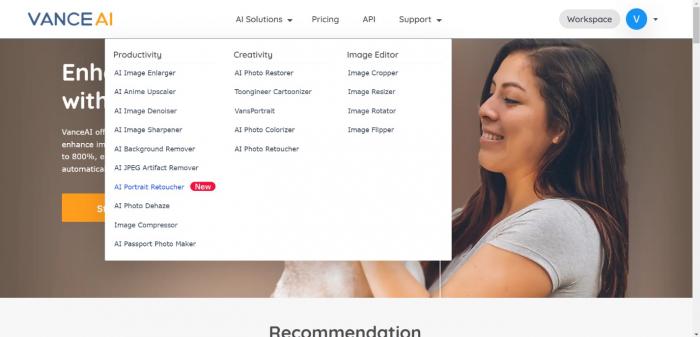 Step 2
Upload your picture. Select the photo you want to retouch and you can select the type of change you want to perform.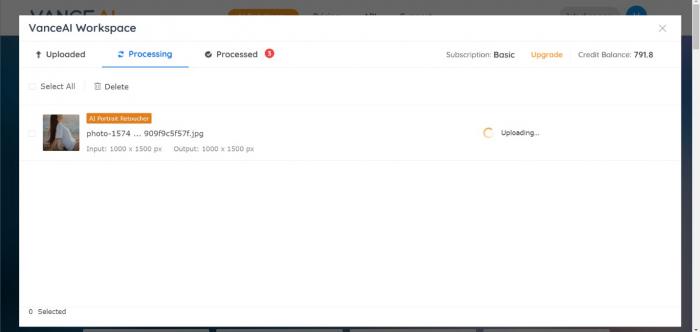 Step 3
Now that you have adjusted the settings according to your preferences, click on the process button and your picture will be retouched within a few seconds. The image processing time depends upon the size and number of images in the queue.
Paid users can upload more photos and can get them processed instantly. Click the download button to download the photo to your PC.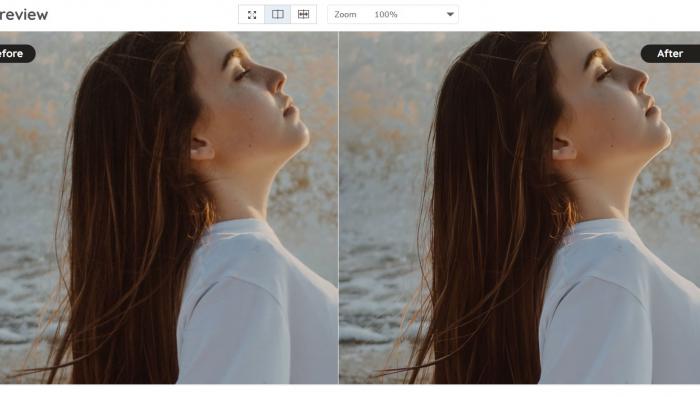 VanceAI offers its services for free for a few shots so you can experience the power of AI without having to worry about money. If you want all your photos to look beautiful throughout the year, the tool costs just 4.99/month if you pay by the year.
Only looking to use the tool for a month? VanceAI has excellent plans starting from as low as $9.99 that will give you the full power of AI and the option to upload/download unlimited photos.
Upgrade Photo In One-Click
Your blurry family portrait is of no use and won't make for a very good social media post either. Thankfully the power of VanceAl Image Enlarger can help upscale your daily shots in no time.
Image upscaler uses the power of AI to sharpen an image within seconds for free.
Notice the improvements in hair strand detail and the facial features. VanceAI uses the power of artificial intelligence to provide the best results effortlessly.
Guide To Take Extraordinary Family Photos
Looking for the best fall beach family photos? Here are 10 excellent tips that will help you make the most of your sunset beach family photos:
Dress Properly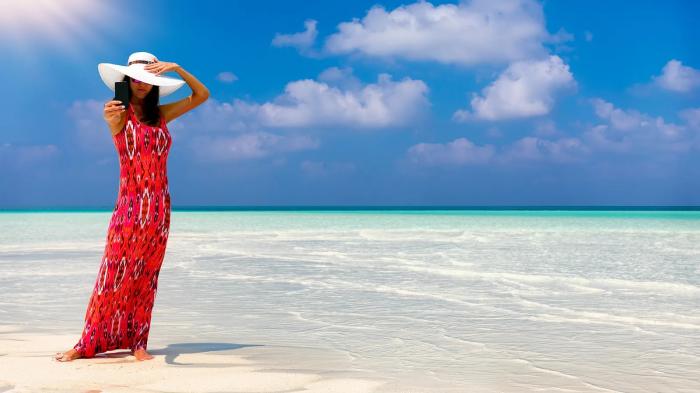 Dressing the right way will make for excellent photographs and while you can improve the quality and resolution later, the way you dress cannot be changed.
Be sure to wear heavier clothing that hangs better and provides a more refined look. If you're looking to beach family photos, an open shirt would look better than a T-shirt.
People like playing around with the beach family photos outfits, and rightly so as who doesn't love a punchy color filled photo?
Don't worry too much about the portraits as you can retouch the portraits conveniently in VanceAI's portrait retoucher.
Light Reflections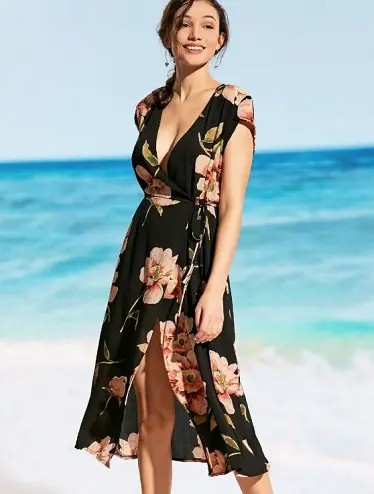 The sun shining on the water does look very cool but can be a nightmare for a camera. To adjust the lighting and get the most out of your casual beach family photos, we suggest selecting a place where the light doesn't bounce off the sand/water too harshly and the camera can produce appropriate shadows.
Try standing at an angle to the sun instead of it front of it for the best shot.
Candid is the best Casual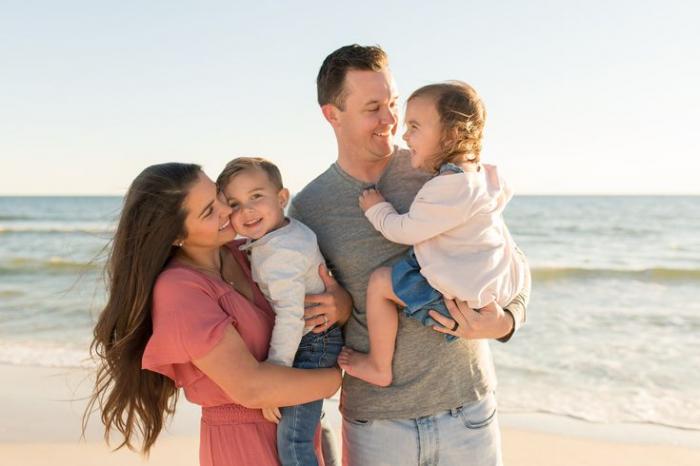 Acting naturally and making the most of your time while someone takes a photo can produce the best fun family beach photos. Casual beach family photos make for the best portraits and can help create memories.
Arrive with Preparation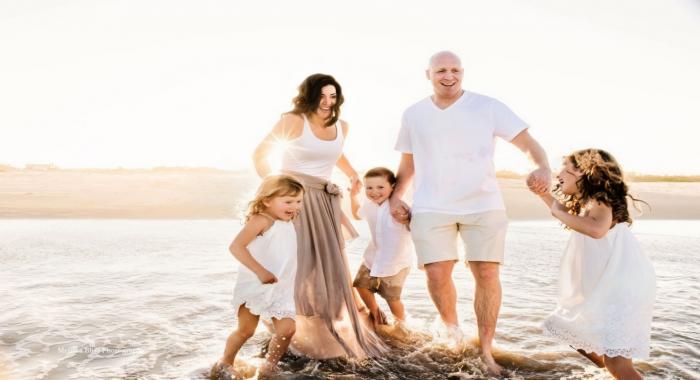 We understand that taking photos, and too many of them can be an annoyance for some people. It is best that you arrive prepared for the occasion and the family is mentally prepared to 'an extra smile' to get the best shot.
You might have to beam even if you don't feel like it but hey, that's what makes the best fall beach family photos.
Keep the Children Busy!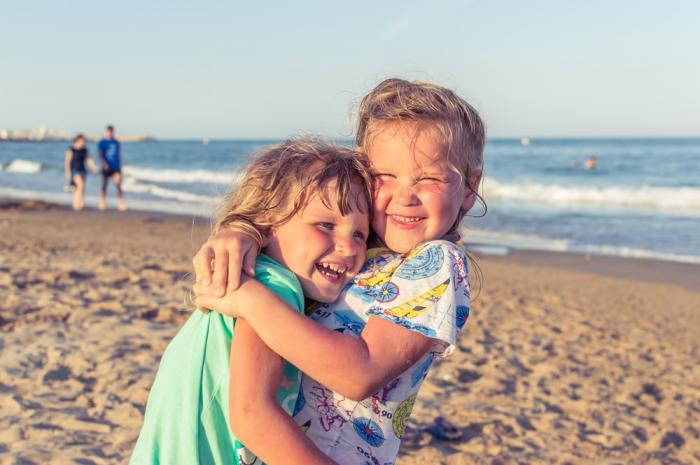 Having your children in the right mindset at the right moment is nothing short of a miracle and rightly so because children can make or break the sunset beach family photos experience.
Keeping them engaged and busy will help get the best shot. Don't worry about the resolution and the portrait effect as we can simply upscale even a novice shot with the power of VanceAI.
Select the Right Beach
You wouldn't want your perfect beach family photos to be spoiled even before arriving on the scene. Some beaches are just more crowded than the others.
For the perfect sunset beach family photos, you wouldn't want too many families competing for the scene. Be sure to select a beach that is not that crowded and where your children can enjoy.
Try…. Sandcastles!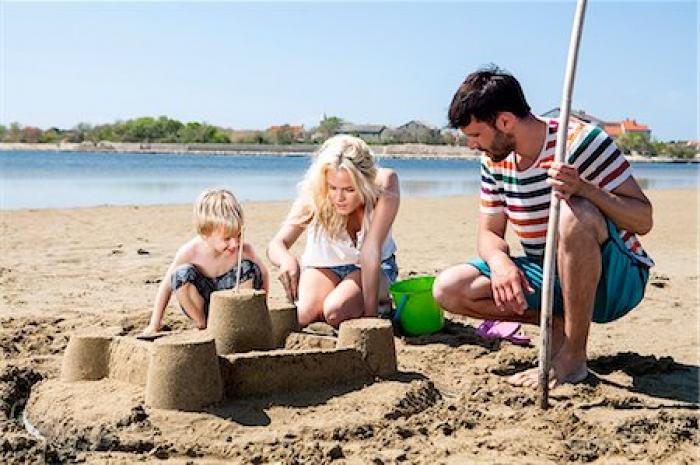 Who doesn't love building a sandcastle? Did you know it can make for the perfect family photo and you don't have to worry about what to wear for family beach photos either as the sandcastle can be the center of attention and your portrait shots will look just as nice.
Try a Vintage Look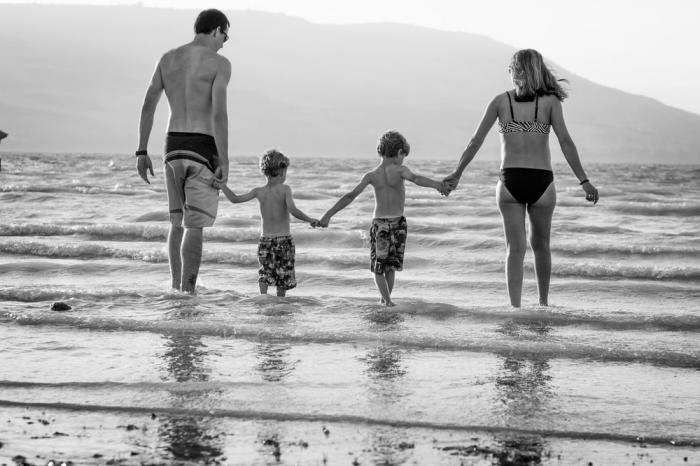 The best beach shots don't have to be full of punchy colors. You can set the tone with greyscale or a different filter. Best of all, you don't have to worry about picking the best beach family photo outfits as whatever you wear will be mixed up to make an excellent shot.
Embrace the Water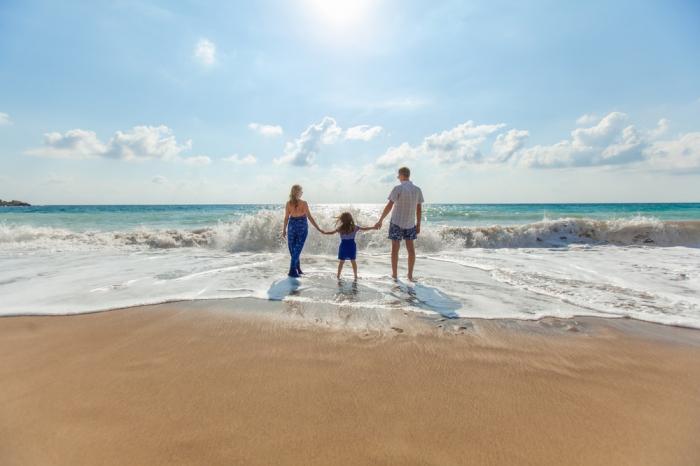 What's a beach photo without a little water? For unique beach family photos don't be afraid of stepping into the water and taking a few shots.
We understand the lighting and distance from the camera might reduce image quality but VanceAI can conveniently handle that for you.
Get a Photographer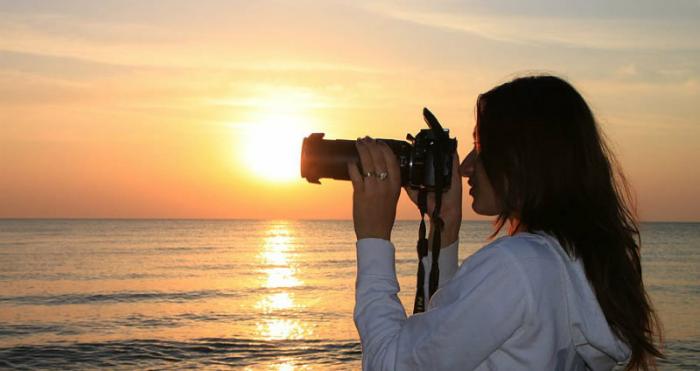 Asking other families just like yourself to take the right shot can be unfruitful as the people aren't professionals. The best way to get perfect beach family photos is to ask a professional photographer to do the honors.
They are accustomed to the lighting conditions and will help you get the most appropriate shot in no time. Experiment with reflections, shadows on your photos and then tweak them in VanceAI Image Enhancer tools or just AI image upscaler for free to make the perfect monochromatic shot.
FAQ
What To Wear For Family Photos?
It is best to wear heavier fabrics as they hang better and provide a more complete fall. Light fabrics and tighter ones might look good in day-to-day life but don't appear very well when it comes to photography.
Conclusion
Whether you are looking to take the best sunset beach family photos or were wondering what to wear for family beach photos, we hope this guide helped you make the most of your shots.
Even if you're using a simple smartphone camera and don't want to spend astronomical amounts just to get casual beach family photos, face retouch online has your back. You can create perfect-looking family portraits seamlessly for free with the power of AI.
If you are interested with family photo restoration, continue to read: How to Store Old Photos for Precious Memories?
Do you find this post helpful?