Most of you perhaps once were stuck in the old photos suffering the exposure to sun. Under this situation where sunlight is intensified and moisture is lacked, old photos are more likely to crack or fade. And even worse, sepia, scratches, fractures, and spots also appear on the surface of your faded photo. Like most people, you may also think of the idea that storing such old photos in your digital devices so as to avoid unexpected damage. But how do you plan to deal with the already existed blemishes like fractures, or spots? If you want to recreate the beauty of your sun-faded photos, you may try VanceAI photo restorer - VanceAI Photo Restorer to restore them, and then preserve them forever.
Part 1:Reasons for being faded photo.
There are many resons like sun exposure, improper storage, water damage, and so on. Instead of delving into other reasons, we just focus on the common reason - sun exposure. This is because of the exposure with the sun. The UV rays that are emitted from the sun fall on the image and cause photo degradation. The word is quite apt and appropriate because sun's exposure can actually ruin photo quality. Plastic materials constitute the colors in pictures, and their molecules are excited by the UV rays of the sun. The term excited is usually used to refer to the molecules that are moving in a rigorous speed and aggressively colliding with each other. Collision and speed cause excitement which in turn cause a photodegradation. When the molecules break down from aggressive movement, the photo tends to fade.
Part 2:What can VanceAI do for you to restore sun faded photo?
VanceAI Photo Restorer provided by VanceAI Technology can help you eradicate the sepia, scratches, fractures and spots caused by too much sun exposure. That means you can take advantages of speed, ease of use, and accessibility over everything else during the procedure of restoring faded photo with the VanceAI photo restorer. By speed, it means how quickly the app can provide results, so it goes beyond just the image processing speed. Moreover, many users, especially those who are not familiar with such services, go online so that they don't have to edit images themselves.
Another great advantage of making use of old photo restoration of the VanceAI photo restorer is the fact that it offers additional features such as coloring black and white images, enhancing image quality, and more in the same place. Basically, you can have the toolset of a dedicated image editing desktop software completely online and automatic. The algorithm in this app is potent enough to recognize the tiniest flaws in the old image and fix them. Everything from sepia, scratches, white marks, etc can be resolved with VanceAI Photo Restorer.
If you are interested, you can try to restore your image now or download it directly from the pop-up window on the right without leaving this article.
By the way, VanceAI now also launches its software version. VanceAI PC is full-featured desktop software developed by VanceAI that lets you instantly process local photos in bulk with more customization options, which will significantly simplify your workflow and boost your productivity. Free Download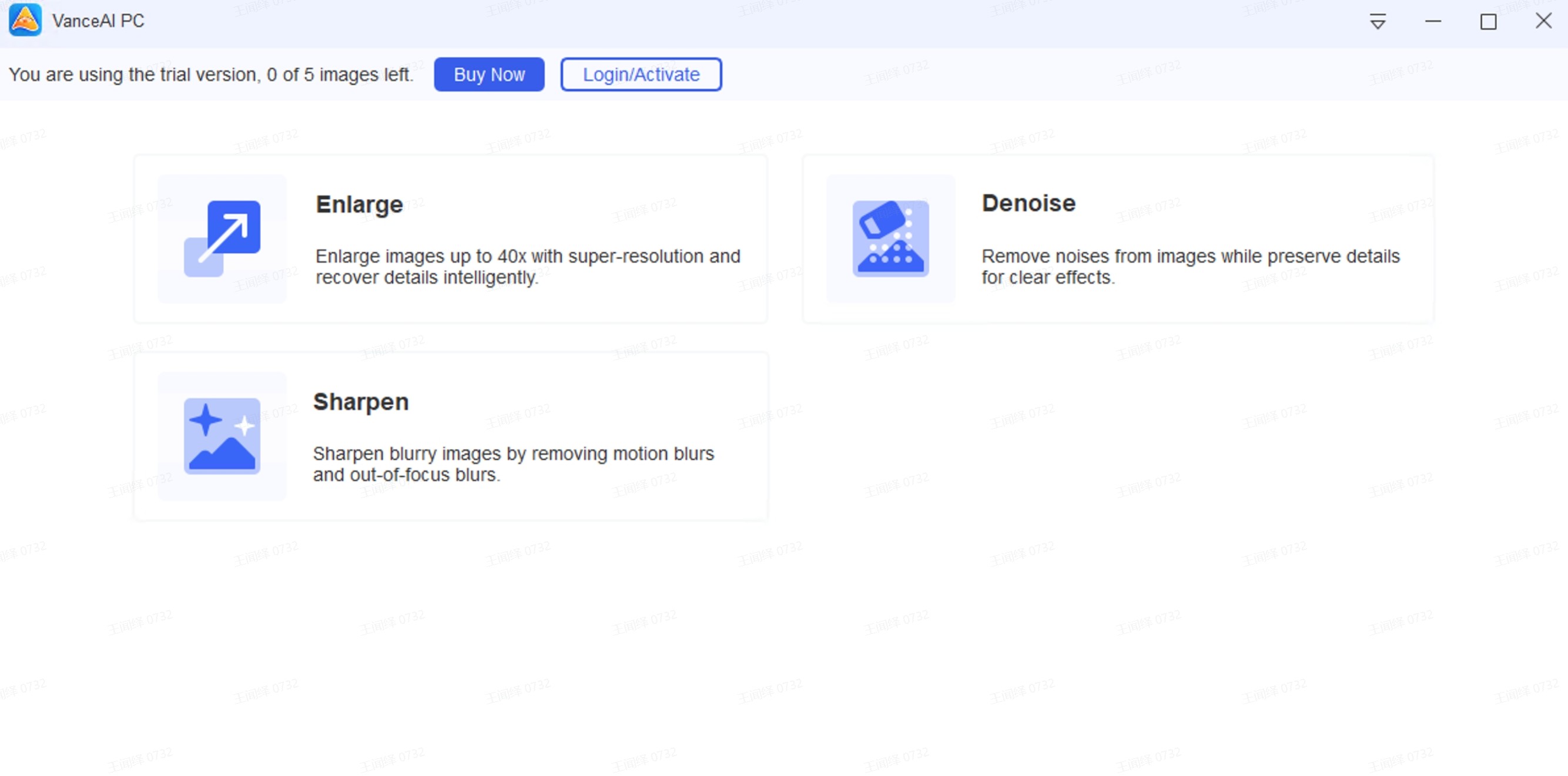 Part 3:How to restore old faded photo with VanceAI photo restorer?
To restore sun-faded photos, VanceAI is the best and the most reliable option for a user. With the capacity to restore old faded photos by using faded picture editor-VanceAI, it also can enhance the facial features by detecting a human face with the help of AI and deep learning.
The video above would help you use the VanceAI photo restorer, or you may just follow the steps given below to fix sun faded photos.
Step 1: Go to the official website or the workspace.
First, you need to enter the official website of photo restorer. On the homepage, it is easy to notice the button Upload Image.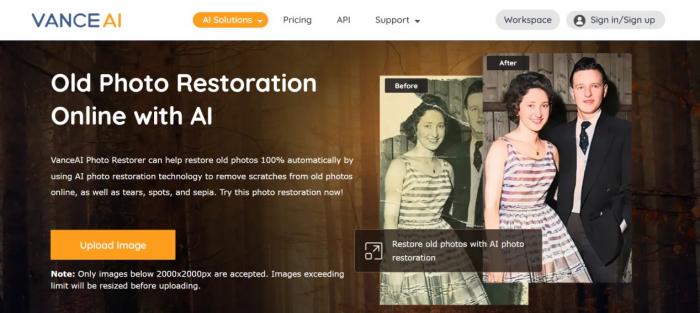 Step 2: Upload an old photo.
Then, you can also restore old photos with VanceAI Photo Restorer in another way. That means that you just need to enter VanceAI Restorer Workspace. Then you will see the interface below. Choose Restore in Select Mode and you can hit Start to Process.
Step 3: Preview and download the restored photo.
Click on preview to look at the final edited and restored outcome by VanceAI photo restorer.You can download the final edited result. Sign in or sign up to download the photo in your device.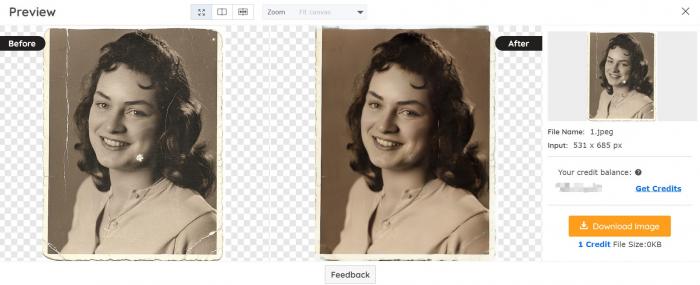 Also read: How do you recreate childhood photos?
FAQ
Q: Can a sun-faded photo be restored?
A: The environmental damage caused to your photos can be cured. If you are wondering on how to fix sun faded photos, then the answer lies above in the article. But, the real key is to avoid the image degradation from happening, which takes a lot of time and effort, but it is always worth preserving your memories.
A sun faded photo can be restored by different methods. Editing the image is necessary in all those methods.
Equalize the tones in the photo. Add an adjustment layer to avoid any harm that can happen to the original image. Then use soft colors and lightning to edit and bring out a light tone of color in your image.
Use a high quality scanner to scan and edit the images. Use color filters to give the photos a modern effect.
Use image sharpener and other editing tools that are working best for your image. For example, if the image does not look good with a high contrast, minimize it and add brightness to the image. Experiment with your editing skills to deal with faded photographs.
If there is any decolorization, fix it by using the RGB colors. Experiment with their amounts and find a perfect balance that works for the decolorization problem.
Lastly, use an authentic editing website to do the job. You can research via google, the best editing software to deal with the sun faded photos and find the best websites to deal with the problem.
Conclusion
The article has guided anyone who is searching for an efficient vance ai photo restorer to fix sun faded photos. You can clearly observe the wonders of the faded picture editor online, which performs well in photo restoration as it transforms the photos into high-quality images, in less than ten seconds, using AI and deep learning.
Of course, there are several ways to restore faded photos. However, it would be best to avoid the damage and ruin beforehand by taking necessary precautions. Search up the best ways to avoid a photo from fading and follow the rules provided to you, so that the damage can be avoided.
Do you find this post helpful?
Amaya Hamilton
A passionate content writer. Mostly likes to write about technology and social media related topics. You can see more of my work over on my own blog
Amaya Hamilton
.