Top 5 Celebrity Look Alike Generator Review
People envy many beautiful and handsome stars. In fact, our facial features are similar to a large extent. It is only when we see more detailed things with our naked eyes that we have the perception of whether they are beautiful or not. At the same time, many celebrities are also considered trademarks of beauty and influence. Thus, looking similar to them can also make people feel good. So now there are many apps that have launched Celebrity Look Alike Generator and it makes more people understand that celebrities are also ordinary people, and ordinary people can also become celebrities. We all look nice. This article will introduce you to which apps you can use the Celebrity Look Alike Generator function for free and how to create a unique cartoon avatar for yourself. More interestingly, there are also some popular Vtuber Maker which use similar technology. Try it if you like.
Online Celebrity Look Alike Websites For Free
 

Price

Quality

Features

Support Device

User Friendly

Creative

Career Now

Free

Good (Multiple results, provides

additional estimates)

Limited features

Available on any

device with internet

access

Easy to use

StarByFace

Free with limited

access, $0.99 for

unlimited access

Good (Quick and multiple

results)

Available on mobile

devices

Mobile versions may

be buggy

Easy and quick

Vonvon

Free

Good (Quick processing,

transition photos)

Limited features

Available on any

device with internet

access

Quick processing

Playbuzz

Free

Good (Well-designed

website, good UI)

Asks questions

about various parts

of your body

Available on any

device with internet

access

Well-designed

Magix

N/A

Advanced

Clutter-free

organization,

editing options

PC

User-friendly with

easy photo finding
1. Creative Career Now
Price:  The celebrity look alike tool offered on this website is completely free and it is available for all users without needing any accounts or downloads whatsoever.
As a celebrity look alike generator, this website is more of a creative website that offers courses and tips on various creativity-based careers such as acting, game designing, film production, sound designing, and more. It also offers a few fun and insightful quizzes that tell you more about yourself. One of those quizzes includes the celebrity look-like tool. This tool analyzes your face through Machine Learning algorithms and compares your photo to all the celebrities in its database to accurately the outcome of celebrity look alike. Additionally, it will tell you the percentage of your likeness to the celebrity plus your estimated age according to the photo. Apart from that, there comes some fancy AI Portrait Generator, making fancy selfies at a fast speed. Get to know more about it.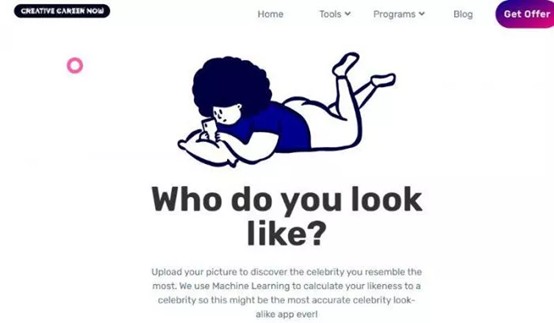 Pros:
Fully free to use celebrity look alike function.
Easy to use tool.
Provides additional estimates after celebrity look alike results.
Cons:
No other features for celebrity look alike
Some celebrity look alike results can be weird.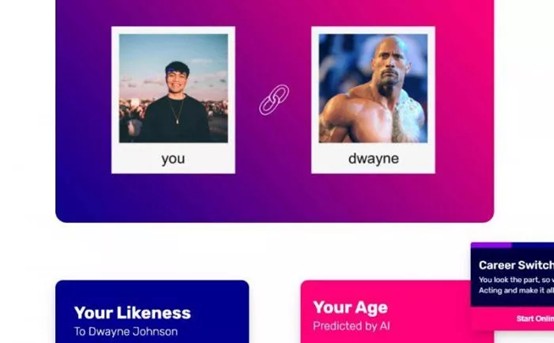 2. StarByFace
Price: This celebrity look alike application is mostly free, but to get unlimited access to all the features, you will need to get a subscription of $0.99.
When it comes to direct celebrity look alike apps that are easy to use, StarByFace is one of the best ones to go for. All you need to do is upload an image and simply wait. The celebrity look alike application uses AI or similar technology to automatically detect your face in the picture and starts analyzing. After a few seconds, you will receive a bunch of celebrity look alike results from all the celebrities that you match the closest with.
Besides that, more people also seem to be interested in AI Face Generator. You can know more from the link.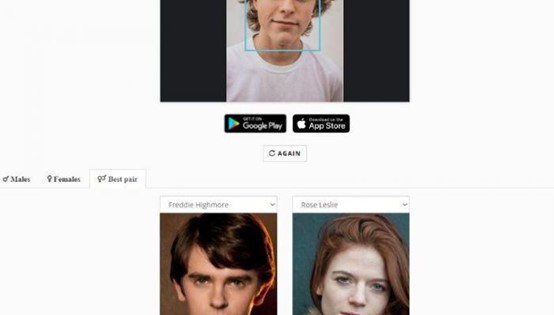 Pros:
Easy and quick celebrity look alike tool.
Provides multiple and interesting celebrity look alike results.
Available on mobile devices.
Cons:
Mobile versions can be buggy.
Limited free use on mobile.
3. Vonvon
Price: Vonvon is basically an online quiz that asks you to upload an image and offers results. This is completely free to use for all users to make themselves a celebrity look alike.
This online quiz is basically a simple question of finding out your celebrity look alike. The celebrity look alike generator will start analyzing your photo and give you the result in a few moments. The aspect that makes this app a bit different is that you can see the transition from your photo to the celebrity photo on the celebrity look alike results page.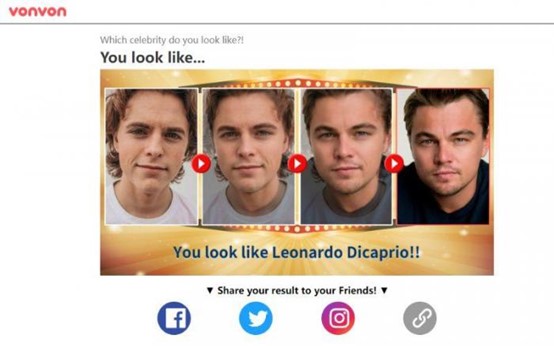 Pros:
Quick processing at celebrity look alike.
Transition celebrity look alike photos.
Free to use.
Cons:
No other features.
Results of celebrity look alike can seem fake at times.
4. Playbuzz
Price: This online quiz is completely free to play for all users and doesn't require any accounts or downloads.
This quiz is a more roundabout way of knowing your celebrity look alike as it actually asks you questions about various parts of your body, such as eye color, hairstyle, hair color, and much more. Considering all the answers, the quiz will then assign you the celebrity it thinks resembles you the most.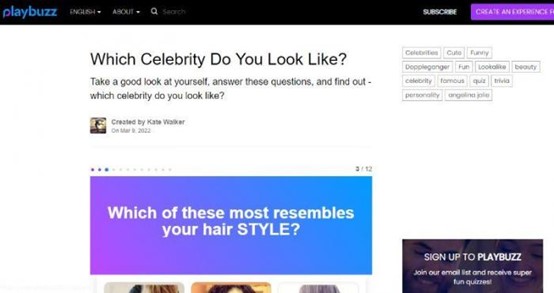 Pros:
Well-designed celebrity look alike website.
Good UI.
Free to use.
Cons:
Tedious quiz.
Results of celebrity look alike can be inaccurate.
Takes time at celebrity look alike.
How to Use the Celebrity Look-like on TikTok?
You must have asked yourself some time, 'Who is my celebrity look alike?'. The answer to your question might lie with TikTok. Thanks to its amazing 'shapeshifting' feature, hundreds and thousands of users are finding celebrities that look the most similar to them. The best part about this feature overall is that it is easy to use and anyone can get their celebrity look alike in just a few steps only.
First of all, you need to find photos for your celebrity look alike feature. You can use an app such as Fotor or Canva in order to gather all of these photos together to fit them into a collage. Otherwise, you can also find an Avengers cast collage photo on the Internet and similar photos of other movie series. Make sure you've downloaded the image needed.
Go to TikTok and tap on the Shapeshifting feature. You can also search for the feature if you can't find it first. Tap on the Try This Effect option to start the feature and to set up the camera for the feature.

Now simply start recording and the feature will start analyzing and reading the input. After a few seconds, you will see the result on the screen itself.
You can check out this feature being used in this celebrity look alike video on YouTube. The celebrity look alike generator feature on TikTok is relatively simple to use, has fun results, and has been used by millions of users at this point.
Then when you want to create a unique image for yourself instead of being like a certain star, you need Vansportrait to help you create such a personalized cartoon image.
Create a Personality Image with Vansportrait
VansPortrait is one of the many online tools provided by VanceAI. With this tool, you can upload a selfie or any image of yourself and convert it into its cartoon equivalent. The tool actually has two modes: Sketch and Anime. When it comes to Sketch, you can select it and click on any of the preview images to get a similar result after processing. Moreover, you can also set the amount of softness and saturation that you want to apply to the image beforehand.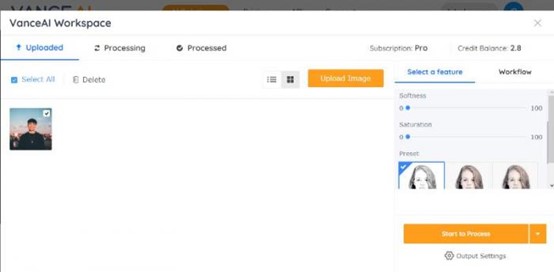 As for the Anime feature, simply click on it through the drop-down menu and proceed ahead with image processing. You can also scroll below to find a few before-after sample images to give you a better idea of the result.
With VansPortrait, you have enough options to spin around your photos in a way that's fun and creative. It is not uncommon to be a part of many communities on the Internet. If you want to bring something new to the anime community or platforms, you can change your image to resemble your anime-style looks. Meanwhile, you always have the option of cartoons. Maybe you can use the celebrity look-like generator on your standard photo first, and then use the VansPortrait cartoon effect on the celebrity look alike photo.
Now let's take a quick look at how to make use of VansPortrait online to get the best creative photo of yourself in just a few steps.
First, click on the link given above to access the website. You can get started by clicking on the Upload Image button given.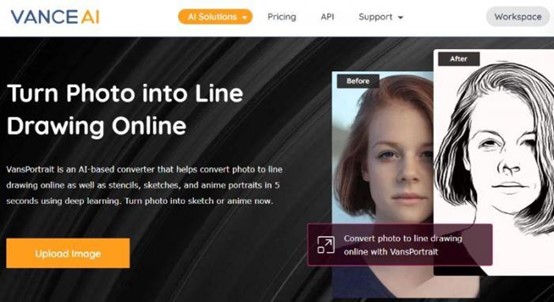 This will take you to the Workspace wherein you can check image credits, manage settings, and more. Upload the image, manage the settings, and click on Start to Process.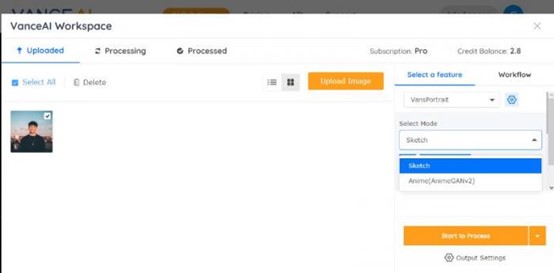 Go to the Processed tab on top. Click on the Preview icon on the right of the image and use the Download Image option to save the image.  

You can learn more about AI cartoon generator tech and applications through the guide.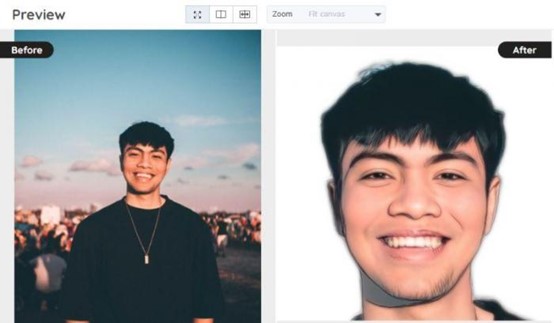 Conclusion
Do note that you can either convert just the face into a cartoon version or the whole picture. It depends on your preference. This image uses just the face. If you are not satisfied with the result, you can use some tools on VanceAI to make your photos more perfect.
Do you find this post helpful?
Read More to Know Deeper: