How To Use AI Retoucher For Brightening Eyes
Whenever Rachel captures a photo of herself, she observes her eyes look dark and dull. No matter how much light is falling on her face while she is taking a photo, the outcome is always dull and exhausted eyes. She tries to brighten her eyes by editing the photos, but the task was so complicated that she gave up.
The article is for people like Rachel, who love taking photos but the dull eyes would not allow them to upload the picture on the internet. The article is a guide on how to brighten tired eyes because they deserve a touch up.
The website called VanceAI offers to help with touch ups, to brighten eyes and smoothening the unwanted lines. Face retouch online is an easy way to retouch your features by following a few uncomplicated steps. The results are mind blowing, the final picture will regain your confidence to upload pictures on social media.
How To Brighten Tired Eyes Instantly
Everyone yearns to look perfect, but they don't know the secret of a flawless photo which is editing. The editing part might seem daunting to some people because not every person wants to dive deep into technicalities. But now, with VanceAI Portrait Retoucher, anybody can retouch their photos with a few easy steps.
With only a click, the user can get rid of acne, wrinkles, scars and blemishes. In a matter of few seconds, you will see your perfect face enhanced by smart algorithms. The process is automatic and fast, so you will not have to waste extra time on editing pictures.
The blemish remover will assist you in to easily remove your scars, undesired blemishes, acne and wrinkles in just one click. This online feature is powered by AI which makes you look and feel beautiful without a hassle of time-consuming editing tools.
The photo retoucher not only removes your flaws, it also enhances the picture quality. It allows the user to transform low-quality images with a low resolution and make photo hd. The enhance mode of the portrait retoucher is all about satisfying your needs by using powerful AI and smart algorithms to make your portrait photo clear and sharp.
The VanceAI photo retoucher allows the user to brighten up and enhance any feature they want. There is no need for chaotic editing apps with several confusing tools because VanceAI photo retoucher will help you conquer the social media world with its jaw-dropping, mind blowing features.
The following steps are going to guide you on how to brighten your eyes using the VanceAI Photo Retoucher.
Step 1
Click on "upload image" to start to remove blemishes from photo.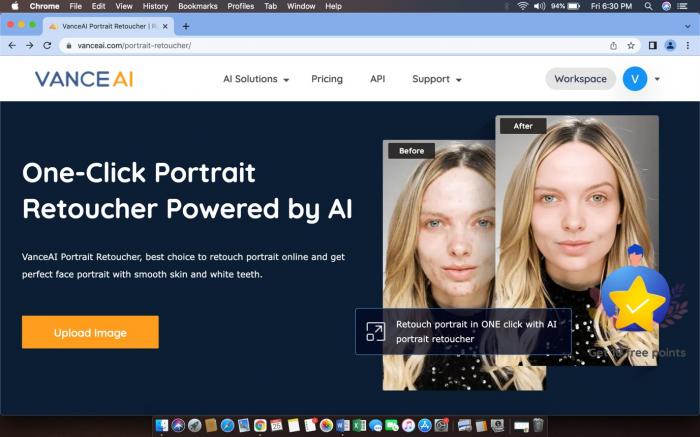 Step 2
After uploading the image of your choice, start processing. You can reduce noise and remove blur from the image. The processing means, the final outcome will be without any flaws.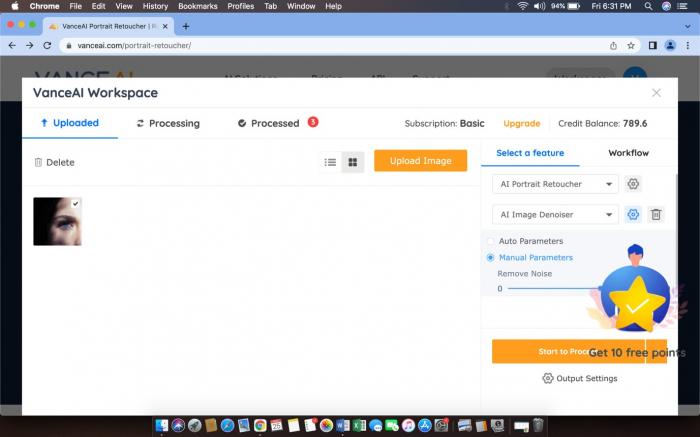 Step 3
Click on "preview" to see the final and flawless outcome. Get ready because the result will make your jaw drop. The eyes will be brightened and you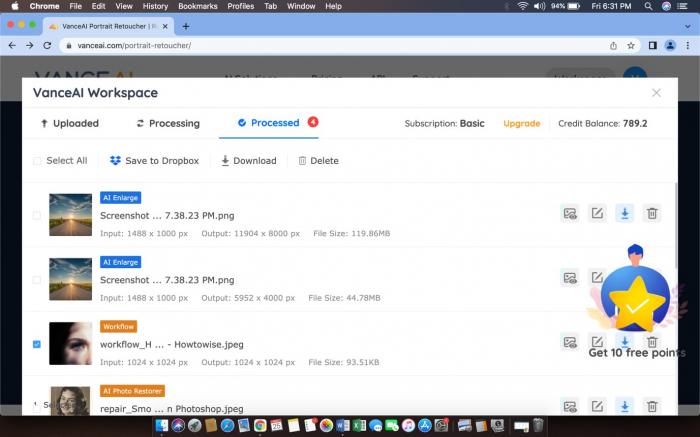 Step 4
Download the image by signing in. You can also subscribe to VanceAI to get lots of picture processing credit.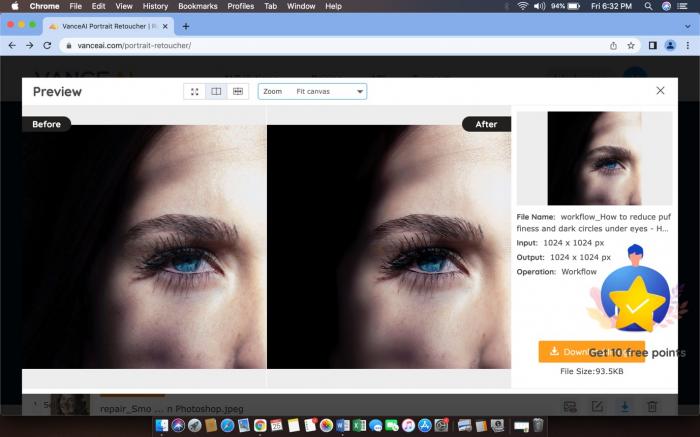 VanceAI PC is full-featured desktop software developed by VanceAI that lets you instantly process local photos in bulk with more customization options, which will significantly simplify your workflow and boost your productivity. Download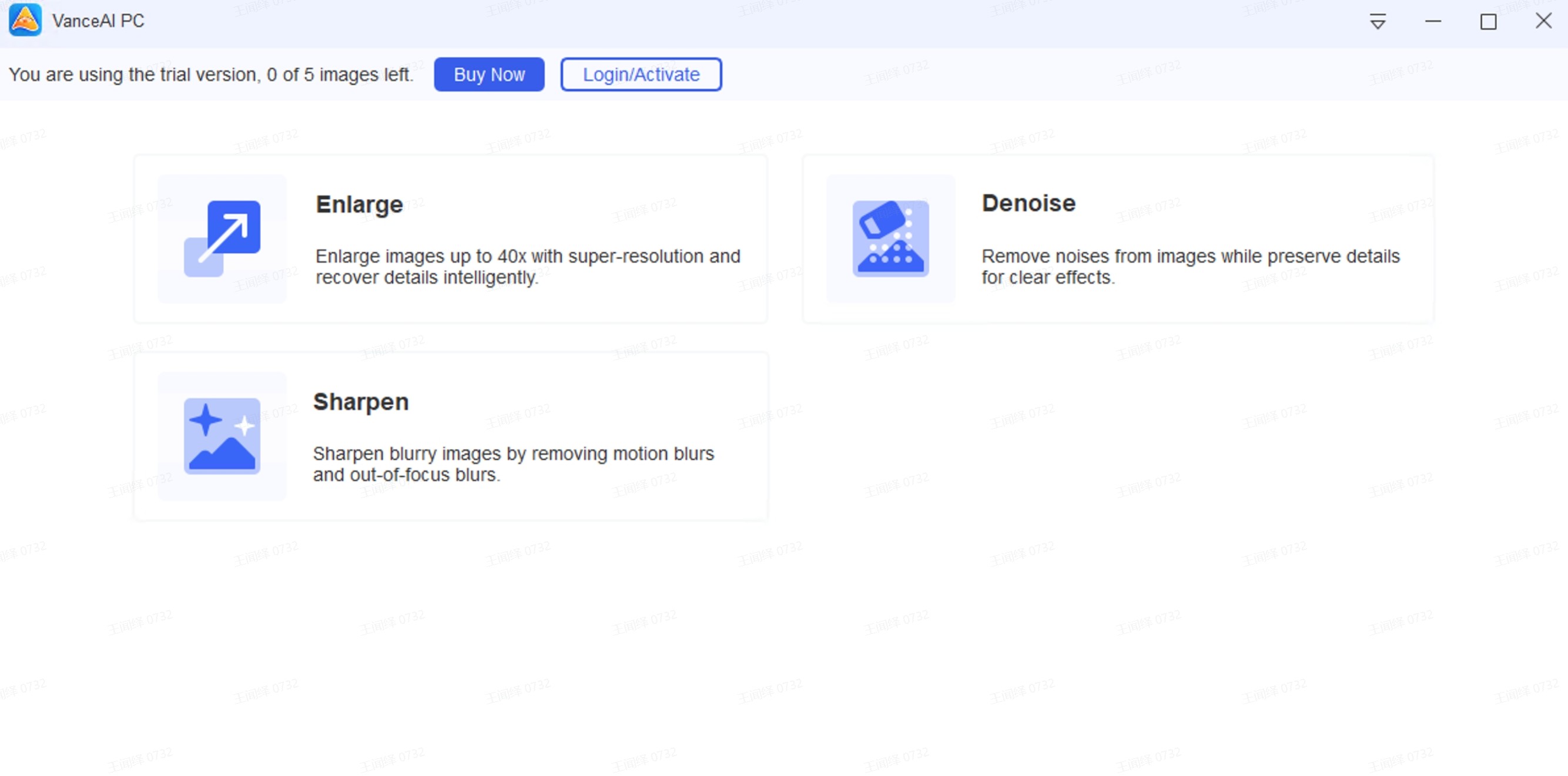 VanceAI Portrait Retoucher's Performance Review
If you are wondering on how to brighten eyeshow, then VanceAI is your stop to brighten your features and make you look flawless in front of the world. When you are exhausted from the work but want to enjoy a party, the photos from the enjoyment might not turn out beautifully. The photo retoucher will enhance the image with powerful AI and astute algorithms.
You now do not need an app to brighten eyes, because VanceAI Photo Retoucher has got your back. The results are undoubtedly flawless and the quality looks crisp and clean. Try it out to witness the greatest online face retoucher which actually makes a change.
In the picture below, the comparison of before and after retouching is mind blowing. The picture quality is enhanced and all of the flaws from the photo are gone. The final outcome looks beautifully enhanced and splendidly high-quality. You need to try the online retoucher yourself to believe what we are saying.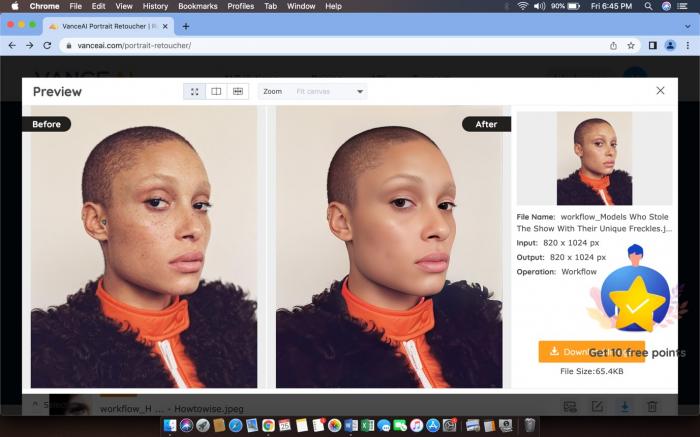 FAQ
Q. How to brighten eyes in photoshop?
Editing on photoshop might sound like a daunting task because of the chaos and complications. You might think this editing app is only for professional editors but anyone can use it if they know the full steps.
To brighten eyes in photoshop, you might be wondering the steps to get the perfect results without being complicated. Well, don't worry because we have the right steps for you to brighten the tired eyes.
Go to the layers panel.
Click on "New Adjustment Layer" on the bottom of the layers panel. The layer will go above the image.
Change the blend mode of the adjustment layer to screen.
The layer mask on the adjustment layer should be filled with black.
So, go to edit menu in the menu bar and go the fill command. Then click on OK.
Now that the layer mask is filled with black, you will not have to endure an unnecessary bright image.
Go to the tools panel and select a brush tool.
Paint with white color inside the eyes.
To reduce unwanted brightness, decrease the opacity of the adjustment layer.
The eye color is now bright but does not look fake.
Conclusion
The online VanceAI image enhancer will help you brighten your eyes or any of the other feature of your choice. If you want to avoid the chaos and hassle of editing apps then VanceAI is your way to go. You will not regret using this app because it saves time, is not expensive and gives outstanding results.
This article hopefully helped you in finding the best website for enhancing and retouching your portraits. Every human being has flaws and it is completely normal to look a certain way. But if you need a little retouch, then try VanceAI for amazing and extraordinary results. Read more: Best 10 Online Wrinkle Remover Apps for Portraits
Do you find this post helpful?
Read More to Know Deeper: