Summary: Website design using artificial intelligence is not something new if you are a web designer. And VanceAI, together with another 6 website design tools, offers you a full suite of creative tools that you can use for website design.
Digital media and marketing have taken over businesses and just about everything regarding how we do things. Especially in this climate where the outside physical world is almost unavailable to us, it is digital content such as images, videos, etc that we rely on to conduct any kind of transaction. It is not a surprise that web design tools and digital marketing in general are highly on the rise now and are one of the most sought-after skills and tools in the world.
Want to know the latest trend in web design in 2022? Check out in this video:
Moving forward, we are now looking at artificial intelligence website design. The goal here is to have an intelligent web design that can manage the entire digital system of your business, website, or anything on its own. In such cases, you naturally need web design tools that are actually capable of delivering on expectations.
When you have a great web design for your ecommerce, you are making sure that your product or idea is seen by as many people as possible and that people are spending time knowing it as well. When you use AI website design to its potential, you can expect to leave an unforgettable mark online and nowadays, online is just as important as the real world, at least when it comes to business.
With all this taken into account, we are going to present to you seven of the best AI web design applications that you can use for enhancing your digital mark on the market. These tools will not only make you stand out from the rest but they will also genuinely make your user's life better.
The List of 7 Best Web Design Tools
Price: You can process 5 images per month for free with these AI website design tools. If you want additional features from VanceAI, you can either buy the Basic account or the Pro account. They cost $9.90 per month and $19.90 per month respectively.
The great thing about this particular online application is that it offers multiple tools or AI web design tools to improve your digital space in pretty much all aspects. The two very popular features among all are BGremover and VanceAI Image Upscaler. The first one enables you to seamlessly erase the background of an image and it is especially useful for product photos. Whereas the AI Image Enlarger can be used with any image that you want to upscale and maintain the original image quality of. You can also use them together to improve the quality of your product photos after removing its background, for example.
Also, when you purchase any of the paid accounts, you are enabled to use batch processing of up to 5 or 10 images. Furthermore, you get customer service, early access to new features, and many more features.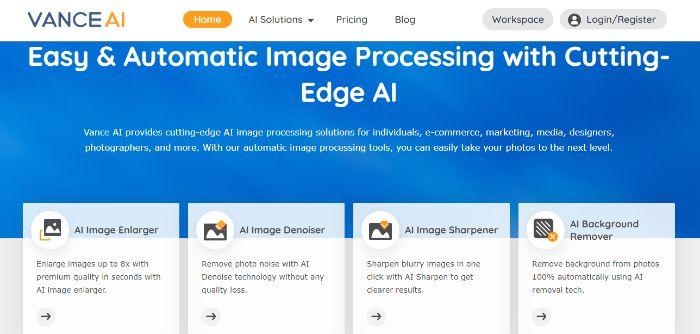 VanceAI PC is full-featured desktop software developed by VanceAI that lets you instantly process local photos in bulk with more customization options, which will significantly simplify your workflow and boost your productivity. Free Download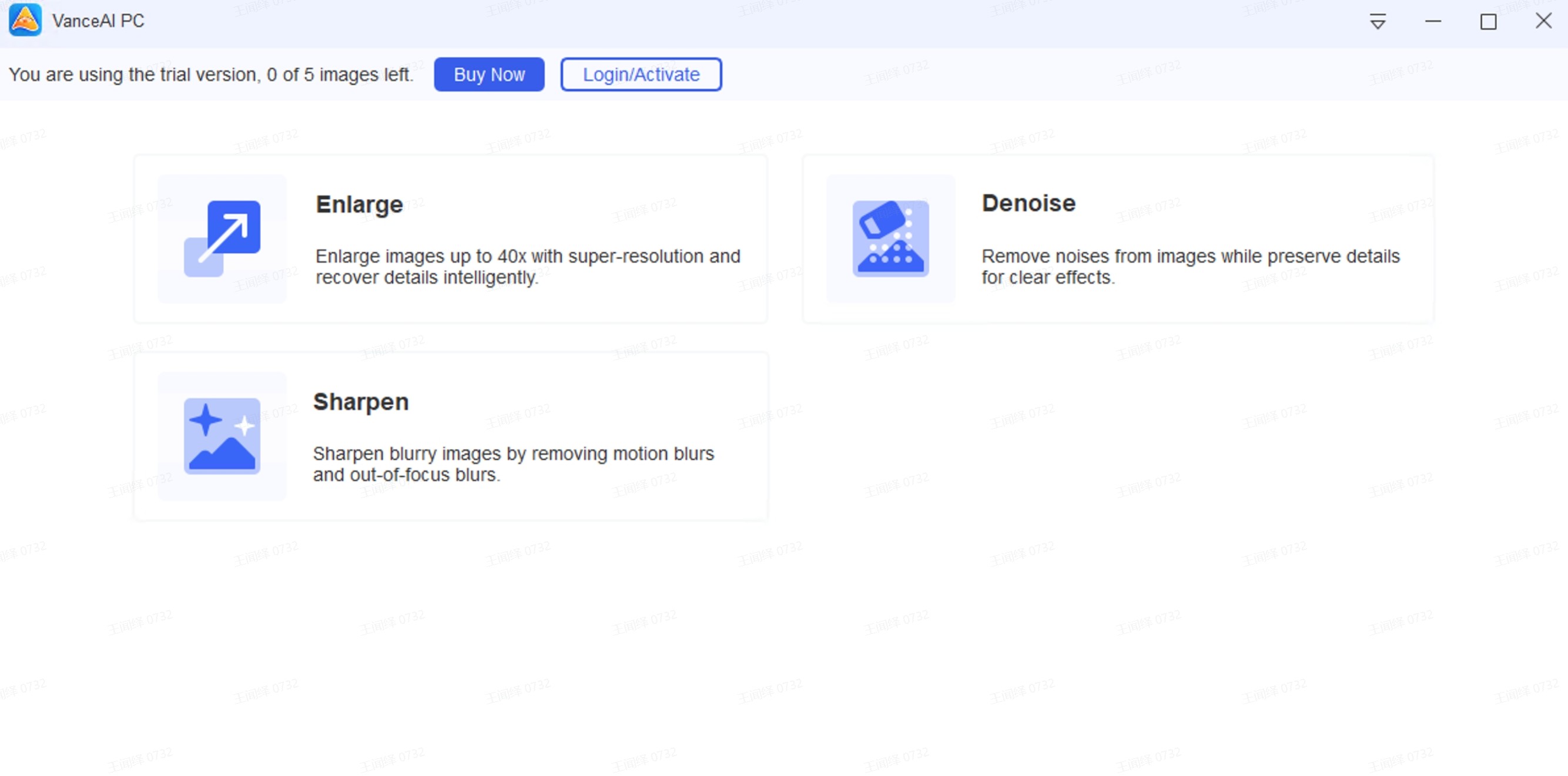 Pros:
Multiple tools at your disposal with limited free uses.
Great features for the paid subscriptions.
Cons:
A few tools work better than others for some reason.
2. The Grid
Price: It is a free to use tool.
It is an artificial intelligence website design package tool that is currently transitioning to its third version and so it may take some time to get started with it. However, you can have them email you version 3 of their product. It is an AI based tool and so you can expect it to have the characteristics shared by other AI based tools such as automatic tools and extreme precision.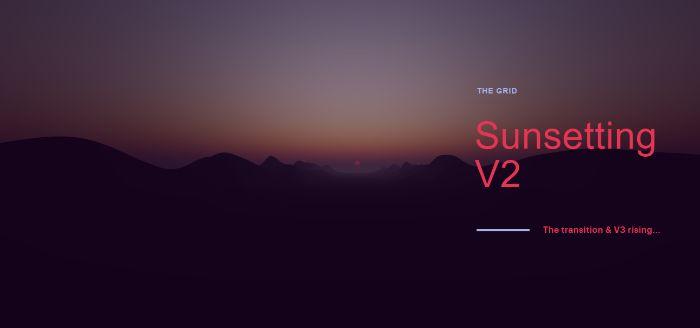 Pros:
It has a really good design.
Cons:
It may take time before being available again.
3. B12
Price: This AI website design tool offers many paid packages that range from $29 per month to $499 per month.
This online web design tool is a really comprehensive one. Depending on your paid subscription type, they offer a bunch of services and AI web design tool solutions that help in setting up your website and provide valuable blog posts that are written to enhance your SEO presence and rating. This is a great tool if you are someone who either wants multiple websites or someone who doesn't necessarily want to deal with all the aspects of running a website. This AI web design tool will basically do everything for you.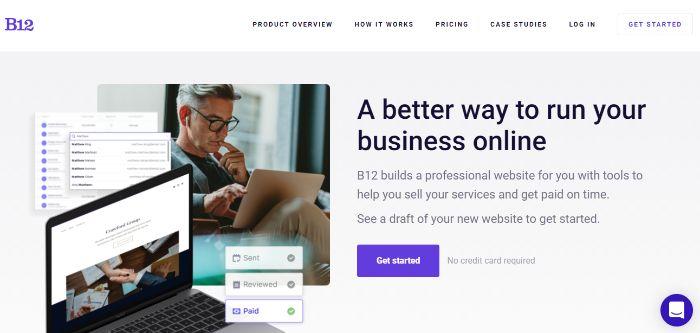 Pros:
It is an all-in-one kind of design tool that handles all your needs.
Cons:
Some of the payment options are steep.
4. Firedrop
Price: Although the specific prices for their services are not listed, you can book a demo version for yourself for free. Just use the Request Demo option on top.
This AI web design tool was designed with the aim of reducing and basically eliminating all the tedious, repetitive work that goes into your everyday life. Even small tasks such as scheduling social media posts often take too much time from people who would be better off engaged in tasks requiring innovation and more creativity. With this tool, all tasks are automated.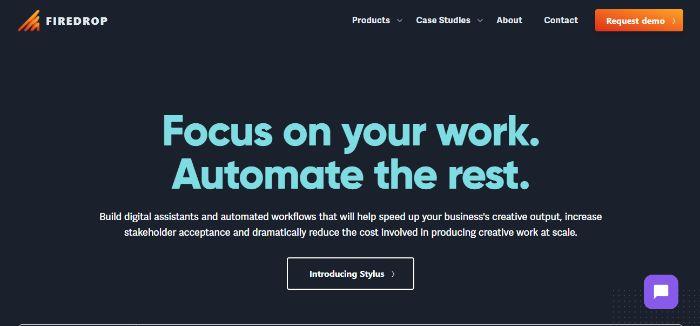 Pros:
It is intuitive enough to handle just about any repetitive task.
Cons:
The website design could be better.
Also read: Top 9 Website Development Image Tools
5. Leia.AI
Price: You can use this AI website design application for free to create a custom website. You can choose to be a part of Leia Growth Club at just $0.99 per month for premium benefits.
This online tool has created more than 250k websites with each of them having their own uniqueness. They have a brilliant setup for first time users where they ask questions about your website that you want to create. You can ideate your entire website's purpose and layout through these questions which the tool uses as well to make your dream website.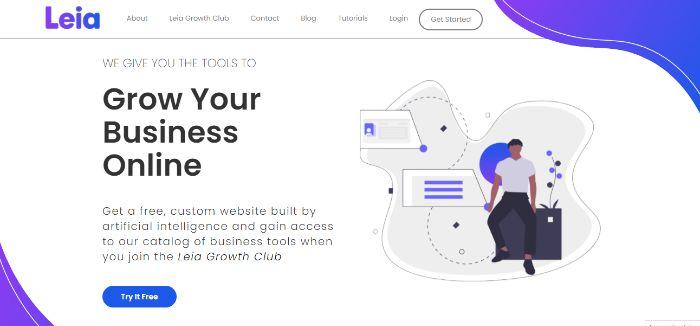 Pros:
One of the best designs out there for a web design tool.
Cons:
You have to track your website's progress online as well.
6. Adobe Sensei
Price: You can contact Adobe through their official website with the details of your website and get a quote.
When it comes to Adobe, you can expect an application that is well rounded and able to work on multiple fronts. However, this tool has a special emphasis on analytics and so it is suitable for those who prefer detailed statistics on users, engagement, total time spent on the site, etc. This AI website design application also helps in future predictions based on current numbers and the marketing plans.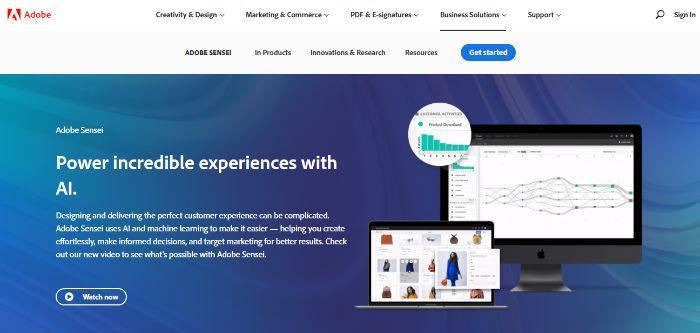 Pros:
Comprehensive tools as expected from Adobe.
Cons:
It is not as beginner friendly as other tools.
7. Wix
Price: You can avail different kinds of features depending on your paid account. For the most basic website connections, you can get started with just a dollar.
When you create websites with Wix, you can get a free domain for a year. Apart from that, you can also get booster applications, tools to track the engagement in your website, social media related features, and more. Also, you can get a lot of creative freedom with this tool such as unlimited fonts, fresh web page layouts and design, SEO focused tools, etc. It is a well-rounded AI website design application.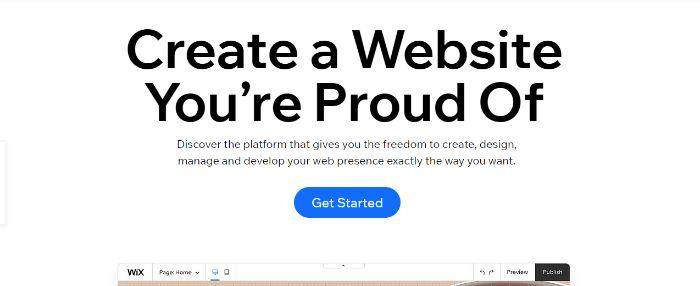 Pros:
A lot of technical and creative options.
Cons:
Some paid options are not really useful.
Conclusion
AI website design tools are rather difficult to find. When you are selecting an AI website design application, you should first consider what kind of website you are building and what message you are bringing to the market. Websites can be simple and straightforward or they can be complex and artistic, both kinds are equally good. These tools will help you design the best possible version of your website in no time. If you don't want to wait long to get started, you can use Leia's free website building tool to ideate a website in a matter of minutes and then move onto tools like Adobe Sensei to finalize your website and host it.
Related post:How to Use VanceAI if You are a Visual Designer
Do you find this post helpful?
Yes
No