Best Black and White Colorizer Recommendation
Price: 3 free images per month. The paid version goes to 200 images per month costing $9.9 and 500 costing $19.9.
VanceAI Photo Colorizer is one of AI picture enhancer tools from VanceAI, adopting Deep Convolutional Neural Network, instead of traditional colored filters, to add colors to your old photos. With AI image colorization algorithms trained with millions of images, this colorizer enables the possibility of adding natural and lifelike color to your old photos.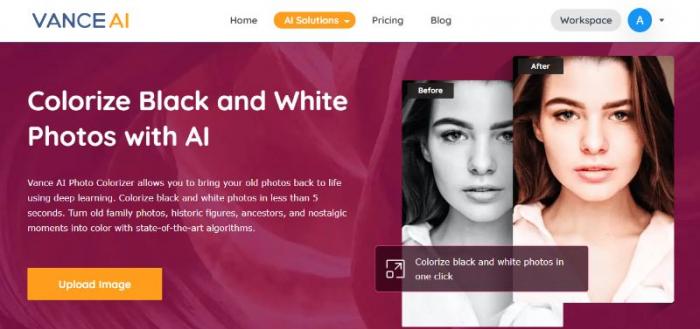 Pros:
Adding colors to your photo based on smart analysis instead of traditional colored filters.
100% automatically colorize your photo in a few seconds.
offer other photo enhancer tools
Cons:
limited free images
Doesn't allow you to adjust the photo manually
Also read: How to Colorize Old Photos with AI Photo Colorizer.
VanceAI PC is full-featured desktop software developed by VanceAI that lets you instantly process local photos in bulk with more customization options, which will significantly simplify your workflow and boost your productivity. Free Download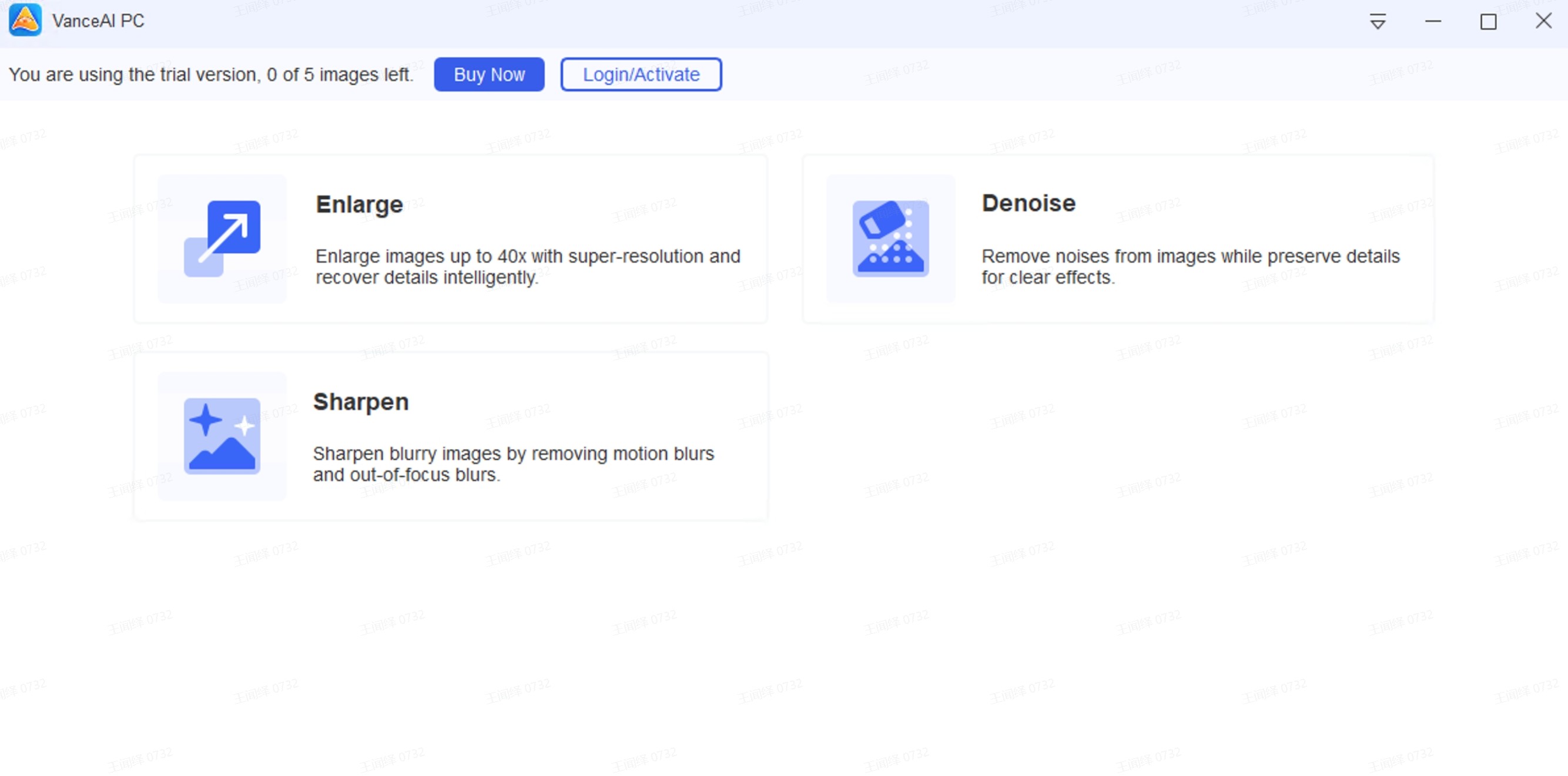 10 Best Black and White Tools
1. LunaPic
Price: LunaPic is an online black and white filter that is completely free to use.
LunaPic is not only a popular tool to make an image black and white but it is popular for all kinds of image editing features online. Equipped with a comprehensive set of tools, the user can easily upload an image and take it in any direction. To apply the black and white filter online, users simply need to upload an image and go to Filters > Black and White. The image will be automatically converted.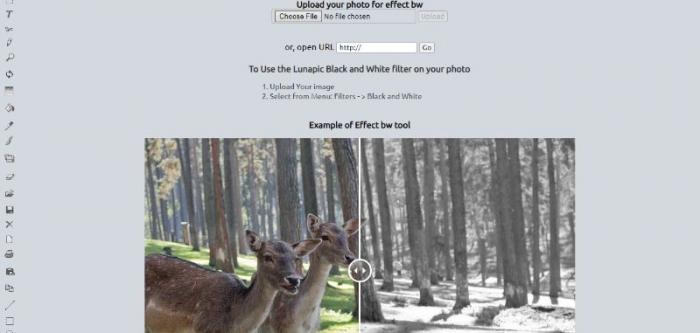 Pros:
Detailed editor and application.
Completely free to use.
Cons:
Takes time to get used to the UI design.
2. RawPics.io
Price: You can use this black and white filter application for free with limited use. For a month of full access, you will need to pay $1.99.
The RawPics black and white filter tool is another detailed online tool to make black and white filters out of colored images. Here, the how to make an image black and white is through the Temperature setting. You can select the image's Temperature bar and shift it slightly to the lower side until the image turns black and white.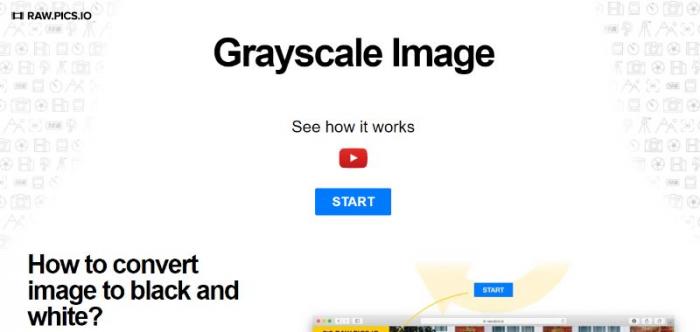 Pros:
A good editor.
Simple to use.
Cons:
3. Fotojet
Price: Though the tool offers black and white filter conversion for free with a free trial, you will also need a free account.
With Fotojet, you can create a black and white filter with ease. This application also hosts a decent editor page wherein you will find a bunch of features for image editing purposes. However, some of the advanced features such as sharpening of image, vignette, noise reducer, etc are paid options only.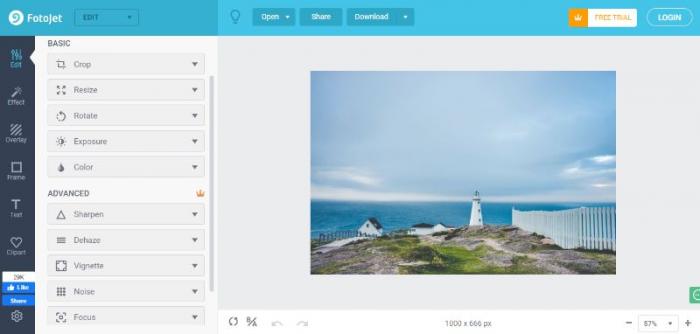 Pros:
Smooth working UI.
Clean design.
Cons:
The free trial is limited.
4. LEE Filters
Price: Though the website doesn't specify any price for their product and service, you can still find out more by clicking on Find A Dealer. They price according to specific requirements by users.
Compared with other picture colorizer online tools, LEE Filters is a really sophisticated tool for black and white filter images as it not only deals with the conversion of such images but the entire product deals with extremely detailed photography. This is a product highly dedicated to photography, dealing with DSLRs, light exposures, density, and more.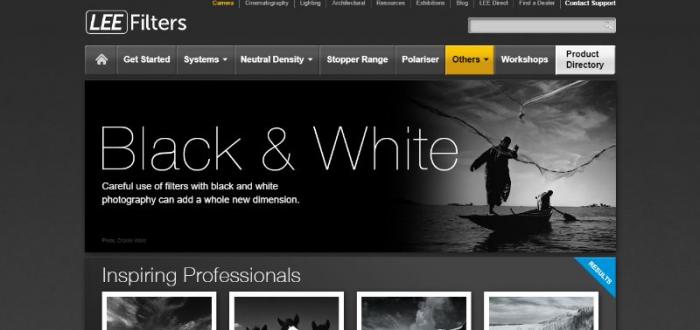 Pros:
Professional application.
Highly specialized for photography.
Cons:
Difficult to find info.
Not for casual users who just want simple black and white conversions.
5. Invert Image Colors
Price: This is a free to use tool online.
Another simple application online from PineTools, you can get a black and white filter image with just a few clicks. You can use the Choose File and select an image from your device. After that, click on Invert and within seconds you will see the processed image pop up on the right. You can download the image by choosing the output file type.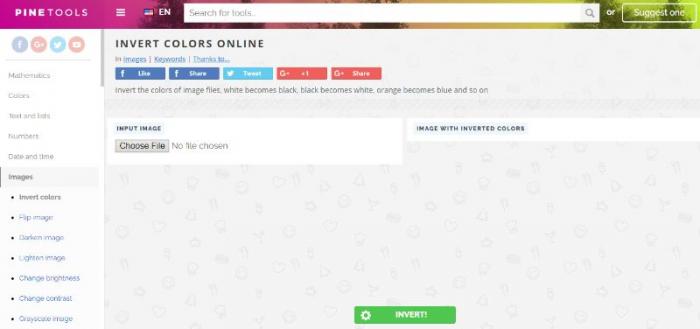 Pros:
Cons:
The results are sometimes entirely off.
6. ConvertImage
Price: The online black and white filter image converter tool is free to use.
One of the best features of ConvertImage is that it allows a huge list of image file formats, which include PSD, TIF, GIF, BMP, etc. The tool is also easy to use, as you merely need to upload the image and the application will process the image automatically. Moreover, the ConvertImage application has many other image editing tools online.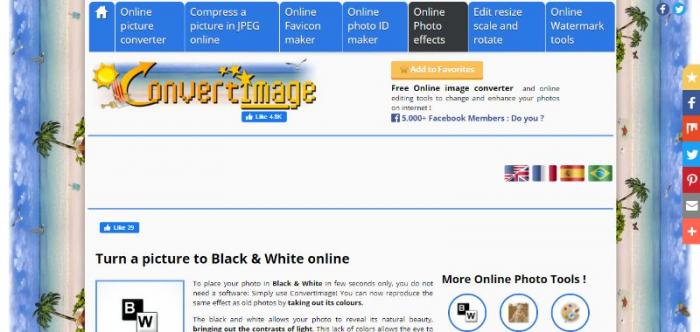 Pros:
Decent results in quick time.
Other image editing tools online.
Variety of file formats supported.
Cons:
Some formats take time to process.
7. Photofunny
Price: This black and white filter application is free to use.
This is a mostly automatic tool to make a black and white filter with a simplistic design. It does offer other kinds of filters on your photos though. Most of the filters are simple ones that you can also find in Microsoft Photos. As for the file formats, this tool supports PNG, JPG, and GIF only.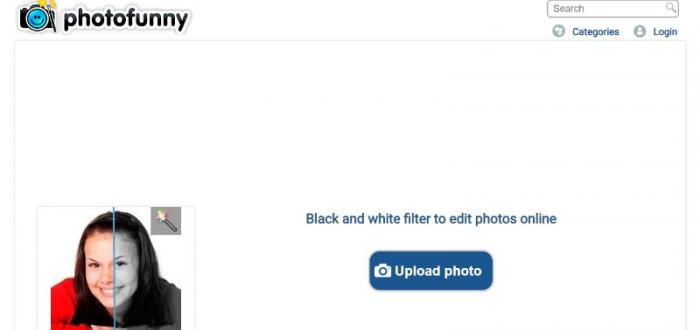 Pros:
Simple design.
Easy to use.
Cons:
Most extra filters are not up to the mark.
8. Imageonline.co
Price: This black and white converter tool is also free to use.
Imageonline.co is a website which converts images to their black and white version with a good speed. It is also a free tool so you can convert a bunch of images here in no time. Other than that, the tool also offers a bunch of useful features such as cropping, blurring images, sharpening images, and more.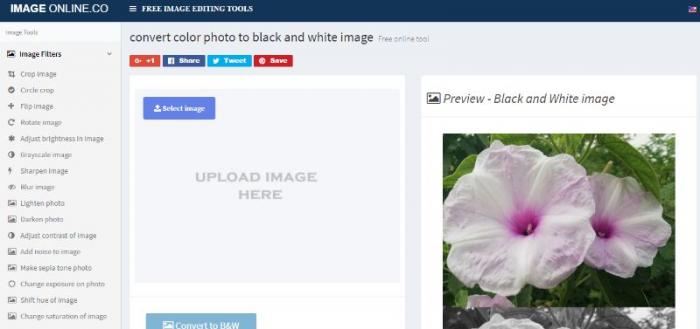 Pros:
Variety of tools.
Quick time conversions.
Cons:
Doesn't work well on all images.
9. Online Photo Converter
Price: You can convert images to black and white for free with this tool.
This is one of the more lenient tools regarding images compared to other online applications. The reason being that this tool supports PNG, JPEG, JPG, and GIF image file formats while allowing upto 45 MB sized images in total. One image can be within 5 MB. You can also choose additional settings such as gamma correction and image quality and make photo hd.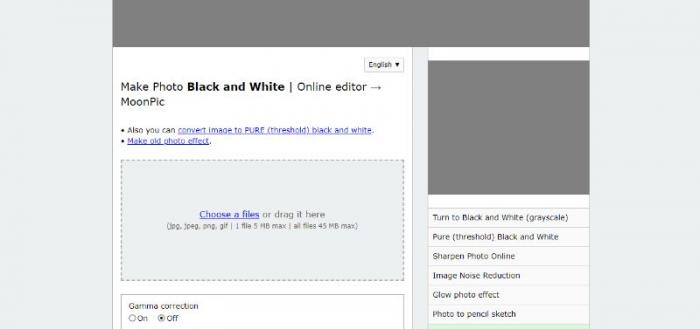 Pros:
Good file format support.
Other features.
Cons:
Could have better UI design.
10. ImageOnline
Price: ImageOnline is a popular website for free with many features.
You can expect a decent amount of settings going into ImageOnline. First of all, this tool allows many file formats such as TIFF, PNG, JPEG, GIF, and BMP. This enables most images to be processed without any issue. Apart from that, you can also use gamma correction and image quality.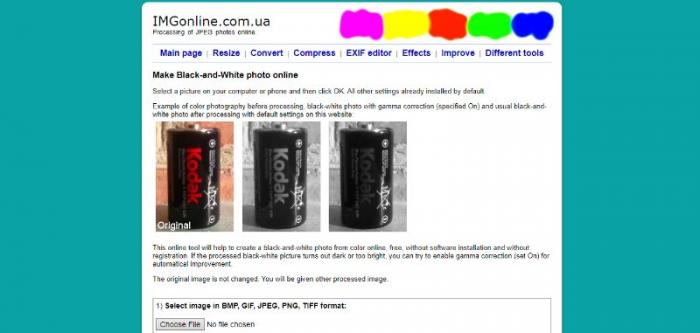 Pros:
Wide format compatibility.
Popular and reliable website.
Cons:
FAQs
1. How to make an image black and white?
It is easy to make an image black and white through the tools mentioned in this list. First, choose any of the tools given and access them through the link given. Upload an image by using their upload tool and wait for the application to process the image. The application then will display the output which you can download.
2. How to use black and white filter online?
Black and white filter images are amazing visuals, as in they look great. You can definitely use them to attract new audiences on social media by giving your brand a vintage look perhaps, or you could also post a selfie with this vintage style. This style is adored by many and hence this move is a certain hit.
Conclusion
In this review list, you learned about ten awesome products that offer black and white filters with affordable prices and great features. Not to mention that you can come back and refer to these tools if you want to know how to make an image black and white with ease. But if you want to find help to process more details, an AI picture colorizer is recommended.
Do you find this post helpful?
Yes
No