Best 5 Visual Marketing Strategies
Today, Visual marketing is the most effective marketing strategy across the world. Given how pervasive social media has become in our day-to-day, it is not surprising to see that brands and companies, small and big, are opting for visual content marketing over everything else. For example, as images are the most important element of visual content, it's better to make sure they remain high quality with an image enhancer of VanceAI.
Want to know how to elevate your game? Here are some of the best visual marketing strategies that you can use. 
What is Visual Marketing?
Visual marketing is basically a discipline that employs images, videos, graphs, graphic designs, gifs, or other pieces of multimedia content as a tool for engaging the audience.
With a good visual content marketing strategy, you can help your customers understand your products, interact with the campaigns you create, engage with your posts on social media, and most importantly, purchase your products. 
Best Recommendation to Help Visual Marketing 
The most common visual content that you can create on a visual marketing platform is image and video. After you have assembled a team of highly skilled experts in visual marketing and design, you will want to figure out a visual language to help communicate your visual content creation. 
This can only be done when the quality of your image or video is top-notch. The number one recommendation is to use an online image enhancer that will help you construct your visual content marketing strategy. Take the instance of photo enhancement, it is able to enhance the resolution of your picture to a higher level within several seconds. Make better images with AI image enhancer easily. One click to increase image resolution and get your images crisper, cleaner, and ultra HD.
VanceAI Image Upscaler
VanceAI Image Upscaler will instantly change the way viewers consume the visual content you put out on your website or on your social media. It will instantly improve your image quality and benefit your visual marketing. 
With this one of the photo enhancer tools from VanceAI, you can enlarge images up to 800% in just one click.VanceAI's Image Enlarger is the perfect platform if you want to enlarge images for your visual content marketing. With this tool, you can clearly enlarge an image to 2 to 8 times the original size. That too, without sacrificing image quality. So why subject your audience and clients to low-quality images and make photo hd? 
How to use VanceAI Image Upscaler? 
Powered by an advanced AI upscaling technique, VanceAI's Image upscaler can fill in missing pixels and enhance even tiny details during the photo enlargement process. This technique is the best way to get exciting high-resolution content for eCommerce and presentations and physical visual marketing like printing, banners, and posters. 
Let us take you through a detailed guide on how to improve your images for visual marketing using VanceAI. 
Step 1: Drag and drop the image to be enhanced. You can also click to upload. Just make sure it is in jpg, jpeg, or png and below 2.8 megapixels and 5 MB. Don't worry - if your image exceeds the limit, it will automatically be compressed.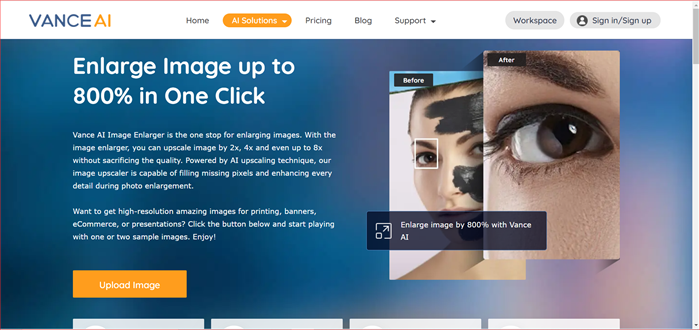 Step 2: Next, you can select Auto Parameters or Manual Parameters. Remember, select manual only if you are experienced with editing. If not, let the AI do the work automatically.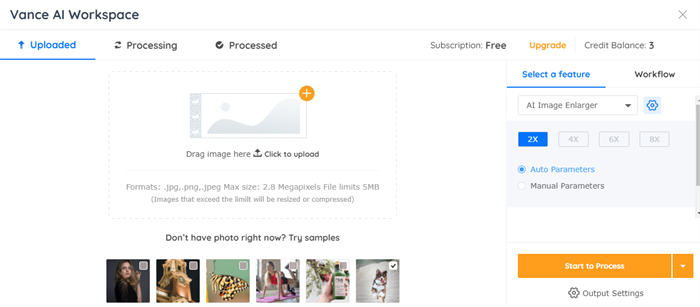 Step 3: Click Start to Process. Within 1-3 seconds - depending on the size of the file - your image will be optimized for visual content creation.
Step 4: Download your image! You will be taken to a screen where you can either choose your price plan or continue by signing up for a free account! It can't get better than this. 

Also read: Etsy Alternatives: Get the Best Online Marketplace for Your Business
About VanceAI
VanceAI offers many AI-powered tools like Image Enlarger, Image Denoiser, JPEG Artifact Remover, Image Sharpener, and more. These easily allow you to process images anytime, anywhere, fully, and automatically!
VanceAI is committed to improving your Visual marketing and visual content marketing strategy using sophisticated AI technology. The intuitive and powerful cloud-based and desktop solutions are advanced enough to enhance any future visual marketing you or your brand wants to do. 
Also read: Best AI Tools for Real Estate Photo Editing
Best 5 Visual Marketing Tips 
1. Do Your Research
Visual marketing starts with research. First of all, know what your brand is all about. Different types of visual content perform better on different platforms. For example, a make-up brand that wants to promote make-up products like lipsticks, eyeshadows, and foundations, will perform better after putting its visual content on Instagram than in the newspapers. The visual marketing platform is almost as important as the visual marketing content itself.
2. Plan visual content creation according to the visual marketing platform
Once you know which visual marketing platform you want to use, it's essential to lay down a visual content marketing strategy specifically for that channel. Suppose the make-up brand is doing poorly, even though it is using the platform that its target audience is using. After modifying its tone, style, and visual content, the brand will instantly see growth in customers. 
3. Stick to the visual brand you create
A brand is recognized only if it consistently builds on its unique way of marketing. Everything is important: style, design, font color, font size, logos, visual tone. Before, the make-up brand was inconsistent with its font. After laying down a visual language, its creative unity came through, and its visual marketing began to sell.
4. Don't oversell 
Keep your posts and visual marketing consistent but make sure you are not over posting or over-promoting. This can put fans off. After the make-up brand encouraged influencers to create or promote their visual content for them, the brand image and sales saw a hike. 
5. Refine and reimage
Nothing stays the same in the world of visual marketing. Always reinvent yourself and your brand if you want to stay ahead of the game. Suppose the make-up brand kept promoting the same eyeliner for years. They had a few loyal customers but didn't see much gain. After reinventing the product with an upgrade in logo and enhanced image, their sales shot up. 
Conclusion 
A lot of companies want to get into visual content creation but they feel that they lack the knowledge to develop and deploy successful visuals to gain more consumers.  Using the tips and visual marketing examples above, you can easily excel in visual content marketing.
FAQs
1. How to get started with visual marketing?
Simply break down your brand's image, vision, and aims, and form a visual content marketing strategy. The easiest tip is to begin enhancing your images with VanceAI Image Enlarger to create better content for visual marketing. 
Do you find this post helpful?
Read More to Know Deeper: