Reinvent Yourself  with the Best Cartoon Maker
Are you bored with the image of your profile used on the sites and forums you subscribe to? If so, let me show you an AI-powered cartoon maker online that helps you to make awesome cartoon pictures of yourself. 
Toongineer Cartoonizer is a cool tool to use and will definitely help you reinvent your image in online communities. With this online cartoon maker, you can transform your photo into a cartoon very fast and easily. You do not need to install any additional program and it is free. You can upload 5 photos each month and turn them into something fresh and amazing. Thanks to the latest AI technology used by its developers, everything is automatic.  You don't have to edit anything, but simply upload a picture of yourself. Things are simple with AI. More interestingly, there are also some popular Vtuber Maker which use similar technology. Try it if you like.
Why do you need a cartoon maker?
Obviously, because it's fun. Don't tell me you never imagined what a cartoon version of you would look like. Or you're not curious to turn a picture of your pet into a cartoon? On the other hand, we all put various effects on the pictures to make them cooler. Phones, social media platforms, and so on, are flooded with various photo editing programs. Undoubtedly, Adobe Photoshop is the first photo editing program that comes to mind, due to the many tools it provides and the fact that it is relatively easy to use even by less experienced users. Apart from that, there comes some fancy AI Portrait Generator, making fancy selfies at a fast speed. Get to know more about it.
However, some of us can't afford to pay hundreds of dollars for a license. Of course, there is another reason. Things seem a little more complicated, you have to see what each button does and we have to admit ... we don't all have the patience for that. A good picture makes a thousand words, and today we could even say that a good picture makes thousands of likes on social networks. A new cartoon character maker is new in town and it will make your photos stand out. So, I suggest trying this Toongineer Cartoonizer. 
Besides that, more people also seem to be interested in AI Face Generator. You can know more from the link.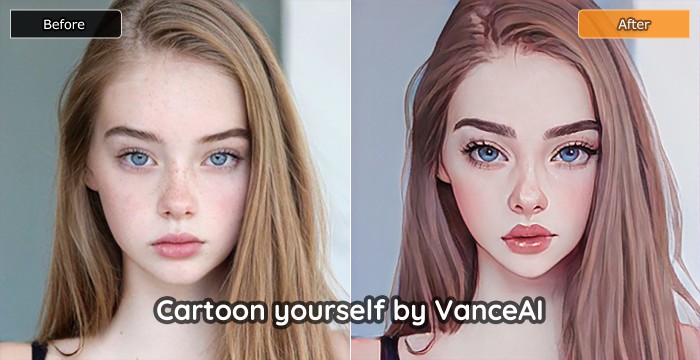 Yes, no more talking. Let's see how we can play with this free cartoon maker.
Also read: Discover How Easy to Convert Picture to Cartoon 2022.
How to Use AI-powered Cartoon Maker?
Using this cartoon maker is piece of cake, thanks to the AI technology at the core of this cartoon maker. Everything is happening in an instant.
Step 1: Access the official website VanceAI ( explore it if you want – you will find useful & awesome tools for editing images), opt from the menu "AI Solution", then click on " Toongineer Cartoonizer".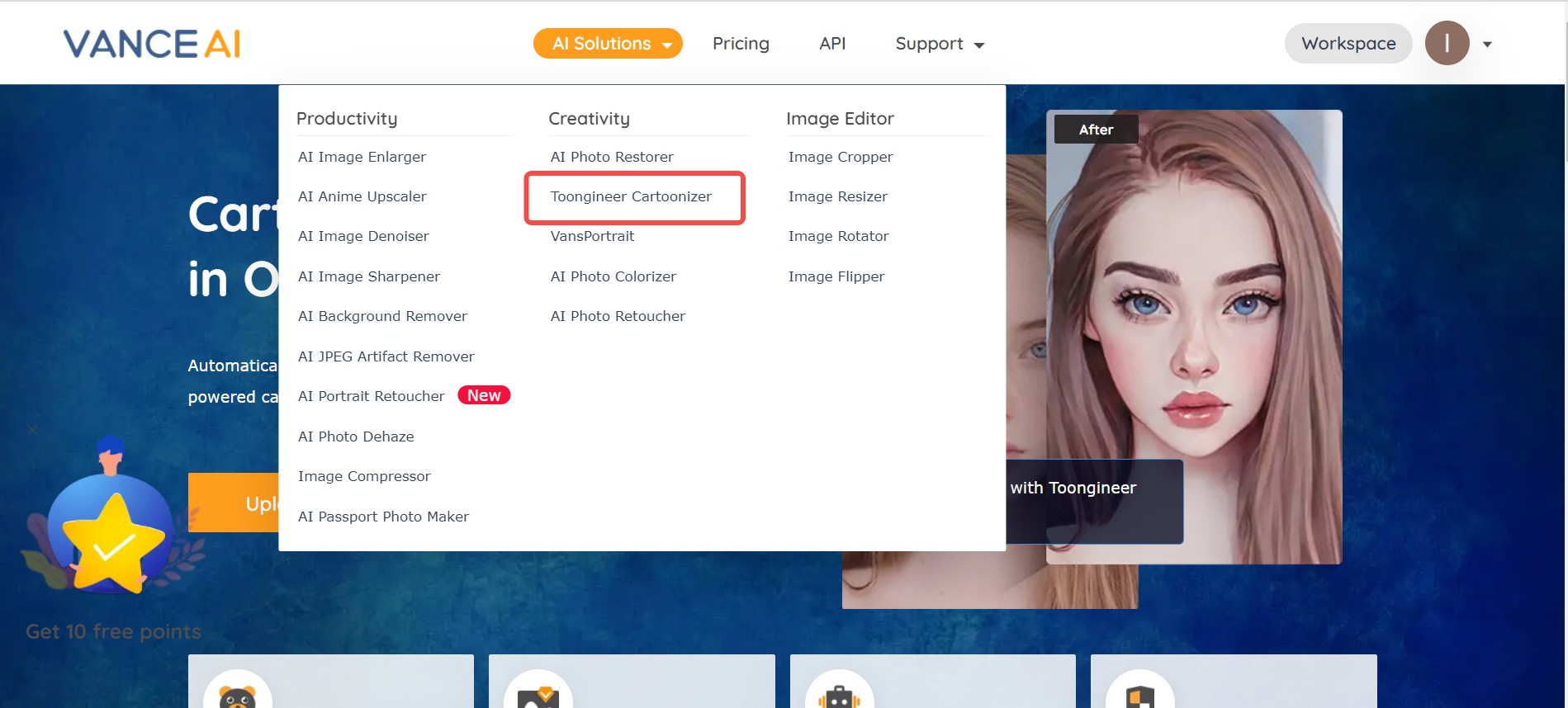 Step 2: From the interface of this cartoon maker, click " Upload Image".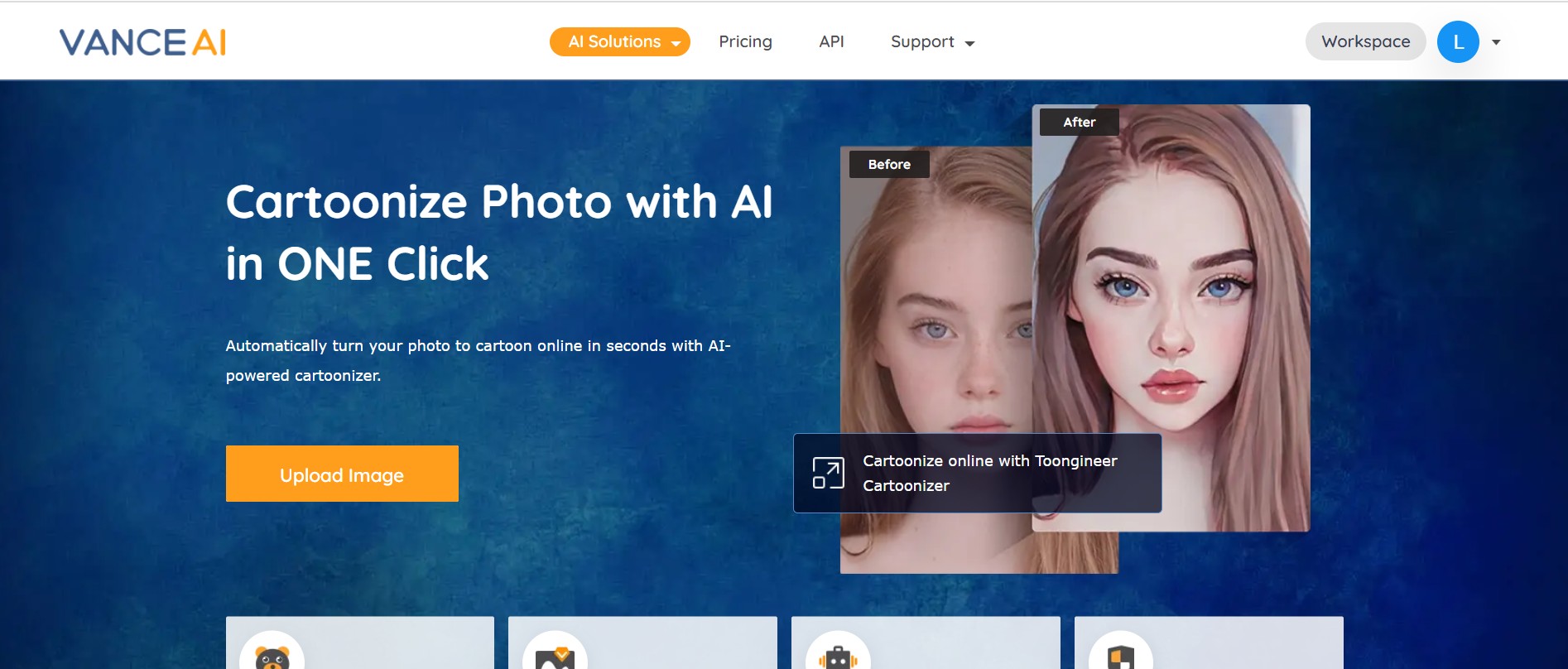 Step 3: At this point, you need to upload your photos, select them and hit " Continue". You can use this online cartoon maker for free up to 5 photos every month. You can select all of them, or just one. For this article, I used my subscription account and I can upload up to 10 photos at once.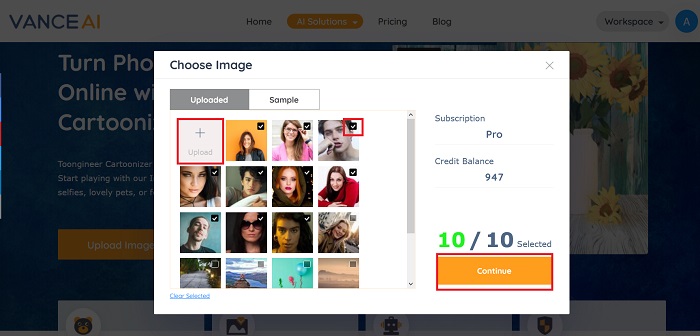 Step 4: Now all things are prepared. Now all you have to do is press the button " Start to Process".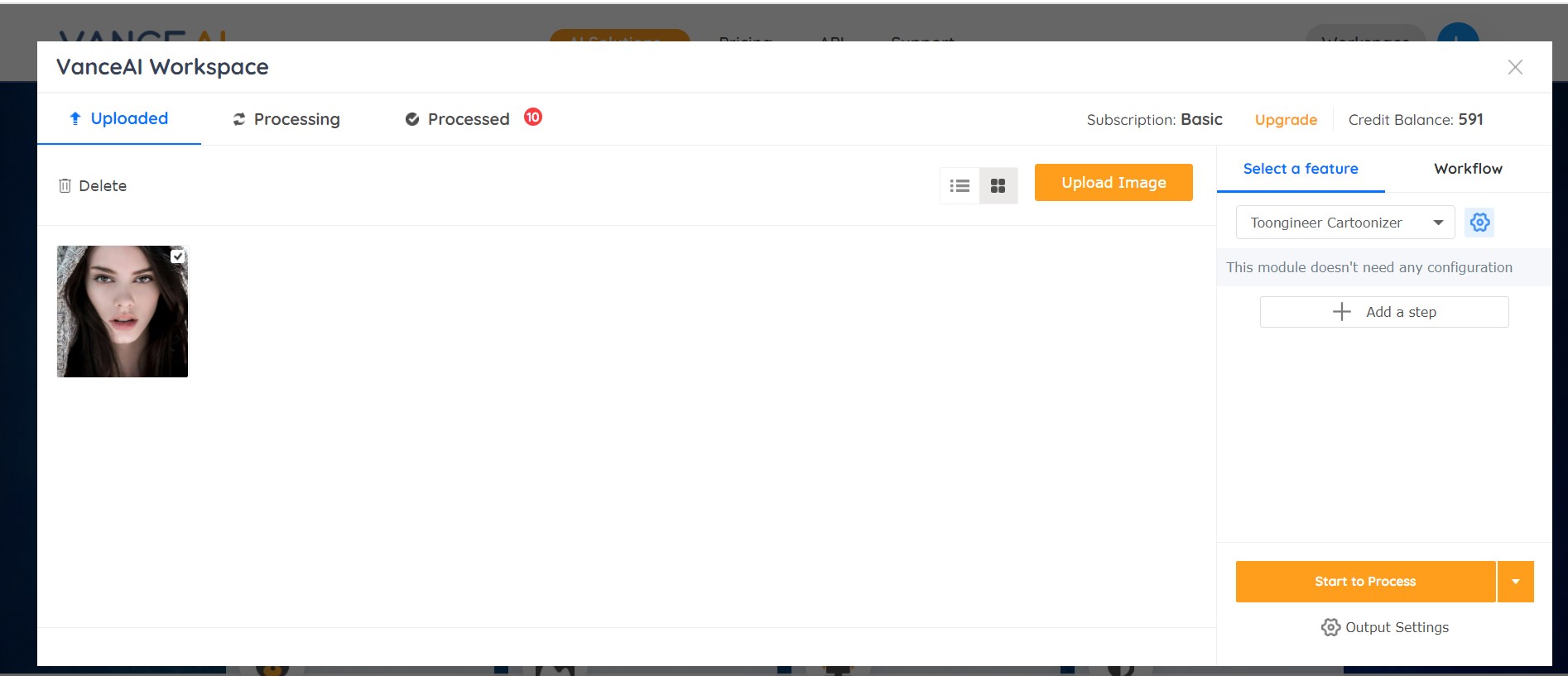 Step 5: This tool works very fast. In a couple of seconds, you will be able to download your cartoon photos. Go to the " Processed Images" and from there you can compare your photos or you can download all of them. See? This great AI cartoon generator makes cartoonish become an easy thing.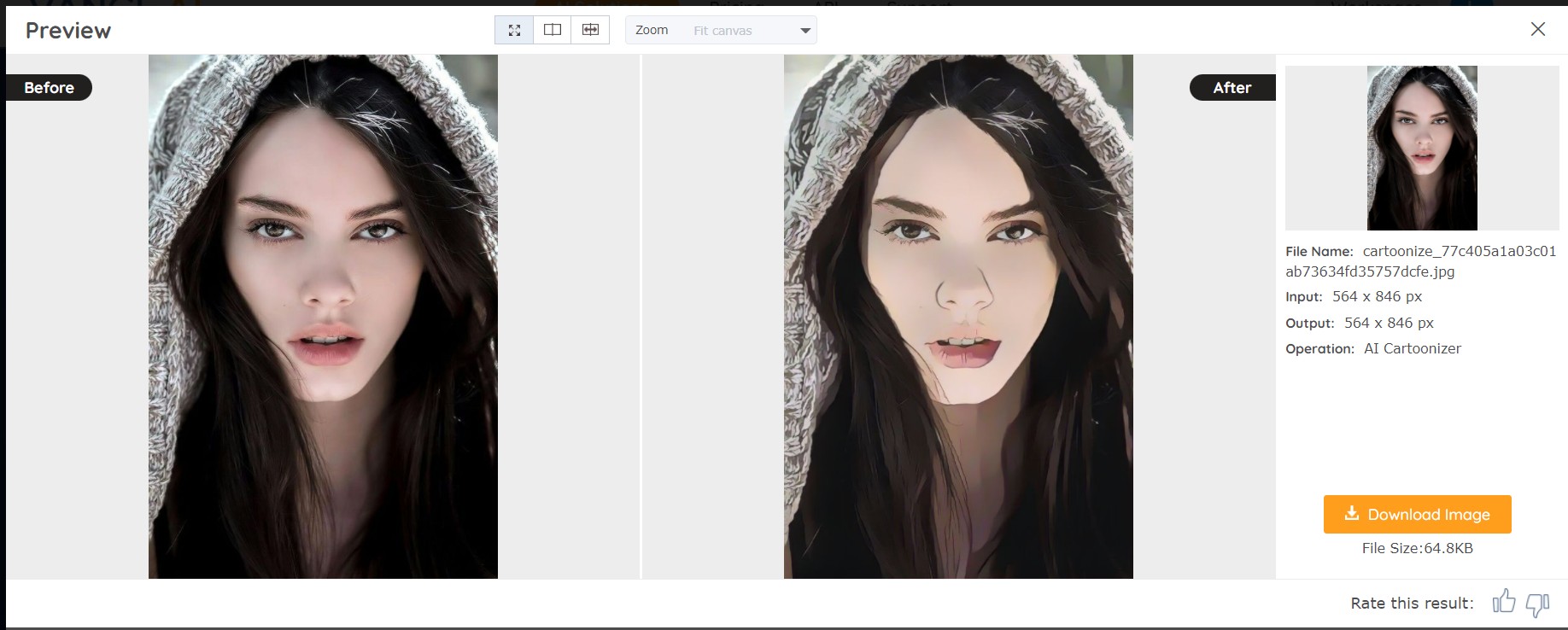 Also read: Best 5 Cartoon PFP Makers Review.
Check the Results
Just, check the results and see for yourself how amazing is this.
This is a great cartoonizer. You can use your avatar picture in online communities without being ashamed of the result.  Of course, you can share it everywhere on the Internet. Many online tools that promise to turn your picture into a cartoon, distort the subject's face. As you can see here, everything is perfect. The features are preserved and everything looks smooth.
You can use this free cartoon maker even and in the case of objects, animals, and so on. In short, you can upload any picture. Click to check out more best alternatives to selfie2anime.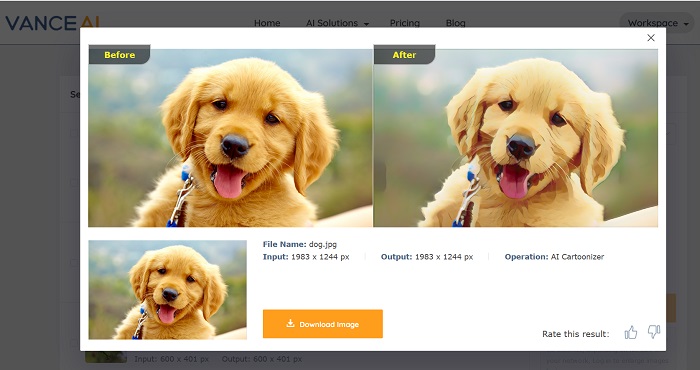 It's adorable, don't you think?
Here is another example: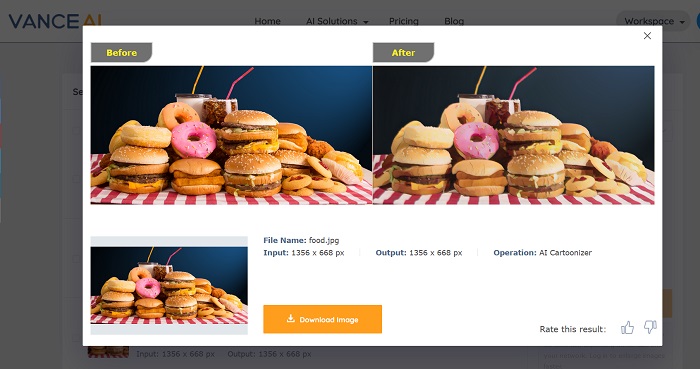 I am really surprised about this cartoon maker. I definitely recommend it. After so many attempts on other similar sites, it delights me the most. The results are above expectations and I must admit that this cartoon maker put a smile on my face. It is fun to use and I can wait to share it with my friends. Reinvent yourself with Image Cartoonizer.
Final thoughts 
This software is the real proof that you can turn photo into cartoon in an instant, without compromising the quality. It is one of the best cartoon makers which does not convince you with words, but with incredible results. You can create fun and hilarious cartoon pictures of yourself and stand out from the crowd on social media.           
Click to see black and white to color online with AI.
Do you find this post helpful?
Read More to Know Deeper: