Enlarging an image is not a hard case to work on. However, things are a bit tricky if you want to enlarge image without losing quality. No worry. With AI image upsacle, you can make it online effortlessly. In this article, you will also see how amazing it is to enlarge an image up to 8x.
Imagine you take a picture, or perhaps, downloaded one online, only to find out that the image you have are either blurred out or lacking in terms of quantity. In this case, an image enlarger is all you need to bring it back to its best quality. In essence, this is a tool that upscales images to their best resolution and quality by 2x, 4x, 8x, etc.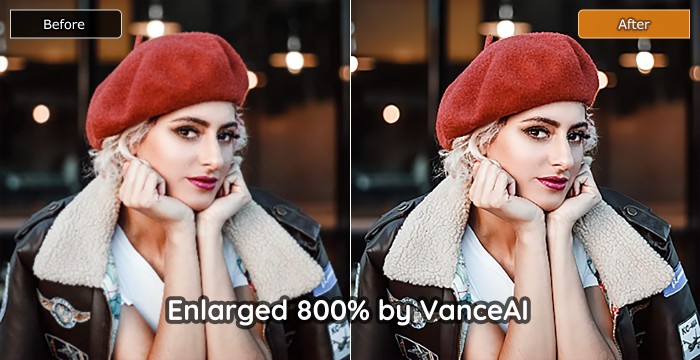 VanceAI Image Upscaler is a stand-out when it comes to these tools, considering its advanced AI technology. The tool has been trained with several millions of images, as such, it is smart enough to detect blurs, noise, and other image quality factors, optimizing their quality and making them suitable for a range of uses and has been highly praised by many media.
Pricing plan
There is a free version for first-time users. However, if you desire more features, opt-in for the basic plan at $9.99 monthly or the pro plan at $19.9 monthly.
Pros
Free trials

Fully automated process

Great details restoration
Cons
How to enlarge an image?
Method 1: Visit VanceAI upscaler workspace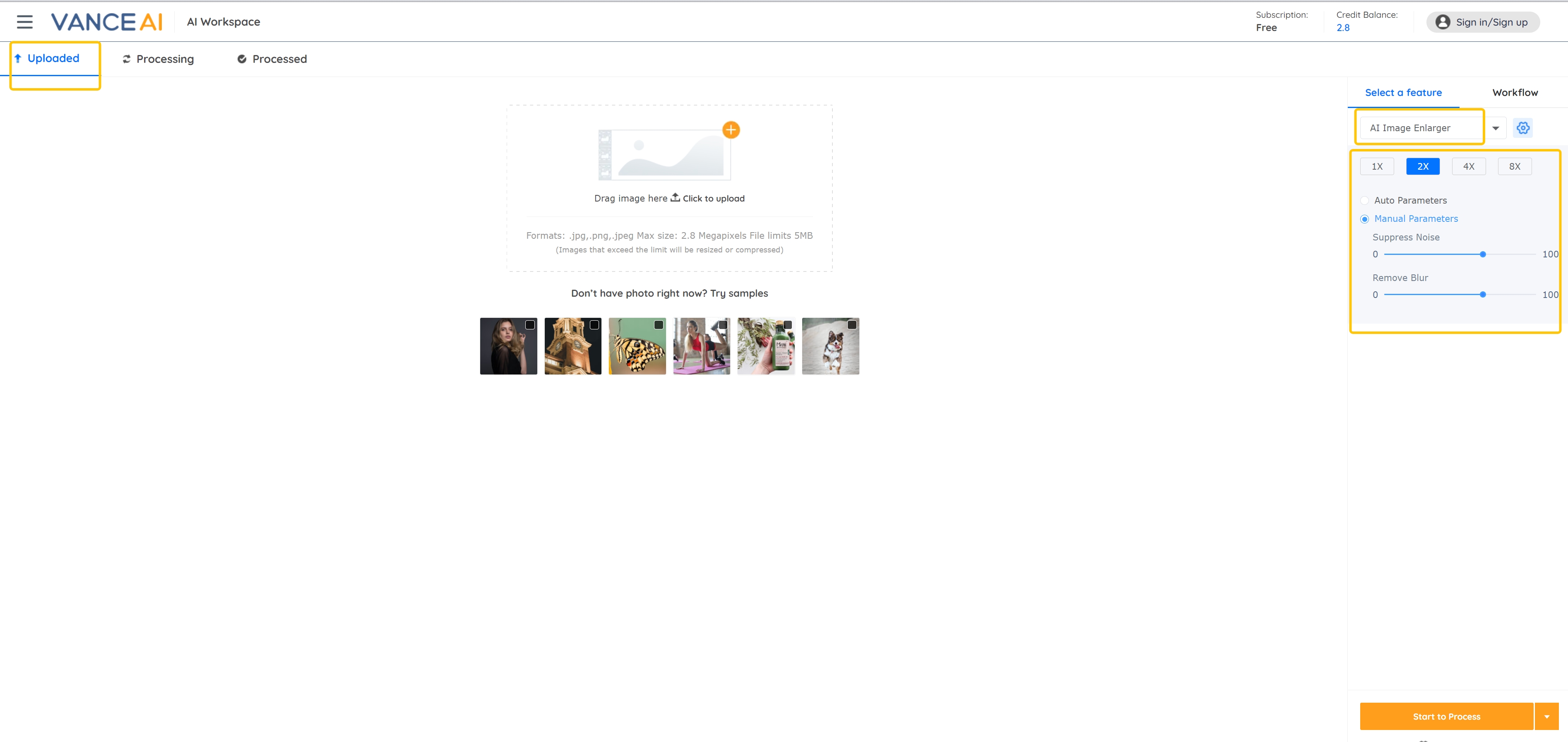 Users will no longer be bothered by long processing times and insignificant operating steps with workspace. The image below is a screenshot of it, and on the right stage, you can change the option boxes before your image is processed. Wait 3 seconds after clicking "start to process" and then you will get the access to viewing the output.
Method 2:Visit website of VanceAI image upscaler.
VanceAI image upscaler has made the entire process as seamless as it gets. For anyone looking to enlarge image without losing quality, follow the following comprehensive steps.
Step 1: upload the image. When it comes to uploading, the tool is quite flexible allowing you to use its seamless drag and drop option alongside directed upload from your device's media. However, it is important to note that you can only upload one image at once. The batch processing option is not available. Again, the duration taken to upload will as well depend on the size of the image you're uploading. For anyone worried about the integrity or privacy of their uploads, know that the tool's database deletes every entry within a few hours, coupled with a robust encryption framework that guarantees maximum security.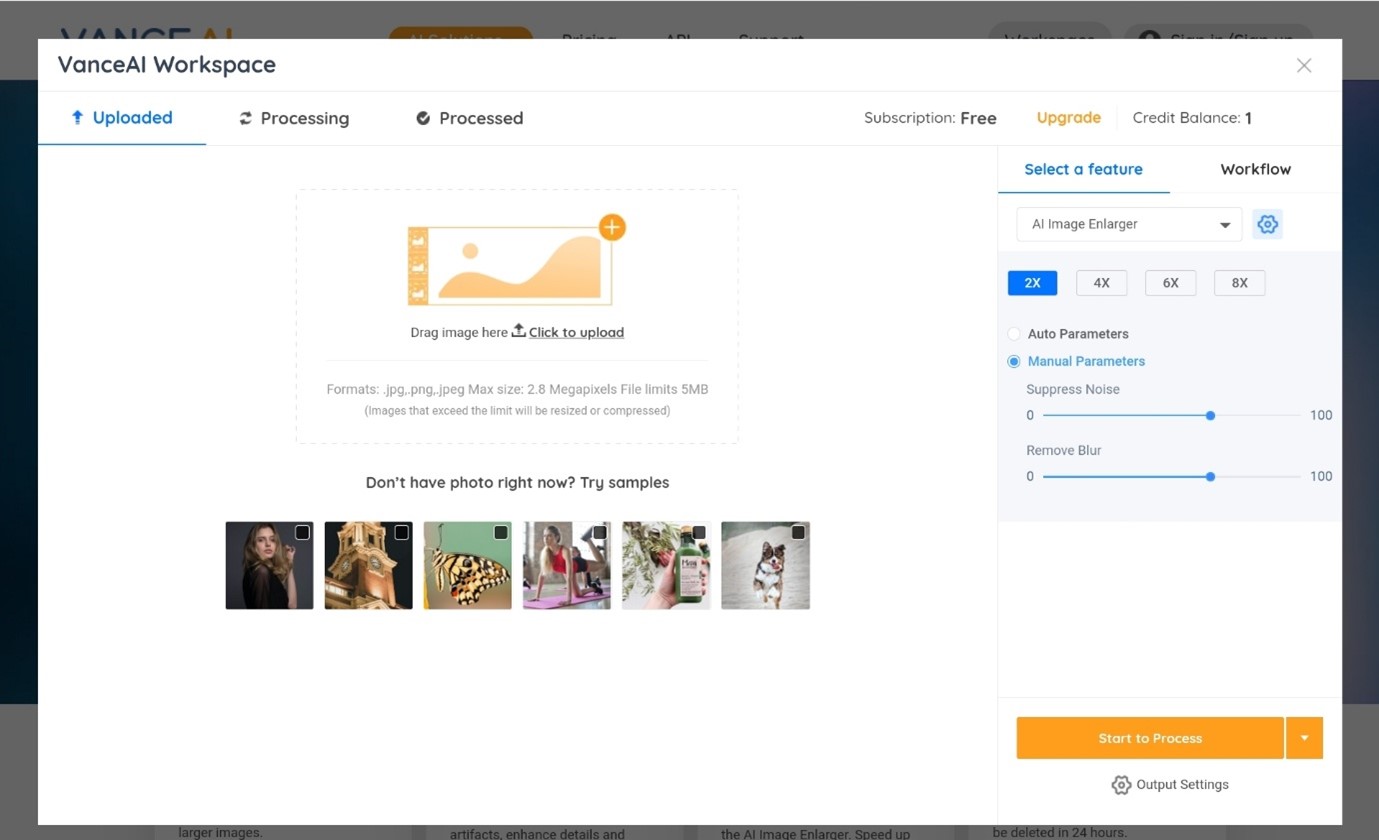 Step 2: Once the upload has been completed, you're now required to choose a scale you prefer for the image. If you want to enlarge it by 2x, or 4x, choose accordingly. But remember that only paid users are able to enlarge images using the AI tool by 8x and 6x automatically. Besides choosing the scale, you can as well adjust the levels of blur and noise if you want to alter any of those specifications in your image. However, if you're not sure how to go about this, kindly opt-in for the auto option, which sets everything automatically for you.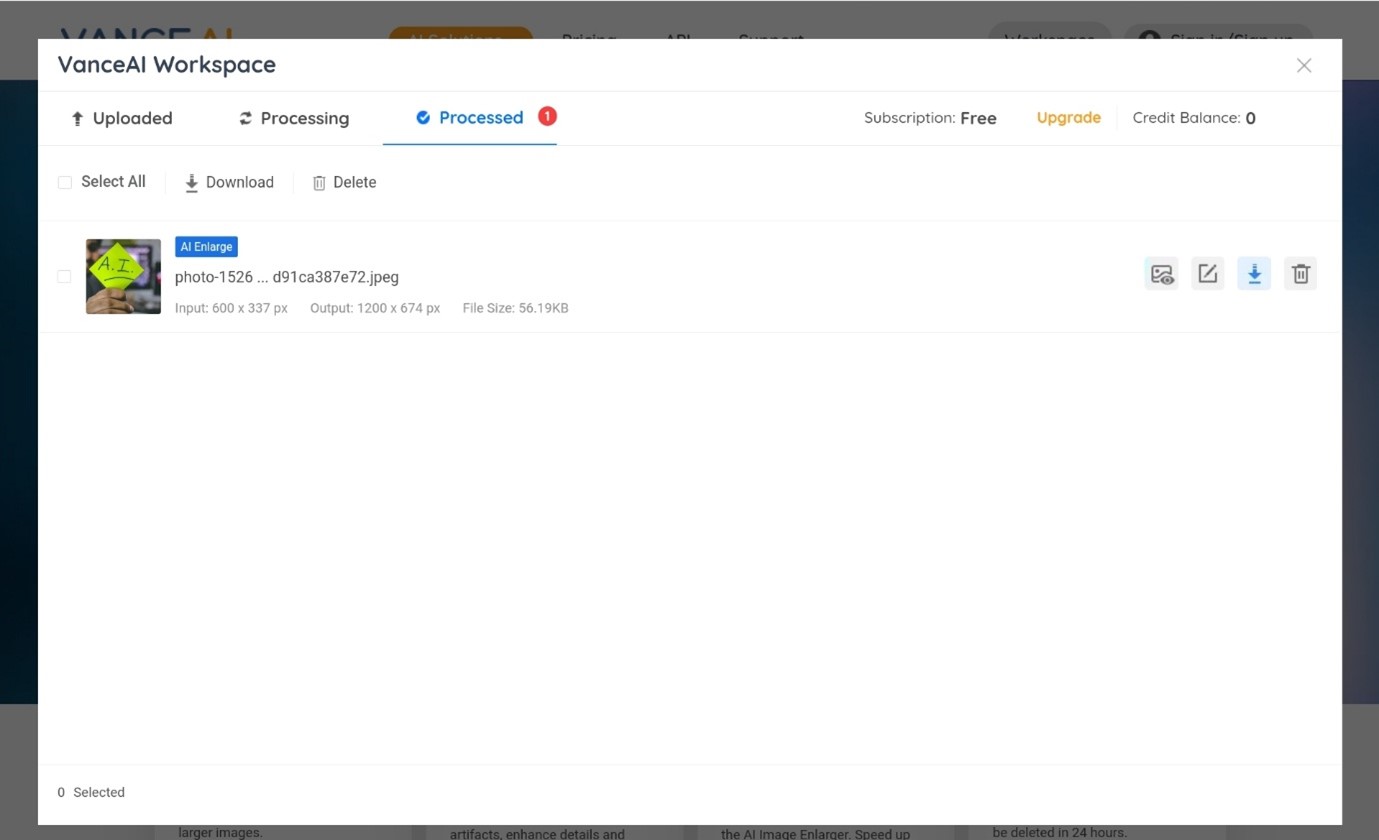 Step 3: Once you're done with the setting, hit the Start to Process button.
Step 4: hit the download button to save the upscaled image.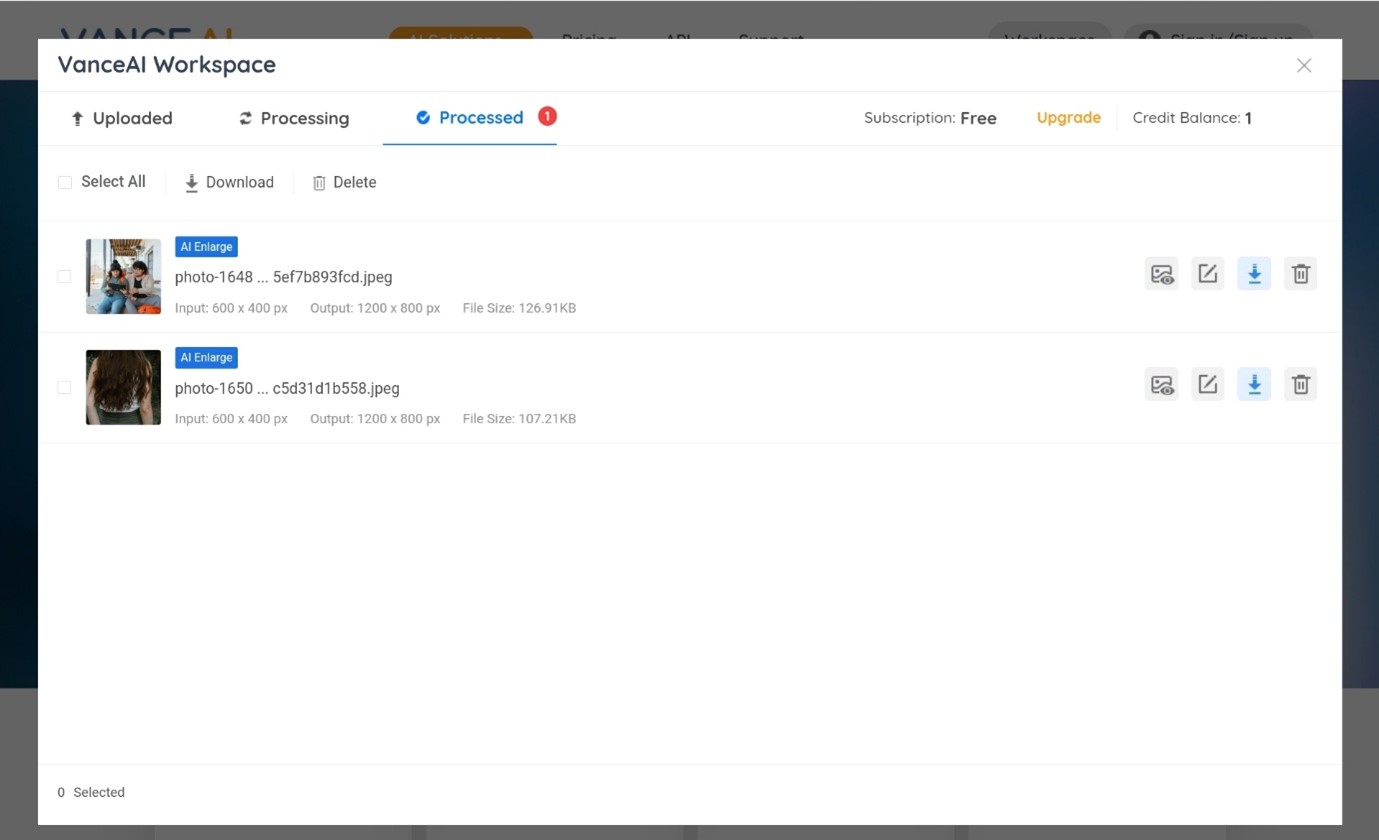 Image enlarger performance review
This review will assess the details, color definition, contrast, shadow, resolution, and everything contributing to image quality.

Taking a look at the image at the left, it was quite blurry with some intricate and tiny details not so apparent. The visibility even diminished more with zoom. Besides, the resolution was 600 x 400px, which was pretty low for several intents. But taking a quick look at the after image on the right, everything became clearer, the color became more defined with no traces of pixelation or blur when zoomed. Even at maximum resolution, it looks just fine, with a more coherent and less faded scene.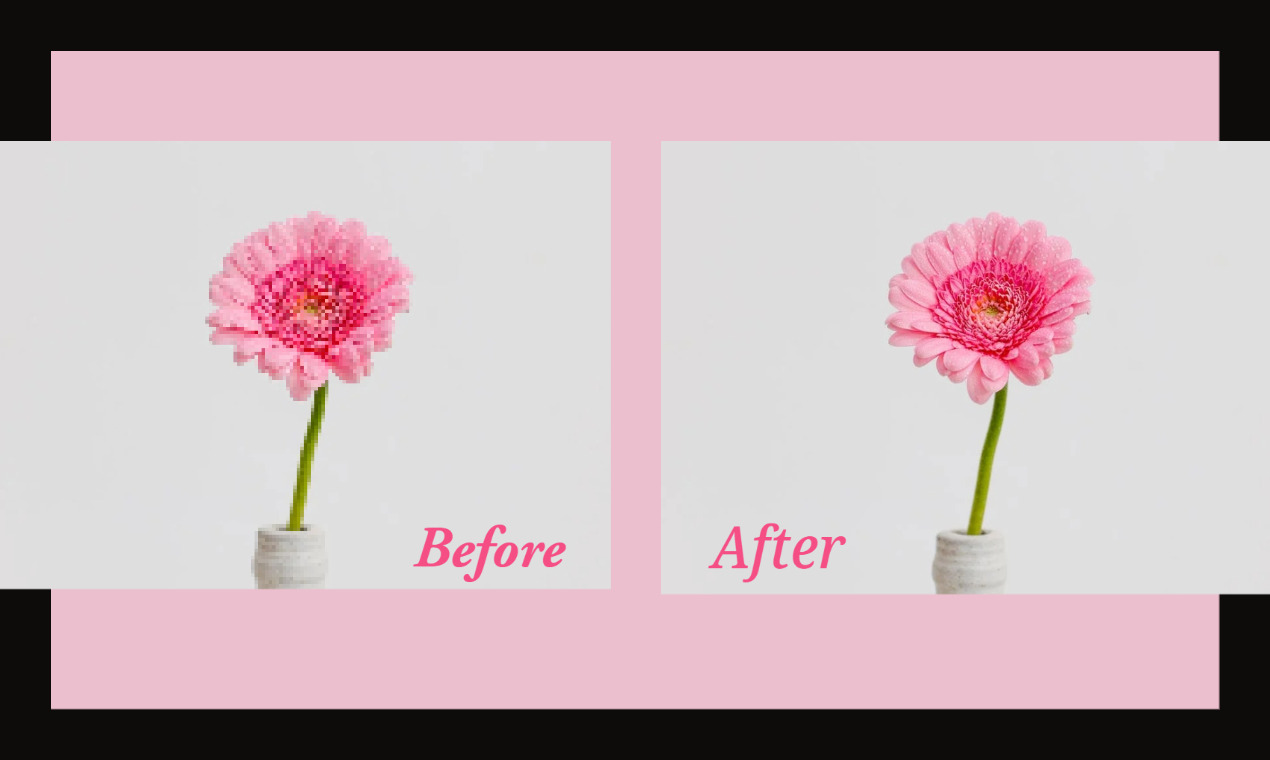 The same could be said about the second image. The initial resolution was negligible at 600 x 400 px, and no one would even want to use it as their wallpaper. But with the image enlarger, even iPad users or people who use devices with large resolution can easily use the image. So, in terms of definition, details, and resolution, the image on the right undoubtedly shows nonpareil superiority.
Why you need an AI solution?
Sometimes you get an image and just want to work with a portion of the photo, what you will do then? It may reduce the overall resolution and limit your use if you crop it and enlarge it to the size you need. What you get in this way are normally pixelated images since many tools like VanceAI Image Upscaler just enlarge the image pixels not preserving the quality, just like the image shown below.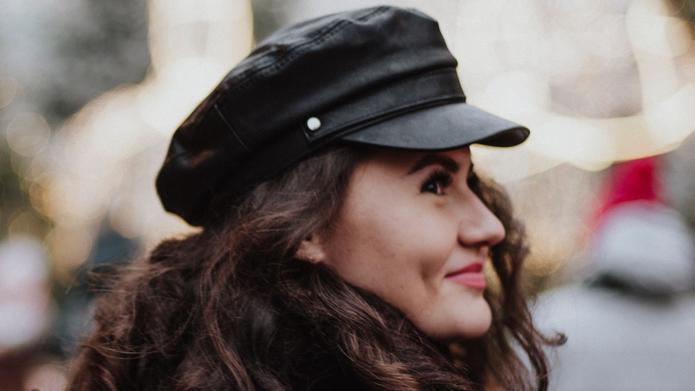 However, with an AI-powered image enlarger like AI enlarger, your enlarged image will be enhanced at the same time. The enlarged pixels will be repaired through the deep learning technology and the fill-size resolution will be restored even better than before. Let's have a look at the comparison. You can see the enlarged pixels on the model's face are enhanced by this AI Image Enlarger. This tiny enhancement will decide the overall effect when you print this image or set it as a computer screen wallpaper.
In a normal case, the enlarged images would become a bit pixelated. However, with VanceAI Image Upscaler, you don't need to worry about that since it is able to enlarge and AI upscale image while processing.
How to Enlarge an Image?
VanceAI Image Upscaler is your top choice if you want to enlarge image online without breaking any pixels. With AI solution, you can enlarge an image up to 8x in just one click. Free users can choose 2x or 4x and download up to 5 images enlarged per month.
VanceAI Image Enhancer is a great choice when it comes to enlarging images. This powerful AI software allows you to enlarge an image up to 40x, which tops most products on the market. You can use it to process images for greater size so that you can print them out or share them on social media.
Steps to Enlarge Image Without Losing Quality - Online
Step 1: Drag&drop an image to the interface of VanceAI Image Upscaler.

Step 2: Choose a scale like 2x. Paid users can upscale image with AI automatically, 6k and 8k.

Step 3: Click "Start to process"

Step 4: Click the "Download" button to save the image enlarged

Also read: How to Upscale Images with Bigjpg?
Summary
The AI products allow you to enlarge image without losing quality. If you use the trial version of VanceAI's image upscaler, you can enlarge up to 3 images each month for free. To enlarge more images, you can choose a plan and make a subscription. If you already subscribed, you need to authorize your computer with the VanceAI account so that you can access all the features.
Want to learn more about refining images? Check out in How to Enhance Image with VanceAI.
Do you find this post helpful?
Yes
No