How to Increase Image Size with VanceAI?
It's pretty common to use various tools to enlarge images but many software fail to increase image size without losing quality. It is an important detail since perfectly sized images are needed for advertising, prints, guides, and so much more. The Internet is visually oriented, making it essential for any user to make sure that their images are clearly visible and attractive.
Blogs, business PowerPoints, social media posts, etc. are a few instances where we need to increase the size of an image. Needless to say, learning how to increase the size of an image is something that will come in handy in many situations.
VanceAI Product Online: VanceAI Image Upscaler
Designers often need to increase image size on the go and this is where VanceAI Image Upscaler comes in. With this well-optimized and efficient tool, you can easily increase image size online with just a few clicks. Not only that, but this online tool also provides advanced image-enhancing features such as AI Image Denoiser and AI Image Sharpener to maintain and improve original image quality. You can enlarge up to 5 images per month on a free account or opt for the Basic account at $9.90/mo or the Pro account at $19.90/mo. VanceAI packs many cool features with their plans such as batch processing, regular customer service, powerful servers, and lesser restrictions when it comes to image size. VanceAI Image Upscaler is definitely a handy tool that does the job quickly and is easy to use.
VanceAI Product Software: VanceAI Image Enhancer
VanceAI Image Enhancer is a software application that you can download from the official website. This software is your go-to tool to increase image size without losing quality. It also offers photo enhancing options like AI Image Denoiser to make sure that your image is just as crisp at 40x size increase. It manages these impressive tasks thanks to its in-built smart Machine Learning based algorithms. Not to mention the fact that you can use it to make image high quality.
The software itself isn't too large in size and uses a simple yet stylish UI design. This Image Enhancer's denoise feature adds some versatility to it for post-processing images. Photo enhancer is a jack-of-all-trades software that will not only upscale images up to 40x times but will also offer advanced photo enhancing features.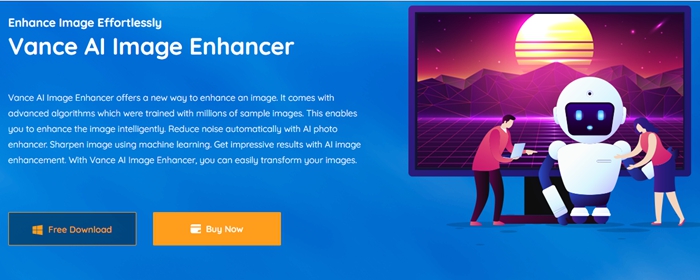 How to Increase Image Size with VanceAI Image Upscaler?
The question of how to increase size of image is often a confusing one since there are a few tools that can actually get the job done well. VanceAI Image Upscaler is the perfect online tool for such tasks, however. It supports the most popular image file formats like JPG, JPEG, and PNG for both input and output. Without further ado, read on to get an easy and detailed enough guide on how to use VanceAI Image Upscaler.
First of all, you'll need to visit its official website of this Image Enlarger. Upon clicking the link, you will be taken to their Image Enlarger page where you will see the button to upload your image. You can simply click on it or drag and drop the image as per your preference. The button will open the window prompt for you to select the image and once you do, select it.
Now, you will come across the editing screen. It will look something like this: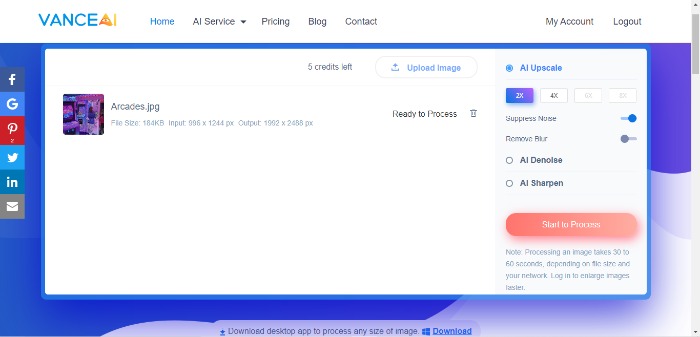 The online Image Enlarger will first load the image completely, so wait for it to happen. Once it is done to enlarge image, you will see Ready to Process written to the right of the image. You can then use the features on the right tab. For the free edition, you can increase the image size by 2x or 4x.
The input image size below the image indicates the current and original size and the output size indicates the image size after the increase. So, upon clicking either 2x or 4x, you can preview the exact dimensions of the resulting image beforehand.
Furthermore, you can choose the two AI tools that come in the form of Denoise and Sharpen. Each will drop down into a Degree scale from 0 to 100. Set the degree as per your needs. At the top, you can also check the number of credits that you have remaining at the moment.
When you are done, click on the Start to Process button. Image Enlarger will start processing the image and list your image below once it is done. Click on the download icon at the right of the image, choose any download destination in your system, and save the image. Check how VanceAI Image Upscaler helps to depixelate images by clicking the link.
How to Increase Image Size Locally with VanceAI Image Enhancer?
VanceAI now also launches its software version. VanceAI PC is full-featured desktop software developed by VanceAI that lets you instantly process local photos in bulk with more customization options, which will significantly simplify your workflow and boost your productivity. Free Download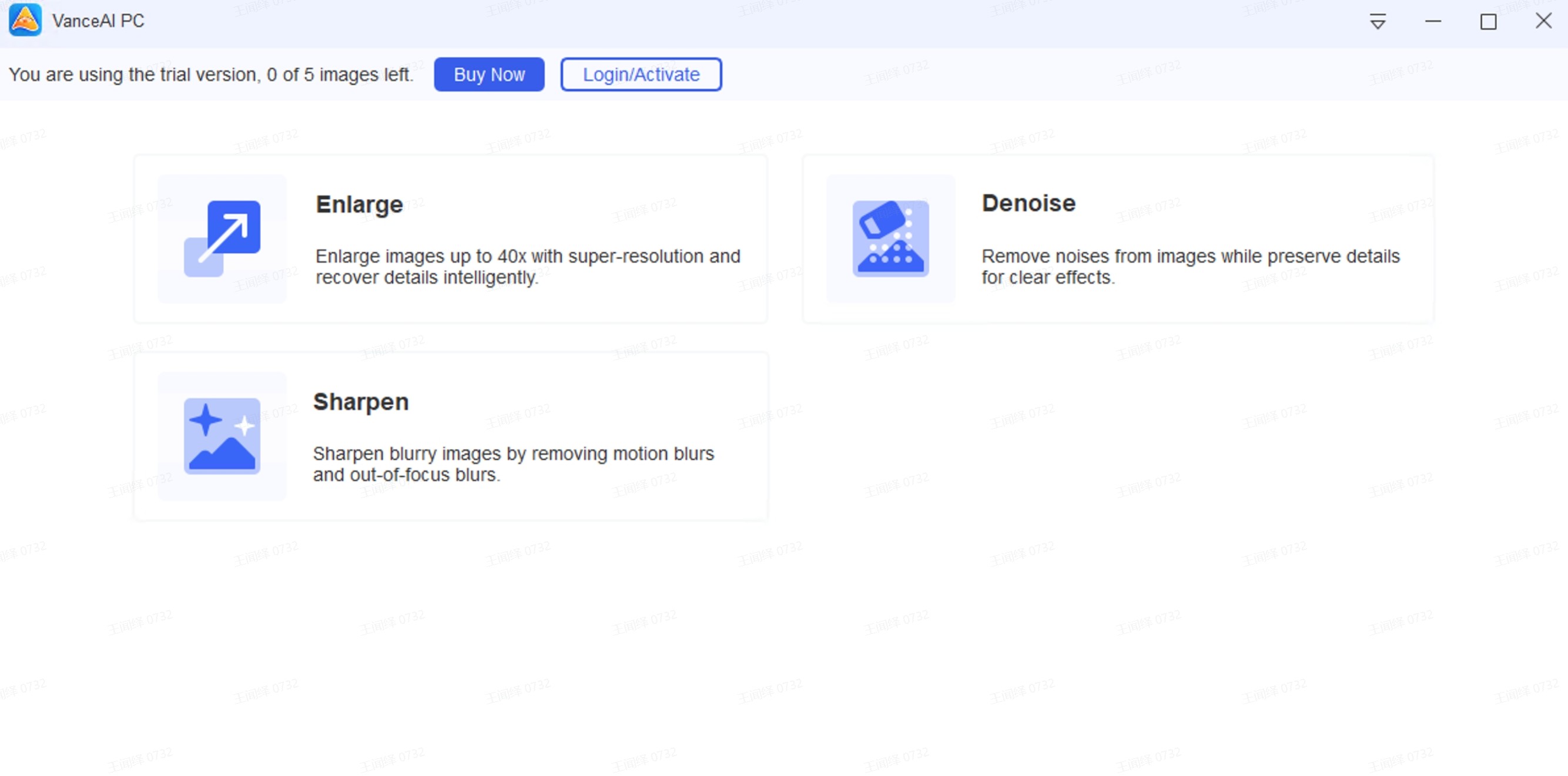 You can easily get access to this Image Enhancer service from their website with a free download. The service has a high compatibility range as it supports Windows, Mac, iOS, Linux, and Android systems and devices. Click on Free Download to initiate the download of the free trial version of Image Enhancer. It will download the installer in your system. Run the installer and choose the location where to install the tool.
As mentioned before, VanceAI uses advanced Machine Learning techniques to meet all your image size requirements hence needing to install its AI models during the installation process. Simply wait for it to complete the installation.
Launch image resolution enhancer once installed for it to pop up its start window. It will show you 3 options, Enlarge, Sharpen, and Denoise. Click on Enlarge to increase image size. Wait for the service to prepare its AI model. Now, select the option that says Open Images to choose the image that you want. The screen will then look something like this: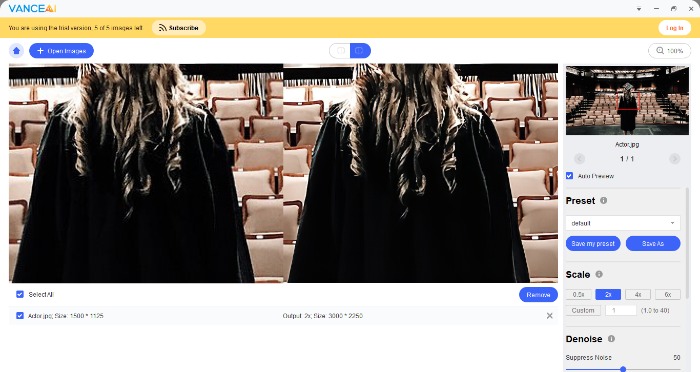 The service will give you a side-by-side preview. You can adjust the scale, presets, and other image-enhancing settings from the tab on the right side. You will also see the input image and output image sizes, which work the same way as in the online tool, AI Enlarger. The difference from the online tool and software to enhance image is that here you can scale your image by up to 6x times while enhancing the resolution of your picture to a higher level within several seconds.
When you are happy with the image, click on Save to download the image on your device.
Conclusion
Overall, VanceAI tools, both the online and software versions, are handy and lightweight tools that are efficiently designed for all your image size change needs. They are also accurate, thanks to their implementation of Machine Learning and other modern techniques. This guide should serve as a good review and guide for getting to know these applications, their features, prices, and how to use them. Also read: Top 15 Best Image Resizer Review 2022
Do you find this post helpful?
Read More to Know Deeper: