One of the most basic needs for designers or even casual users on the Internet is to resize image pixels. It is still a tedious task to find a worthwhile image size converter, by pixel we mean image size in a broader sense. Photo pixel resizer applications are now expected to resize image pixel in spades while not letting go of the picture quality. Such applications are difficult to make because they often need to meet a variety of requirements from a variety of people.
This review deals with a pixel image resizer as well, it's called VanceAI Image Enlarger. You can enlarge image with this online pixel resizer application, which is also free to use for limited amounts. An excellent image pixel resizer is able to enhance the quality of the image it resizes. This allows them to be aesthetically pleasing and practical at the same time. With the ever-increasing ways of using images digitally, there is always a need for images and their use in all kinds of resolutions. We will go through steps on how to enlarge image with the AI Image Enlarger, its features, prices, and more.
How Does Image Pixel Resizer Work?
A couple of fundamental features that carry the Image Enlarger are its technology and user interface. These two features hold great importance for online pixel resizer applications. Now, the 'AI' from AI Image Enlarger indicates that the pixel resizer is backed by Artificial Intelligence and Deep Learning technologies. ConvNet, a technique used heavily for image processing in areas such as video games and movies, is also put to use here. The AI is trained with a close to million images for testing before sending it out in the public domain.
With people on the Internet exiting any application or web page as fast as joining in, it has become increasingly difficult for such platforms to keep users online. UI is responsible for giving the application an attractive look as well as presenting information that is simple to understand and easy on the eyes and mind. The AI Image Enlarger balances those aspects well enough, like the other applications found under VanceAI. It also has a reduced number of pages to load, now that it simply has a pop-up dialog box for uploading images to increase image resolution effortlessly. Too many pages can also hinder the user experience.
5 Upscaling Models
VanceAI Image Upscaler provides 5 different image upscaling models. Let's dive into them and see which you can choose to get your desired upscaling effect. Whether your images are standard, animated or others, choosing the right model will give you better results when you need to resize image pixels.
Standard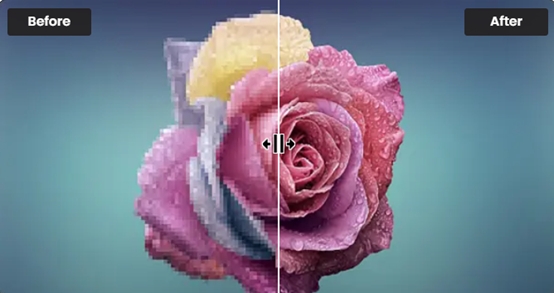 One of the upscaling models from VanceAI Image Upscaler is the Standard model, which is called Enlarge Stable. It enables you to resize any kinds of images, including photos taken by camera, paintings, landscape photography, and so on. If you have a general photo to upscale, never hesitate to try this Image upscaler to enlarge image online or on AI upscaler software.
Anime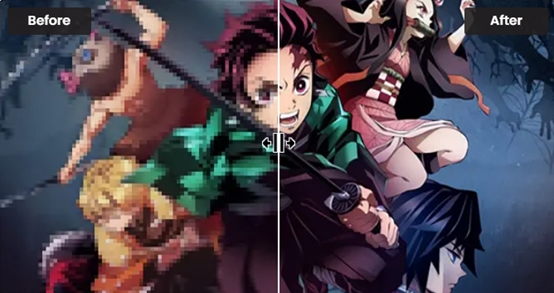 The Anime model of VanceAI Image Upscaler is the best option for anime upscaling. This model can convert old cartoon, anime, and comics to high pixel images and improve the details. It is divided into 3 submodels: Anime_4x_AnimeSharp, RealEsrganStable and Upconv_7. Simply choose one and start to upscale image from animation to 2K, 4k, or 8K with this AI Image Upscaler now! If you prefer software, image upscaler software is here for you.
Art & CG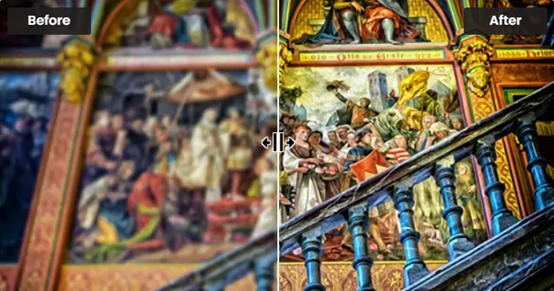 The Art &CG model of this AI Image Enlarger allows you to enlarge CG, art image, drawings or paintings online and restore the original texture instantly. This model is called Universal_UltraSharp_4x. If you want an AI art upscaler to improve image resolution to show the image details more clearly. VanceAI's online Image Upscaler can do this perfectly. And you can have AI image upscaler software to upscale CG images if you need.
Text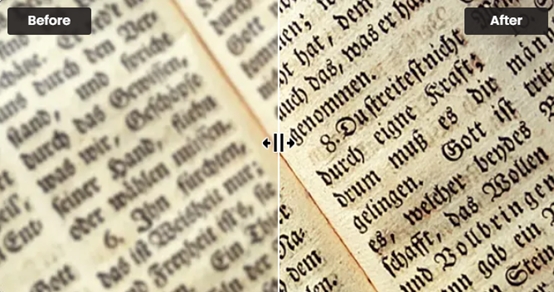 Legible text images can be very essential, including e-signature, e-contract, and scan files. VanceAI Image Upscaler provides you with a text model called Text_4x_TextSharpV1 to AI upscale image with blur text. If you are having trouble upscaling blurred text on a mass of paper documents, this online image enlarger from VanceAI is here for you.
Low Resolution & Compressed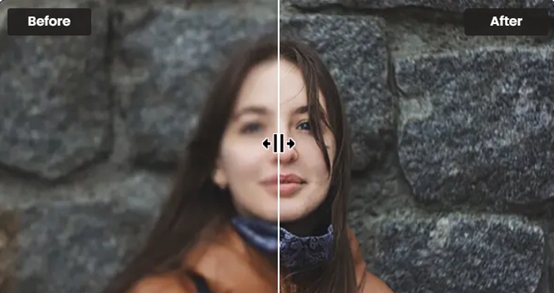 Low Resolution & Compressed model from VanceAI online image upscaler can upscale low resolution and compressed pictures to HD in one click. If you need more delicate product photos, portraits or wallpaper, this model will always satisfy you. It will never be too late to upscale such images online with VanceAI Image Upscaler or with upscaler software for PC!
VanceAI PC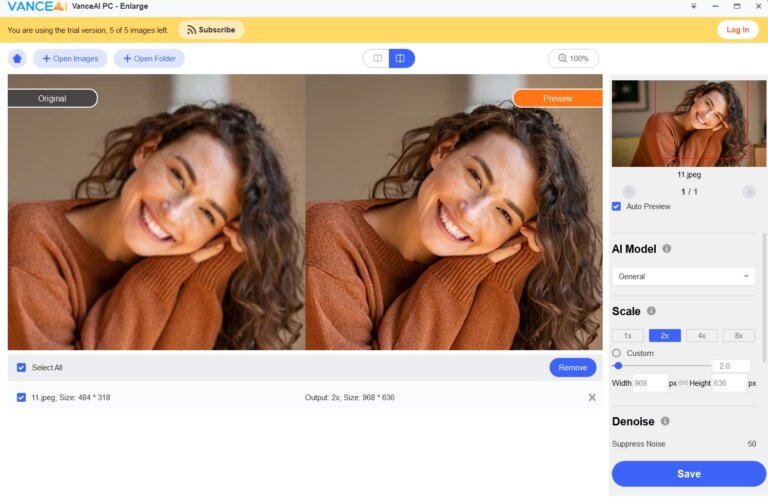 If you need more convenient and professional AI upscaling software, VanceAI PC is your best choice. As AI image upscaler software, VanceAI PC helps resize image pixels without losing quality and improves image quality with 100% precise details with advanced AI algorithms.
How to Use
Let's get through simple steps on how to enlarge image using this AI tool offered by VanceAI.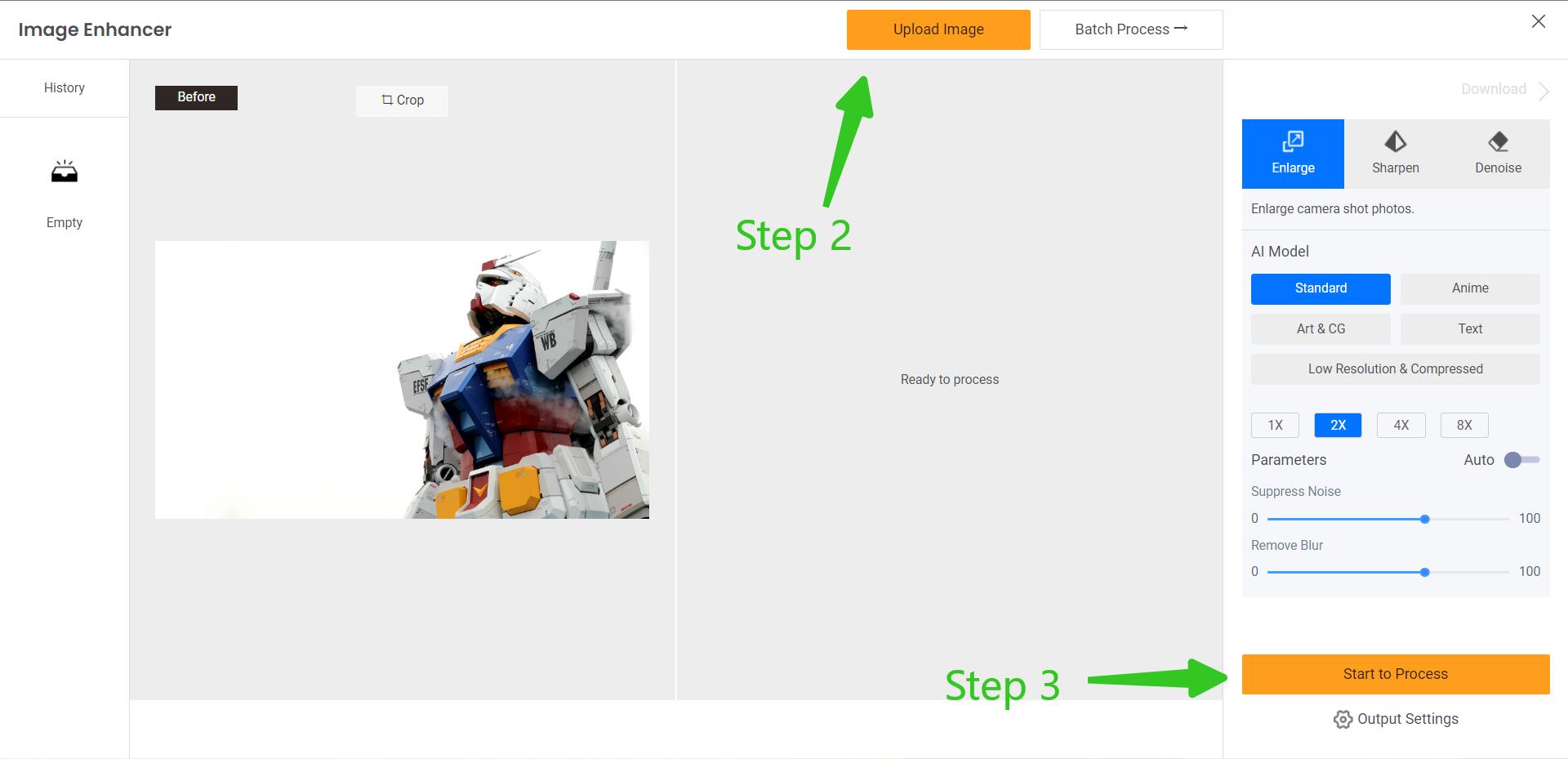 Step 1.Visit the link, it will take you to the home screen. Click on Upload Image there in yellow.
Step 2.Drag and drop or select an image from the device to upload it. Click on Continue.
Step 3.Wait for the application to get your results. After that, click on Download Image to save the image.
By the way, VanceAI now also launches its software version. VanceAI PC is full-featured desktop software developed by VanceAI that lets you instantly process local photos in bulk with more customization options, which will significantly simplify your workflow and boost your productivity. Free Download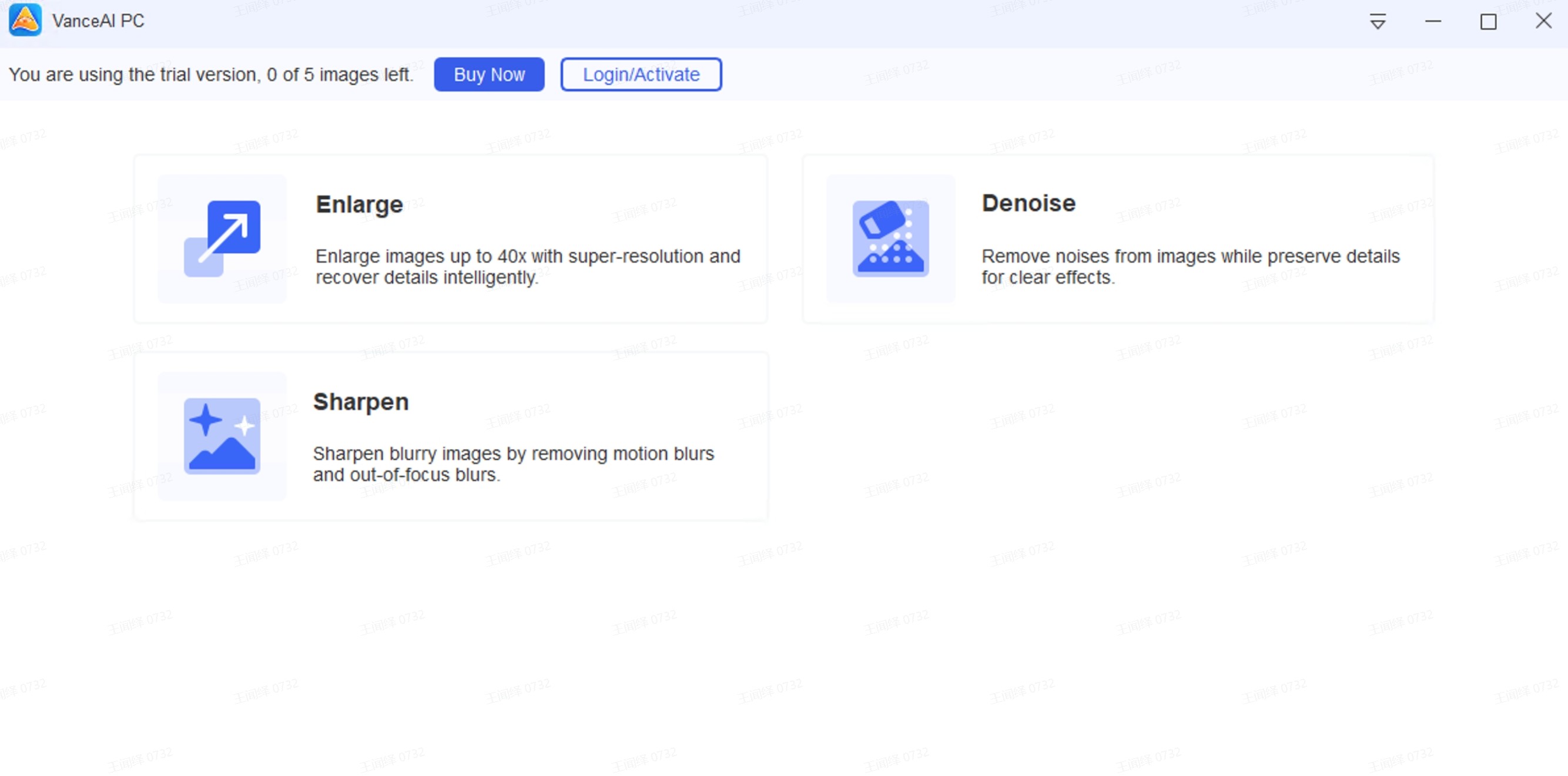 Performance
Take a look at these images which are AI Image Enlarger's work.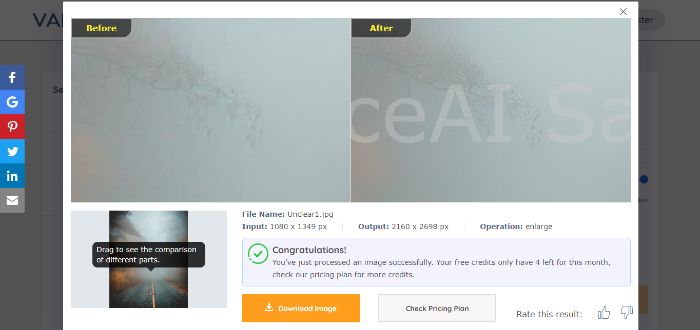 The first image, as you can see, is a wallpaper of a cold forest surrounded by fog. The output image has managed to sharpen the branches hanging from the tree, as there is more definition to each twig and leaf. Also, the fog seems clearer and less blurry. As a result, you can see many more leaves in the output than in the original. The pixels of this image are resized to twice the original size.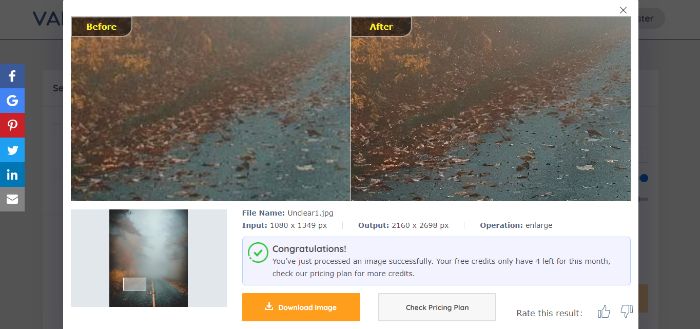 A similar effect is seen at the bottom side of the image. The road and leaves have a definition here and hence contrast. The fog is more realistic looking and doesn't hinder the image quality.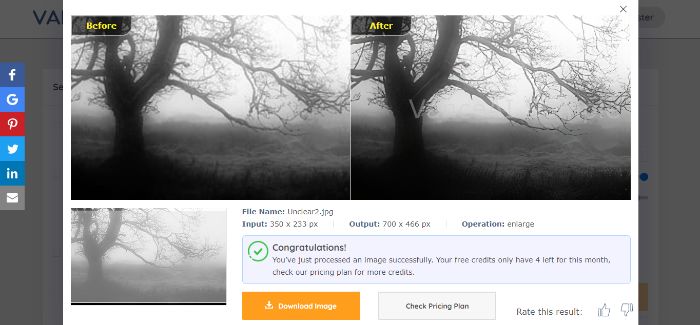 This application is certainly apt at getting rid of blurriness and the general round edges found in objects. This image sees both those effects. The output has a contrast that differentiates it compared to the original image. The grass and ground, in general, are detailed well enough.
These features come at a price of course. However, VanceAI does offer its features for free for 5 uses per month, or rather 5 credits as it says. So, if you plan to use VanceAI only once in a while then you will face no issue with it. For those looking for a regular pixel resizer application, these paid options are worth considering. There are 2 paid packages, Basic and Pro versions.
The Basic edition costs $9.90 per month and includes batch processing of 5 images at once. It offers 200 credits, 10 MB image size limit, and 3000x3000 resolution limit. The Pro edition costs $19.90 per month and includes batch processing of 10 images at once. Apart from that, it provides 500 credits, 10 MB image size limit, and 3000x3000 resolution limit. However, images exceeding the threshold will be resized or recompressed anyway. The free version does not allow batch processing.
Conclusion
This pixel resizer tool is an online tool that delivers on its fundamental requirements excellently. Though a no-watermark would be preferred for free users as well, the watermark itself is at least not as troublesome as others. This Image upscaler has a lot of advantages that easily take over its little shortcomings.
For one, as mentioned before, the technology and UI that it carries is simply great. There are no detours or extra steps when using this application. You can easily resize image pixels in a matter of seconds. The website itself is good to look at. If you have blurry images and need to sharpen image, our Image Sharpener is of great help.
The algorithms that it uses also manage to enhance images in really satisfying and realistic ways. They are simply high quality. Click to see how to resize image for YouTube Cover.
Do you find this post helpful?
Yes
No