In recent years, Artificial Intelligence has been at the forefront of discussions about technology and the future of work. Without a doubt, artificial intelligence has solved issues and made finding answers easier.
Consider a situation where you need a photo enhancer to make your workflow easier when editing a photo. You'll need the tool to decipher the algorithm you're working with and learn from the data patterns you're entering. VanceAI provides the perfect solution for you.
It is in fact one of the most efficient tools you can get your hands on!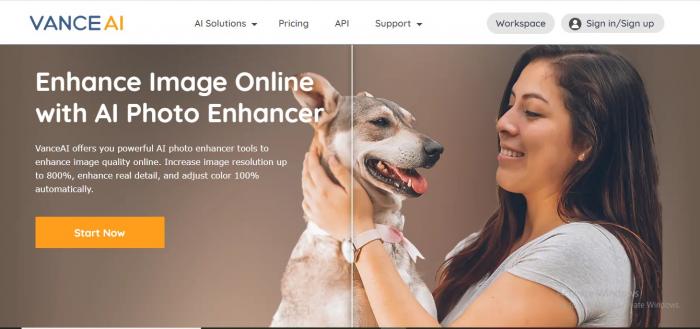 VanceAI, launched in July 2020, has grown from a startup to a multinational company in less than a year. It now has its team of AI developers and experts working on ground-breaking new photo editing capabilities.
This blog will go over the features of the VanceAI Workspace and why it is beneficial to use. Continue reading to learn more!
What is VanceAI workspace?
While AIs have hitherto been restricted to pricey apps with steep learning curves, VanceAI intends to make these tools more accessible to everyone – from photographers to small business owners and everyone in between.
VanceAI improves your images using sophisticated image-enhancing techniques. This photo enhancement offers a new interface that allows you to process low-resolution images using AI characteristics. This must-have assistant for executing graphic design and editing activities with ease leverages cutting-edge deep learning and AI technologies.
Designers, bloggers, and other professionals will benefit from VanceAI. It enables the creation of larger images that attract more views and likes. That is where the VanceAI Workspace comes in. Here is a step-by-step on how to use this brand-new tool.
Step 1: Upload an image.
You can select images from files on your device or add a sample image provided below.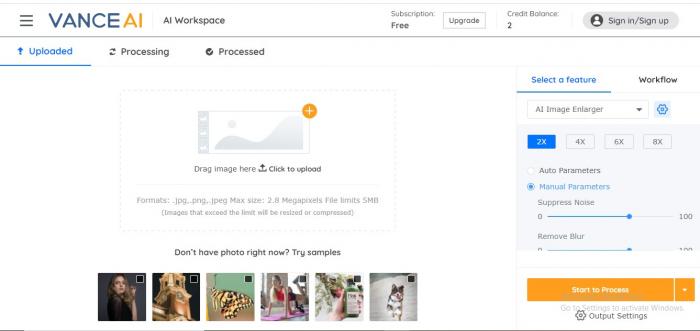 Step 2: Click on 'Start to process.'
VanceAI is extremely user-friendly in terms of ease of use. All you need to do is click on the button to process your image according to the software's algorithm. You can also toggle the manual features on the right to customize the editing for your photo. Select a feature before proceeding to process. The convenience here is that all VanceAI features are already listed. All you need to do is decide which one you want to go for. In this case, we have opted for the AI Image Enlarger.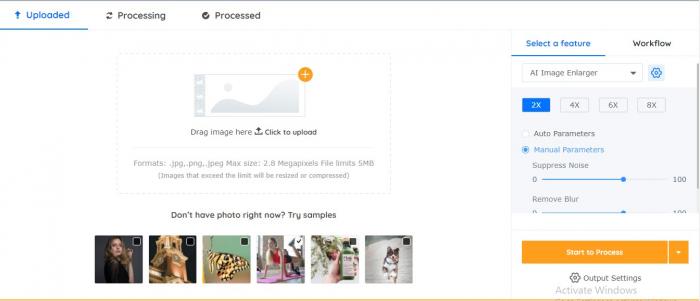 Step 3: Preview your image.
The browser will automatically lead you to a fully edited photo. The cursor on the right also allows you to adjust the selected enlarged area in the image according to your preference.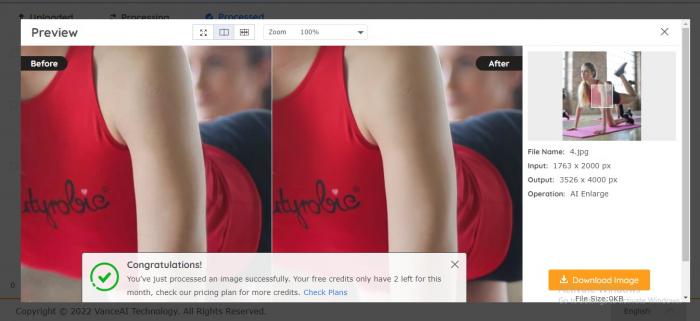 Step 4: Download your image.
Click on 'Download' to save your image. Viola! You have an image completely edited by AI. Pretty awesome, right?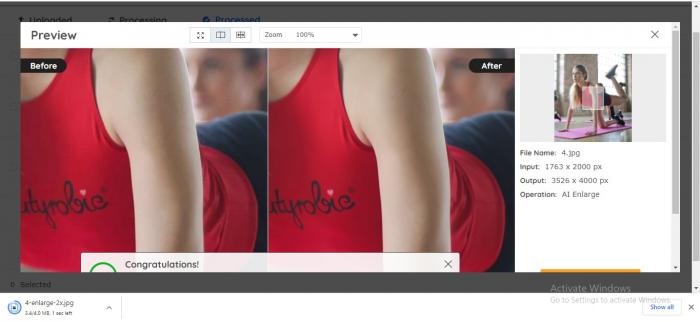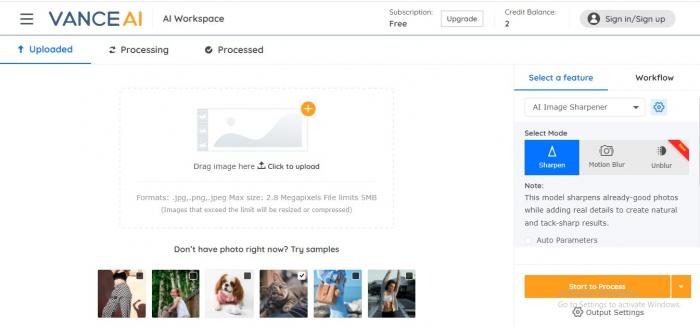 The VanceAI Workspace has proved to be fairly simple and easy to use. The algorithm updates the sample photos provided at the bottom according to the edits included in the individual features with every feature. However, it does pose some restrictions on the extent to which users can edit images.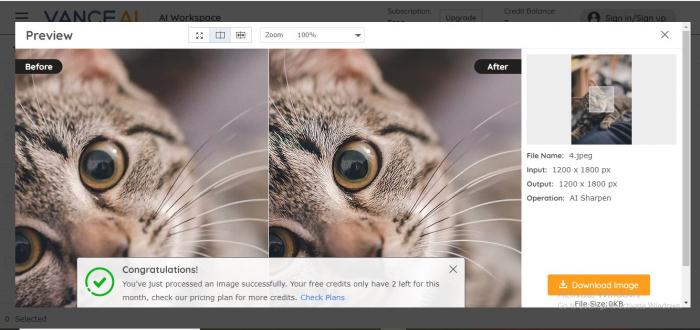 Check out the final result of the AI Sharpener above. Again, there is a visible improvement in the overall quality of the photo with absolutely minimal effort.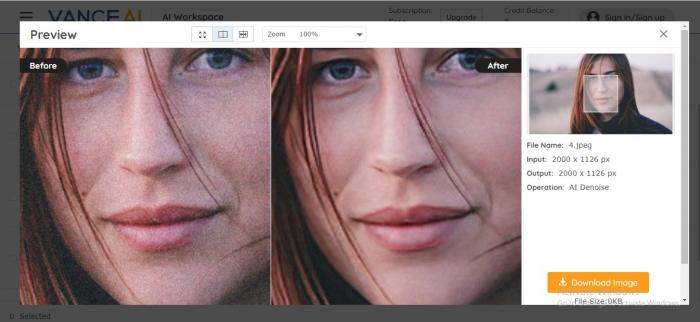 The AI Denoise feature is equally promising. It visibly smooths out textures in the image and provides a sharper view with overall improved image quality.
VanceAI also provides new users free credits to try out the features before investing in a package. This is extremely convenient since it provides new users with a hands-on experience of the different features which can influence their decision to purchase a package.
What's more, having control over the modes included in the features is refreshing, and the brief descriptions about the modes help the user decide what best editing option to select for their photo.
Once the image begins processing, it is quite straightforward. The user is led to a preview of the image where they get the opportunity to give the final touches to the image before saving and downloading it.
The VanceAI Image Enlarger is one of the most powerful tools out there right now to make your photos stand out for upscaling photo quality.
FAQ
Q: How to use AI Image Enlarger?
Ans: The VanceAI Image Enlarger tool boosts image resolution by up to 40 times and uses AI to recover information. It is quite impressive and simple to use with quick and prominent results.
1: Upload your desired image.
2: Click on 'start to process.'
3: Preview your image.
4: Download and save your edited image.
Conclusion
Overall, the VanceAI Workspace is an extremely impressive tool in photo editing software. It's a good option for basic and automatic picture editing tasks, including eliminating backgrounds, sharpening photos, and increasing quality with AI enlarge image. In addition, VanceAI is a beautiful, all-in-one solution for individuals who don't have access to professional photo editing programs and don't have time to learn how to use them. Read more:Simplify Photo Editing with VanceAI's New Customizable Workflow