2021 Review: Transform Your Pictures with 7 New AI Features from VanceAI
VanceAI is shaping up to be one of the top photo enhancer (seen as an efficient tool provided by VanceAI, which aims to remove disgusting blurry, or noisy parts.) with continuous improvements to its design and consistent new ways to transform pictures. These new ways usually include brand new tools to transform pictures that are suitable for all kinds of users. Needless to say, the year 2021 was no different. During this time, VanceAI has introduced a bunch of new tools to their list that can transform pictures and solve various issues that you face with images and photography. The new tools still follow the design and technology of AI, Deep Learning, and more, allowing them to perform just as well as previous tools. In this list, we will be quickly going through the new tools introduced by VanceAI.
Best 7 AI Projects for Photography Review in 2021
Transforming pictures that are old is challenging enough but when you add in the fact that those images may be damaged makes it really difficult for apps to deal with. This AI Photo Restorer tackles this issue by making use of Deep Learning and AI. Reading the photo repair guide will boost your ability to get rid of a lot of issues, such as scratches, marks, fractures, and more.
Another great feature that is present in this VanceAI tool is that users can repair the full photo or just the face, allowing for a better variety. Finally, the batch processing feature means that you can convert entire albums in a short span of time. If you are interested, you can try to restore your image now or download it directly from the pop-up window on the right without leaving this article.
Also read: How to Restore Old Picture with the Help of AI Picture Restorer
2. Anime Portrait Generator - VansPortrait
The VansPortrait is definitely one of the most creative tools that you can use on VanceAI. By making use of GAN algorithms and techniques, the tool allows you to upload a photo and transform it into either a pencil drawing or an anime styled artwork.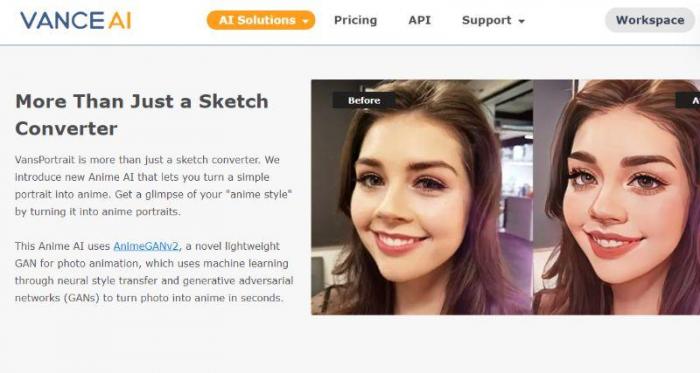 Earlier, the process was entirely automatic and the tool would turn photo into line drawing completely on its own. However, now you can select art presets, which makes the tool produce an output identical to the preset chosen. This is an amazing addition to the tool as it gives much needed user control. Not to mention that the outputs for the anime styled artworks are most often really good.
3. Fix Motion Blur in Seconds - Deblur AI
Just like VansPortrait having two different options for image processing, so does the VanceAI Image Sharpener. In this case, we will be covering the Motion Blur feature of this tool. When you click on Upload Image and open the Workspace, select Motion Blur under the Select a Feature tab on the right.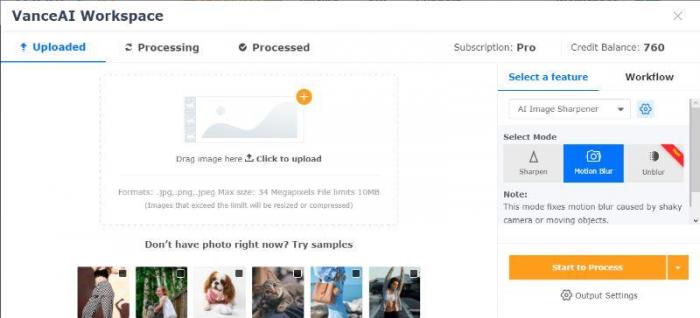 This is a highly useful feature for fixing images that have an uneven motion blur. It can thereby also make the image much more sharper and allow emphasis on image details. The feature can process images within seconds, which means you can easily use it as your post-production tool.
The unblur AI feature is also a part of the VanceAI Image Sharpener. Instead of selecting Motion Blur on the Select a Feature tab, you can instead choose Unblur. When it comes to how the tool functions, it is pretty much as the name suggests. If you have an image that is too blurry, be it in the background or anywhere else, this tool will instantly fix that and give you a much clearer looking image. The VanceAI application also provides a lot of sample images for you to try out.
While VanceAI has the VanceAI Image Upscaler for image upscaling and transforming pictures to bigger resolutions, the VanceAI Anime Upscaler specifies in anime styled images only. Not to mention that it offers up to three completely different models to transform your pictures into bigger scales while maintaining the image quality.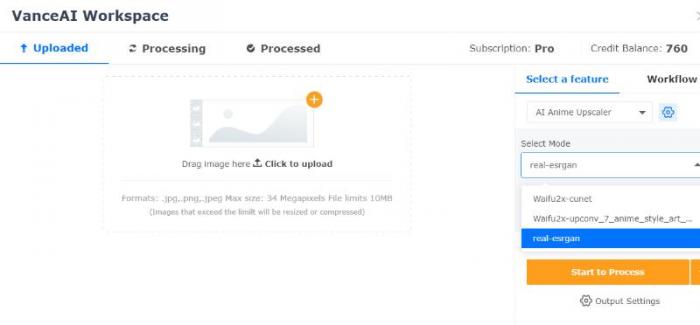 As far as the online module goes, you can upscale the image up to 16x times, which is absolutely massive and rare for online apps to offer in the first place. Moreover, the app also offers noise reduction to go along with the upscaling. You can set the level of noise you want to remove from the Workspace itself.
When we consider image sizes, compression, and quality, the JPEG image format is considered the best for it. However, when we convert or save an image in JPEG, it compresses the image often with a loss in quality. You will see noise and halos appear all over the image, which are called artifacts.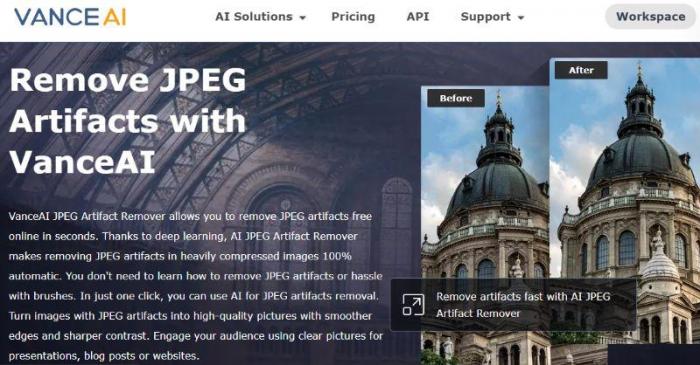 In order to fix this issue, VanceAI offers this AI based tool to remove artifacts automatically within seconds. This feature can transform pictures to revitalize them and bring back their original quality.
Hazing is an undesired effect that occurs mostly in outdoor photography, particular with images that have a lot of landscape or atmosphere. The effect that occurs mostly contains excessive haze, fog, or noise. The AI Photo Dehaze tool is designed to remove all of them and transform pictures back into their balanced state.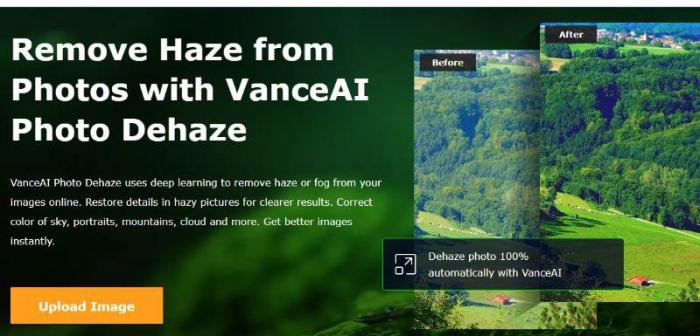 The tool uses automatic color correction as well, which users can toggle on or off before processing. The VanceAI Photo Dehaze is a tool that can be well implemented as a post-production feature given how it fixes and enhances images taken during photography. Plus, this feature can be easily used by anyone.
Also read: How to Fix Hazy Image with VanceAI?
Conclusion
As you can see from the wide variety of image enhancer tools brought to you by VanceAI, you can transform pictures in just about any way you want. Such a tool helps you finish the task of image enhancement with one single click even if you have not sophisticated skills. So the work of enhancing the image is merely a breeze if you take advantage of the tool. The process of transforming pictures becomes much more lucrative with the fact that all these tools are powered by AI, Deep Learning, and similar technologies, which enables you to focus on the results. Users no longer need to spend time learning techniques to transform pictures, since AI makes everything automated. If you are a creative person, you can easily explore possibilities with the VansPortrait tool.
With advancements like these, AI image processing technology will soon be able to handle most kinds of professional and creative projects.
Do you find this post helpful?
Read More to Know Deeper: