What Is Midjourney?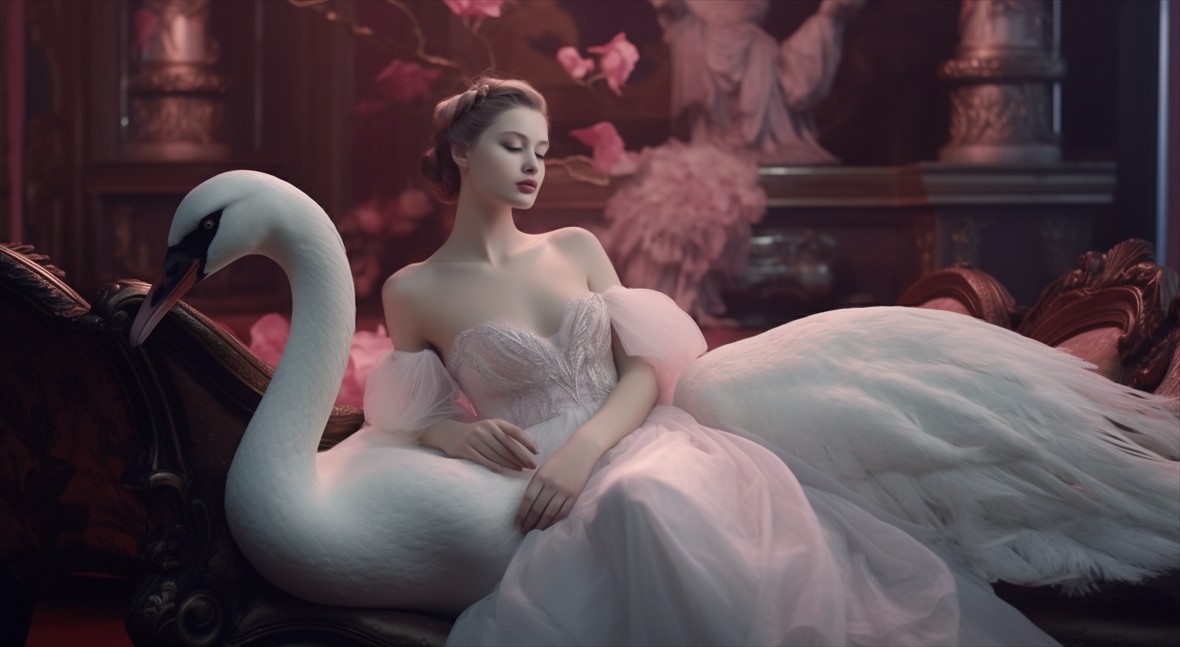 Midjourney is a text-to-picture AI-based service developed by an independent research lab of the same name. It enables users to generate images based on textual descriptions, creating a wide range of art forms, from realistic to abstract styles. Known for its highly imaginative outputs that are also detailed, Midjourney has been a big name in the AI art generation space.
Midjourney offers several advantages as a text-to-picture AI tool. It consistently produces high-quality and realistic images, positioning it as a strong competitor among other AI tools.
In order to actually use Midjourney AI, users would also need to install Discord, a popular messaging platform that offers a variety of features, such as the Midjourney bot. Now let's see a few example images from Midjourney. In this case, we will incorporate different types of blur into the images.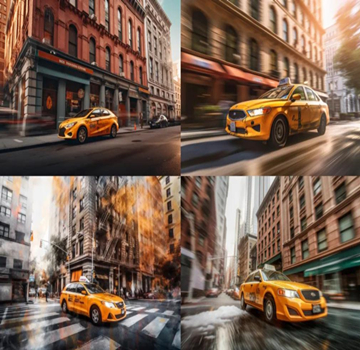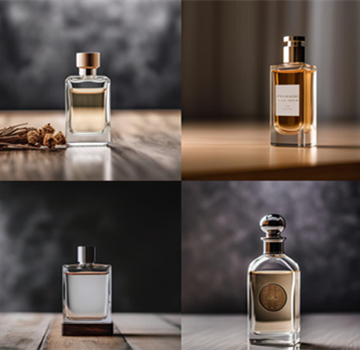 How Does Midjourney Work?
The Midjourney AI art systems use deep learning techniques and generative models. They are trained on a dataset of paired images and textual descriptions. The system employs a neural network architecture to process the encoded textual input and generate an initial image representation. This representation is refined and upscaled to enhance details and resolution. During training, the system compares the generated image with the ground truth and adjusts its parameters through optimization. The image generation process is iterative, with progressive improvements made at each iteration.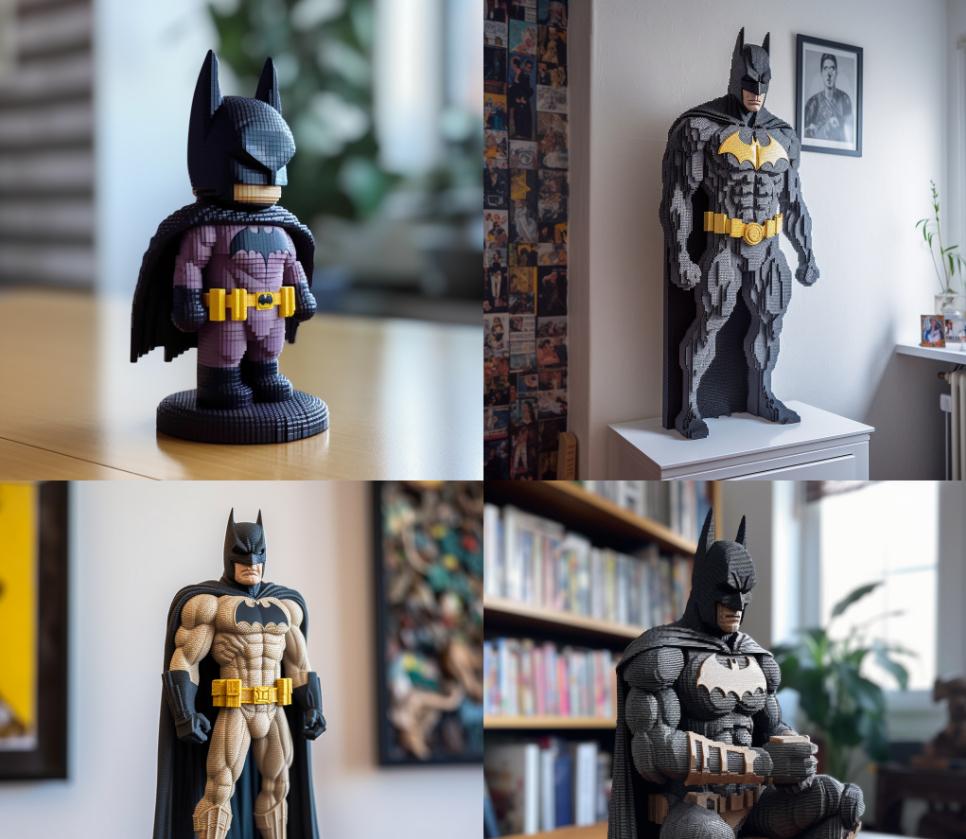 Pixel Art
While the Midjourney bot does not produce an image that is completely in the pixel art style, it nonetheless follows the command accurately for the Batman figure toy. In terms of details, Midjourney AI art generator is pretty good, as seen in the examples so far. Users do need to offer clear descriptions, however. Simplistic and vague descriptions can lead to average results.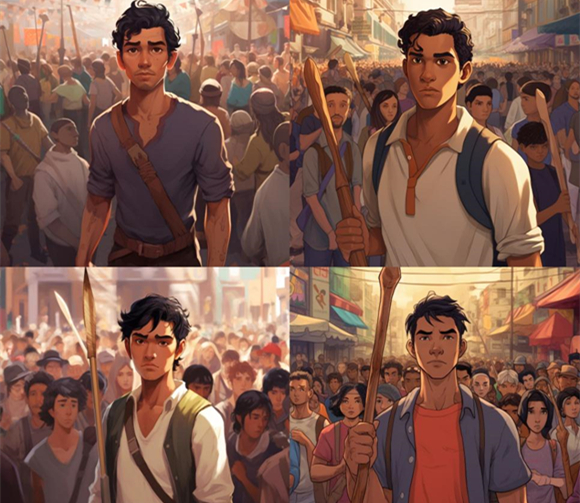 Character Art
Users can provide the Midjourney bot with descriptive prompts and also add some context in order to generate visuals that tell a story. For example, you can create something like the above example, which could be used as a poster or cover for a book, comic, or even a blog. By looking closely at the images presented above, we can also see that Midjourney AI provides variations of results.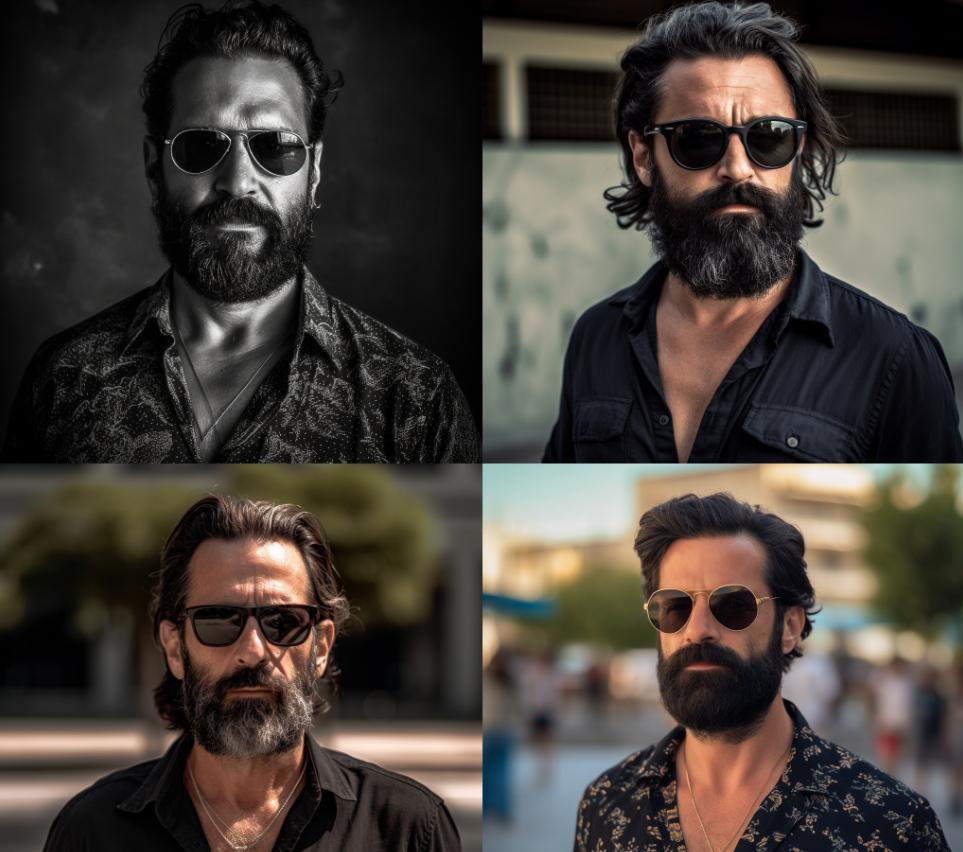 Portrait Creator
The prompt asked Midjourney AI art generator to create a portrait style image of someone from Hollywood with a Miami style influence. Needless to say, the AI art tool definitely produces visuals that meet the expectations. Naturally, not all four of the result images are up there, but they surely meet the standard. Not to mention that these visuals are produced in mere seconds.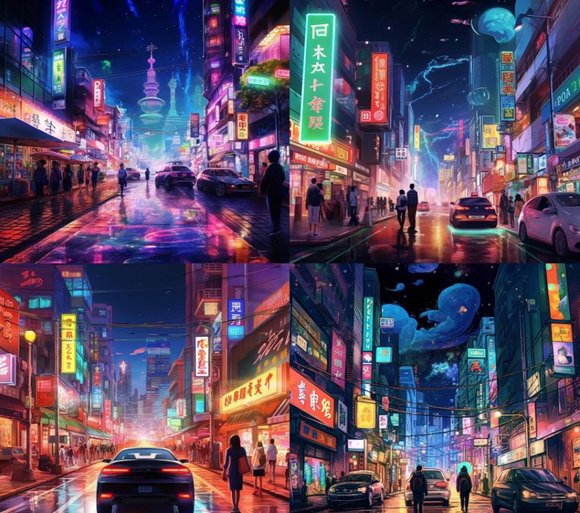 Anime Style Art
This prompt attempts to represent a street in an anime style. As we can see from the results given by Midjourney AI, there are variations within the anime style that you can choose from. After the image is produced and displayed on Midjourney Discord, you can click on buttons labelled "V1" and so on. This will lead to the app producing even more variations of the prompt that you provided.
How to Use Midjourney on Discord?
Getting familiar with Midjourney Discord commands and workflow can be confusing at first, especially if you are someone who hasn't used Discord before either. Follow these steps to use Midjourney Discord easily.
Step 1: Download Discord by using the link attached. Create an account on Discord and sign in. Next, head over to Midjourney and click on "Join the Beta".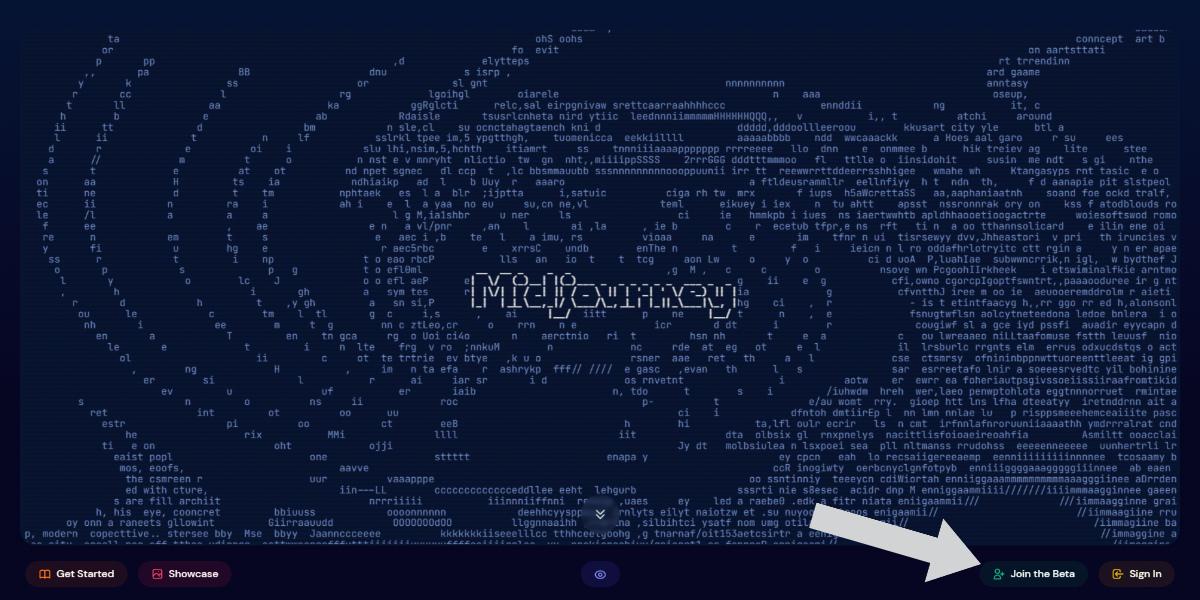 Step 2: Invite the Midjourney bot over to Discord. You can now join the channel of Midjourney Discord and start producing images by going to the "#newbie" channel and typing in "/imagine" accompanied by your text description prompt. To view subscriptions, type "/subscribe" and follow the link.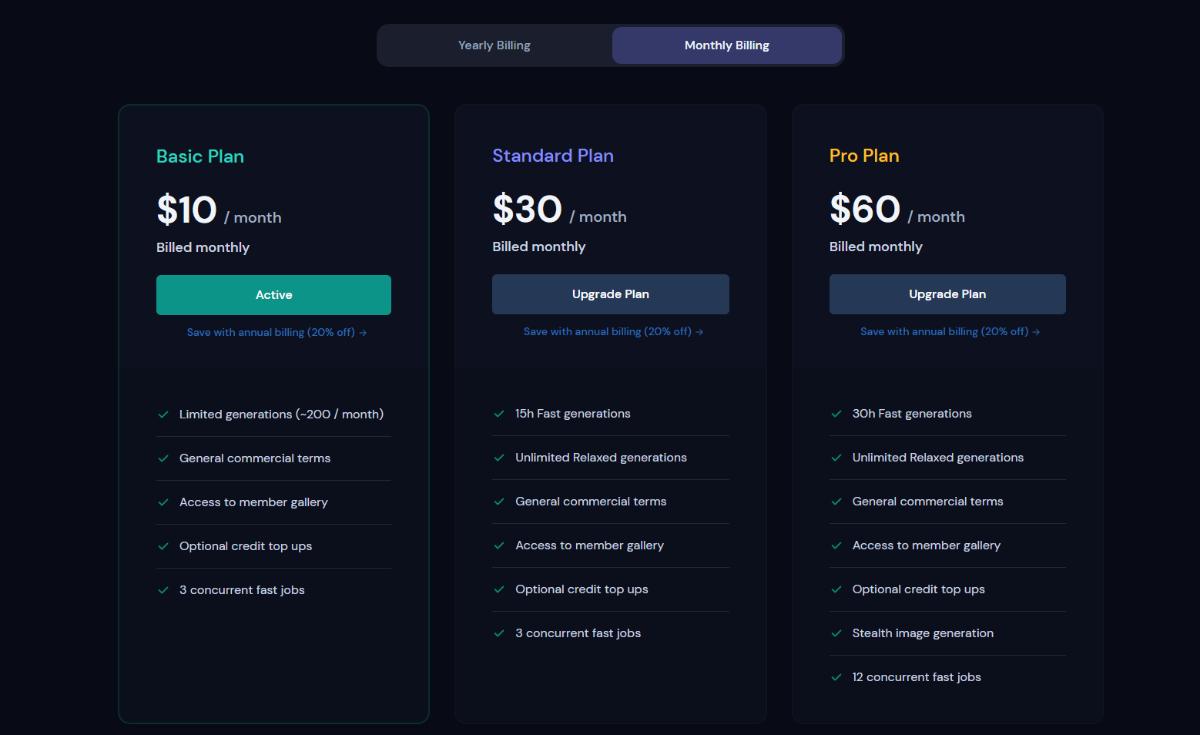 Step 3: After subscribing to a plan, you can use the Midjourney bot on your own private channel. Regardless, the "/imagine" prompt works the same way, be it for a free or a paid user. After using the prompt, the Midjourney app will produce images shortly. You can right-click on the image to save it.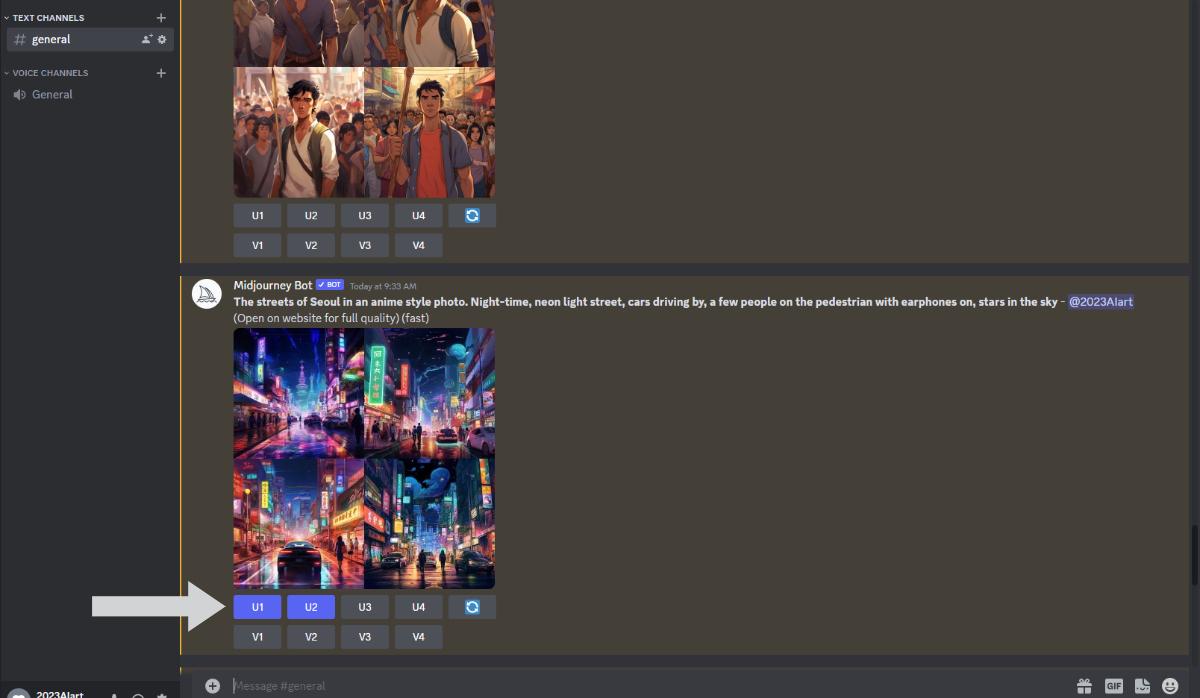 How to Upscale Midjourney Images Online?
A potential issue with Midjourney AI art app is that it generates images that are either small in size or vertical. However, in many instances, users require a more horizontal image that is also larger in terms of resolutions. In such cases, you can use image editing applications such as VanceAI, Fotor, or anything similar to perfect your photos.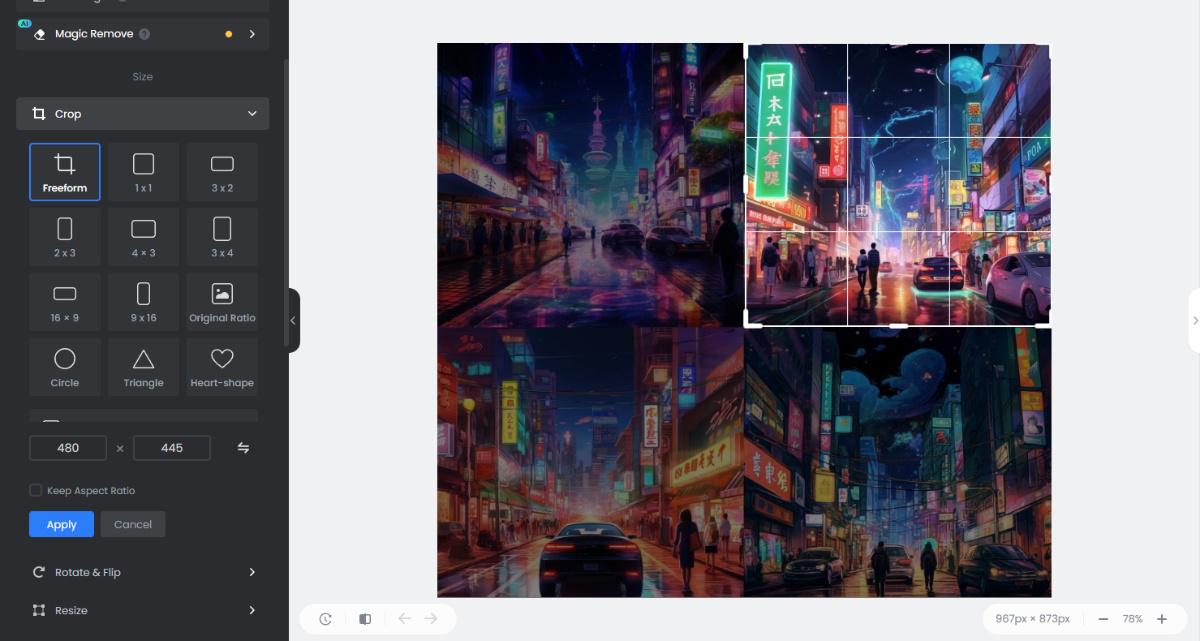 A simple method would be to crop your image from Midjourney and select only the image that you want. Upload that image onto the image editing application and upscale it. Many image editing platforms offer image cropping features too, which can be useful for many users.
How to Upscale Midjourney Images on Discord?
Step 1: As usual, head over to Midjourney Discord and type out your description using the command "/imagine". Wait for the application to produce the images.
Step 2: The images should be presented in a few seconds. You can click on the "U1" or other options to upscale specific images and download them. "U1" upscales the first image (top-left) and the other options work on corresponding images.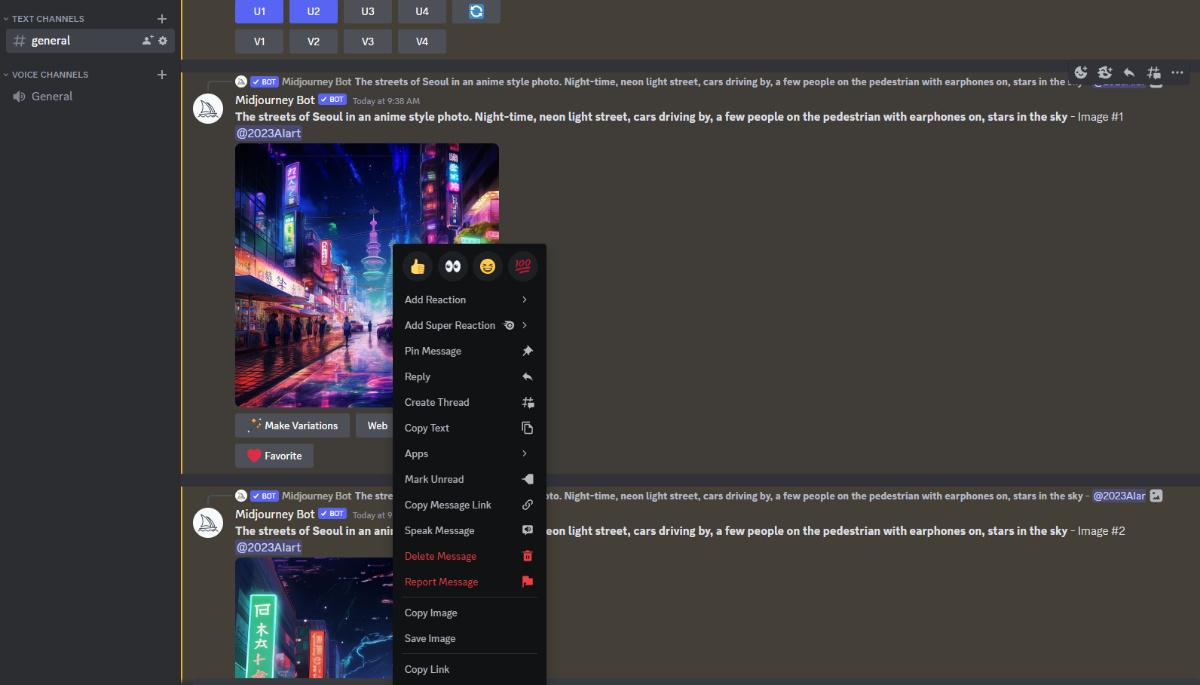 Step 3: You can right-click on the image that you want and save it on your device.
How to Upscale Midjourney Images With VanceAI Image Upscaler?
A combination of an AI image editing platform such as VanceAI with Midjourney can seriously boost your productivity. VanceAI is a platform with more than 15 image editing tools, which are usually required by many. These tools enable users to edit their images into the right quality, size, and more within seconds.
Midjourney, on the other hand, is all about creative image creation. However, you need editing to go along with that if you want to use those images online, especially on social media and other popular platforms that require your photos to be in certain resolutions, size, quality, etc.
As mentioned previously, Midjourney usually provides images that are smaller than desired. Follow this guide to learn how to use VanceAI Image Upscaler to get your photos in the right size.
Step 1: Click on the given for VanceAI Image Upscaler to access it online. Click on "Upload Image" to open the Workspace.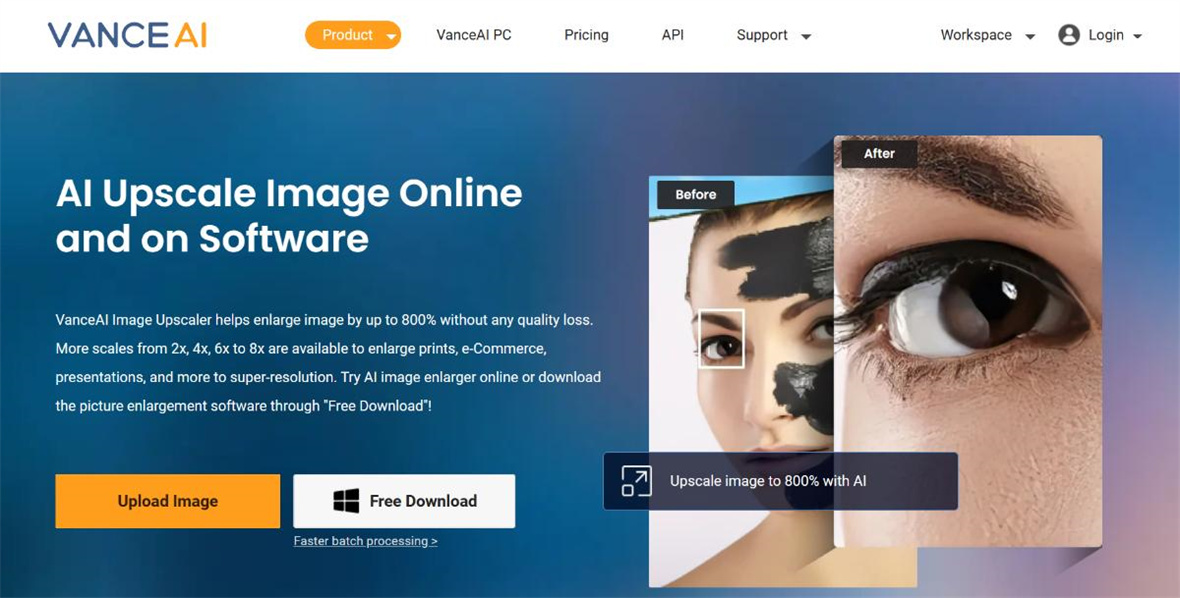 Step 2: This is where you can manage pretty much everything. Here, you can upload and crop your Midjourney photo to select any one specific image you want. Next, use the settings on the right to choose how much you want to enlarge the image. Click on "Start to Process" to upscale the image.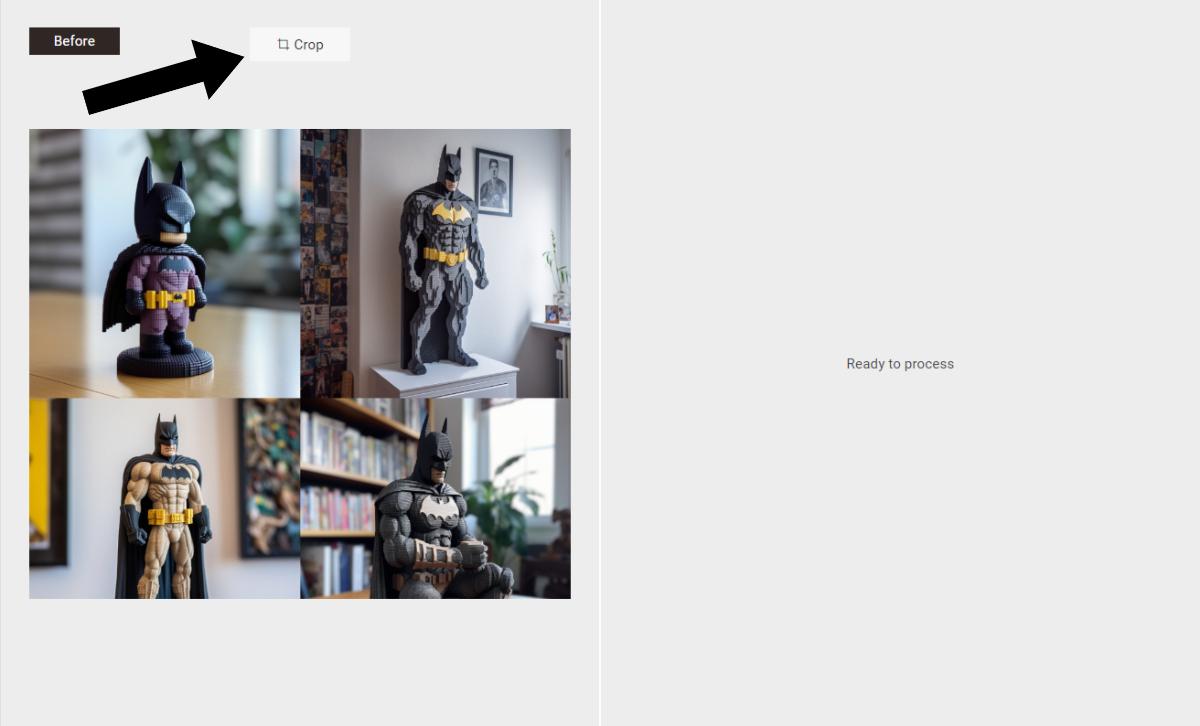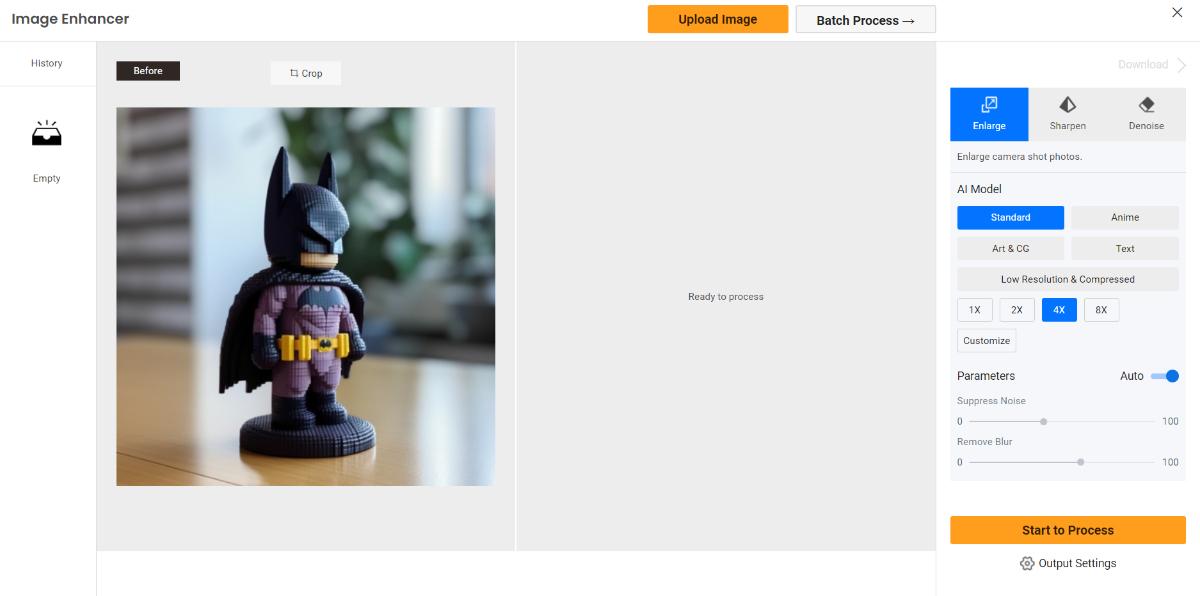 Step 3: Now, simply click on the "Download Image" option to get the image on your device.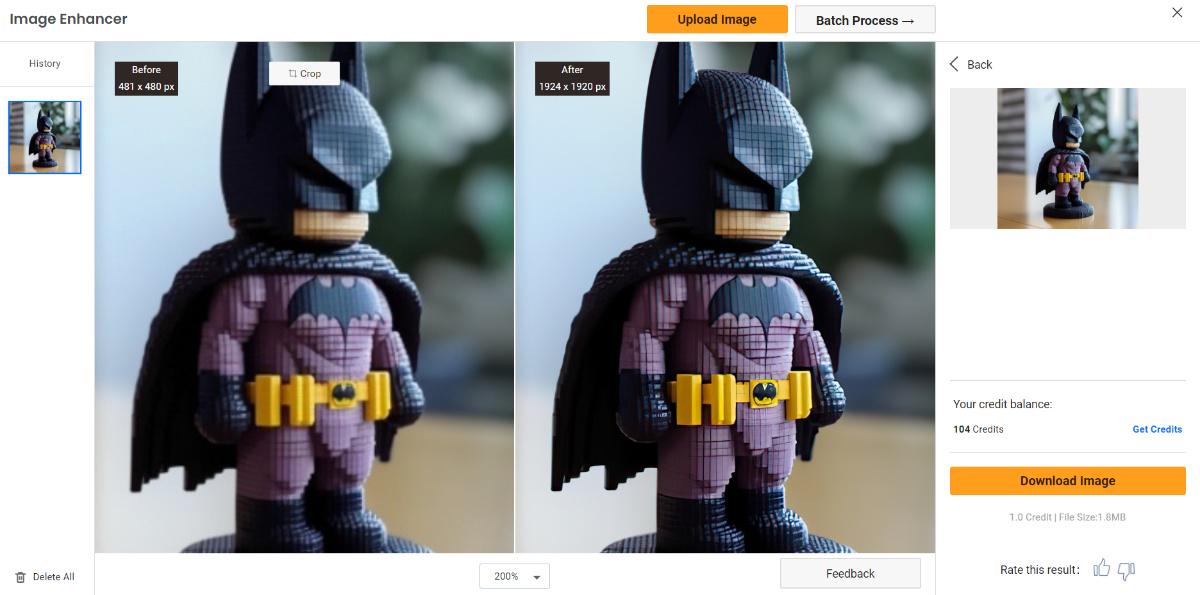 How to Upscale Midjourney Art With Software?
VanceAI offers VanceAI PC, which is the software version of the platform. Therefore, users do not need to be online to edit and enhance their images from VanceAI.
Step 1: Click on the link given and once you are at the page, click on "Free Download" to get the setup file on your system.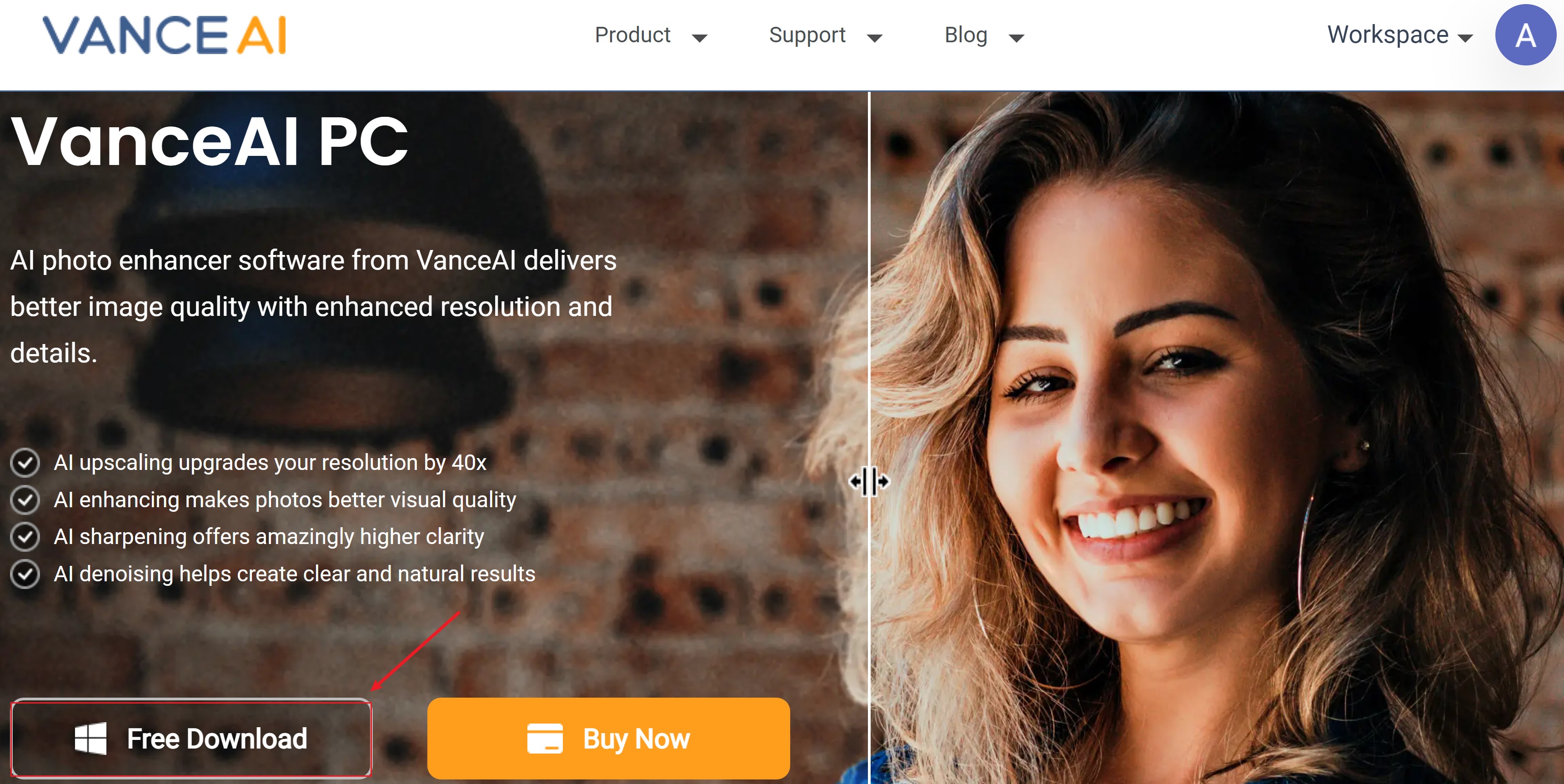 Step 2: Install the software and choose the "Enlarge" option. Use the Workspace normally as you would online.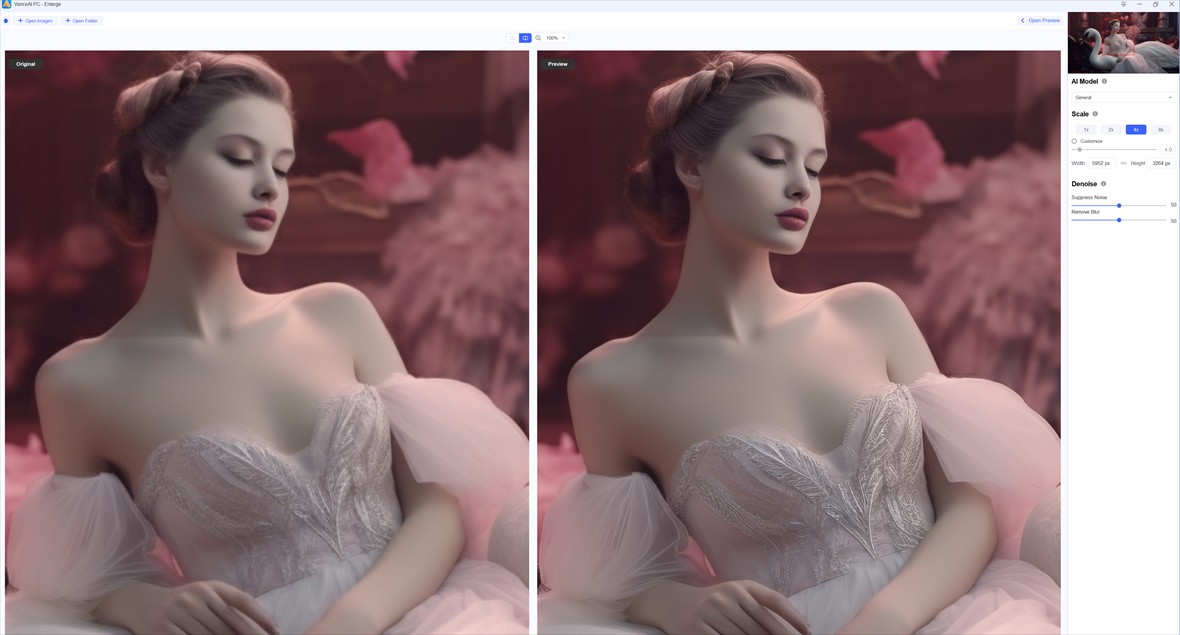 Step 3: The software shows real-time previews for every change you make. Once you're ready, you can download the image.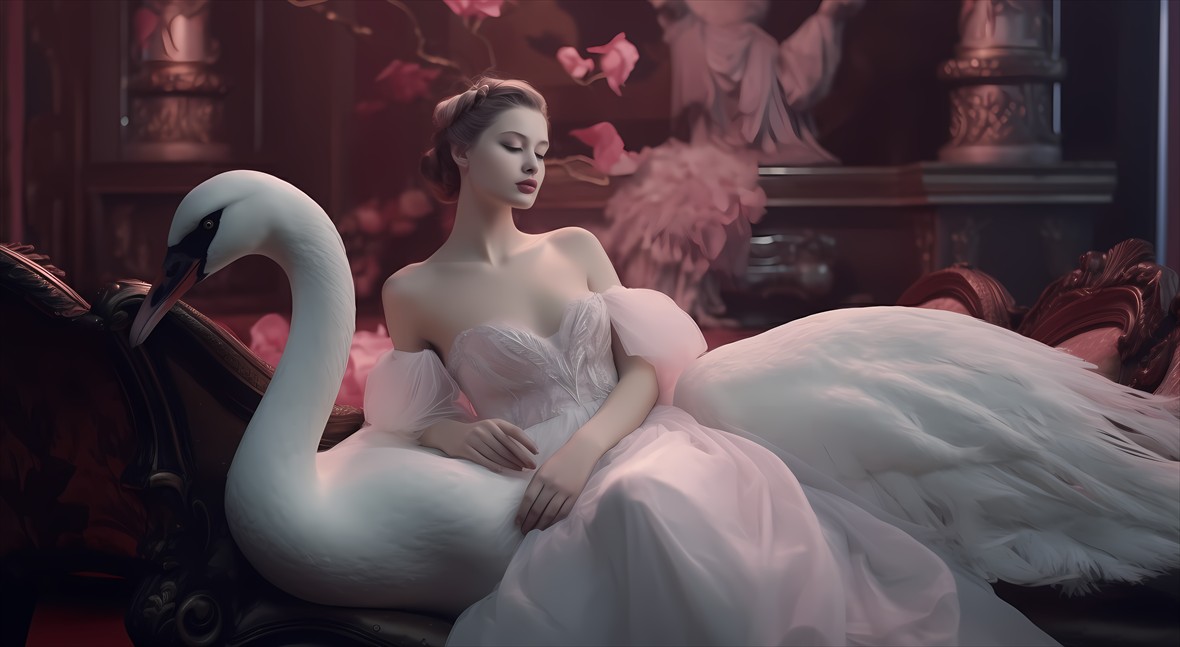 Midjourney-Generated Images VS Upscaled Midjourney Ones
VanceAI's algorithms not only increase the size of images through resolutions, but they also improve their quality to match their size. Let's take a look at a previous example for starters: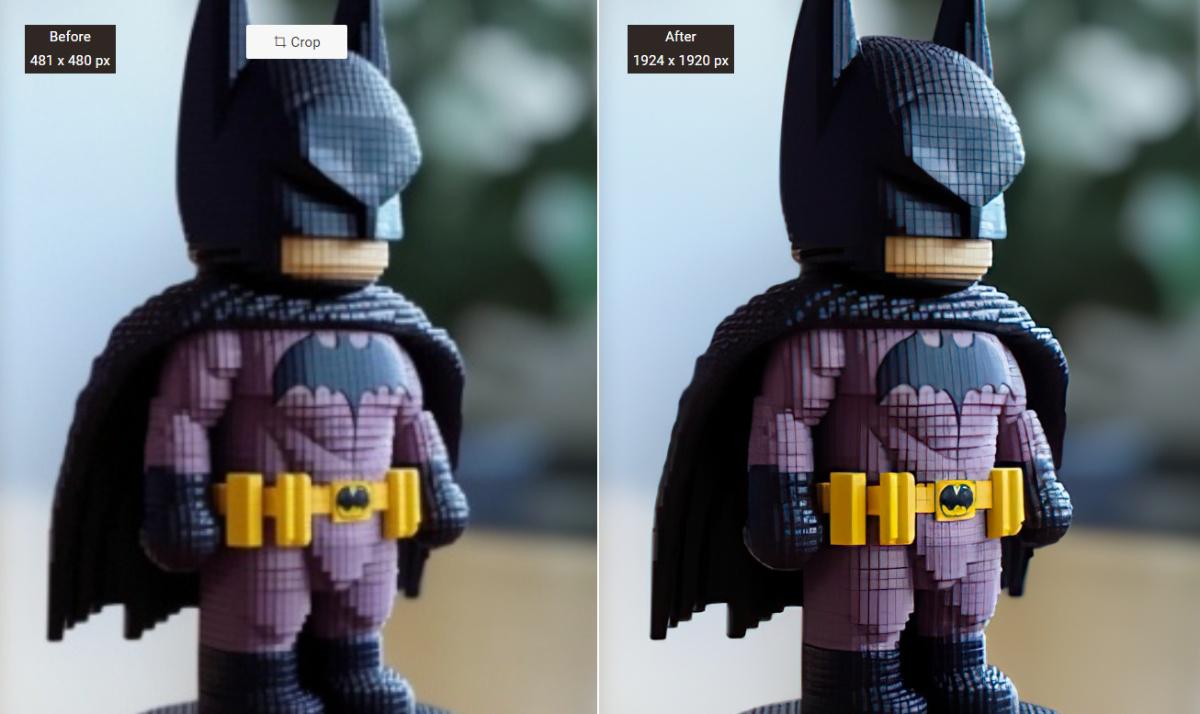 The indicators above show that the image has been upscaled 4 times the original size. The Midjourney AI art tool produces excellent images but they tend to be small in size. With the help of VanceAI, you can upscale and sharpen these visuals and make them ready to use online for websites, blogs, social media, and more.
If you want to use product photos, portraits, wallpapers, or anything else designed by the Midjourney bot, you can perfect it with VanceAI's various tools, such as the Image Upscaler, Image Enhancer, Portrait Retoucher, and more. Since VanceAI also uses AI technology, you can expect quick results.
Midjourney Alternative
VanceAI
VanceAI is an online platform that provides a range of AI-powered image editing tools. Designed to simplify and enhance image editing tasks, VanceAI offers a user-friendly interface and a variety of features to meet different editing needs. With VanceAI, users can easily remove backgrounds from images, upscale low-resolution pictures while preserving quality, enhance image colors and details, remove image noise, and convert images to various formats. The platform leverages advanced AI algorithms to automate and streamline these editing processes, saving users time and effort. VanceAI's intuitive interface and efficient processing make it accessible to both professionals and non-experts.
Pros:
Wide Range of Editing Tools: The platform provides a comprehensive set of AI-powered editing tools, including background removal, image upscaling, color enhancement, noise reduction, and image format conversion. This allows users to perform various editing tasks in one place.
Time and Effort Saving: VanceAI leverages advanced AI algorithms to automate and streamline the editing process, saving users significant time and effort compared to traditional manual editing methods.
Quality Preservation: The platform's AI algorithms are designed to preserve the quality of edited images, ensuring that important details, colors, and textures are maintained or enhanced during the editing process.
Cons: 
Limited Free Use: While VanceAI offers a free plan, it has limitations on usage. Users receive a limited number of image credits, typically three per month, upon signing up. Once those credits are exhausted, users are required to subscribe to a paid plan to continue using the platform's editing tools.
How to Upscale Generated Images in VanceAI?
VanceAI offers an AI image generator on its platform. VanceAI Image Generator makes use of sophisticated algorithms to provide users with good looking visuals based on their text descriptions or the reference image that they upload, if they choose to. Other than that, users can also choose various artist styles, image types and styles, and more to customize their output.
An advantage of using the AI art generator from VanceAI is that you can easily crop or apply other edits to it since they're under the same platform. It can save time, money, and effort. Here's a simple guide on how to do it.
Step 1: Use the link given to the AI Art Generator to access it online. Click on the button to get to the Workspace.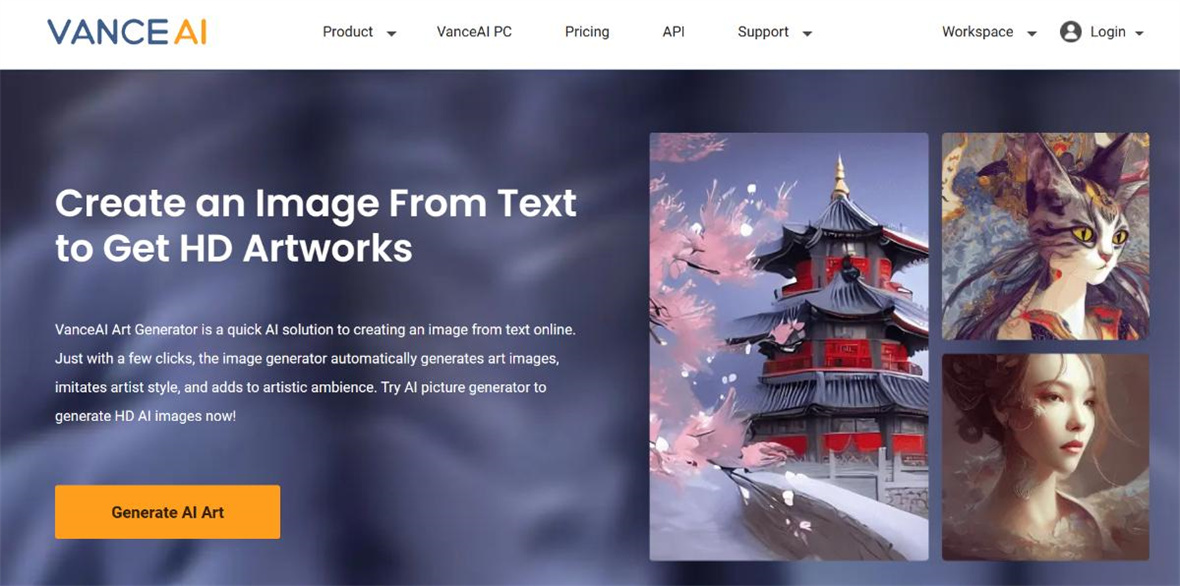 Step 2: Use the Workspace to customize your visual beforehand. After that, click on "Create".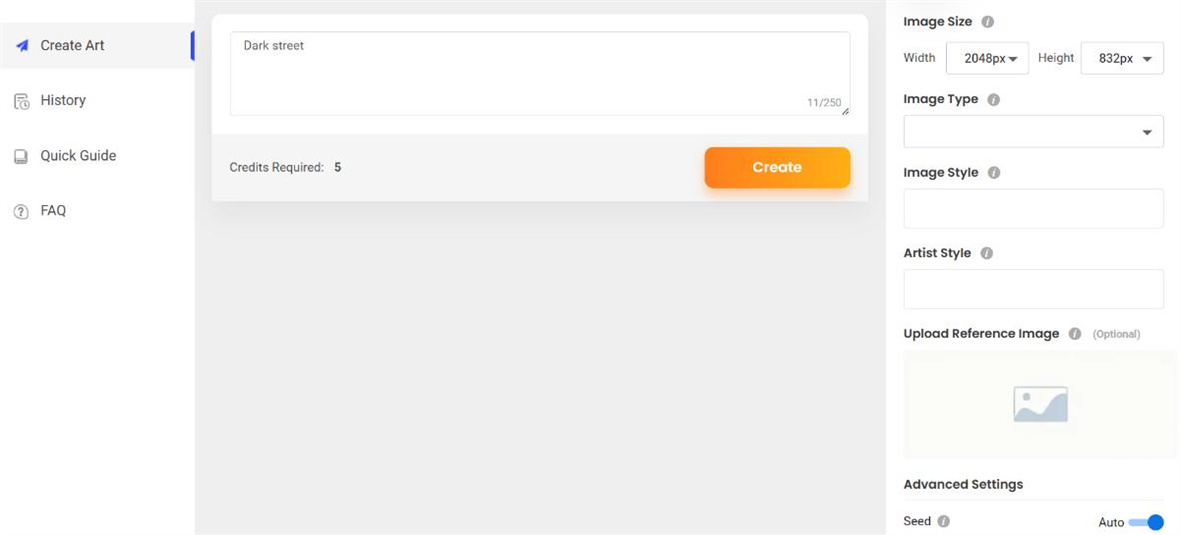 Step 3: Once the image is created, you can download it by clicking on "Download".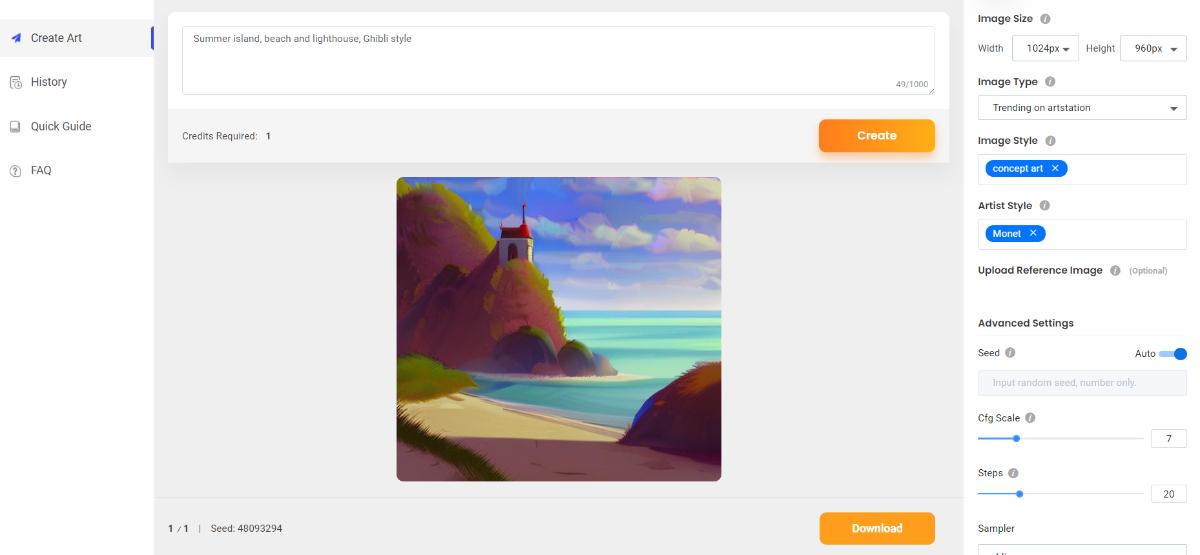 Step 4: Go to VanceAI Image Upscaler, click on Upload Image, and upload the art image. Use the settings for customization. You can use the "Art & CG" option for this image. Click on Start to Process.
Step 5: After a few seconds, you will get the enhanced and upscaled version of your art. Click on Download Image to get the image.