What is a Blemish Remover?
A blemish remover is a tool or feature in photo editing software that is designed to remove blemishes or imperfections from a photo. It works by analyzing the image and identifying areas that appear to be blemishes, such as acne, wrinkles, or age spots.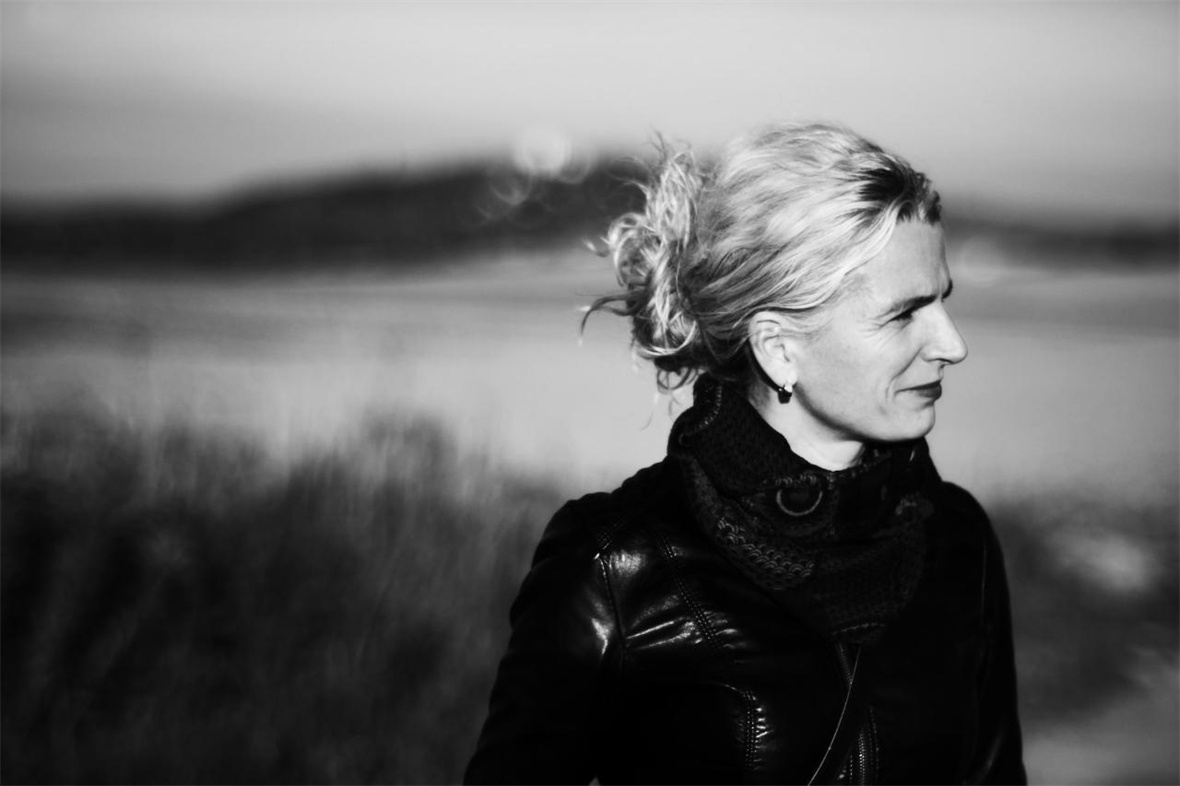 The blemish remover then uses various algorithms and techniques to remove or reduce the appearance of these imperfections, such as smoothing out skin texture or adjusting the color and brightness of the affected area.
There are different types of blemish removers available, including automatic tools that use artificial intelligence to detect and remove blemishes automatically, as well as manual tools that allow users to selectively remove blemishes by painting over them with a brush or tool.
Blemish removers are commonly used in portrait and fashion photography, as well as in photo editing for personal or social media use, to enhance the appearance of the subject and create a more polished and professional-looking image.
AI Blemish Remover VS Blemish Remover Tools?
AI blemish removers and normal blemish removers are two different types of tools for removing blemishes in photos.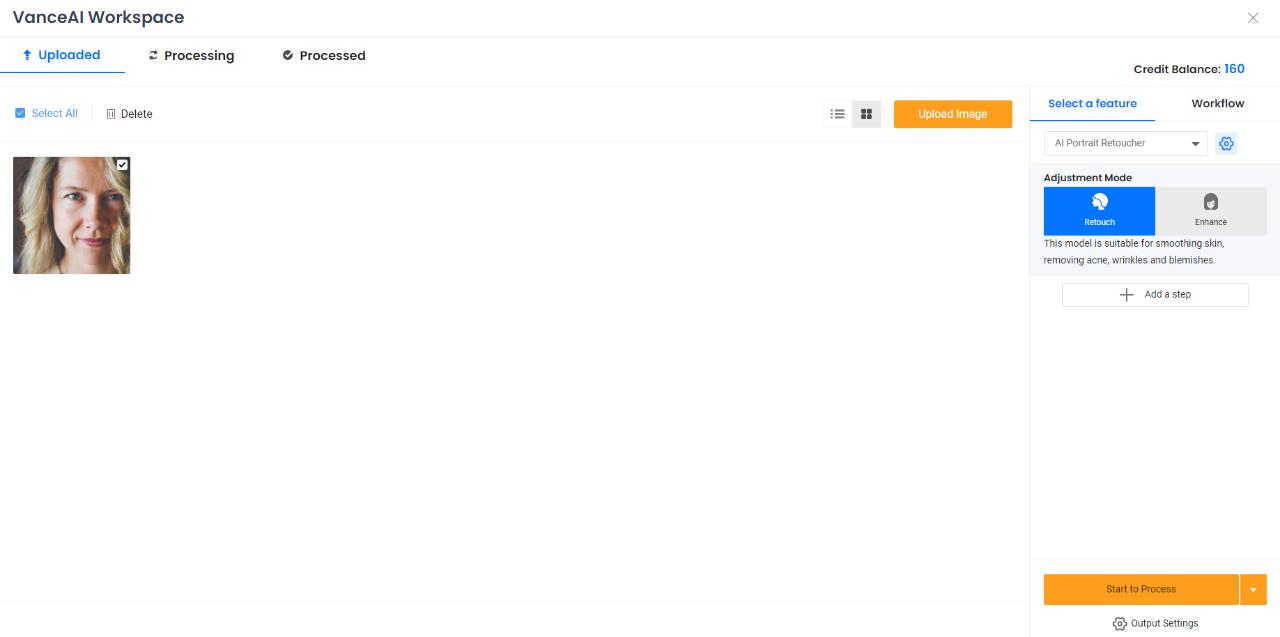 AI blemish removers use artificial intelligence algorithms to analyze the photo and automatically detect blemishes, such as pimples, acne scars, or age spots. The AI then applies the appropriate editing techniques to remove or reduce the appearance of the blemish. AI blemish removers can save time and effort in photo editing, as they can quickly identify and edit multiple blemishes in a photo.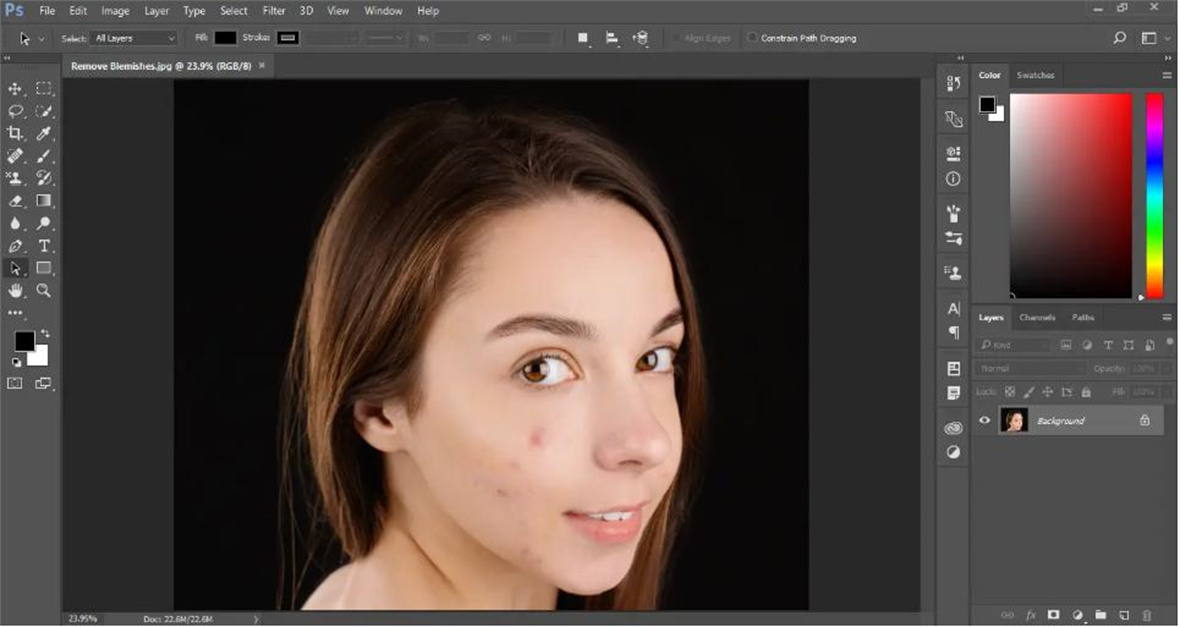 Normal blemish removers, on the other hand, are manual tools that require users to identify and select the blemish they want to remove, using a brush or other selection tool. Users then apply editing techniques to remove the blemish, such as cloning or healing tools that copy and paste the surrounding skin over the blemish, or smoothing tools that blur or soften the blemish.
Both AI blemish removers and normal blemish removers can be effective in removing blemishes from photos. However, AI blemish removers are generally more automated and can save time, while normal blemish removers offer more control and precision in editing. Ultimately, the choice of which tool to use depends on the user's preference and the specific needs of the photo editing project.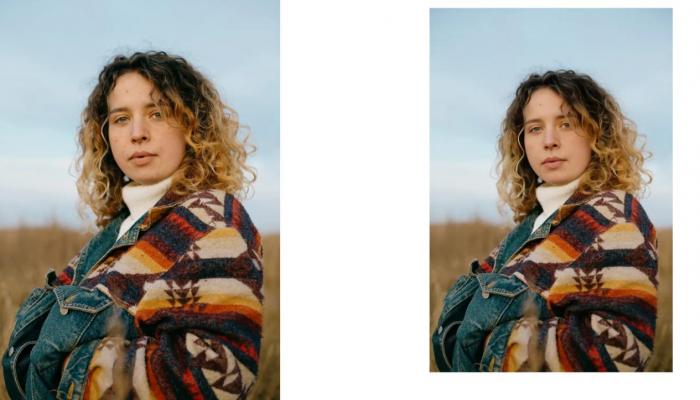 Remove Blemishes
Blemishes are defined in a very broad term. Basically, any imperfections on the skin are considered blemishes. As we can see from the above example image, skin blemishes can be removed pretty easily with an AI tool, which is the Portrait Retoucher in this case. So, if you're thinking about how to remove pimples or anything else, you can simply upload an image to this tool and let it handle the rest.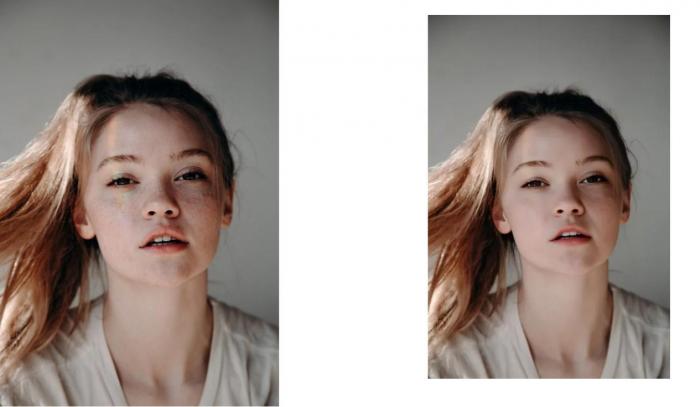 Remove Spots
The AI tool from VanceAI manages to make the portrait look spotless and clean. As we can see from the Before image on the left, spots are usually little specks on the face. These can make a portrait look authentic and different but also distracting if it's in excess. With an AI tool, it can be wiped clean within seconds to give you a better idea of the differences between the two images.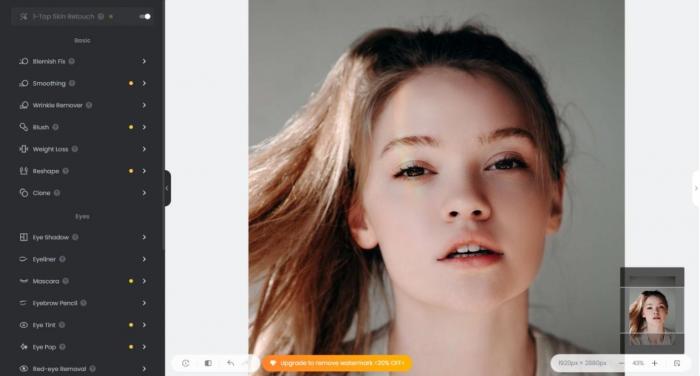 Smooth Skin
In this case, the same portrait was made to look smoother by using AI and brush tools of Fotor. From the resulting image, it is easy to see that there is a big change in the appearance of the portrait. Not only is there a lack of blemish but also a change in the textures or finer details of the photo. It is also possible to make the rest of the photo smoother and not edit the spots, if any, to make the image look authentic.

Enhance Portrait
When using VanceAI Portrait Retoucher, you can choose from the Workspace whether you want to remove blemishes and other imperfections or to simply enhance the quality of the portrait without editing it too much. In this case, the option to enhance was chosen and we can see that the portrait has a more impactful appearance than before. The tool also makes the photo look a bit smoother while making the colors more apparent.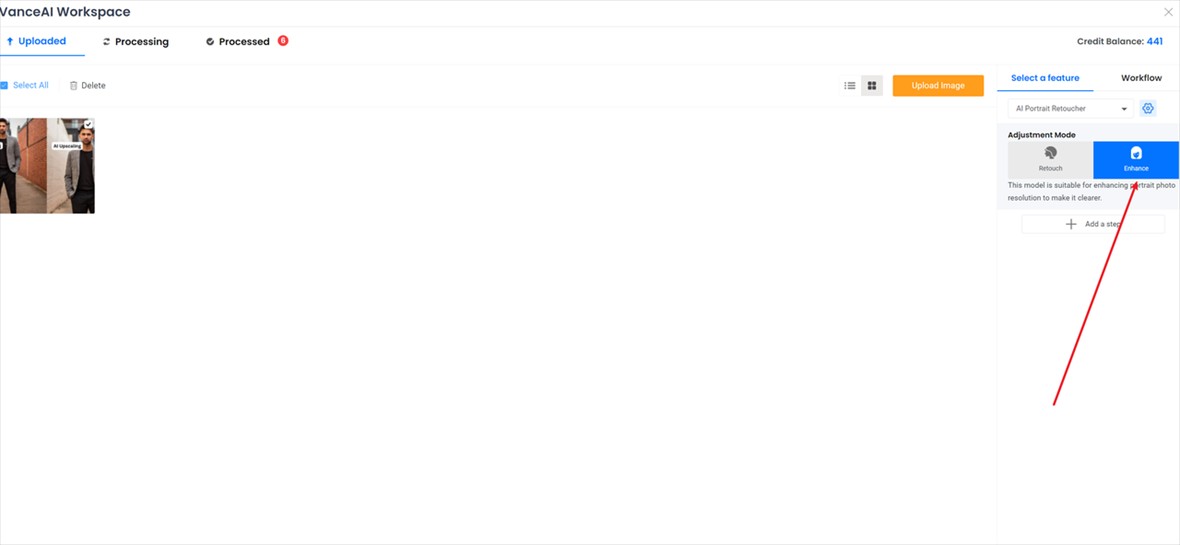 VanceAI Portrait Retoucher & Other Alternatives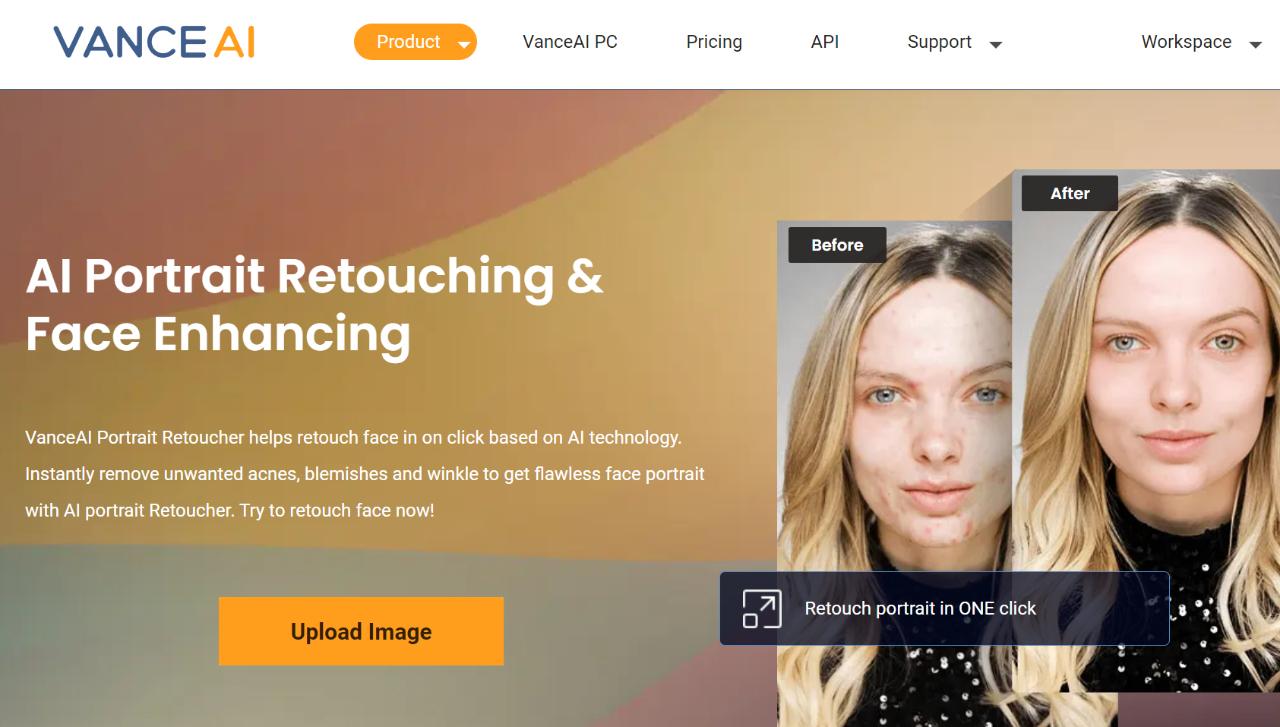 VanceAI Portrait Retoucher is a great tool for anyone looking to improve the quality of their portrait photos quickly and easily. It can act as a portrait enhancer and pimple remover. It uses artificial intelligence algorithms to analyze and enhance the facial features of a portrait photo, such as skin texture, color, and lighting, to improve the overall appearance of the subject.
Pros:
The Photo Restorer is an effective tool in terms of results and offers options for image processing.
The UI design of VanceAI is not only easy to understand but also efficient.
The platform is highly affordable, with the starting price set at just $4.95 per month.
Cons:
It only supports JPG, JPEG, and PNG image formats.
The addition of a brush tool would be beneficial.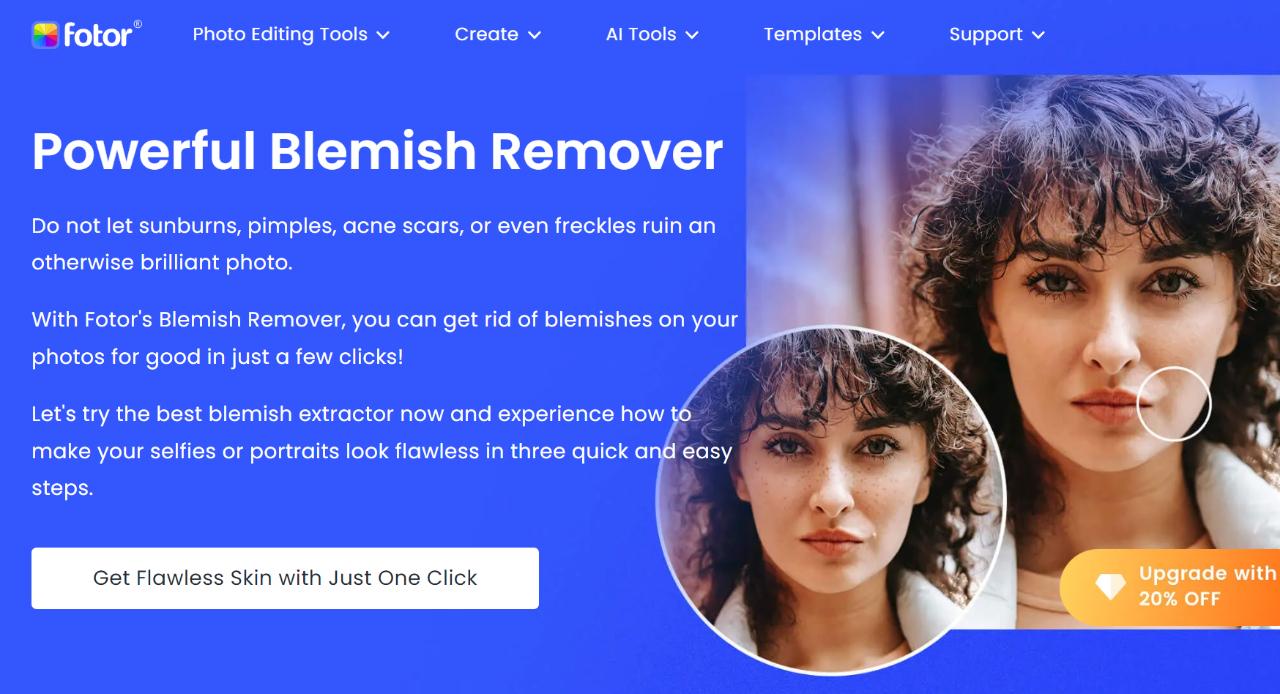 Fotor Blemish Remover is an AI-powered photo editing tool that specializes in removing blemishes, wrinkles, and other imperfections from portrait photos. It is good for dealing with pimples pictures since it offers a brush tool along with the automatic processing.
It offers a range of features such as skin smoothing, wrinkle removal, acne removal, and red-eye correction.
Pros:
It offers useful brush tools with multiple functionalities.
Fotor is a popular image editing platform that offers other tools similar to VanceAI.
The processing of images is usually fast due to its AI-based approach.
Cons:
Some brush tools may not be as effective.
The site itself can be unresponsive at times.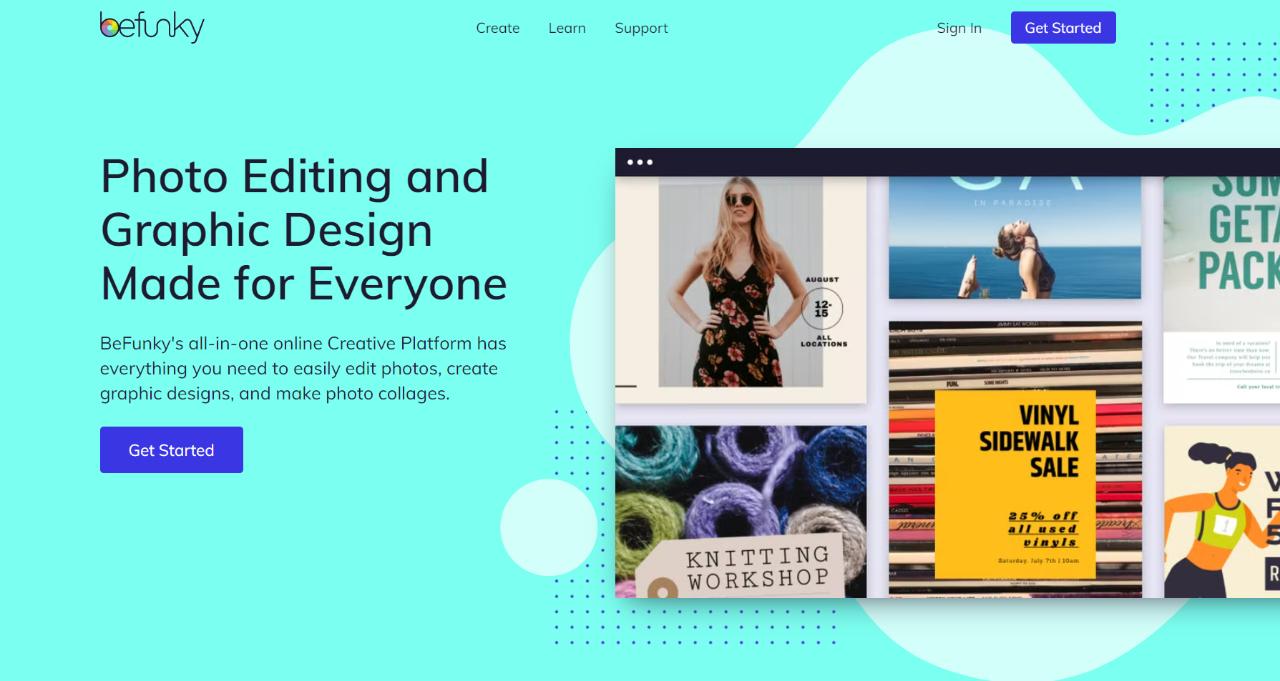 BeFunky is an online image editing tool and mobile app that allows users to edit and enhance their photos with various features and tools. BeFunky offers a range of editing tools such as basic adjustments like crop, resize, and exposure, as well as more advanced features like layering, masking, and filters.
Pros:
The platform has an engaging UI design which is also responsive.
Offers both automatic and manual editing solutions.
Offers many filters and other artistic options to transform your images.
Cons:
Many features are behind a paywall.
It could have more options for portrait enhancement and editing.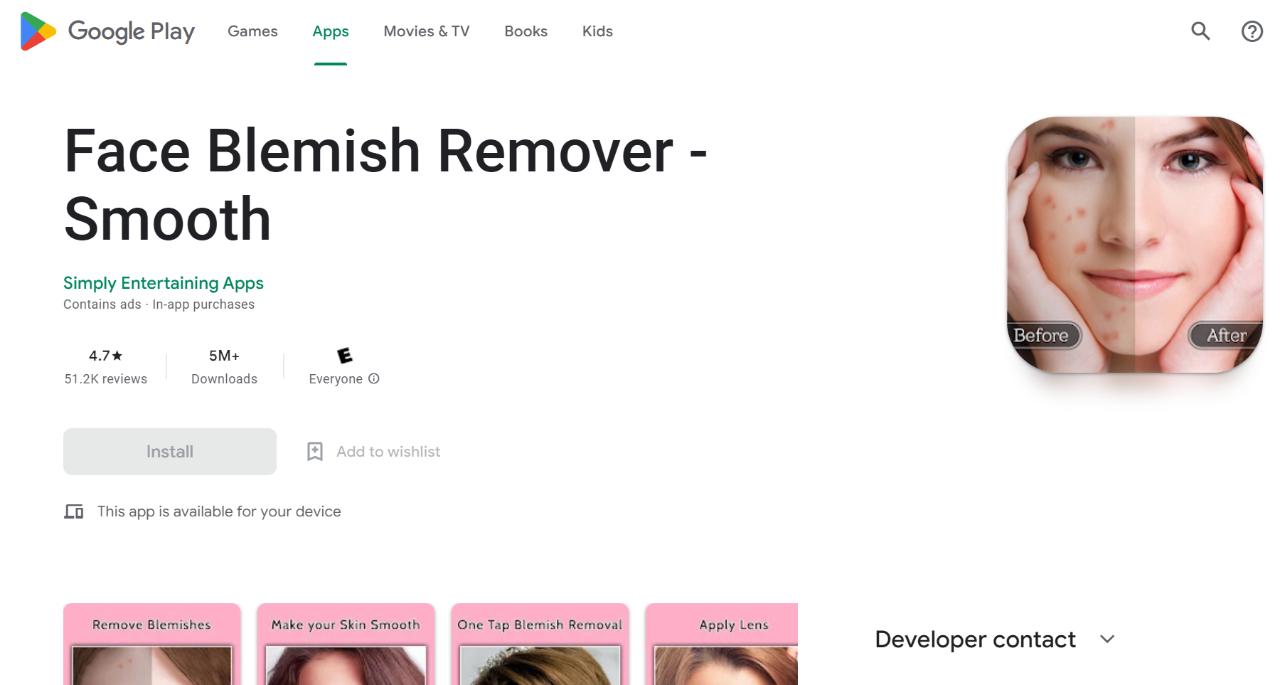 The Face Blemish Remover - Smooth mobile app is a photo editing app available on Android devices that specializes in removing blemishes and imperfections from portrait photos. It is designed to be easy to use, and its user-friendly interface makes it accessible to anyone looking to retouch their photos.
Pros:
It is an easy to use mobile app with quick results.
It offers many options to edit photos and is regularly updated.
Cons:
Some of the tools do not offer the best results.
How to remove blemishes from photo with AI?
Step 1: Use the link given above to access the webpage. From there, click on Upload Image to get to the Workspace.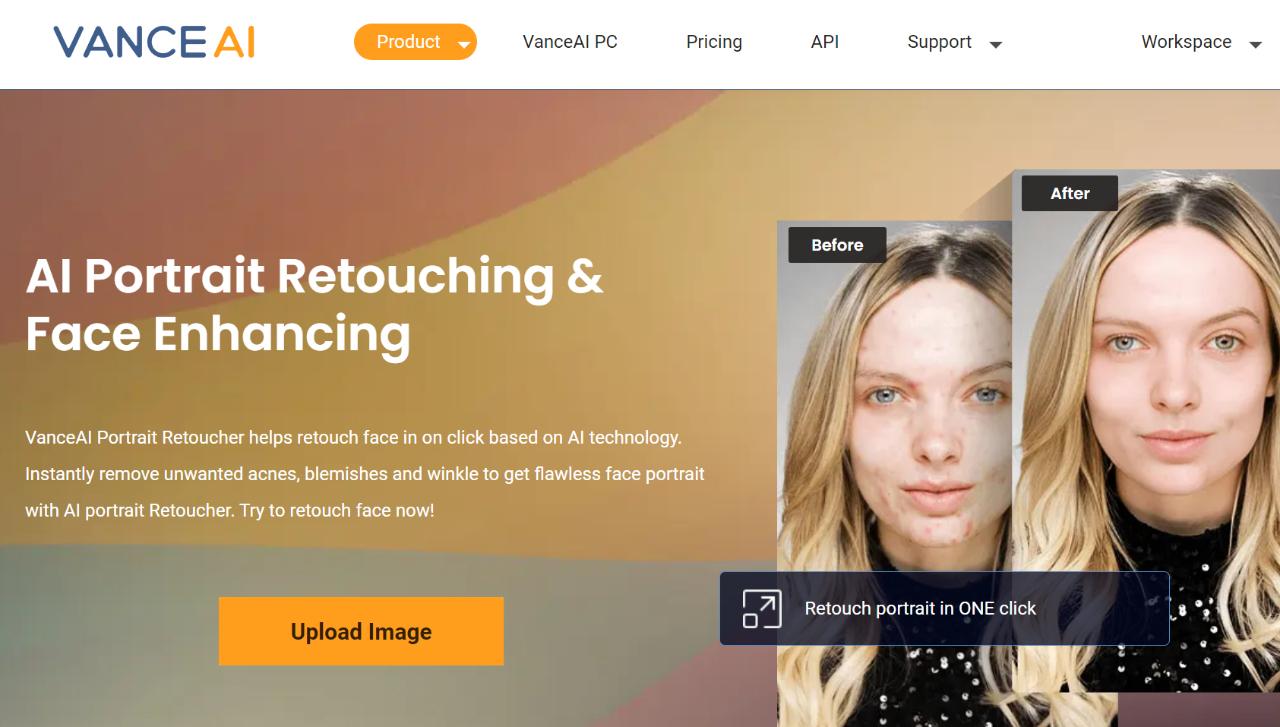 Step 2: Inside the Workspace, you can upload the image and choose your preferences for the image. Lastly, you can click on Start to Process to enhance the portrait.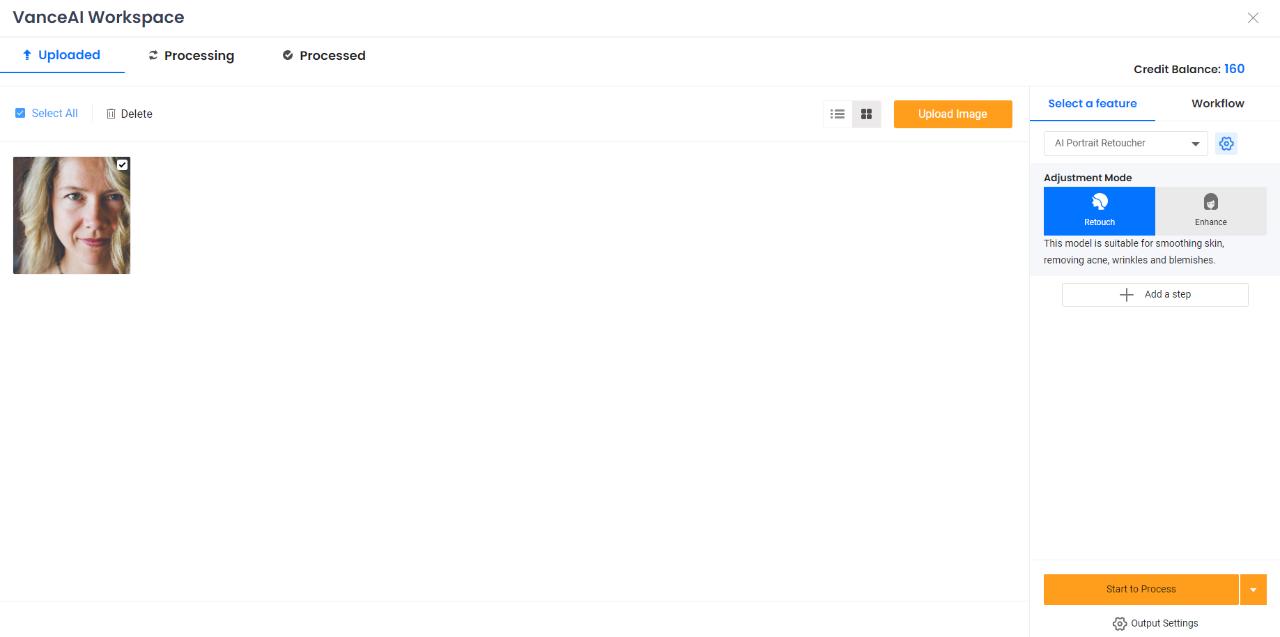 Step 3: Once you see the final image appear on the screen, you can compare it with the Before image and download the result using the Download Image button.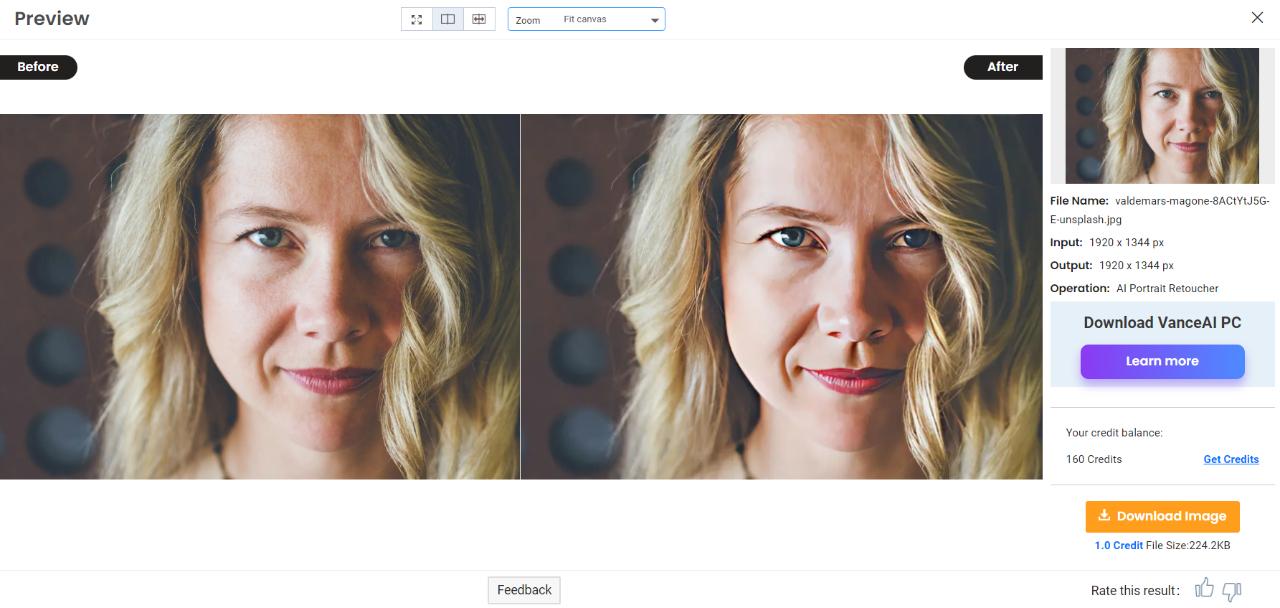 How to remove pimples from photo on iPhone?
Step 1: Click on the link above to get to the PlayStore. From there, you can start downloading the application on your device.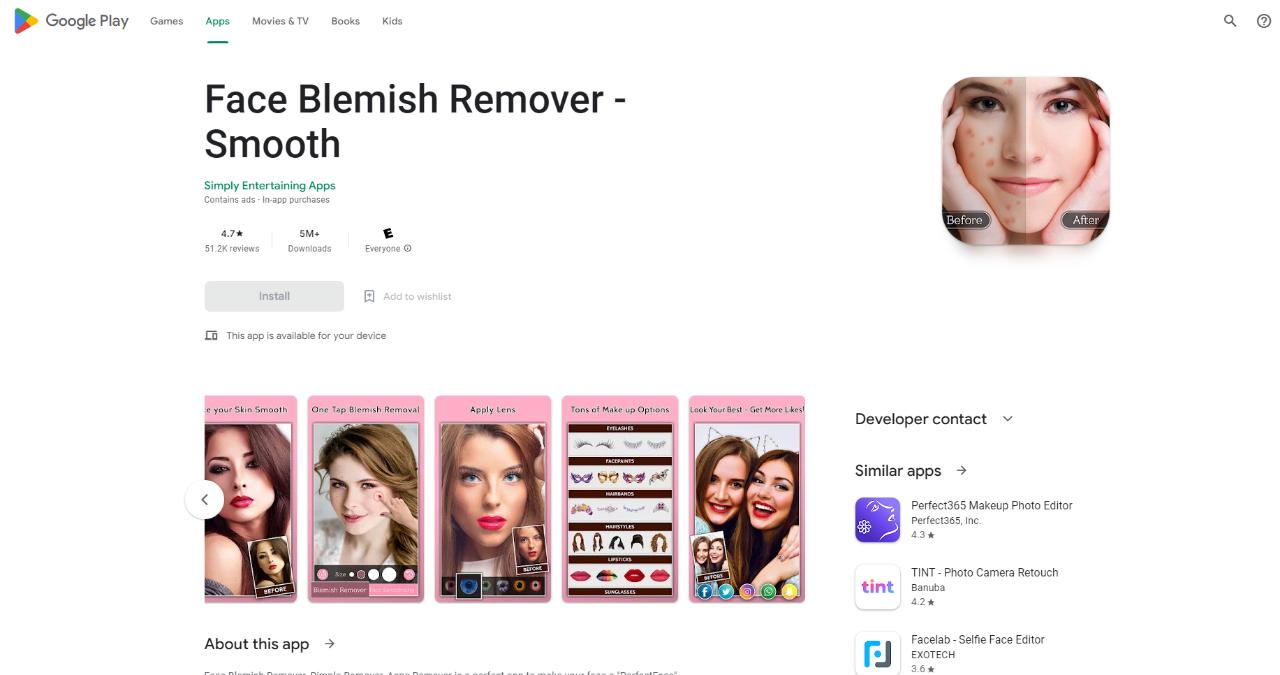 Step 2: From the home screen, you can upload new images through your camera library and access previous edits, if any.
Step 3: Upload an image and use the brush tools to edit your photo. You can use the blemish remover or face smoothening tool to edit your photos. Save the image when you're done.