Rain photography is a highly artistic, dramatic, and challenging technique. Shooting in opposing weather offers a wonderful opportunity to capture unique and beautiful images. Hence photographs taken in the rain are unique and attractive. Rain photography, be it streets, landscapes, or product photography under the rain, is a beautiful method to bring excitement to a scene.
If you love to take rain photographs but struggle to get your images free of haze or fog, you can use VanceAI Photo Dehaze. It removes haze or fog from the photo. It sharpens the results and restores features in foggy images. It also corrects the hue of the sky, mountains, clouds, and other objects. To find more powerful AI photo enhancer tools, you may visit VanceAI website and have a nice try to its AI-based tools.
Get Fabulous Photos with VanceAI Photo Dehaze
VanceAI Photo Dehaze removes atmospheric fog and haze from your photographs to get clearer photos. It's really simple to remove fog or haze from photos online as the AI can automatically dehaze a photo in less than 5 seconds. For sharper results, it also restores features in foggy images.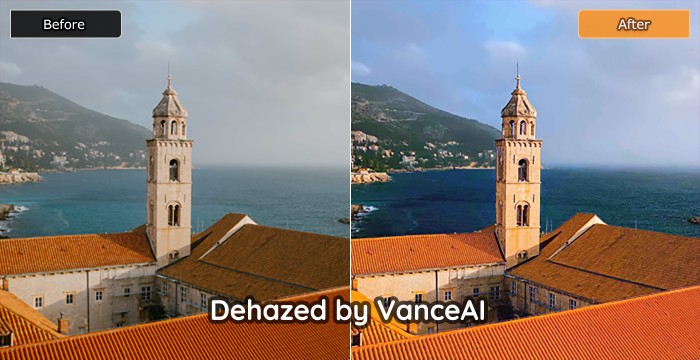 VanceAI Photo Dehaze uses artificial intelligence to dehaze photos online and makes them clearer. It has automated color correction and detail recovery, allowing you to obtain better photographs with less haziness. With AI assisting in photo dehazing online, you may concentrate on creativity rather than location, time, or weather while shooting outdoors. Besides, unlike traditional tools which often produce blurry and even pixelated results, the photo enhancer offered by VanceAI can enhance an image by reducing blur and recovering original details. If you are not satisfied with the result, you can use some tools to make photo hd.
Features
Here are some of the features of VanceAI photo dehaze
Dehaze Photo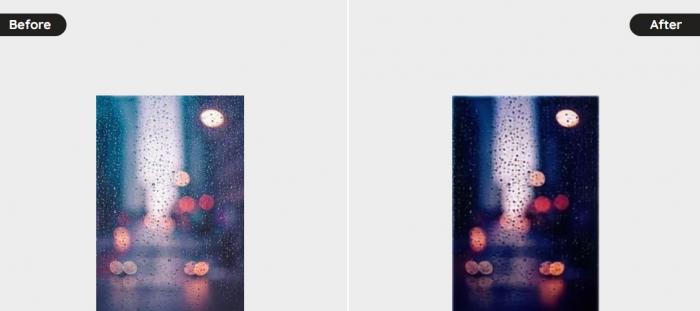 You can remove haze or fog from rainy photographs, as well as landscape, wedding, and other foggy outdoor photographs. Here you can see a clear difference: after using the VanceAI photo Dehaze the haze has been removed, and the image has become more vibrant.
Improve Contrast and Restore Details
Deep learning can restore details in photographs with the VanceAI photo dehazing tool.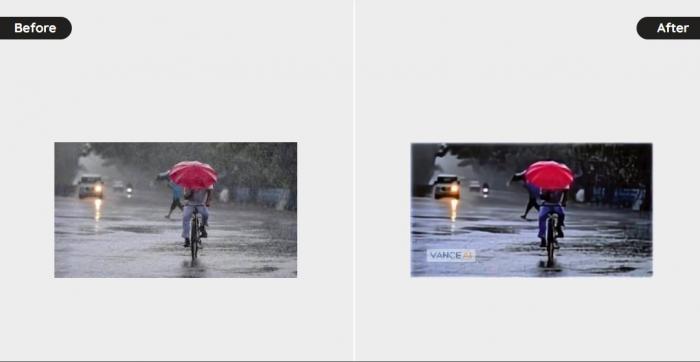 VanceAI photo dehazing tool can optimize contrast, color, and other aspects of the blurry image, as you can witness in the picture above.
Data Safe Guarantee
You can use the AI with confidence within 24 hours. Your uploaded photographs will be erased.
How to use VanceAI Photo Dehaze
Check the video below to get a guide to using this online tool.
8 creative ideas for Photography on Rainy Days
Rain photographers understand that learning to shoot in bad weather will make them better photographers. Subsequently, they will have to learn to adjust to the environment. Here are some rainy day photography ideas.
1. Use flash to highlight the form
A flash is a useful tool to have creative rainy day portrait photography. You can use flash to make the rain droplets stand out.
For example, you can use a flash while capturing the quiet city during the night in the middle of a rainstorm to make the shape and form of the raindrops more visible.
2. Capture Reflections
Rainfall generates lovely reflections. These reflections are also a fantastic method to display two sides of the same subject.
It would be best to try photographing reflections from a rear angle, as reflections in ponds will make the world appear to be turned upside down.
3. Create Pictures with Umbrellas
Larger umbrellas are preferred for photography on a rainy day over smaller umbrellas because they add the metaphysical concept of protection.
They can indeed serve as an elegant framing for your topic. You may use an umbrella to hide unwanted areas in your picture. But if the picture is not clear, do not worry. You can use VanceAI Photo Dehaze to get better images.
4. Capture water splashes
Water drop photography is an art. Compositions with water splashes are very popular in rain photography. Portraits of individuals playing in the rain are attractive, as well as the close-ups of intense rainfall pouring on flat floors.
5. Create a black and white photograph
Rain is the ideal setting for a dramatic scenario. Rainy day photography settings in black and white will complement your rain pictures beautifully, allowing you to capitalize on the dramatic mood.
Leaving the colors allows you to focus more on forms, geometry, and contrast while adding character and intensity to your photographs.
6. Macro photography
You can get a close-up photograph of any subject with the macro lens. Close-ups of water drops on green leaves and wet objects look fantastic as the rain alters the landscape, making even the smallest components of nature appear different.
Taking a picture of any topic in the rain will appear fantastic since the rain will be falling in the background, and the water droplets on the item will be bigger. And later, by using VanceAI photo dehaze, you can increase the contrast and color intensity of the image.
7. Shoot a scene through a window
Shooting via a window is an unusual yet interesting method of rain photography. As a replacement for focusing on the falling rain, you're concentrating on the raindrops on the windowpane.
For example, while shooting cityscapes through the window during rainfall, the cityscape in the backdrop would be out of perspective, creating a photograph in which the raindrops are the focus of attraction.
8. Optimize the Post Processing

Photographing in the rain can produce photos that appear dull and lack contrast. Still, you can compensate in the development to bring the images back to their full life. You can use VanceAI Photo Dehaze to add some extra contrast, clarity, and vibrancy, which will make a big difference in flatter pictures shot in rainy conditions.
Sometimes, the images produced on a rainy day may appear with a misty atmosphere. You can restore details in hazy pictures for clearer results during post-processing with the help of VanceAI Photo Dehaze.
Conclusion
If you are taking pictures for a romance or even family shots in the rain, rain photography is an exciting job. BY being prepared with the rainy day photography techniques and ideas, you can certainly be pleased to venture outside your safety zone and click some amazing photographs.
Try VanceAI photo dehaze to improve the color and clarity of your images. You can also experiment with variable composition and effects to learn how to improve your images in post-production. Try to find more interesting tools in VanceAI website, it provides great photo editing tools.
Do you find this post helpful?