Since only a tiny percentage of anime upscalers specialize in anime images, this article will also cover some of the best places where you can purchase anime posters and how to utilize the all-time favorite VanceAI Anime Upscaler.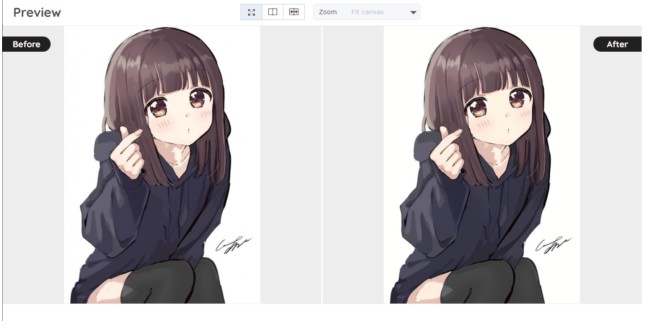 VanceAI Anime Upscaler is a simple program that allows you to enlarge images up to 16 times in size. This AI-powered anime upscaler enables you to enhance anime posters or waifu images online without sacrificing quality. This useful utility works with any software.
This anime image upscaler raises the low resolution without sacrificing quality. During the upscaling process, the tool also drags the blur and minimizes the noise. This program is designed to upscale even small anime photos up to 16 times. Using its dependable features, you can upscale photographs by 2x, 4x, 6x, or even 8x. If you are interested, you can try to upscale your anime now or download it directly from the pop-up window on the right.
VanceAI improves your images using sophisticated image-enhancing techniques. This photo enhancement provides a new interface that allows you to process low-resolution images using AI characteristics.
This incredibly efficient assistant is a must-have for executing graphic design and editing activities with ease and leverages cutting-edge deep learning and AI technologies. Designers, bloggers, and other professionals will make the most of VanceAI. It enables the creation of larger images that attract more views and likes.
VanceAI PC is full-featured desktop software developed by VanceAI that lets you instantly process local photos in bulk with more customization options, which will significantly simplify your workflow and boost your productivity. Free Download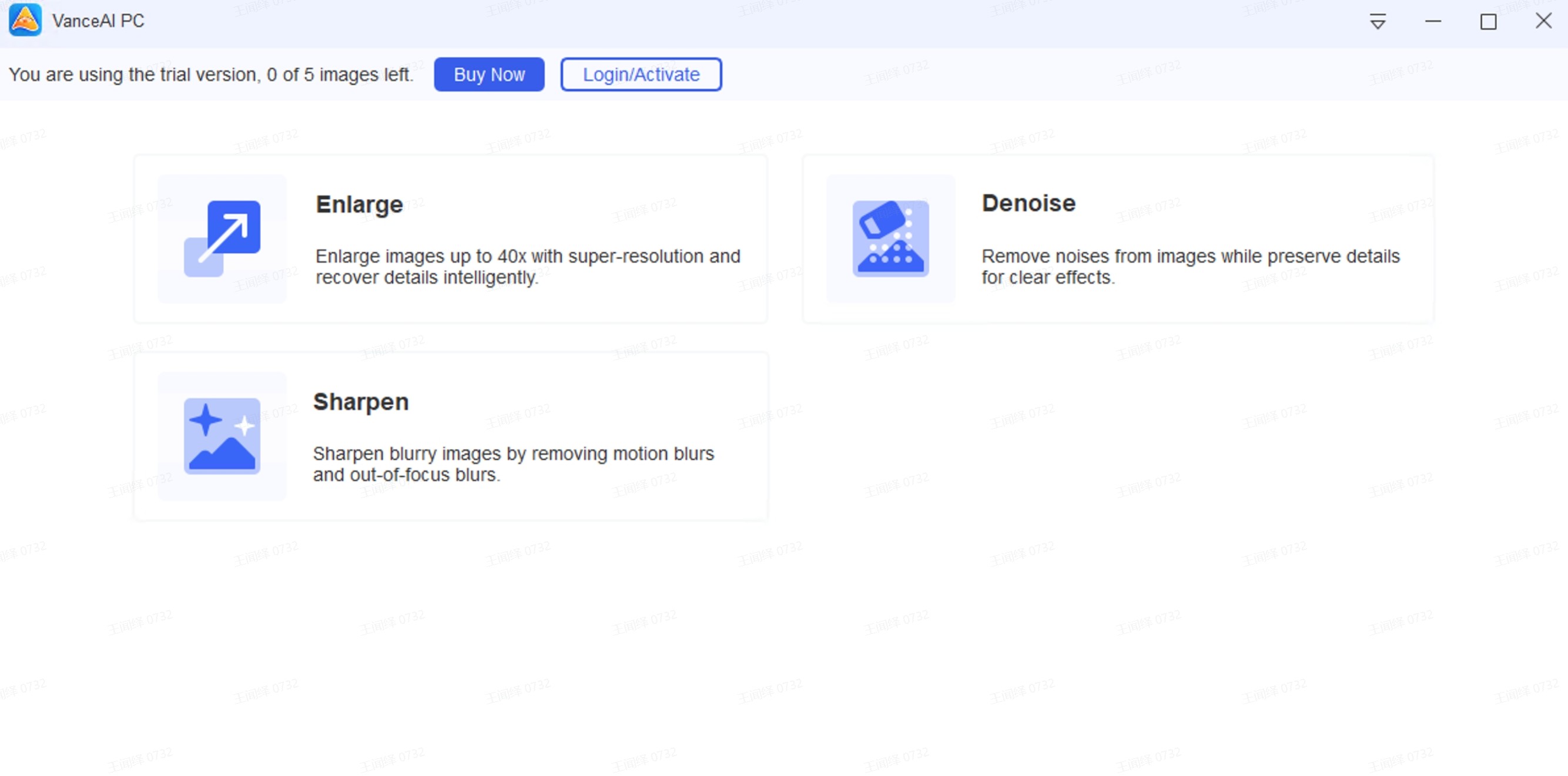 And there is support to experience the full power of VanceAI Anime Upscaler with a trial in the pop-up space on the right side. Same as the guide. (Sign up can get 3 credits/month for Free. Click on "×" can exit the mini workspace and return to where you are reading.) Also you can download the software to use.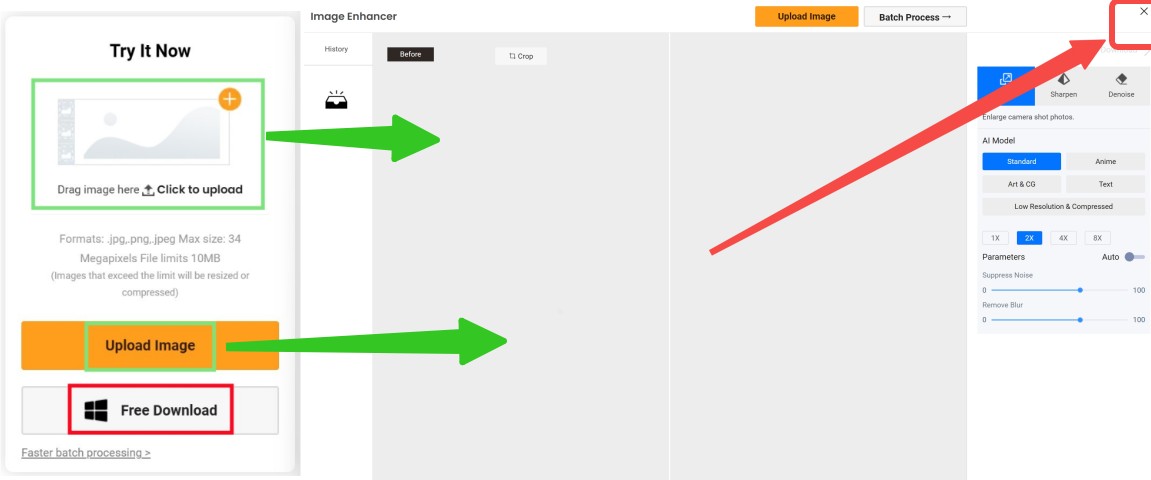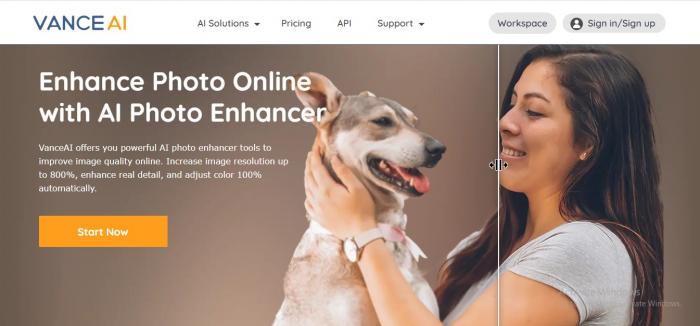 Step 1: Upload your image
An upload button can be found in the getting started part of this anime image enhancer's website. Simply click it. It will take you to the next page.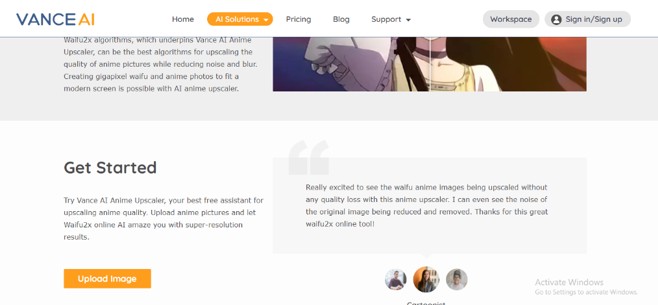 Step 2: Process your image
You can drag and drop or select the image on the following page. To upscale an image, you can select the model and size. The image will begin to progress when you click, and the AI anime upscale tool will display the perfectly upscaled image within seconds.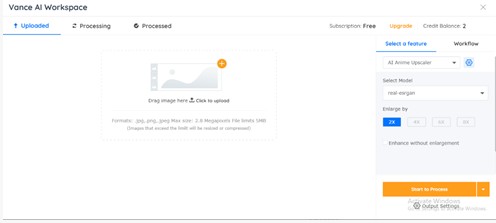 Step 3: Make any final edits before downloading.
Once your image is processed, you have the liberty to make any final changes you seem fit.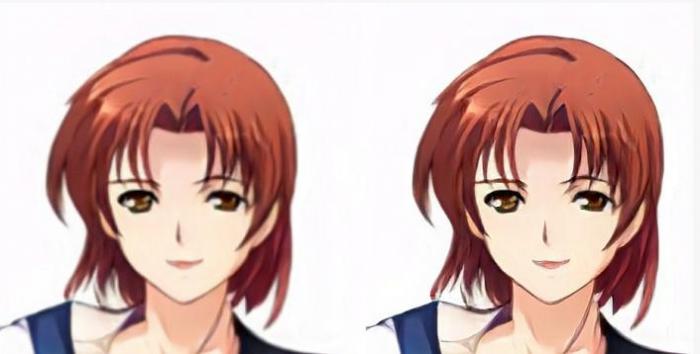 Step 4: Download your image
When you are happy with the results, download and save your image, and you now have a high-resolution anime poster!
In today's world, it's rather simple to upgrade an image. Tools like image editing software to upgrade photographs have become increasingly trivial and commonplace since the Internet and smart devices such as mobile phones and tablets were introduced.
That, however, is only half of the story. More than just a program to boost image resolutions are required to upgrade images. Thanks to this anime image upscaler's slick UI design and heavy AI technology, you're only one upload away from getting your photographs to the quality you want.
This technology is also no slouch, having been used in various visually demanding genres such as films and video games. VanceAI Anime Upscaler is indeed an excellent tool for upscaling images.
Best 7 places to buy anime posters
| | | | | |
| --- | --- | --- | --- | --- |
| Website | Price | Features Options | Support Device | User Friendly |
| Displate | Medium to Expensive | Strong magnet-mounted metal posters, trendy subjects and material | PC | Medium |
| Red Bubble | Affordable to Expensive | Wide range of products, user-friendly upload process, customization options | Mobile/PC | High |
| Pinterest | Free | Wide range of anime posters, easy navigation based on categories and uniform poster layout | Mobile/PC | High |
| Society 6 | Medium to Expensive | Print-on-demand marketplace with a large readership, user-friendly website | Mobile/PC | Medium |
| AllPosters | Affordable to Expensive | Wide range of anime posters based on genre, freehand on size customization offered | Mobile/PC | Medium |
| My Hotposters | Affordable to Expensive | Wide selection of anime posters at reasonable prices, offers free poster shipping qualities, provides discount codes and promotions | Mobile/PC | Low |
| abposters | Affordable to Expensive | Wide range of anime posters, wall art prints, mugs, clothing, categories available for easy selection | Mobile/PC | High |
1-Displate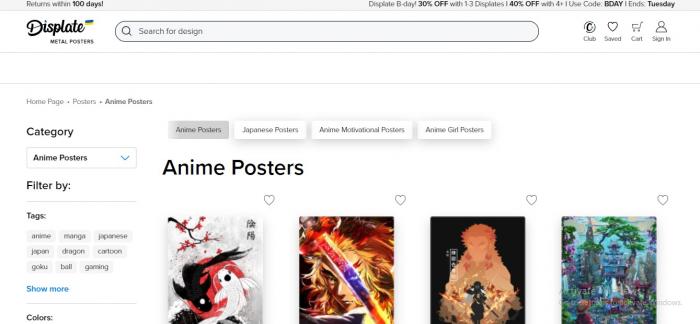 Displate is a one-of-a-kind metal poster that captures your individual interests. The app has produced a strong, magnet-mounted canvas that can survive a lifetime of hard staring. You may modify, collect, and rearrange them at your leisure - it just takes 20 seconds to set them up without using any power equipment, causing no harm or frustration.
Pros
Trendy subjects and material
Excellent marketing
Cons
Quality often does not match the advertisements on the website
Even if the quality does not match the website, the company requires you to pay return postage. For the larger sizes, return shipping expenses are prohibitively expensive.
2-Red Bubble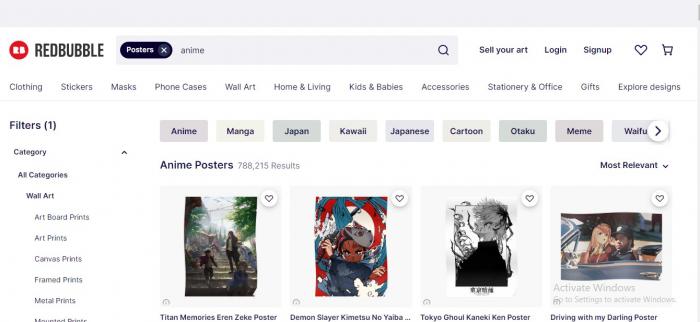 You begin by uploading your design and adding a title, tags, and description to Red Bubble. Then go through all of the products, enable/disable individual things, and adjust the image for each one.
You can change the size, add a pattern, or upload a new image with each item's exact proportions. You can also check a few boxes and save them at the bottom of the page.
Pros
Offers a wide range of products
User-friendly upload process
Cons
You are left to do your own marketing
Extremely high competition with other sites
3-Pinterest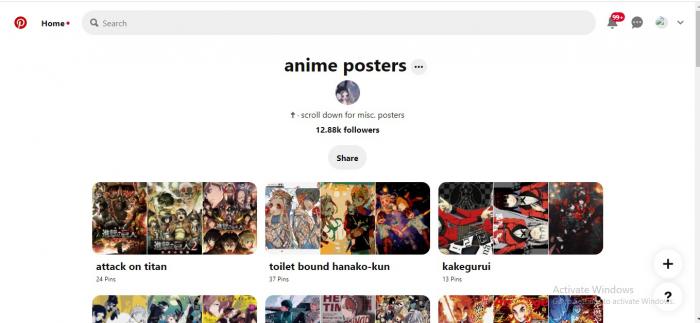 Pinterest offers an excellent and wide range of anime posters, several of which you can find based on popular shows and movies. The site is very easy to navigate, and the anime layout is uniform, allowing for easy edits.
Pros
Categories make website navigation easy
Uniform layout of posters
Cons
High loading time
Downloading an unedited image takes too long
4-Society 6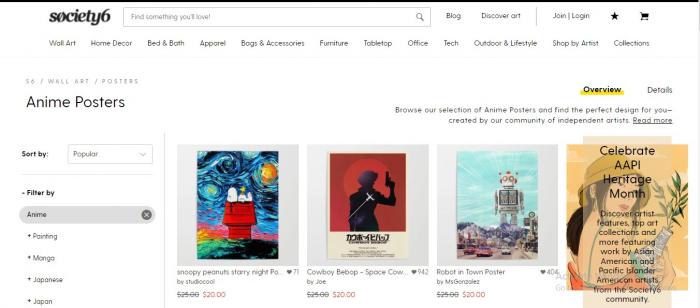 Society6 is an online print-on-demand marketplace for artwork that allows both professional and amateur designers and artists to quickly create their own online shops to sell their work on a variety of accessories such as tote bags, shirts, and furniture. It is a great resource for anime posters as well.
Pros
A larger readership allows for a greater selection of anime posters
User-friendly website
Cons
Servers are potentially quite slow
There is a lack of useful statistics and shop insights
5-AllPosters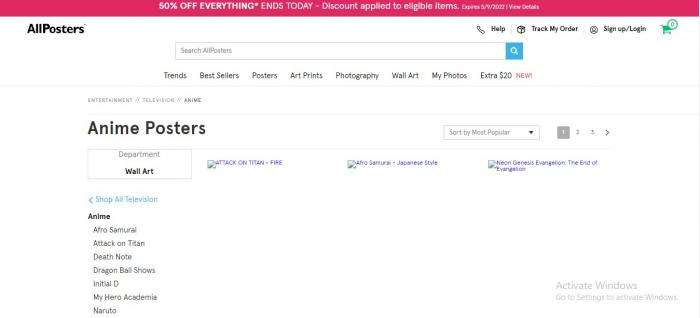 AllPosters has been providing wall decorations to individuals all around the world since 1998. Any wall hangings, whether for your dorm or your home, can be found here. They have been delivering the highest quality posters and art prints since they started in Berkeley, California.
AllPosters is a poster company that specializes in beautiful posters, specialty prints, and a variety of other types of posters. A poster of the Eiffel Tower, a favorite comic book character, or an anime poster from a popular manga can be found here.
Pros
A considerably wide range of anime posters based on genre
A freehand on size customization offered
Cons
Extremely slow loading on the website
No exact uniformity in terms of poster layout
6-My Hotposters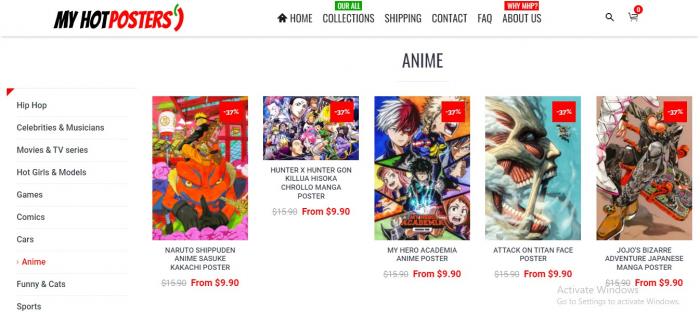 My Hot Posters is a well-known poster company that competes with companies such as Movie Poster Shop, Poster Store and Think Baker. On Knoji, My Hot Posters has a 3.9 overall rating based on 49 ratings. It has a large selection of good anime posters at reasonable prices.
Pros
Offers free poster shipping qualities
Provides ample discount codes and promotions
Cons
No categorization of anime posters on the website, making it difficult to navigate
Has no legitimate return policies
7-abposters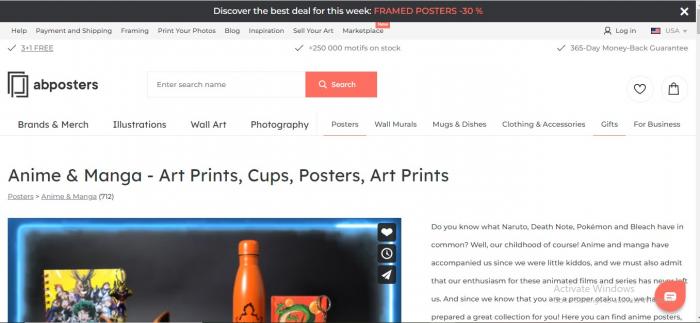 Anime posters, wall art prints, mugs, clothing, and other amazing goods featuring your favorite anime or manga heroes can be found here.
Pros
The website is extremely user-friendly and easy to navigate
Categories are available, making the selection of anime posters easy
Cons
Slow loading time on the website
Conclusion
In a free plan, most online image enlargers do not enable batch processing or output format selection. Meanwhile, VanceAI Anime Upscaler allows you to easily transform any low-quality or fuzzy anime photo into stunning, high-resolution anime posters or wallpapers.
The VanceAI Anime Upscaler is a cutting-edge, open-source, high-quality real-time anime upscaling algorithm that may be used in any programming language.
Do you find this post helpful?
Yes
No