Sharp and clear images are the pursuit of every photographer. But the reality is that your images might turn out blurry and fuzzy for a number of reasons, such as camera shake or improper focus. When your images are fuzzy or indistinct, you need to make them sharp and clear before you can use them.
Image sharpeners can help you fix the problem easily. Vance AI Image Enhancer is a powerful photo sharpening software designed to fix blurry images. Powered by AI, this Image Sharpener can make images crystal clear in one click. Removing artifacts and halos is what this AI image sharpener excels at. This comes from its advanced algorithms, which has been trained with millions of blurry and tack-sharp images.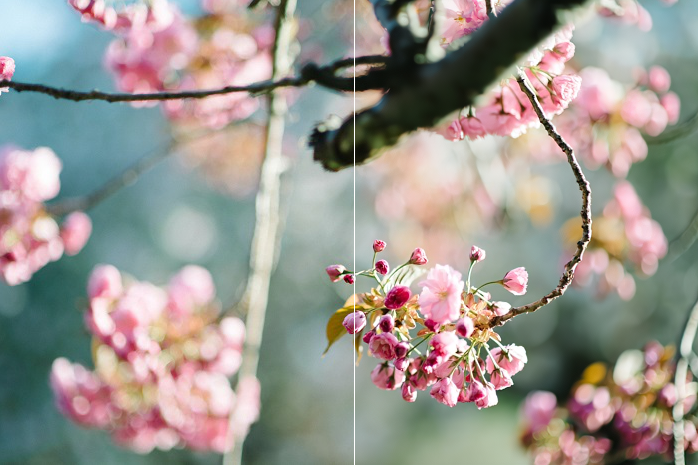 Part 1: Steps to Sharpen Image with Vance AI Image Enhancer

If you have never downloaded the software, you can follow the steps below. If you have already installed the software, then overlook the first three steps. Tip: Before you use this Image Enhancer, remember to back up your images so that you can fix them again if the result is not as expected.
Step 1- Download Image Sharpener
Download this product from its official website. Click on the icon "Free Download" and save the software package to your computer.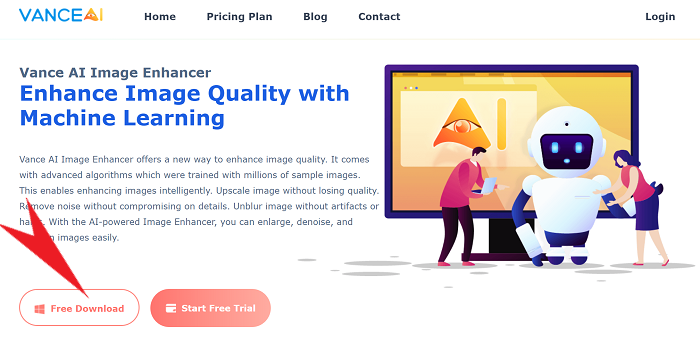 Step 2- Install Image Sharpener to access features
Go to the software package you downloaded. Tap on the icon of this software, then follow the intuitive steps to install it on your computer.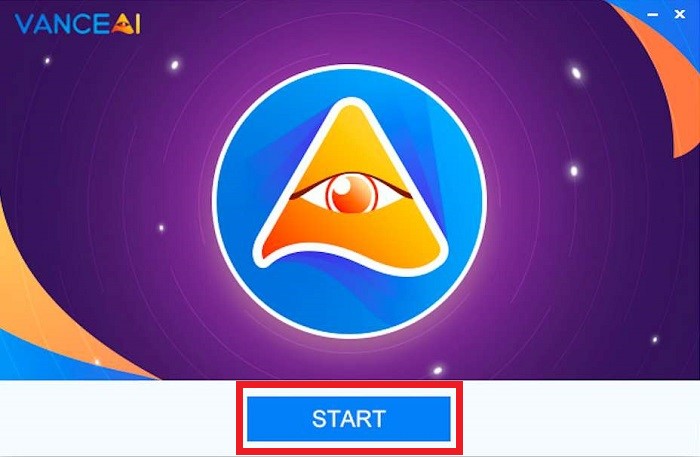 Step 3- Download AI Model on the Image Sharpener
Run the software after you install it. Then a pop-up will show up to remind you of downloading its AI model. This is a necessary step to unlock AI features though it takes several minutes to download.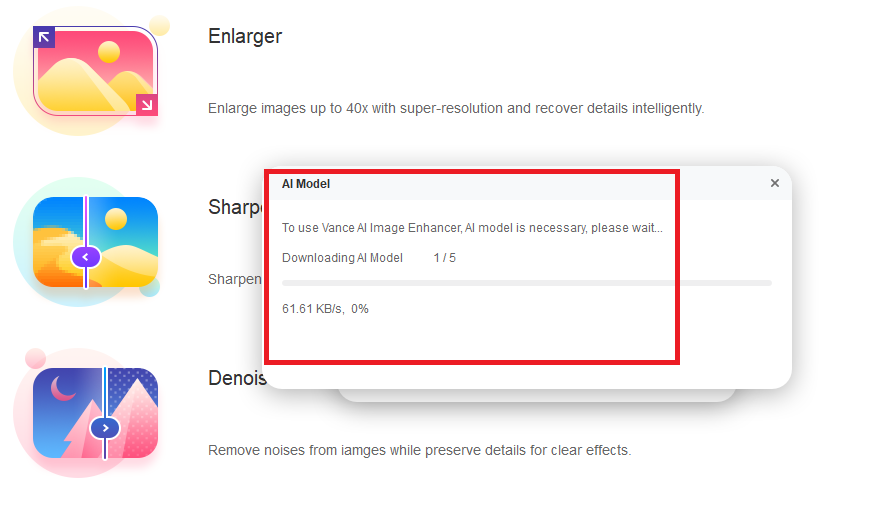 Step 4- Upload an image to Photo Sharpening Software

Upload an image to this software by dragging and dropping it to the main interface of the software. Alternatively, you can choose a photo from your computer.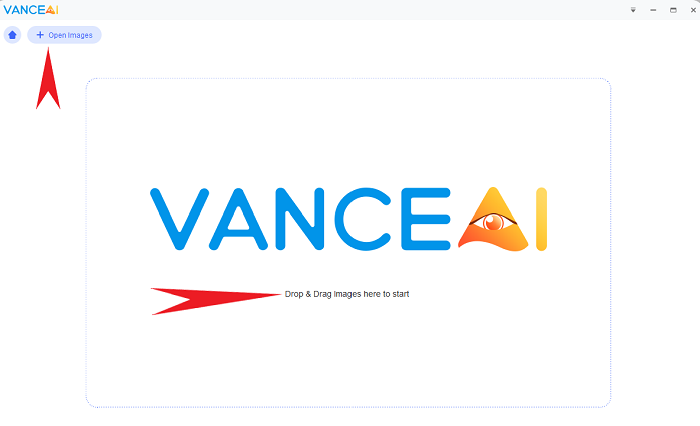 Step 5- Sharpen image in one click

This product helps you sharpen images you upload automatically by it. You can adjust the value (1-100) to enhance the effect. And the result can be previewed on the left of the interface.

Optional: Adjust the image brightness
This product allows you to change the brightness, contrast, and saturation of photos. You can adjust them by dragging the sliders.
Step 6- Save result from the image sharpener

Download the result by clicking "Save" button at the lower right corner of the interface. Then you will see a pop-up, click on OK to download the sharpened image to PC. You can choose photo quality before you save it. The higher quality, the more space it will take up.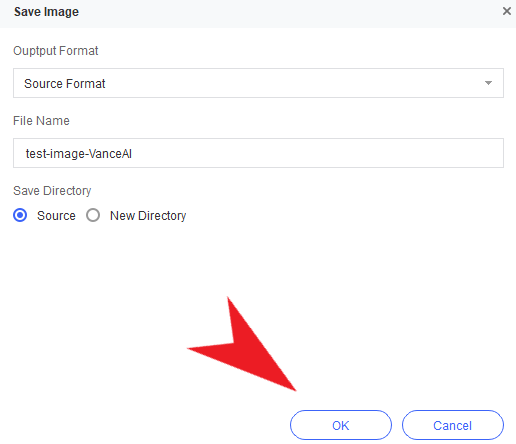 Part 2: An Alternative to Sharpen Image Online
Vance AI Sharpen allows you to sharpen image online for free in just one click. There is no need to download or install anything. Just upload an image and then AI will do the rest. This is the best choice for those who want to sharpen image online hassle free. Machine learning lies at the core of this image sharpener, which lets you sharpen blurry image online automatically. It's easy to sharpen an image You don't need to have any photo editing experience. There is no manual work.


How to Sharpen an Image with Vance AI Sharpen
Step 1: Drag and drop an image to Vance AI Sharpen or select one from your device.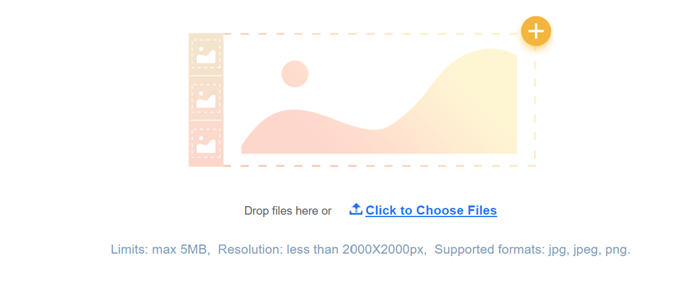 Step 2: "AI Sharpen" will be selected automatically and you can move the slider to adjust the level of sharpening.


Step 3: Press "Start to process"


Step 4: Click "Download" icon to save the image sharpened

Conclusion
While photographers choose to blur some parts of images for artistic expression, sharp and crisp images are needed in most cases. Unintended blur gets in your way when you create images. There are many most image sharpeners available to help you sharpen blurry image, but most of them overlook details while handling images. Unlike any of them, Vance AI Image Enhancer lets you restore details when you sharpen photos. With AI technology, you can fix blurry images easily. You can sharpen blurry image online or with the software in one click. You don't need to bring a tripod with you. Everything is intuitive even if you don't know how to sharpen a photo.

FAQs

1. What is image sharpener?
Image sharpener, also called photo sharpener or picture sharpener, is designed to correct your images by reducing blur and noise. It lets you create sharp and crisp effects so that readers can focus on the image point. Good image sharpeners can help you increase texture and focus of your images. Want to learn more about the product? Check out in Vance AI Sharpen.

2.Do You sharpen photo enough?

There is no strict standard for sharpening effects of images. Whether you have sharpened your photo enough depends on your own needs. Too much focus on sharpening with photo sharpeners might also destroy your work. Especially when you want to print out sharpened photos, you'd better preview the result before you sharpen photo.

3. How can I sharpen an old blurry picture?

To sharpen an old blurry picture, you have many options. Picture sharpeners, like Vance AI Image Enhancer, can fix your problem in one click. If you have a picture that's old and blurry, you can try the AI solution. Especially for those who don't know how to sharpen a picture, online tools powered by AI are handy and efficient.
Want to learn more about refining images? Check out in How to Unblur an Image with Vance AI?