Get Clearer Anime Stickers with VanceAI Anime Upscaler
An anime sticker can also be used digitally, of course. This is where the need for resolutions and quality comes in because using a low resolution anime sticker wouldn't feel natural. In such cases, you can make use of the anime upscaler tool from VanceAI, also called VanceAI Anime Upscaler. The basic function of this tool is to enhance and/or enlarge your anime sticker or any anime based image in order to improve quality and increase resolutions.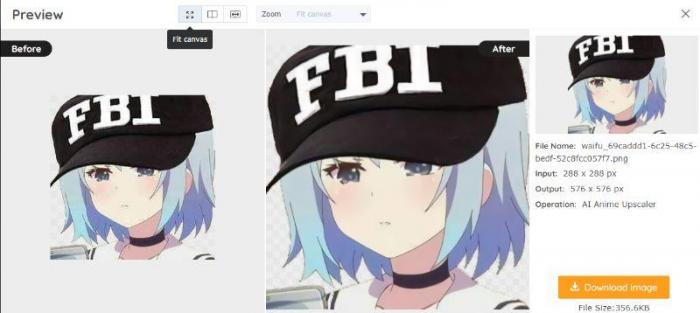 As seen from the above comparison image, the anime upscaler not only manages to double the resolution of the old image but also enhance its quality quite significantly. The previous image was filled with image noise, which is no longer an issue with the new image. Additionally, with the new resolution, you have more options to use the anime sticker. You can use this as a profile picture on Discord or also as a cover image for any other social media platform.
Lastly, using VanceAI Anime Upscaler is really easy to use. Given its AI based design, you only need to upload an image and wait for a few seconds as the tool enhances the anime sticker for you.
Where to Find Great Anime Stickers?
1. KyoKo Vinyl
Price: This is a website store that deals with anime sticker products, anime based accessories, and more. The price will depend on your order.
The KyoKo online store hosts a really good collection of anime stickers and more. You will not only find anime stickers from all kinds of anime, such as Inuyasha and JoJo, but also other cool products like t-shirts and hoodies as well.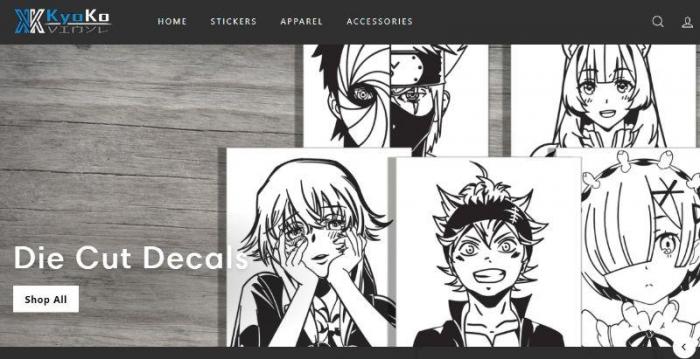 Pros:
Multiple types of stickers.
Excellent UI design.
Many kinds of anime characters to be found.
Cons:
Search button can be improved.
A bit pricey.
Not many offers.
2. Sukawaii
Price: Prices depend on the order. A standard anime sticker would cost $7.99 here.
Users especially looking for an anime peeker sticker will find this particular online platform pretty useful. The website is filled with peeker stickers as well as other kinds of stickers such as collab. You will also find chibis, which are really popular. To top it off, the store also has a good collection of t-shirts and prints that take it to the next step.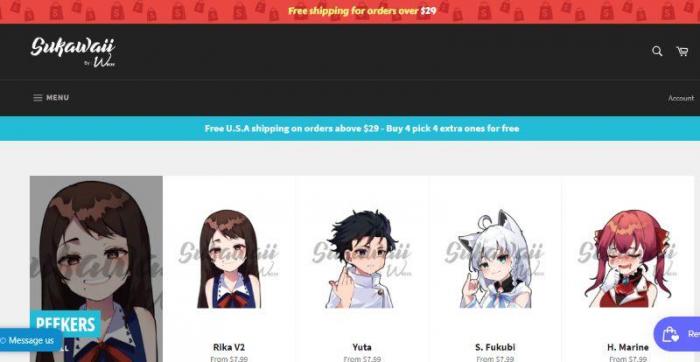 Pros:
Free shipping for orders exceeding $29.
Multiple types of stickers available.
Creative anime products.
Cons:
Expensive stickers.
The UI can be improved.
3. Anime Stickery
Price: Most anime sticker prices are somewhere around $6.99.
On this website, you can find a lot of anime car sticker products as well as anime peeker sticker products. Not to mention all the other equally good anime based products such as mystery box, slap stickers, and more. You can also find stickers for popular games such as DoTA, Final Fantasy, Genshin Impact, and many more.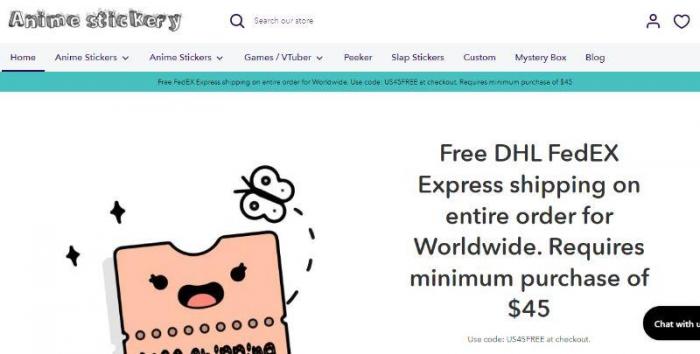 Pros:
Many awesome anime products.
Great UI design.
Community based platform.
Cons:
Could have more anime and manga characters.
Search function can be improved.
4. Teepublic
Price: Most stickers on this online platform start from $2.50 and may go upwards.
Teepublic has one of the best anime sticker collections online. The reason for that is the stickers present there has a creative spin on most of the popular anime series that you are probably looking for. The online platform also has popular old-school anime stickers such as Cowboy Bebop and Afro Samurai.
Pros:
One of the best sticker collections.
Affordable products.
Huge variety of products.
Cons:
The website can be slow at times.
Can add more search filters.
5. AliExpress
Price: The prices for anime sticker packs vary greatly. The prices can be anywhere from a dollar to five or even more.
This online store sells anime sticker packs and stickers of other pop-culture arts. You can also find products for your home as well as your cars and automobiles.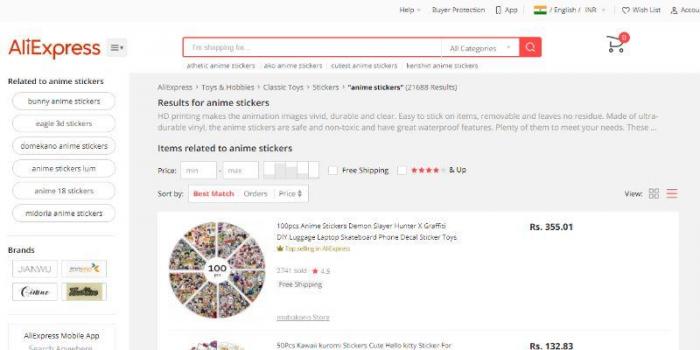 Pros:
Multiple types of products.
Filtered search options.
Affordable anime sticker packs.
Cons:
The UI is cluttered.
The store can be unresponsive.
Not many anime sticker options.
6. Joom
Price: Most of the stickers here are priced around $3.
Joom is a rather multi-purpose website as it does not just cater to anime sticker products but is actually a broad online store that sells women's clothing, traveling products, and much more. You can find a decent amount of anime sticker packs though not something specific like in other sites.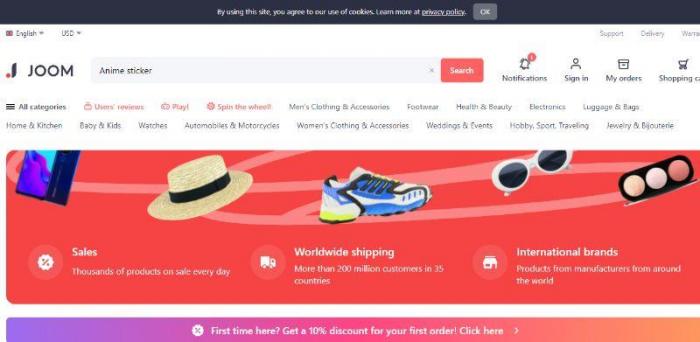 Pros:
Many products to find.
Good offers.
Affordable anime stickers.
Cons:
Not many anime sticker options.
The UI is cluttered.
7. Weeb Stuff
Price: The anime sticker packs on this platform are usually priced around $12.99.
This platform will feel much more closer to home for anime fans as it houses all the popular anime stickers from famous series. Moreover, it also sells apparel, gaming products, toys, and much more.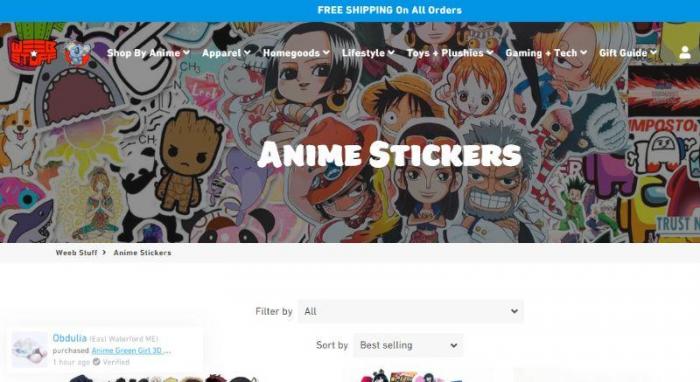 Pros:
Free shipping.
Amazing anime sticker collection.
Sells other types of products too.
Cons:
Could use more individual stickers.
Anime warning sticker packs are few.
8. Picsart
Price: Many of the stickers here are free but may cost a fee if intended for commercial use.
What makes Picsart a bit different from other anime sticker website stores is that many of the stickers here are made by the community itself. This definitely adds a more relatable and creative spin to most of the stickers. Not to mention that they are harder to find as well. Most of the stickers are digital based and hence upgradable by VanceAI Anime Upscaler.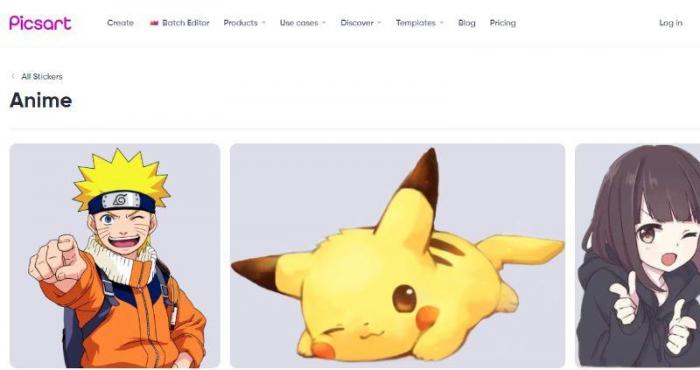 Pros:
Many free stickers.
Great anime sticker designs.
Easy to use.
Cons:
Not many options.
Can have more anime series.
9. Javishousestore
Price: The stickers present here are for free to all users.
These anime sticker packs here are designed with chatting apps in mind, mostly WhatsApp. Aside from anime and manga, you can also find stickers for popular TV shows such as Breaking Bad. These stickers are definitely for fans as the stickers are full of cool references.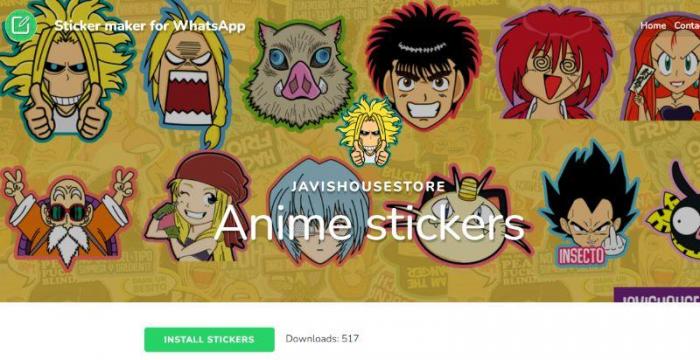 Pros:
Good collection of stickers.
Easy to use.
Free anime stickers.
Cons:
Can have more anime series.
Can add more stickers.
Mostly for apps.
10. Ahhgela
Price: Most of the stickers on this store sell for around $10.99.
Ahhgela is a really great place to just browse around because of their amazing and diverse anime sticker collection. You can have anime peeker sticker, anime car sticker, and much more. Additionally, their collection also includes video games, customs, and TV shows. This is definitely a great store thanks to its plentiful options and great designs.
Pros:
Great collection.
Easy to use.
Various kinds of stickers.
Cons:
Can get expensive.
No offers.
Conclusion
With these website stores, you can find many anime sticker options as well as options for other content that you may enjoy, such as video games and TV shows. Some of the websites listed here also sell anime sticker packs which can be a pretty good gift option, especially for younger audiences. These stickers are amazing in adding personalization to your electronic devices. Lastly, you can also just download anime sticker packs for digital chat apps and enhance stickers through the photo enhancer tool. Overall, you have many options.
Do you find this post helpful?
Yes
No