What is Kittl?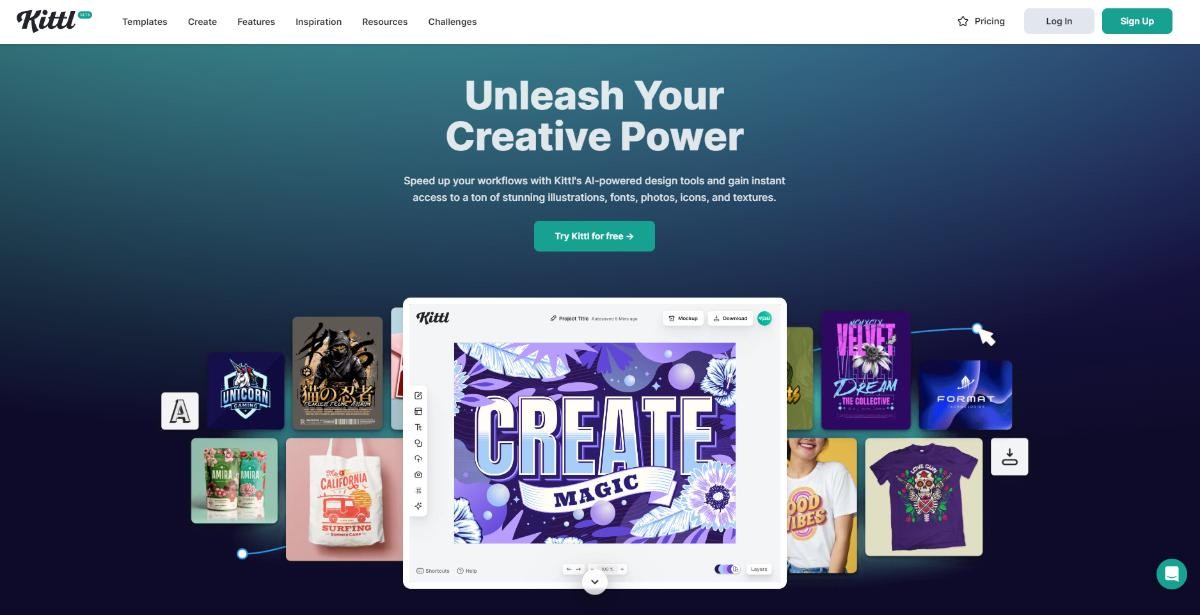 Kittl is an online image editing app that provides a wide range of design features similar to Canva. It offers a variety of tools and resources to enhance your creative projects. With Kittl AI design tools, you can generate vector logo icons, stunning images, and clipart without any hassle. The Kittl app also offers advanced text editing capabilities, allowing you to transform text in real-time with just a few clicks. Additionally, you can make detailed changes to your design in the Kittl editor mode within seconds. 
While Kittl reviews focus on various things about the app, we will be focusing on the Kittl logo maker tool.
Key Features:
Free Logo Design Templates: Kittl offers a vast library of professionally designed logo templates in various styles and trends. Users can choose from minimalist designs to more intricate options and customize them according to their needs.
AI-Powered Design Tools: Kittl Logo tool utilizes AI technology to generate vector logo icons and stunning images based on simple text prompts. This feature enables users to quickly and effortlessly create unique and eye-catching logos.
Ready-to-Use Templates: Kittl offers thousands of professional design templates that are ready to be customized for personal or commercial projects. These templates serve as a starting point for users to create their own unique logos.
Pros:
Kittl offers a wide selection of logo templates created by professional designers. This provides users with a starting point and inspiration for their logo designs, saving time and effort.
Kittl's Logo Maker features an intuitive and easy-to-use editor that is accessible directly through a web browser. This eliminates the need for complex software installations.
Cons:
Although Kittl's Logo Maker is designed to be user-friendly, individuals with limited experience in graphic design may require some time to familiarize themselves with the tool's interface.
Kittl Pricing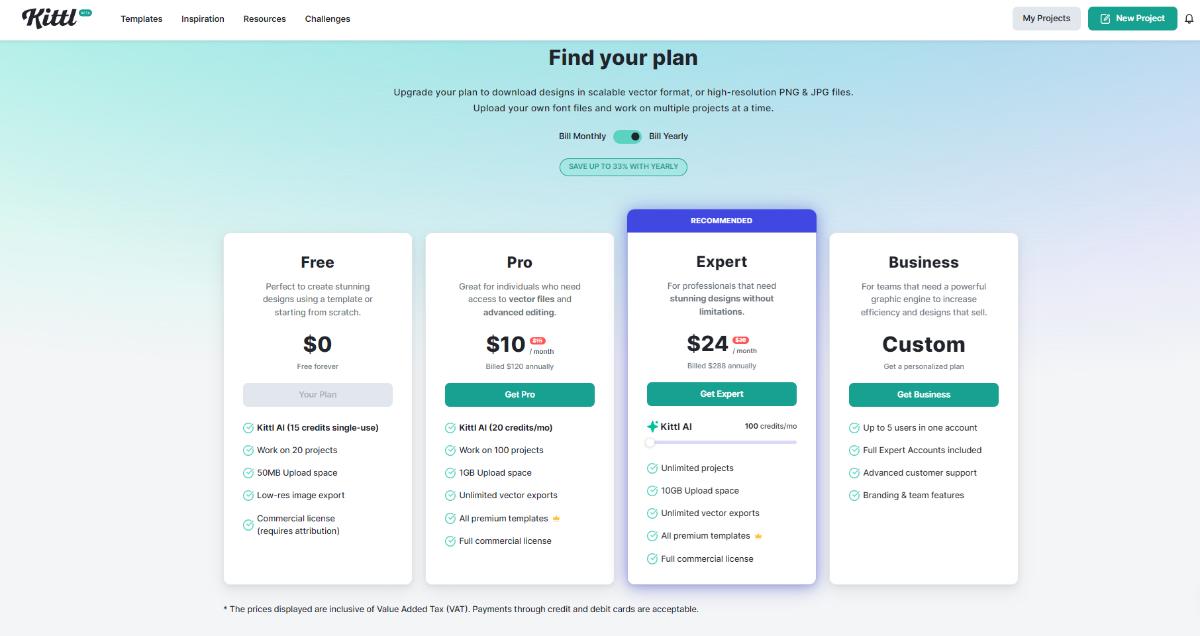 From the image above, we can see that the Kittl free trial offers a fair number of features, though in the long run, you'd need more. For that, you can consider one of the paid options. The Pro account costs $10 per month while the Expert account costs $24 per month. They both offer identical features except that Expert users simply have more space and projects to work with. Also, you can make use of Kittl AI much more with the Expert subscription.
Lastly, there is the Business account or subscription as well. This is better suited for those who are working as a team in a company or firm and want to design projects together with shared access. Kittl free to use version is good for users who want to become familiar with the platform first.
How to Use Kittl?
Follow the steps to know how to navigate Kittl.com and create designs.
Step 1: Use the link provided above to gain access to the Kittl website page. There, find and click on the button saying "Try Kittl for free". Create an account when you get the prompt.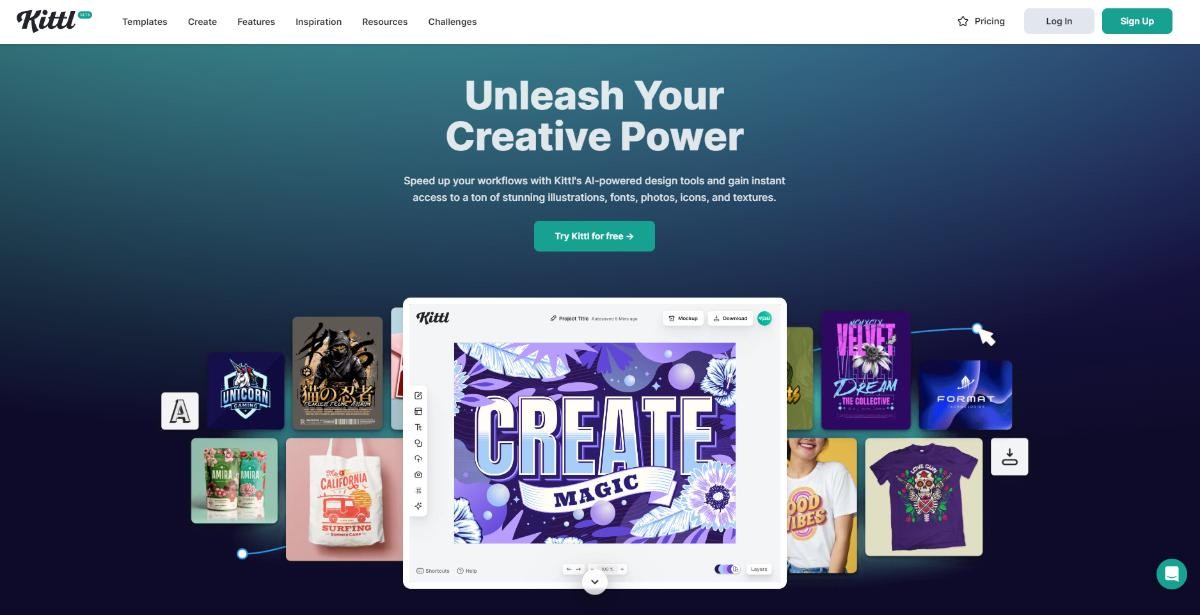 Step 2: Go over to the Inspirations tab on top and click on Logos. After that, click on the "Start creating" button to get to the Kittl design app. Navigate the editor and create the logo using the features given.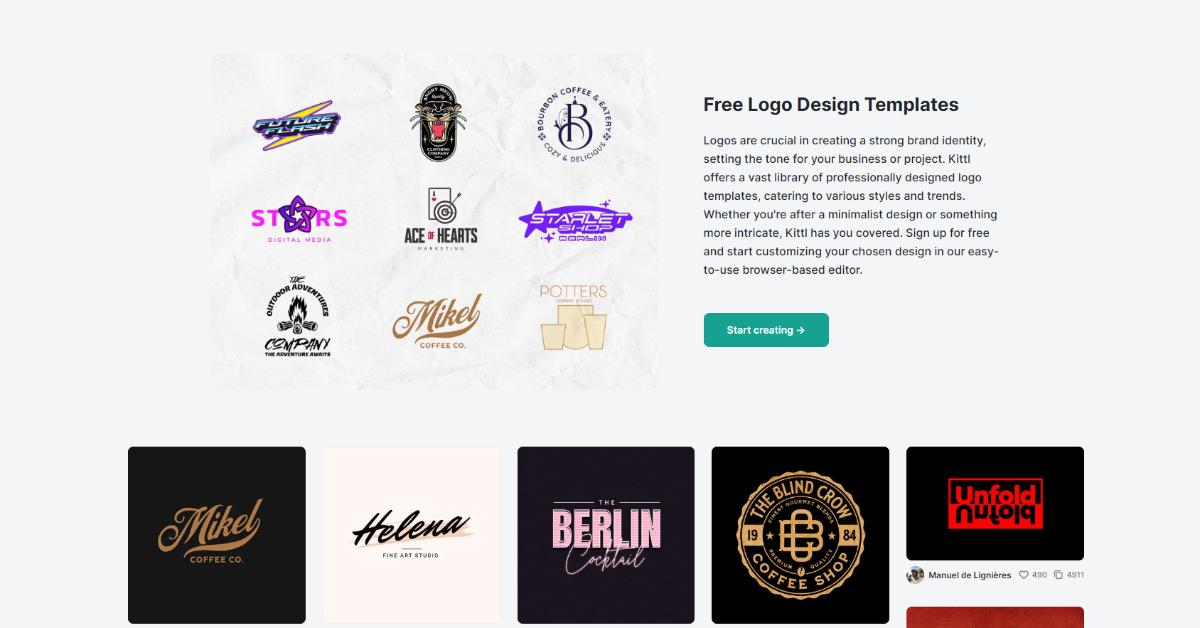 Step 3: Once the logo or design has been completed, you can click on the "Download" option on the top right of the screen to save your work on your device. More interestingly, there are also some popular Vtuber Maker which use similar technology. Try it if you like.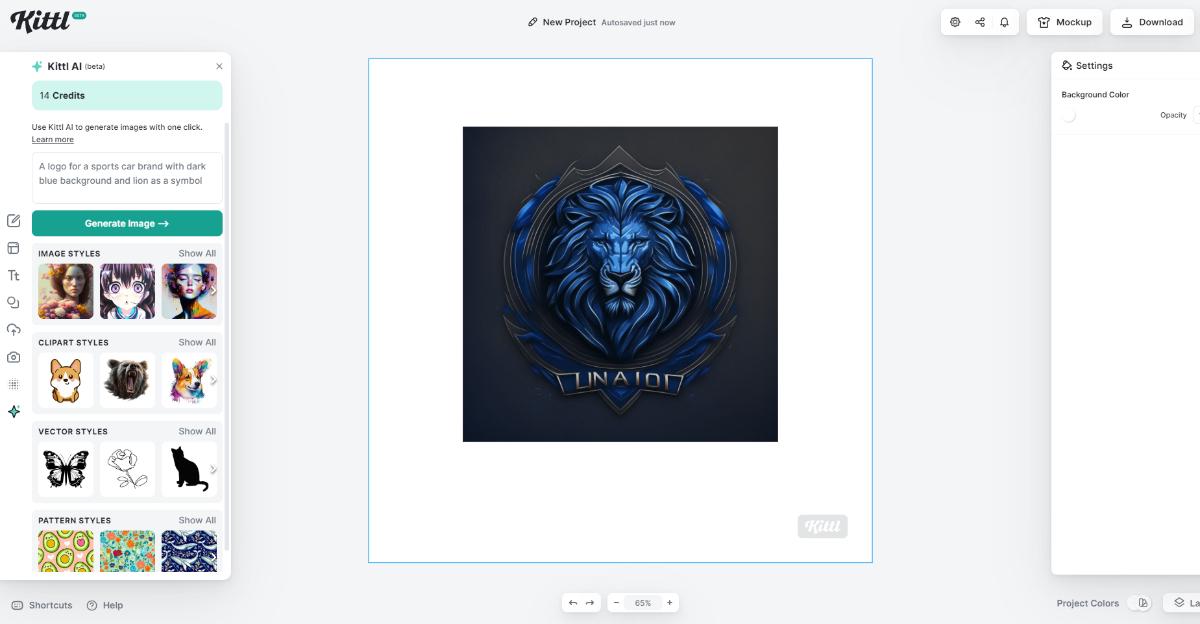 Kittl vs Canva
We will now compare Kittl with one of Kittl alternatives, which is Canva. Both are immensely rich platforms in terms of features and capabilities.
Features:
Kittl - Kittl offers AI-powered design tools, advanced text editing options, magic recoloring, and a vast library of illustrations, fonts, photos, icons, and textures. It also provides ready-to-use templates and a logo maker tool.
Canva - Canva offers a wide range of features, including a drag-and-drop editor, customizable templates, photo editing tools, a vast media library, collaboration options, and more.
UI Design:
Kittl - Kittl offers a user-friendly and intuitive interface, allowing users to quickly navigate through the platform and create stunning designs effortlessly.
Canva - Canva is also known for its user-friendly interface, providing an intuitive design experience. It offers a drag-and-drop editor with a wide range of design elements.
Price:
Kittl - Kittl offers a free plan that provides access to basic features. It also offers premium subscription plans with additional benefits and features.
Canva - Canva offers a bigger range of features and tools for free. While it also has paid subscriptions, the free version is usually more than enough to get the job done.
Best 5 Kittl Alternatives
VanceAI Art Generator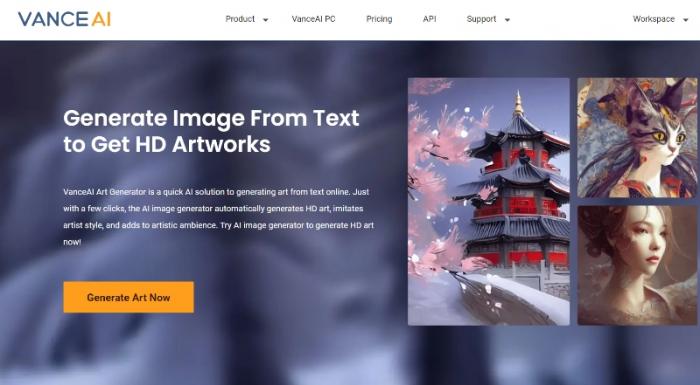 Using VanceAI Art Generator, users can harness the potential of AI to generate logo designs based on their preferences and input. The tool offers advanced algorithms that transform textual descriptions or prompts into visually appealing logo designs. This allows users to bring their ideas to life and explore various artistic possibilities. Besides that, more people also seem to be interested in AI Face Generator. You can know more from the link.
Key Features:
AI-Powered Logo Generation: VanceAI Art Generator utilizes cutting-edge AI technology to automatically generate logo designs based on user input. Users can provide text prompts or descriptions, and the AI system will create logo variations that match the provided information.
Customization Options: Once the AI-generated logos are generated, users have the flexibility to customize and fine-tune the designs according to their preferences.
How to Use:
Step 1: Click on the link given to access the tool. Click on the button to get to the Workspace.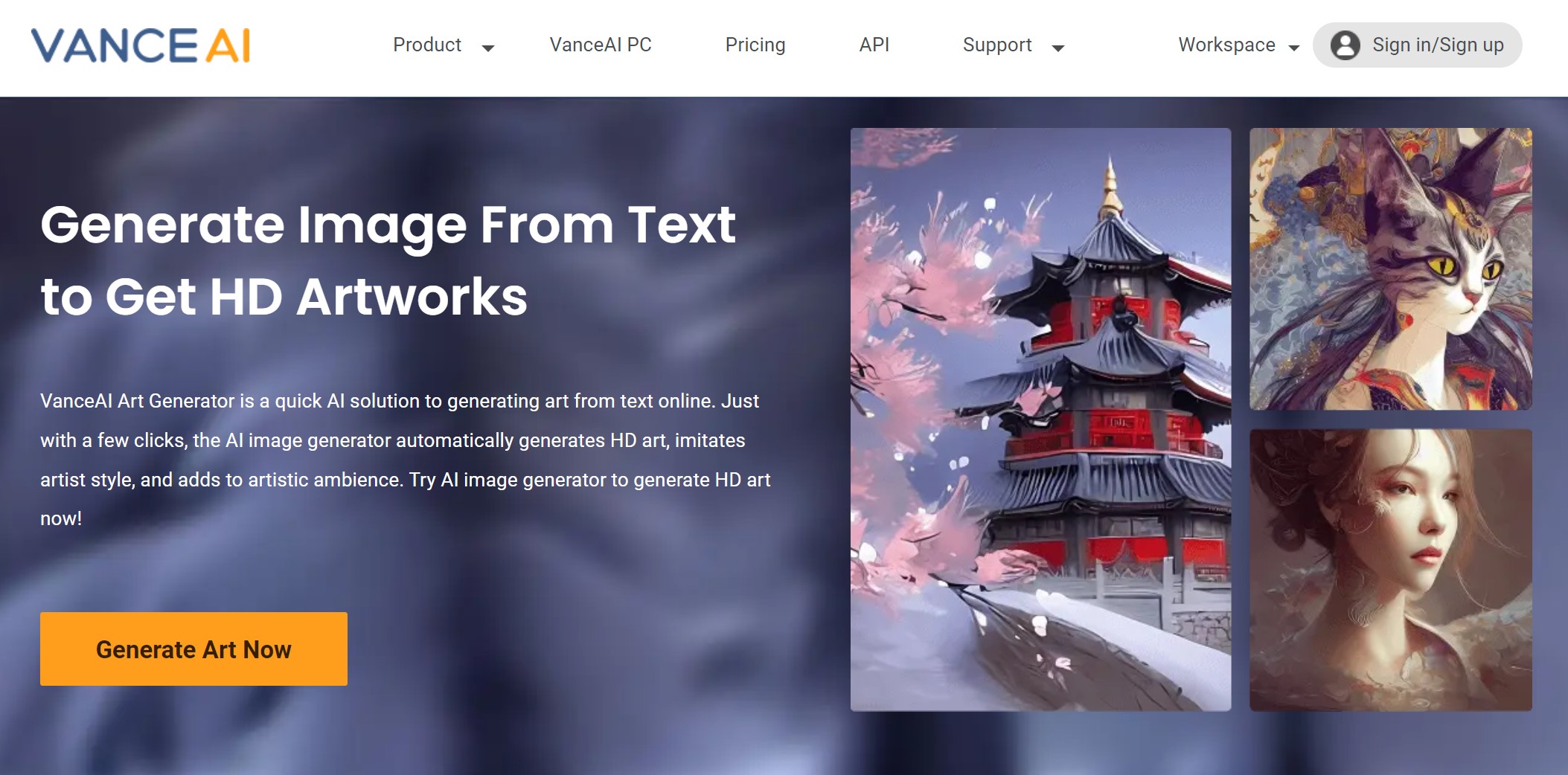 Step 2: Write the text prompt and use the settings on the right to customize your output. Click on "Create" when you're ready.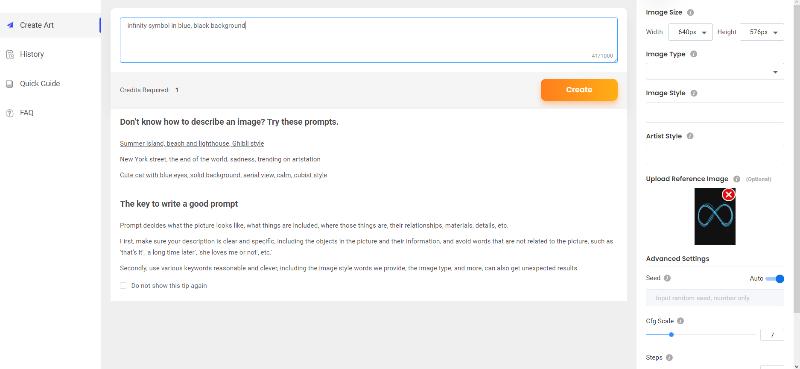 Step 3: The image will be processed and displayed after a few seconds. Use the download function to save the image. Apart from that, there comes some fancy AI Portrait Generator, making fancy selfies at a fast speed. Get to know more about it.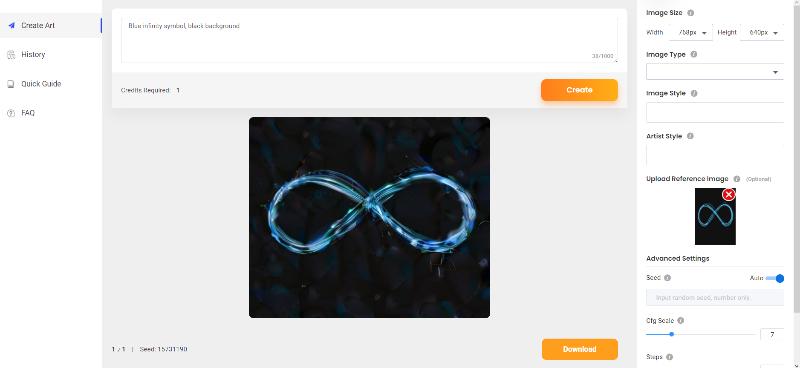 LogoAI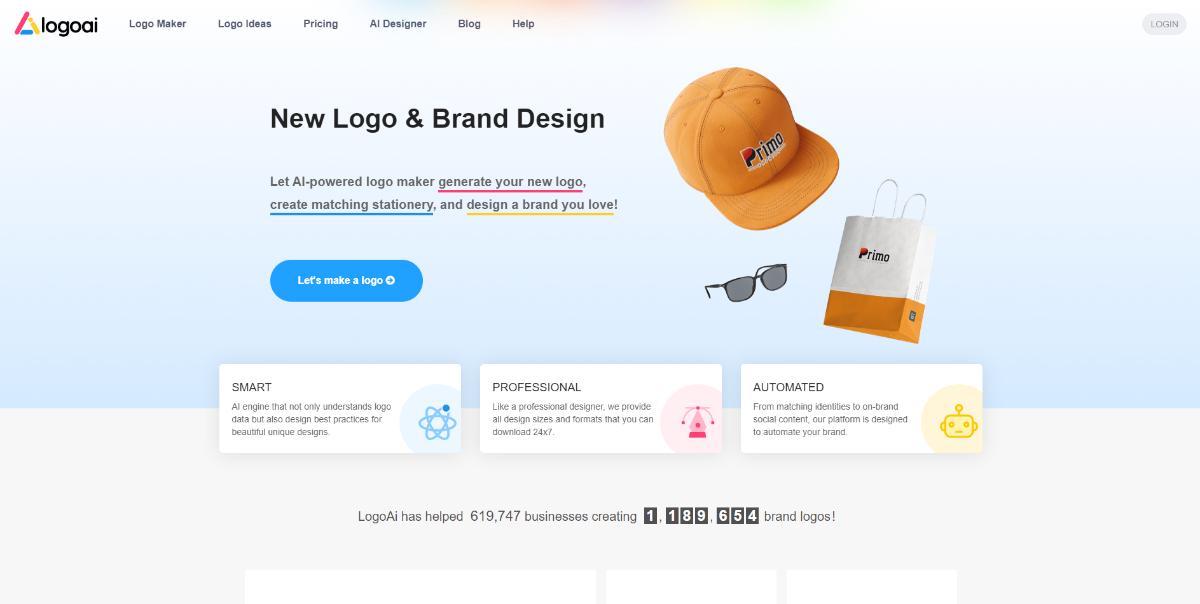 LogoAI is an innovative online platform that offers AI-powered logo design services. With its advanced artificial intelligence algorithms, LogoAI aims to enhance the logo creation process by providing users with quick and professional logo designs. By harnessing the power of AI technology, LogoAI simplifies the logo design journey, making it accessible to individuals and businesses of all sizes.
Key Features:
AI-Powered Logo Design: logoai employs advanced AI technology to create logo designs based on user inputs and preferences. The AI algorithms analyze various design elements and generate logo options accordingly.
Customization Options: Users can customize the generated logo designs by adjusting colors, fonts, and layout to match their brand identity and vision. This allows for personalized logo creation tailored to individual needs.
Logo Variations: logoai provides multiple logo variations for each design, allowing users to explore different styles and options before finalizing their preferred logo.
Fotor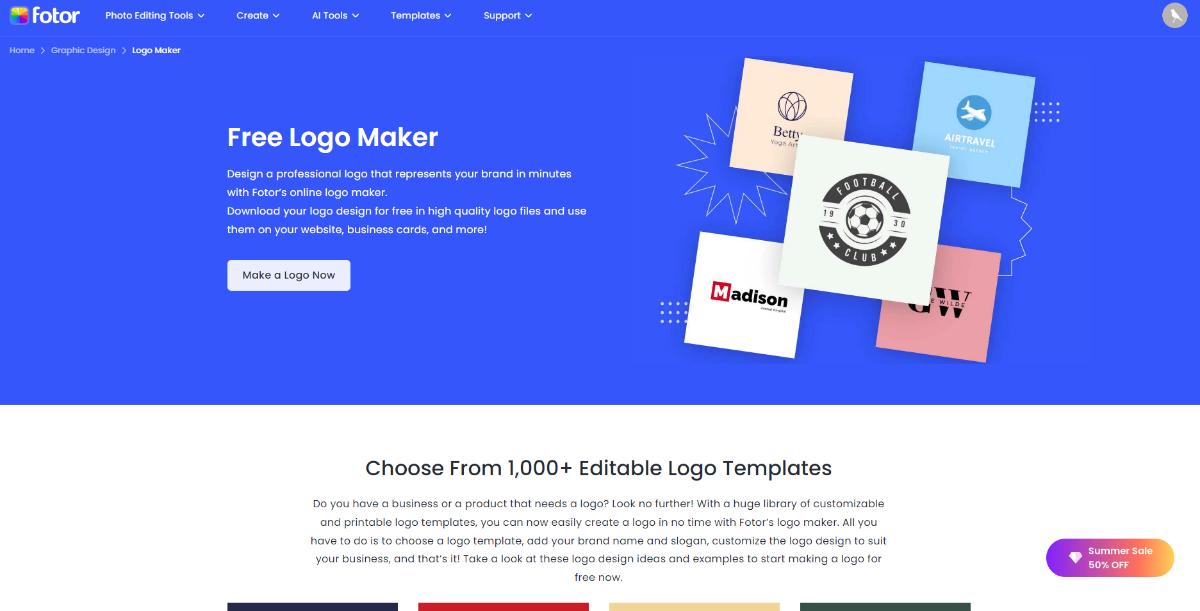 Fotor is a massive online image editing platform similar to Kittl design, VanceAI, and Canva. It offers a wide range of tools to users for all kinds of designing work. One of its standout features is the Fotor Logo Maker tool, which allows users to easily create professional logos for their businesses or personal projects. With the Fotor Logo Maker, users can design logos from scratch or choose from a wide selection of customizable logo templates.
Key Features:
Extensive Template Library: Access to a diverse collection of logo templates across various industries and themes, providing users with a starting point for their designs.
Customization Options: Users can customize every aspect of their logos, including text, fonts, colors, icons, and more, allowing for complete creative control and brand consistency.
Logo Effects: Users can enhance their logos with a range of effects, such as shadows, gradients, and overlays, to add depth and visual appeal.
Designs.AI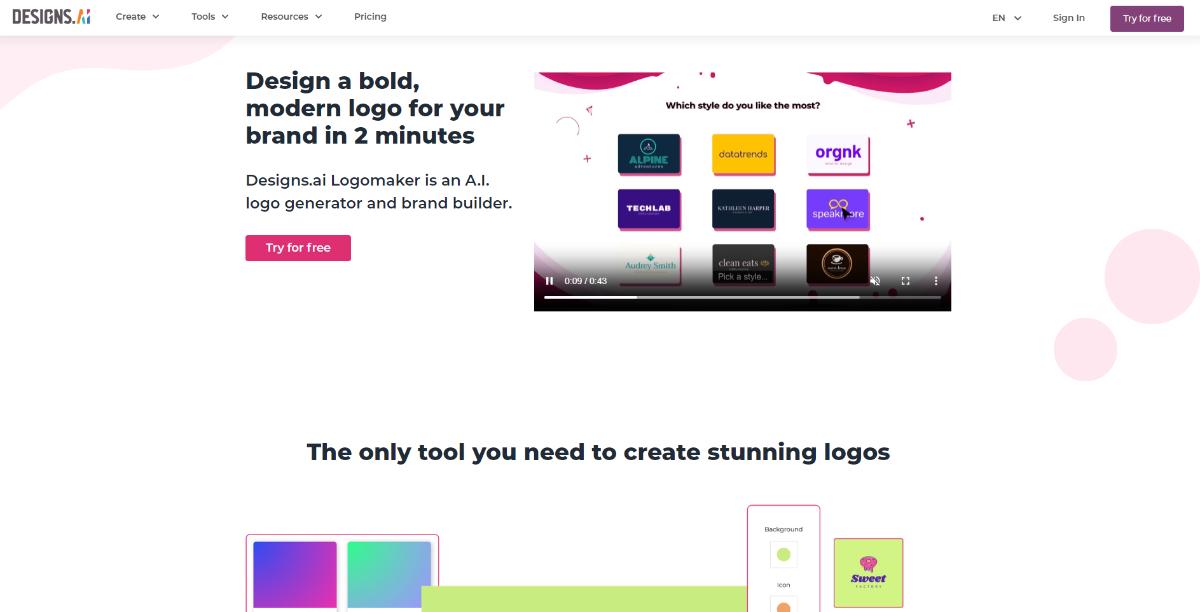 Designs.AI is an innovative online platform that offers a range of creative tools for design, including its powerful logo maker tool. The Designs.AI Logo Maker tool is specifically designed to help individuals, entrepreneurs, and businesses create unique and impactful logos. By leveraging artificial intelligence and machine learning algorithms, the tool generates logo designs based on user preferences and input. Users can start by entering their business name, selecting their industry, and choosing from a vast collection of logo styles and icons.
Key Features:
Extensive Icon Library: The platform offers an extensive collection of high-quality icons and graphics that users can choose from to enhance their logo designs. This ensures a wide variety of options suitable for different industries and business types.
Real-Time Editing: Users can preview and make real-time adjustments to their logo designs, allowing for instant feedback and visualizing changes before finalizing the design.
Download and Export: Once the logo design is complete, users can easily download their logos in various file formats, suitable for online and offline applications.
Logo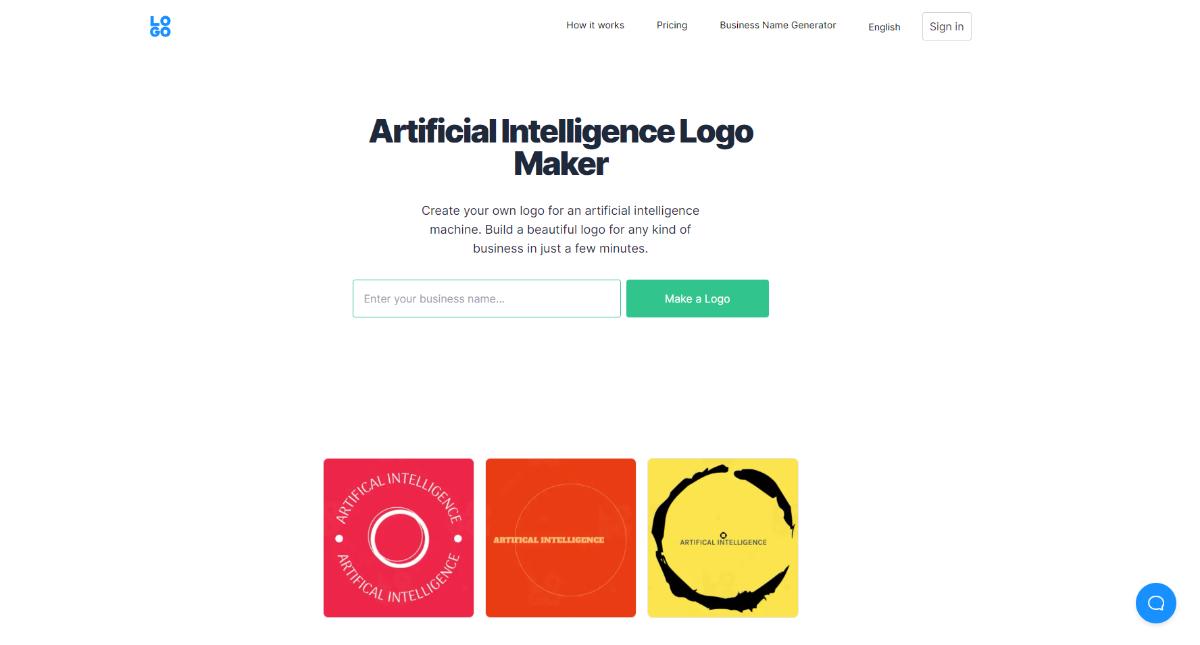 Logo is an online platform that specializes in creating custom logos with the help of artificial intelligence. With their intuitive and user-friendly interface, Logo allows individuals and businesses to design unique and professional logos that reflect their brand identity. By leveraging AI technology, Logo simplifies the logo design process, making it accessible to users with varying levels of design experience.
Key Features:
Extensive Icon Library: Logo offers a vast collection of professionally designed icons and graphics that users can choose from to enhance their logo designs. These icons cover a wide range of industries and concepts, ensuring a diverse selection to suit various business types.
Collaboration and Feedback: Logo provides collaborative features that allow teams to work together on logo designs. Users can invite team members to contribute, share feedback, and make real-time edits, streamlining the design process.
High-Quality Downloads: Once the logo design is finalized, users can download their logos in high-resolution formats suitable for both online and offline applications. This ensures that the logos maintain their quality and sharpness across different mediums.
Conclusion
The Kittl platform performs pretty well and with the inclusion of AI-based features, it holds even more promise. Kittl is designed with users in mind, with many aspects of the website, such as the Kittl login or design being simple and quick. In this guide, we also discussed various Kittl alternatives, such as Fotor, Canva, Logo, etc. These alternatives offer their unique as well as similar ways of designing logos and other visuals, which users should try out.
As far as the pricing goes, Kittl can definitely be considered as a more affordable platform than other similar platforms and traditional software applications.
Do you find this post helpful?