What Is Midjourney Profile Prompt?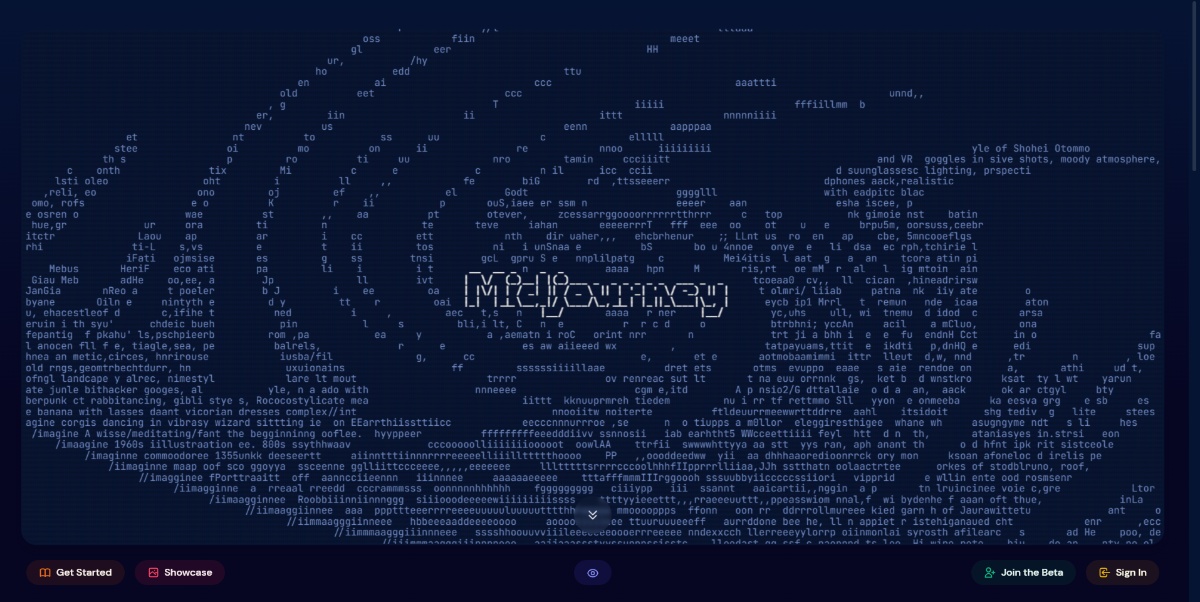 Having cool profile pictures can bring several benefits to casual users, professionals, and creative individuals in different contexts. Firstly, for most users, a captivating profile picture can enhance their online presence and make a positive first impression on social media platforms. It can help them showcase their creative thinking, personality, and more, thereby attracting attention and fostering connections with many others who may want to connect.
An AI app like Midjourney can greatly assist users in creating impactful profile pictures. The app's AI-driven filters and effects can make your profile prompts work like a charm, making them highly pleasing and distinctive.
Additionally, Midjourney's time-saving features allow users to quickly generate and experiment with your profile design, ensuring that they can present themselves in the best possible light without spending excessive time on manual editing. More interestingly, there are also some popular Vtuber Maker which use similar technology. Try it if you like.
Great Midjourney Profile Prompts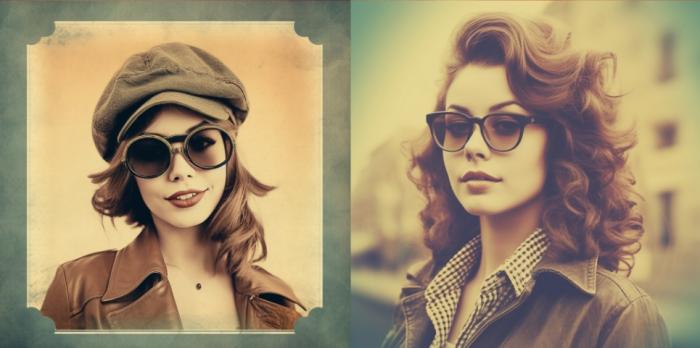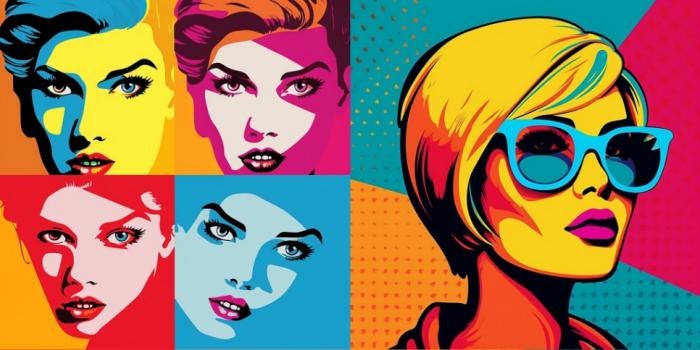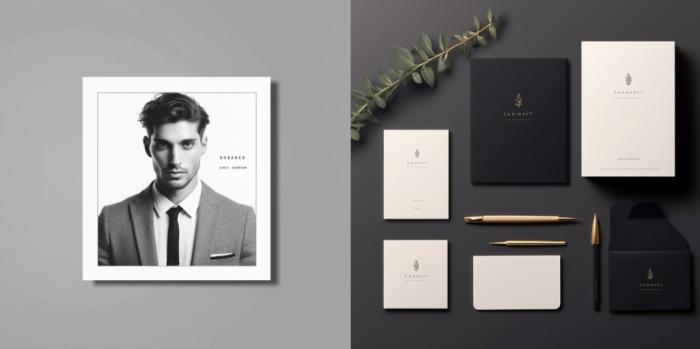 Transform yourself into a whimsical character with elements of fantasy and magic.
Create a futuristic and tech-inspired profile picture that reflects your love for science fiction.
Incorporate elements of nature, such as flowers, leaves, or animals, into your profile picture to showcase your love for the natural world.
Create a profile picture with a retro twist by using vintage filters and effects to create a nostalgic and timeless look.
Experiment with abstract shapes, colors, and textures to represent your unique personality and artistic style.
Merge your image with that of your favorite animal to create a playful and eye-catching profile picture.
Create a clean and minimalist profile picture that exudes elegance and sophistication.
Incorporate dreamy landscapes or surreal elements into your profile picture to create a sense of wonder and imagination.
Explore the world of geometry and symmetry by incorporating intricate geometric patterns into your profile picture.
Channel a vibrant and bold style of pop art to create a dynamic and visually striking profile picture.
How to Use Midjourney Profile Prompts?
1. Photo-to-Image Midjourney Profile
Step 1: Begin by accessing the Discord channel where the Midjourney bot is available. Locate the plus sign icon at the bottom and click on it to initiate the image upload process. After the image is uploaded, right-click on it and select the "Copy Link" option.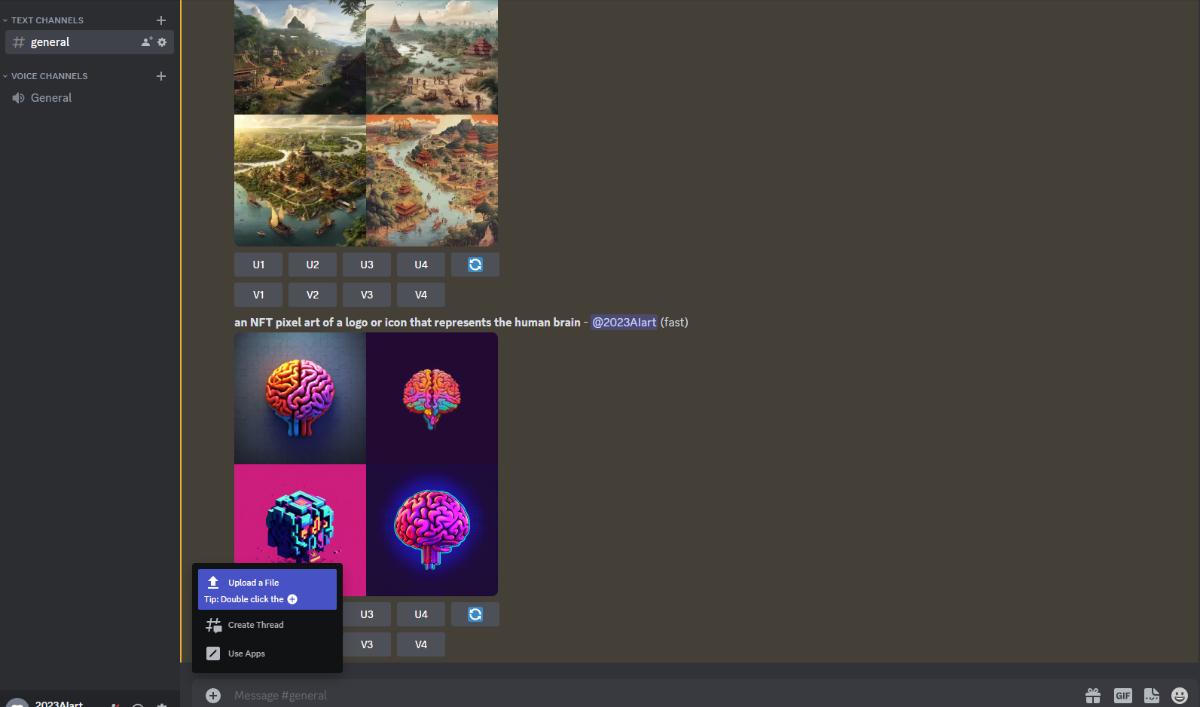 Step 2: Proceed to the textbox and enter "/imagine" followed by pasting the previously copied link. Include the desired modifications for the image by appending them with a comma. Your Midjourney profile picture prompts should look something like this: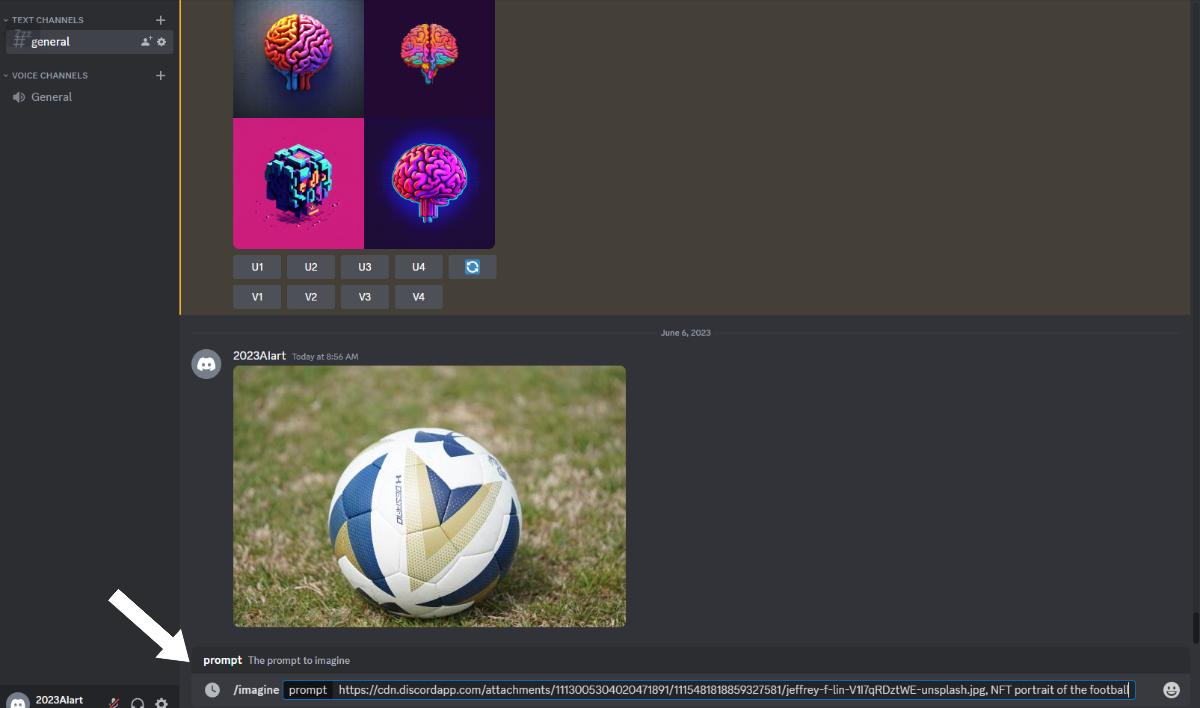 Step 3: Wait for a few seconds as the tool processes the image. The results will be displayed on your screen. To download the image, simply right-click on it and choose the "Save Image" option.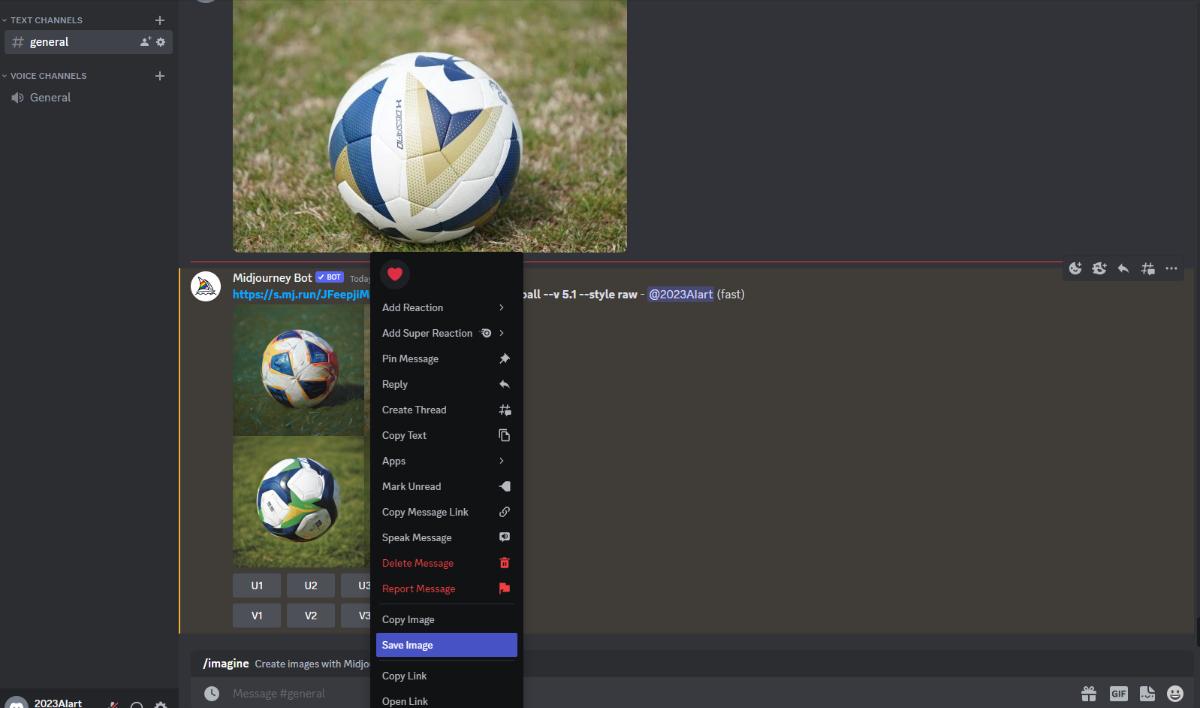 Apart from that, there comes some fancy AI Portrait Generator, making fancy selfies at a fast speed. Get to know more about it.
2. Text-to-Image Midjourney Profile
Here, the steps will remain similar except you don't have to upload any photos.
Step 1: After going to the channel with the Midjourney bot, you can use the textbox to type the command "/imagine" and prompt.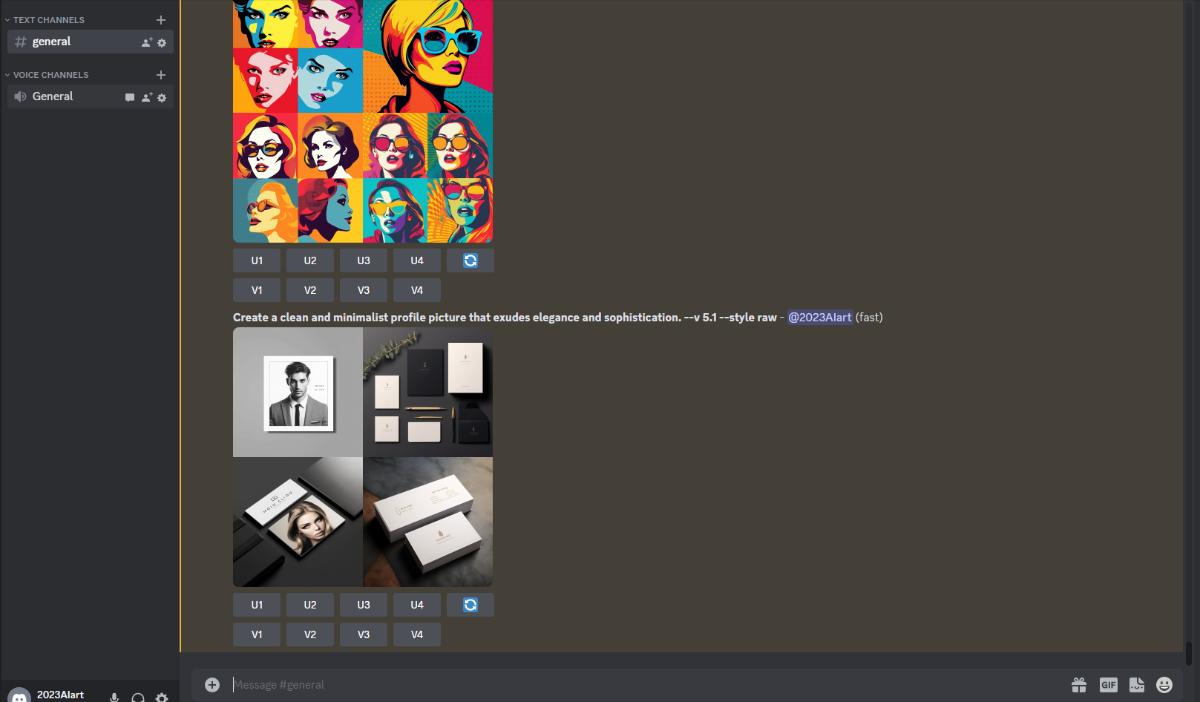 Step 2: After typing the prompt, simply hit Enter and the Midjourney bot will start producing the visuals according to the prompt.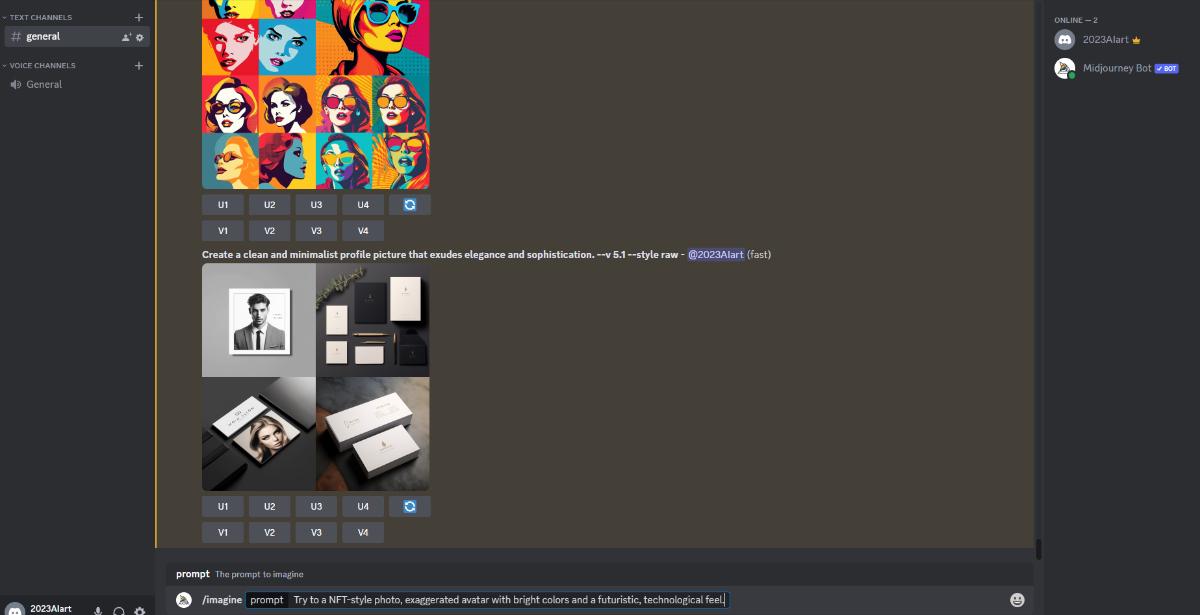 Step 3: Once the image has been created, you simply need to right-click on it and click on "Save Image" to download the image.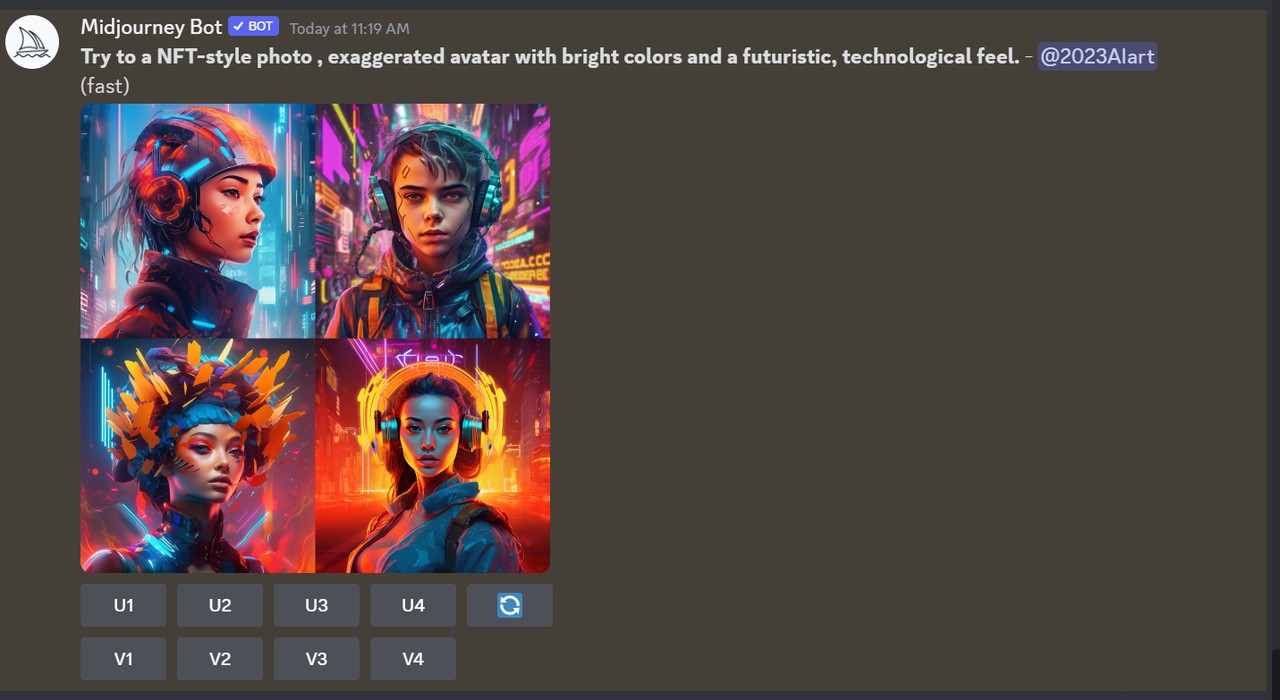 5 Best AI Profile Generator Alternatives To Midjourney
If you want to have something similar to a Midjourney profile picture or want to experiment, you can check out these alternative applications using AI-based technology to create interesting profile pictures.
Toongineer Cartoonizer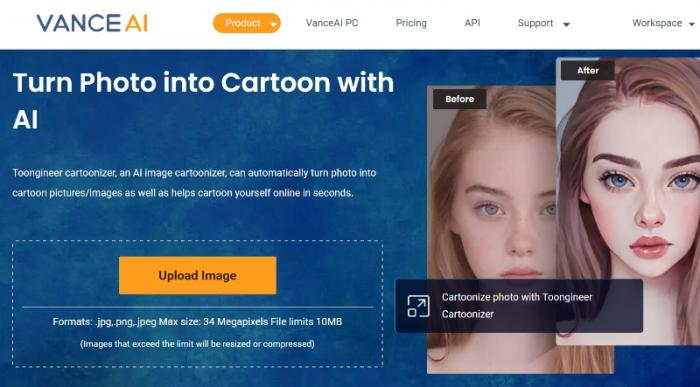 VanceAI's Toongineer Cartoonizer is an advanced tool designed to transform ordinary photos into captivating and creative profile pictures with a cartoon-like aesthetic. With its specialized algorithms and artistic filters, Toongineer Cartoonizer offers a way to create profile pictures that are much more inclined towards the cartoon aesthetic. Due to this, the results have a different style than what you'd normally see produced by Midjourney profile picture prompts. A fine example would be the image that you see above. Besides that, more people also seem to be interested in AI Face Generator. You can know more from the link.
Pros:
Cartoon-like Transformation: Toongineer Cartoonizer excels at transforming regular photos into cartoon-style images, giving users the opportunity to create profile pictures that stand out from the crowd. The cartoon-like aesthetic adds a touch of creativity and fun to the profile pictures, making them enjoyable.
Time-Efficient Tool: Converting photos into creative profile pictures often requires manual editing and artistic skills. Toongineer Cartoonizer eliminates the need for complex editing processes by automating the transformation into a cartoon-like style.
Cons:
Loss of Detail: While Toongineer Cartoonizer provides an appealing cartoon-like transformation, it may result in a loss of finer details and realistic features present in the original photo. The cartoonization process simplifies the image, emphasizing bold lines and vibrant colors, which can lead to some loss of nuance.
VanceAI Image Generator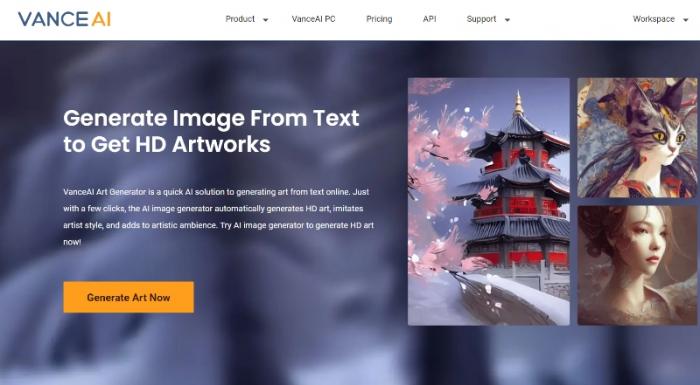 This tool from VanceAI can produce visuals similar to a Midjourney profile image. Although, they still have differences in style. VanceAI Image Generator offers a lot of customization to users. You can simply go into the Workspace of the tool and choose from various image types and art styles. It offers watercolor, matte painting, oil on canvas, and more in terms of image style. On the other hand, you can also make your images look similar to Dali's work. The tool is pretty strong in producing abstract kinds of art.
Pros:
Image Reference Upload: VanceAI Art Generator allows users to upload an image reference for the AI to follow during the artistic transformation process. This feature provides users with greater control and influence over the final output. You can upload an image that is close to your artistic preferences.
Artistic Transformation: VanceAI Art Generator empowers users to transform their profile pictures into various artistic styles. This opens up a realm of creative possibilities, allowing users to present themselves with a distinct and eye-catching artistic flair in their profile pictures. It helps users express their individuality and stand out from the crowd.
Cons:
Loss of Photorealism: While VanceAI Art Generator produces stunning artistic results, the transformation process often involves some degree of departure from photorealism. The generated artworks prioritize artistic interpretation and style, which can result in a loss of the original photo's realism and fine details.
VansPortrait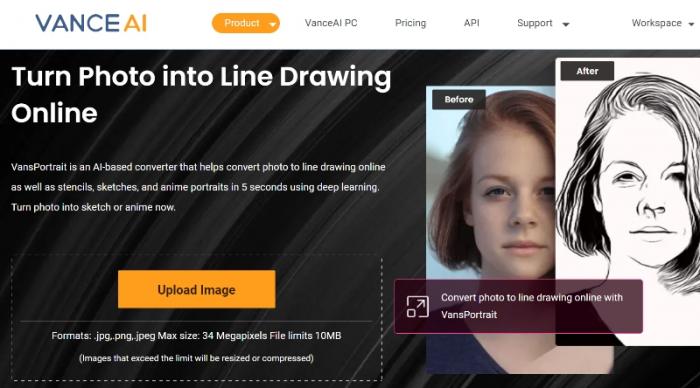 VansPortrait, a tool developed by VanceAI, harnesses the power of AI technology to transform uploaded portraits into captivating sketches, offering a unique approach to creating interesting profile pictures. With its advanced algorithms and specialized filters, VansPortrait provides users with the ability to enhance their profile pictures with an artistic touch.
Pros:
Sketch Conversion: VansPortrait's AI technology excels at converting uploaded portraits into sketches. This transformation adds a distinct artistic flair to profile pictures, making them visually appealing and engaging. The sketches generated by VansPortrait have a unique charm, evoking a sense of creativity and nostalgia that can help users stand out and leave a lasting impression.
Simplified Process: VansPortrait offers a streamlined and user-friendly process for converting portraits into sketches. Users can easily upload their portraits and let the AI technology take over the rest. The simplicity of the tool allows users to achieve impressive results without the need for extensive manual editing.
Cons:
Limited Style Options: VansPortrait focuses specifically on converting portraits into sketches, which means it offers a more limited range of artistic styles compared to tools that offer broader artistic transformations.
Fotor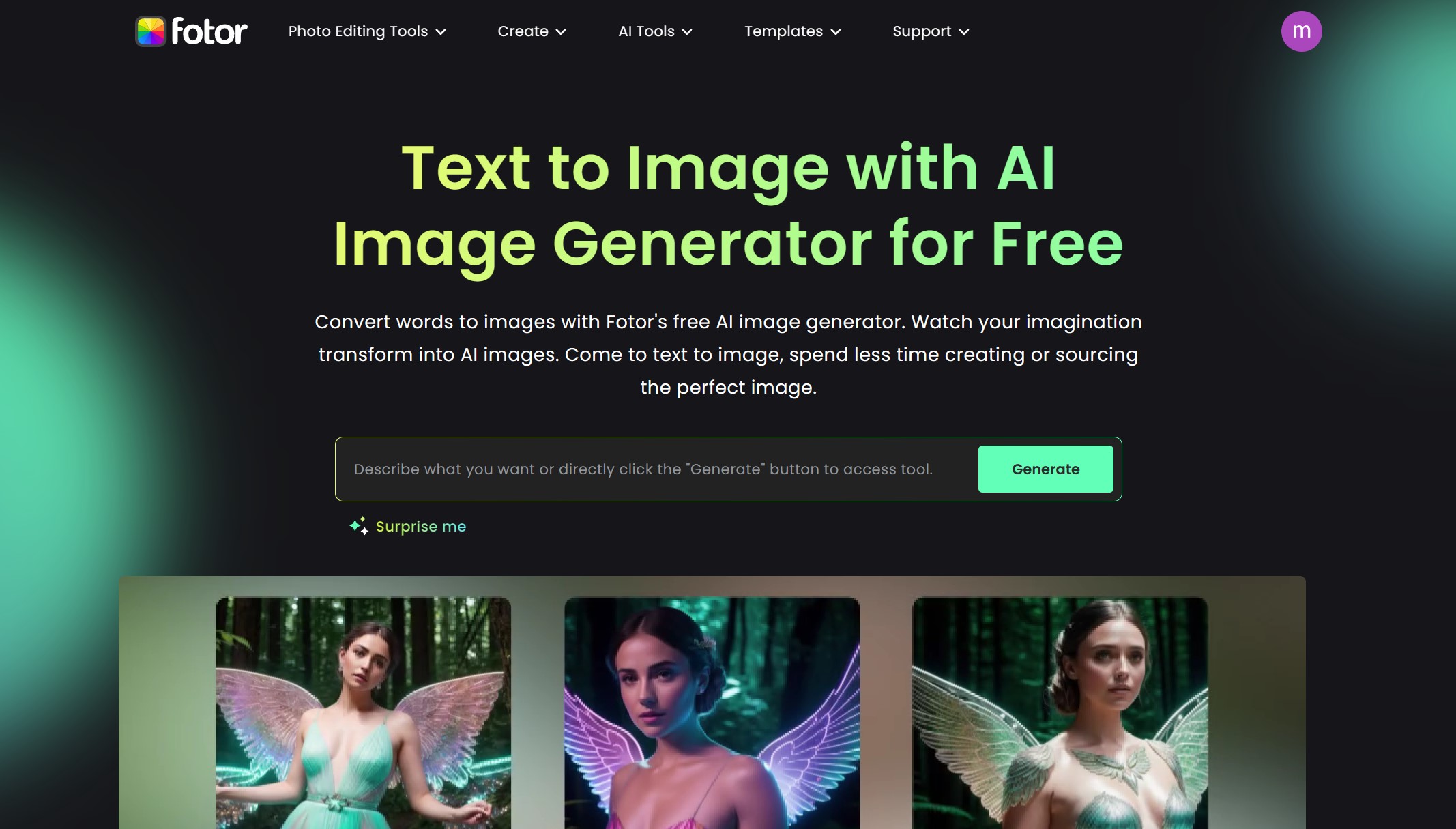 Fotor is an immensely capable and well-known image editing platform that provides sufficient enhancement features for users to upgrade their profile photos as well. It also offers Fotor AI Art Generator tool, which can be seen as a close alternative to Midjourney. Fotor provides users with the means to elevate their profile pictures to new levels of creativity and visual appeal.
Pros:
Design Templates and Graphics: Fotor offers a wide selection of design templates, graphics, and overlays that can be incorporated into profile pictures. This enables users to add creative elements, such as text, frames, graphic overlays, and more, to enhance the visual impact of their profile pictures.
Affordable Pricing: Fotor offers affordable pricing plans, making it accessible to users with various budgets. The platform provides different subscription options, including a low-cost monthly plan and even more cost-effective yearly plans. With the lowest plan starting from just $2.67 per month for the yearly subscription, Fotor provides excellent value.
Cons:
Takes Time to Get Familiar: While Fotor offers a user-friendly interface, the platform's extensive range of features and tools may require some time and effort to fully explore and master. Users who are new to photo editing or design may initially find the learning curve slightly steep.
PFPmaker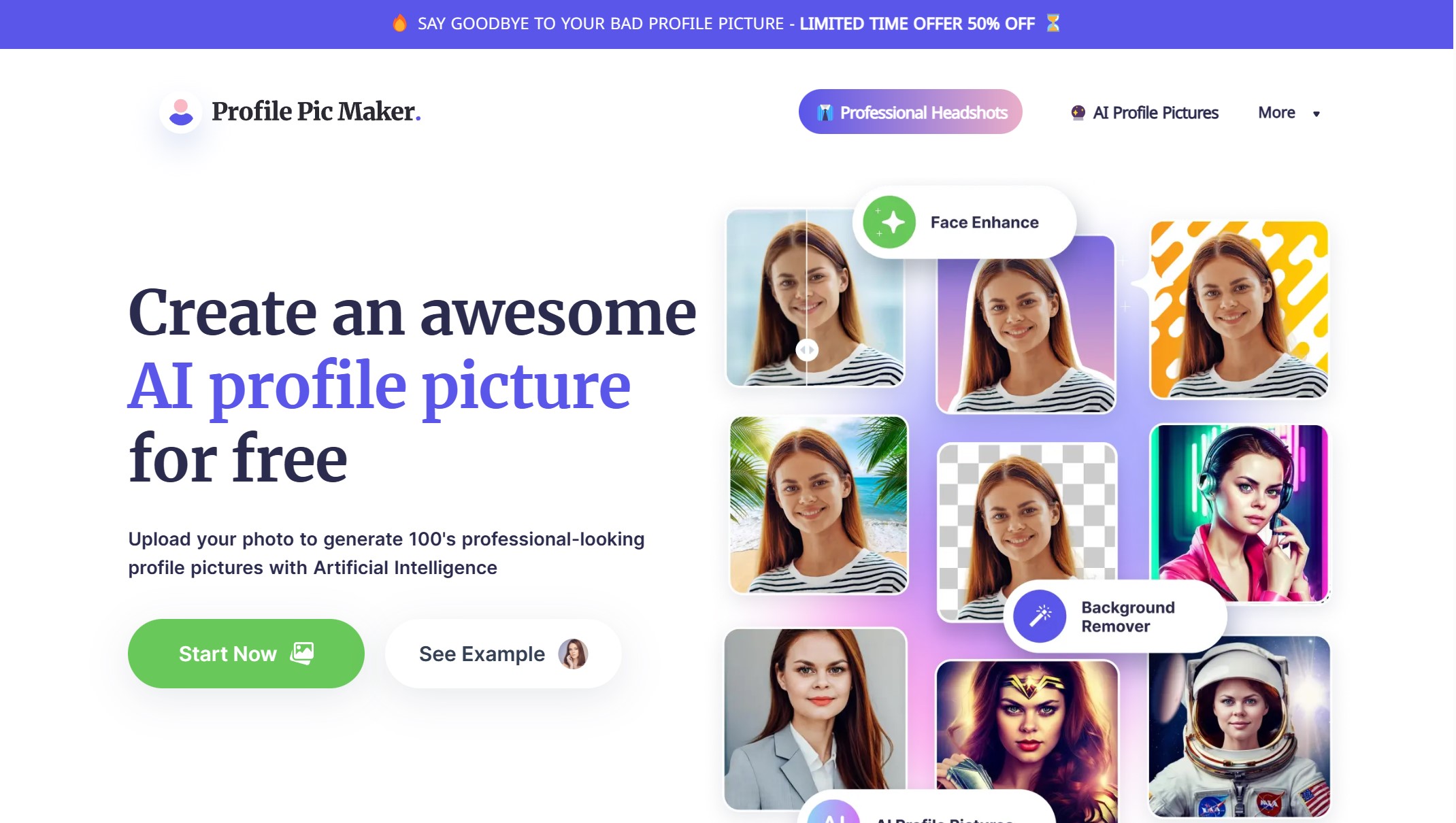 PFPmaker is an online platform that specializes in helping users create interesting and eye-catching profile pictures. With its user-friendly interface and intuitive design tools, PFPmaker offers a convenient way to enhance and customize profile pictures to suit individual preferences and styles.
Pros:
Template Library: PFPmaker features a rich collection of pre-designed templates that users can choose from. These templates serve as a starting point for profile picture creation and provide inspiration for unique designs. This template library saves users time and effort in designing their profile pictures from scratch.
Extensive Customization Options: PFPmaker offers a wide array of customization options to personalize profile pictures. Users can adjust elements such as color, saturation, contrast, and sharpness to fine-tune the look of their profile pictures.
Cons:
Template Constraints: While the template library in PFPmaker provides a convenient starting point, some users may feel limited by the selection or find it challenging to achieve a truly unique profile picture using templates alone.
Conclusion
A strong and impactful profile picture can send a good impression across the screen to the viewers. It is no secret that many users, casual and professional, make use of image enhancement applications to present their best selves online. There are naturally many good reasons for doing that. With a Midjourney profile picture, you can give your viewers something very imaginative. Even outside of Midjourney, you can easily utilize other similar platforms, such as the ones discussed in this guide, to give different looks to your portraits and photos. Midjourney does work better with a subscription, so you can first try out VanceAI and Fotor to get a sense of these apps work before deciding to pay for anything.
Do you find this post helpful?