What are Midjourney Selfie Prompts?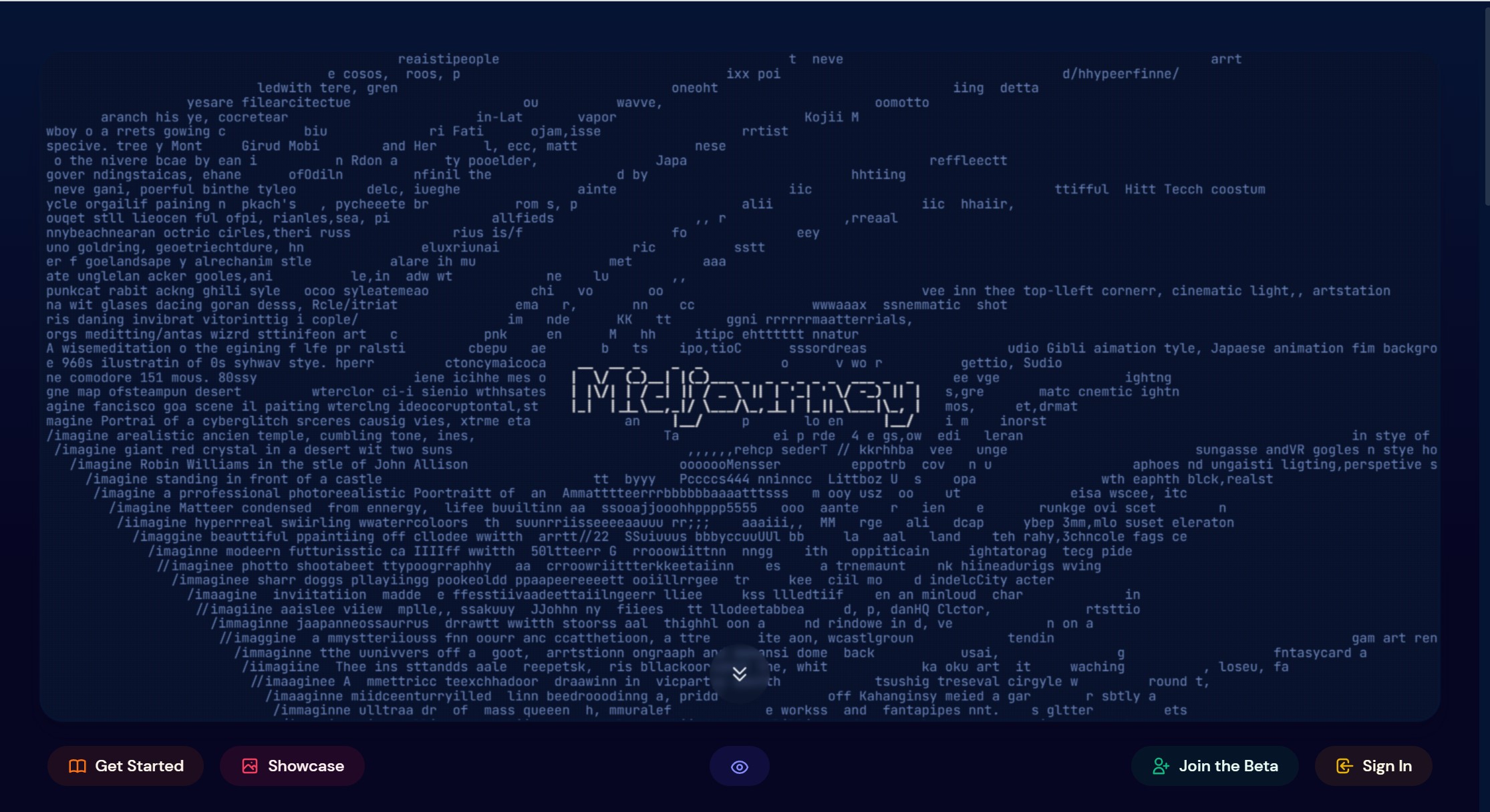 Selfies have undoubtedly become a ubiquitous part of our modern culture, especially on social media platforms like Instagram. People love to see creativity in selfies. Many take selfies in beautiful places or take part in some cosplay and take selfies, such as the 'Disney Princess selfie' where someone would give themselves a Disney look. Either way, selfies have become a part of the digital culture.
Midjourney offers a unique approach to selfie prompts, providing users with a variety of ideas and themes to inspire their self-portraits. These prompts can spark your imagination and help you think outside the box. You can play around with some commonly used selfie ideas, such as 'last selfie on Earth', 'dog selfie', 'cat selfie', etc. By generating a Midjourney AI selfie, you can push the limits even farther.
In this guide, you will see the results of some really cool Midjourney selfie prompts along with alternative apps you can use for creating great selfies and similar images. More interestingly, there are also some popular Vtuber Maker which use similar technology. Try it if you like.
Interesting Selfie Prompts
Here come some fancy Selfie Prompts that can use in Midjourney.
Prompt Frog Selfie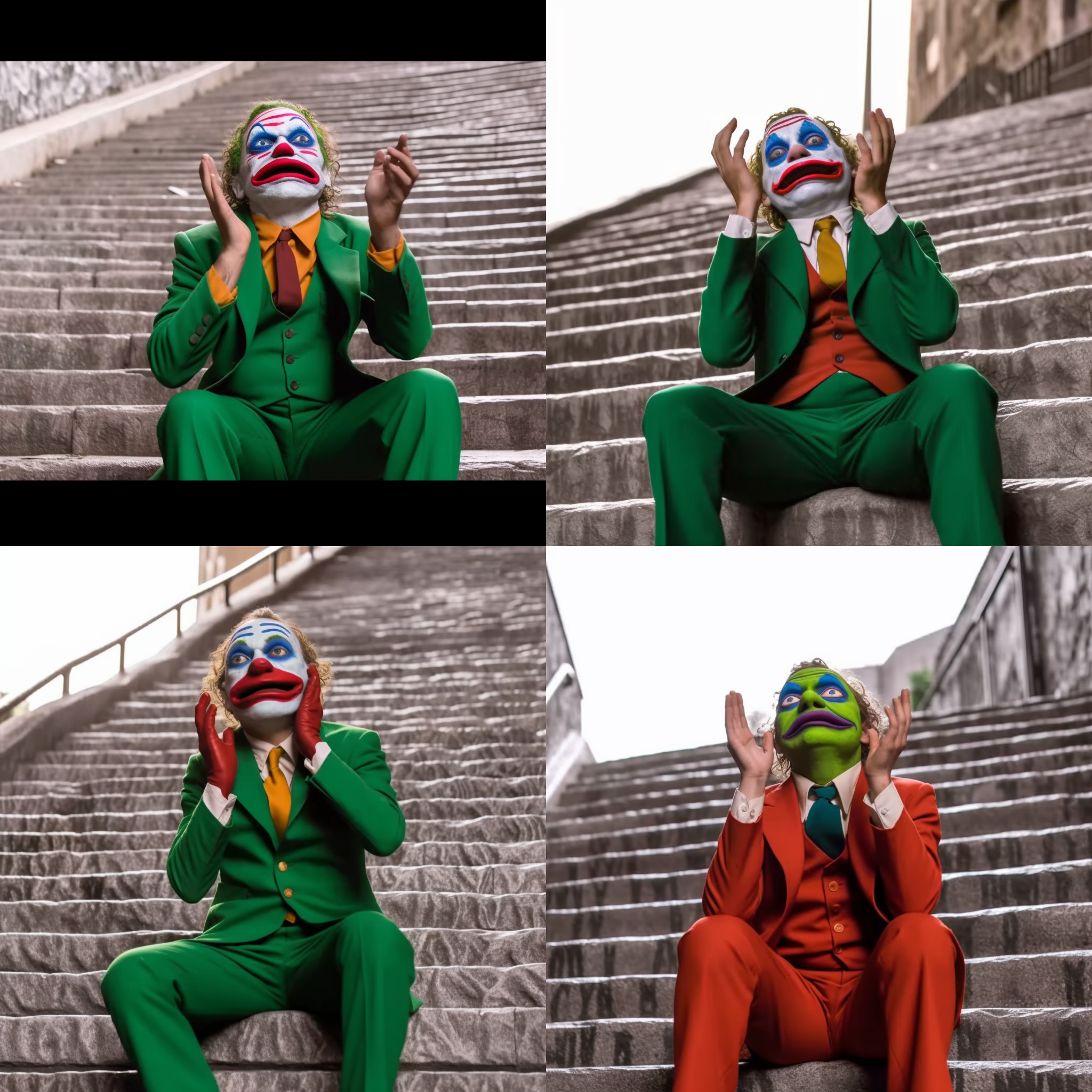 "Take a midjourney into the enchanted frog kingdom and capture a selfie with a trendy frog wearing sunglasses, a vibrant snapback cap, and a gold chain necklace."
"Embark on a froggy adventure and snap a selfie with a technologically advanced cyberfrog, featuring LED-lit skin, augmented reality goggles, and a digital crown."
"Dive into the virtual realm and pose for a selfie with a futuristic holographic frog, surrounded by a mesmerizing display of neon lights and vibrant digital effects."
"Join the trendsetting frog influencers and capture a selfie with a stylish influencer frog sporting a designer outfit, complete with a tailored suit or a fashionable dress."
"Explore the depths of the rainforest and encounter a nature-inspired selfie moment with a frog donning camouflaged patterns, leafy accessories, and vibrant tropical colors."
"Transport yourself to a fantasy realm and snap a selfie with a magical fairy frog, adorned with sparkling wings, shimmering scales, and a crown made of enchanted flowers."
"Go on a cosmic adventure and capture an out-of-this-world selfie with an extraterrestrial frog, featuring glowing alien markings, an anti-gravity hoverboard, and futuristic goggles."
"Immerse yourself in a virtual aquatic wonderland and strike a pose with a merfrog, boasting a magnificent fish tail, sparkling underwater jewels, and a seashell crown."
"Join the frog music festival and take a selfie with a rockstar frog, complete with a leather jacket, sunglasses, a guitar, and a crowd of adoring fans in the background."
"Step into the world of fairy tales and capture a whimsical selfie with a prince or princess frog, dressed in elegant attire, a jeweled crown, and surrounded by a magical castle backdrop."
Cat Selfie Prompt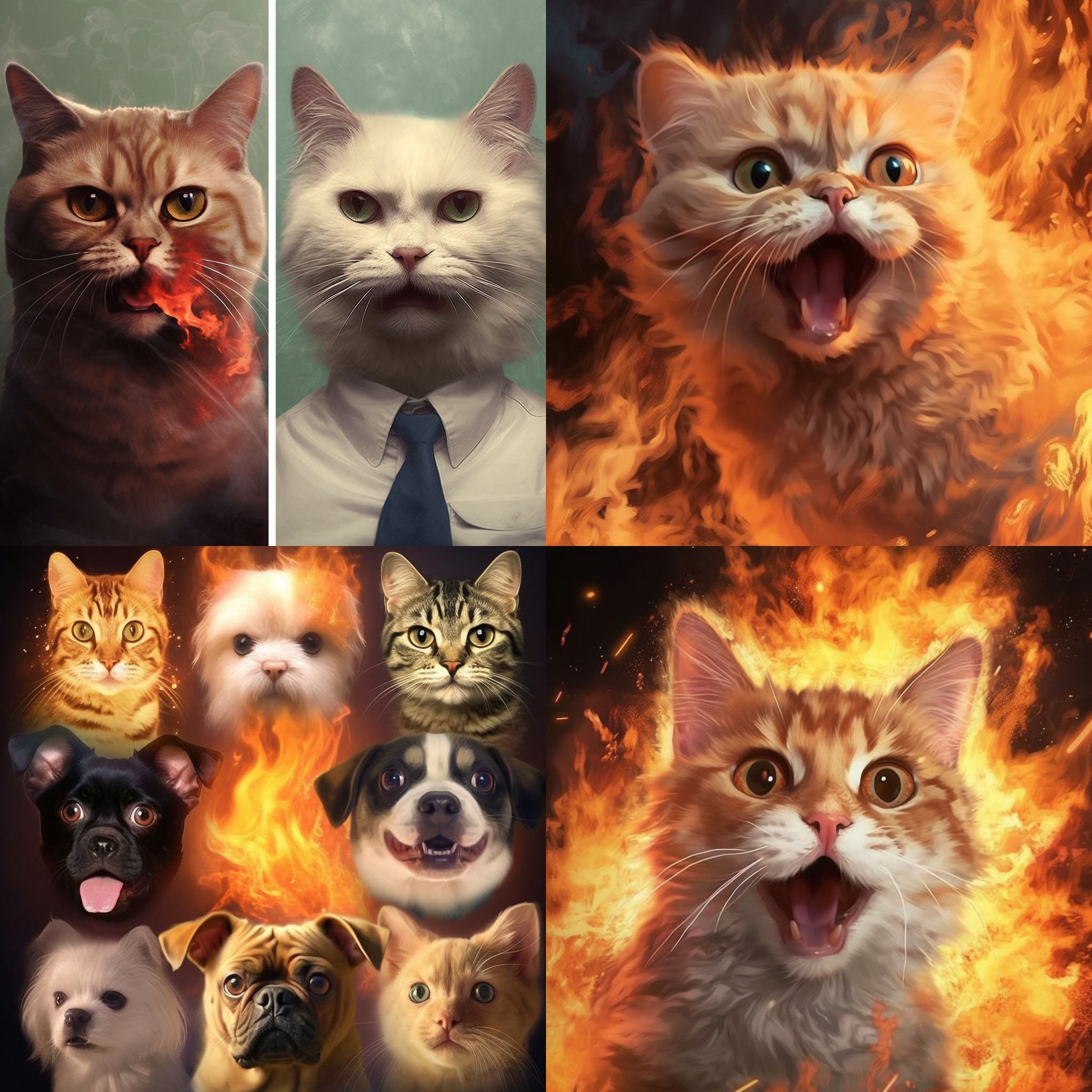 "Strike a pose with your feline friend as you both show off your stylish sunglasses and capture the purrfect cat selfie."
"Get ready for a futuristic feline experience! Dress up your cat in a futuristic outfit and take a selfie together with holographic backgrounds."
"Channel your inner adventurers and take a selfie with your cat as you both explore a virtual reality world filled with exciting landscapes."
"Unleash the cosmic energy! Take a selfie with your cat surrounded by mesmerizing galaxy effects and cosmic colors."
"Capture the magic of a cat's curiosity! Show off your cat's adorable face up close in a selfie as it curiously investigates a futuristic gadget."
"Transform your cat into a digital superstar! Dress your cat in trendy attire and capture a selfie together with vibrant digital effects."
"Travel through time and space with your feline companion! Take a selfie with your cat as you both pose in futuristic outfits against a time-traveling backdrop."
"Embrace the cyberpunk vibes! Dress up your cat with futuristic accessories and capture a selfie in a neon-lit cityscape."
"Step into a virtual wonderland! Take a selfie with your cat surrounded by whimsical virtual elements, such as floating flowers or glowing butterflies."
"Get your cat ready for a futuristic party! Dress up your cat in futuristic party attire and snap a selfie together against a backdrop of futuristic lights and music."
Last Selfie on Earth Prompt
"As the last human on Earth, capture a solemn but defiant selfie in front of a desolate cityscape, symbolizing the end of an era."
"In a post-apocalyptic wasteland, take a last selfie with a group of fellow survivors, reflecting strength, resilience, and hope."
"Document the beauty of nature's reclamation. Snap a selfie surrounded by overgrown vegetation and wildlife reclaiming the abandoned city."
"Amidst the ruins, find a moment of peace. Capture a serene selfie while overlooking a breathtaking sunset over a decaying skyline."
"In a futuristic space station, take a final selfie with Earth as the backdrop, bidding farewell to our home planet."
"Hold onto memories of the past. Take a poignant selfie with a treasured photograph or memento from a time gone by."
"Embrace the bittersweet farewell. Gather with loved ones for a group selfie, cherishing the bond amidst the fading world."
"Amidst the remnants of human civilization, find beauty in decay. Capture a hauntingly beautiful selfie in an abandoned museum or landmark."
"Celebrate the indomitable human spirit. Take a defiant selfie in front of a symbolic monument, reminding the world of our existence."
"Embody the last glimmer of hope. Capture a dynamic selfie with a backdrop of a spaceship ready for interstellar travel, representing a new beginning."
Disney Princess Selfie Prompt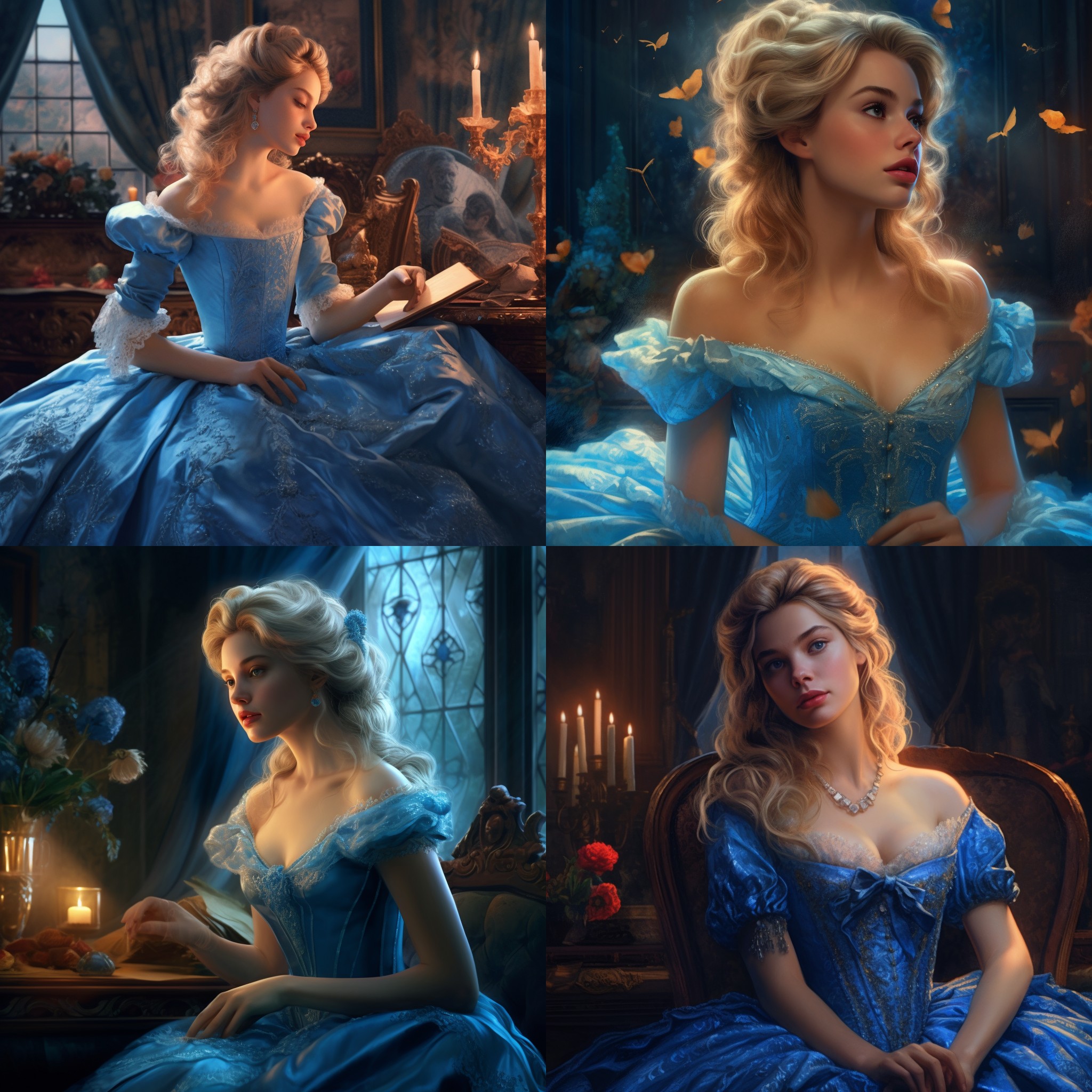 "Cinderella and her princess friends strike a pose for a magical selfie, showcasing their timeless beauty and friendship."
"Belle captures a selfie with her enchanted rose, capturing the enchantment and romance of her fairy tale."
"Ariel takes a selfie underwater with her fishy friends, capturing the vibrant and captivating world under the sea."
"Jasmine and Aladdin snap a selfie on their magic carpet ride, capturing the thrilling adventure and love in the air."
"Snow White and her adorable animal companions gather for a selfie in the peaceful forest, radiating kindness and innocence."
"Mulan captures a selfie in her warrior attire, embodying strength, courage, and determination."
"Rapunzel takes a selfie from the top of her tower, showcasing her long, golden hair and free-spirited nature."
"Elsa and Anna strike a pose for a selfie in the frosty kingdom of Arendelle, emanating sisterly love and icy magic."
"Pocahontas captures a selfie in the midst of nature, embracing her connection with the earth and her adventurous spirit."
"Tiana and her friends gather for a joyful selfie in her New Orleans restaurant, celebrating dreams, hard work, and friendship."
Dog Selfie Prompt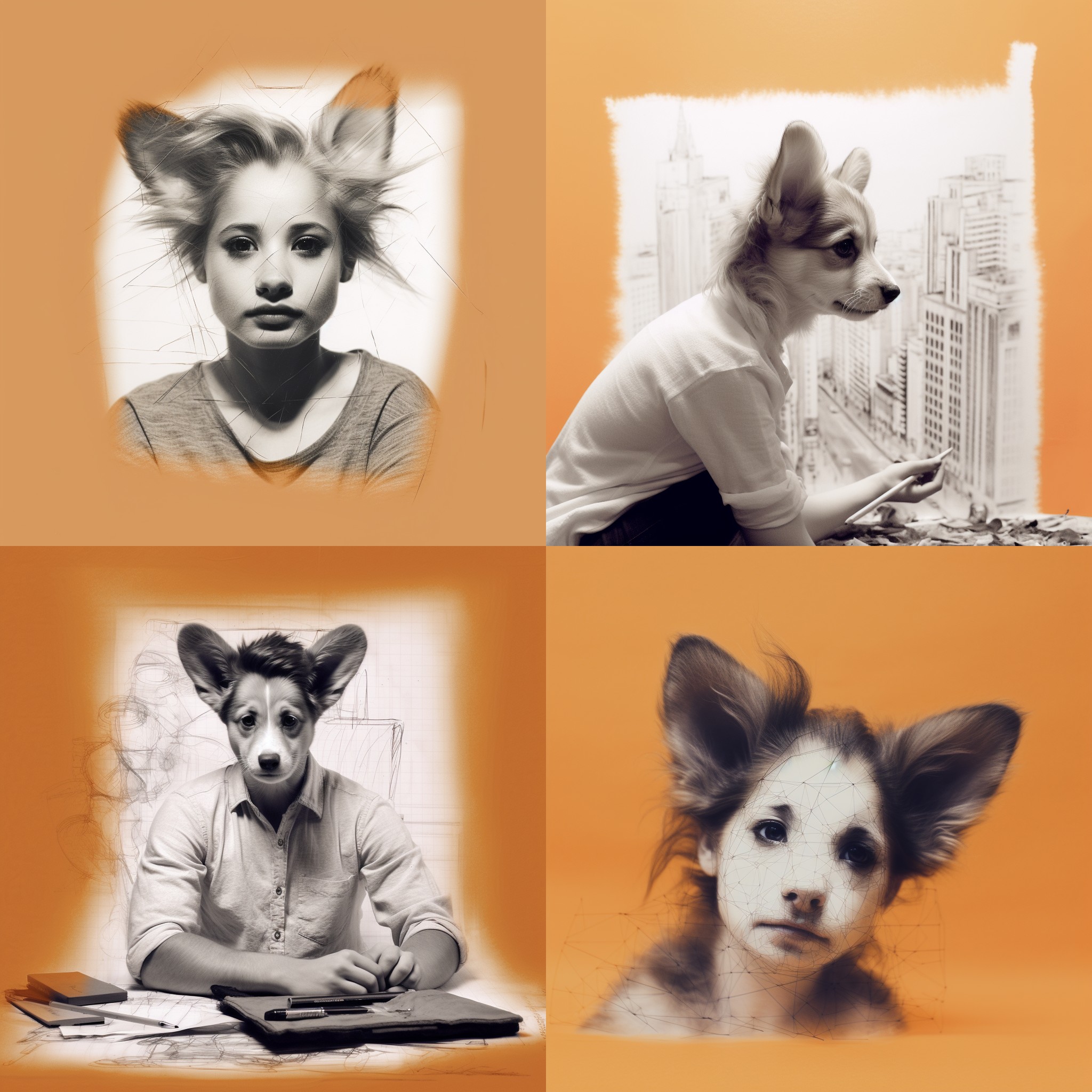 "A playful pack of dogs gathers for a group selfie, showcasing their adorable smiles and wagging tails."
"A loyal dog captures a selfie with their favorite human, capturing the bond and unconditional love between them."
"A curious puppy takes a selfie with their nose in the frame, capturing their adorable and inquisitive nature."
"A sporty dog snaps a selfie while catching a frisbee mid-air, showcasing their athleticism and enthusiasm."
"A fluffy dog poses for a selfie with a flower crown, radiating cuteness and charm."
"A beach-loving dog captures a sandy selfie with the ocean waves in the background, embodying pure joy and freedom."
"A sleepy dog takes a cozy selfie in their favorite spot, capturing their relaxed and contented demeanor."
"A proud dog strikes a regal pose for a selfie, showcasing their majestic and confident presence."
"A mischievous dog captures a selfie with a stolen sock, capturing their playful and cheeky personality."
"A brave and adventurous dog snaps a selfie during a hiking expedition, embodying their spirit of exploration and outdoor fun."
Santa Selfie Prompt
"Santa Claus takes a selfie with his reindeer in the snowy North Pole, capturing the magic of Christmas."
"Santa snaps a selfie with a group of cheerful elves, showcasing the joy and camaraderie of the workshop."
"In a bustling city, Santa captures a selfie with a crowd of excited children, spreading holiday cheer to all."
"Santa poses for a selfie in front of a beautifully decorated Christmas tree, radiating warmth and holiday spirit."
"Santa Claus takes a selfie while flying through the night sky in his sleigh, delivering presents to children worldwide."
"Santa snaps a selfie with a cup of hot cocoa, enjoying a well-deserved break by the cozy fireplace."
"Santa captures a funny selfie with a mischievous yet lovable holiday mascot, spreading laughter and joy."
"In a picturesque winter village, Santa poses for a selfie with families, capturing cherished memories of the holiday season."
"Santa takes a selfie with a bag full of presents, showcasing the excitement and anticipation of gift-giving."
"Santa snaps a selfie with a group of carolers, capturing the harmonious spirit of the holiday season."
How to Use Midjourney Prompts to Get Selfie?
Step 1: Go to the Midjourney bot and enter the channel, then you can type the command "/imagine".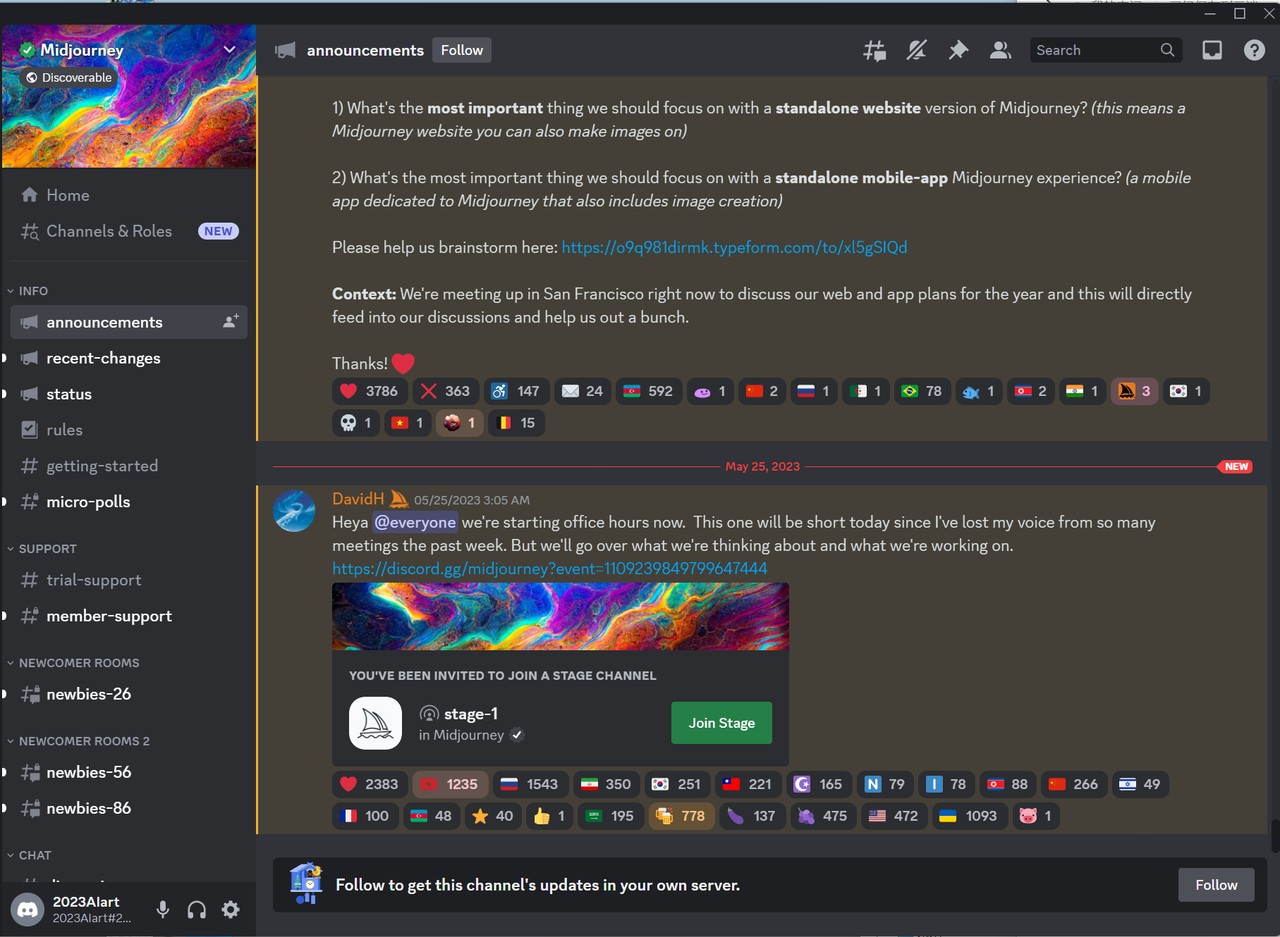 Step 2: After typing into your prompt in the textbox and can send it, then the Midjourney bot will start generating what you described in the prompt.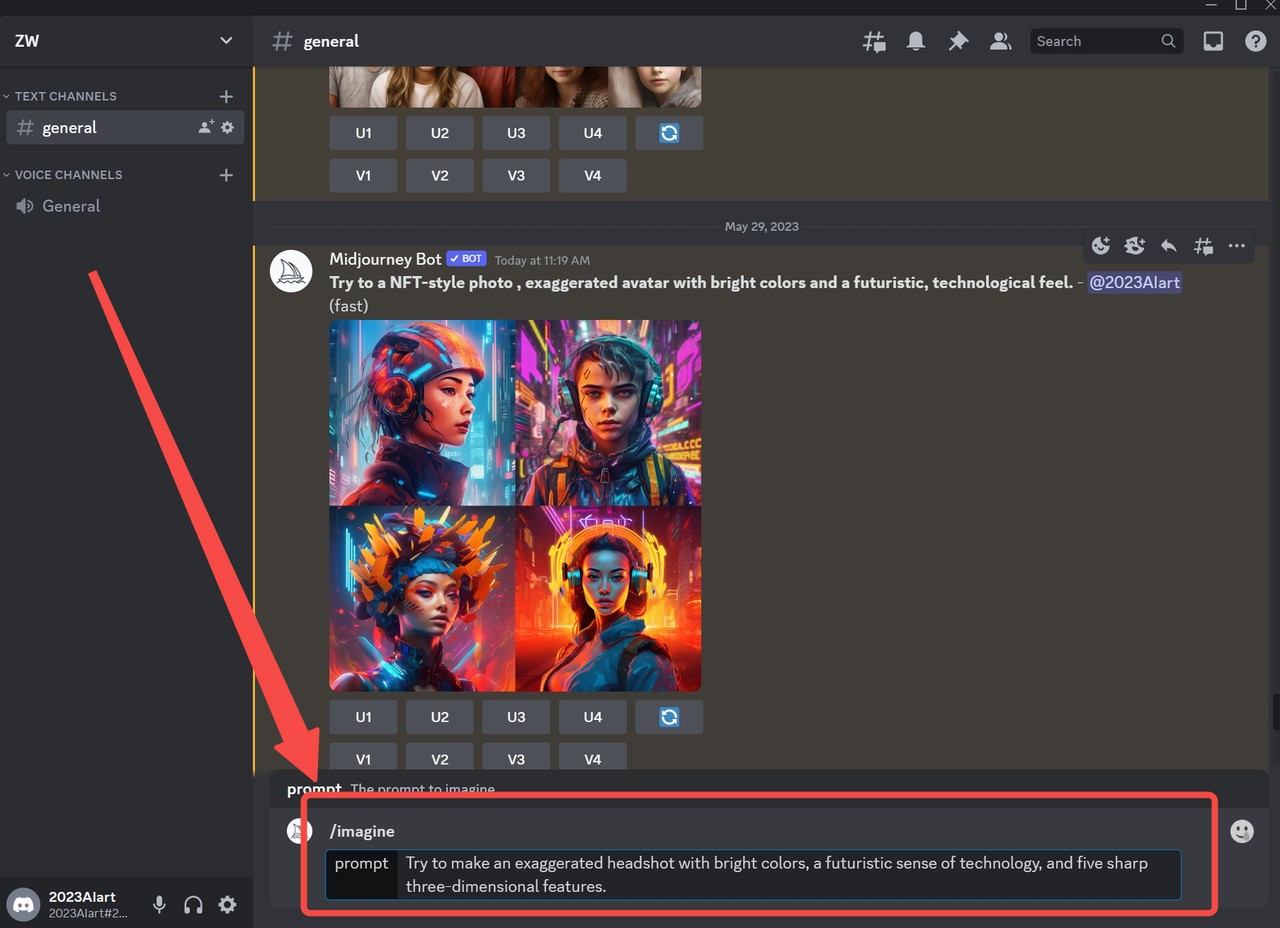 Step 3: You need to wait for a few minutes, then the generated pic will show in front of you. If you like it, you can click on"Save Image" to download the image. Besides that, more people also seem to be interested in AI Face Generator. You can know more from the link.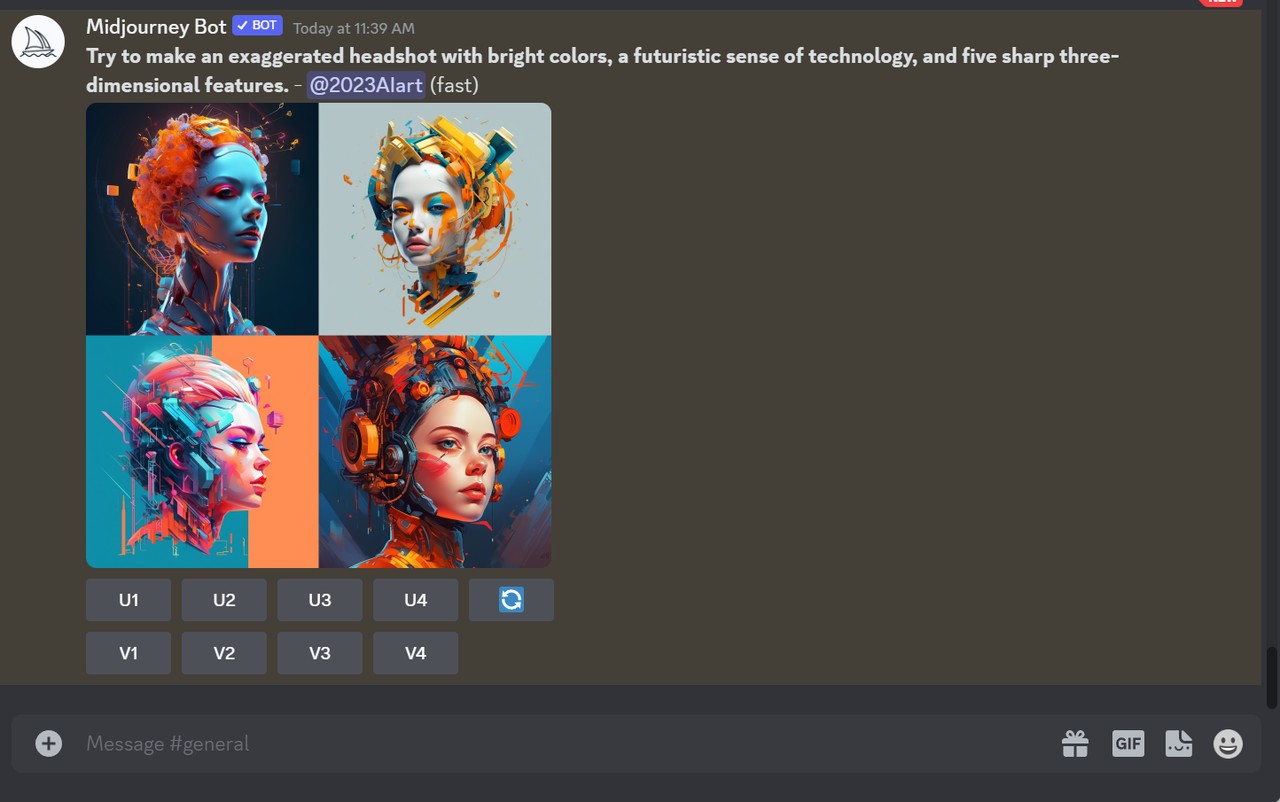 Best 6 AI Selfies Generators Alternatives to Midjourney
VanceAI Image Generator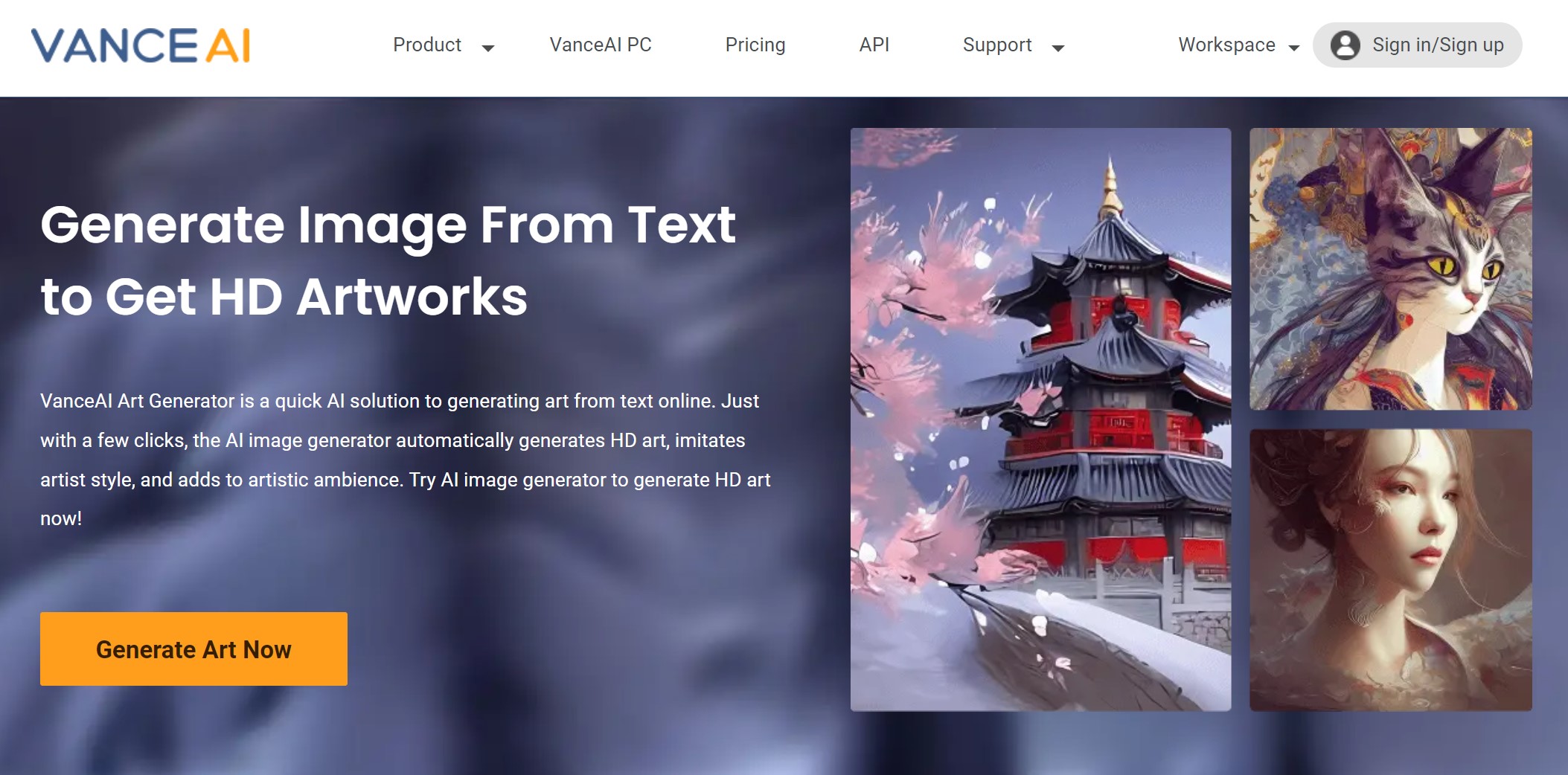 VanceAI Image Generator is a platform powered by AI that provides a variety of tools for enhancing and creating images. By employing advanced algorithms, it achieves impressive results, including the generation of avatars and profile pictures. Powered with smart AI technology and a unique interface, VanceAI Art Generator is trying to provide users with high-quality solutions and great convenience for their selfie creation. After entering its workspace, there you can get a lot of options from art styles to create your selfie from different styles. Apart from that, there comes some fancy AI Portrait Generator, making fancy selfies at a fast speed. Get to know more about it.
Pros:
Intuitive User Interface: The platform prioritizes user-friendliness, featuring a simple and easily accessible interface. This key attribute could enable customers who lack extensive designs, can also effortlessly design some expert selfies. There get some examples of how to write a great prompt in the workspace, you can refer to them to write your own prompts.
Various Styles and painting effects: There are providing a great kind of Various Styles and painting effects for you to choose from into an AI generated art. By the way, you can also upload a reference photo to generate a new AI version.
Cons:
Limited Detail in Selfie Creation: Although it features fast, there will be individual paintings with very abstract and incomplete details in the processing of details, giving some AI-generated works an unfinished feeling. So, superior sometimes you need to spend some time to perfect your prompt.
Fotor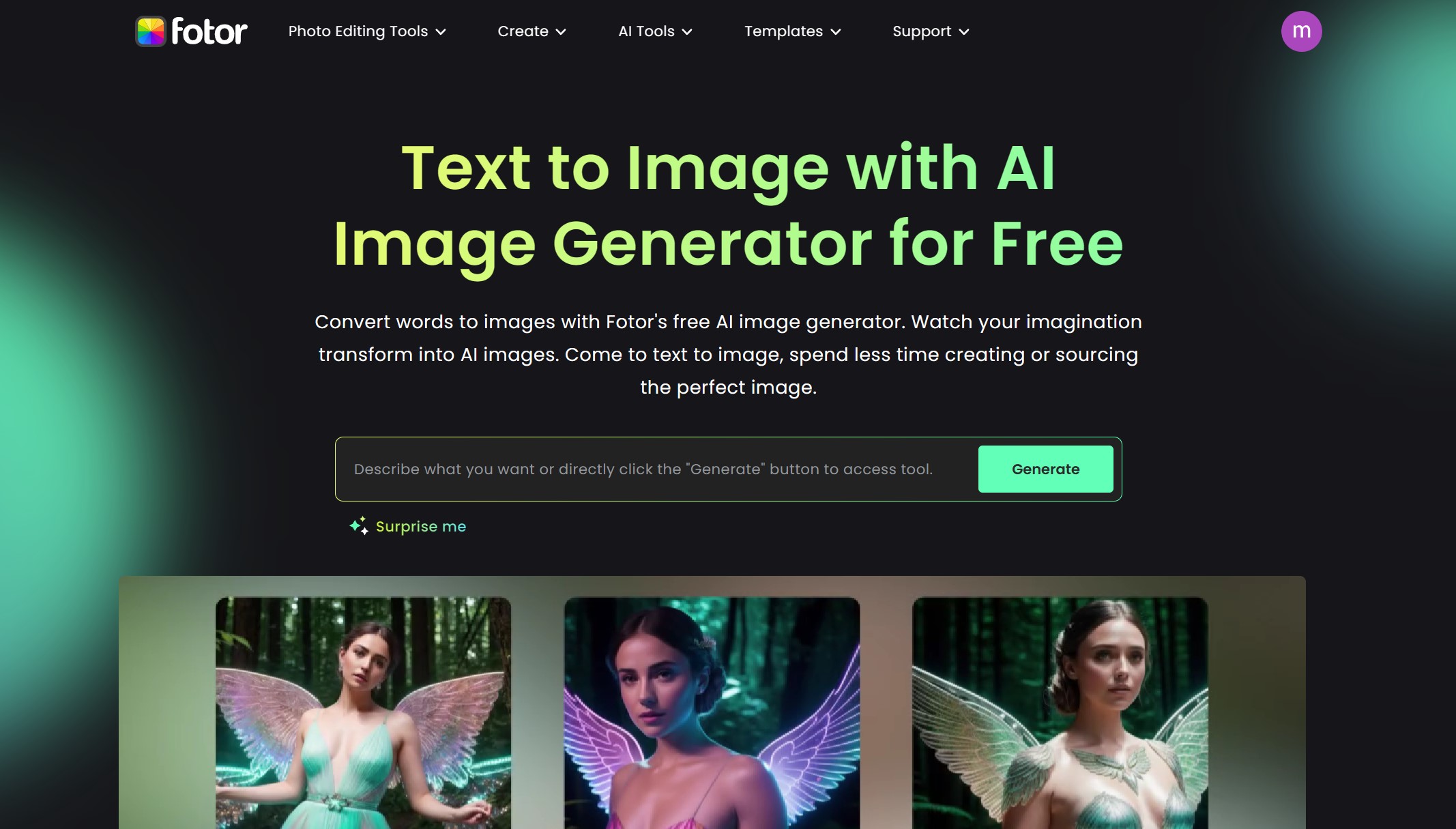 Fotor and Fotor AI Art tool are two powerful tools that can elevate your creative selfie creation experience. Fotor is a comprehensive photo editing and design platform, while Fotor AI Art tool is a feature within Fotor that utilizes artificial intelligence to transform your photos into stunning artistic creations. It uses text descriptions, so you can easily experiment with ideas like 'Santa selfie' or you could even upload an image for the tool to follow.
Pros:
Versatility: Fotor offers a wide range of editing tools and features, allowing you to customize your selfies according to your preferences. Fotor AI Art Generator adds an artistic touch, providing you with unique options to transform your photos.
Ease of Use: Both Fotor and Fotor AI Art tool have user-friendly interfaces that make them accessible to users of all skill levels. 
Quick Results: Fotor's editing capabilities, combined with the transformative power of Fotor AI Art Generator, can save you time in post-processing. You can achieve impressive results without spending hours manually editing or manipulating your selfies.
Cons:
Performance Issues: While Fotor is generally a reliable platform, it may encounter performance issues such as lag or slower processing times, particularly when dealing with larger file sizes or complex editing tasks.
Difference between Desktop and Mobile Versions: While Fotor is available on both desktop and mobile platforms, some users may find that the desktop version offers a more robust and seamless experience compared to the mobile version. The desktop version often provides a more extensive set of features, better UI design, and enhanced performance due to the capabilities of desktop computers or laptops.
Facetune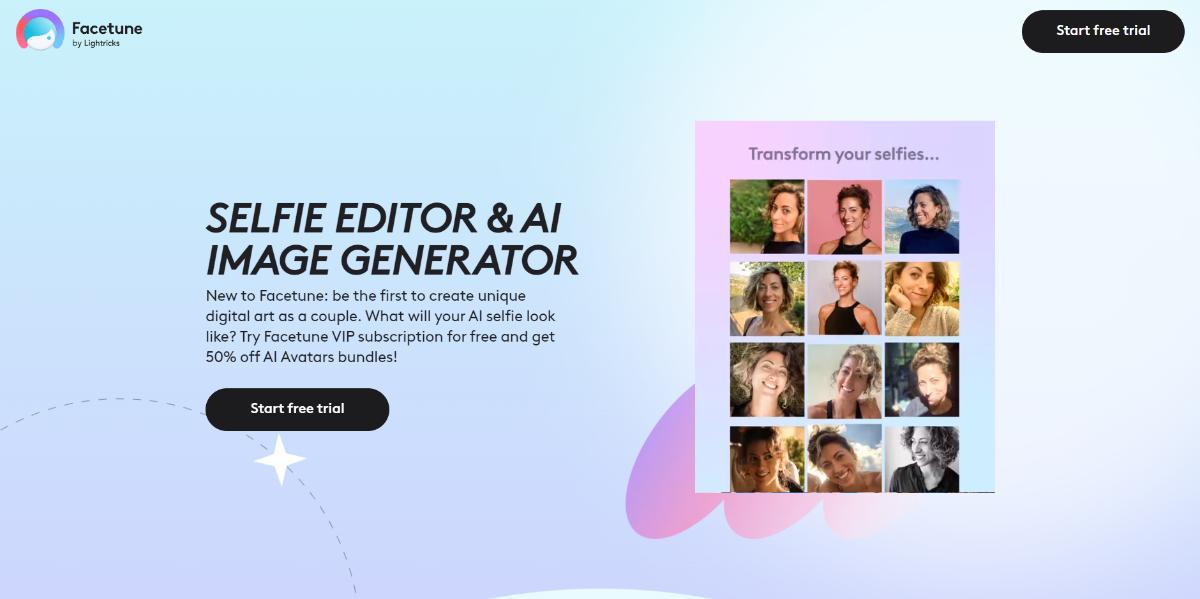 Facetune is a popular selfie editor application and AI Art creator that caters to individuals seeking to enhance their selfies and explore creative possibilities. With its comprehensive set of tools and AI-powered features, Facetune offers users the ability to refine their self-portraits, apply artistic effects, and unlock their creative potential.
Pros:
Selfie Enhancement: Facetune offers many enhancement and editing tools for improving the portraits and selfies that you already have. With features that can adjust facial features, make your teeth look whiter, reduce blemishes, and more, you can edit your photos to perfection.
AI Capability: Facetune's AI feature takes selfie editing to the next level by offering various artistic filters and effects. Using advanced artificial intelligence algorithms, Facetune can transform your selfies into something else entirely. You can transform selfies into sketches, paintings, and more.
Cons:
Mandatory Account Creation: One drawback of Facetune is that users are required to create an account and subscribe before gaining access to the app's features and functionality. This can be a barrier for individuals who prefer to use an app without the need for account creation or those who are not ready to commit to a paid subscription. The mandatory account creation and subscription can make Facetune less accessible compared to other apps.
Snapbar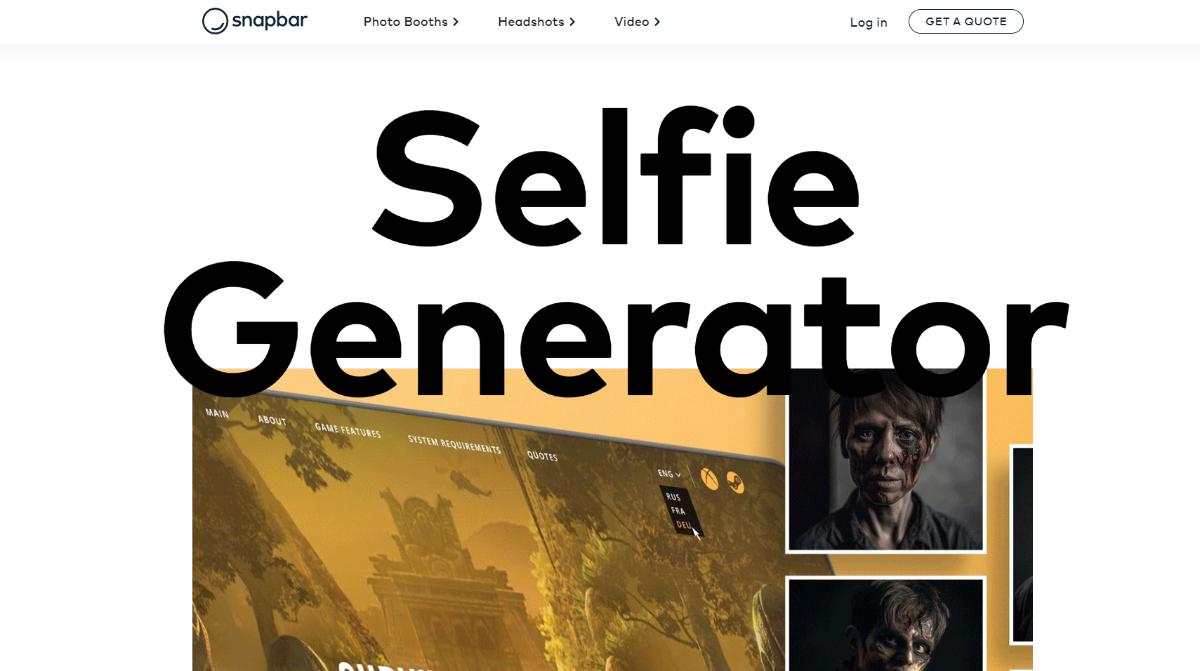 Snapbar is a service that specializes in creating customized selfie generator experiences for brands targeting the selfie generation. They offer a range of services, including strategy development, design, and development, to create engaging and shareable photo experiences for events, marketing campaigns, and more.
Pros:
Tailored Strategies: Snapbar provides tailored strategies to create unique selfie generator sites and experiences for brands. This approach ensures that the selfie generation is effectively targeted, maximizing the potential reach and engagement of the generated selfies.
Engaging and Shareable Experiences: Snapbar focuses on crafting engaging and shareable photo experiences. By designing experiences that resonate with users, they aim to boost social reach, allowing brands to generate buzz and encourage users to share their customized selfies across various social media platforms.
Cons:
Limited Availability and Delays: As Snapbar is a specialized service provider, their availability may be limited to specific regions or brands. You also have to take time to reach out to them. This could restrict access for certain businesses or individuals who would like to have an app that is always ready to use.
Portrait AI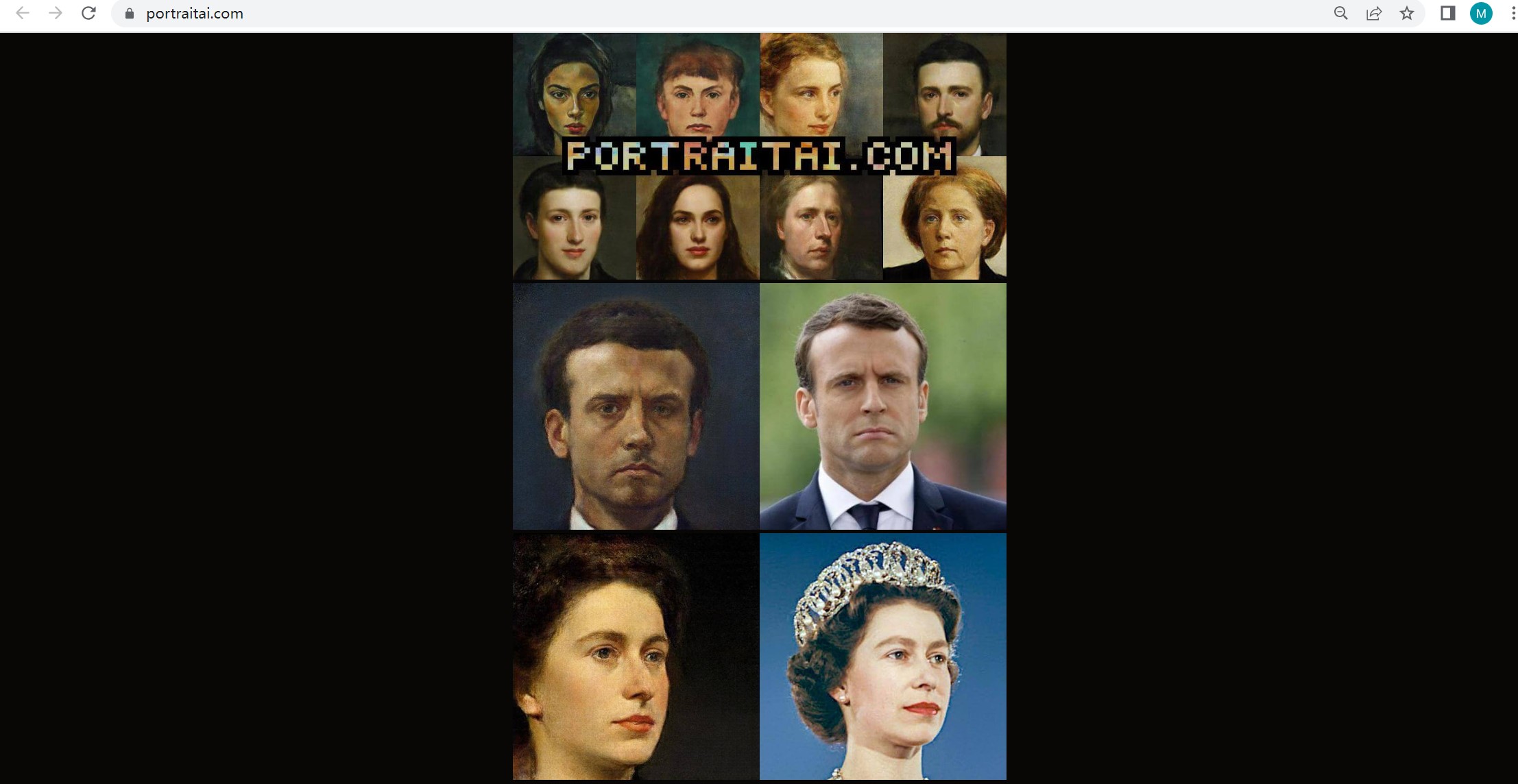 If you want to make your portraits look medieval, then PortraitAI is a good option. This app works by uploading an image, therefore you could upload a dog selfie, a prompt frog selfie, and others to see how it turns out. The platform is pretty specialized, as it basically deals with converting portraits into the old style. However, the mobile applications have more options and styles for you.
Pros:
Smooth Performance and Ease of Use: PortraitAI is known for its smooth performance and user-friendly workflow. The platform streamlines the creative process by simplifying the steps required to generate artistic portraits from selfies. With PortraitAI, users can enjoy a hassle-free experience by simply uploading their images and letting the AI algorithms work their magic.
Multiple Image Generation: PortraitAI stands out by generating multiple images for each query, providing users with a wide range of options to choose from. This feature allows users to explore different artistic interpretations and styles for their selfies.
Cons:
Limited Customization Options: While PortraitAI provides customization features, the level of control over the artistic transformations may be limited compared to other applications with manual and automatic enhancement capabilities.
ProfilePicture.AI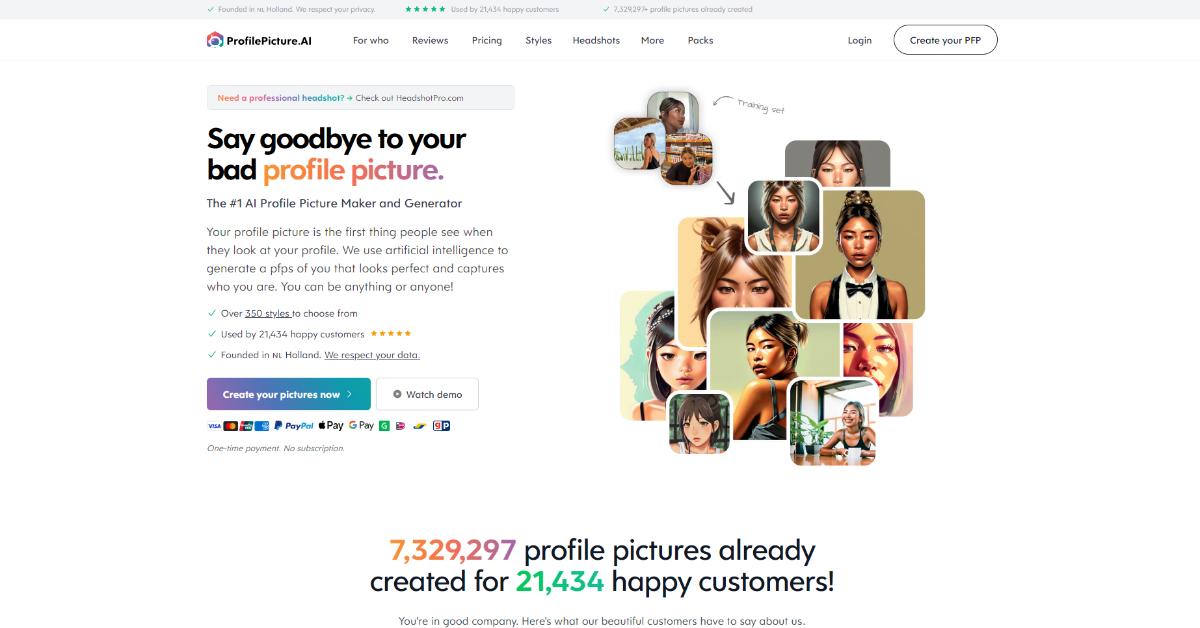 ProfilePicture.AI is designed to cater to the needs of individuals seeking visually appealing and creative self-portraits. ProfilePicture.AI offers a range of features to improve on the quality and appeal of profile photos. It also has features that are specialized for certain platforms or genres, such as LinkedIn, Tinder, video games, and more.
Pros:
Instant Enhancements: ProfilePicture.AI provides instant enhancements to profile pictures, allowing users to quickly improve the overall quality and appeal of their selfies. With just a few clicks, users can enhance facial features, change the lighting, and other aspects of a selfie for a polished and professional look.
Wide Range of Styles for Selfies and Portraits: ProfilePicture.AI offers a diverse selection of styles that are specifically tailored to work well with selfies and portraits. These styles are designed to enhance the visual appeal of selfies.
Cons:
Uploading Multiple Photos Can be Tedious: ProfilePicture.AI may require users to upload multiple photos of themselves to generate accurate and personalized enhancements. This process can be time-consuming and tedious, especially for users who do not have a large collection of photos.
Conclusion
A creative selfie can breathe new life into your profile. As a casual user or a creative individual, you can easily standout amongst others by making use of a Midjourney selfie or anything similar. The good thing about many of these applications is that they have options for users to either enter text or upload an image. This allows users to have customization and control over the visuals that they generate. 
Do you find this post helpful?