What is PicSo?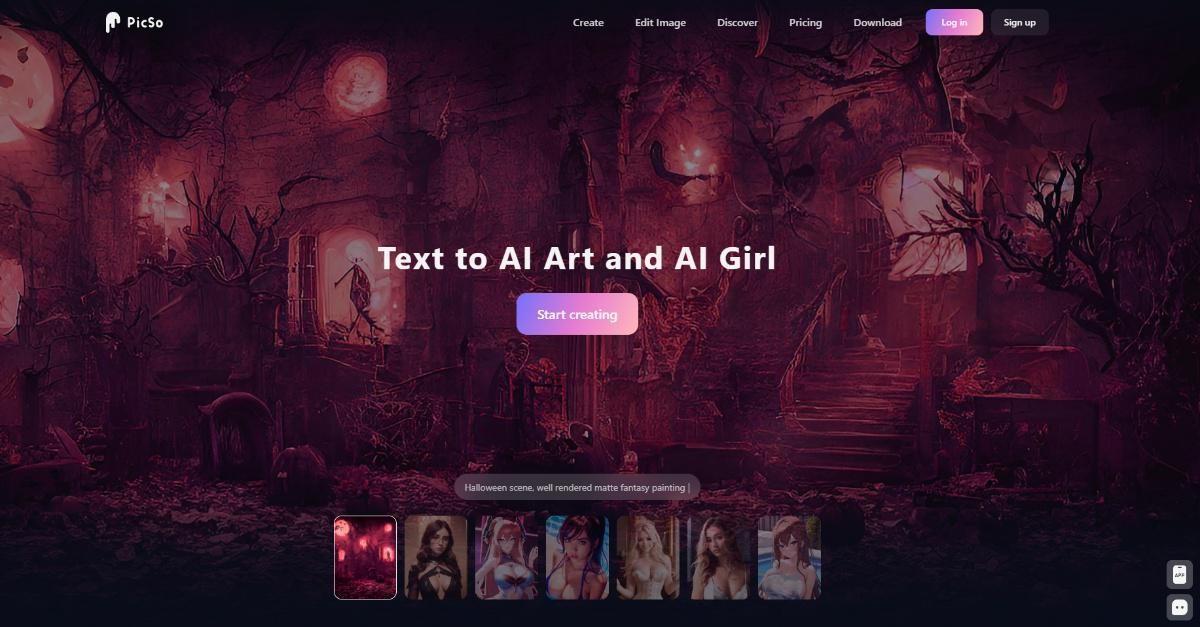 PicSo.AI is an innovative image creator that unleashes your creativity with ease and efficiency. Whether you're a marketer, content creator, social media manager, or graphic designer, PicSo offers a comprehensive set of tools and features to elevate your visual content to new heights. With just a few clicks, you can transform your ideas into stunning images that capture attention and engage your audience. Powered by advanced AI technology, PicSo.AI simplifies the image creation process, empowering professionals from various fields to produce visually captivating content without the need for extensive design experience. You can use PicSo free of cost for one image per day.
Users can utilize PicSo art in many ways. For casual users, they can experiment with the Picso anime art style to create profile photos and more.
Key Features:
Template Library: Explore a vast collection of professionally designed templates tailored for different purposes and industries. From social media posts to blog graphics, PicSo.AI offers templates that are ready to customize and make your own.
AI-Powered Editing: Enhance your images effortlessly with AI-powered editing tools. Adjust colors, apply filters, remove backgrounds, and perform other image modifications with ease and precision.
Image Effects and Filters: Experiment with various effects and filters to create unique visual styles. From vintage to modern, PicSo.AI provides a diverse range of effects to elevate your images.
Mobile Accessibility: PicSo.AI extends its functionality beyond desktop platforms and is available on both Android and iOS phones.
Pros:
PicSo.AI offers an intuitive and user-friendly interface, making it accessible to professionals with varying levels of design experience.
PicSo can be used on mobile devices running on iOS or Android, which increases its accessibility.
The PicSo images tend to be well detailed and attractive, making it a favorable choice among many users.
Cons:
While PicSo.AI offers a variety of templates and editing options, the level of customization may be limited compared to more advanced graphic design software.
How to Use PicSo AI to Generate Picso Images?
Google Picso or use the link given here to get to the website online.
Step 1: You can use the link given above to access the website. Once there, you can click on the "Start Creating" button to get to the next page.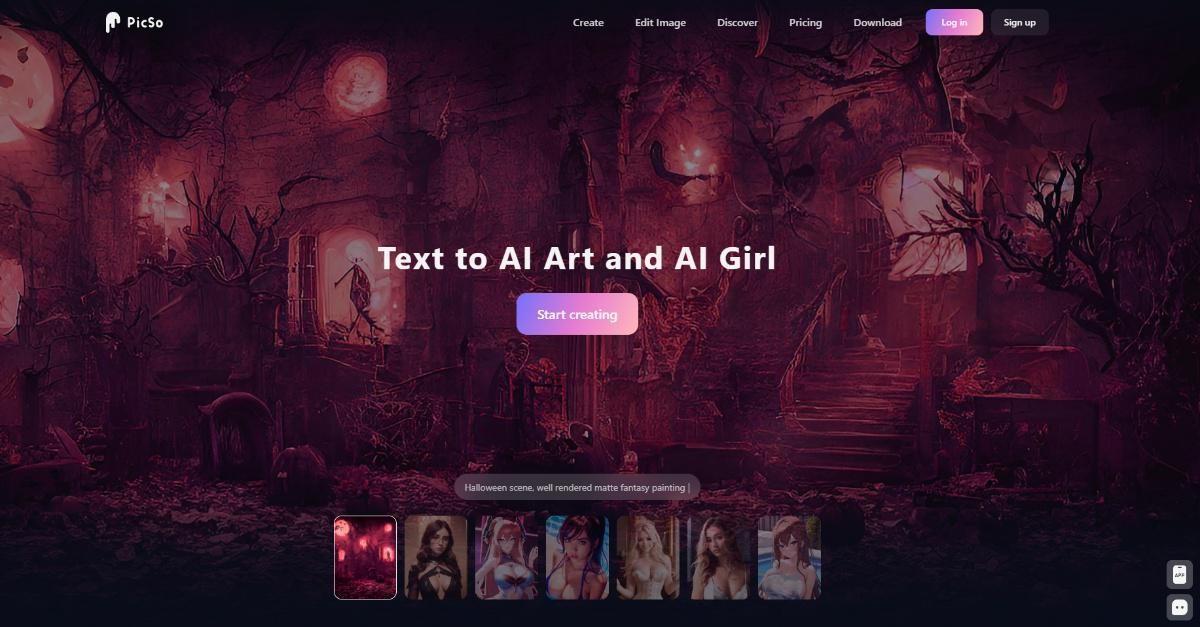 Step 2: Here, you can choose whether you want to use the AI Girl or AI Art section. Either way, you can input the text prompt and choose the art style. To finalize, click on "Create".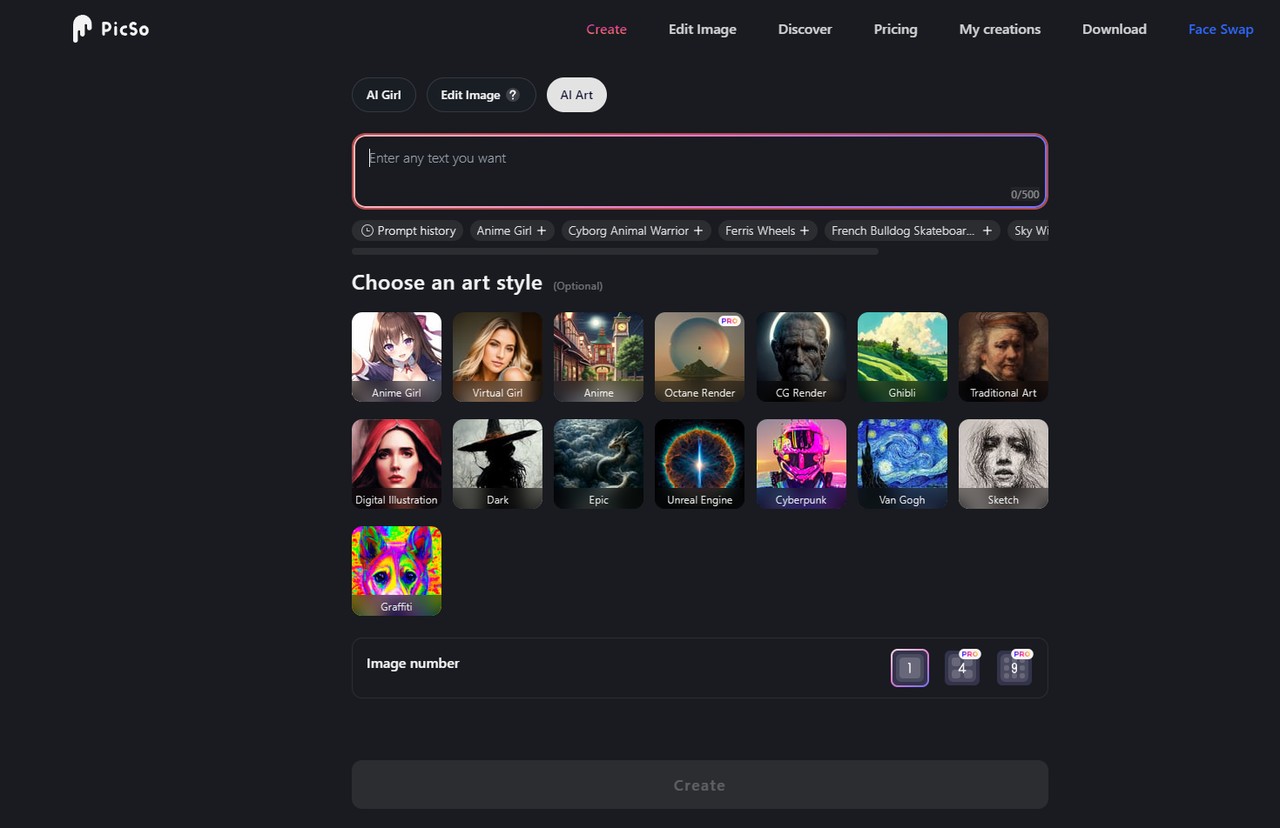 Step 3: After a few seconds of image processing, the result will be ready to view and download. Use the options given to download.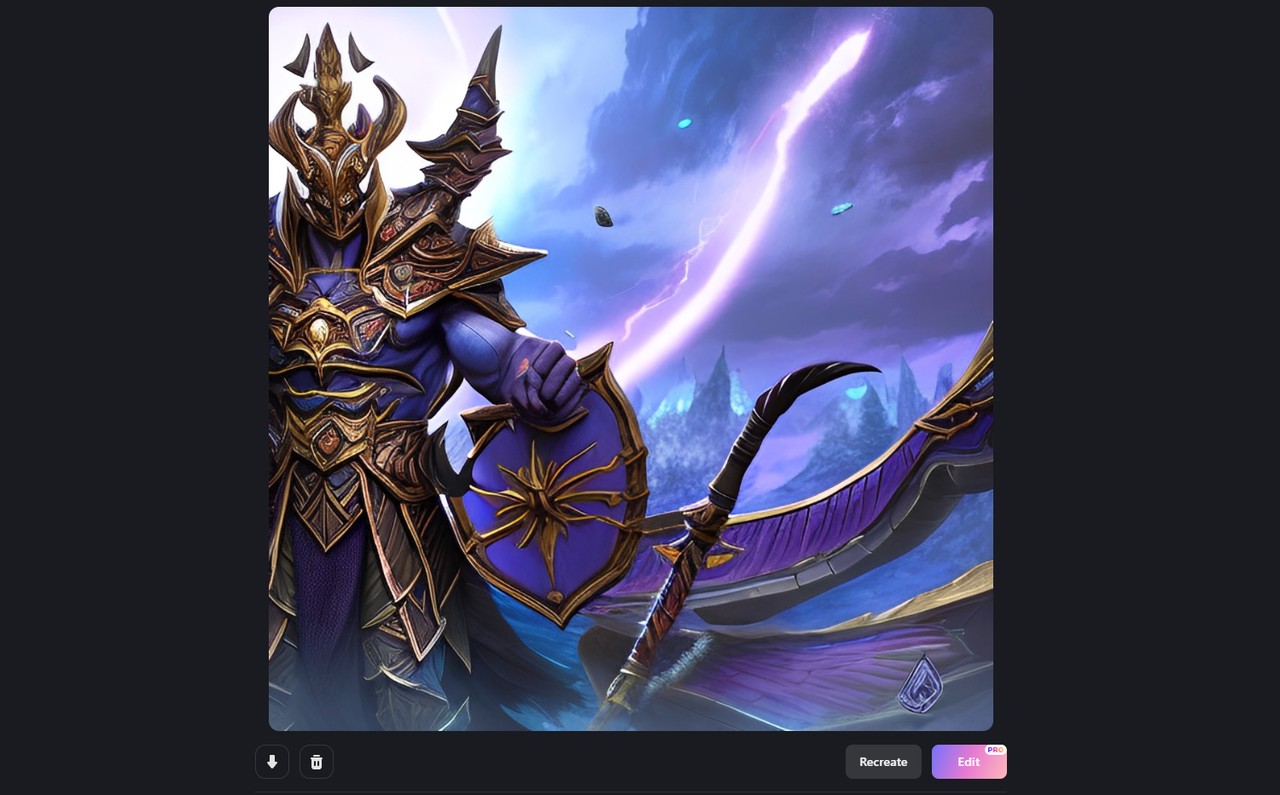 In simple steps, you can create PicSo painting and more.
Best 5 Alternatives to PicSo AI
VanceAI Art Generator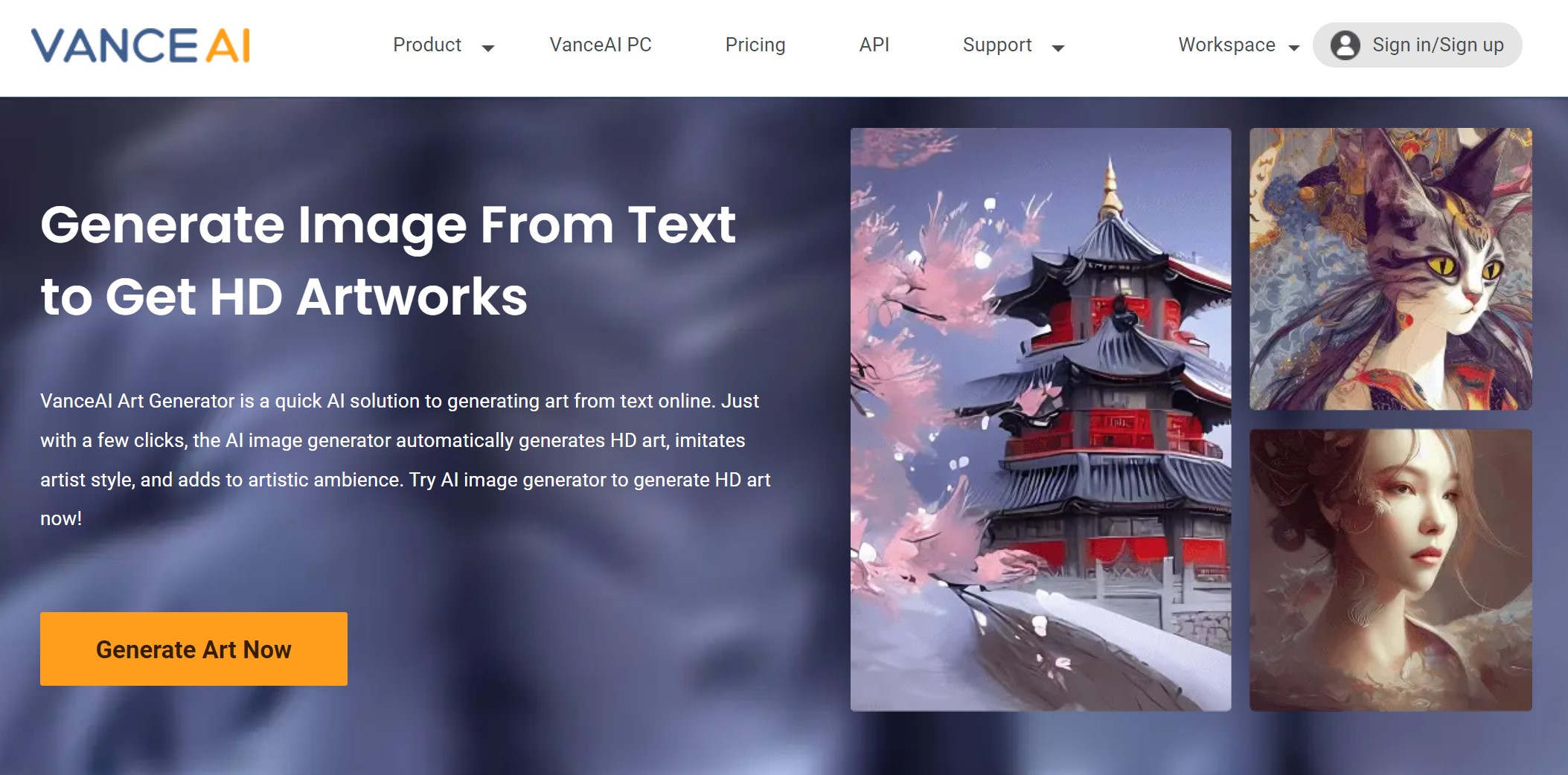 Whether you're an artist, designer, or simply someone with a creative vision, VanceAI Art Generator offers a range of powerful features to bring your imagination to life. Powered by advanced AI technology, this tool enables you to transform ordinary images into stunning works of art with just a few clicks. From abstract paintings to realistic portraits, VanceAI Art Generator opens up a world of artistic possibilities.
Key Features:
Artistic Styles: VanceAI Art Generator provides a diverse selection of artistic styles to choose from. Whether you prefer impressionist, cubist, or pop art, you can easily apply these styles to your images and transform them into unique artistic creations.
Face Design: With VanceAI Art Generator, you can experiment with different face designs, turning portraits into captivating and expressive pieces of art. Explore various styles, from traditional to contemporary, and watch as your images undergo stunning transformations.
User-Friendly Interface: The intuitive interface of VanceAI Art Generator makes it accessible to both experienced artists and beginners. The straightforward controls and easy-to-use features allow users to quickly navigate the tool.
How to Use:
Step 1: Use the link for VanceAI Art Generator to access it. Click on the "Generate Art Now" button to get to the next step.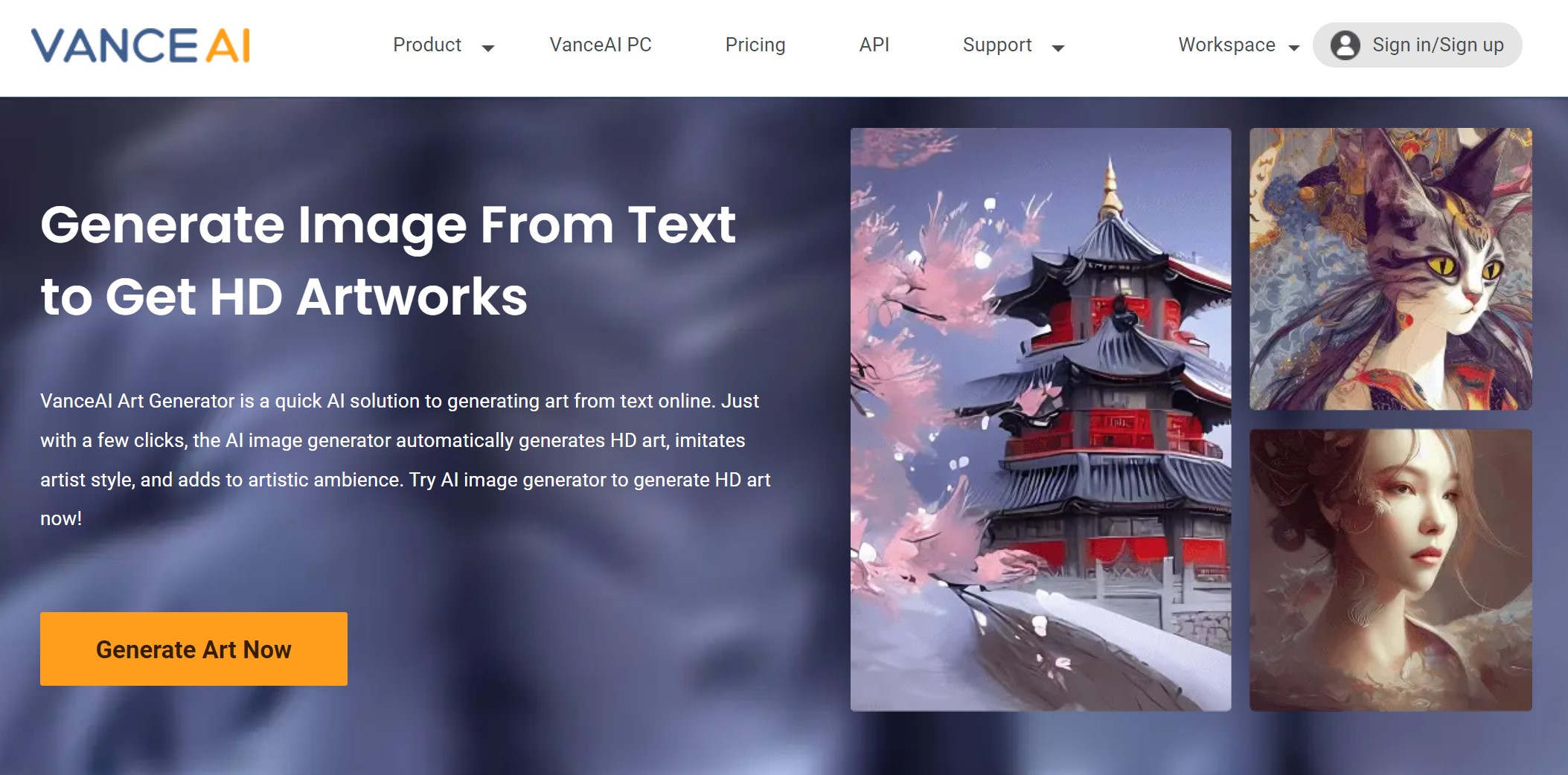 Step 2: In the Workspace, you can use the features given to customize your output or prompt. Click on "Create" when you are ready.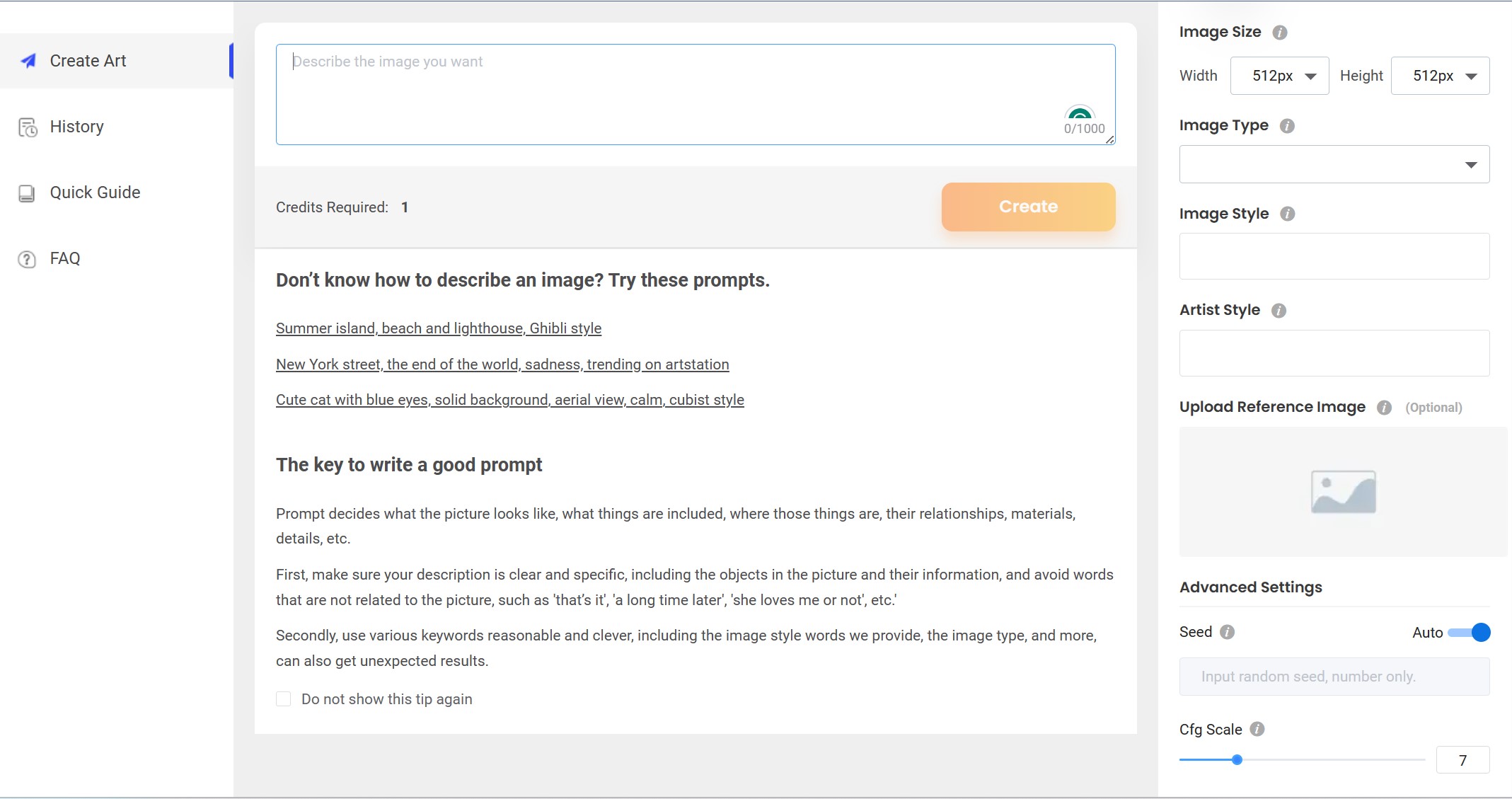 Step 3: Within a few seconds, your output should be ready and displayed on the screen. Use the download button to save the image on your device.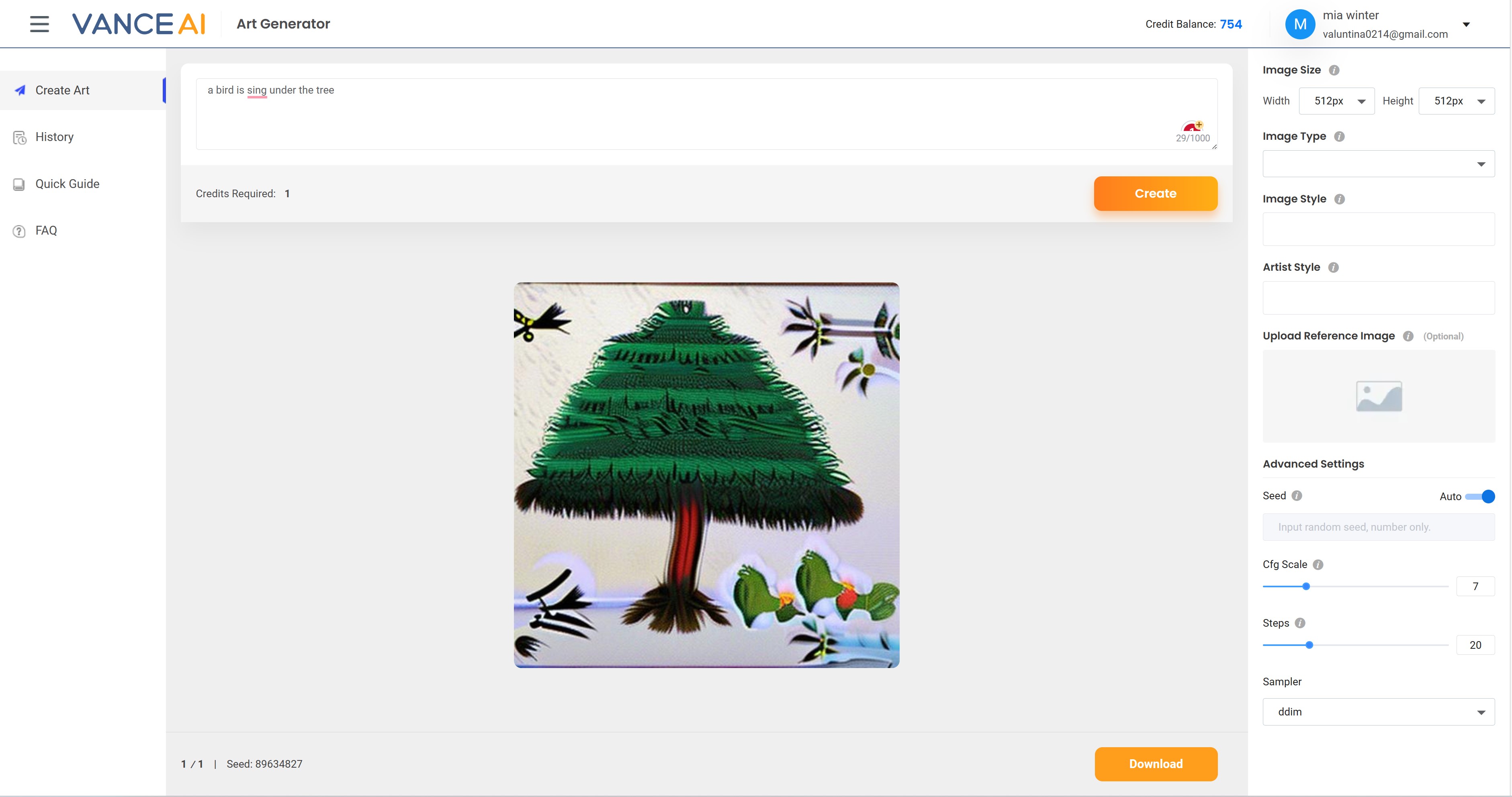 DALL E 2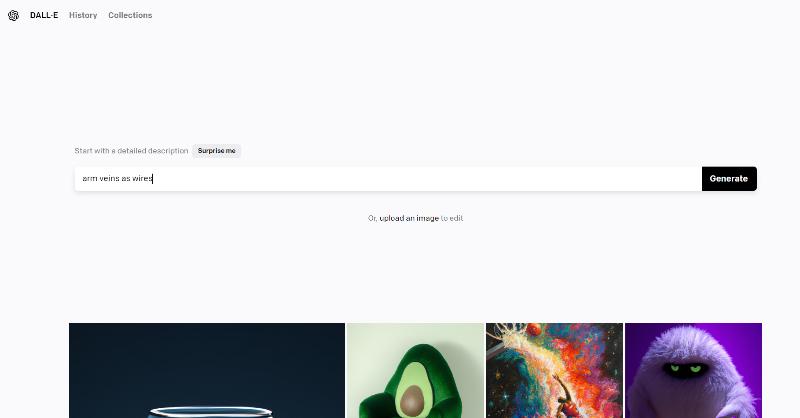 Developed using state-of-the-art AI technology, Dall-E offers a range of impressive features to unleash your creativity and bring your artistic vision to life. With Dall-E, you can explore a world of artistic possibilities, transforming ordinary concepts into visually stunning and captivating artworks. Let's delve into the key features that make Dall-E a powerful tool for creating remarkable artistic images and face designs.
Key Features:
Image Generation: Dall-E allows you to generate unique and high-quality images from textual descriptions. Simply describe your idea, and Dall-E will produce an image that embodies your vision, offering endless possibilities for artistic expression.
Artistic Style Transfer: With Dall-E, you can transfer the style of one image onto another, enabling you to blend different artistic styles and create visually striking compositions. This feature provides the flexibility to experiment with various artistic elements and produce captivating results.
Face Design: Dall-E excels in generating realistic and expressive face designs. Whether you need lifelike portraits or imaginative character designs, Dall-E can generate detailed facial images that capture emotion and convey personality with impressive fidelity.
Craiyon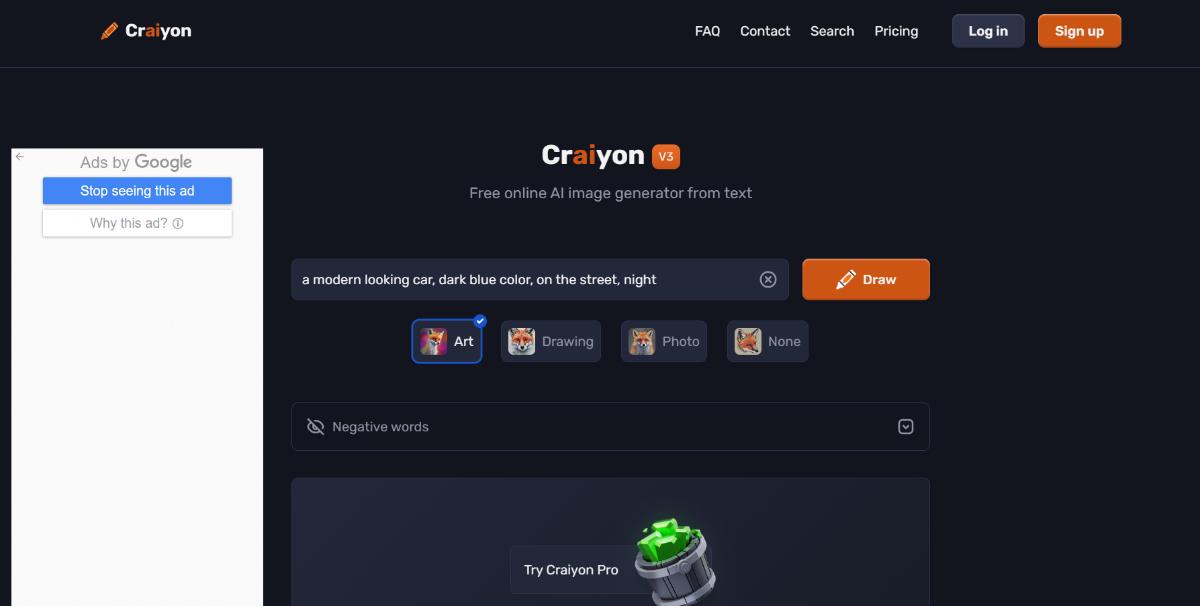 Craiyon is an innovative platform that opens up a world of artistic possibilities, allowing users to create high-quality artistic images and face designs. With its intuitive tools and user-friendly interface, Craiyon offers a seamless experience for unleashing creativity and transforming ideas into visually captivating artworks.
Key Features:
Artistic Image Creation: Craiyon provides a range of powerful tools to create stunning artistic images. Users can experiment with various brushes, textures, and colors to bring their artistic visions to life. The platform offers flexibility and control to craft unique and visually appealing artworks.
Face Design and Customization: With Craiyon, users can delve into face design, enabling the creation of expressive and lifelike portraits. The platform offers features to customize facial features, expressions, and details, resulting in realistic and captivating face designs.
NightCafe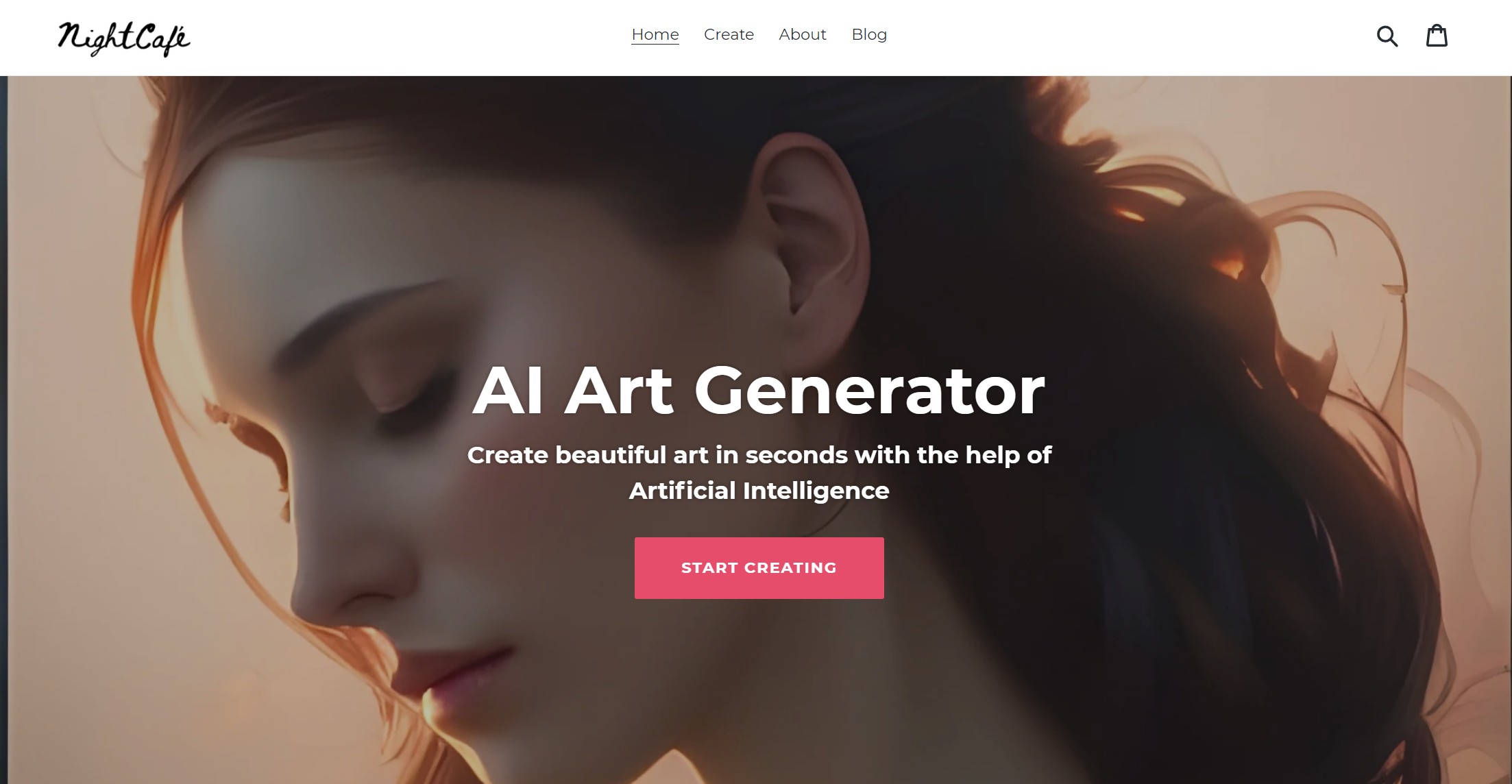 NightCafe is a versatile platform that ignites artistic expression, enabling users to create high-quality artistic images and face designs. With its array of tools and features, NightCafe empowers artists, designers, and creative enthusiasts to transform their ideas into visually captivating masterpieces.
Key Features:
Face Design and Customization: Unlock your creativity with NightCafe's face design capabilities. The platform enables you to create expressive and personalized portraits, allowing you to customize facial features, expressions, and details to bring your artistic vision to life.
Painting Tools and Brushes: NightCafe provides a variety of painting tools and brushes, allowing you to simulate traditional art techniques digitally. Whether you prefer watercolors, oils, or pencils, NightCafe offers a range of brushes to achieve the desired effects and textures in your artwork.
Layer-based Editing: NightCafe's layer-based editing system offers flexibility and control over your creative process. Work on different elements of your artwork independently, make adjustments, and experiment with different compositions, all while maintaining the ability to modify or remove specific layers without affecting the entire piece.
Hotpot.AI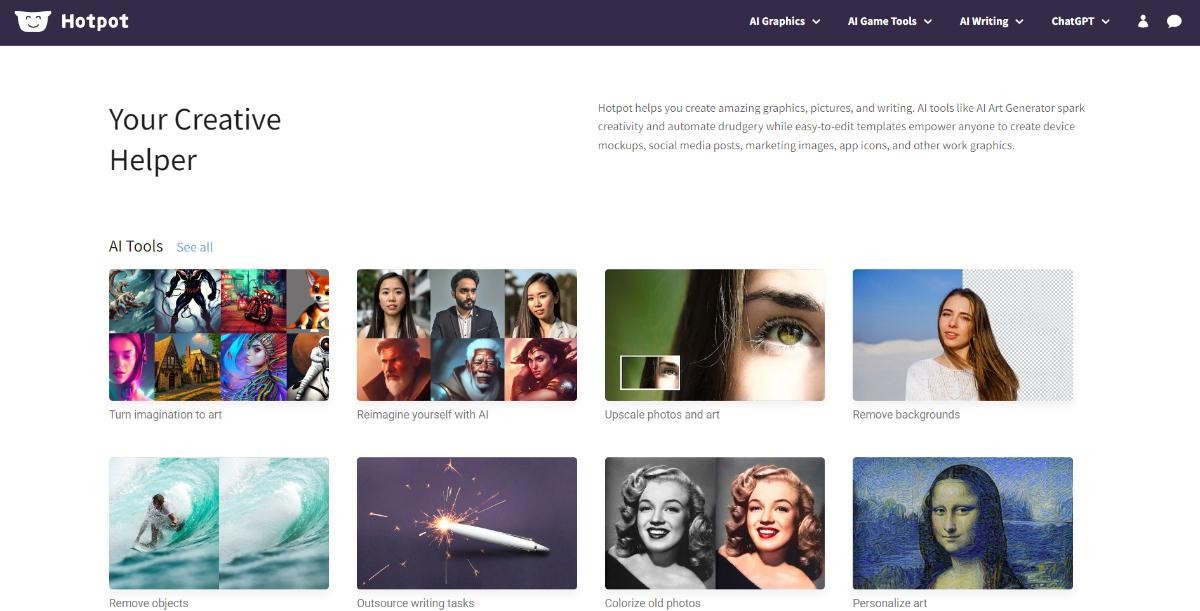 Hotpot.AI Image Generator is a powerful platform that empowers users to create high-quality artistic images and face designs effortlessly. Designed with a user-friendly interface and a range of intuitive features, Hotpot.AI offers a creative space for artists, designers, and enthusiasts to bring their artistic ideas to life.
Key Features:
Image Composition and Editing: With Hotpot.AI, you can experiment with image composition and editing. Adjust composition elements, merge multiple images seamlessly, and make precise edits to achieve the desired artistic outcome.
High-Quality Output: Hotpot.AI ensures that your artistic images and face designs maintain a high level of quality. With attention to detail and image fidelity, the platform produces visually appealing results suitable for professional use, exhibitions, or personal projects.
Conclusion
PicSo photo generator's quick and responsive user interface ensures a seamless experience, allowing artists and designers to work efficiently and bring their creative visions to life. With its AI processing power, PicSo delivers impressive and visually appealing results, elevating the quality of artwork produced. While PicSo already offers a range of valuable features, such as customizable brushes and versatile artistic styles, it has the potential to further enhance the user experience by introducing features like the ability to upload a reference image for the algorithm to follow, enabling even greater precision and customization. Moreover, for users seeking alternative photo editing tools with similar capabilities, they can explore other options like VanceAI and NightCafe.
Do you find this post helpful?