What is Starry AI?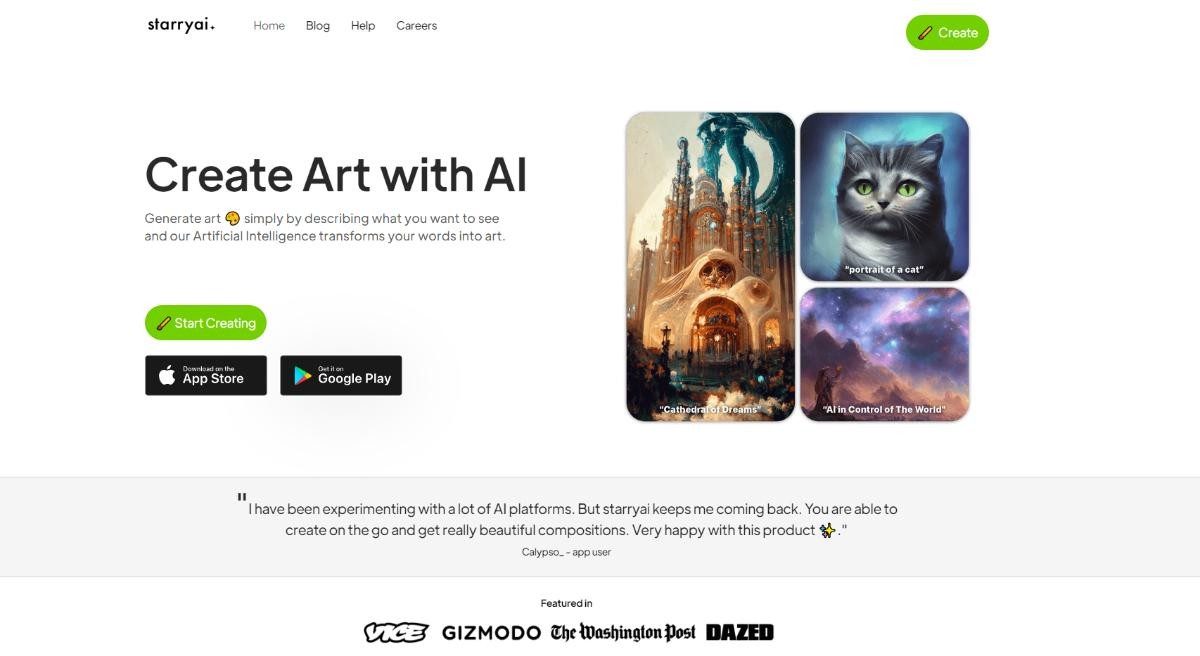 Starry AI is an image creator app that offers a simple and intuitive way to create visually appealing content. With just a text prompt, users can generate impressive and imaginative works of art. Starry AI image generator is designed to save time and effort by eliminating the need for technical expertise in art creation. It is available for free on both iOS and Android devices, providing accessibility to a wide range of users.
In this guide, we will discuss the Starry AI app, key features, and more. If you're someone artistic who wants to create more visuals or a professional looking to add some creativity to their content, you can use the Starry AI tips or steps given. Apart from that, there comes some fancy AI Portrait Generator, making fancy selfies at a fast speed. Get to know more about it.
Key Features:
Customizability: The platform allows users to choose from a variety of different models, styles, aspect ratios, and initial images, providing options for personalized creations.
Full Ownership: Users have complete ownership of their generated artworks, giving them the freedom to use them for various purposes, such as art projects, printing, or sharing on social media.
Regular Updates: StarryAI continuously updates its AI models to ensure ongoing improvement in the quality and variety of generated art.
User-Friendly Experience: The app provides a seamless and enjoyable user experience, making it easy for individuals of all skill levels to create art.
Pros:
Time and Cost Savings: StarryAI streamlines the art creation process, saving time and reducing the need for technical expertise.
Diverse Art Styles: With a wide range of models and styles available, users can explore different aesthetics and find the perfect fit for their content.
Accessible and User-Friendly: The availability of the app on iOS and Android platforms, coupled with its intuitive interface, makes it easy for users to create art on the go.
Cons:
Limited Editing: While the Starry AI app offers customization options before creating the image, they can still fall short when compared to other Starry AI alternative apps out there.
How to use Starry AI
Step 1: You can click on Starry AI to get access to the website page and from there, click on the "Start Creating" button in green.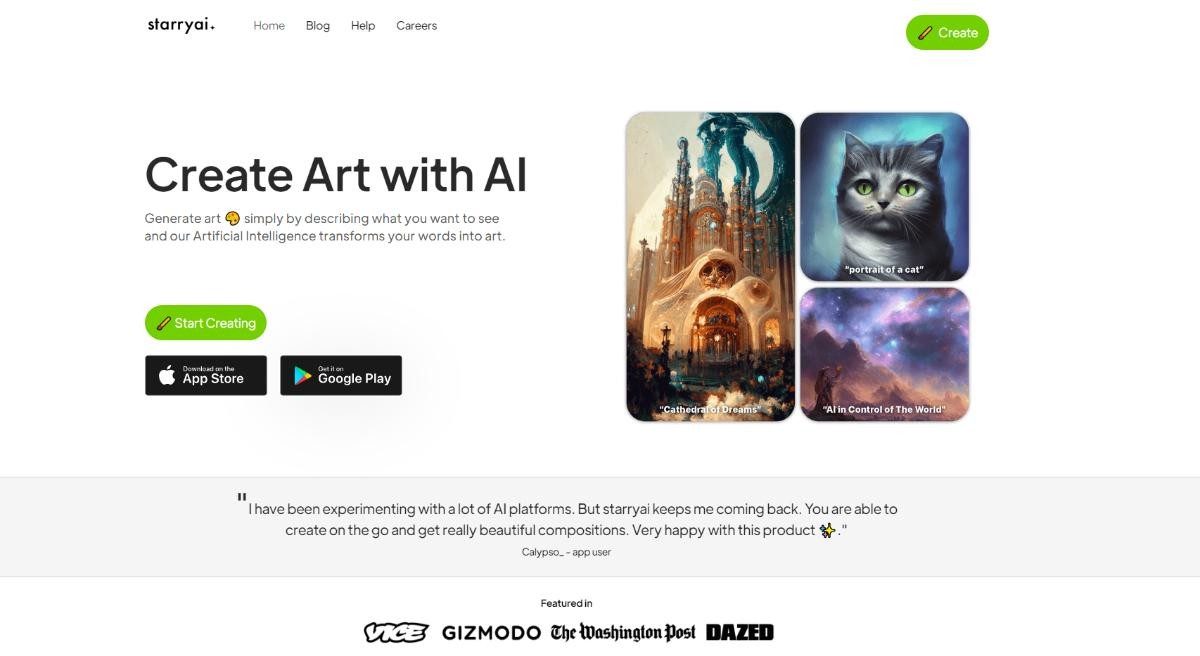 Step 2: The screen pop-up will ask you to sign up. You can use your Google account to sign up quickly and head over to the editor mode. There, you can input your text Starry AI prompts, customization options, etc. Click on "Generate" when you're ready.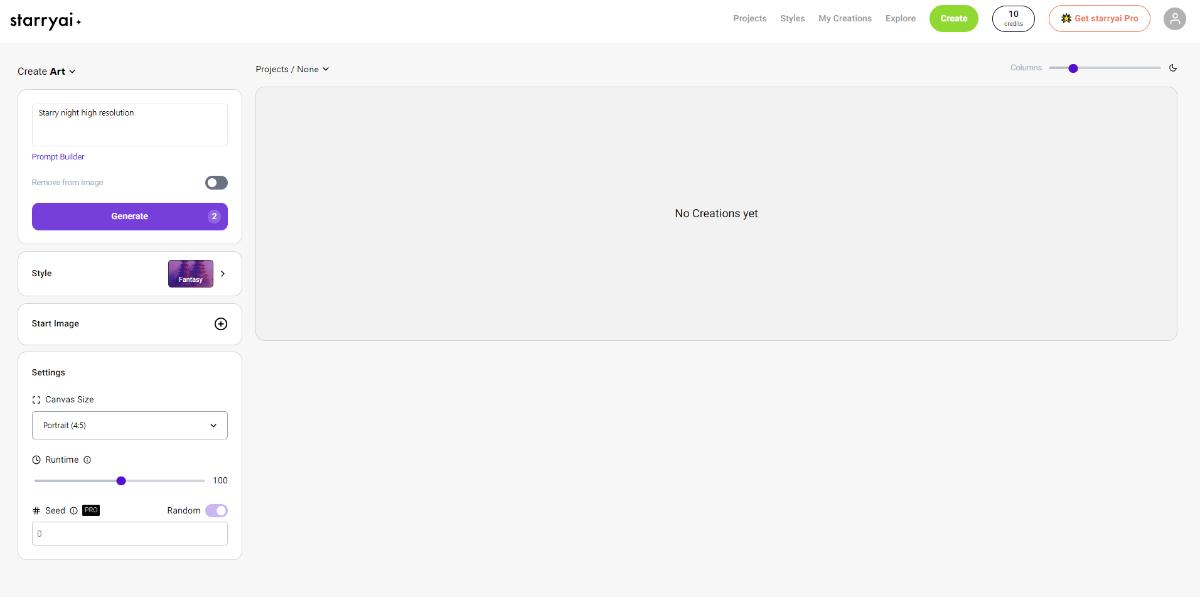 Step 3: The Starry AI app will generate the artwork in seconds. Use the download option to save the image. By using the customization options, you can create a starry night high resolution download AI image as well. Besides that, more people also seem to be interested in AI Face Generator. You can know more from the link.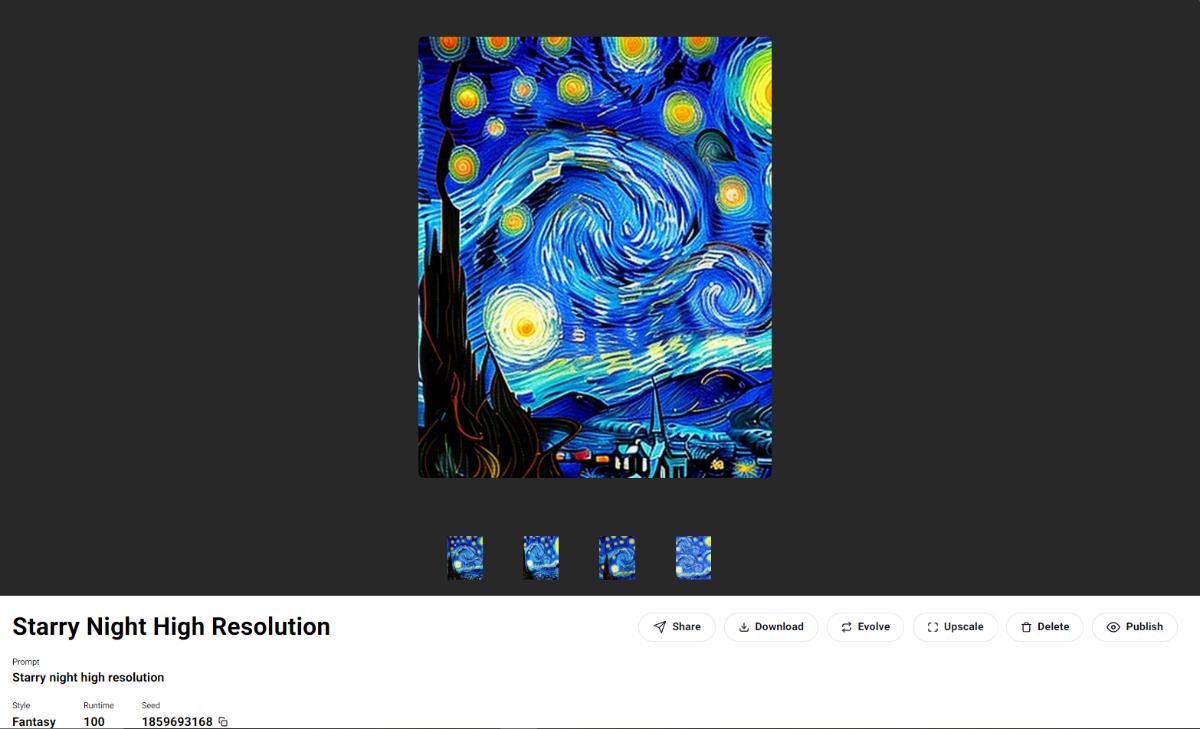 Best 5 Starry AI Alternatives
VanceAI Art Generator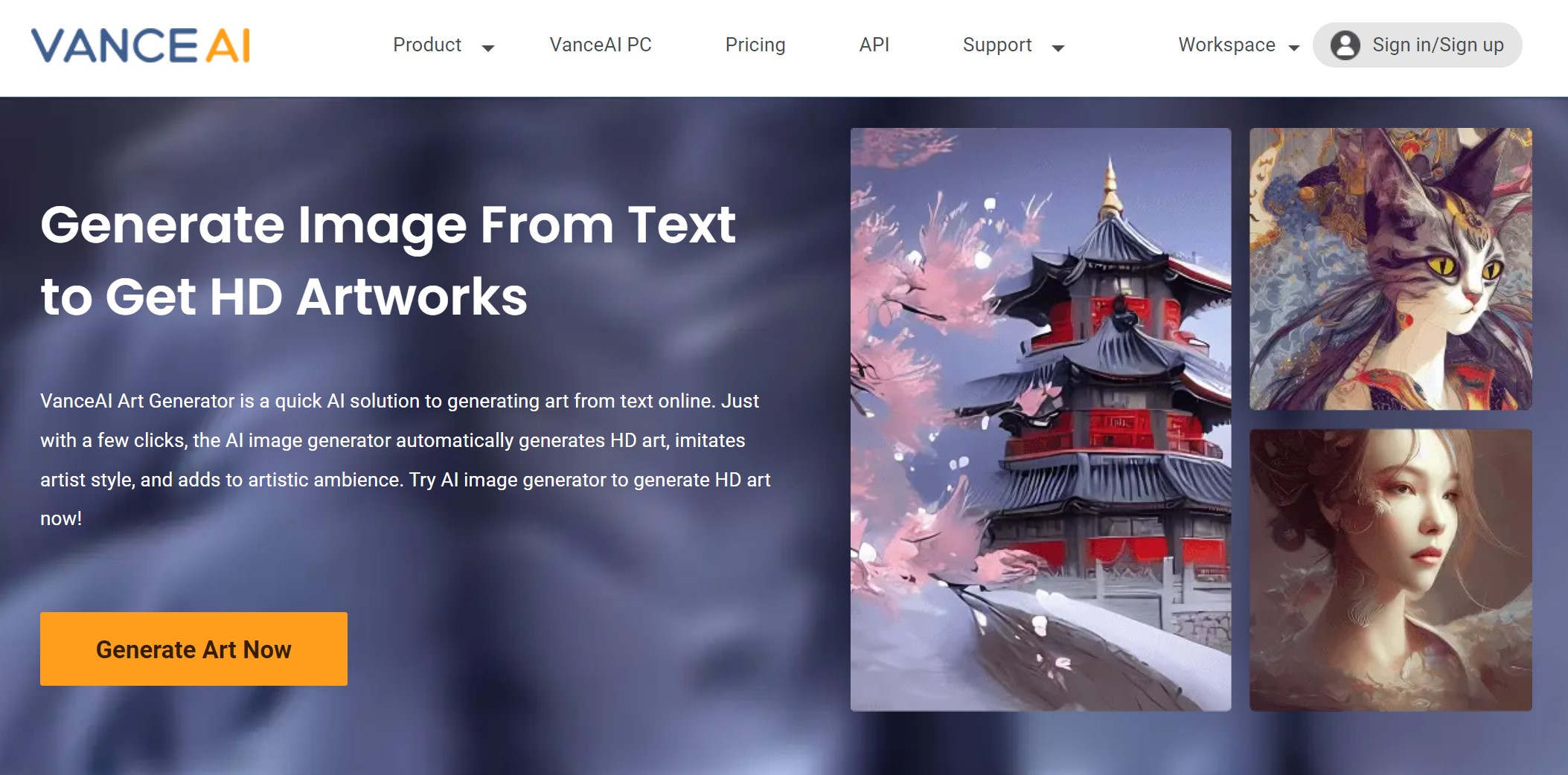 VanceAI Art Generator is a powerful tool designed to assist creators in generating artistic visuals with ease. Leveraging cutting-edge AI technology, this platform allows users to transform their ideas into stunning works of art. Whether you have a specific concept in mind or need inspiration, VanceAI Art Generator can bring your imagination to life.
Key Features:
Creative Artistic Rendering: VanceAI Art Generator produces really good looking and imaginative art within seconds. If you are someone who uses a lot of abstract imagery for marketing or content, then this tool is a must-try.
Customization Options: Users have the freedom to choose from multiple customization options that can alter their output. They can also upload a reference image so that the output can be closer to what they envision.
Broad Range of Applications: This tool is versatile and applicable across various industries, including graphic design, marketing, entertainment, and more.
How to Use:
Step 1: The link given to VanceAI will take you to the tool's webpage. There, you can click on the button given to move forward to the Workspace.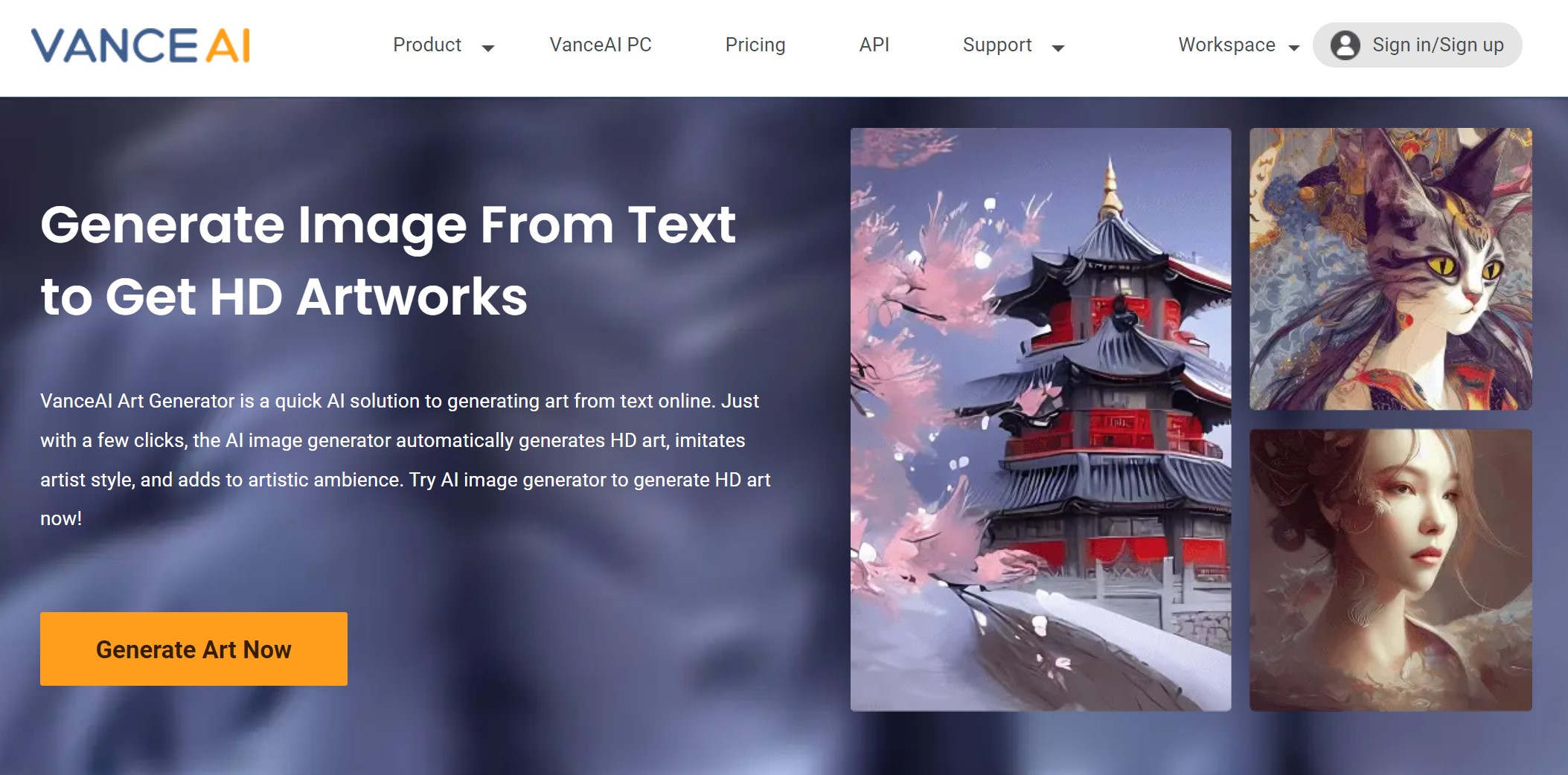 Step 2: In the art Workspace, you can input your prompts and use various customization options given in order to shape your output beforehand. You can click on "Create" after you're done with the settings.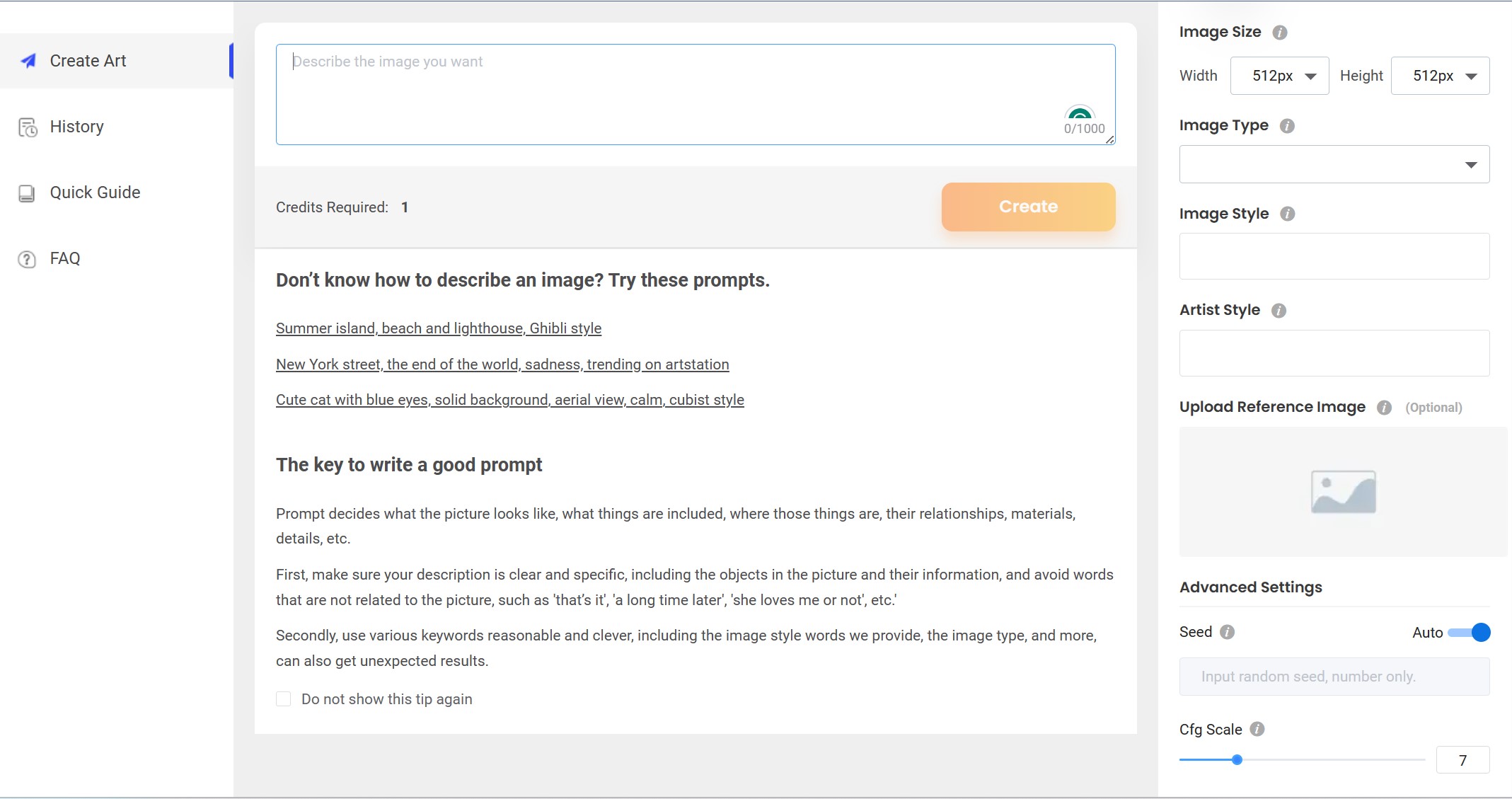 Step 3: Within a few seconds, the newly created image should be displayed on your screen. You can then download the image using the options given in the Workspace. More interestingly, there are also some popular Vtuber Maker which use similar technology. Try it if you like.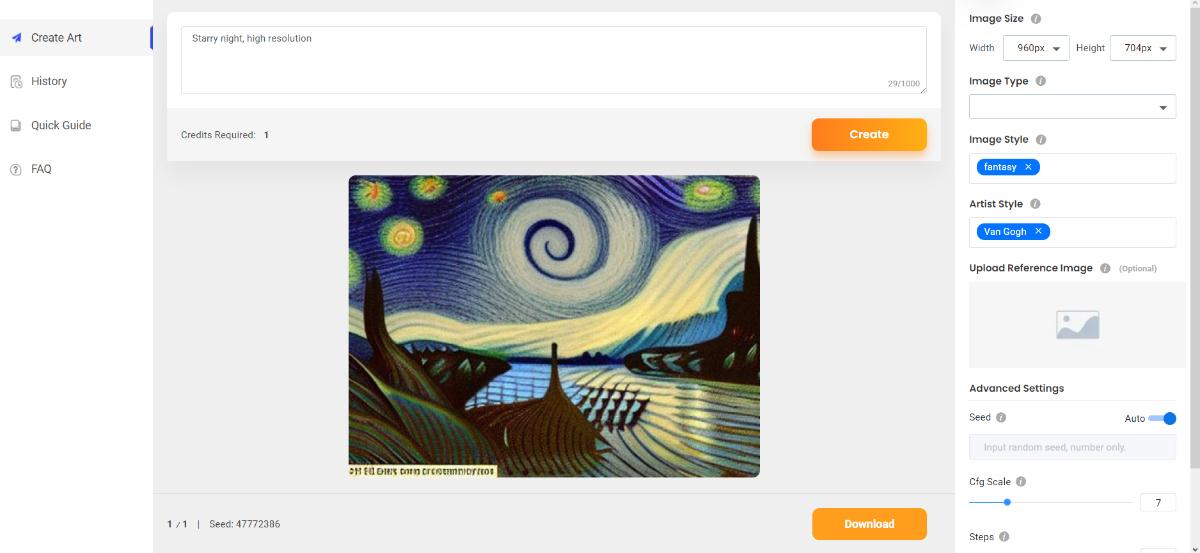 NightCafe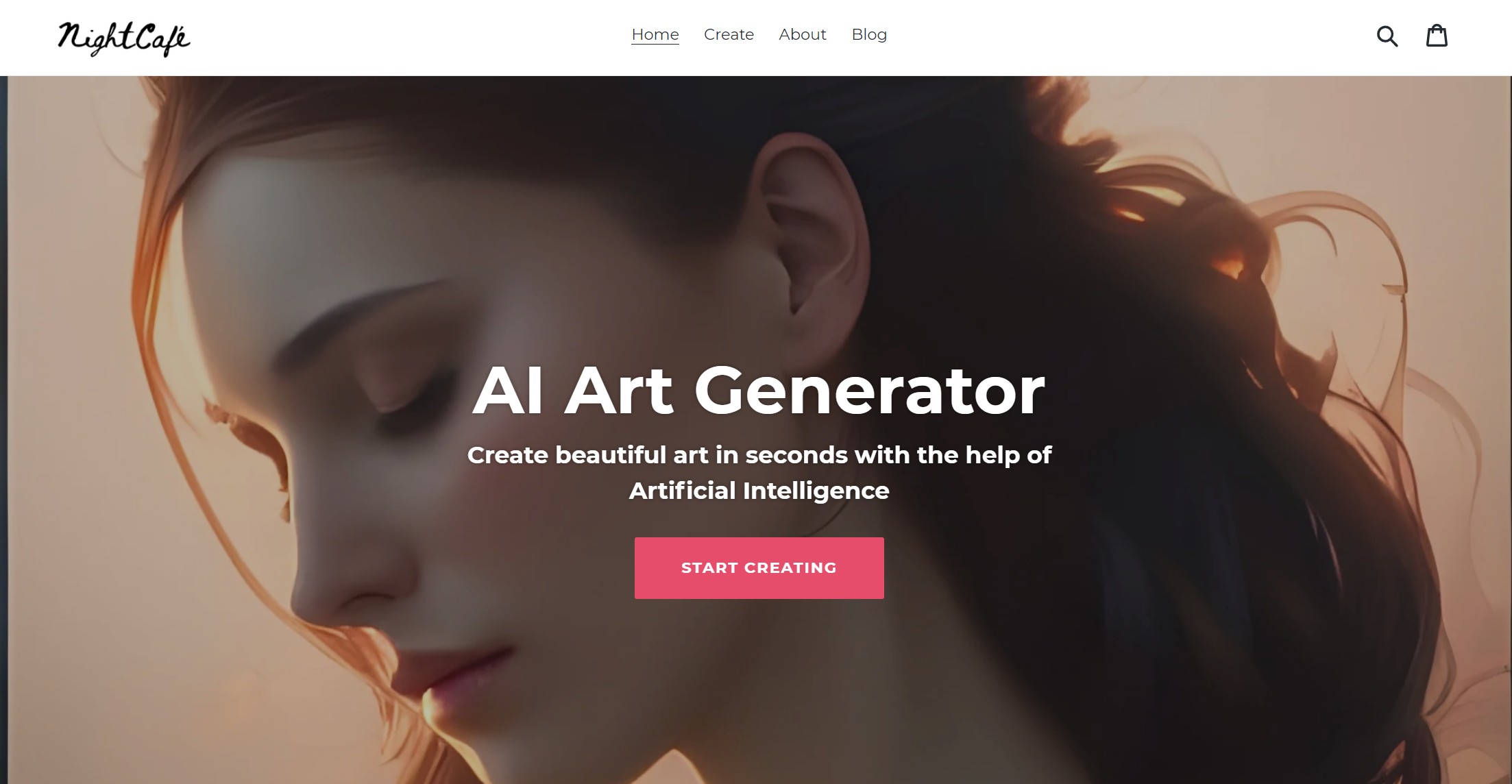 NightCafe empowers artists and creators to express their imagination and bring their artistic visions to life. By leveraging its advanced features, artists can create captivating and unique visuals that evoke emotions and engage their audiences. Whether you are a professional artist or an enthusiast, NightCafe provides a platform for limitless creativity and artistic exploration.
Key Features:
Customization and Control: Users have the flexibility to fine-tune and adjust the intensity of the applied artistic styles, allowing for personalized and unique creations.
High-Quality Output: NightCafe generates high-resolution and visually impressive results, ensuring that the artistic visuals produced meet professional standards.
Diverse Artistic Styles: The platform offers a wide selection of artistic styles, including Cubism, Anime, CGI Mecha, Fantasy, and more, providing artists with a diverse range of options to explore and experiment with.
Fotor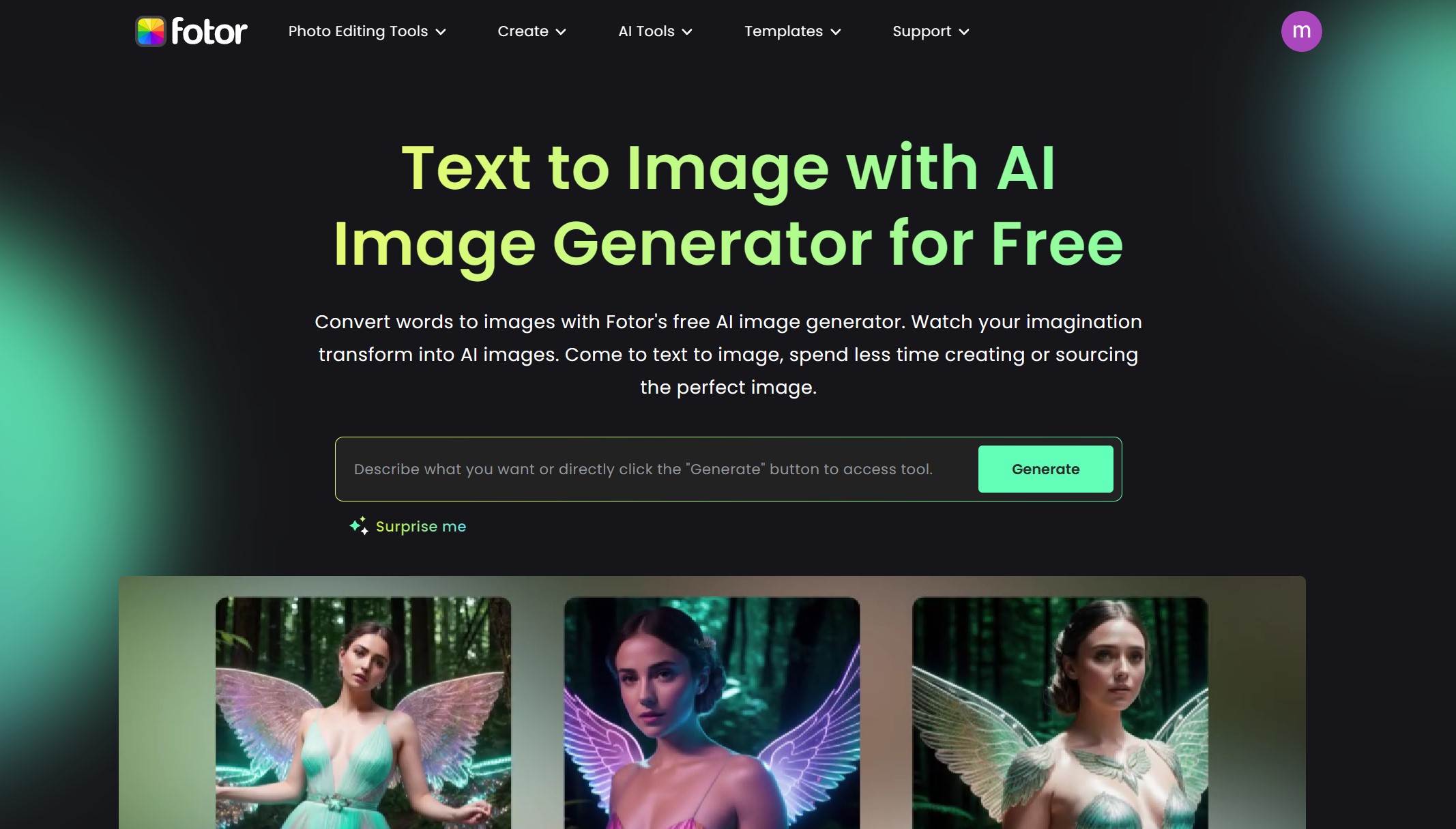 Fotor is a versatile platform that offers a range of powerful tools for editing and enhancing images. Among its impressive array of features, Fotor includes an AI Art Generator tool that enables users to create artistic visuals effortlessly. Fotor's AI Art Generator tool is a valuable asset for artists, designers, and photography enthusiasts who wish to transform their images into artistic visuals with just a few clicks.
Key Features:
AI Artistic Filters: Fotor's AI Art Generator provides a collection of pre-designed artistic filters that instantly transform ordinary images into stunning artworks inspired by various art styles and movements.
Customizable Art Effects: Users have the freedom to adjust the intensity and application of the artistic filters, allowing for personalized and unique artistic interpretations.
Easy-to-Use Interface: Fotor's user-friendly interface ensures that even beginners can navigate the platform and utilize the AI Art Generator tool with ease.
High-Quality Output: The AI Art Generator tool produces high-resolution and visually captivating results, ensuring that the artistic visuals created meet professional standards.
Hotpot.AI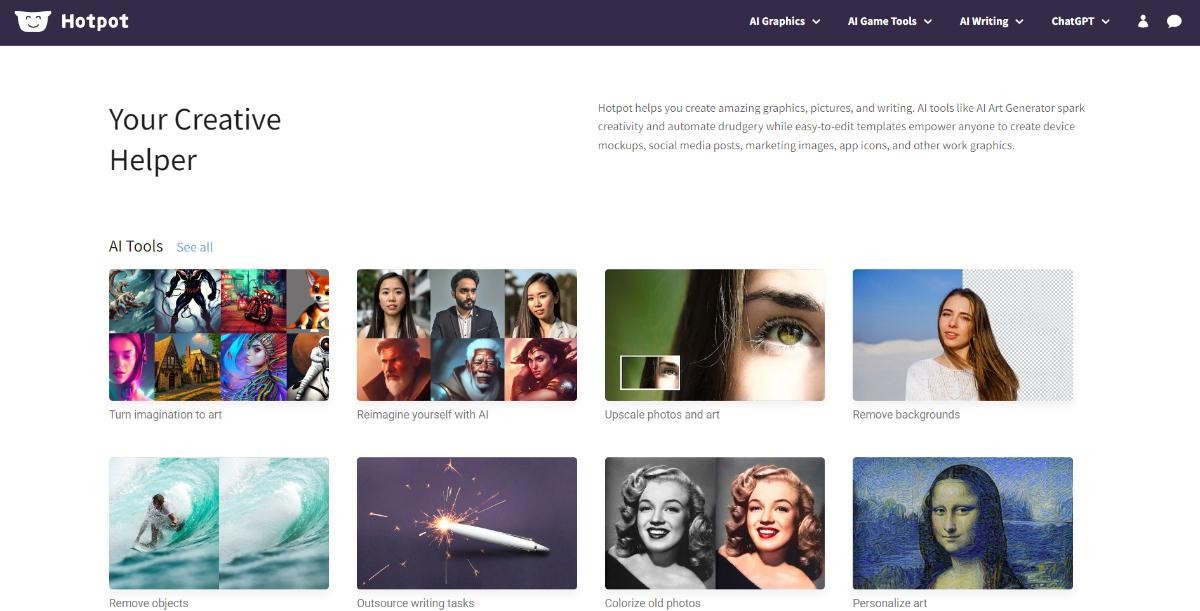 Hotpot.AI's AI image creator tool is an invaluable resource for artists and creators looking to generate artistic visuals based on their descriptions. Hotpot.AI is an exceptional platform that offers a range of powerful tools for creating artistic visuals. Its AI Art Generator tool stands out as a key feature, enabling users to generate stunning artwork simply by describing their desired visual concept.
Key Features:
Easy-to-Use Interface: Hotpot.AI provides a user-friendly interface that makes it accessible to artists and creators of all skill levels. The intuitive design allows users to effortlessly generate artistic visuals, even without prior technical expertise.
Customizability: The AI Art Generator tool offers customization options, allowing users to refine and fine-tune their creations. Users can experiment with different styles, colors, and compositions to achieve their desired artistic vision.
Creative Inspiration: Hotpot.AI serves as a valuable source of creative inspiration, especially for artists seeking new ideas or exploring uncharted territories. The AI Art Generator sparks imagination and encourages users to think outside the box.
Dream by WOMBO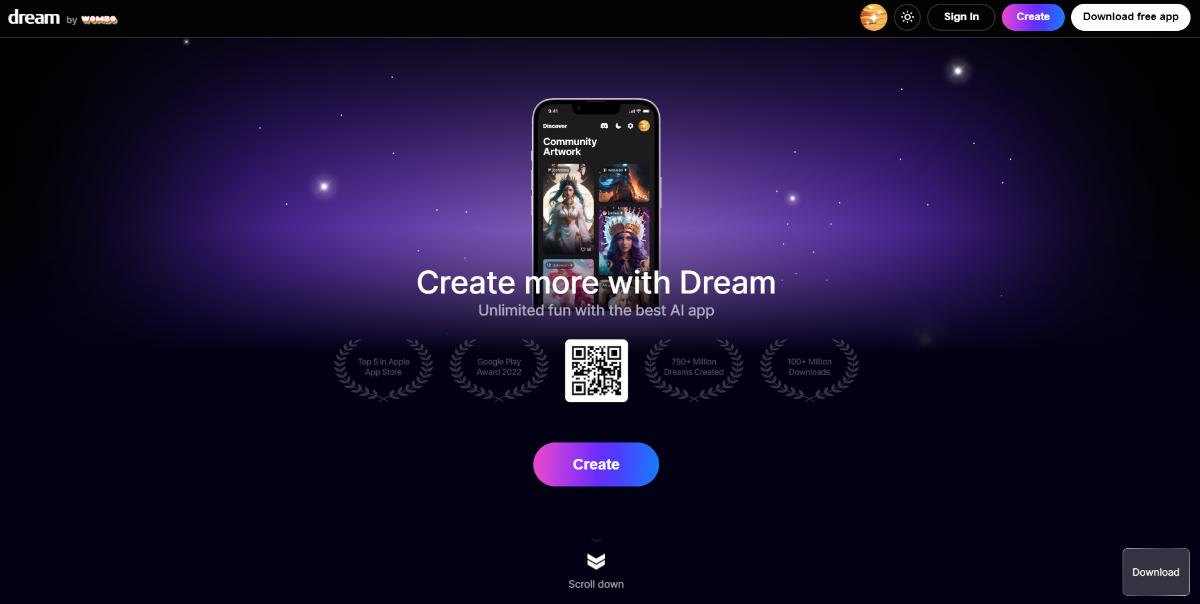 With its AI-powered technology, versatile artistic styles, and user-friendly interface, Dream by Wombo is a valuable tool for content creators looking to make interesting visual content.
Key Features:
Versatile Artistic Styles: Dream by Wombo provides a wide range of artistic styles to choose from. Whether users prefer abstract, surreal, or realistic styles, they can explore various aesthetics and find the perfect match for their artistic vision.
Customizability: The platform offers customization options to enhance and fine-tune the generated artwork. Users can adjust various aspects such as colors, composition, and style parameters to achieve the desired artistic effect.
Creative Inspiration: Dream by Wombo serves as a valuable source of inspiration for artists and creators. By generating visual interpretations of their ideas, it sparks creativity and provides new perspectives, encouraging users to explore unique artistic concepts.
Conclusion
Starry AI has a lot to offer. In terms of performance, it can certainly deliver impressive visuals that are not only pleasing to look at but useful as well. The Starry AI free version offers a limited number of choices in terms of art styles that you can create but the full version has a wide range of styles to choose from. This enables users to keep experimenting with their Starry AI prompts and images. It can also help many content creators to repurpose their visuals or to present them in different ways.
While Starry AI is a strong AI image generator application, users can still consider many Starry AI alternative apps to use alongside it or separately. In this guide, we took a brief look at five such alternative apps. Similar to Starry AI, you can use apps such as VanceAI or Fotor if you want to have an intuitive UI and multiple choices in art styles. As you may have seen from the VanceAI section, the tool is capable of providing unique abstract artwork.
Do you find this post helpful?