What is Wonder AI?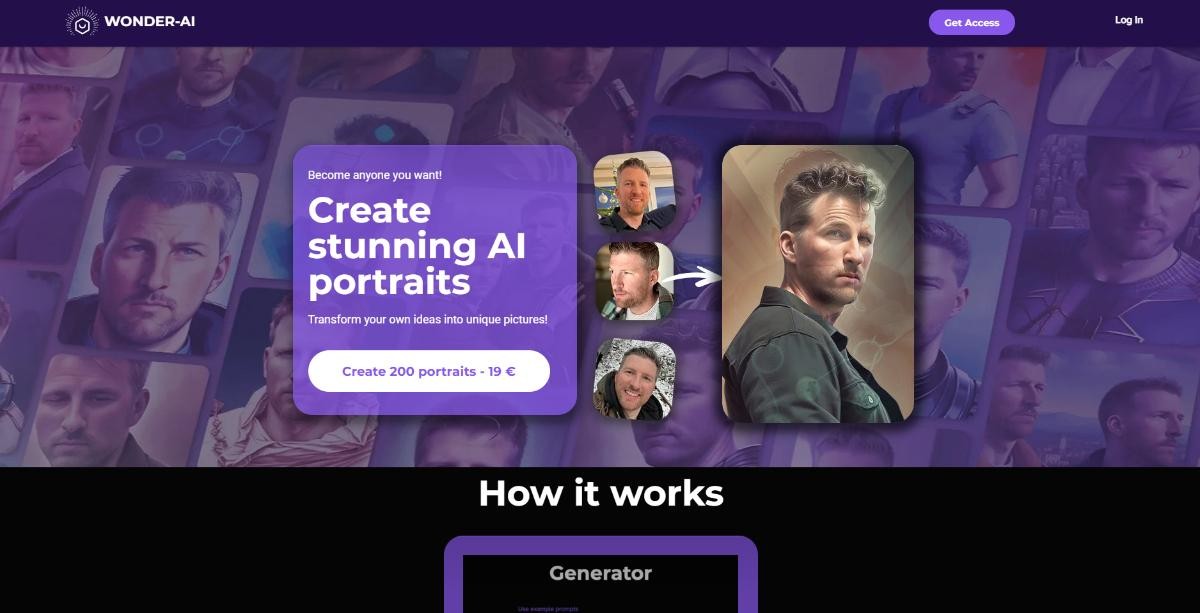 AI-generated images have gained significant popularity in various fields, including online video thumbnails and marketing materials. These images offer a unique and eye-catching aesthetic that can capture viewers' attention and convey messages effectively. With the rise of AI technology, platforms like WonderAI Art Generator have emerged to provide users with a convenient and efficient solution for generating artistic images. The Wonder AI generator has a capable AI system and set of features that provide users with good results.
Wonder AI is a tool that can be used by many professionals, especially those who are involved in some sort of creative task, such as creating visuals for online marketing, content creators, etc. We will get further into the Wonder app AI, Wonder studio AI, and other aspects.
Key Features:
User-Friendly Interface: WonderAI offers a user-friendly platform, making it accessible to users with varying levels of technical expertise.
Advanced AI Algorithms: The platform leverages advanced AI algorithms to generate artistic images based on user input and preferences, allowing for customization and control over the final results.
Customizable Options: Users can specify parameters such as colors, textures, and styles to guide the image generation process, ensuring the generated images align with their intended purpose or branding.
Diverse Artistic Styles: WonderAI provides a wide range of artistic styles and options, allowing users to explore various aesthetics and choose the style that best suits their needs and preferences.
Pros:
The generated images have a distinct and eye-catching aesthetic, making them ideal for online video thumbnails, marketing materials, or any other creative projects that require visually striking visuals.
WonderAI's user-friendly interface makes it accessible to a wide range of users, including content creators, marketers, and individuals looking to enhance their visual content.
Cons:
There can be more customization and personalization options or tools given to the users.
Wonder AI vs Midjourney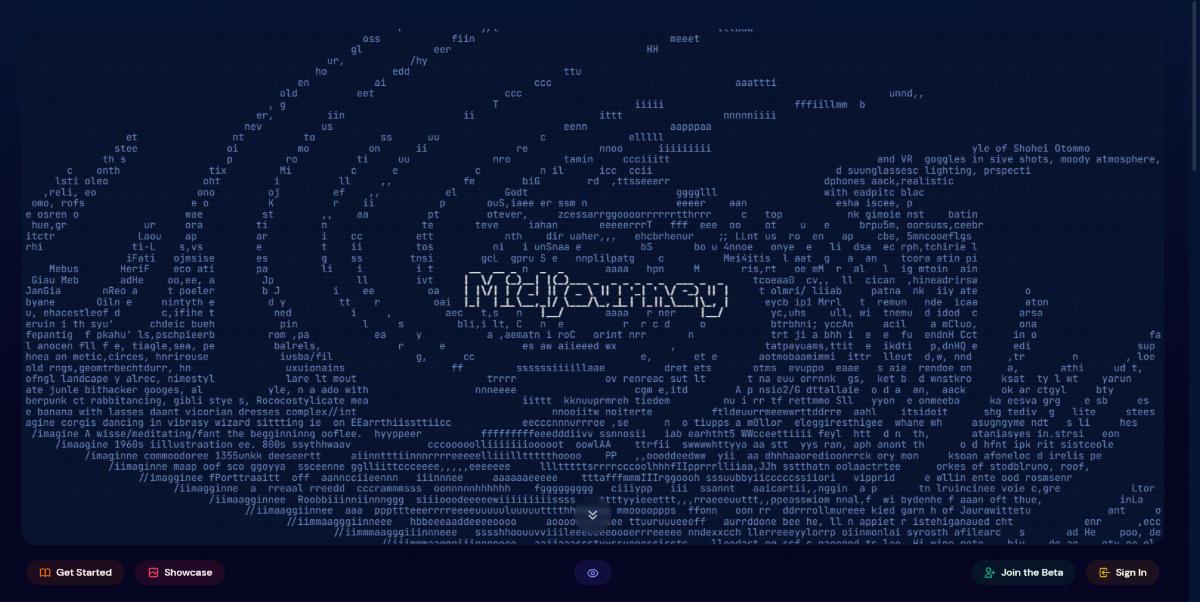 The Wonder AI app is pretty useful in many cases and has potential. In this section, we compare Wonder AI online with Midjourney, one of the most popular AI image creation apps.
When comparing Wonder AI and Midjourney in terms of performance, accessibility, and speed, there are some notable differences. In terms of performance, Midjourney takes the lead due to its highly sophisticated AI technology, which is considered one of the best in the field. Midjourney's AI capabilities allow for the creation of immensely detailed images.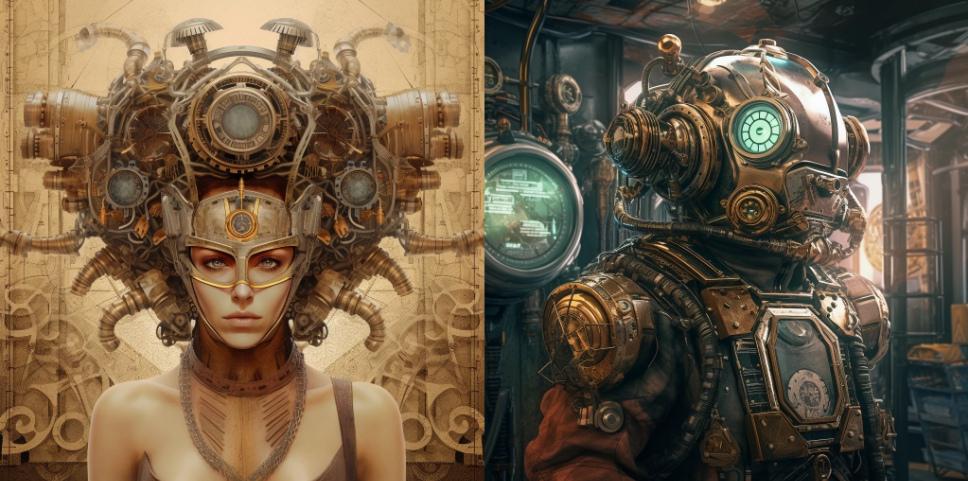 Regarding accessibility, both Wonder AI and Midjourney have their strengths. Wonder AI is a simple website app that offers a user-friendly interface, making it easily accessible to a wide range of users. Its straightforward approach ensures that users can quickly understand and navigate the platform without confusion. On the other hand, Midjourney requires users to install Discord and make additional arrangements, which can be more cumbersome and potentially confusing for some users.
When it comes to speed, both Wonder AI and Midjourney rely on AI technology for image processing. Therefore, the speed of processing is generally comparable between the two platforms.
How Does Wonder AI Work?
Wonder AI leverages advanced AI technology to power its image generation capabilities. At its core, Wonder AI utilizes deep learning algorithms, specifically generative adversarial networks (GANs), to create stunning and artistic images. GANs consist of two neural networks — the generator and the discriminator—that work in tandem to produce visually appealing outputs.
How to Use Wonder AI App?
Step 1: Click on Wonder AI art tool to access the online page of the tool. After that, click on the button given to get to the next page.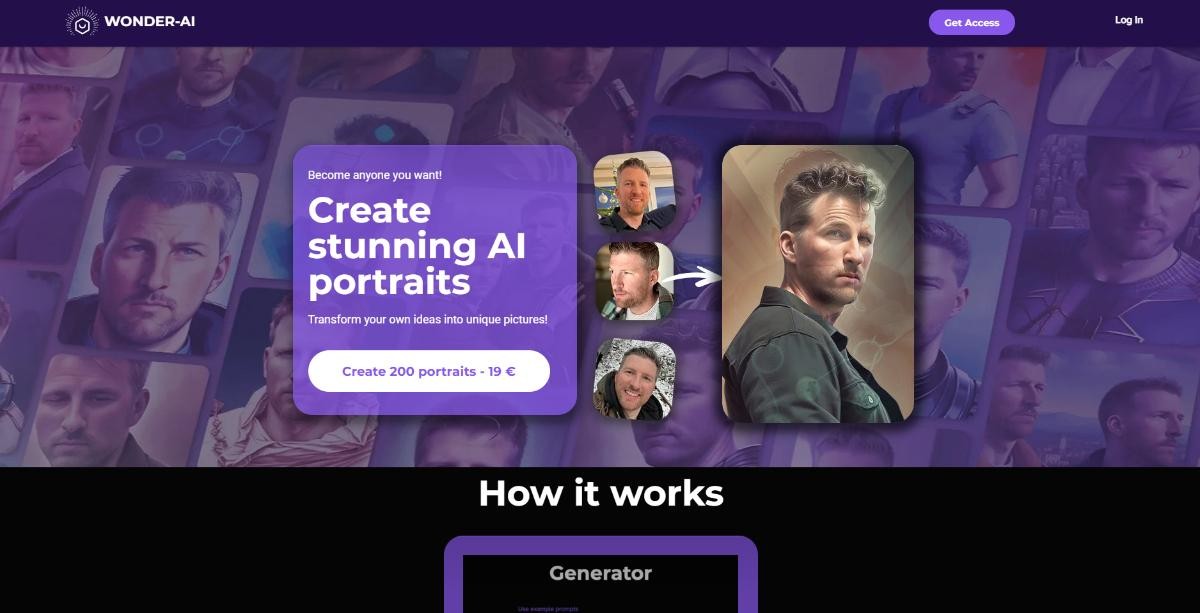 Step 2: You will be redirected to the payment page wherein you will need to enter details. Is Wonder AI free? Not really, as you need to subscribe first. After that, you can use the tool.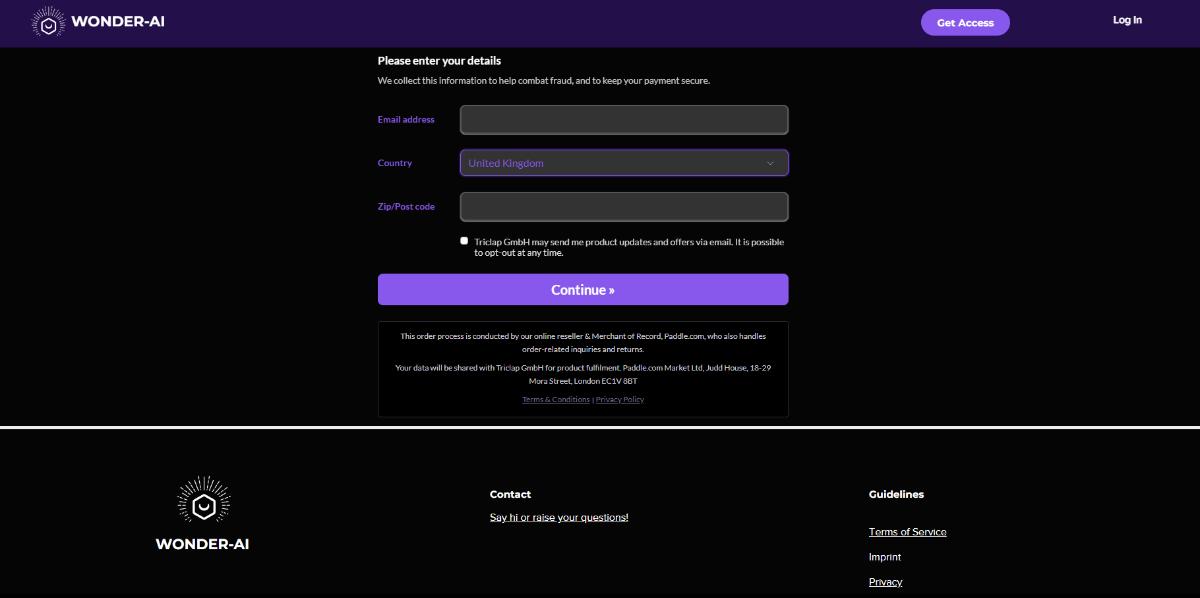 Step 3: Input the preferences, Wonder AI prompts, and use the other settings to get the output that you want. After the image is ready, download it using the options given.
Best 5 Alternatives to Wonder AI
VanceAI Art Generator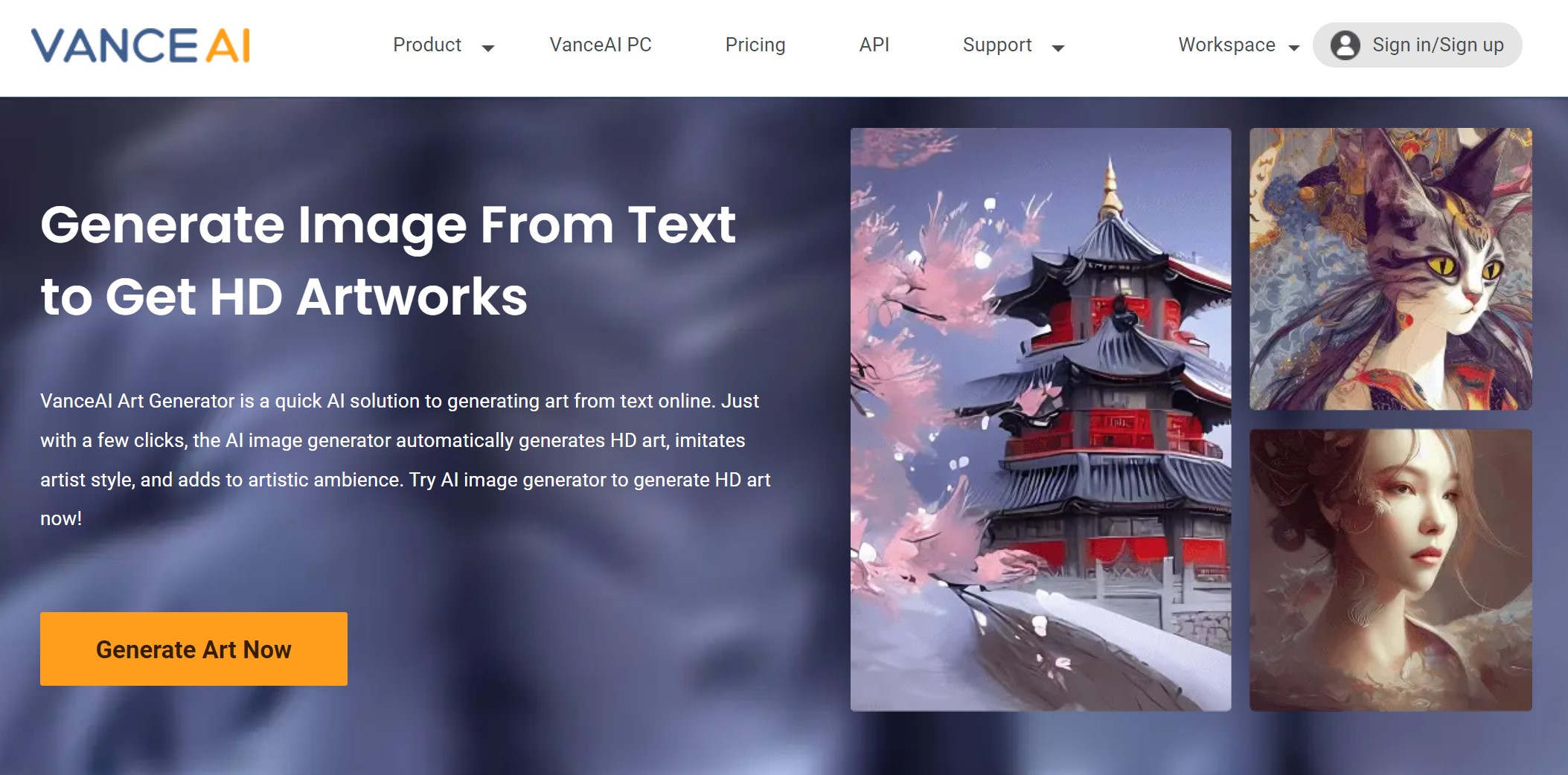 VanceAI Art Generator is an exceptional tool designed to assist users in creating captivating and artistic images that can be used for various purposes online. Whether it's for content creation, online thumbnails, or display photos, VanceAI Art Generator offers a wide range of features and functionalities to help users bring their creative visions to life. With its user-friendly interface and powerful algorithms, VanceAI Art Generator empowers users to generate visually stunning and attention-grabbing images with ease.
Key Features:
Image Transformation: Users can upload their own images to VanceAI Art Generator and apply various transformations, such as altering colors, adding artistic filters, adjusting textures, or changing the overall composition. This feature allows for the modification of existing images to align with desired artistic aesthetics.
Integration with Other Tools: VanceAI provides many other image editing and enhancement tools that offer convenient integration with various options, making it effortless to use the generated images for online content, thumbnails, or display photos.
High-Resolution Outputs: The generated images from VanceAI Art Generator are produced in high resolution, ensuring that the final results maintain their visual integrity and quality even when used for large-scale displays or printed materials.
How to Use:
Step 1: Upon accessing the tool's home page using the provided link, locate and click on the designated button to progress to the next step.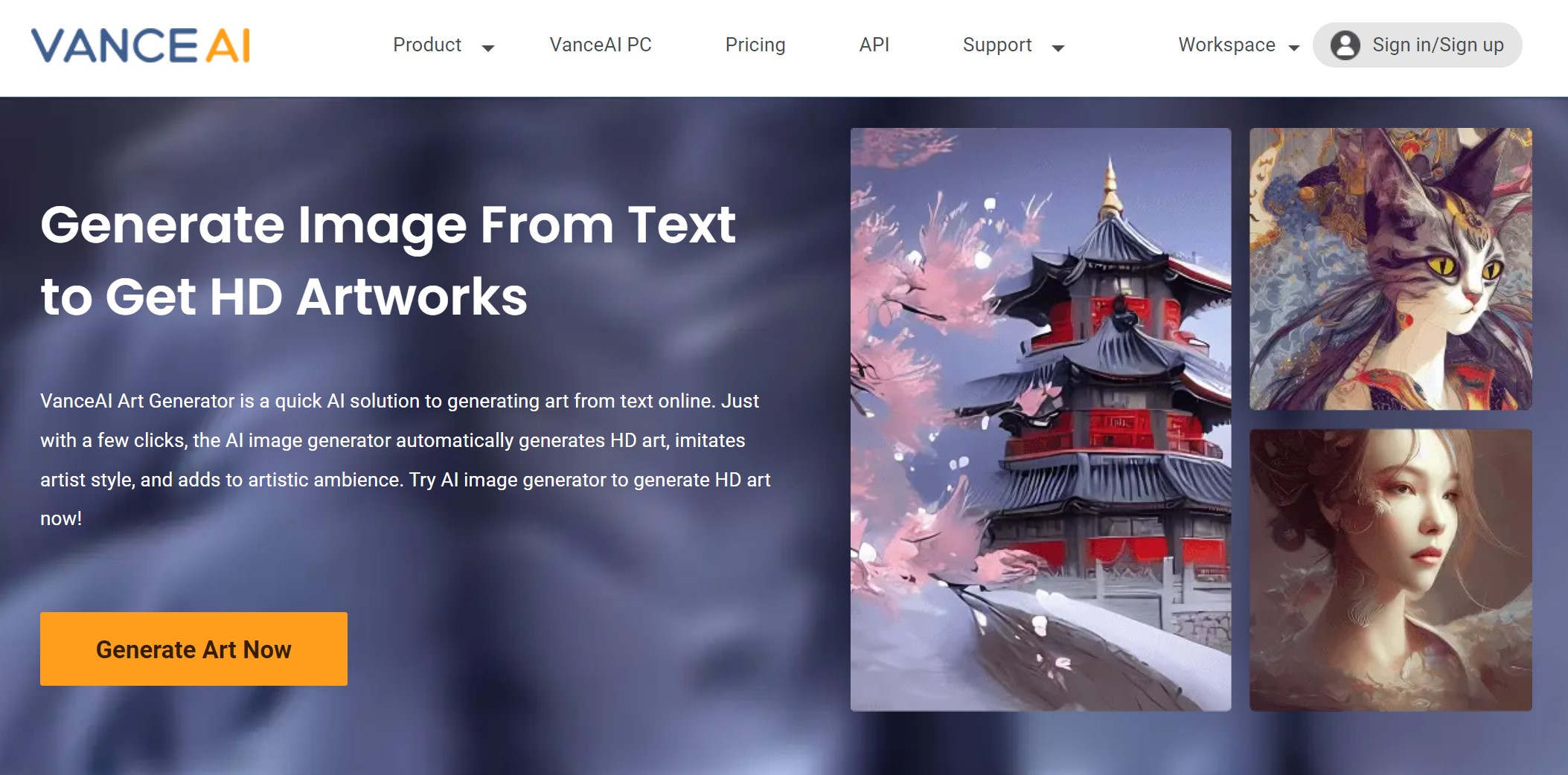 Step 2: Utilize the Workspace and its range of features, including the reference image upload function, to customize your desired output. Once you have made the necessary adjustments, click on the "Create" button to initiate the image creation process.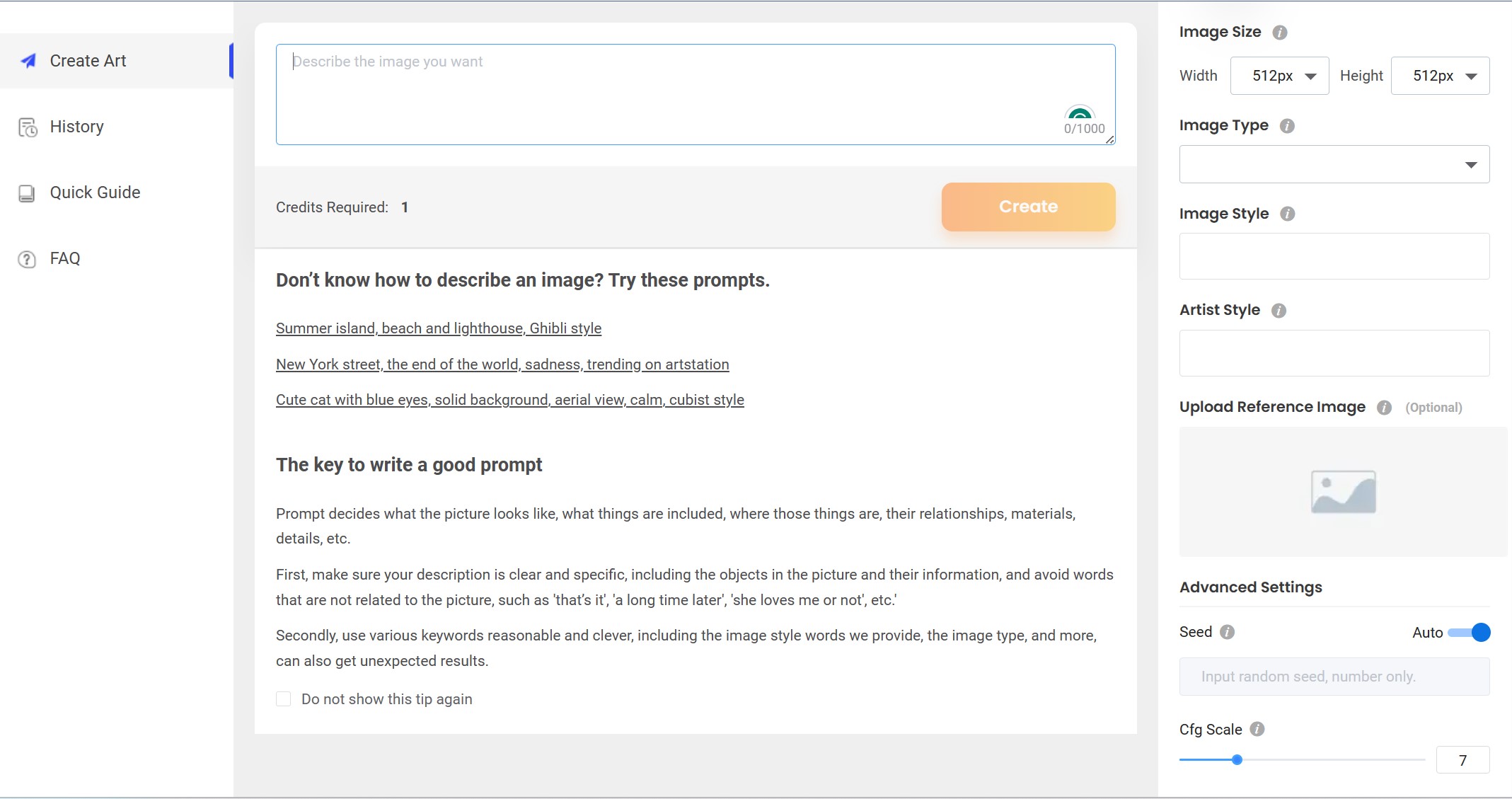 Step 3: The tool will process the image for a brief period, and shortly thereafter, you will be presented with the results. Use the available download options to obtain the generated image according to your preference.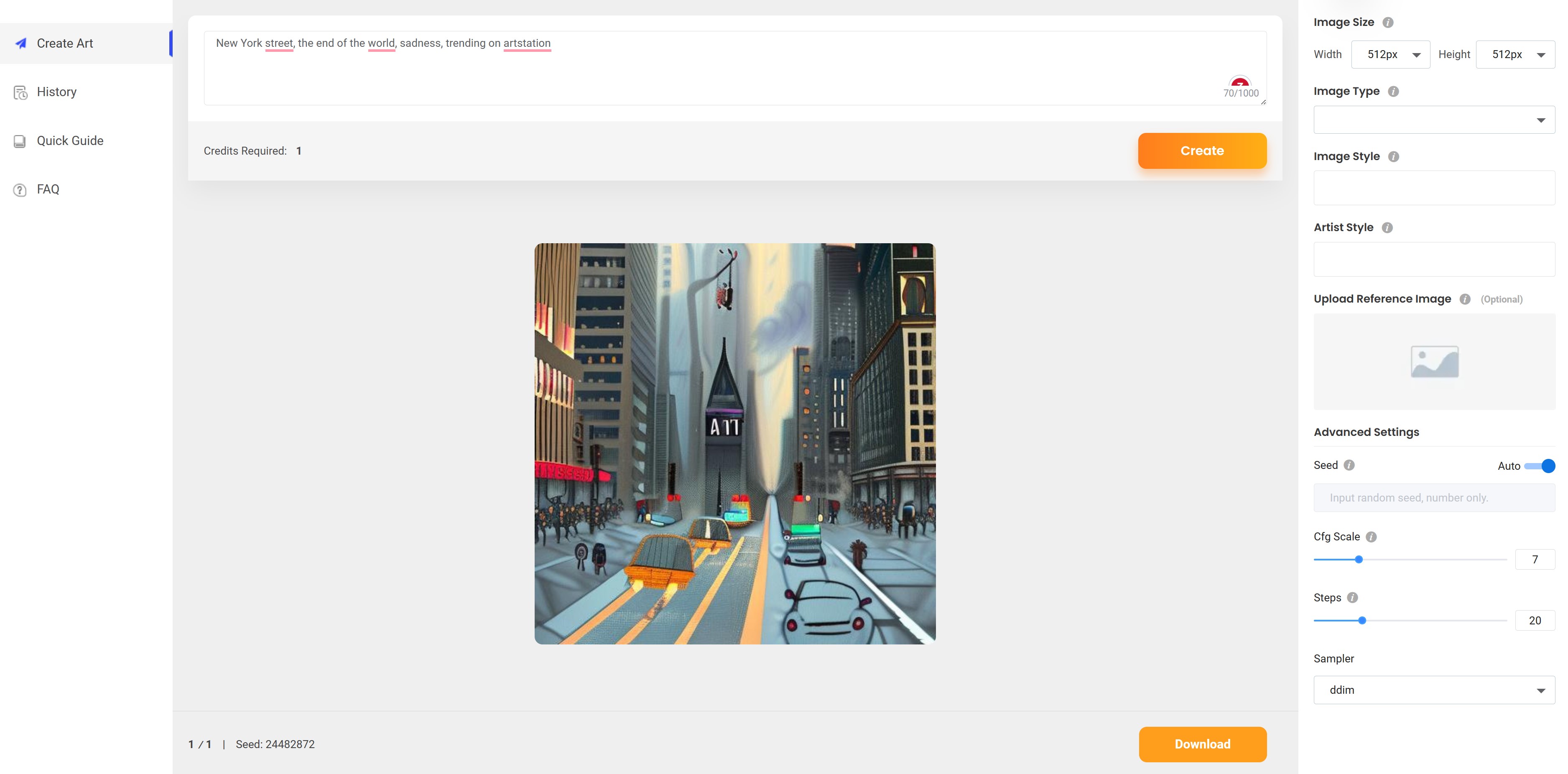 Fotor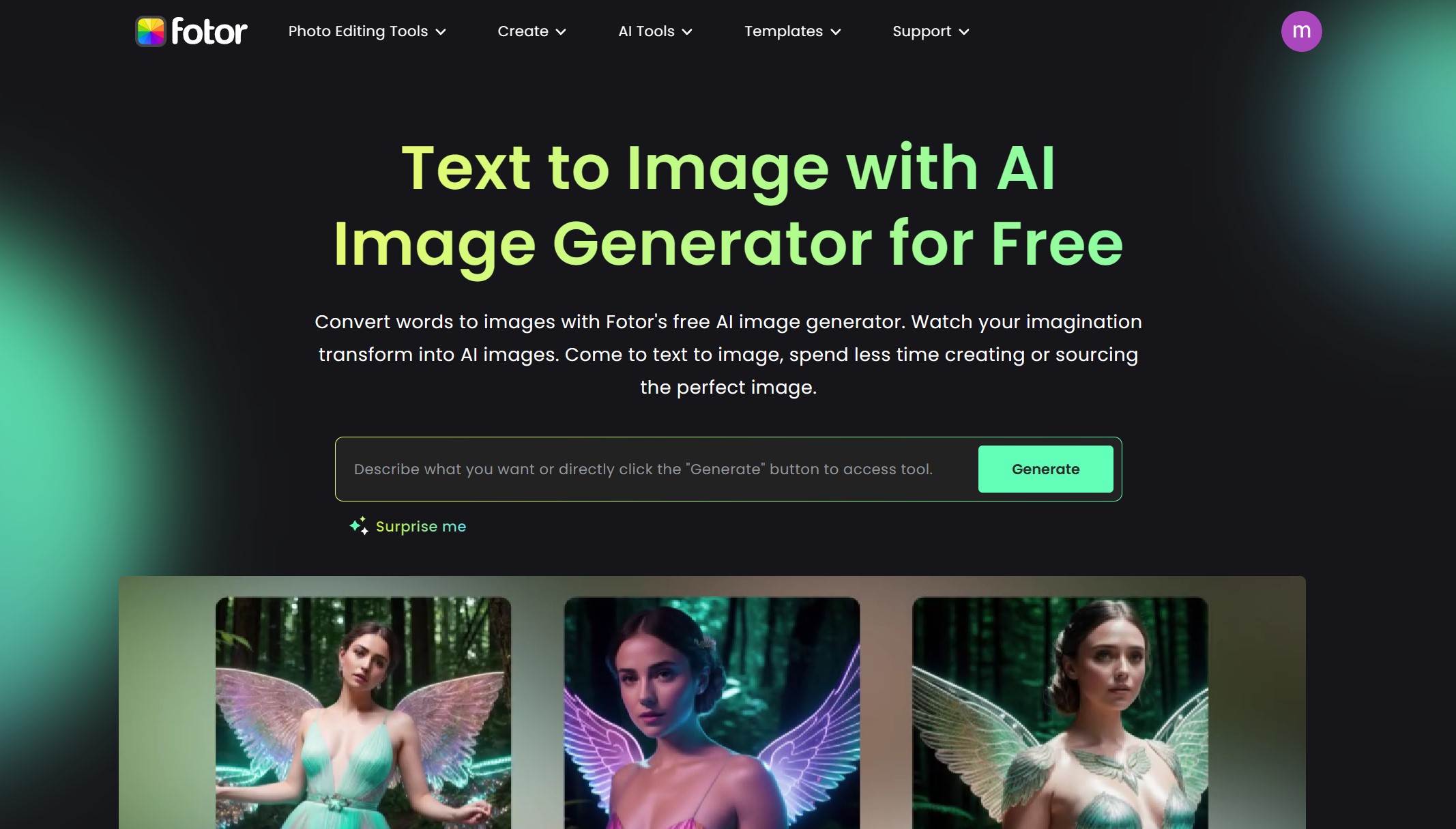 Fotor AI Art Generator is a powerful tool designed to assist users in creating artistic images that can be utilized online for various purposes such as content creation, thumbnails, or display photos. With its advanced AI technology and an array of key features, Fotor AI Art Generator offers users the ability to generate visually captivating and impactful images with ease.
Key Features:
Quick and Efficient Processing: Fotor AI Art Generator leverages advanced AI algorithms to ensure quick and efficient processing of images. Users can generate artistic images at impressive speed, enabling them to save valuable time and seamlessly integrate the generated visuals into their online content.
High-Quality Outputs: The tool produces high-resolution images, allowing users to achieve professional-grade results suitable for display across various online platforms. The high-quality outputs ensure that the artistic images retain their visual integrity and impact, even when used as thumbnails or display photos.
User-Friendly Interface: Fotor AI Art Generator features a user-friendly interface, making it accessible to users with different levels of technical expertise. The intuitive design and streamlined workflow allow users to navigate the tool effortlessly.
Craiyon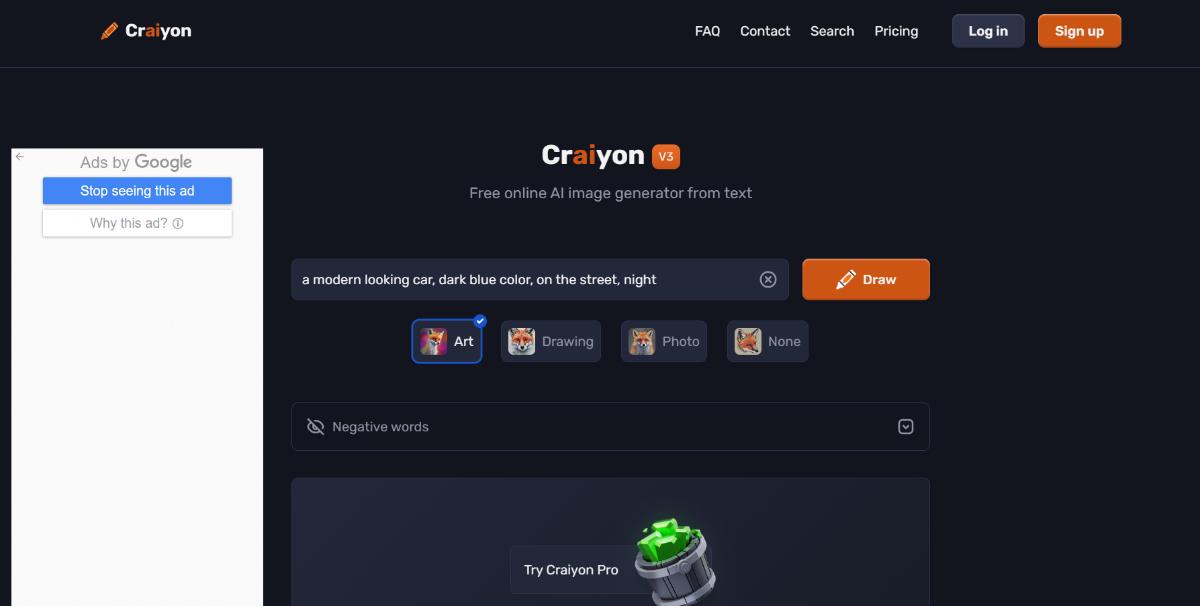 Craiyon offers various styles to choose from, including art, drawing, and photo styles, or users can opt for no specific style. Craiyon also provides a "Try Craiyon Pro" option for premium features such as faster results, no watermark, and an ad-free experience. The platform offers suggestions for prompts and provides similar image recommendations. It also includes a Discord community for users to share their AI-generated art and offers a newsletter for updates on upcoming features.
Key Features:
Discord Community: Craiyon has a Discord community where users can share their AI-generated artwork and engage with other users.
Prompt Suggestions: Craiyon offers suggestions for prompts to assist users in generating their desired images.
Premium Pro Features: Craiyon Pro provides premium features such as faster results, no watermark on generated images, and an ad-free experience.
DALL-E 2 by OpenAI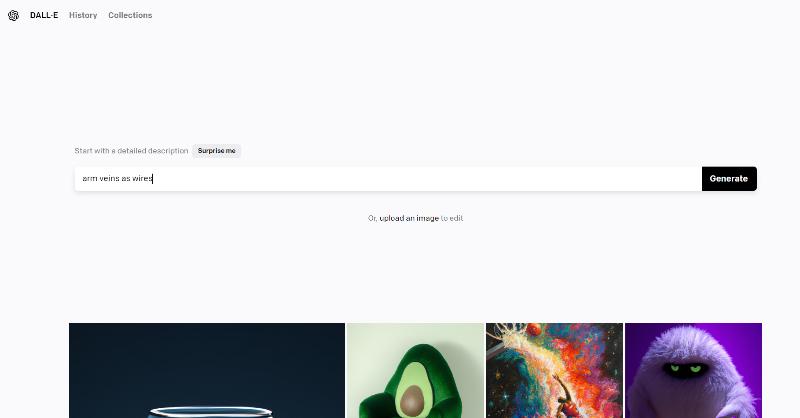 Dall-E's text-to-image generation capabilities and versatile outputs make it a valuable tool for artists, designers, content creators, and anyone seeking to leverage AI technology to produce visually captivating and engaging imagery.
Key Features:
Broad Range of Applications: DALL·E's generated images can be seamlessly integrated into different online contexts, including websites, social media platforms, and digital marketing materials.
Unconstrained Creativity: The AI model encourages creative exploration by offering the freedom to generate images based on almost any textual concept or idea. This flexibility allows users to bring their artistic visions to life and create images that are truly compelling.
NightCafe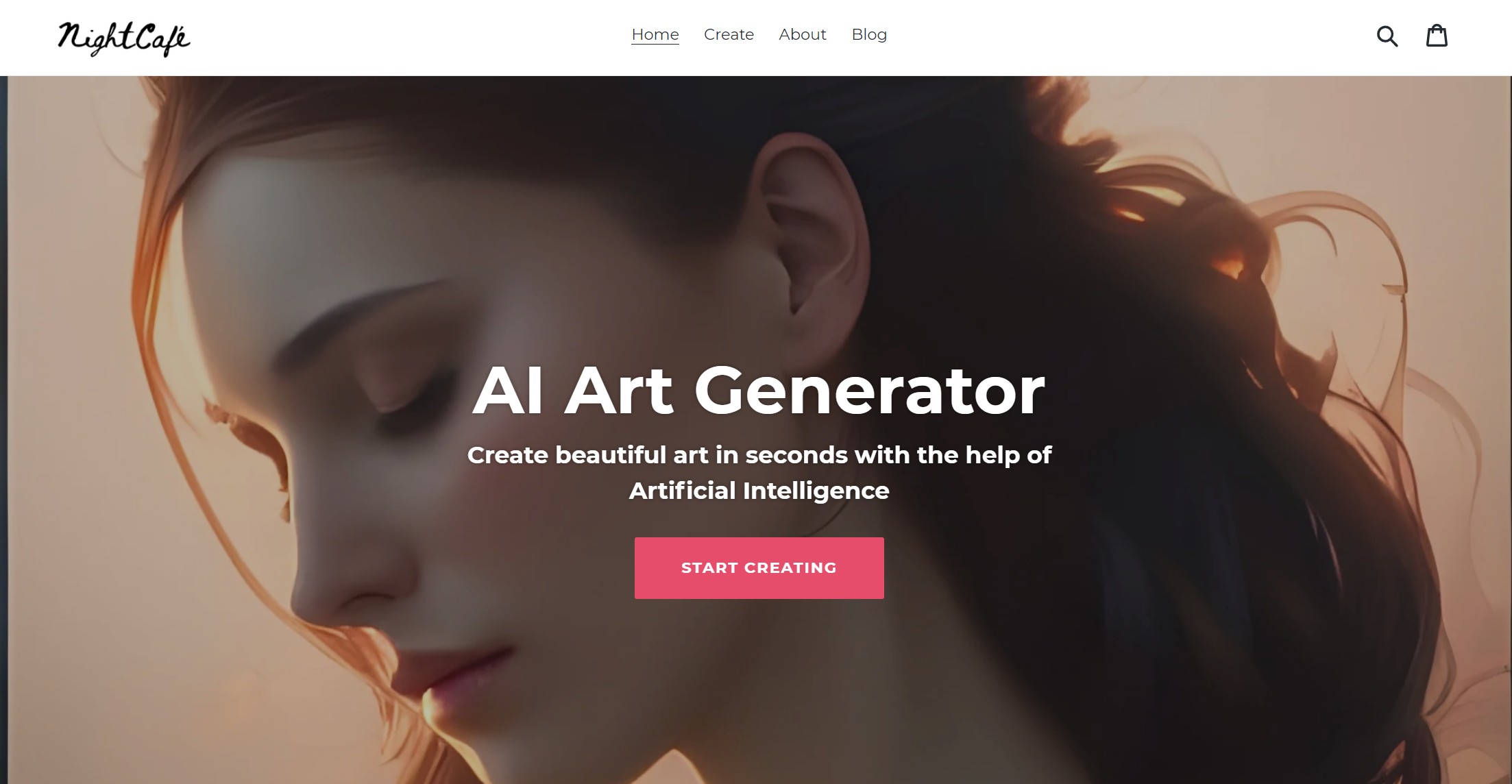 NightCafe is a dynamic online platform designed to assist users in creating artistic images that can be used for various purposes, such as online content, thumbnails, and display photos. With its unique set of features and tools, NightCafe empowers users to bring their creative visions to life.
Key Features:
Intuitive Editing Tools: NightCafe provides an array of intuitive editing tools that allow users to enhance their images further. These tools include adjustments for brightness, contrast, saturation, and other parameters.
Easy Sharing and Integration: NightCafe simplifies the process of sharing artwork by providing convenient options for directly sharing the created images on social media platforms.
Customizable Effects: The platform provides users with options to customize and fine-tune the artistic effects applied to their images. This level of control enables users to create highly personalized and distinctive artworks.
Conclusion
Wonder AI stands out for its impressive UI design, performance, and range of features, making it accessible to users of all expertise levels seeking to generate high-quality images, particularly portraits and avatars. The website's user-friendly interface ensures a smooth and intuitive experience, allowing users to navigate the platform effortlessly. With its powerful AI technology, Wonder AI delivers satisfying results, enabling users to create visually appealing artwork.
However, one drawback of Wonder AI is its relatively high price tag, especially when compared to other AI tools like Fotor, VanceAI, Midjourney, and more, which offer similar or even more features at a lower cost. Therefore, while Wonder AI is a viable option, users are encouraged to explore and consider the alternatives discussed in this guide.
Do you find this post helpful?