Pictures hold memories in them. They keep a record of the greatest moments of our lives and connect our past with the present while giving us a chance to live these moments again and again.
Childhood is undoubtedly the golden period of life. Your life teaches you a ton of precious lessons for your own good. While looking at your childhood pictures you see the growth and development of not only your body but also your character.
Recreating your childhood photos is an enjoyable activity to reminisce about the good old days. If you have some old photos of yourself then restoring and renewing them is as easy as a piece of cake with VanceAI Photo Restorer.
By using deep learning, it can restore your pictures to anew by removing scratches, fractures, spots, etc. VanceAI Photo Restorer also does the face and quality enhancement while providing the data safe guarantee to its users.
What is recreating childhood photos?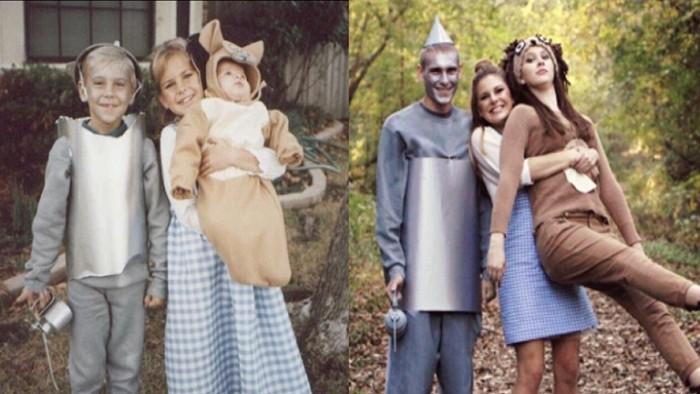 Childhood is the most fun and memorable age of one's life. You have no worries about getting into a college or paying the bills on time and this reflects in your childhood pictures.
Recreating your childhood photos can take you on a trip to those nostalgic moments of your life. You can also use photo enhancer to enlarge or sharpen image so as to increasing definition. All you need to do is to find similar outfits and people as in the picture and strike a pose as you did back then.
Restore and colorize your old photos
With the evolution in technology, cameras have developed and become more modern. Your old pictures can look dry and dull. Don't worry about this because VanceAI always has your back. You can restore your photos using VanceAI Photo Restorer.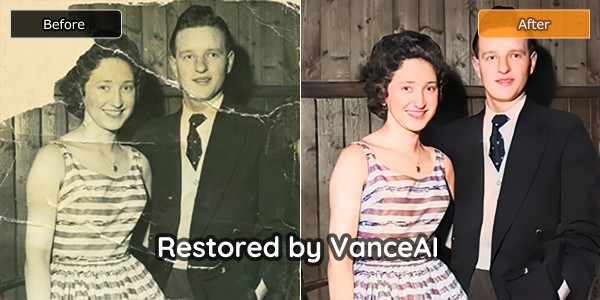 With a drag and drop, you can remove the scratches, spots, creases, and tears from your pictures in a few seconds. It helps you sharpen the colors and enhance faces while increasing the image quality.
Here is the before and after the result of a picture restored using VanceAI Photo Restorer. You can see that the colors have brightened and the signs of scratches are minimized.
You can also colorize your old black and white childhood photos using the VanceAI Photo Colorizer. Using deep learning and a new color correction feature, VanceAI can give life to dull pictures by fixing the yellow tint and enhancing the details of the pictures.
You can also take a step ahead in your old photo restoration by removing scratches. Additionally, it can also help remove the noise and blur from the pictures and provides a data safe guarantee to its customers. Take a look at this comparison photo to see the results.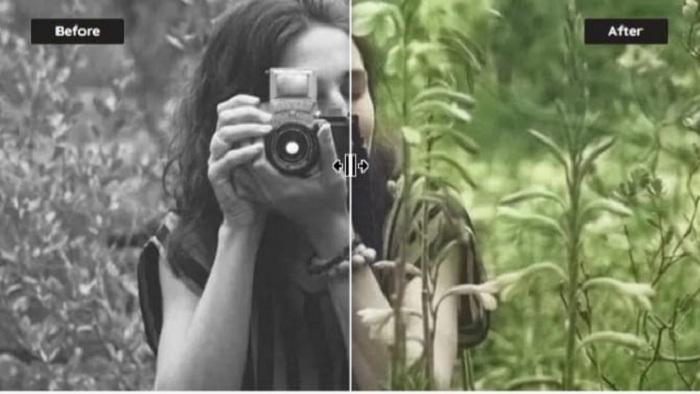 If you want to find more photo editing tools, you can go to VanceAI website and explore more possibilities.
8 tips to recreate childhood photos
Adults recreating childhood photos has become a hot trend nowadays. You see tons of recreated pictures every day while scrolling through your social media. Well, it's good news that this isn't as hard as you might think. Read on to know about the basic tips and tricks to reenact your memorable moments as a child.
Search the photo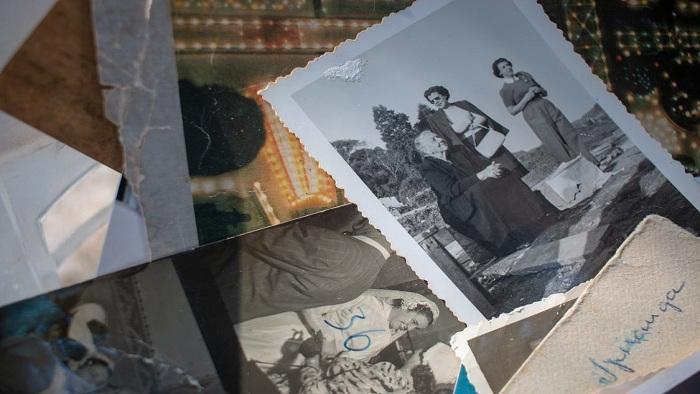 Searching for the best photo is the first thing you need to do while recreating your photos because you only can get the expected results with the original photo.
You can skim through old albums and folders to pick out the most suitable picture. You can choose pictures from your third birthday or when you attended a family wedding as a child. Before selecting the picture, make sure it is not damaged or altered.
Gather the person in the photo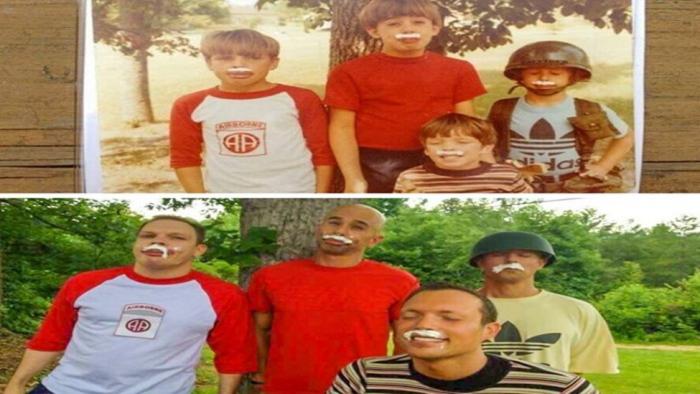 Is the photo of you and your friends or siblings? Well recreating them alone will portray half of the story. Try to make them participate in this experience as well.
Your friends or siblings may be shy at first but once it gets started they will start enjoying the process over time. With thousands of waves of laughter and nostalgia, you may find your inner child again.
Choose the similar background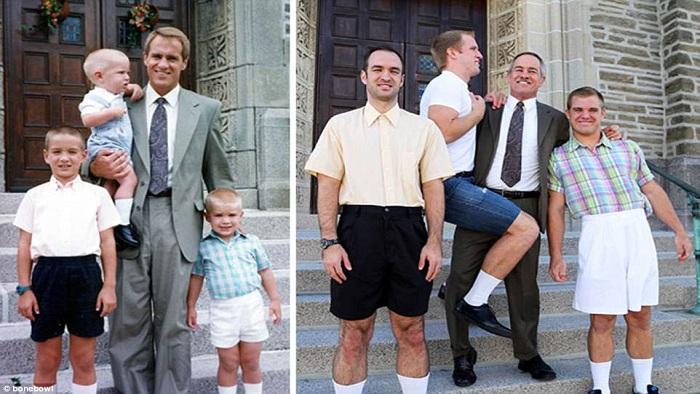 The background is the key point of every picture. It is better if you try to go back to the same place where you previously took the photo or on the same chair you sat on.
Try to copy the details as much as you can but if you can't find the same background don't worry about it. You can use a neutral background so that all the focus is on the main subjects.
Get the clothes right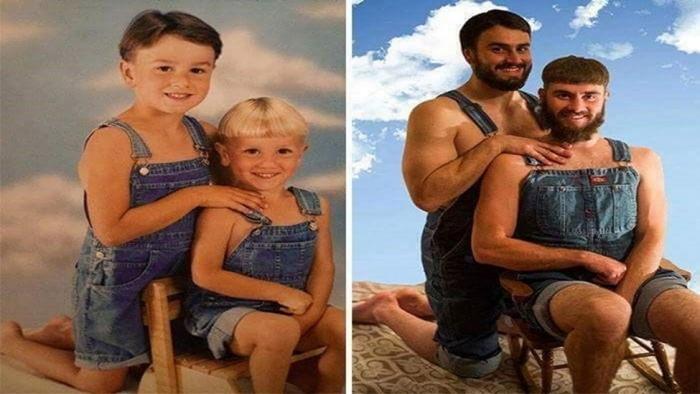 Were you wearing a bright red mickey mouse dress in the picture? Well, clothes are the most important things when recreating your childhood photos.
It's a sure thing that you will be unable to fit into your clothes from 10 years ago, so don't hesitate to visit the market or ask your friends or relatives to find similar clothes.
Strike a pose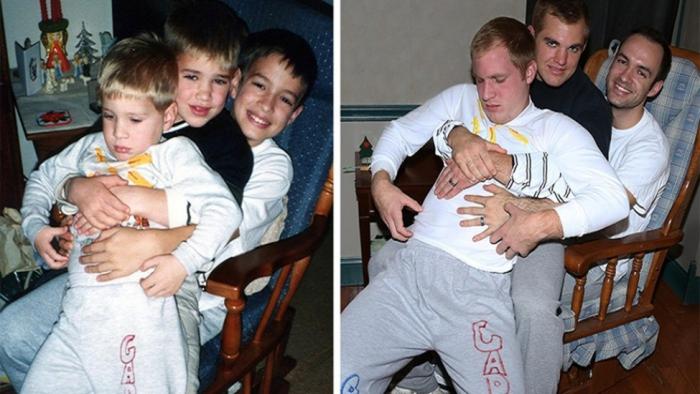 We must agree, we all were a bit cringey and goofy back then. Don't be afraid to strike the same pose as you did in your picture two decades before. Make sure to get the hand postures and leg positions right to create surprisingly similar recreations.
Facial expressions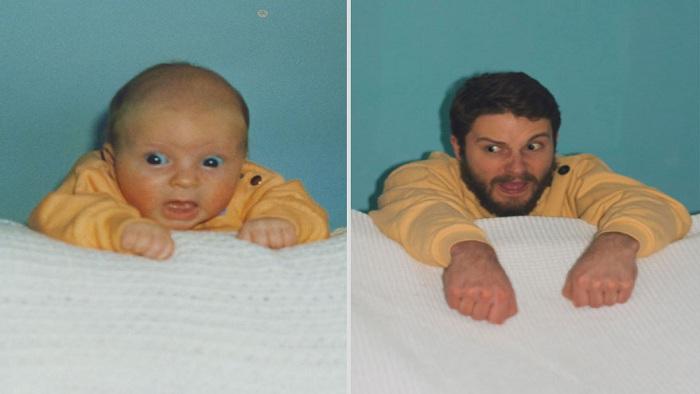 Were you rolling your eyes backward or sticking your tongue out playfully? Stop overthinking about what people around you might think. It is time to find the lost child in you.
Facial expressions exhibit personal emotions and are the essence of the pictures. You certainly don't want to get them wrong.
Baby pictures are the funniest to recreate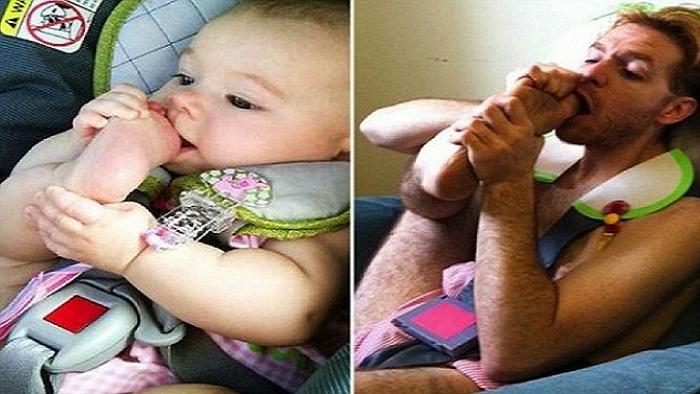 It is rightly said, "OLD IS GOLD". Recreating childhood photos as adults is a very fun activity that can take you back to the old times when you had absolutely nothing to stress about.
It would be really funny to reenact a photo where you, an adult, are being fed a bottle of milk by your mother instead of a child. If you want to recreate a photo where you are only wearing underwear, don't let a little nudity put you off!
The cake is the key point!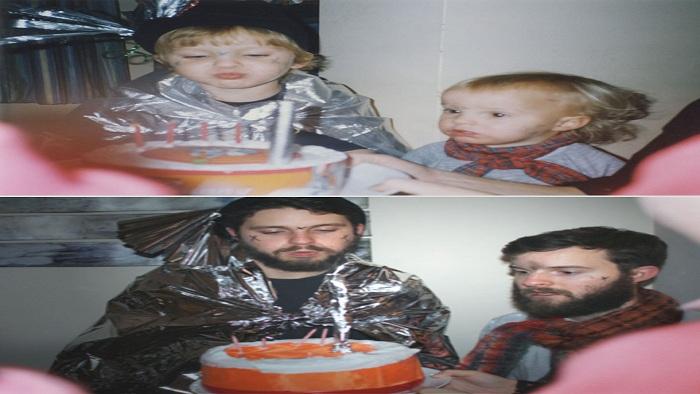 If you want to recreate a picture from your birthday, make certain that you get the cake right. Try visiting the same shop or you can always have it customized by the experts. Try using the same color balloons and the same number of candles to get unexpected similar results.
FAQs
Q: Why is it so popular to recreate childhood photos on TikTok?
TikTok has become one of the fastest-growing social media platforms in the world. It allows you to create videos or pictures that you would be unable to create otherwise. Using different filters, music, and video speeds you can get the desired results.
It is best for people recreating childhood photos. People use this app to recreate their childhood photos and post them on the platform. In fact, after social media found bts recreating childhood photos, recreating photos on TikTok has become a trend and people participate in it from all over the world.
Conclusion
Recreating childhood photos is one of the top trends on the internet at the moment. To get the right picture you need to pay special attention to minor details like clothes, background, poses, props, etc.
VanceAI Photo Restorer and Photo Colorizer can make this process easy for you by enhancing your image quality and giving color to your lifeless old photos by using advanced AI technology.
Now that you know all the tips and tricks to recreate your childhood photos and the modern VanceAI restoring and colorizing tools, why don't you go ahead and recreate a picture or two with your friends or family? Read more:Vintage Photo Effect In Photoshop And Its Alternatives