At times, if your work revolves around editing images, you might find it quite tedious when you try to remove watermark from photo or even inpaint. Inpaint online basically is to remove any kind of an unwanted element in your photograph, like a wandering tourist. Say if you are writing and uploading a blog online, or the time when you have an important assignment and you want to use a certain image or even for the background of your product or any other business-related work. One cannot use images with watermark so it is simply best if you do not have a logo inpaint on that image. After all, no matter how rich the picture may be, there will still be a flaw or two in it. If you go to edit it by hand, either the quality of your edited image has degraded drastically or the background has been compromised, making it look aesthetically unappealing.
What exactly is inpaint?
Inpaint is a software that helps you to rest easy. It can be used for efficient inpaint online, photo watermark remover and other noteworthy features. It is downloadable software. You can also make use of it online on its website. Inpaint will cost you at $19.99 for a lifetime subscription.
How does Inpaint work?
Eradicating an unwanted minute element also is not the most comfortable. Inpaint removes watermark from photo online, all automatically with the help of AI Algorithms. The best part is that you do not require any kind of past knowledge or experience as this process is as straightforward as it gets.
Reconstruct the image while retaining its beauty. You simply find "Upload" on the home page and proceed to select the image of your choice. Use the brush to rub out and remove the watermark from photo and download it once you are satisfied. A piece of cake.
Top 10 Types of Tools to Inpaint Images Online
Here are 10 best alternatives to inpaint online and remove watermark from photo.
Photo Stamp Remover
Price: Photo Stamp Remover from SoftOrbits is ideal and highly recommended when it comes to inpaint online, remove watermark from photo online as well as unnecessary objects. This app costs $8.99, $14.99 and $29.99.
Compatibility: This application is available for a download.
Features:
uses smart and up-to-date technology to fill in space after you have removed a watermark or other object so it looks natural.
You can use this software as per your skill. You can either automate the process and also remove watermark from photo with manual work if that is what you are comfortable with.
You have the Concealer and Smudge tool to derive almost perfect results.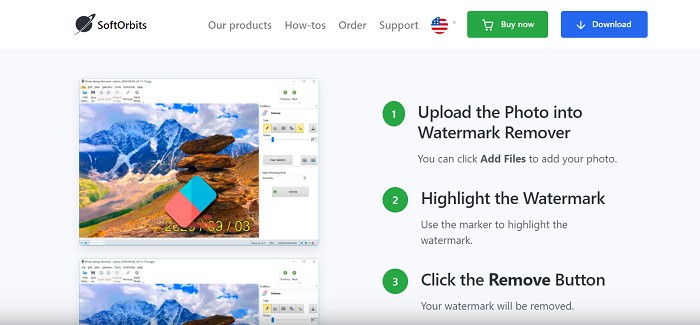 How to use:
The first and foremost step will be for you to download the software.
After downloading and launching the app, you can upload the image into the photo watermark remover tool.
With the help of the marker that is provided, highlight the watermark or any other part of the image that you want to erase.
Click on the "Remove" option and let the Photo Stamp Remover process the image.
You can subsequently save the file onto the location of your preference.
Pros:
Photo Stamp Remover offers you to remove watermark from photo manually as well as automatically.
You can even go ahead and add your own watermark.
Cons:
You cannot take advantage of this software online, it is only available to download.
LunaPic
Price: LunaPic can be used for efficient inpaint online, photo watermark remover and other noteworthy features. This software will not cost you a penny, it is absolutely free.
Compatibility: LunaPic works well on either Windows or Mac. It is completely web-based.
Features:
You have a wide range of tools to choose from, other than the mere inpaint and watermark removal.
These features include the Blemisher and Zit Remover as well as the Cosmetic Surgery Tool.
LunaPic is highly recommended by experts if you are looking to rectify an image filled with watermarks.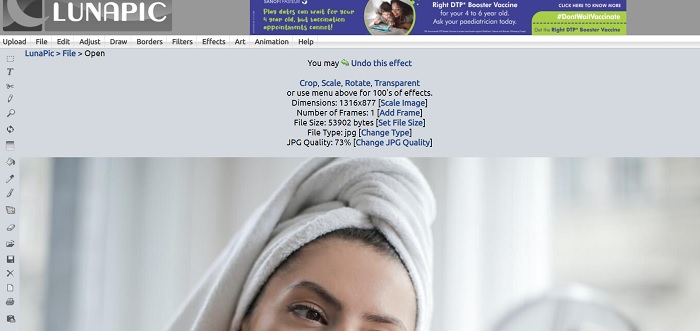 How to use:
As soon as you open the link to this website, on the left top corner, you will see an Upload button.
Click on Upload and then proceed to select the image that needs to be edited.
Now you will start to see the whole lot of features and tools. To remove watermark from photo, you can select the eraser tool.
Select the type of brush and use it to inpaint online. Click on Apply once finished.
Then tap on File> Save As from the top left corner.
Pros:
You have a range of different tools to choose from.
Cons:
The interface is not the most user-friendly
Apowersoft
Price: This tool to inpaint is specialized in photo watermark remover. There are 3 different price points to choose from. There is a monthly plan which will cost you $19, the annual plan will cost you at $29, whereas the lifetime plan costs $39 only.
Compatibility: Apowersoft works smoothly on Windows, Mac, iOs as well as on Android devices. This software functions on the website and also as downloadable software.
Features:
You can not only remove watermark from photo but also you can add your own watermark.
The transparency, size, and location are customizable.
You can ease the effort and batch process multiple watermarks and remove them all at once.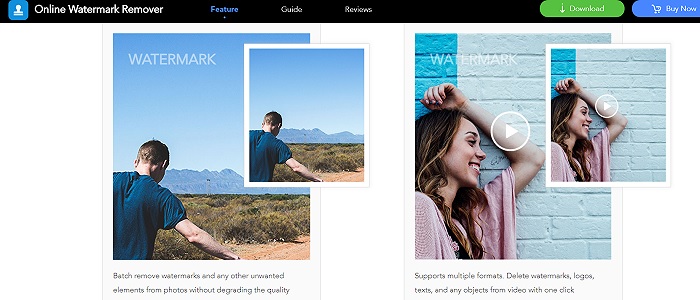 How to use:
Upon reaching the homepage, upload the image from the local device from your computer or any other device.
Drag the box to the watermark on the image that you want to remove.
If the image contains more than one watermark, you can select- Add Box(es).
Once the boxes are added, hit on Erase to get the work done automatically.
After a few seconds, you should be able to see the Download option.
Pros:
Dedicated photo watermark remover tool.
All of the products of Apowersoft come with a money-back guarantee.
Cons:
The features are too limited for its cost price.
Wondershare Fotophire
Price: Wondershare Fotophire software also saves you a great deal of time at inpaint online. One year subscription of this software is $49.99. While the lifetime model costs you $79.99.
Compatibility: Wondershare Fotophire best works with Windows Operating System and the software is available only to download. It supports MacOS as well.
Features:
This software has a built-in tutorial that makes it easier to understand.
Extremely user-friendly interface making the process a child's play.
This software also provides you with a whole editing suite with different tools for you to try and play around with.
You have pixel to pixel selection while using this software so the precision is great.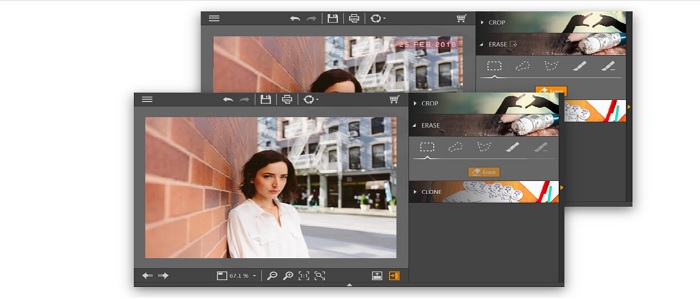 How to use:
You must download the software from the link provided.
Import the image of your choice from the folder on your computer.
Select the part of the image with the customizable brush.
Tap on erase to make the changes. Click on download afterward.
Pros:
You have control over the precision so over time after you get used to it, you might see amazing results.
Cons:
It is a little bit towards the expensive side as there are other replacements for inpaint at cheaper rates.
PhotoFunny
Price: This application is free to use, although, you might need to register or log in with facebook or even email to take advantage of this handy tool.
Compatibility: This software is based all online. Any latest web browser such as Mozilla Firefox, Google Chrome or Safari should do the trick.
Features:
Not just inpaint or remove watermark from photo online, there are an abundant number of features that this software offers.
You can make photo montages, prepare calendars, or cards.
As the name suggests, this software allows you to make the funniest edits and collages, so you can tickle your creative genius as well as amuse other people.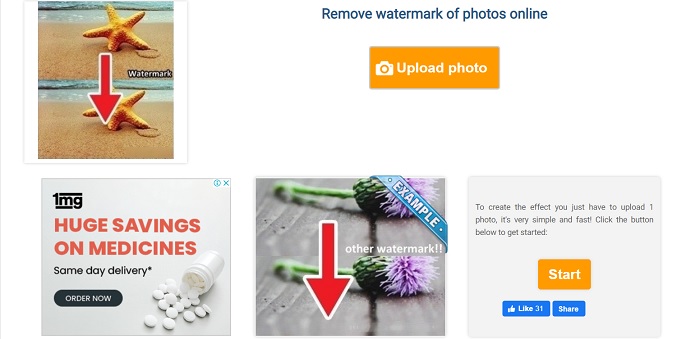 How to use:
Load up the website, you will notice an upload option on the home page.
Then proceed with selecting the image of your choice from your device.
Click on the button which says Next.
You now can select which part of the image you want. This software also shows you a preview right beside the original image.
Click on finish.
Pros:
You can even eradicate several watermarks at once with the help of this application.
Cons:
This tool adds its own watermark. You will have to log in/register if you do not wish for the "photofunny" logo watermark to appear on your edited image.
Pixlr
Price: This application is free of cost. To avail of additional features, you always have the option for premium access to buy at $4.90 per month or get the whole creative pack for $14.99 per month.
Compatibility: This software is online-based for now. Although, you can expect the MacOS version and the Windows software to be available soon.
Features:
You can add text and other elements for better editing.
You can adjust, crop, resize images as well as smoothen out, blur, and sharpen them.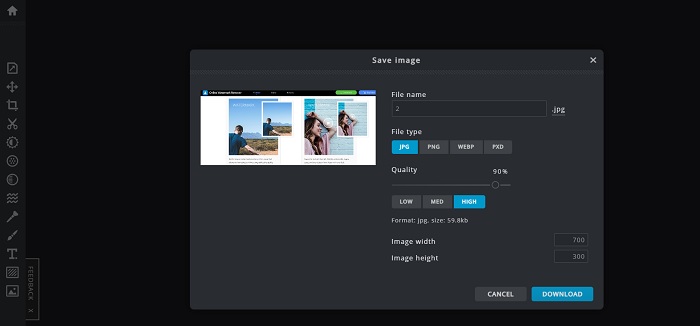 How to use:
Jump onto the home page of Pixlr.
Click on Remove BG from the upper tab.
Use the Open Image button and upload the image.
Wait for the application to remove the background and then download it.
Pros:
You can remove the watermark from photo or even inpaint online precisely.
Cons:
Can be a little bit complicated and time-consuming for new users.
This tool is certainly not a dedicated tool to inpaint online.
Artipic
Price: A complete photo editing tool, there is a trail/free version and also a paid version, costing euros 39.90.
Compatibility: Artipic requires Windows 7 or above, 4GB Ram or above and 128MB of free disk space.
Features:
It also offers you several additional features such as after editing touch-ups and the results are very satisfactory.
Although this software provides multiple uses, it is easy for beginners too!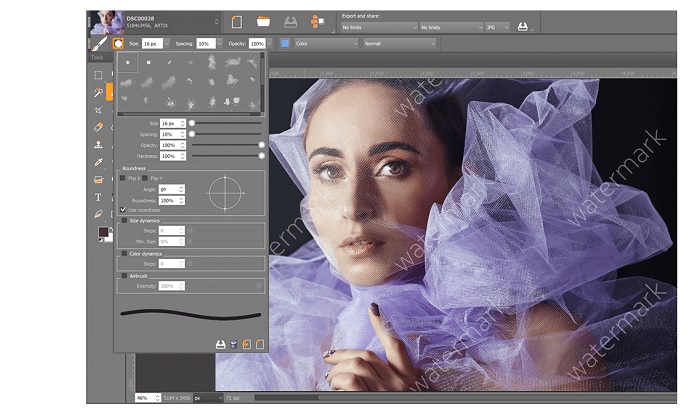 How to use:
Download and run the software.
Upload the image of your choice.
With the help of the given brush, highlight the area that is supposed to be removed.
Once done, you will receive the option to download the file. It's that simple!
Pros:
All-round editing, retouching images, illustrations as well as the artwork.
Cons:
This software does not provide you with anything special or different.
Paint.NET
Price: This software is absolutely free of cost for use and download.
Compatibility: Only works for Windows, the minimum system requirement is that of 1GB RAM and 1GHz processor. Click to check some best alternatives to selfie2anime.
Features:
Paint.NET is basic software to remove watermark from photo.
The process to inpaint on this software is easily understandable, even by beginners.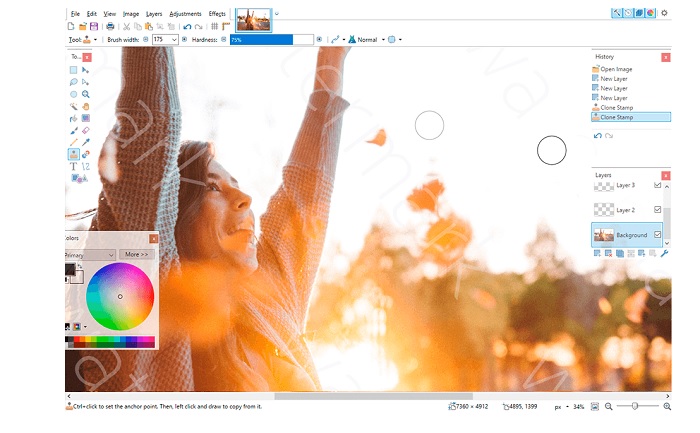 How to use:
Start by downloading the software.
After running it, select the file to upload.
Select the clone tool and highlight the watermark with the brush.
Click on file and download once done.
Pros:
There is not any contention for any other software to be more basic.
Cons:
The interface is too old-fashioned for one's liking.
Adobe Photoshop
Price: Photoshop is one of the most sophisticated image editing tools out there. It is simply the best in terms of catering to all-round image editing requirements. It costs $10 per month.
Compatibility: Photoshop can be availed from your desktop to even your iPad!
Features:
Photoshop is a delight to heavy photo editors.
A whole array of different features to use, making the impossible possible.
How to use:
Download, install, and launch the app.
You can either click and drag the image you want to edit or you can click on File and browse.
Once uploaded, you must then find the "Content-Aware Move Tool". Select the watermark that you wish to remove.
Go to "Edit" then "Fill". Again, from the pop-up box, you need to choose "Content-Aware" and set the Mode to "Normal" and change the Opacity to "100%" in the Blending area. Once finished, click the "OK" button. Then you will see your watermark disappear.
Pros:
It has all the features you could ask for.
Cons:
Can give you a little bit of trouble, especially for the first-timers.
GIMP
Price: GIMP is free to use.
Compatibility: Works on macOS, Windows, and Linux.
Features:
GIMP is a great alternative to Photoshop.
You can easily remove watermark from photo online.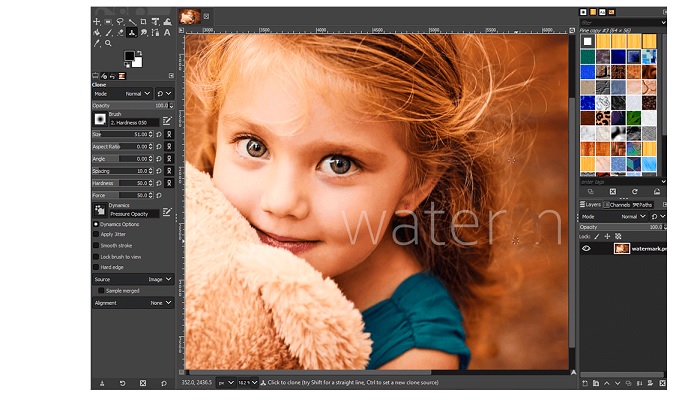 How to use:
Download, install and launch the software.
Open the image and get ready for the editing bit.
Select the clone tool, select the region of the watermark.
Start to inpaint, you will not see any watermark.
Pros:
It is a feature-heavy tool.
Cons:
It needs a bit of time to get used to.
Conclusion
These apt photo editing tools put you at ease when it comes to photo watermark remover, inpaint online, eradicate an object, transforming that image how you originally intended it to be. This review will hopefully give you enough info about the products and show how to remove watermark from photo. Wanna enhance your photos without losing quality and make photo hd? Try our photo enhancer to enhance photos in all aspects.
VanceAI PC is full-featured desktop software developed by VanceAI that lets you instantly process local photos in bulk with more customization options, which will significantly simplify your workflow and boost your productivity. Free Download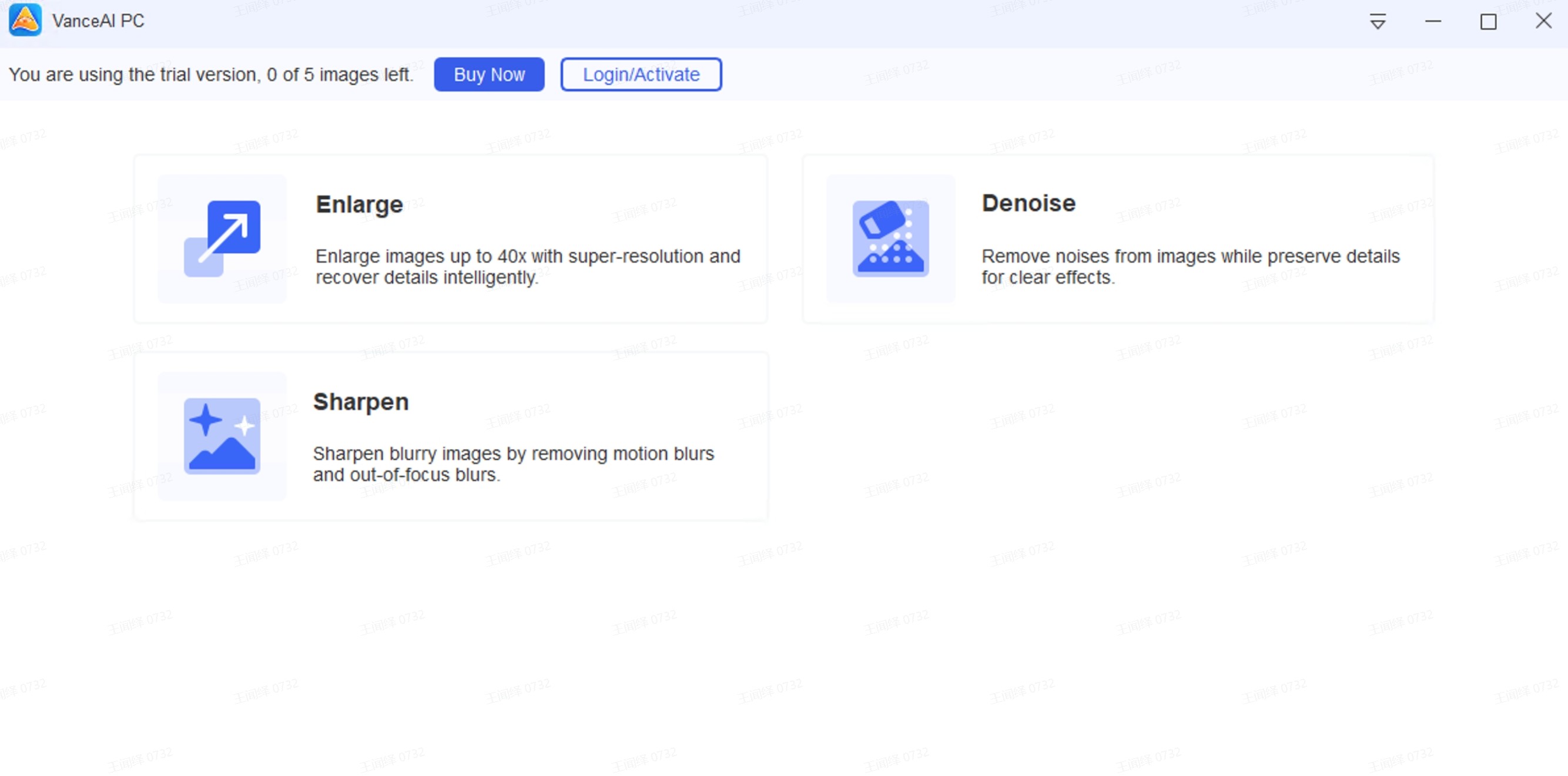 Click to get more details about Best Watermark Remover Review.
Do you find this post helpful?
Yes
No