Even if they are subtle, fonts are integral to the web experience, undoubtedly. You can use the right font to get more people to land on your page by determining how the audience interprets your content subconsciously.
It somehow becomes associated with a brand's image when they use the same font consistently. In addition to being readable, the font should also be unique to the brand. Your brand should be reflected through its font. In addition to being easy to use, a good Facebook font generator should also be able to generate the results you were looking for.
It is now easier for us to generate fonts online with font generators. You can now choose a typeface for your website that matches the image you want to convey. Then choose the colors and effects you want, type in the text, and voila! For your higher requirements, you can also enhance your photo's quality by using an online image enhancer VanceAI offers. In doing so, the resolution of your picture will be enhanced to a higher level within several seconds. Obviously you may make better images with this tool easily. What you need to do is just one click to increase image resolution and get your images crisper, cleaner, and ultra HD.
You may find it difficult to select the right one from so many such websites. The following list contains the top 10 best Facebook font generators that can help you enhance the look and quality of your page and encourage your audience to stay on it for a longer time.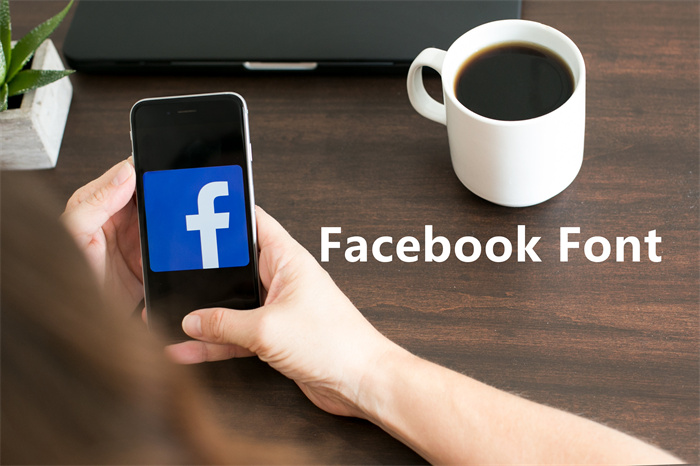 Also, applying vintage font to your old photos and posting it on social media may be a great way to keep your memory in this digitalized era. A great VanceAI Photo Restorer from VanceAI can be used to fix your old photos and give them a new life.
Why do People need Facebook Font Generators?
Web design relies heavily on fonts. The way letters and characters are designed and arranged on a web page affects our experience, even if we are not aware of it. Typography is the art of designing and arranging type, and brands pay a lot of attention to it.
Best 10 Facebook Font Generators
1. LingoJam

LingoJam is an online font maker for Facebook. No software is required to use it. To use this service, you just need to visit its website, type or paste your text into the provided box, and it will change the fonts there and then.
Copy and paste the one that fits your needs best to your Facebook wall. It's that easy! In addition to this Facebook name font generator, it also includes a cool feedback feature, where you can type your suggestions about how to improve its services by clicking the send button. It supplies various styles of fonts, such as retro style. Add the retro-style font on your old photos after photo restoration, and then you can easily get a vintage graphic.
Pros:
Free to use
No software needed
Can form bold and italic texts
Beautifies your content
Cons:
Also read: Best 10 Retro Font Generators for Designers Review
2. Fsymbols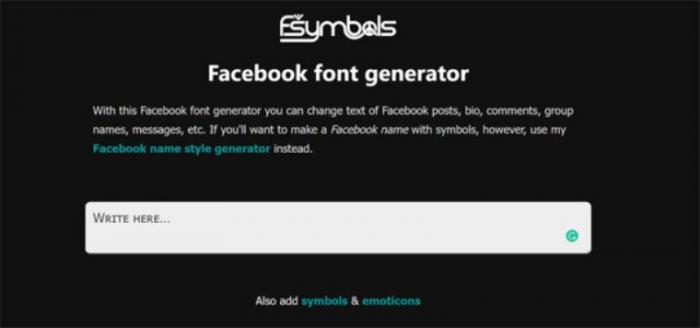 Using Fsymbols, users can copy and paste a variety of emoticons and symbols directly into their Facebook pages. This Facebook font style changer can be used for changing the font style of a bio/post, a comment, a message, a group name, etc.
Additionally, you can type your name into the 'Stylish Facebook name font generator' and see four different designs. Everything can be copied and pasted easily using Fsymbols.
Pros:
Copy and paste various symbols and emoticons
Change the font styles
Stylish Facebook name font generator
Cons:
3. Fancy Fonts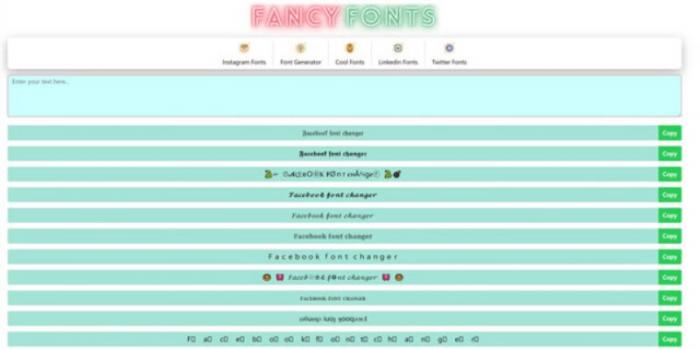 Users of Fancy Fonts can choose from more than 80 stylish Facebook fonts that are all free of charge! For all of your Facebook-related texts, you can use this font changer copy and paste tool. The website also offers a preview of the best Facebook font styles, so you can choose more easily.
Pros:
Free to use
Over 80 stylish Facebook fonts
Easy to use
Cons:
4. Fbfonts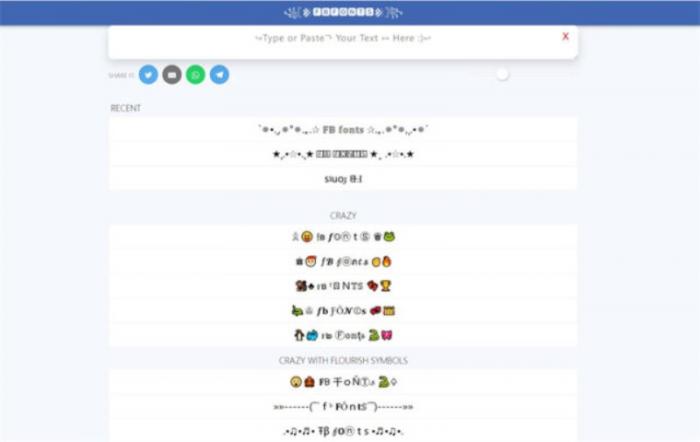 You can also change the fonts of your Facebook profile name and bio with Fbfonts. The application shows 108 plus stylish fonts, which can be copied and pasted without cost, i.e. it is free to use. However, if you want to save it as an image, you can save it as a screenshot and don't have to be worried about the image quality if you have an AI image upscaler.
Pros:
Comes with over 108 stylish fonts
Free to use
Cons:
Font size adjustment isn't allowed
5. Exoticfonts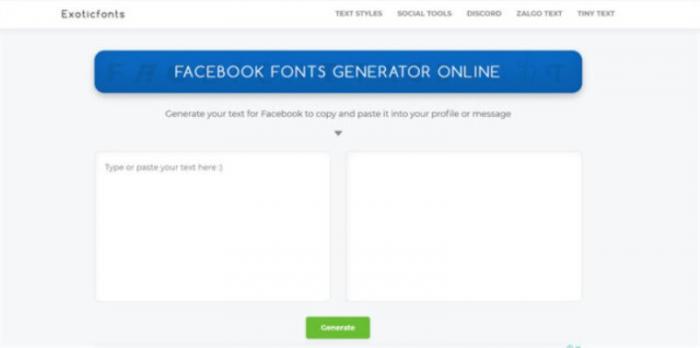 The best Facebook font changer for Android phones is called Exoticfonts, which can be installed on Android phones as a progressive web app. When you click the 'Generate' button, you will be able to see a list of font styles available to choose from. You will need to type first and then click on the 'Generate' button to convert your text.
This font changer for Facebook includes a variety of font styles, including Creepy, Weird, Wavy, Aesthetic, Unicode, Cursed, Void, and so on.
Pros:
Best for android phones
Various fonts to choose from
Cons:
Not suitable for Apple phones
6. Made In Text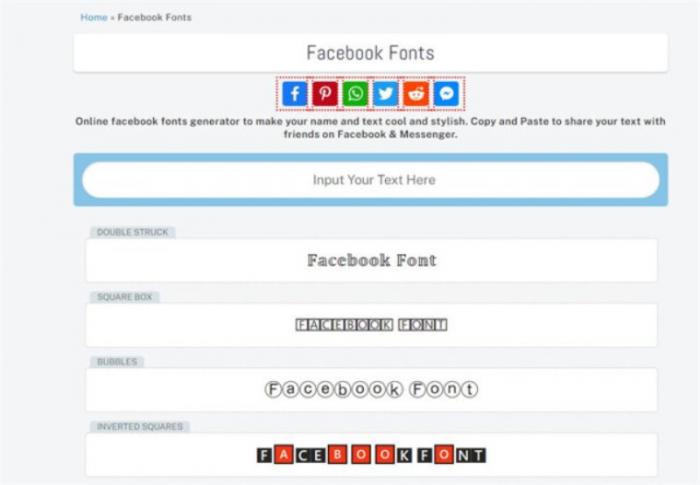 It provides fonts for Facebook and Messenger. There are several font styles, such as Double Struck, Bubbles, Tiny, Cursive, Mirror, Greek, and Wavy Joiner. The site also provides a 2-minute video showing how to use their font changer, making it more user-friendly.
This Facebook font changer and Facebook logo font generator also offer tons of cute emojis.
Pros:
Diverse font styles
Easy for users
Has cute emojis
Cons:
7. Fancy-Fonts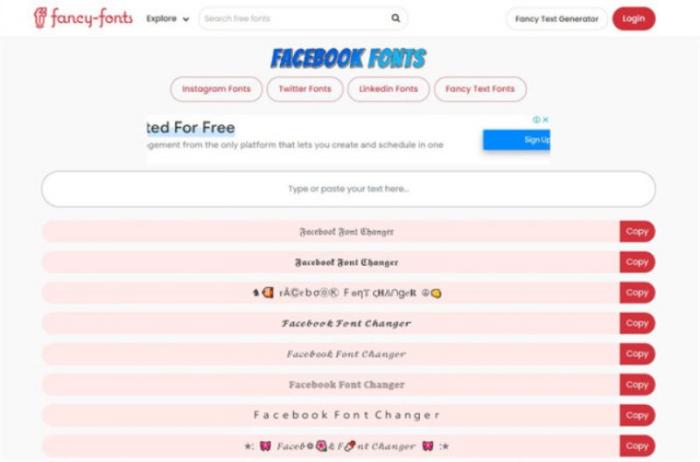 The font changer copy and paste tool fancy-fonts is also a great one to use. Linkedin, Facebook, Instagram, and Twitter are all supported. Typing your text or pasting already typed text into the dialog box will bring up a list of options on the left. You can use any of these for free, so pick the one that appeals to you.
Pros:
Can be used for various social media platforms
Lots of options to choose from
Cons:
Can't download in image format
8. Bigbangram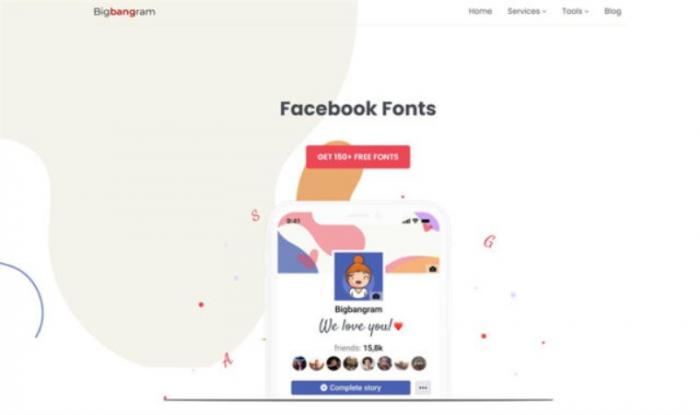 A most sought-after Facebook font style changer, Bigbangram boasts offering its users over 150 Facebook fonts. It offers services for Facebook bios, comments, posts, and Facebook group names.
In the box provided, type your text, and the modified version will appear with the 'two overlapping squares' icon on the right side, which you have to click to copy-paste to your Facebook page.
Pros:
Cons:
9. FontVilla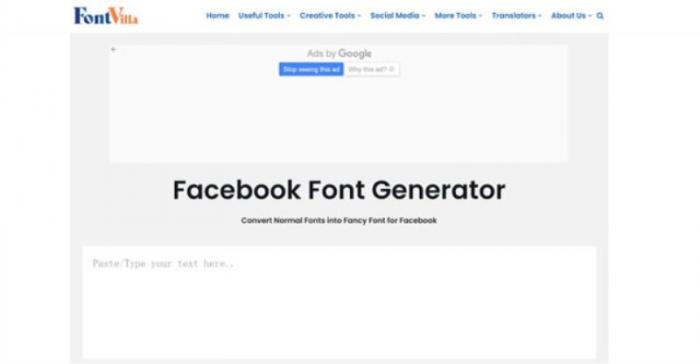 Fontvilla offers you a wide variety of font and text-related tools. You will need to type or paste your text in the given dialog box to convert simple text into a fancy font using Fontvila's Facebook font style changer. A second dialog box will appear just below the first, where you can select the version you prefer among the different versions. Right-click on the image you like, then paste it into your Facebook page.
Pros:
Cons:
Not a lot of retro styles
10. Poem of Quotes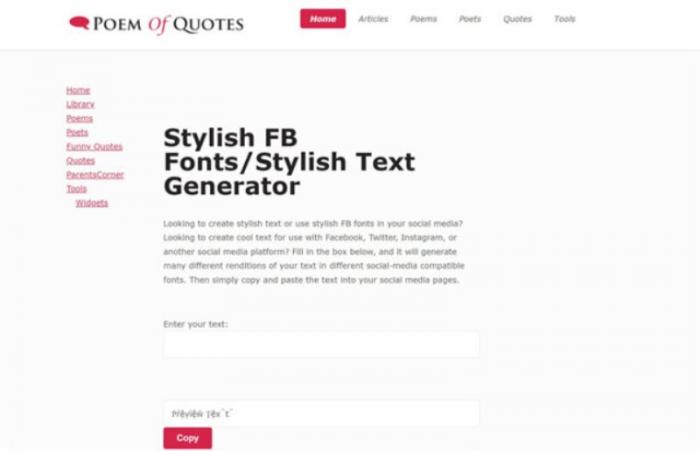 As its name implies, Poem of Quotes is not your typical font generator tool. There are also tips on how to write poems on the website. It is more of a poetry writing-related website. There are articles about writing, poetry, movies, books, relationships, and more.
As well as the FB font generator, allows you to convert the text of your Facebook posts into stylish fonts. It does not offer any additional tools, such as symbols or emojis, but it is as easy to use as the others in that you can copy and paste your text.
Poem of Quotes offers several Facebook font generators, including Stylish Text Generator, Fancy Text Generator, Small Text Generator, and Cool Text Generator.
Pros:
Enables poetry-related writing
Easy to use
Cons:
Users cannot adjust the font sizes
Why do you need Facebook Font Generators?
A few details are often overlooked or misunderstood in visual branding. You see, there are differences between the conventional design and the design for social media platforms, and it has to do not only with the size but also with the order and shape of elements in a composition.
When it comes to social media photography, for example, we are allowed to experiment with different angles to find the right motion. It's okay to do crazy stuff in a video since it's appreciated on these channels, such as images, photos, fonts, etc. For attractive images, you may use a photo enhancer from VanceAI. However, when it comes to a general aspect, such as the fonts used, we see a lot of errors. Except for visual images such as
A font used in a visual composition for social media may look awkward, out of proportion, or even inconsistent with the brand's spirit. Because the posts don't look natural, or more importantly, because they don't look aesthetic, people may lose interest in them. It doesn't matter how beautiful your fonts are, if you don't apply the right one, all your work could be ruined. For example, if you want to make a vintage effect, you could use an old photo that can be fixed first by AI picture restorer, and then add the vintage fonts.
The use of fonts is also a common mistake. It's possible to have the perfect pair, but they're only good individually, or perhaps you'd like to combine eight different kinds. A mix of five different fonts is not appropriate for Social Media posts if you understand the concept of less is more. Choose two or three fonts instead.
Another delicate topic is choosing the right font combination, and it takes time and practice to get it right. Therefore, we encourage you to first check out these great font options.
Conclusion
You should keep your text's tone in mind while choosing a font generator. Whatever font you choose, make sure that it is easy to read, and does not clutter the screen.
Now that you know which are the 10 best Facebook font generators, you can make your own choice to create stunning effects along with images enhanced by VanceAI. And as we mentioned, all these tools are free to use, so why not give them a try and see which one suits your needs?
VanceAI PC is full-featured desktop software developed by VanceAI that lets you instantly process local photos in bulk with more customization options, which will significantly simplify your workflow and boost your productivity. Free Download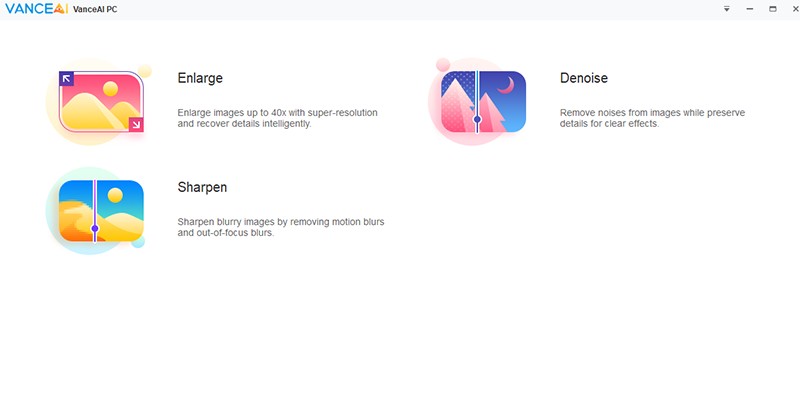 FAQs
1. How to change the font on a Facebook post?
Choose a Facebook font generator from the official website. Enter your text into the box provided. Below the first box or just side by side of the first box, you will see a variety of font styles. You can copy and paste the font style you like on your Facebook wall.
2. How to change the font size on Facebook status?
Each of the 10 facebook font generators we listed above offers a variety of font styles to choose from. Various Facebook font changer styles are depending on the size of the font, from big to small to tiny. You can copy and paste your text into the Facebook status box by visiting their websites.
3. Can I bold text in a Facebook post?
It is possible to bold text in a Facebook post using any of the Facebook font generators. We have listed all Facebook font generators that offer the option of converting simple text into bold text. Then paste the changed version of your Facebook post onto your wall. You can do this by going to their website and typing or pasting your Facebook post there.
Do you find this post helpful?
Yes
No