4 Best AI-Powered Free Photoshop Alternatives
| | | | | | |
| --- | --- | --- | --- | --- | --- |
| Software | Price | Quality | Features Options | Support Device | User Friendly |
| VanceAI | Free trials; $9.9/month | High-quality AI algorithms | Comprehensive AI-powered tools | Any devices | Simple interface; real-time preview |
| Luminar AI | Free trial | AI technology | Unique features, nature-based photography | Windows, Mac | Attractive user interface design |
| Pixlr X | Free; $4.90 and above | AI image enhancement | Detailed image editing, multi-layer support | Online tool, most browsers | Smooth UI design |
| PhotoDiva | Free | AI face enhancement | Face and beauty shot features | Windows 10, 8, 7, iOS | One-click and slide bars features |
1.VanceAI-Best Alternative to Photoshop Online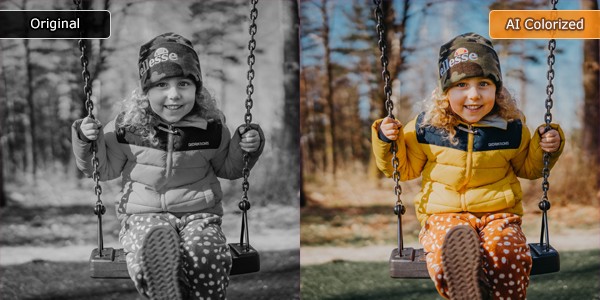 Price: VanceAI offers free trials that allow you to see how the best AI-powered Photoshop alternative works on your device. Upgrade the plan to download high-resolution images starting from $9.9/month.
Compatibility: VanceAI's online tools are compatible with any devices.
Features:
Provide comprehensive AI-powered Photoshop replacements, using which you can replace image background, enhance portrait, old photos or any photographs, increase brightness, image colorizer and more.
Slash editing time with powerful AI-powered tools, no download or installation.
Level up image quality and resolution thanks to VanceAI's sophisticated AI algorithms, which keep on learning to improve the performance
How to Use:
Go to VanceAI's official website and pick up a feature as you want like VanceAI Photo Colorizer
Click "Upload Image" for uploading files
Let AI process your image 100% automatically
Pros:
Best Photoshop alternatives with its full set of features such as background removal, one-click picture enhancement, AI colourisation, cartoon generator and more.
Simple interface
Preview images in real time
Offer desktop software in addition to online tools
Cons:
Free for a limited amount of time.
VanceAI PC is full-featured desktop software developed by VanceAI that lets you instantly process local photos in bulk with more customization options, which will significantly simplify your workflow and boost your productivity. Free Download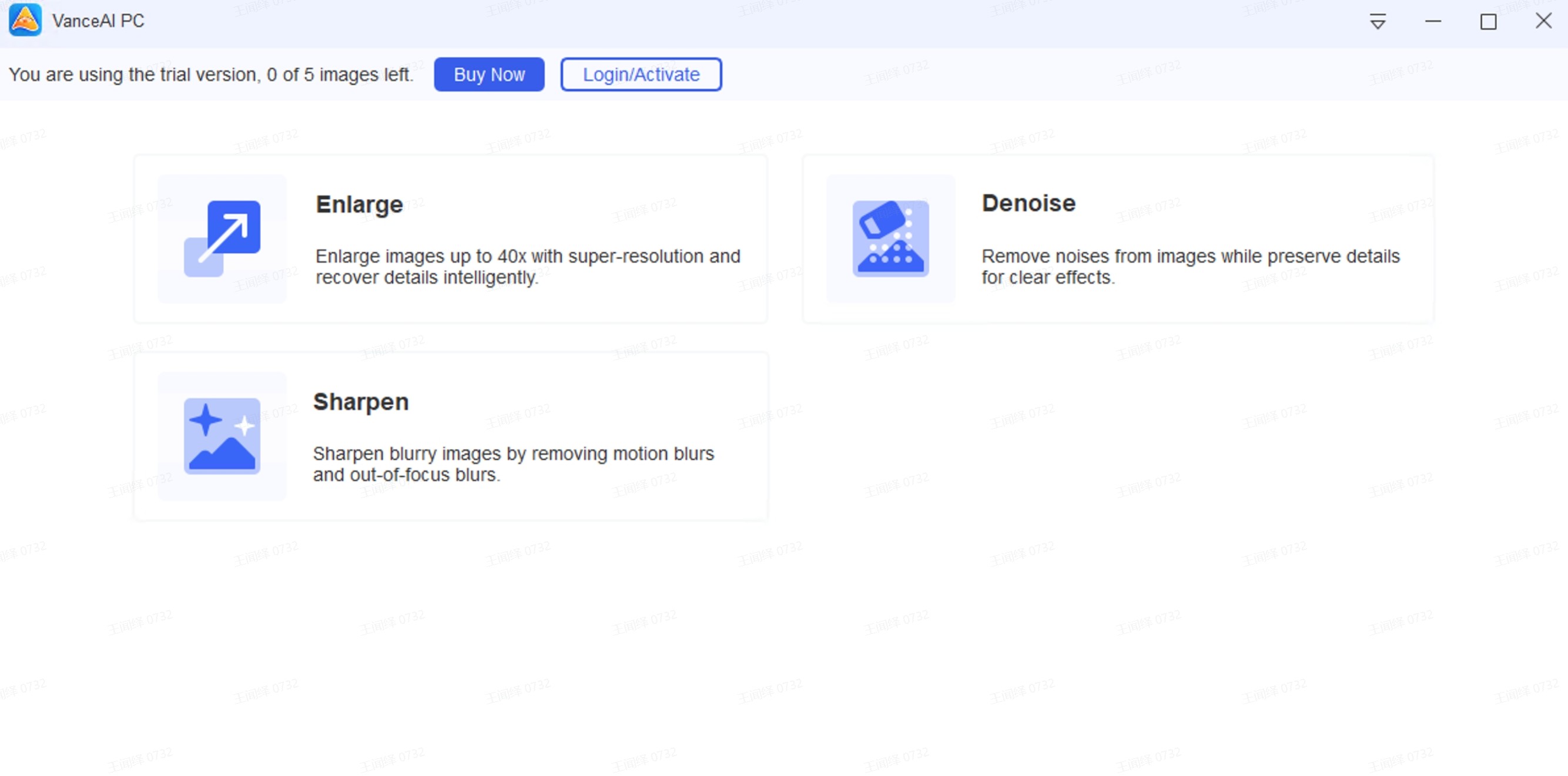 2. Luminar AI-Best AI-driven Software Like Photoshop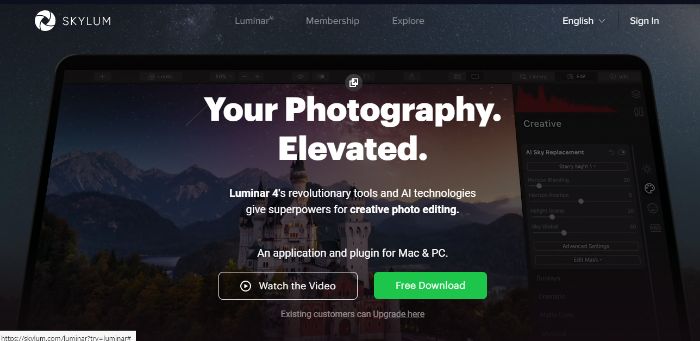 Price: The Luminar 4 is available for a free trial which you can get from their official website.
Compatibility: Luminar 4 is a free Photoshop alternative tool as well as a plugin for both Windows and Mac operating systems.
Features:
It is a powerful image editor in itself, allowing full RAW support and having capability to manage entire new projects on a single platform. Moreover, it has a lot of unique features to offer through its AI technology that can expertly curate images across multiple themes and genres of photography.
The software application is designed in a very user friendly way. Instead of plain text previews, you will always see the preview accompanied with the sample picture. Design choices like these attract most users mostly because of how easy it becomes to design on this application.
Luminar has a focus on landscapes and in general nature based images since it provides many cool nature image enhancement features like AI Augmented Sky, Sunrays, and similar enriching tools.
You can always make use of the plugin side of Luminar for the Adobe and Apple products by importing and exporting your work from Luminar to Adobe and Apple and vice versa.
How to Use:
Use the link given and look for the Free Download button.
Choose your destination folder from the window prompt that will open.
Simply click on Save and run the setup file to install Luminar.
Pros:
Unique features, especially relating to AI and nature based photography.
Attractive user interface design.
Cons:
Free for a limited amount of time.
3. Pixlr X-Free Online Photoshop Alternative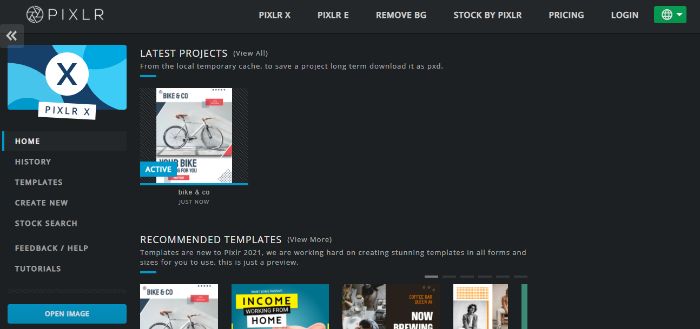 Price: This tool can be used for free anytime though with some limitations of features. You could always upgrade your plan for $4.90 and above.
Compatibility: Pixlr X is an online image editor application that works on most browsers that are not too outdated.
Features:
This online tool has a lot of cool features which you can use for detailed image editing as well as enhancement. They are all listed well in the editor of the application.
This application uses AI in select areas, such as for overall image enhancement, fixing any color patterns, adding extra image enhancement filters like saturation or sharpness, and similar functions. This results in making your work run much smoother and also makes the online tool faster in performance.
Similar to Photoshop, you can divide an image up into multiple layers and start editing those layers, allowing for a complex yet professional image editing experience. Also, when using any of the features, you can always set their intensity to any amount you want by just dragging the slider.
Pixlr X is also adept with image file formats since it supports PSD, PNG, SVG, and many more file formats. This level of compatibility is uncommon among online image editing tools.
How to Use:
You can start using Pixlr X for free by clicking on the link given and opening Pixlr X tool.
Once in the editor, you can upload an image by clicking on Open Image on the bottom left.
Once you are done editing your image, you can save it by clicking on the Save option below.
Pros:
Smooth UI design.
It is fully free to use and offers many cool features based on AI and image enhancement.
It has a library of stock images for you to edit freely.
Cons:
It can be a little buggy when dealing with layers of an image.
4. PhotoDiva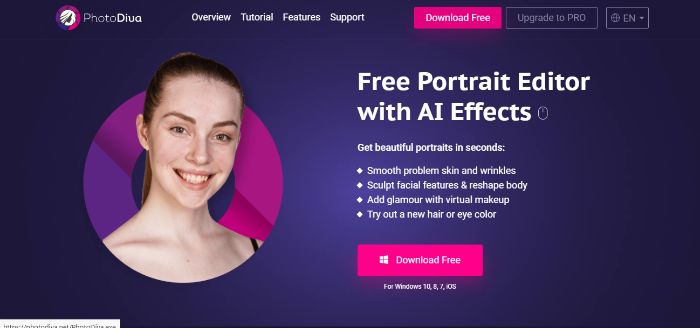 Price: PhotoDiva is also one of the free photoshop alternatives that you can use right now.
Compatibility: It will work on Windows 10, 8, 7, and iOS operating systems.
Features:
It specializes in photos that contain faces and beauty shots in general. It can enhance facial features really quickly thanks to its AI based algorithms and face enhancement features. Moreover, it has many tools to remove blemishes and all kinds of unwanted details of an image in a matter of seconds.
Most of its features are defined by one-clicks and slide bars, making it easier for any kind of user to just download and run the software to edit photos without having to worry about the application's complexity. There is also an option to remove a section of the image, in most cases the background, and edit the image in separate spaces.
PhotoDiva has its AI based algorithm tested enough to ensure that it excels in transforming faces no matter which gender, age, or size they belong to. With a few steps, you can recreate just about any face that you want. Its AI based technology can detect almost all of the aspects of a face before it starts working.
How to Use:
Downloading this software like Photoshop is simple. First, visit the official website by using the link given in the title above.
Now that you are on the home page, go to the pink Download Free button and click on it.
Select the destination folder and run the setup file to install the software.
Pros:
An easy-to-use application with a focus on skin and facial features.
An AI-based design that automates the process in a smooth way.
Cons:
It does not have as much variety as the other programs like Photoshop.
4 Best Free Photoshop Alternatives
| | | | | | |
| --- | --- | --- | --- | --- | --- |
| Software | Price | Quality | Features Options | Support Device | User Friendly |
| Krita | Free | High | Brush types, brush stabilizers, artistic features, community support | Linux, Windows, Apple | Customizable UI |
| exPhoto | Free | Medium | Image file format support, textures, color patterns, brushes, graphical elements | Windows, Mac | Customizable, Fundamental Tools |
| GIMP | Free | High | Advanced image enhancement tools, third party plugins, detailed tutorials, Photoshop-like user interface | Windows, OS X, GUI/Linux | Advanced but learnable |
| Canva | Free/Paid | High | Group project collaboration, storage, unique fonts, graphical elements, stock images, import media files, music tracks | Web-based | Smooth UI design |
1. Krita-Free Software Like Photoshop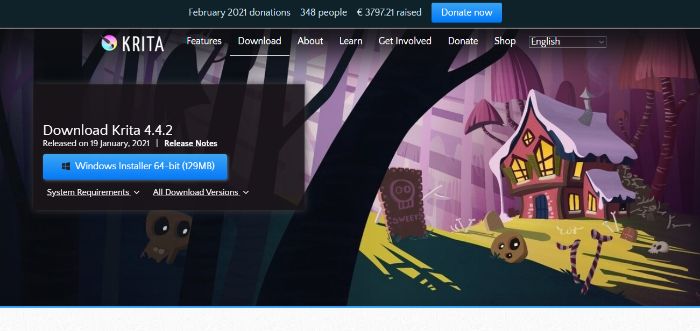 Price: Krita is a completely free to use software which is also an open source software.
Compatibility: Krita works on Linux, Windows, and Apple operating systems.
Features:
One of the unique things about this Photoshop replacement is its widely known community. As a fellow user, you can benefit a lot from the community at Krita as they have an open space for sharing work and a forum to share tips and opinions.
You can directly start working on Krita without needing to subscribe to anything. As a software designed primarily for artists and such, you will be surely well supported with any issues.
If the layout of the application is confusing, Krita enables you to make changes to it as well. Apart from that, it also hosts a huge variety of artistic features through several brush types, brush stabilizers, and more. You can also save them or tag them in order to use them instantly when you open Krita next time.
How to Use:
Use the link above and go to the Krita official home page. From there, click on Get Krita Now, which will take you to the Download page.
Click on the blue installer option and choose your destination folder.
Run the setup exe file and install Krita.
Pros:
One of the best free Photoshop alternatives because of its design, features, and community.
High level of customization possible.
Cons:
Krita requires a decent to good computer system for it to run smoothly.
2. exPhoto
Price: You can use exPhoto's software application for free.
Compatibility: This software application supports Windows and Mac operating systems.
Features:
It can offer a good range of image file format support with PSD image files, PNG, TIFF, and many more types being supported.
You can use this application for scanning documents together since it has the option to Scan and Print in almost any image format.
There is also a good level of customization possible with this application. You can not only use the application's textures but also import your own.
Many color patterns and brushes to choose from. Besides that, you get access to all kinds of graphical elements such as shapes to play around with.
How to Use:
Click on the link above to reach the website. From there, go to the Download tab.
Select the version you want and then choose your destination folder.
Run the setup to install the software in your system.
Pros:
Contains all the fundamental tools mixed with its own uniqueness.
Good level of file format support and customization.
Cons:
It could use more features overall.
3. GIMP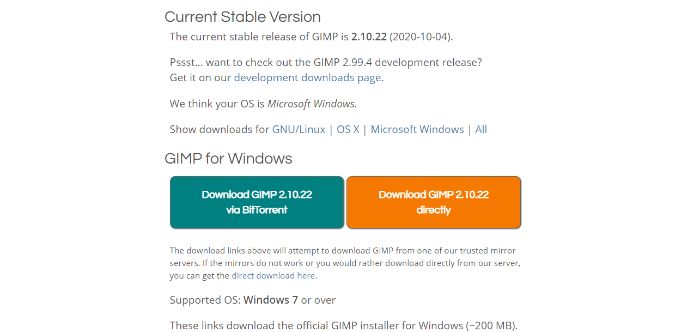 Price: GIMP is not only a fully free to use software application, it is also an open source one.
Compatibility: GIMP software tool is compatible with several operating systems, including but not limited to, Windows, OS X, GUI/Linux, etc. It is free and open source across all of the operating systems too.
Features:
The programming that goes behind this application includes languages such as Python, C++, etc and so you can use these languages too, if you want to play around the open source code of the application.
GIMP has a similar user interface layout and tools like Photoshop, which makes it easier to use if you are transitioning from Photoshop to GIMP. Although, GIMP does not look as "crowded" in its design as Photoshop does.
A unique aspect of GIMP is that due to its open source nature, you will find many interesting third party plugins that you can attach to your version of GIMP software application, expanding the application's features and overall enhancing the entire application.
When it comes to free Photoshop alternatives, GIMP is potentially a tool that you might just prefer over Photoshop itself because of how advanced it can get minus the payments and learning curve. It has enough image enhancement tools in it to enable users to create brand new visuals just by using this application.
GIMP additionally provides a detailed tutorial for many aspects of its software, especially useful for the beginners.
How to Use:
You can visit the official website. You can read up on the software on its home page.
Next, click on the Download option on the top or the red button. Choose your preferred download method.
Select your destination folder from the prompt and run the file to install GIMP.
Pros:
A free photoshop alternative tool that can rival Photoshop in features and performance.
Open-source software.
Cons:
You may need to spend at least some time learning it as well.
4. Canva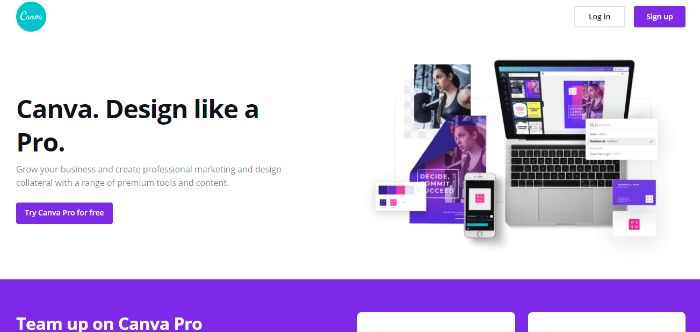 Price: Canva is a free to use online application but you can purchase Canva Pro at approx $15 per month for all features
Compatibility: It works well on all browsers.
Features:
You can use it as a group and create, share, edit, etc projects together. It also provides high amounts of storage for you and your team to manage.
Canva's editing options are too many to count. You can play around with unique fonts and graphical elements, use stock images just by typing keywords, import your own media files such as image and videos, use featured music tracks, and much more.
How to Use:
Use the link to arrive at Canva. Now, you need to create an account, which you can also do through your Google, Facebook, etc pre-existing accounts.
Get to creating in Canva by starting a new project.
After you are done, you can Export the file and have it saved in your device.
Pros:
Smooth UI design
Tons of features
Cons:
It can be laggy sometimes
3 Best Photoshop Alternatives for Mac
| | | | | | |
| --- | --- | --- | --- | --- | --- |
| Software | Price | Quality | Features Options | Support Device | User Friendly |
| Seashore | Free | Good | Artistic tools like brushes, textures, gradients, etc. | MacOS only | Fairly user friendly |
| Pixelmator | $39.99 or Free Trial | Very Good | Wide range of file formats, automated functions for denoise, effects, resolution, etc. | MacOS 10.14 Mojave and above with a preference for M1-powered systems | Sophisticated UI design |
| Photos | Free | Good | 5GB cloud storage, list of image editing features, interlinked iOS and Mac devices. | Only compatible with Apple products | Fairly user friendly |
1. Seashore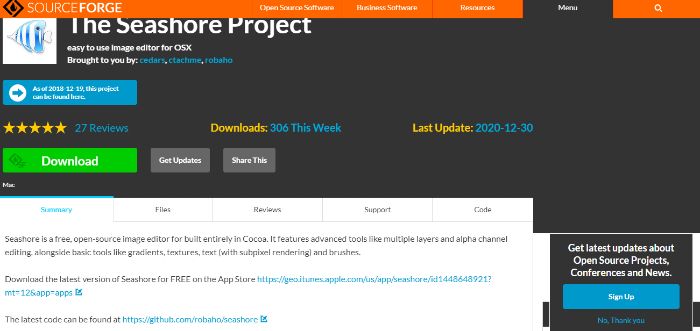 Price: Seashore is available for free.
Compatibility: Seashore is designed for MacOS only.
Features:
Seashore is mostly a light image editor, enabling users to manage basic image editing. However, it does offer artistic tools like brushes, textures, gradients, etc.
It has an active development cycle with regular updates to be expected from time to time.
How to Use:
You can click on the link and then visit the Store from the web page.
Download the software from the Store and choose the destination folder.
Install the software by running the downloaded setup.
Pros:
Simple image editor with artistic tools.
Regular updates.
Cons:
It could have more features.
2. Pixelmator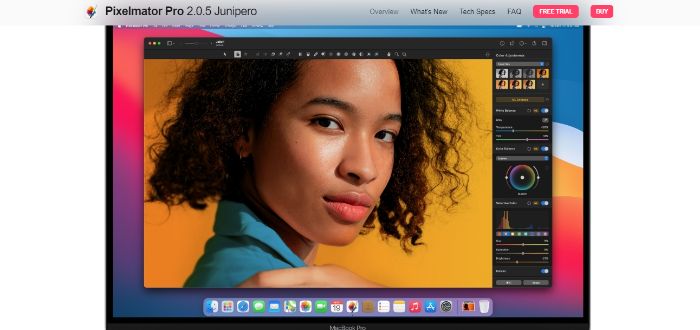 Price: You can either use the free trial or simply purchase the tool for $39.99.
Compatibility: Pixelmator works on MacOS 10.14 Mojave and above with a preference for M1-powered systems.
Features:
Wide range of file formats supported with PNG, WebP, etc included.
Interface designed exclusively for Mac systems ensures smooth transitions and performance always.
When it comes to functions such as to denoise images, applying effects, changing resolutions, etc. this application automates it to save time.
How to Use:
Visit the website through the link given. Go for Free Trial if you want to test the application quickly.
Hit Download Now and once the download is over, run the installation file to install the software.
You can buy the software later from the application or from the site.
Pros:
Sophisticated UI design that suits Mac.
Affordable pricing.
Cons:
Works on higher versions of Mac only.
3. Photos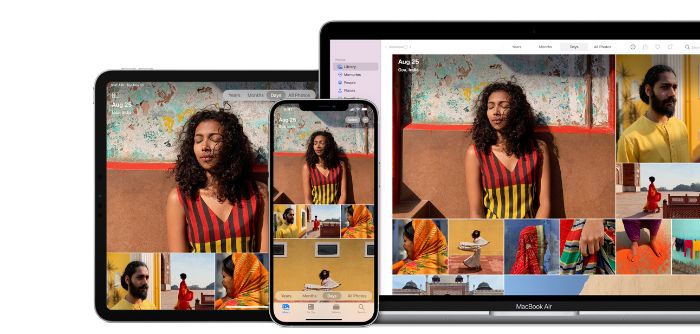 Price: Photos can be used for free on Apple products.
Compatibility: Only compatible with Apple products.
Features:
Probably the best feature of Photos is that it offers 5GB cloud storage for free and you can get up to 2 TB with a fee.
When you edit a photo on iPad, you can see those changes being made on your Mac as well. This allows for seamless image editing and is a time saver too. This is a feature that makes it one of the best photoshop alternatives Mac or otherwise.
It contains a list of image editing features that rivals many of the sophisticated tools available right now.
How to Use:
It is pre-installed in your Mac system but you can still get it from the Apple store.
Visit your Apple store and search for Photos.
Download and install it by following the setup instructions.
Pros:
Wide variety of features and tools to edit images with.
Smooth editing capacity with interlinked iOS and Mac devices.
Cons:
Not much you can do for image enhancement.
Conclusion
So, this is the list of all the different kinds of alternatives you can find to Photoshop. Some of the tools, though considered as free Photoshop alternatives, actually bring some of the most amazing features on the table, potentially placing them above Photoshop itself. It also depends on the user and the kind of work they have. If it's something more artistic you want, Krita and similar apps are the way to go. GIMP and Photos can replace Photoshop in terms of functionality and UI.
Do you find this post helpful?
Yes
No