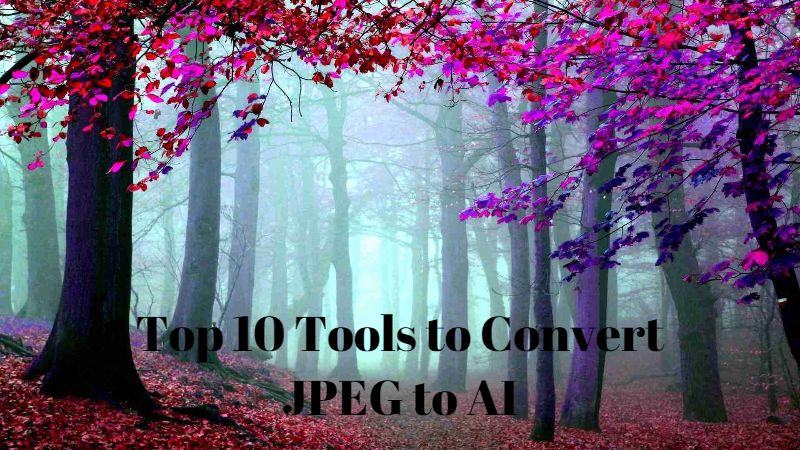 The JPEG image file format, which is also known as the Joint Photographic Experts Group, is arguably the most popular image format on the Internet. Thanks to its compression style and reduced amount of size as compared to other image file formats, JPEG can be easily used on any platform. However, JPEG has its drawbacks too, with the main one being its lower quality compared to others. To enhance photo in JPEG format, except for some apps, JPEG to AI conversion applications is also one way to fix that. So, we will be looking at how to convert JPG to AI or JPEG to AI. You can use these tools to convert JPEG to AI with just a few clicks and get accurate results.
What happens when you save a picture as a JPEG?
As mentioned, the JPEG format is what we use after transferring a RAW image taken from camera to any storage device. JPEG goes through lossy compression, allowing some visual information to be left behind in favour of reduced sizes for better storage. When doing this, we then encounter JPEG artifacts. These artifacts are nothing but the general cases of reduced sharpness in images, increased amount of pixelation, and lower color fidelity. Luckily, there are fixes to the artifact problem. You can see the Topaz JPEG to RAW AI review below or simply remove JPEG artifacts with the image enhancer from VanceAI.
Topaz JPEG to Raw AI Review
Topaz Labs offers its JPEG to AI converter application at the price of $99.99. Otherwise, you can also try out its free trial before going ahead with a purchase. It makes use of Machine Learning algorithms to not only get rid of artifacts but also recover the lost color details from the image. With the Mac or Windows software version, you can also make use of the application's batch processing features. Upon purchasing this application, you can also expect to receive updates in the future. As this app is relatively new from Topaz, the developers are constantly looking for ways to improve the app. Overall, this app is really good at recovering lost details from the JPEG images, as it enhances colors, details found in the photo itself, depth of field, and many other details. You can use the app by clicking on the link above.

When speaking of constant improvement, VanceAI also can be seen as an online image editing and photo enhancer online tool that keeps offering more. Take the instance of photo enhancement, it is able to enhance the resolution of your picture to a higher level within several seconds. VanceAI recently launched their new feature named VanceAI JPEG Artifact Remover, which you can now use and access from the link given above. It is a really simple tool to use, since you only need to upload an image and start processing. With AI and Deep Learning systems, VanceAI processes images in thorough detail and offers high-quality images with ease and speed and make photo hd. If you have JPEG images that you only want to remove artifacts from, you can use VanceAI JPEG Artifact Remover. It is easy, free, and provides great results.
Also read: Find out about the Best Tools to Compress JPEG
Top 10 Tools to Convert JPEG to AI
Price

Quality of

Conversion

Features and Options

User-

Friendliness

AnyConv

Free

★★★☆

Wide range of formats

★★★★

ImageConvert

Free

★★☆☆

Multiple formats

★★★★

MIConv

Free

★★☆☆

Unique format support

★★★★

FileProInfo

Free

★★★☆

SEO tools

★★★☆

OnlineConvert

Free(with limited features),

$6.99 for the Light version

★★★☆

Uploading options

★★★★

TheOnlineConverter

Free

★☆☆☆

Multiple uploading

★★★★

Autotracer

Free

★★★★

Multiple upload

★★★★

Filestar

$9 per month for Personal

edition (limited free use)

★★★★

High number of formats

★★★★

ConverterTools

Free

★★☆☆

Multiple conversions

★★★★

Free Online

Converter

Free

★★★★

Multiple file formats

★★★★
1. AnyConv
Price: You can convert JPEG to AI free of cost with this application online.
The AnyConv JPEG to AI conversion application online probably has one of the biggest range of file formats that it supports for conversion. Other than that, this application will also get rid of your images from its servers within an hour of upload, providing an additional layer of privacy to all users. You can freely upload any number of images on the website. It is simple to use as well, for all you have to do is click on the upload button and start processing. You will get your output within seconds.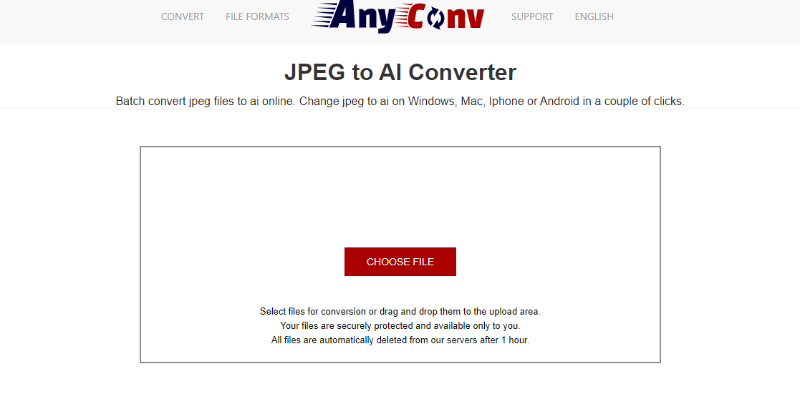 Pros:
Wide range of compatibility.
Simple and easy to use tool.
It is absolutely free.
Cons:
Results can vary.
Bigger images take a lot of time.
Works better only on desktops.
2.FileProInfo
Price: They offer the JPEG to AI converter online for absolutely free of cost to all users.
FileProInfo offers conversion for all the popular file formats such as MP4, MP4, PDF, DOCX, and many more. They also have SEO related services plagiarism checker, website reviewer, and more. You can use the image conversion and SEO features together if you happen to run a blog or a website. You can also use this website to completely make your documents as efficient as possible. You will only need to upload an image and pass the Captcha. Your results will be ready in a short span.
Pros:
Popular formats supported.
Free to use.
SEO tools.
Cons:
Slow processing.
Results can vary.
Limited features.
3. OnlineConvert
Price: You can convert your JPEG files to AI and others for free with this tool. However, for all features, you will need to purchase at least the Light version for $6.99.
OnlineConvert has a good amount of accessibility for users. One, it provides additional options for uploading images, such as pasting URL links directly or uploading images from Dropbox or Google Drive. Also, you can simply use this application anywhere by adding it as an extension on Google Chrome. Its other features include useful tools such as barcode generator, QR code generator, Online File Reader, and more.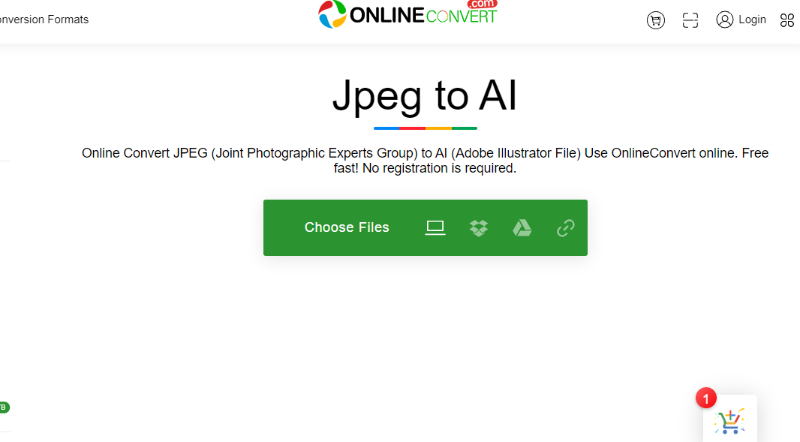 Pros:
Uploading options.
Easy to use app.
Multiple different features.
Cons:
Conversion is slow.
Can add more formats.
Results can vary.
4. ImageConvert
Price: Users can convert JPEG to AI online as well as for absolutely free with this image editing application.
This application is similar to the previous one in the sense that this tool supports multiple file formats too, including formats such as WebP, SVG, ICO, and even GIF. It has a few other file formats included as well. Additionally, you can also do some basic editing for your images by using the cropping, resizing, and compression features. Apart from that, you can also use this application to sketch your images.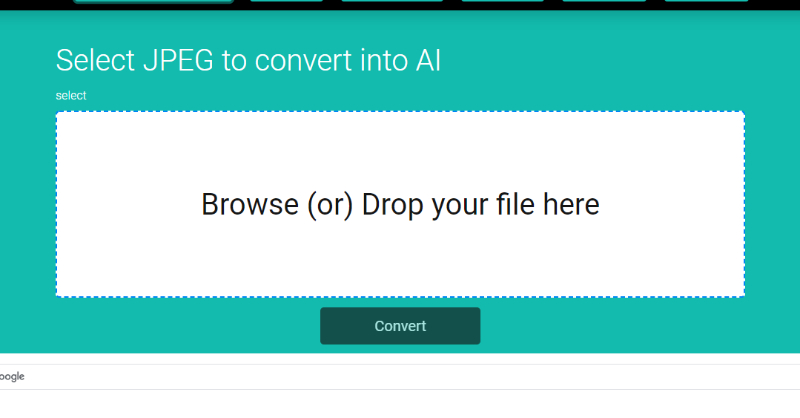 Pros:
Easy to use app.
Fully free to use.
Multiple file formats supported.
Cons:
The UI can be better designed.
A bit unresponsive.
Editing features can be improved.
5.MIConv
Price: This online JPEG to AI converter application is free to use for all users.
This application can be really useful, especially for business users and enterprises thanks to the fact that it can convert popular document formats as well. It can convert spreadsheets, documents such as HTML, JSON, DOCX, etc, and presentations as well. Other than that, you can also work with Mesh and CAD files with this application. It is an easy to use tool that only requires you to upload the needed images. Not to mention that it also ensures maximum security for your images.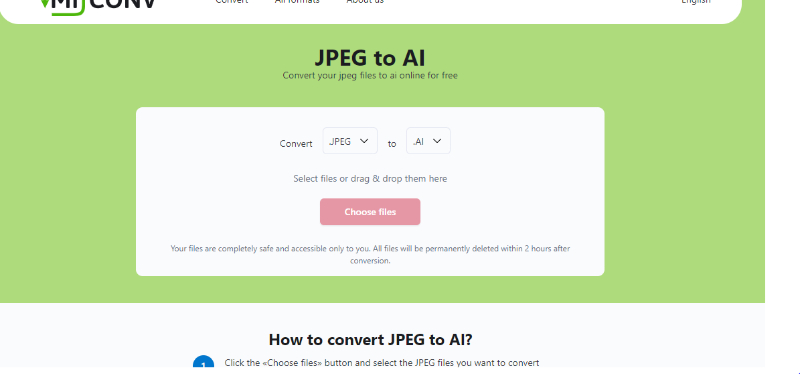 Pros:
Offers compatibility to a unique set of formats.
Easy to use tool.
Fully free.
Cons:
Could use more formats.
Slow processing.
Results are not always up to the mark.
6. TheOnlineConverter
Price: This is a free to use online image converter for JPEG, AI, and others.
With this tool, you can convert JPEG to AI or JPG to AI without much problem. This is an easy to use application that also offers multiple ways of uploading images. You don't even need to upload an image from your device, instead making use of the URL textbox to just paste the link of the image. Either way, this tool makes sure that your images stay private by keeping them away from third parties.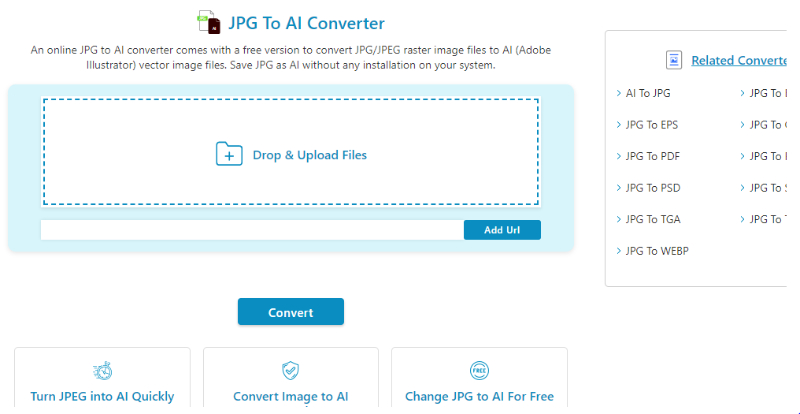 Pros:
Quick processing.
Free to use.
Easy to use.
Cons:
Results are somewhat underwhelming.
Doesn't have many features.
Can improve UI.
7. Autotracer
Price: This tool can be used to convert JPEG to AI for absolutely free of cost.
Autotracer is really good at converting images to vector graphics formats, which also includes converting image types into AI and other formats. You can convert your images to SVG, PDF, DXF, and other formats close to vector graphics. You can upload JPEG, PDF, PNG, and JPG images. When it comes to uploading, you can either use your local device or simply paste the URL of the image. You can also change a few settings beforehand to customize your output.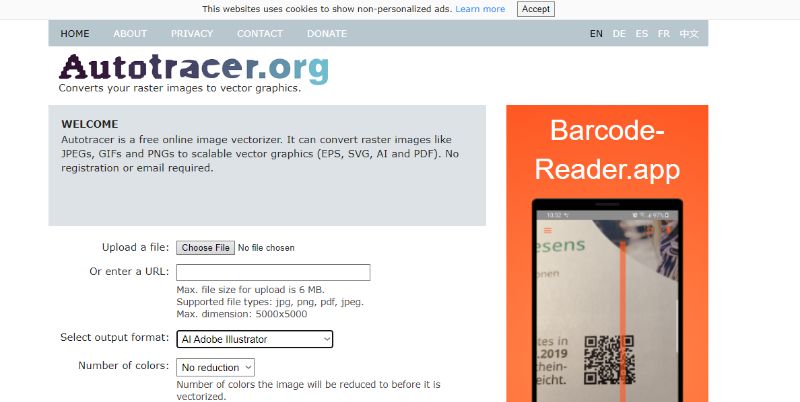 Pros:
Good results.
Multiple options for uploads.
Easy to use.
Cons:
Little to no features.
Few settings.
Takes time to process.
8. Filestar
Price: With the free version of this JPEG to AI converter software, you can have up to ten conversions per month. For unlimited conversions, you will need to buy the Personal edition that costs $9 per month.
While this application is a paid one, it does offer a huge amount of file format compatibility, probably the highest on this list. It supports a total number of 730 file formats, ranging from audio and documents to highly specific ones such as 3D and UX. Thus, this tool is definitely usable by people doing all kinds of work. It is useful to businesses as much as it is to developers and graphic designers. This tool is aimed towards professional use.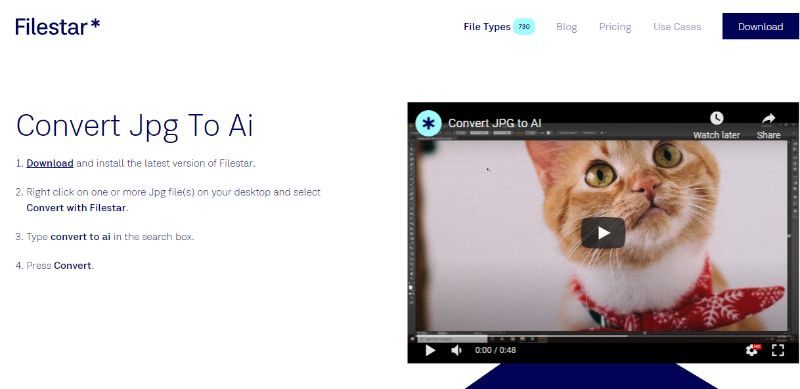 Pros:
A high number of file formats.
Easy to use.
Provides great results.
Cons:
Have to download the software.
Limited free use.
Not worth buying if you only want a JPEG to AI converter.
9. ConverterTools
Price: This is a free JPEG to AI converter application that also deals with other formats.
This is another good JPEG to AI online converter tool that offers multiple useful format conversions as well as an easy to use application for users. You can easily just upload an image by using the upload box given in the website or drop the JPEG image onto it. The tool will automatically process your images. You can also convert audio, ebooks, and other images. The results will be displayed after processing within a matter of seconds.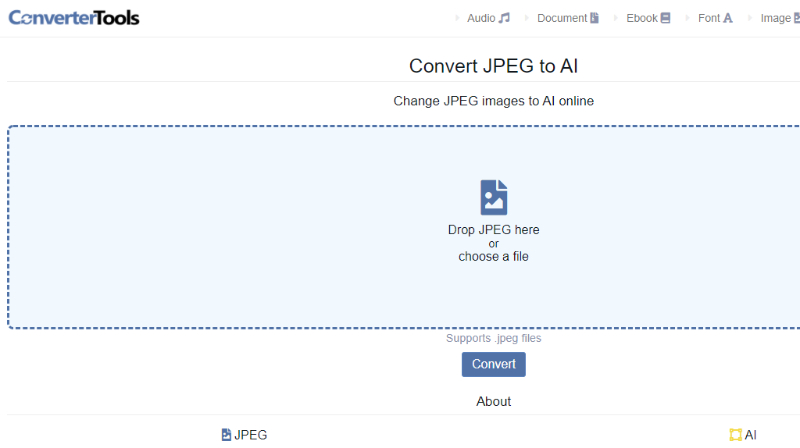 Pros:
Easy to use tool.
Free to use.
Quick processing.
Cons:
Results are average.
Less features.
UI can be better designed.
10. Free Online Converter
Price: This is a free to use JPEG to AI converter application online.
This online application for file conversion definitely has quite a few features and technologies to keep users invested. The application is exceptionally good when it comes to vectors and similar image file formats. You can convert many file formats such as JPEG, JPG, PNG, etc into vectors like AI, PDF, SK, SVG, and more. It also makes use of its technology to process all kinds of images at a great pace, reducing the waiting period for users. You can get instant results with this app without spending much time.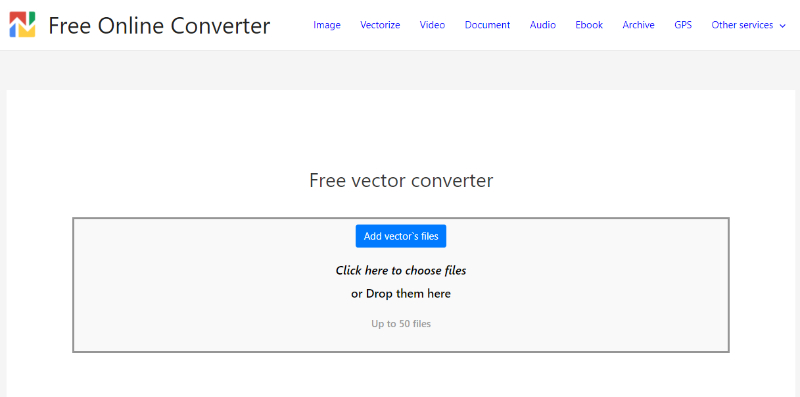 Pros:
Provides really good results.
Has multiple different tools.
Easy to use.
Cons:
Limited free use.
Can have more formats.
Stores the user's images on the website.
Conclusion
Dealing with different image file formats, especially JPEG, can be difficult due to their different compression rates, image quality, and other visual factors. However, due to advanced technology in image enhancement and editing, we can use tools like the ones on the list or Topaz and Vance to modify any kind of image in multiple ways to perfectly suit the user's needs.
Do you find this post helpful?
Yes
No