The clock of time never stops and the same goes for technology as well. The term 'DeepFaceDrawing' might be one you have never heard of. The reason is that it is a fresh new face image technology coming from a team of researchers based in China. DeepFaceDrawing is an image processing technique of coming up with realistic face drawing by using a sketch as input. In other words, it is capable of 3d face reconstruction from a single image. New image processing methodologies are always a plus in many areas of work.
The first thought would obviously go to graphic designing, as DeepFaceDrawing can prove to be a good alternative to GAN technology once developed enough. Apart from that, it can prove invaluable to the police forces at times when a sketch is needed before progressing. The uses can go as far as your imagination. In this guide, we will take a look at this new ground-breaking technology, give you an insight into it, and most importantly, show you how to draw a realistic face with it. On the other hand, if you want to convert your photos to sketch, you may try the online photo editing tools provided by VanceAI.
What is DeepFaceDrawing?
A face image is a complex image, not only because of its intense details but also because of how varied they can be. There are more than seven billion different faces in this world and each one is unique. Naturally, even an advanced AI-based technology would face issues with creating a face image and similar pictures. The DeepFaceDrawing algorithm differs from others in its approach. This new approach does not restrict itself to the input sketch given, trying to find the exact match for it.
Instead, it uses the sketch merely as a guide to come up with multiple plausible candidate face images and simply filters them in order to find the most suitable one. One of its modules focuses on both the eyes, mouth, nose and the remainder for the face image. As a result of this new approach, users are no longer required to be adept at sketching themselves to create realistic face drawing.
Other approaches required you to have a detailed sketch in the first place, and only then could the AI work with it. Now, no need to wonder how to draw a realistic face, just draw basic outlines and your work is done. You should know that this DeepFaceDrawing is still improving day by day since it is a new algorithm. You will find some face image examples below, so you know what to expect.
How To Generate Realistic Faces From Sketches?
The live demo version of this algorithm is something you won't find easily as it is still in the development phase but you can still try it out from their official website. They have the tool as a basic image editor initiated for users who can use it for free and even choose to submit their sketches if they wish to do so. Take a look at some of the submissions: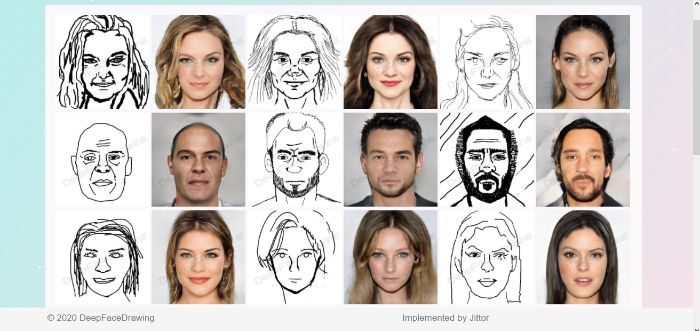 The left-hand side consists of the sketches in black and white and the right-hand side is of course, the reconstruction of the sketches. Now, the sketches themselves are admittedly more detailed than average but even then, the fact that these conversions are 3d face reconstruction from a single image is brilliant. Some of the photos in this gallery have a bit of extra shading on the jawline, hair, eyes, and various parts of the face.
The algorithm manages to catch onto those details as well and it clearly reflects in the conversion. The bottom photo of the second row, for instance, has a black shade drawn on the jawline as it is in the sketch. This algorithm also has the ability to come up with faces that don't even exist. Click to check out more best deepfake makers to make interesting images.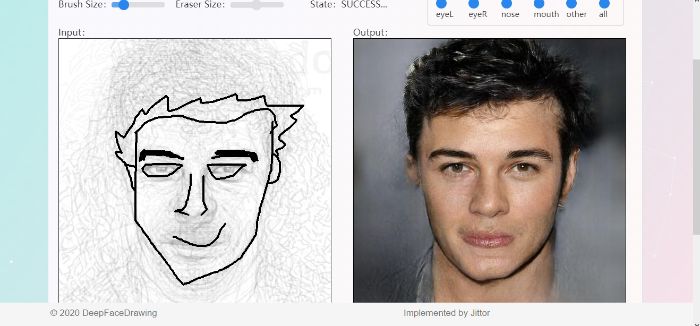 This sketch, compared to the ones in the gallery, is an amateur one with fewer details. The result then is affected a little too. The upper part of the face, that is the eyes, eyebrows, and nose, are pretty accurate all things considered. The lips and jaw are awkward due to the sketch. Though the algorithm is less dependent on the sketches, it still has to follow the outlines as the basis of the face image. For the most part, the conversion is remarkable though. You can also use our VansPortrait to convert portrait to sketch.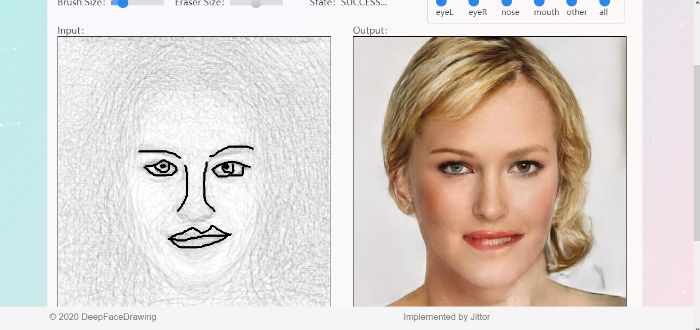 Here the sketch is partially drawn, to see how the algorithm reacts to it. The parts that are drawn are well done, besides the color change in the left eye. The nose is as perfect as it gets. The algorithm assumes the rest of the face according to the parts that are drawn. The hair is assumed too but looks great.
Also read: Face Swap: a Technology That Can Make You Believe Anything.
These images should be enough for users to get an idea of how the DeepFaceDrawing algorithm works. Now, let's see how to draw a realistic face with DeepFaceDrawing:
1.Get access to the editor page of Deepfacedrawing.
2.You will see a ton of editing options to choose from, such as male or female face image structure, eraser size, submit button, etc. Set the options as per your preference.
3.Now, simply start sketching as the algorithm will keep on updating and displaying the conversion image to your right in realtime.
Conclusion
The DeepFaceDrawing technology has a lot of potential for sure. Though it is not fully upgraded, it can nonetheless produce face image constructions of commendable quality. Not to mention the speed at which this algorithm operates. The images sketched and converted for this guide and review took nothing more than ten minutes, with sketching time included. This can prove really good for artists and professionals who would always prefer an application to deliver the highest quality images in the shortest amount of time taken. Click to see how to apply vintage filters easily.

Do you find this post helpful?
Yes
No