Our Facebook, Instagram, and Twitter feed have recently been invaded by " aged " pictures of ourselves or pictures with your face mapped on Donald Trump`s infamous hairline. Of course, you can replace some facial features of your friends or celebrities with certain features of yours. These things are generated by a face swap app, face swap software, or even a face swap online.
In this article, some fun face swap tools will be recommended - face swap app, Toongineer cartoonizer and VanceAI Image Enhancer from VanceAI - but before that let's inspect the definition of face swap AI and how it works.
Part 1: What is Face Swap?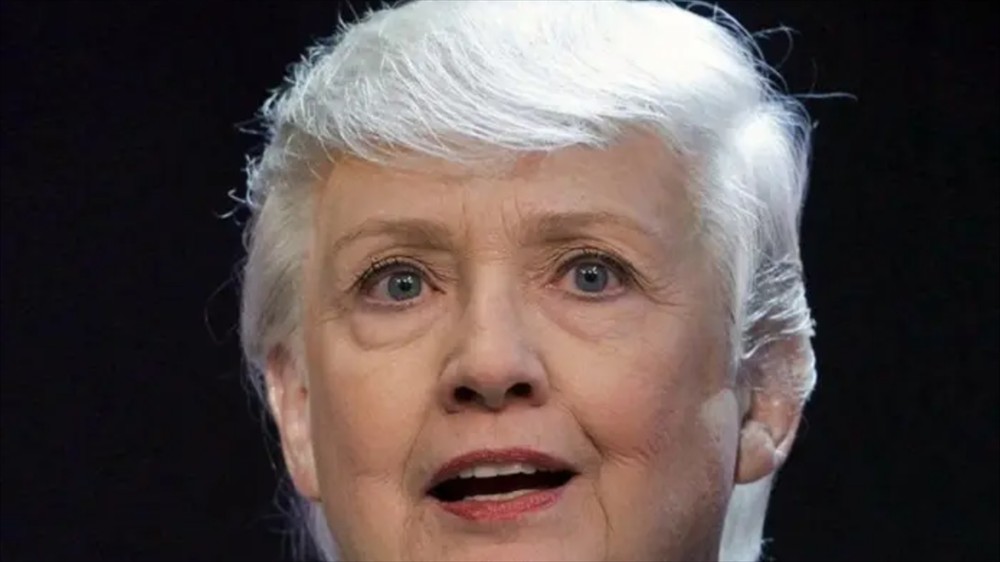 Face swap is a simple term for Deepfake. Deepfake technology has been around for some time, and the name refers both to the method by which they are made, but also to the images resulting from the process. It is a combination of two terms, deep learning (the technique used in artificial intelligence that helps computers learn by example) and fake, which you realize on your own.
The face swap process manipulates facial expressions or swap faces. Face swapping is mainly performed on videos and videos. In short, through a dedicated tool, you can interchange your face or some facial attributes with another person. For now, this kind of tool is for our own amusement and the results are hilarious, but in the future and even now from time to time, it will generate fake news, if no measures are taken to protect the identity.
Also read: A Tutorial On How To Draw A Realistic Face With DeepFaceDrawing
Part 2: How is AI applied in Face Swap
Usually, a face swap app AI or a face swap software operates with powerful Generative Adversarial Networks (GANs) or deep neural networks (DNNs) that can generate a realistic image or replacing the faces from videos and images. Machine learning and AI techniques are also used. Machine learning means algorithms that improve as they are exposed to more data over time. Machine learning is an application that gives an AI system the ability to learn from experience.
Using statistical models and algorithms, the AI ​​system can gradually progress in the task it performs, without a human being having to intervene and program the AI ​​to work better. This assumes that instead of task-specific algorithms used in simpler forms of machine learning, the deep learning process uses neural networks. A neural network is a computer system based on how the human brain works. In the neural network, several thousand to millions of processing nodes assume the role of neurons.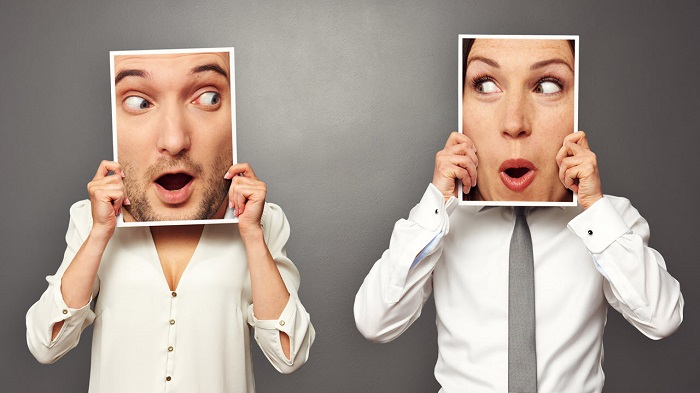 As the network is fed with training samples, it builds connections between processing nodes. Connections can change in different ways because the system is constantly exposed to new data. If a connection helps the AI ​​perform a task better or more efficiently, it becomes stronger, but if that connection leads to mistakes, it will become weaker. This process is similar to how the human brain builds connections between neurons and how it learns from experience. You can read an interesting and complete article about this complex subject on the website theaisummer.com. This site is an AI community with valuable knowledge about the AI world.
Part 3: Face Swap in Photoshop
Face swap Photoshop is possible but here things get complicated. In fact, it depends only on you. If you are really interested in this software, then your passion and interest will be stronger than your effort. Anyone can make a face swap but the natural-looking of the photo is a matter of finesse and experience. If you are not scared about mask layers, selection tools, blending, and color corrections, then you are the man. You don`t need a face swap app to do this if you want to try and master Photoshop when it comes to the field of photography. Certainly, the satisfaction will be even greater. Keep in mind a small piece of advice: use a face that's larger than the face you're trying to swap out. You can watch a great tutorial on the Photoshop Training Channel on YouTube or you can read a clear guide: face swap photoshop. Of course, you can check the official site of Adobe. They have a useful blog with plenty of articles regarding this topic.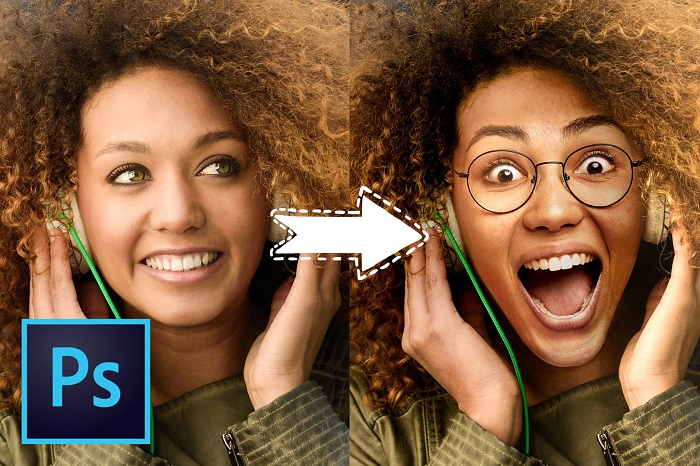 Part 4: Face Swap online products
Swap face is the latest trend in the online environment and is making a big splash in the vast ocean of online. It is extremely funny to use such a tool and you can impress your friends, including you, with amazing and creative ideas. Below, I will recommend some swap face tools that you can access online. Try this new trend and prepare to get amazed.
1. Reflect.tech
This free face swap online tool is really awesome. If you want to use this face swap AI you need to log in with your Facebook or Google account and upload your picture. A realistic face swap can be done in a matter of seconds. You can see how you will look like a statue, in a painting, in a meme, video game, cartoon or as a celebrity. This face swap web service has a generous library from where you can choose to interchange your face with. You can be someone from Games of Thrones or even the Mona Lisa. This face swap platform is easy to use and the result is remarkable. The only drawback is that there is a watermark, which does not cover your face but is located to its left.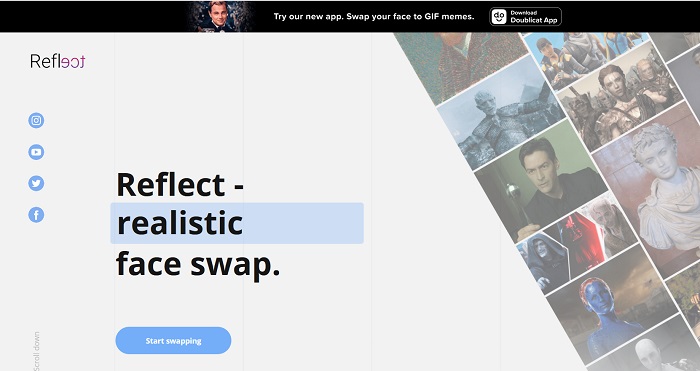 2. PictureEditorOnline.com
Another cool face swap online tool is this software, dedicated to photo editing. The link will redirect to the face swap effect, but if you can`t access it, then keep in mind that in the right corner of the interface is a menu from where you must click on "Effects", then opt for face swap. Upload the portraits that you want to interchange and the result will be funny and amazing. This platform does not have any media library, so you need to be creative when you are choosing pictures for face swap. This face swap app tool will automatically detect faces and swap them as smooth as possible. You can download the pictures without any watermark. Using this face swap online tool is free.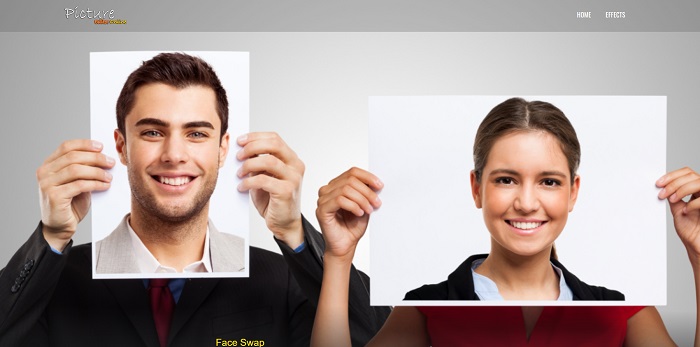 3. PicMonkey.com
PicMonkey is a photo editing web service that recently introduced the possibility to make a photorealistic face swap. It is easy to use even you need to be familiar with layers. Of course, you need to use some blend and blur tools in order to get rid of the rigid edges of the subjects' faces after the face swap action. You can try this online face swap tool for a 7-day free trial. After that, if it will convince you, you need to pay a monthly or annual subscription. With this tool, you can swap your face in pictures.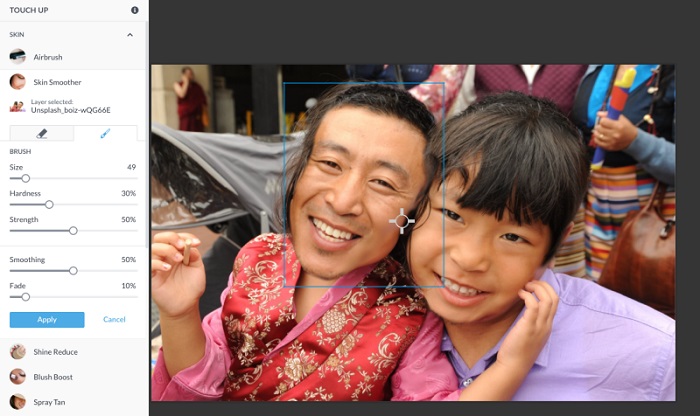 Part 5: Face Swap apps
We know very well that now we can use our smartphones at an extremely high capacity. We can take some absolutely wonderful photos and edit them in an instant. And everything seems professional. Well, given this aspect and the face swap trend, some cool face swap apps have developed.
1. Reface
A mind-blowing face swap app through which you can be anyone you want. It is one of the top-rated face swap apps and you can map your face on different figures from a vast library. You can swap your face to movie characters or celebrities, gender, and so on and create funny face swap videos with just one photo. This can be downloaded by iOS and Android users. The AI technology used by this app is really advanced and it is mentioned even by Forbes. Undoubtedly, this is one of the best face swap apps.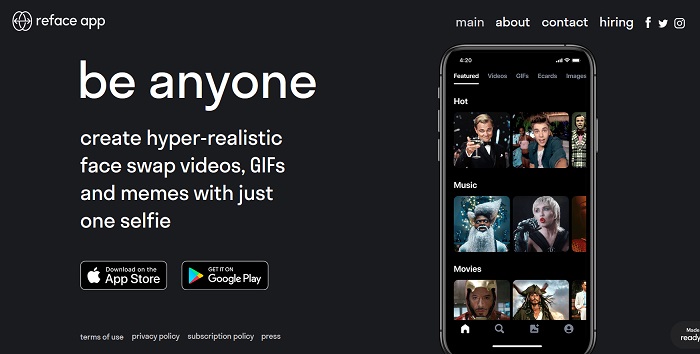 2. FaceApp
Available for iOS and Android devices, this face swap app can be really fun to use. Besides swap faces with friends, celebrities, you can retouch your selfies. You can change the hairstyle and the hair color, remove acne and try some makeup filters. Some extra features are: you can see what future kids would like and you can use a weighting filter, in order to get bigger or smaller and many more. The manager of the Wireless Lab company, which created the software, said that the photos are kept on its servers for a while, as long as the changes are applied, then they are deleted and the application does not take over user data, such as Meitu, another face swap app.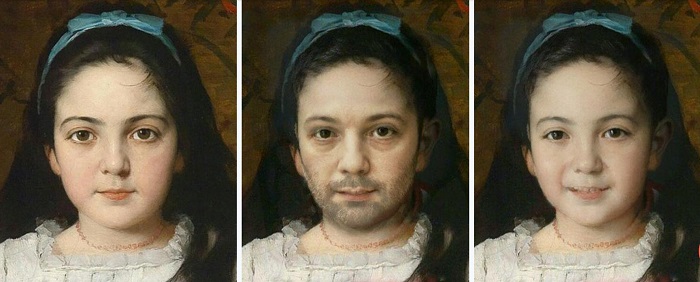 Part 6: VanceAI focuses on Face Swapping
VanceAI Image Enhancer can enhance swapped faces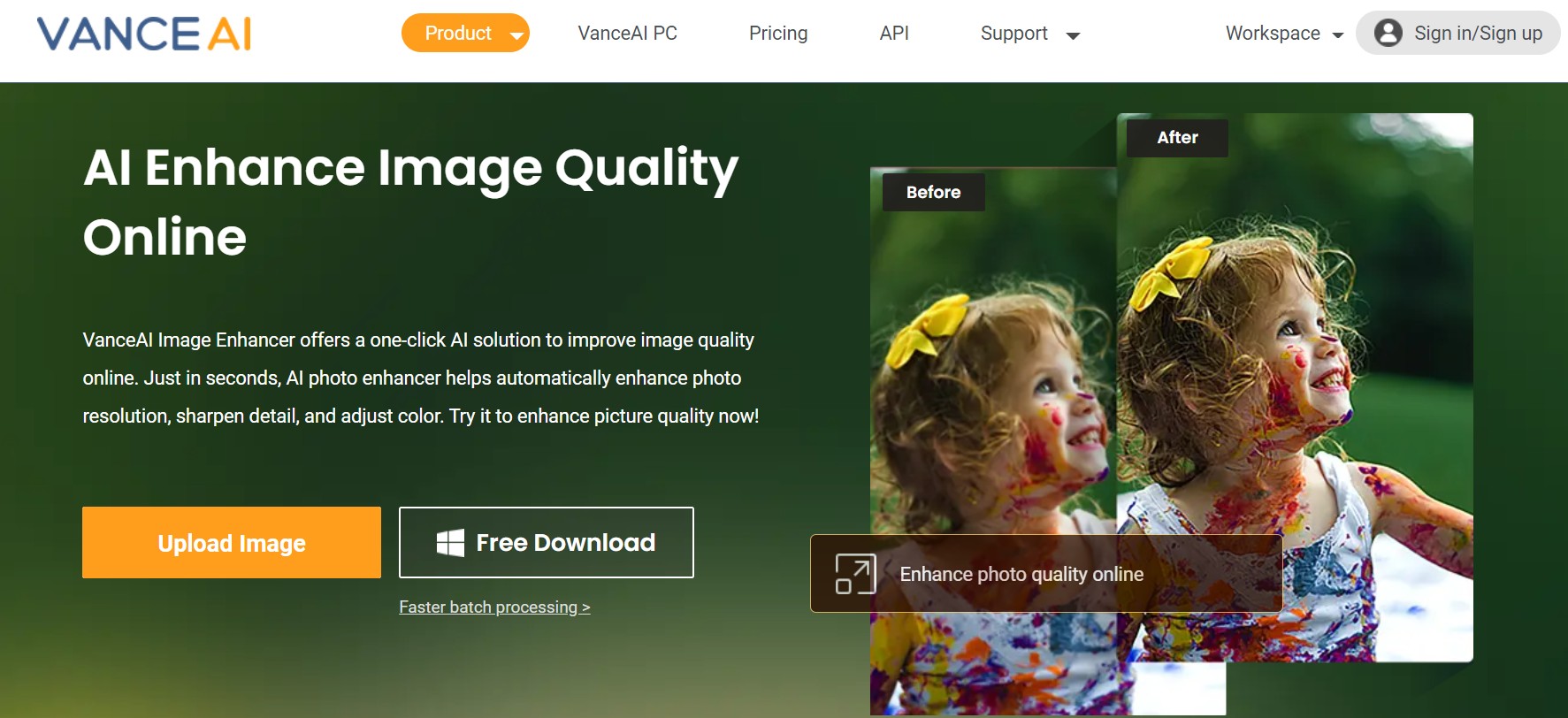 Using such a face swapping tool, not only did it go viral, but it turned into a challenge, meaning people are urged to do this digital transformation. But why has it become so popular? We know for sure that it has a humorous effect, but is it possible to get that if the swapped face is low quality? That why here the article will introduce VanceAI Image Enhancer to make swapped faces clear.

Enhanced by VanceAI Image Enhancer
Toongineer cartoonizer gives a cartoon face
This part will give you an ultimate guide on how to use Toongineer cartoonizer to get a cartoon face instead of face swapping and show the result image.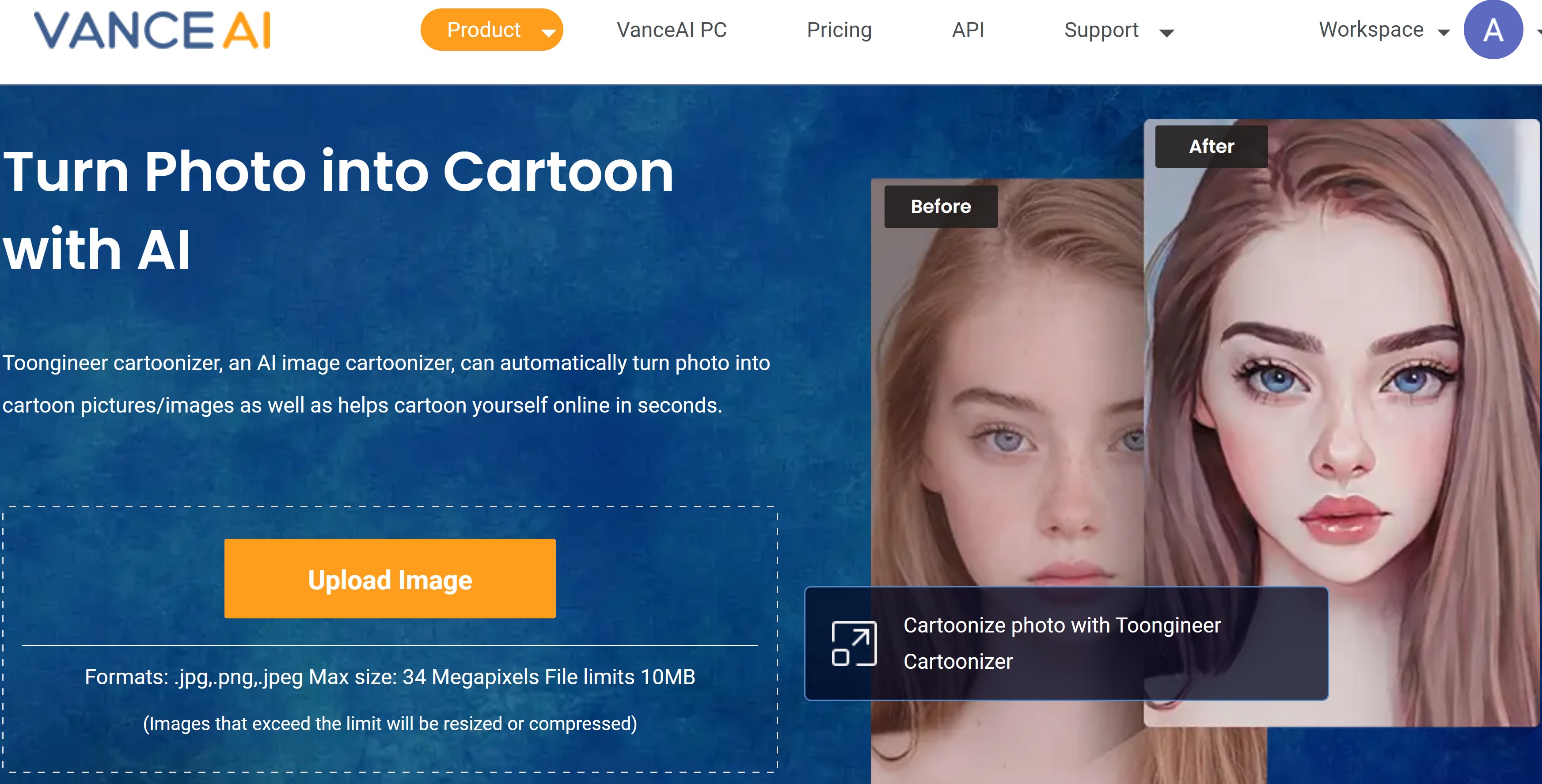 Preview the cartoon face.

Cartoonized by Toongineer cartoonizer
Every coin has two sides
Although artificial intelligence is an incredible technology that makes our lives easier in many ways, it also comes with its downsides. The use of this technology depends on the context a user is using it for. With these face swap tools, the problem of fake news could increase. It will be easier for malicious people to promote fake content as truthful. Soon, you will no longer know what is true and what is false, which makes it even more necessary to use the Internet carefully and a skeptical approach to all the information circulating on the web.
Experts are now working on tools by which fakes can be identified, but until they become available, the best protection is a better selection of the information we encounter, in whatever form it may be presented to us. The actor Jordan Peele used artificial intelligence to deliver a kind of public service announcement about the danger that deep fake maker technology poses. He did this with the help of the image of Barack Obama, the former president of the United States. You can watch it here.
Of course, we use these face swap apps only to have fun on social media. But in the hands of an influential person with not very noble purposes, it might go wrong. Anyways, not all face swap apps or online tools are safe regarding your privacy. I am speaking about the free face swap tools. Everything has a cost. That's why it's imperative to read the privacy policy that doesn't use your personal data for other purposes. They demand more access and more information than they need for the services they provide, they can remove the information from any legal protection regime, they can distribute it to anyone and they can keep it for an indefinite period.
Moreover, it is impossible to notice what happens to the information once it is loaded into the application. So, it is best to inform yourself about this aspect, and only after that, you can use a certain face swap app. If everything is clear and safe in terms of data protection, then you be creative, while having fun with these absolutely awesome face swap tools.
Conclusion
Some official face swap tools are not designed at a high level so that you no longer realize the differences, but you can see that there is a difference, in order to emphasize the entertainment side. But there are some tools that use technology that can make you believe anything. Artificial intelligence has gone far enough to fool you extremely easily. Deepfake technology takes everything to the next level. Face swap apps and VanceAI tools including the image enhancer use artificial intelligence too. All that aims to perform well in face swapping
Certainly, these face swap tools will develop their technology year after year. This kind of technology is just a mirror of the future to come. Click to see Top 6 AI Applications and Trends in Media and Entertainment 2022
Do you find this post helpful?
Yes
No