Our Facebook, Instagram, and Twitter feed have recently been invaded by " aged " pictures of ourselves or pictures with your face mapped on Donald Trump`s infamous hairline. Of course, you can replace some facial features of your friends or celebrities with certain features of yours. These things are generated by a face swap app, face swap software, or even a face swap online.
In this article, some fun face swap tools will be recommended - face swap app, Toongineer cartoonizer and VanceAI Image Enhancer from VanceAI - but before that let's inspect the definition of face swap AI and how it works.
What is Face Swap?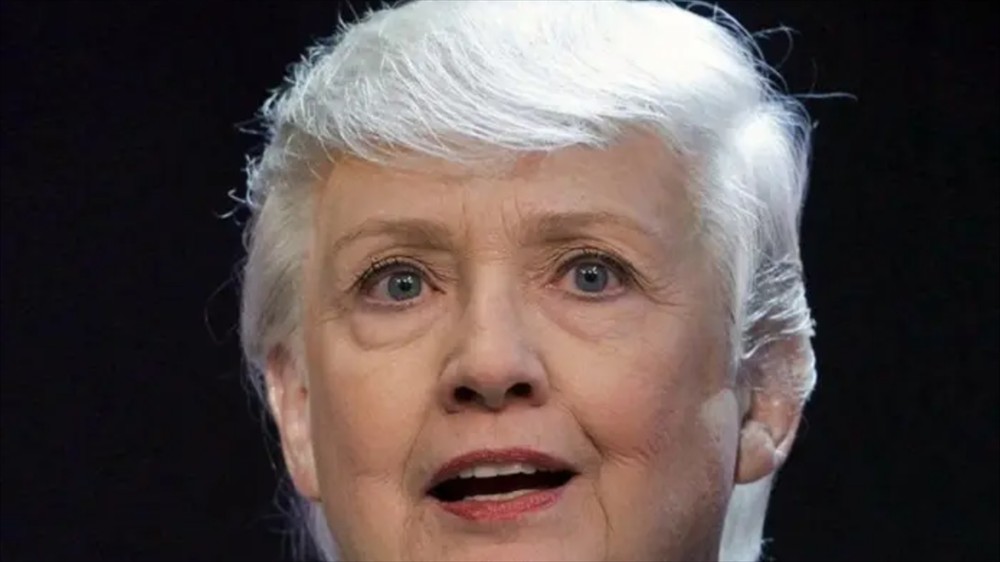 Face swap is a simple term for Deepfake. Deepfake technology has been around for some time, and the name refers both to the method by which they are made, but also to the images resulting from the process. It is a combination of two terms, deep learning (the technique used in artificial intelligence that helps computers learn by example) and fake, which you realize on your own.
The face swap process manipulates facial expressions or swap faces. Face swapping is mainly performed on videos and videos. In short, through a dedicated tool, you can interchange your face or some facial attributes with another person. For now, this kind of tool is for our own amusement and the results are hilarious, but in the future and even now from time to time, it will generate fake news, if no measures are taken to protect the identity.
Also read: A Tutorial On How To Draw A Realistic Face With DeepFaceDrawing
How is AI applied in Face Swap
Usually, a face swap app AI or a face swap software operates with powerful Generative Adversarial Networks (GANs) or deep neural networks (DNNs) that can generate a realistic image or replacing the faces from videos and images. Machine learning and AI techniques are also used. Machine learning means algorithms that improve as they are exposed to more data over time. Machine learning is an application that gives an AI system the ability to learn from experience.
Using statistical models and algorithms, the AI ​​system can gradually progress in the task it performs, without a human being having to intervene and program the AI ​​to work better. This assumes that instead of task-specific algorithms used in simpler forms of machine learning, the deep learning process uses neural networks. A neural network is a computer system based on how the human brain works. In the neural network, several thousand to millions of processing nodes assume the role of neurons.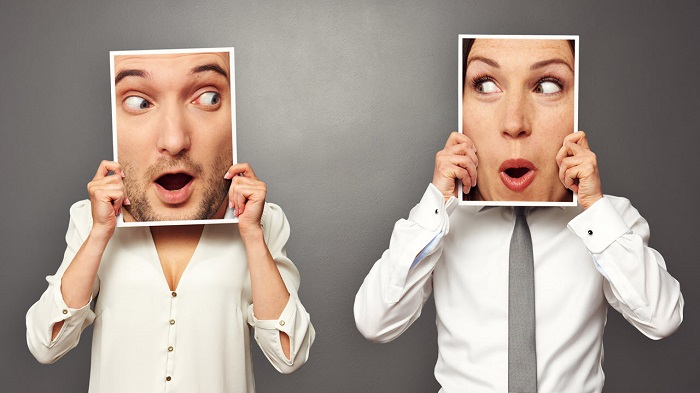 As the network is fed with training samples, it builds connections between processing nodes. Connections can change in different ways because the system is constantly exposed to new data. If a connection helps the AI ​​perform a task better or more efficiently, it becomes stronger, but if that connection leads to mistakes, it will become weaker. This process is similar to how the human brain builds connections between neurons and how it learns from experience. You can read an interesting and complete article about this complex subject on the website theaisummer.com. This site is an AI community with valuable knowledge about the AI world.
Swap face is the latest trend in the online environment and is making a big splash in the vast ocean of online. It is extremely funny to use such a tool and you can impress your friends, including you, with amazing and creative ideas. Below, I will recommend some swap face tools that you can access online. Try this new trend and prepare to get amazed.
Price

Features

SupportDevice

UserFriendly

Reflect. tech

Free

Generous library,

realistic faceswap,

easy to use

Online

Good

PictureEditorOnline.com

Free

Automatic face detection,

no watermark,

no media library

Online

Good

PicMonkey.com

7-day free trial,

then amonthly

or annual

subscription

Photorealistic face swap,

photoediting tools

Online

Good

Reface

3-day free trial,

then amonthly

or annual

subscription

Advanced AI technology

for face mapping,

vast library for face swap,

ability to create funny

face swap videos with just

one photo

iOS and

Android

Good

FaceApp

Professional

features

require payment

Face swap with friends,

celebrities, retouch selfies

change hairstyle and

hair color, remove acne,

etc

iOS and

Android

Good

Icons8

Free

AI-powered

Online

Moderate

Face Swap Online

Free

Manual Compositor, Stickers

Online

Good

Face Swapper

Free

Simple, Pre-Provided Faces

Online

Easy

Pixble

Free

AI-powered, 3D rendering

Online

Moderate

FaceHub Live

Paid

AI-powered, 3D avatars

Online

Easy
1. Reflect.tech
This free face swap online tool is really awesome. If you want to use this face swap AI you need to log in with your Facebook or Google account and upload your picture. A realistic face swap can be done in a matter of seconds. You can see how you will look like a statue, in a painting, in a meme, video game, cartoon or as a celebrity. This face swap web service has a generous library from where you can choose to interchange your face with. You can be someone from Games of Thrones or even the Mona Lisa. This face swap platform is easy to use and the result is remarkable. The only drawback is that there is a watermark, which does not cover your face but is located to its left.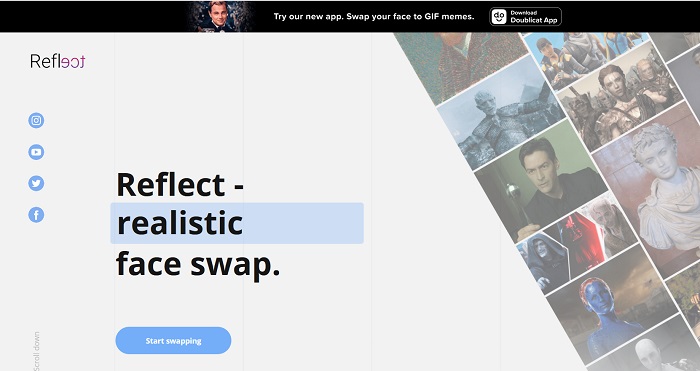 2. PictureEditorOnline.com
Another cool face swap online tool is this software, dedicated to photo editing. The link will redirect to the face swap effect, but if you can`t access it, then keep in mind that in the right corner of the interface is a menu from where you must click on "Effects", then opt for face swap. Upload the portraits that you want to interchange and the result will be funny and amazing. This platform does not have any media library, so you need to be creative when you are choosing pictures for face swap. This face swap app tool will automatically detect faces and swap them as smooth as possible. You can download the pictures without any watermark. Using this face swap online tool is free.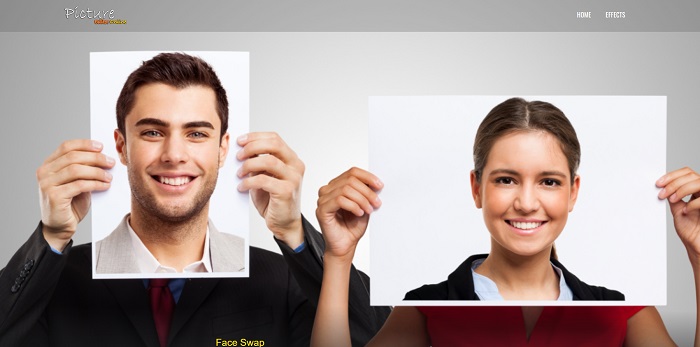 3. PicMonkey.com
PicMonkey is a photo editing web service that recently introduced the possibility to make a photorealistic face swap. It is easy to use even you need to be familiar with layers. Of course, you need to use some blend and blur tools in order to get rid of the rigid edges of the subjects' faces after the face swap action. You can try this online face swap tool for a 7-day free trial. After that, if it will convince you, you need to pay a monthly or annual subscription. With this tool, you can swap your face in pictures.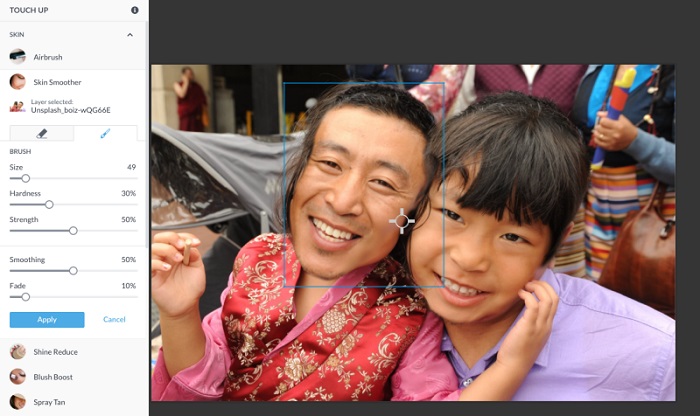 4. Reface
A mind-blowing face swap app through which you can be anyone you want. It is one of the top-rated face swap apps and you can map your face on different figures from a vast library. You can swap your face to movie characters or celebrities, gender, and so on and create funny face swap videos with just one photo. This can be downloaded by iOS and Android users. The AI technology used by this app is really advanced and it is mentioned even by Forbes. Undoubtedly, this is one of the best face swap apps.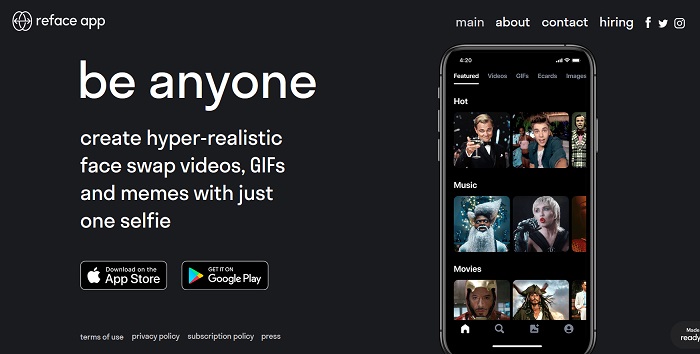 5. FaceApp
Available for iOS and Android devices, this face swap app can be really fun to use. Besides swap faces with friends, celebrities, you can retouch your selfies. You can change the hairstyle and the hair color, remove acne and try some makeup filters. Some extra features are: you can see what future kids would like and you can use a weighting filter, in order to get bigger or smaller and many more. The manager of the Wireless Lab company, which created the software, said that the photos are kept on its servers for a while, as long as the changes are applied, then they are deleted and the application does not take over user data, such as Meitu, another face swap app.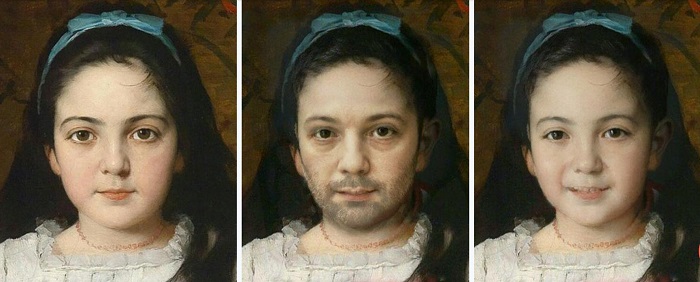 6. Icons8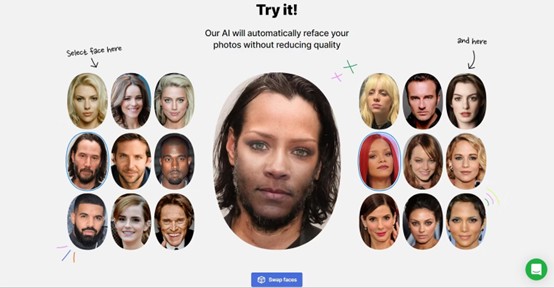 Icons8 is a design platform that offers various design tools. Among these tools, you'll find an AI-powered face swapper. This tool allows you to make quality face swaps with high resolution.
When you visit the Face Swapper tool on Icons8, you're able to test out the tool by swapping celebrity faces on the page. This simply gives you a feel of what to expect from this tool. If you want to swap multiple faces at once, you can do exactly that by using the multi swap feature.
7. Face Swap Online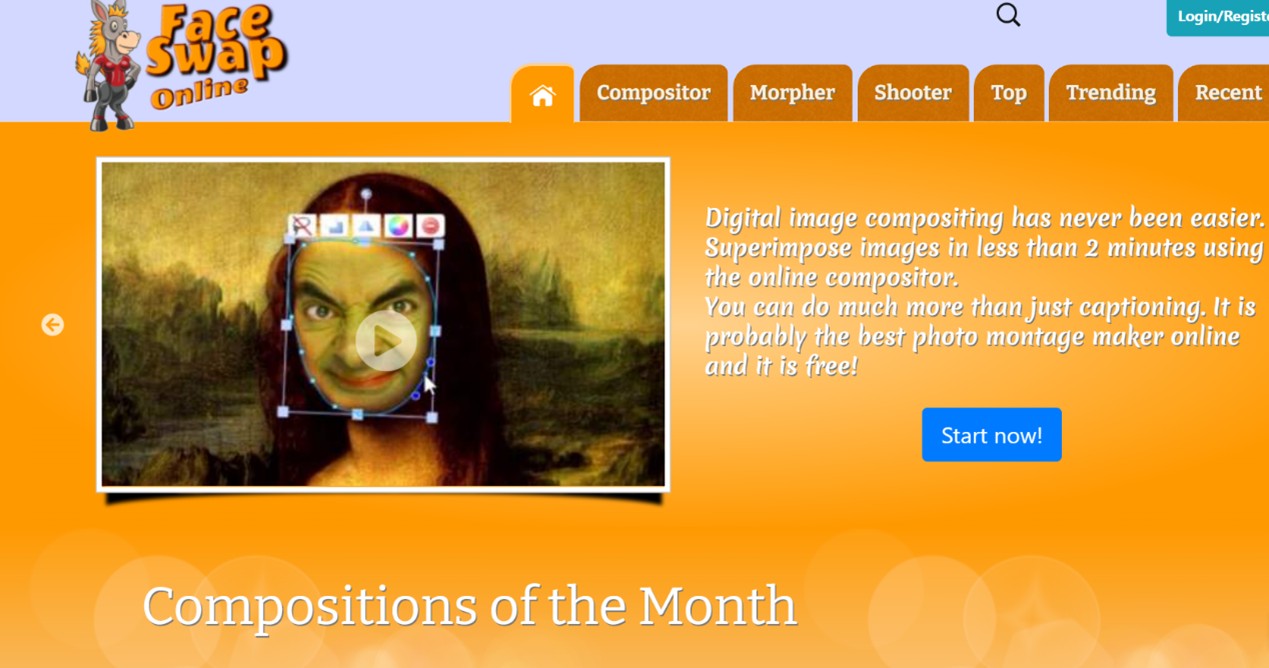 There are quite a few, automatic face swapping tools you can access, where you simply need to click a button. But, this one offers something different. Face Swap Online is for anyone who has the desire to do things manually. Here, you'll learn how to do a realistic head swap by using the compositor tool.
If this seems too technical for you, the good news is that you're not left to figure it out on your own. On the compositor page, you'll find a step-by-step demonstration that shows you how to impose a face into another image.
You can use the editing tools provided to make sure the images blend well together. The tool also provides additional stickers that you can add to your face swap edits.
8. Face Swapper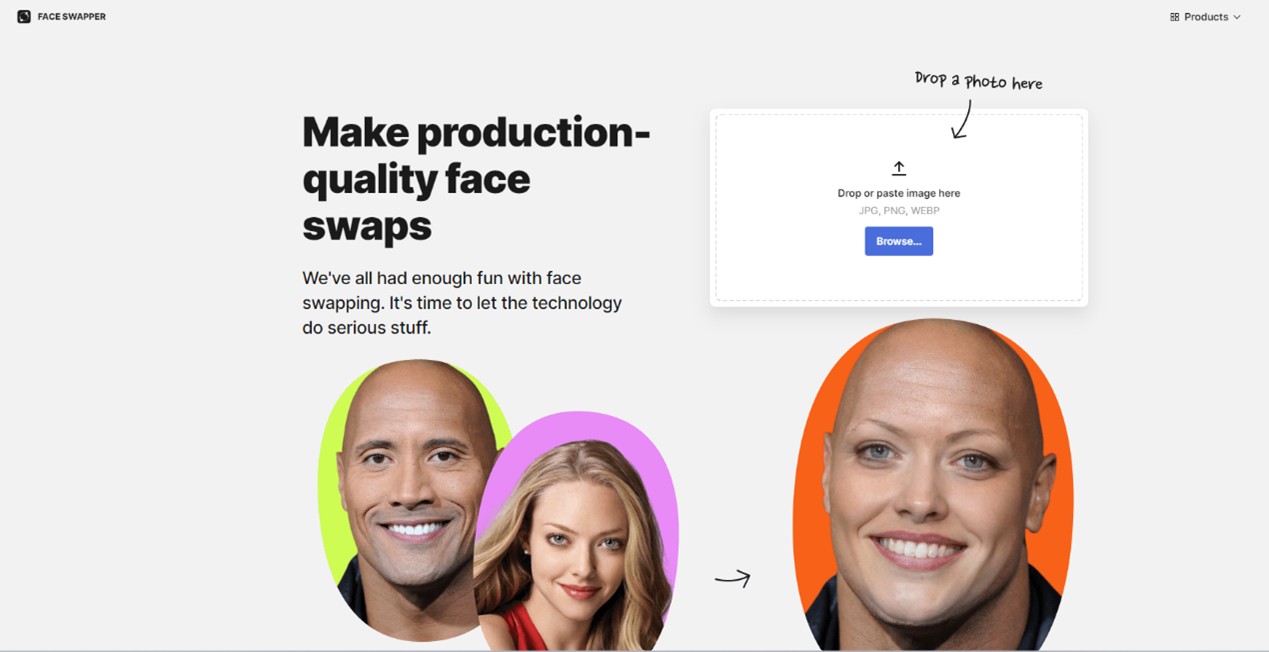 If you're looking for a simple face swapping tool that doesn't take you through multiple steps, this is it. Face Swapper has an easy interface that allows you to simply upload, or drag and drop images.
Once you've uploaded your picture, you'll get to select a face from a list of provided images. You can choose whether you want to see a male or female face list.
You're not forced to select from the provided list, as there's an option to upload an original image for face swapping. When you've chosen the face you want to swap with, click on Swap Face Now, then download the final image.
9. Pixble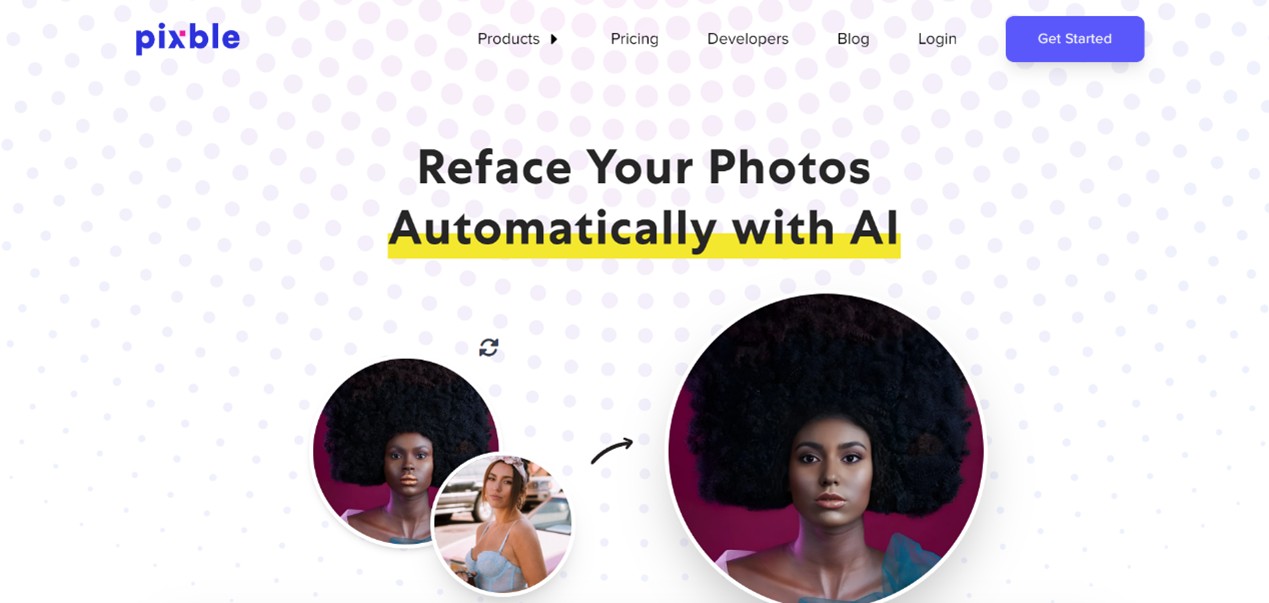 It leverage the power of Artificial Intelligence to detect faces on photos and map the facial features of other faces of your choice automatically. The face is rendered in 3D; in the result, the replacement is more accurate and realistic. Faceswapper works even when the face is rotated and tilted. For better results, please use quality photos without anything in front of faces of the person, hair and hands for example. It returns the same size of the source images.
10. FaceHub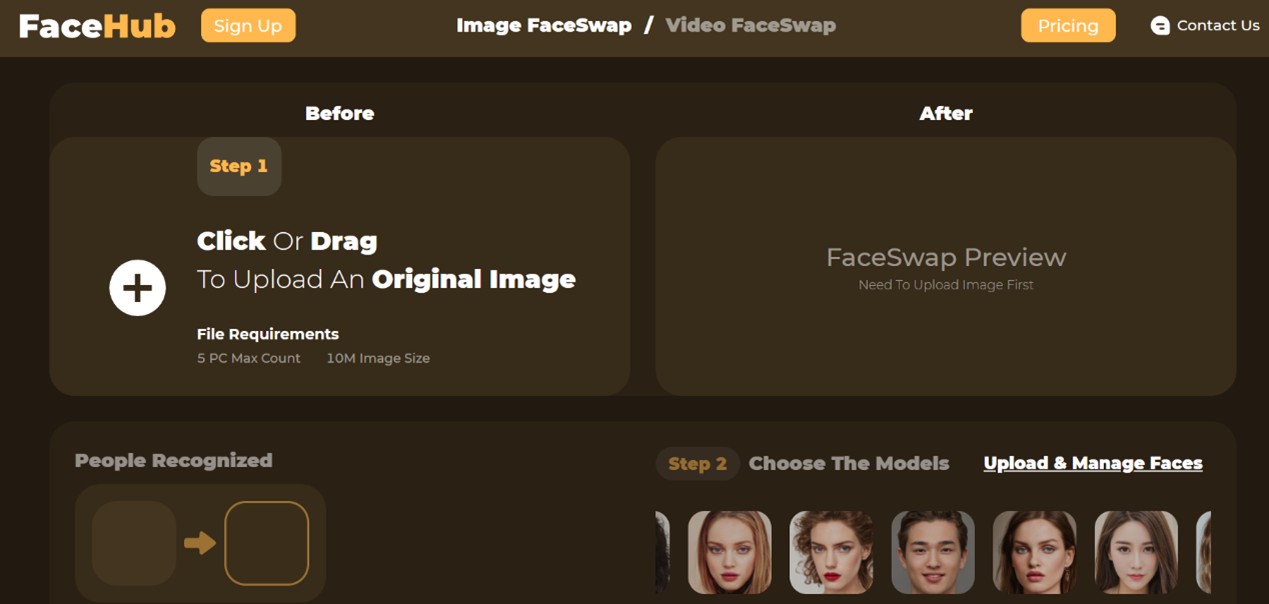 Facehub Live is a recently developed AI technology that enables users to generate lifelike faces with minimal effort. It is an ideal resource for generating captivating content for social media and is remarkably user-friendly. With Facehub Live, one can produce faces that bear an uncanny resemblance to customers, friends, and even famous personalities. Additionally, the application can be used to build realistic 3D avatars that mirror one's appearance. Using its potent facial recognition software, you can swiftly generate lifelike 3D portraits of your loved ones. Facehub Live is an ideal tool for graphic designers, artists, or anyone seeking to have some
VanceAI focuses on Face Swapping
VanceAI Image Enhancer can enhance swapped faces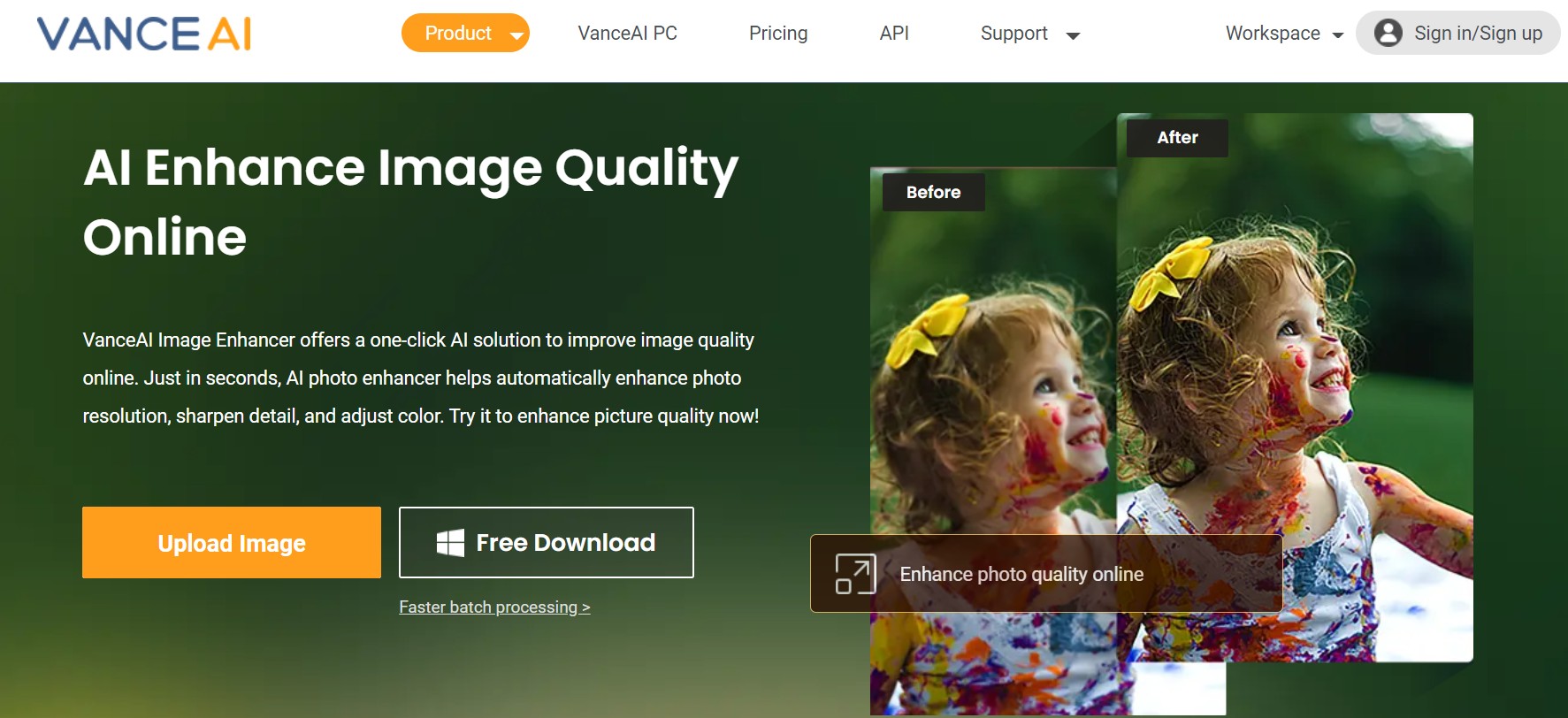 Using such a face swapping tool, not only did it go viral, but it turned into a challenge, meaning people are urged to do this digital transformation. But why has it become so popular? We know for sure that it has a humorous effect, but is it possible to get that if the swapped face is low quality? That why here the article will introduce VanceAI Image Enhancer to make swapped faces clear.

Enhanced by VanceAI Image Enhancer
Toongineer cartoonizer gives a cartoon face
This part will give you an ultimate guide on how to use Toongineer cartoonizer to get a cartoon face instead of face swapping and show the result image.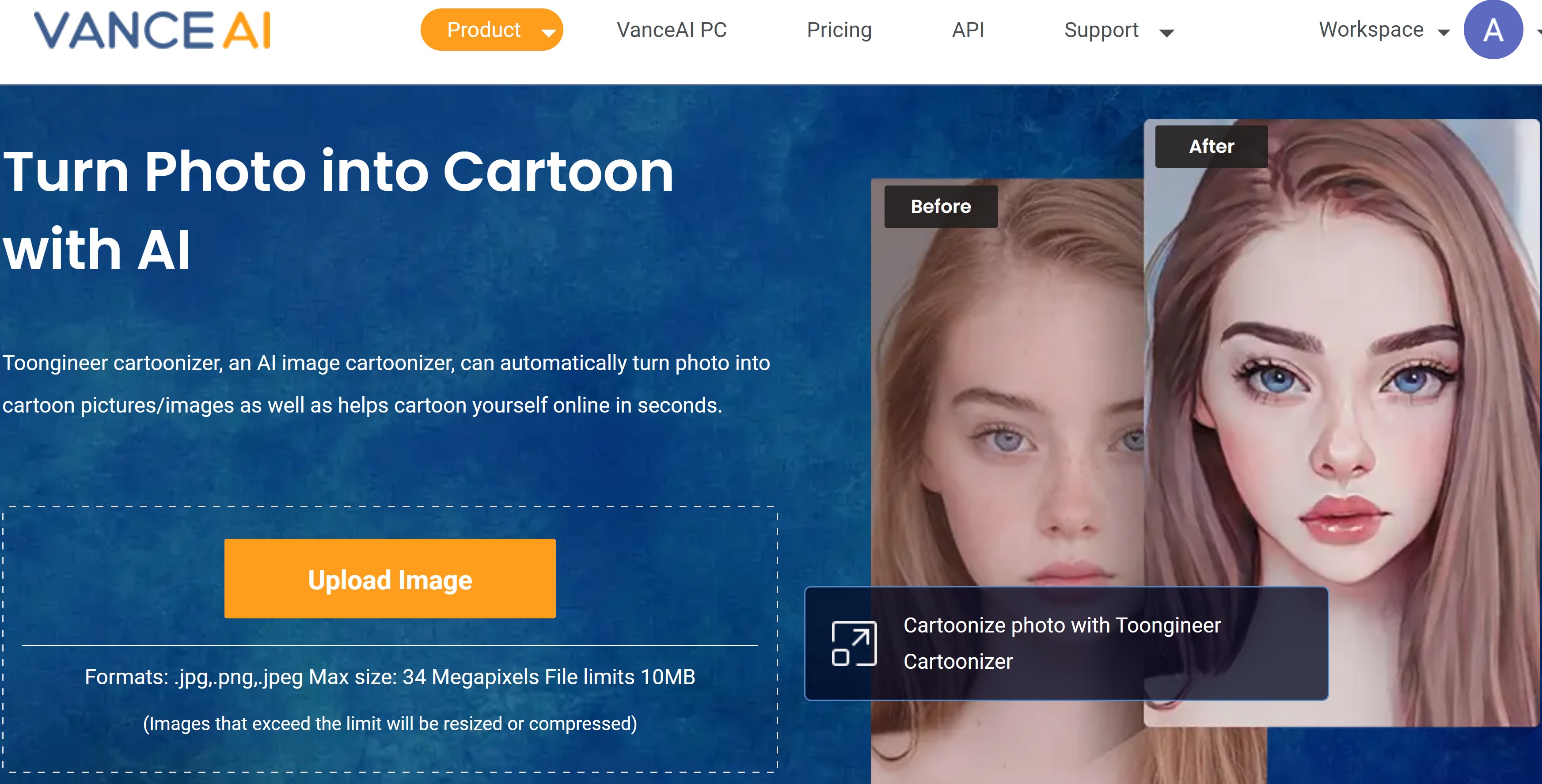 Preview the cartoon face.

Cartoonized by Toongineer cartoonizer
And there is support to experience the full power of Toongineer cartoonizer with a trial in the pop-up space on the right side. (Sign up can get 3 credits/month for Free. Click on "×" can exit the mini workspace and return to where you are reading.) Also you can download the software to use.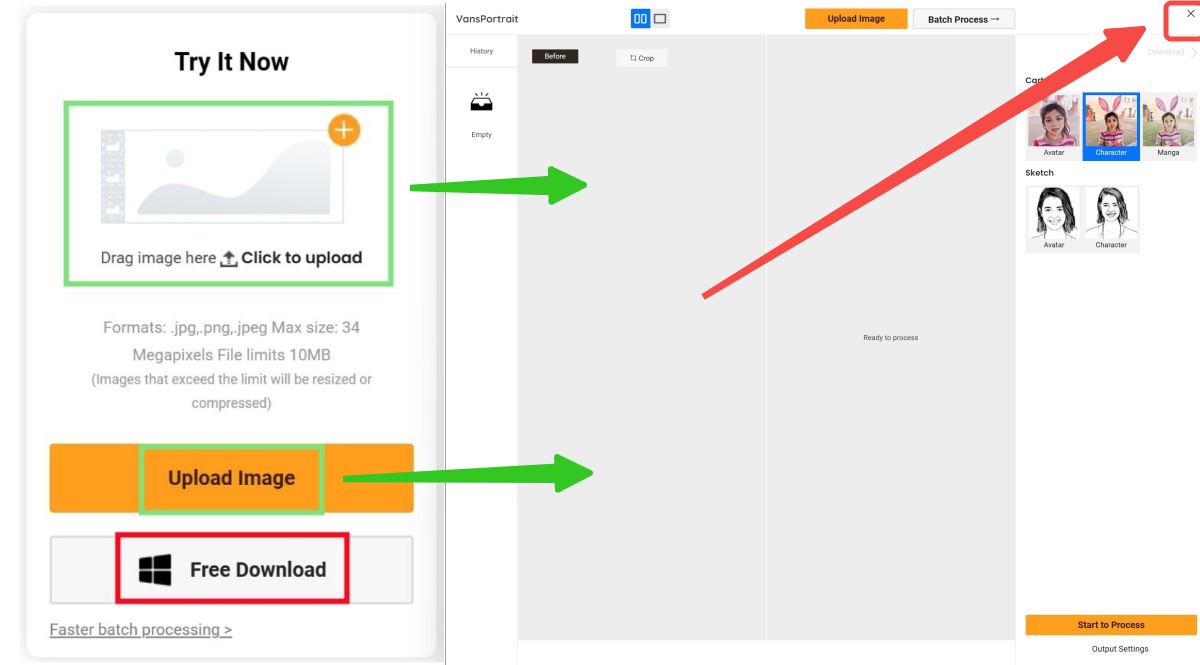 Conclusion
Some official face swap tools are not designed at a high level so that you no longer realize the differences, but you can see that there is a difference, in order to emphasize the entertainment side. But there are some tools that use technology that can make you believe anything. Artificial intelligence has gone far enough to fool you extremely easily. Deepfake technology takes everything to the next level. Face swap apps and VanceAI tools including the image enhancer use artificial intelligence too. All that aims to perform well in face swapping
Certainly, these face swap tools will develop their technology year after year. This kind of technology is just a mirror of the future to come. Click to see Top 6 AI Applications and Trends in Media and Entertainment 2022
Do you find this post helpful?
Yes
No