Hotpot AI is an online photo editing and enhancement platform that offers a variety of tools that you can use for improving your photos, and to a great extent for free. As the name suggests, it makes use of AI based algorithms in order to provide convenience to the users for photo editing, as it can be a complicated task. In this Hotpot review, we will discuss more about specific tools from Hotpot while comparing them to VanceAI tools.
VanceAI is another photo editing platform, powered by AI, that offers many photo editing solutions.
Key Features of Hotpot AI
Art Generator: With its artistic styles and effects, Hotpot AI can transform regular photos into stunning artworks, offering a unique and creative touch.
Image Upscaling: Hotpot AI utilizes advanced AI algorithms to upscale low-resolution images, enhancing their quality while maintaining sharpness and details.
Background Removal: The platform offers accurate background removal capabilities, allowing users to easily isolate subjects and create stunning compositions.
Artistic Filters: Hotpot AI provides a wide range of artistic filters and effects, enabling users to transform ordinary photos into creative artworks.
Hotpot AI Art Generator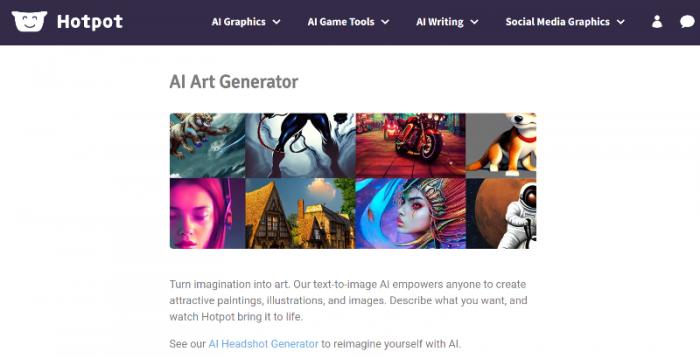 Hotpot AI Art Generator is a text-to-picture tool that uses AI technology to analyse the text presented by the user to create matching artwork.
Key features
AI based processing: Hotpot uses AI to automatically process images, which applies to its Art Generator as well. Users can create interesting art within a few seconds only.
Convenience: When using this tool, users simply have to type out their idea, select the artstyle in a single click, and run the tool. Compared to software apps like Krita, Hotpot takes much less effort.
Good results: The Art Generator from Hotpot is fairly consistent and can provide good looking images.
Pros
The processing of images is usually quick.
A considerable number of features and styles are free to use.
Cons
The artwork may not be as the user expects.
Processing may take longer for free users.
Alternative: VanceAI Art Generator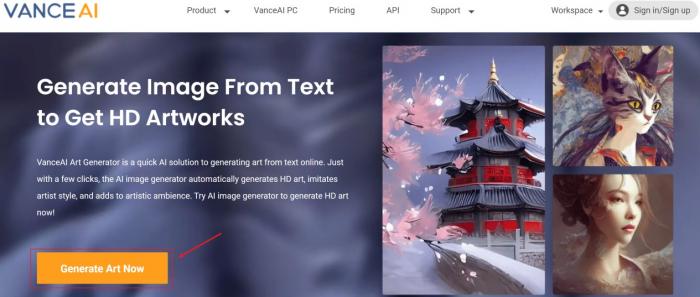 VanceAI Art Generator is a similar tool that takes various inputs from the user, such as a text description, art type, artist style, etc. to create art.
Key features
Multiple styles: Users can choose from a variety of artistic styles, including oil painting, watercolor, and cartoon, to name a few.
Artistic results: AI Art Generator allows users to choose which artist their art resembles, which is pretty different.
Customization: Users are able to customize their output in many ways, including the option to choose the resolutions of the image.
Pros
The processing speed is consistently quick, regardless of the subscription type.
The tool offers example texts that users can implement automatically.
Cons
Many of the customization options would not make sense to casual users, such as 'sampler', cfg scale, steps, etc. Also, users may mess up their output if they choose an artist style that does not fit with their expectations.
Hotpot AI Photo Upscaler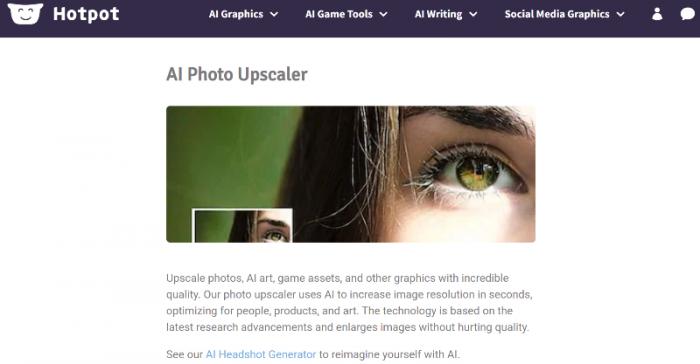 Key features
AI-powered: The upscaling process is powered by advanced AI algorithms that allow for an increase in image size without sacrificing quality.
Easy to use: The upscaler has a simple and user-friendly interface that makes it easy for users to get started with the process.
Compatibility with different file types: Hotpot Image Upscaler is compatible with a variety of image file types, including JPEG, PNG, and BMP.
Pros
The upscaler has a simple and user-friendly interface that makes it easy for users to get started with the process.
It offers good results.
Cons
It doesn't offer many features.
Customization options can be improved.
Alternative: VanceAI Image Upscaler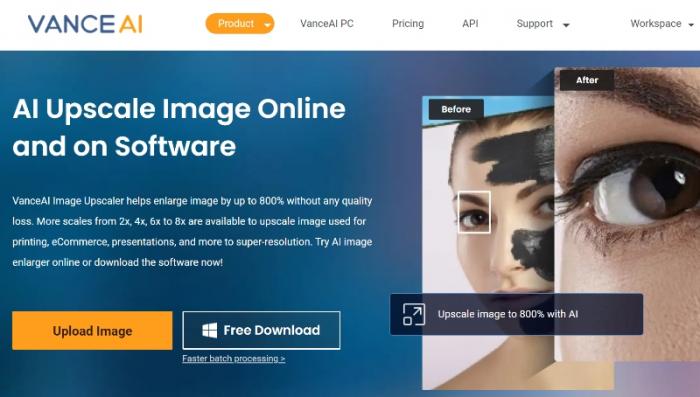 Key features
Multiple upscale options: Users can choose from several upscale options, including 2x, 4x, and 8x, depending on their specific needs.
Effective and unique UI: VanceAI's Workspace design makes it possible to upload images, view image credits, customize the output, and more within a single window.
Fast processing: The Image upscaler is able to generate results within a few seconds only.
Pros
The UI design of VanceAI makes its tools not only easy to use, but also efficient.
It can upscale and maintain the quality of any kind of image.
Cons
It can further increase the limits of upscaling images, since VanceAI PC can upscale images by 40 times already.
Hotpot AI Picture Restorer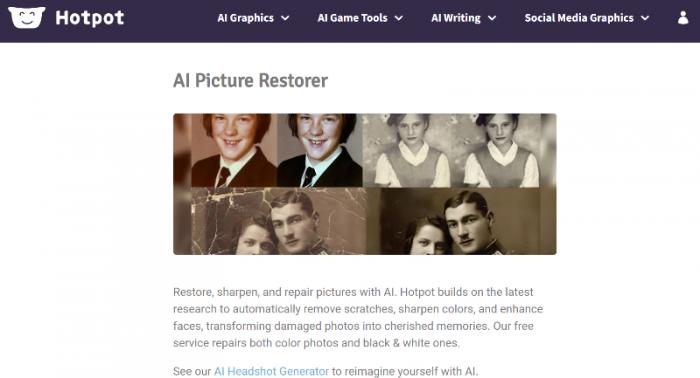 Key features
Ease of use: The Hotpot AI Picture Restorer tool is easy to use as users have to just upload an image and choose whether the image has scratches or not. The rest is done by the tool itself.
AI based approach: The AI based processing allows the tool to handle the complex task of repairing old damaged images on its own with little to no user input.
Pros
The algorithms used for Hotpot photo restoration are pretty good. They can deliver clean and well-repaired images consistently.
The tool is able to provide the results in a short span of time.
Cons
No additional features given for the tool, such as extra customization.
You cannot manually edit the image after it has been processed, which is something other tools offer.
Alternative: VanceAI Photo Restorer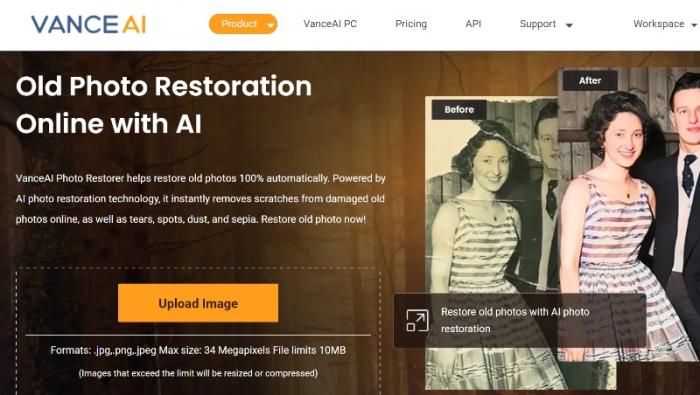 Key features
Automatic and Manual Tool: While the processing of the image is automatic due to AI technology, users can still use a brush tool after processing the image for further editing.
Workspace: The VanceAI Restorer Workspace combines the Photo Restorer with the Photo Colorizer. This enables users to repair old damaged images and also colorize them in one go.
AI Enhancement: VanceAI uses AI and Machine Learning algorithms for repairing the photos, which makes for good looking results.
Pros
The Workspace comes in good use and so does the feature of combining the photo restorer with the photo colorizer tool.
It offers some really good features.
Cons
Images that are highly damaged will require additional editing from the user in most cases.
Hotpot AI Picture Colorizer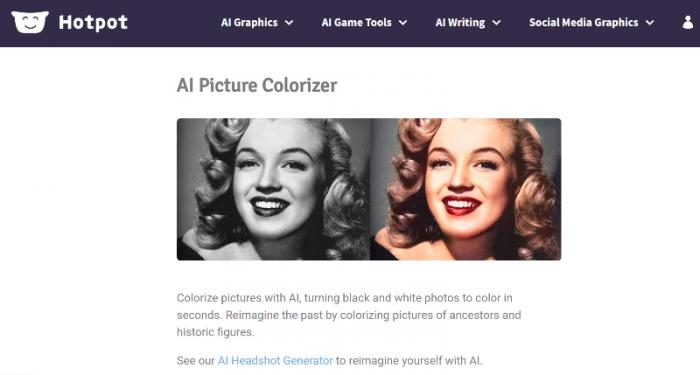 Key features
AI-based online photo colorization tool: Hotpot AI Photo Colorizer uses advanced deep learning algorithms to colorize black and white photos in a realistic manner.
Automated colorization process: The tool automates the colorization process, providing users with an effortless way to add color to their black and white photos.
Adds color to black and white photos: Hotpot AI Photo Colorizer is designed to add color to black and white photos, bringing old memories back to life.
Pros
Hotpot AI Photo Colorizer supports various image formats, including JPEG and PNG, making it easy for users to colorize their photos.
The tool uses deep learning algorithms to achieve realistic colorization results, making the colorized photos look as close to the original as possible.
Cons
You can only download the small sized version of an image in the free version of the tool.
The tool can provide more manual features.
Alternative: VanceAI Photo Colorizer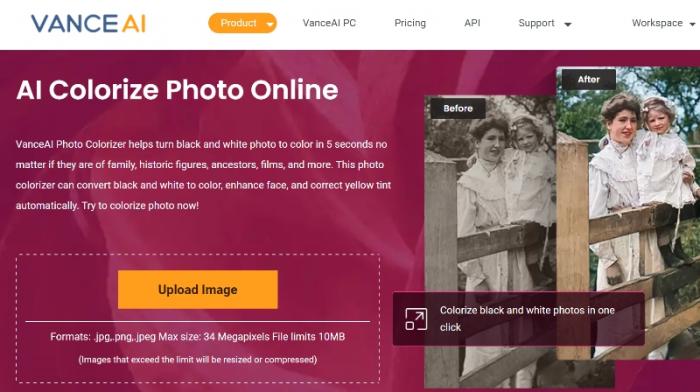 Key features
Automatic Colorization: VanceAI Photo Colorizer uses AI technology to automatically colorize black and white or grayscale photos.
High Quality Results: The AI model is trained on a large dataset of colored images, ensuring that the output is of high quality and resembles the original image.
Easy to Use: The tool is user-friendly and requires no technical knowledge or skills to operate. Simply upload the image and let the AI do the rest.
Pros
It can convert and colorize pretty much any kind of image at a consistent rate.
Provides high quality results in most cases.
Cons
It may take more time to process old images.
Hotpot AI Background Remover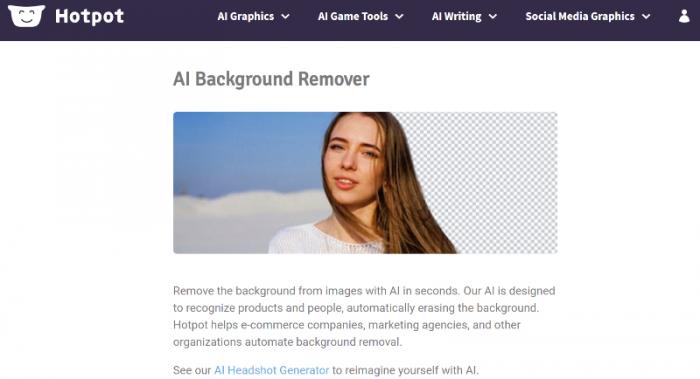 Key features
Background Removal: Hotpot Background Remover is designed specifically to remove the background of an image.
AI-Powered: The tool uses AI technology to accurately and quickly remove backgrounds, leaving the subject intact.
Multiple Output Formats: The tool supports multiple output formats including PNG, JPG, and BMP.
Pros
Pretty easy to use.
Offers accurate enough results.
Cons
No additional features provided.
Alternative: BGremover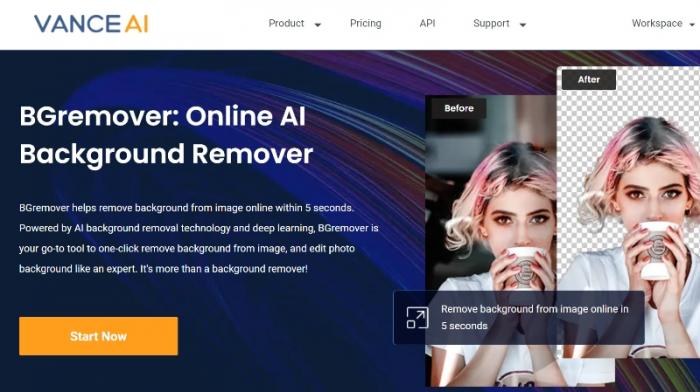 Key features
Custom Background Option: VanceAI BGremover allows users to upload their own custom background to replace the transparent background of the output image, providing greater flexibility and customization options.
Manual Editing Options: Users can manually make minor changes to the image even after processing it online.
Preferences: You can choose to maintain the focus object or the human figure in the image.
Pros
A variety of options makes it easier for users to create better images and also makes the entire process smooth.
Regular updates to BGremover and VanceAI tools in general adds incentive to use the tool for the long-term.
Cons
Highly detailed images with many objects can be difficult for BGremover to handle.
Conclusion
VanceAI can be an excellent Hotpot alternative and, in many cases, even be a better choice although the tool you select depends on your requirements as well as preferences. When it comes to the art generator tools, Hotpot does take the lead because they have designed the overall tool in a much simpler way, one which comes across as more approachable. However, when we compare the photo colorizers, background removers, and image upscalers, VanceAI offers better performance and efficiency. Repairing old photos can go either way, as it is by default, a complicated task and hence users are advised to expect some manual editing to go along with AI tools.
Do you find this post helpful?