Taking a captivating photo requires more than capturing your subject at the perfect moment. Creating emotion and movement within your photos is just as essential to the finished image. A simple way to achieve dynamic movement throughout your photos is with a motion blur effect. This can be achieved with the right motion blur maker or online photo enhancer from VanceAI. With the aid of photo enhancement, you can easily remove blurry parts of your images caused by a camera shake or quick movement. One click to increase image resolution and get your images crisper, cleaner, and make photo hd. 
The following list contains 4 motion blur generators, you can now choose from these following motion blur makers and add a motion blur effect to photos. Also, you will get detailed guidance about how to make AI unblur image.
How To Fix Motion Blur With VanceAI Image Sharpener?
For every photo that requires a motion blur effect, there is another that requires a sharper touch. If you would rather unblur an image, you can use VanceAI Image Sharpener to eliminate the unwanted movement captured in your photo. Using this image sharpener is as simple as the programs you use to blur your images. Just upload your photo, apply the effect, and your image is crystal clear! If you are interested, you can try to sharpen your image now or download it directly from the pop-up window on the right without leaving this article.

Best 4 Ways to Add Motion Blur Effect to Photos
We may get used to unblur image before using them for some purposes, but have you wondered about creating a surprising effect by adding a motion blur effect to your photo? Here are the best 4 ways to help you.
| | | | | | | |
| --- | --- | --- | --- | --- | --- | --- |
| Product | Free | Speed  | Intuitive interface | More customization options | Online/Software | Easy to use |
| Lunapic | √ | √ | √ | × |   Online | √ |
| Photo Kako | √ | √ | × | √ |   Software | × |
| Motion Blur App | √ | √ | × | × | Software | √ |
| Mass-Images Pro | √ | √ | × | × | Online | × |
1. Lunapic
Lunapic is a user-friendly (and free!) motion blur generator that you can use to add additional movement to your photos to create a motion blur effect. There are two ways you can choose an image to apply the motion blur filter.
Upload your own photo with the "Choose File" button at the top of the page
Use the box below to open a URL.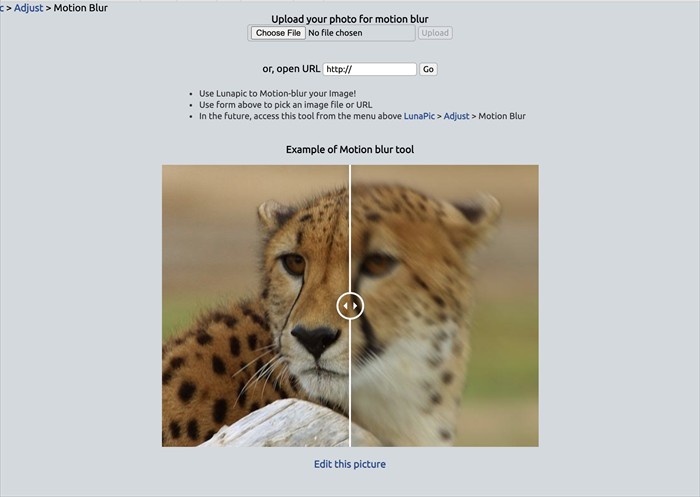 Once you have selected the image you want to use, the site will automatically apply the motion blur effect to your photo. From there, you can choose from a host of various image options, including:
Dimension
Number of frames
File size
File type
JPG quality
Crop
And even add text and animation.
Pros
Free
Easy To Use
Quick at adding motion blur effect
Cons
Can only apply the motion blur effect to one image at a time
Lacks sophistication
Try to read more about Lunapic.
2. Photo Kako
Photo Kako is another motion blur effect app that allows you to upload photos from your computer or pull them from a URL. Unlike Lunapic, Photo Kako provides more options regarding how you unblur image online. Users can easily use a sliding scale to determine the intensity of the motion blur effect.
Photo Kako offers countless options when editing your photo. In addition to applying a motion blur filter, users can also:
Customize the blur effect
Change the hue
Control the brightness
Utilize face detection
Resize or rotate the photo
And much more!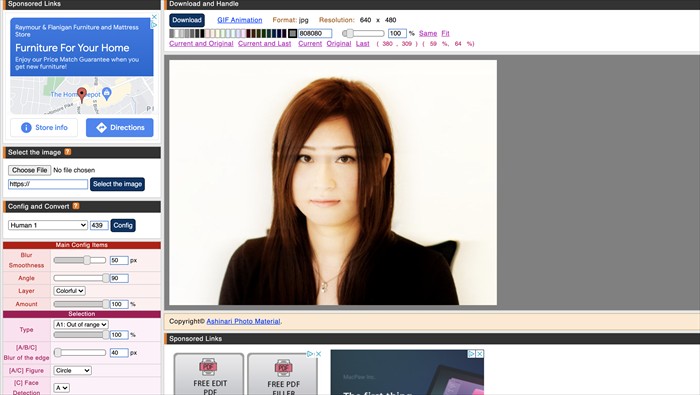 To add a motion blur effect to your photo, simply upload a file or URL on the left side of the page. Then, select the "Config" button, and the page will refresh to reveal your photo with the applied effect. Also, users can find the additional editing tools along the left side of the page, below the form used to upload photos.
Pros
Free to use
Sophisticated at adding a motion blur effect
Multiple ways to upload images
Cons
Additional effects can be confusing to novice editors
Less intuitive interface at motion blur effect
3. Motion Blur App – Google Play
Another way to add a motion blur effect to a photo is through an app. The Motion Blur app is available through the Google Play Store. This app is free to download and lets users upload photos directly from their phones.
Once downloaded, the app is incredibly easy to use. Simply upload your photo, highlight the area where you want to apply the motion blur effect, and give direction to the blur effect by swiping your finger toward the desired direction of the blur.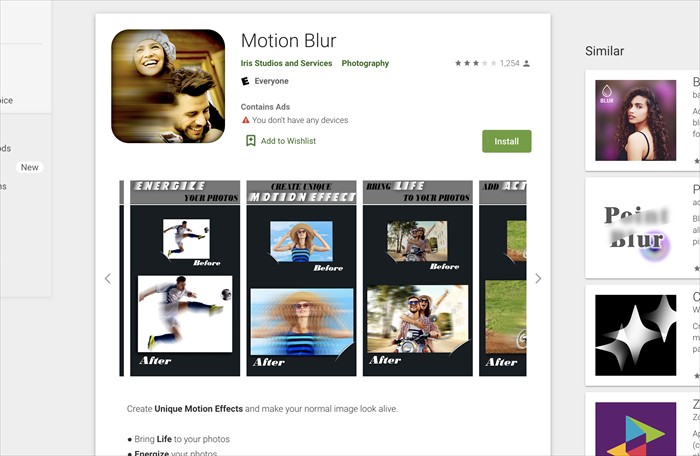 Pros
Free to add motion blur effect
Mobile-friendly
Easy to use
Cons
Only available on Google devices
Many poor reviews from past users
Watermarks images
4. Mass-Images Pro
Another free motion blur effect generator available to you online is Mass-Images Pro. The website allows you to upload a JPEG, PNG, GIF, or WEBP image. This generator is simple to use – follow the steps below.
Upload your image by clicking the "Select Files" button.
Once your image loads, it will display the original and edited photos below.
On the right side, you can choose the radius of the blur and the intensity of the effect.
After you've applied your desired degree of the motion blur effect, select your desired file output and quality.
Click the large, green "Download" button to save your edited image in motion blur effect.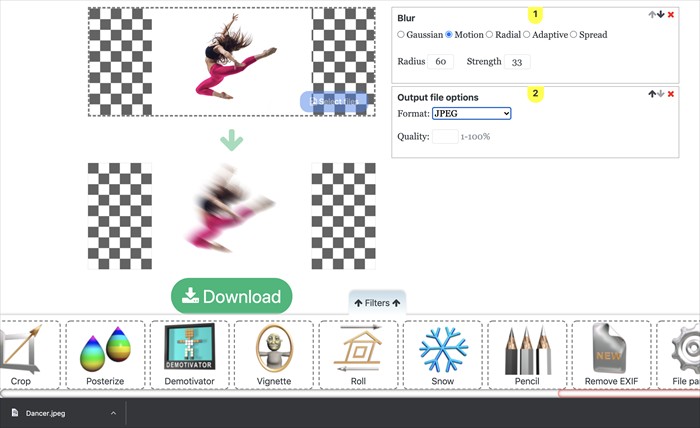 Pros:
A simple process of adding a motion blur effect
Free to use
Multiple input and output choices
Cons:
Lacks advanced editing options
Can't upload URLs
Conclusion
We can always face the issue that how to make a blurry picture clear online when it comes to taking photographs, but sometimes, a motion blur effect can make your photo look amazing in an unexpected way. Why not give it a try by following the steps reviewed in this article and see what it can bring you?
Also read: How to Fix Blurry Pictures with VanceAI Image Sharpener
FAQs
What Is Motion Blur?
The visible streaking or blurring captured on camera as a function of the applied motion of the camera, the subject, or both is known as motion blur.
How To Add Motion Blur To A Photo?
While each motion blur effect generator operates slightly differently, the process applied to create the motion blur effect is often very similar. First, you upload the photo you want to use for the effect. Then, you use the mechanics of the website's editor to determine the level and radius of the blur – along with an additional motion blur effect, if available. Finally, you apply the motion blur effect and download your edited image.
Do you find this post helpful?