What is the AI upscaler?

VanceAI Image Upscaler is a new and popular tool for improving image resolution. It can highly improve image quality by enhancing images with just one click. Even if it is magnified, it can still be clear and lossless. When you want to enlarge your images while keeping their resolution or even improve the resolution, you can use VanceAI Image Upscaler. Quick operating procedures can make you easily get enlarged HD images.
With the AI image enlarger, you can easily enlarge poster images online in just a few steps. With powerful machine learning, the online image enlarger can enlarge posters up to 8x with excellent quality. All processes are quick and automatic.
Its features include:
800% image upscaling

Easy to enlarge and simple to use

Guarantee of data security

Improve the quality of an image by enlarging it
When do you need image upscaler?
When a person clicks on any photo with a low-megapixel camera from their phone, they cannot zoom in on the photo. You will lose quality when you enlarge these types of photos.
It doesn't matter if you're a designer, a Facebook blogger, or a business owner, this AI image upscaling tool creates stunning images no matter what your needs are. It allows you to enlarge images and create useful photos. By resizing low-quality images for printing, presentations, or other devices through image upscaler. When printing or presenting small images, you can make them larger. For social sharing, you can also enhance the photo details.
How does the AI image upscaler work?
A deep learning algorithm drives this online tool. Automatically upscale your images based on millions of high-resolution images. Image upscaler online uses AI upscaling algorithms to fill in missing pixels and improve image quality.
An image that is 400 x 600 pixels can be converted to 3200 x 4800 pixels with more detail. When you enlarge a photo to poster with it, users can display them on social media platforms, in brochures, on posters, and in print.
Also read: Best Guide to Virtual Business Cards in 2022
How to upscale photo to poster size by VanceAI image upscaler?
Through the guides below, you can easily find how to efficiently deal with your images.
Method 1: Go to VanceAI upscaler workspace and get you images as wanted.
With VanceAI Image Upscaler workspace, users will no longer be bothered with lenthy processing time and trivial operating steps. The illustration below is a screenshot of it and on the right stage you can adjust the option boxes before your image is processed. After clicking on "start to process", wait within 3 seconds, then you will get the output.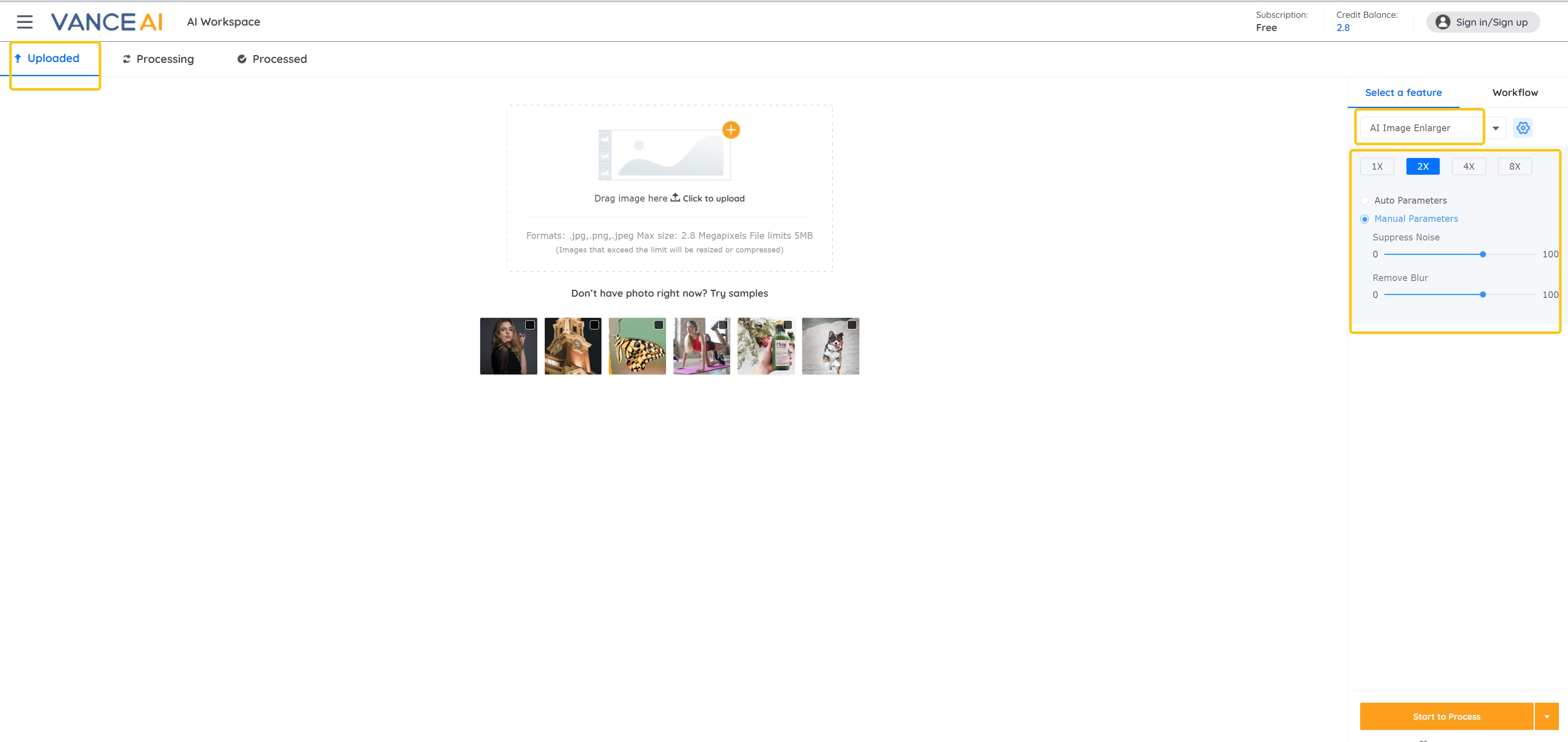 Method 2: Visit website of AI image upscaler and put images through it.
Among the best AI upscale image tools online, VanceAI Image Upscaler(= image upscaler) can enlarge images without sacrificing quality. A user-friendly interface makes it easy to enlarge images with just 4 steps. 
Step 1: To enlarge a small image, upload a file to the AI image upscaler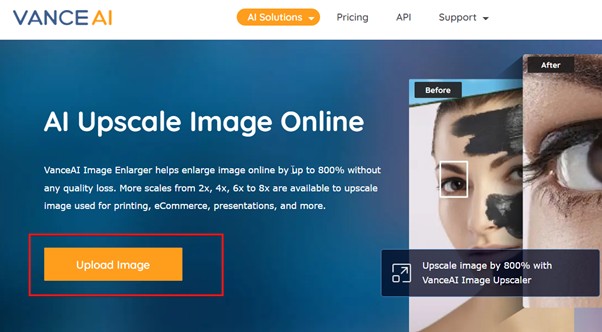 Step 2: Select an enlargement scale. You can choose between 2x and 4x scales. Paid users have access to 6x and 8x. Select "Start to process" to get started.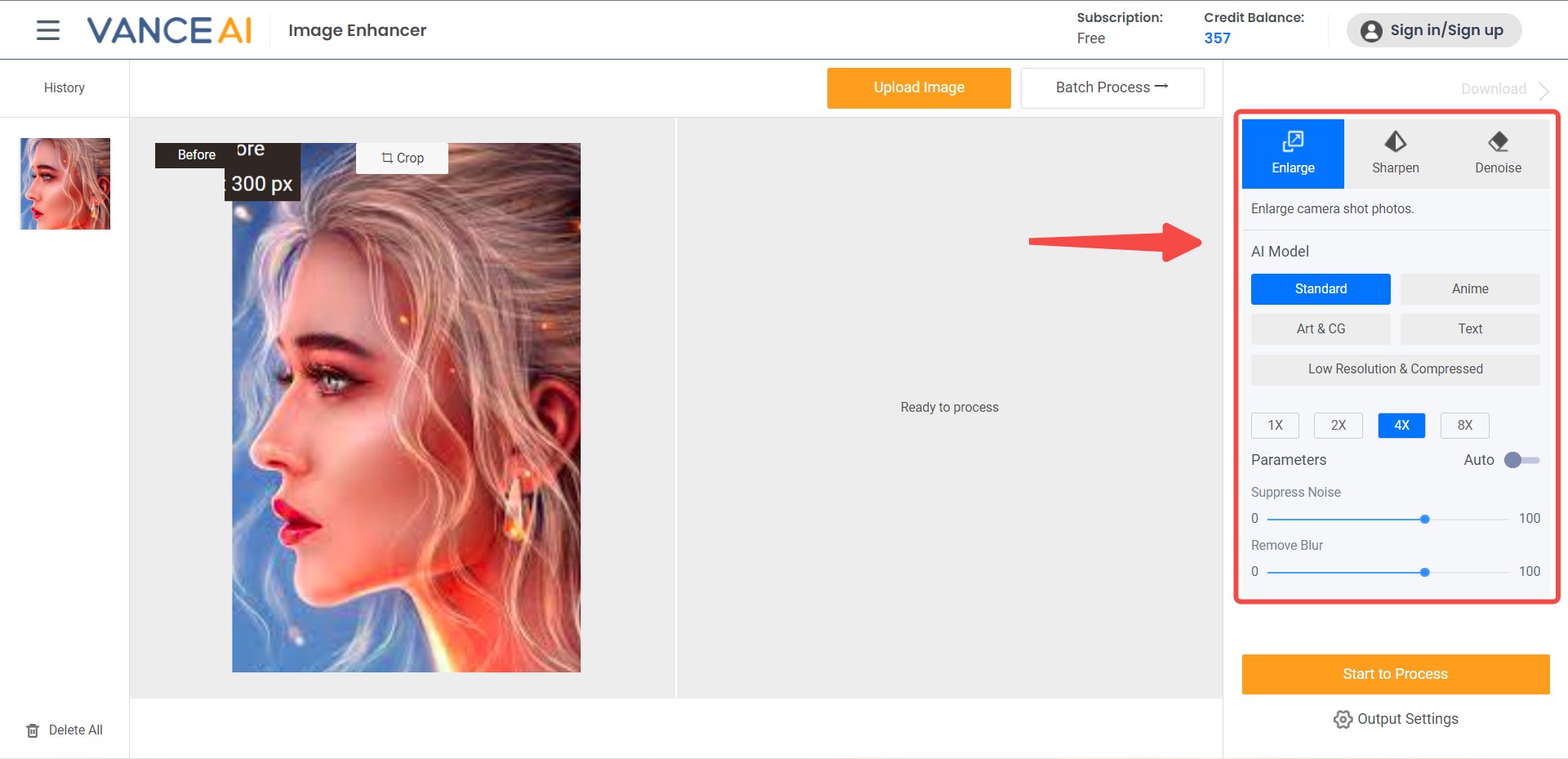 Step 3: Click to enlarge the image. Before your image is enlarged, wait between 3-5 seconds.
Step 4: You can download the result by clicking "Download".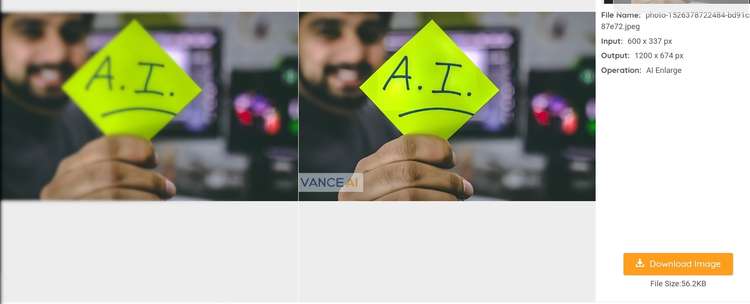 VanceAI now also launches its software version. VanceAI PC is full-featured desktop software developed by VanceAI that lets you instantly process local photos in bulk with more customization options, which will significantly simplify your workflow and boost your productivity. Free Download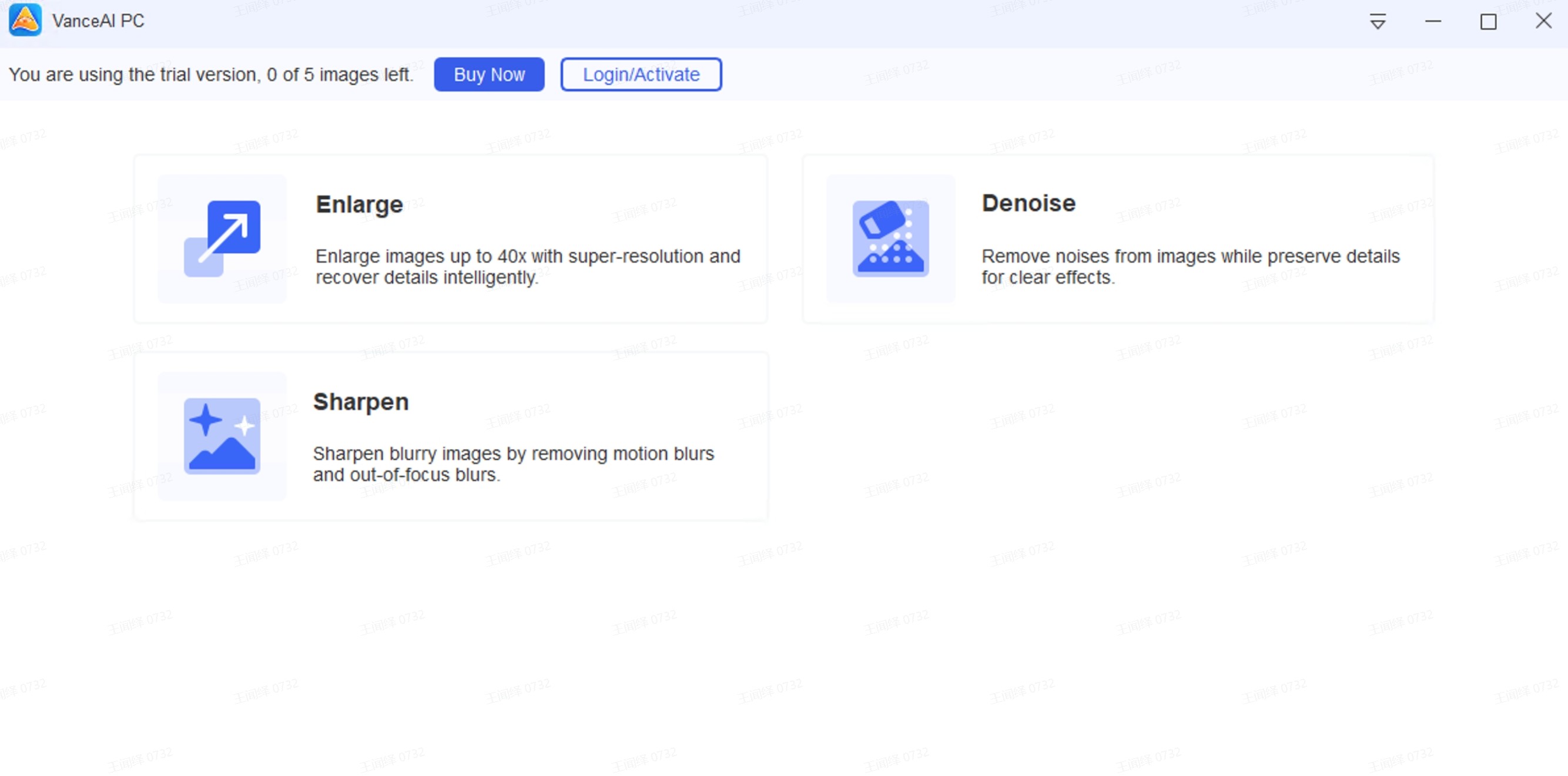 Also read: How to Enlarge a Picture Online Or with Software?
What VanceAI Image Upscaler offers?
VanceAI Image Upscaler, an online tool offering to enlarge images at low costs or even for free, operates on the same wavelength as these applications, even if it offers much more in terms of features, usability, and cost. 
In keeping with the tool's name, it is based on modern Artificial Intelligence and Deep Learning technologies that are typically found in image processing. 
There are a lot of other applications that use AI for their main image processing core, but those are merely used to automate tasks, like changing colors, processing changes in images, and so on. 
With it, however, more advanced technology is used, where the software automates not just most of the image editing process but also uses smart algorithms to enhance and beautify the images. As a result, you can relax knowing this online tool is pretty intuitive, handling virtually all tasks.
All VanceAI products, including the AI image upscaler, Photo colorizer, are available for free use to any user. Before running out of credits, you can process five images per month. 
There are two plans available, Basic and Pro, each with its features and upgrades. The Basic plan costs $9.90 per month and offers 200 credits per month, with a maximum image size of 5 MB and the possibility of batch processing 5 images at once. 
Among the Pro plan's features are 500 credits per month, batch processing of ten images, and a maximum image size of 10 MB.
Multiple choices for upscaling models
One of the upscaling models from VanceAI Image Upscaler is the Standard model, which is called EnlargeStable. It enables you to upscale any kinds of images, including photos taken by camera, paintings, landscape photography, and so on. If you have a general photo to upscale, never hesitate to try this Image Upscaler to enlarge image online or on AI upscaler software.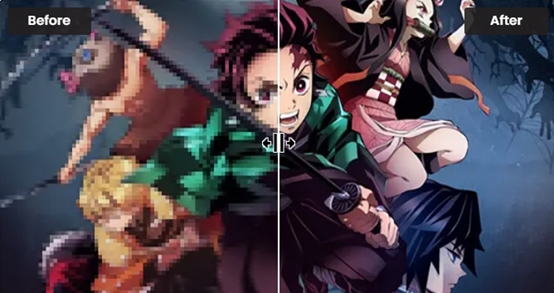 The Anime model of VanceAI Image Upscaler is the best option for anime upscaling. This model can convert old cartoon, anime, and comics to high definition and improve the details. It is divided into 3 submodels: Anime_4x_AnimeSharp, RealEsrganStable and Upconv_7. Simply choose one and start to upscale image from animation to 2K, 4k, or 8K with this AI Image Upscaler now! If you prefer software, image upscaler software is here for you.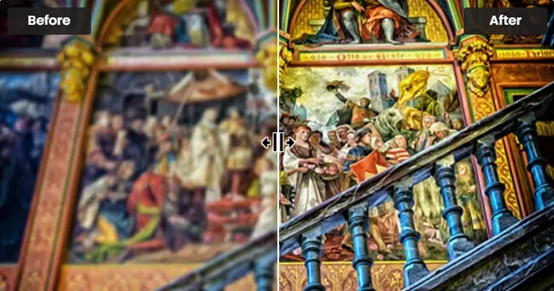 The Art &CG model of this Image Upscaler allows you to enlarge CG, art image, drawings or paintings online and restore the original texture instantly. This model is called Universal_UltraSharp_4x. If you want an AI art upscaler to improve image resolution to show the image details more clearly. VanceAI's online Image Upscaler can do this perfectly. And you can have AI image upscaler software to upscale CG images if you need.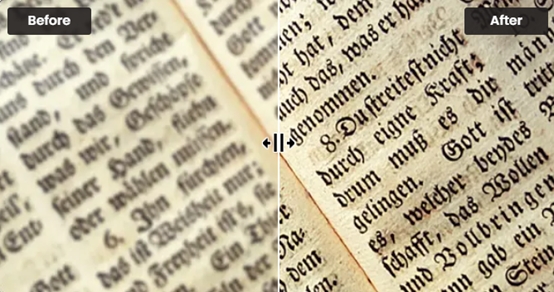 Legible text images can be very essential, including e-signature, e-contract, and scan files. VanceAI Image Upscaler provides you with a text model called Text_4x_TextSharpV1 to AI upscale image with blur text. If you are having trouble upscaling blurred text on a mass of paper documents, this online image enlarger from VanceAI is here for you.
Low Resolution & Compressed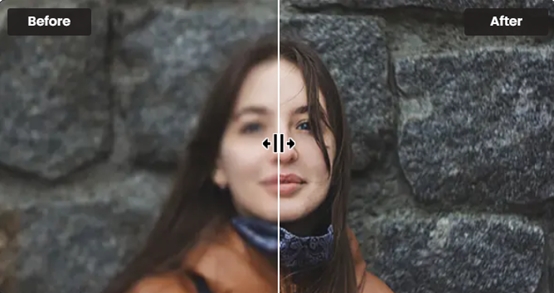 Low Resolution & Compressed model from VanceAI online Image Upscaler can upscale low resolution and compressed pictures to HD in one click. If you need more delicate product photos, portraits or wallpaper, this model will always satisfy you. It will never be too late to upscale such images online with VanceAI Image Upscaler or with upscaler software for PC!
Conclusion 
After reading the above text, I am sure you already know how to enlarge a picture to poster size with image upscaling tool. The AI photo upscaler is one of the few online image editing tools that offers so much at such affordable prices. 
Moreover, the software version of VanceAI Image Upscaler allows you to use it both online and offline. If you are looking to enlarge images quickly and with good quality, this is the tool for you. And VanceAI Image Upscaler is among the best programs for enlarging images to poster size without sacrificing quality. You can create high-resolution images for printing with VanceAI Image Upscaler using machine learning. 
Plus, you can try out the image enlarger and other AI tools from VanceAI, including Image Cartoonizer, with 5 credits. Click here to enlarge an image. 
FAQs
How to enlarge a picture to poster size?
You can enlarge a picture to poster size with an image upscaler from VanceAI. In general, the poster must be printed in portrait orientation with 300 ppi. 
Choosing the right color profile for the print job is also important because different printers are going to render your image differently.
Where to enlarge photo to poster size?
It is possible to enlarge photo to poster in Image Enlarger offered by VanceAI. This tool enhances the quality of images by enlarging them to match the resolution of the increased image. 
You will need this kind of application if you are a designer or a student who often needs to resize images for them to fit into wallpapers, banners, posters, etc.
What is the standard poster size?
Most standard poster are 11x17, 18x24, 24x36, and 27x40 in size. You should choose a poster size based on the type of poster you want to display, the number of posters you need, your budget, and your desired impact.
Do you find this post helpful?