With the amount of image sizes and different requirements posed by digital platforms for images, it is crucial to fix low resolution photos, if you have any. Not to worry though, as there is a very simple way to improve low resolution image with just a click and that is through VanceAI Image Enlarger online tool.
Can Low Resolution Images Be Fixed?
It is definitely possible as well as simple to fix low resolution photos. With the aid of AI based image editing tools such as the image enlarger, you don't have to even think about how to fix low resolution photos, as the application will handle everything for you. Image enlarger tools, in fact, have become the norm for sharpening images and for increasing the resolutions of an image if they are too small.
How to fix low resolution images with VanceAI Image Enlarger?
Every photo consists of pixels. A huge number of pixels, also referred to as dots, make up an image. Naturally, the higher the amount of pixels, the richer an image is. Therefore, DPI is basically considered as Dots Per Inch, wherein a higher DPI makes the image high resolution or detailed. With the AI image enlarger, you can achieve this automatically.
1. Access the website
Use the link given above to access the website and click on Upload Image to open the Workspace or upload box.

2. Upload the image
From the Workspace, you can use the upload box to either drop an image onto it or select an image from your device. After uploading an image, you can click on Start to Process to proceed.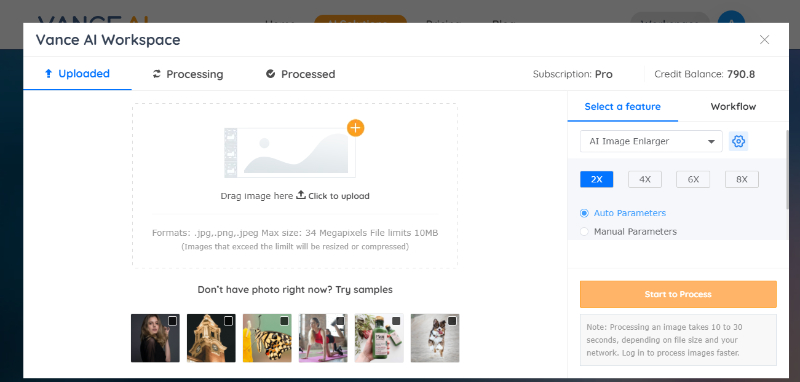 3. Download the image
Finally, all you now have to do is click on Preview under the Processed tab after you see the pop-up. Use the Download Image button to save the image.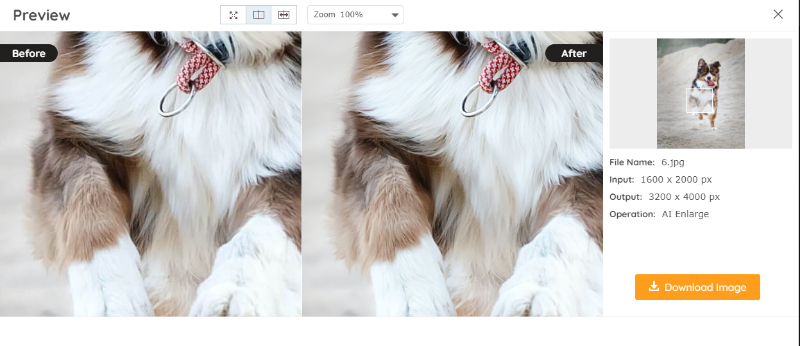 Also read: How to Increase Resolution of Image?
Performance of VanceAI Image Enlarger
Now it's time to look at a few images enhanced by the image enlarger tool.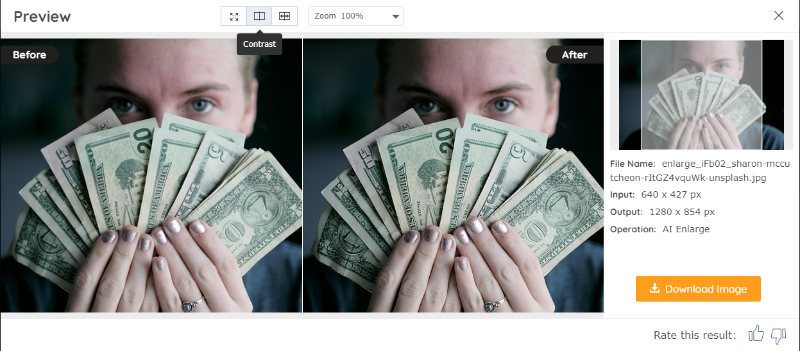 The original image has its resolution increased by twice its original size. The result is great, however. The After image looks even sharper than before with reduced curved edges replaced by sharper ones. The colors look richer as well.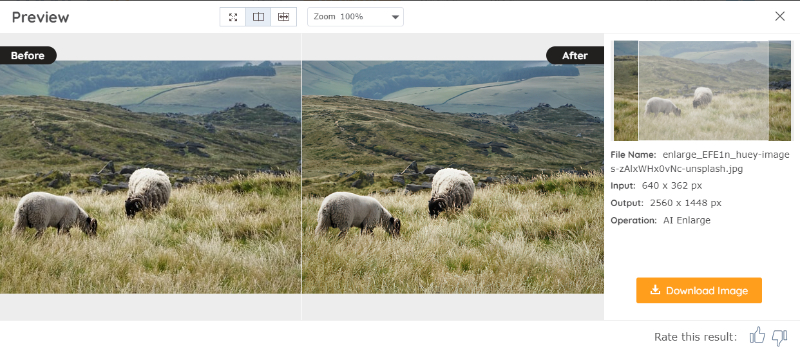 Here, the image has been upscaled four times the original size. In this case, the application manages to make the subjects sharper as well as the entire background. The colors are a bit brighter and rich even in the background.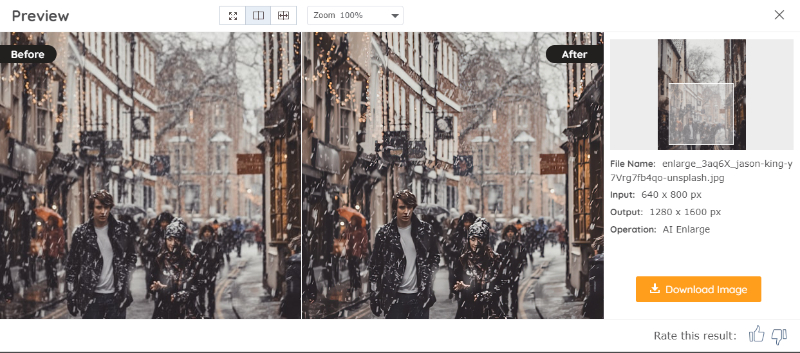 Due to the AI based image processing present in the image enlarger, it is possible to enhance even the smallest aspects of an image. Here, it is visible how the snow and the lights from the shops are much clearer and impactful.
Conclusion
VanceAI holds multiple great image editors that are all capable of pushing an image to its extent. Due to the AI based technology, it is now pretty easy to fix low resolution photos. It is worth recommending to users because the AI image enlarger also offers features such as batch processing for paid users, which significantly makes your process faster. Also read: How to Convert Low Resolution Image to High Resolution Online Using Deep Learning.
FAQs
1. How can I improve a low resolution image?
You can improve a low resolution image by using VanceAI Image Enlarger, which is one of AI photo enhancer solutions from VanceAI. It is powered by AI based technology that allow for fast and accurate image conversions. You can instantly get your results by uploading an image and then downloading it when the tool has done processing the image.