With the number of image sizes and different requirements posed by digital platforms for images, it is crucial to increase image resolution. If you have any questions about how to increase resolution of image, don't worry though, as there is a very simple way to improve low-resolution images with just a click and that is through VanceAI Image Upscaler online tool. 
What is Image Resolution? 
Image resolution is defined as the number of pixels displayed per inch of a picture, which is usually expressed as pixels per inch (PPI). To put it another way, image resolution is a measure of how detailed an image is. Higher resolutions mean more pixels per inch (PPI), and that means more pixel information on a higher-quality, crisper image. Images with lower resolutions mean they have few pixels, and it may lead to images that are hard to see clearly for speculation, like the bellowing example.

The image resolution is expressed as a height x width ratio. These days, computers can support photos with up to 50 megapixels. A higher pixel count indicates a better resolution, which indicates a higher picture quality. Because screen resolutions differ from printing resolutions, it is a must to  increase image resolution if they are used for printing or scanning.
Read the guide on how to increase resolution of image here.
Can low-resolution images be fixed?
It is definitely possible as well as simple to fix low-resolution photos. With the aid of AI-based image editing tools such as the image enlarger, you don't have to even think about how to increase resolution of image, as the application will handle everything for you. Image enlarger tools, in fact, have become the norm for sharpening images and for increasing the resolutions of an image if they are too small.
Also read: How to Convert Low-Resolution Image to High-Resolution Online Using Deep Learning.
What causes low-Resolution photos?
Image quality is a key factor that significantly affects the audience's visual experience. Due to that, in order to have a better impression on others, it is necessary for you to improve your low-resolution images. Also, there are a number of possible causes for low-resolution photos. The following factors are a list of them.
Shots from an Unstable Camera
Shaky cameras could cause unclear images for motion blur. The photos that come out of an unsteady device are sure to be fuzzy, out of focus, and pixelated. All of these factors can significantly affect an image's overall quality or resolution.
Photos will absolutely degrade in quality after being stretched in traditional size expansion. When you increase the size of an image, the clarity and resolution of the image will turn out to be worse. To avoid compromising the quality of your image, it is recommended that you can use an appropriate AI-based AI enlarger to upscale or enlarge the image with no quality loss.
When the subject is not correctly focused, photos can become hazy and low-quality. Unfocused and blurry photographs are a huge turn-off for the viewer.
The quality of an image produced can be substantially influenced by a lack of adequate and proper camera settings. ISO, aperture, and exposure are types of factors that can break your image resolution.
How to fix low-resolution photos with VanceAI Image Upscaler? 
Deep learning is used by VanceAI Image Upscaler to upscale images up to 800% without affecting original image performance. Regular upscaling methods only function at the pixel level, resulting in blockiness and pixelation, but AI image enlarger uses Generative Adversarial Networks to automatically increase the resolution of images and bring out genuine depth and color. Check the steps below to see how it works.
1. Access the website
Use the link given above to access the website and click on Upload Image to open the Workspace or upload box. 
2. Upload the image
From the Workspace, you can use the upload box to either drop an image onto it or select an image from your device. After uploading an image, you can click on Start to Process to proceed.
3. Download the image
Finally, all you now have to do is click on Preview under the Processed tab after you see the pop-up. Use the Download Image button to save the image.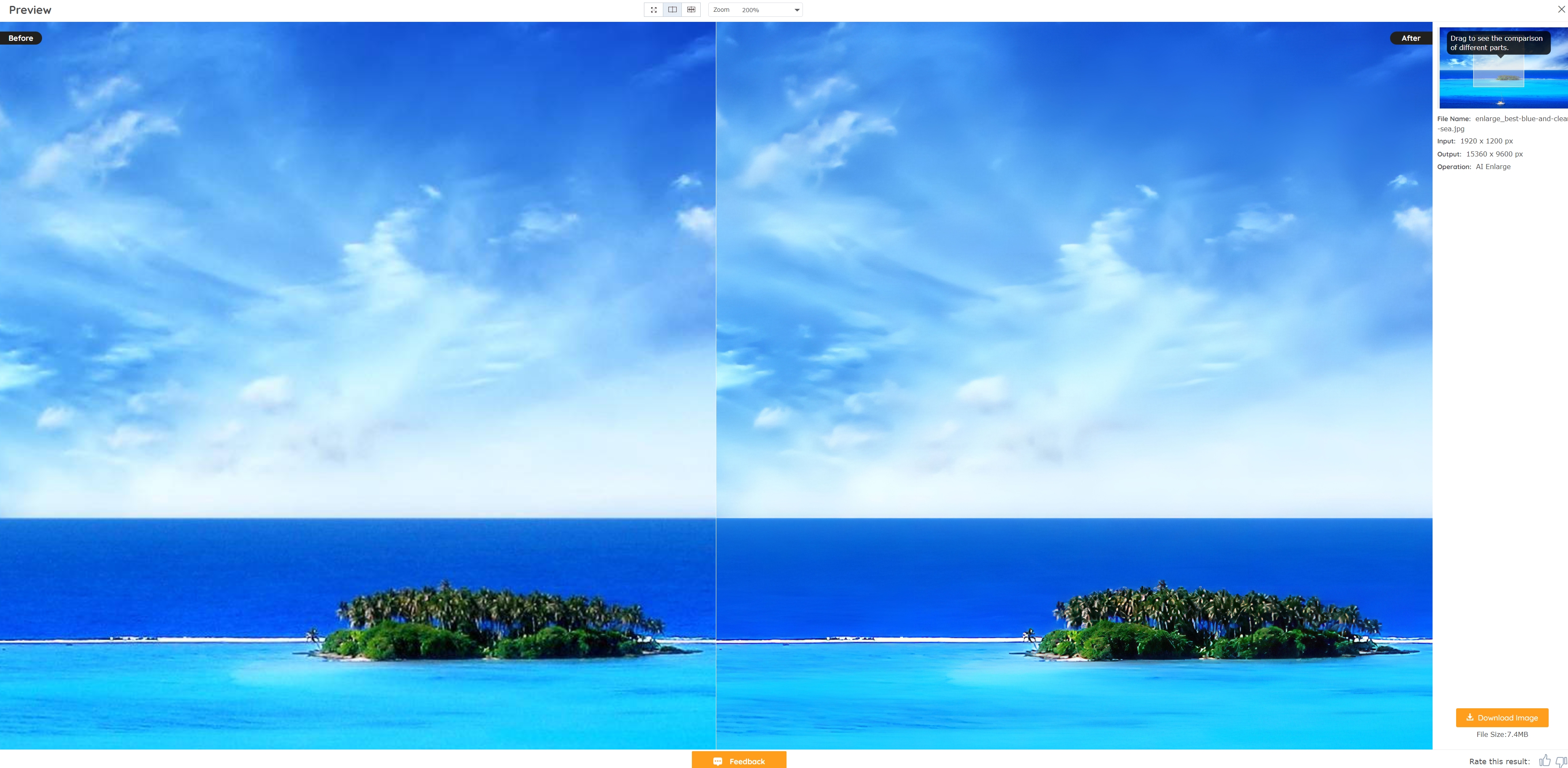 Model: Low resolution & Compressed
Low Resolution & Compressed model from VanceAI Image Upscaler can upscale low resolution and compressed pictures to HD in one click. If you need more delicate product photos, portraits or wallpaper, this model will always satisfy you. In addition to this, if you don't just want to increase the resolution of your images, you can also choose more models for your images, such as Standard, Anime, Text, Art&CG.
It will never be too late to upscale such images online with VanceAI Image Upscaler or with upscaler software for PC!
Enlarge Image online Performance Review
Now it's time to look at a few images enhanced by the image enlarger tool.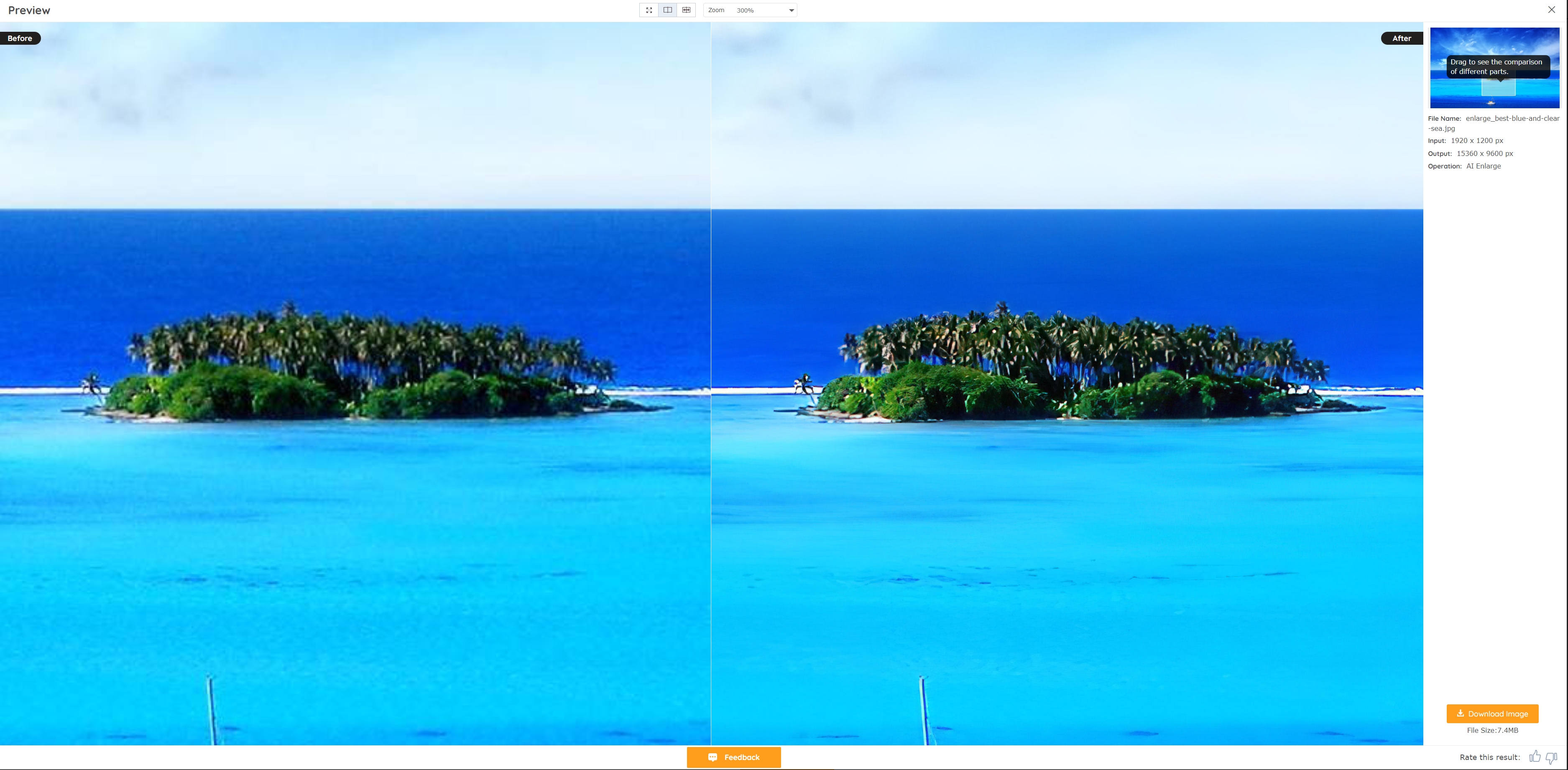 Here, the image has been upscaled 8 times the original size and also the resolution is increased. In this case, the application manages to make the subjects sharper as well as the entire background. The colors are a bit brighter and rich even in the background. 
VanceAI now also launches its software version. VanceAI PC is full-featured desktop software developed by VanceAI that lets you instantly process local photos in bulk with more customization options, which will significantly simplify your workflow and boost your productivity. Free Download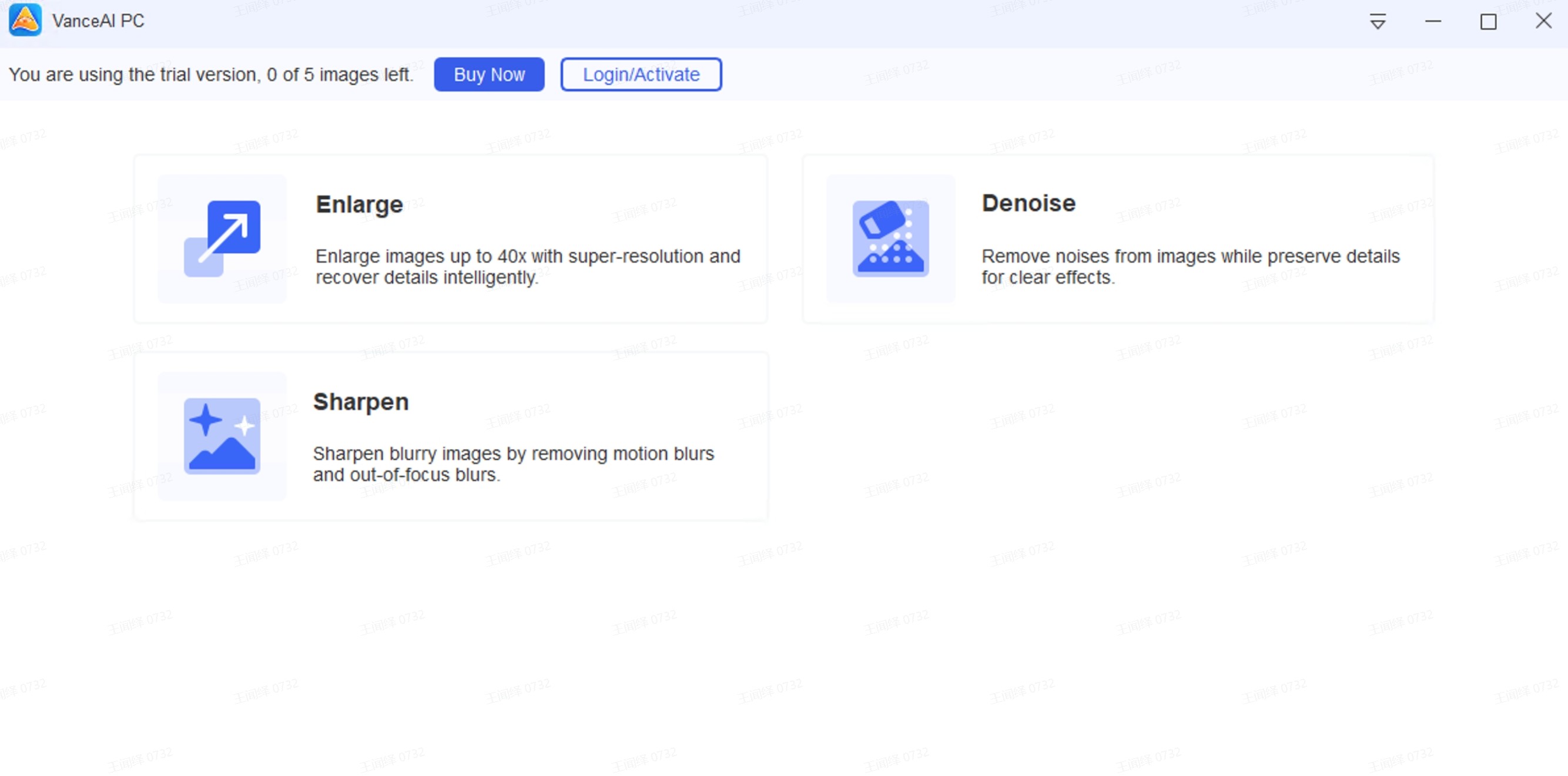 Conclusion
VanceAI holds multiple great image editors that are all capable of pushing an image to its extent. Due to the AI-based technology, it is now pretty easy to increase resolution of images. It is worth recommending to users because the AI image enlarger also offers features such as batch processing for paid users, which significantly makes your process faster. 
Also read: How to Increase Resolution of Image?
FAQs
1. How can I improve a low resolution image?
You can improve a low-resolution image by using AI Enlarger, which is one of AI photo enhancer solutions from VanceAI. It is powered by AI-based technology that allows for fast and accurate image conversions. You can instantly get your results by uploading an image and then downloading it when the tool has done processing the image.
2. How to increase resolution of image in Photoshop?
1. Open Photoshop and import your image.
2. Select an image and its size.
3. Uncheck Resample. The current width to height ratio will be automatically locked as a result.
4. Add new values to the resolution to change it. Photoshop will adjust the Document Size automatically to match.
Do you find this post helpful?