When we search pictures on website, we always find some low-resolution images which are very blurry. If the blurry photo is what you want, then you need to increase DPI of image to make it clearer. Many professionals may recommend you to change the dpi in photoshop, but for beginner this is too complicated. Many people don't even know what DPI means, you may have a quesiton that what DPI is. If you've ever wondered how to increase DPI of image you've come to the right place. In this article we're going to cover what DPI means, why you may want to increase it, and how to increase DPI using a simple tool like VanceAI Image Upscaler. But before we show you how the process works, let's talk a bit about the benefits of having higher DPI.
What does DPI mean?

DPI is an acronym that stands for dots per inch and represents the resolution of a printed image. The number of dots found inside an inch of an image represents that image's DPI. This is very similar to PPI (pixels per inch) but it applies to printed or scanned images instead of digital photos or video displays. The higher the DPI, the better the resolution. If you're looking to print digital images you'll need to make sure that the DPI is as high as possible, otherwise, the resulting print won't look very sharp.
Normally, when you increase image DPI you're losing some of the detail in the process but that won't happen when you're using a tool like image enlarger.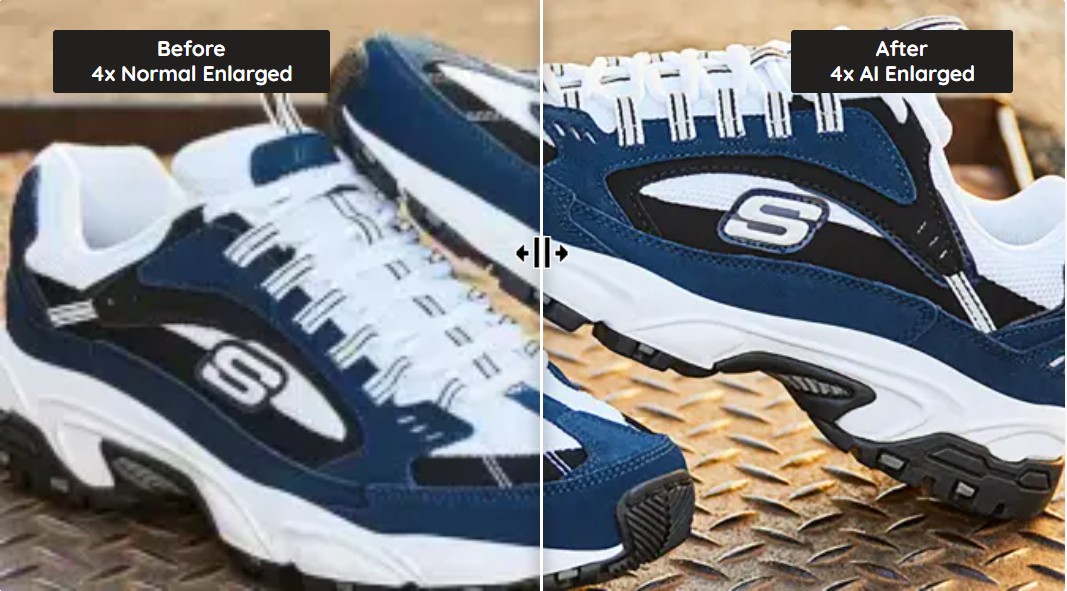 How to increase dpi with VanceAI Image Upscaler?

This advanced online image enlarger uses machine learning algorithms to upscale images without compromising their quality. The most impressive thing about the tool is the fact that you can enlarge images by up to 8 times their original size without losing any detail. In addition to upscaling, the tool also has sliders for noise and blur adjustment, which greatly help with preserving the quality of the original. But the best part is that the tool uses an automatic process to increase dpi of image, making it perfect for beginners and veteran editors alike.Here are the steps to using it.

Step 1: Upload Your Image
Visit the official VanceAI website to get started and look in the AI Solutions menu for the Image Enlarger tool. Click the Upload Image button.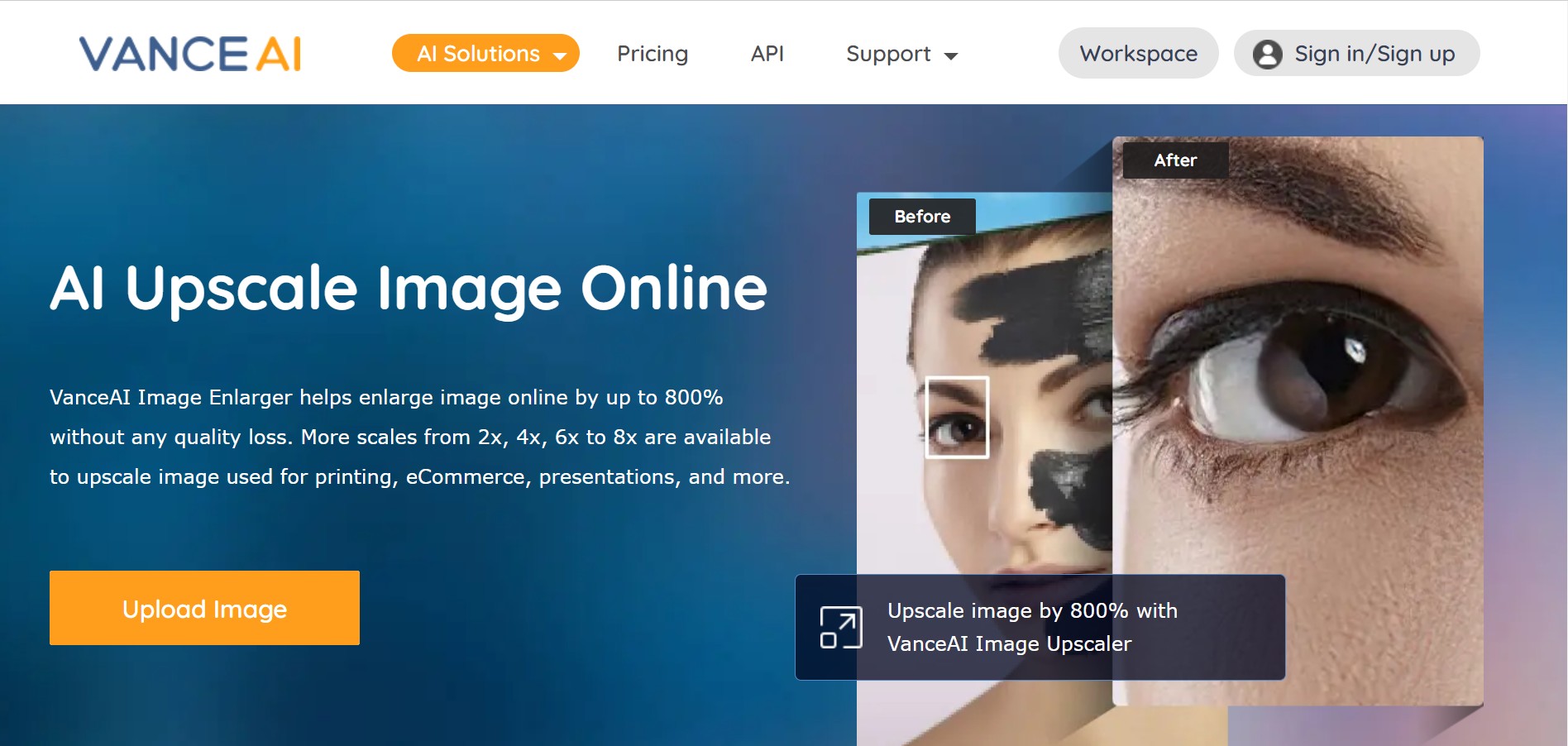 Choose the amount of enlargement you want to apply to the photo. The amount can by anywhere between 2X and 8X. After that, you could also select the right model according to the type of your image whose DPI need to be increased. Click the Manual Parameters option if you want to manually adjust the blur and noise. Otherwise, use the Auto Parameters option.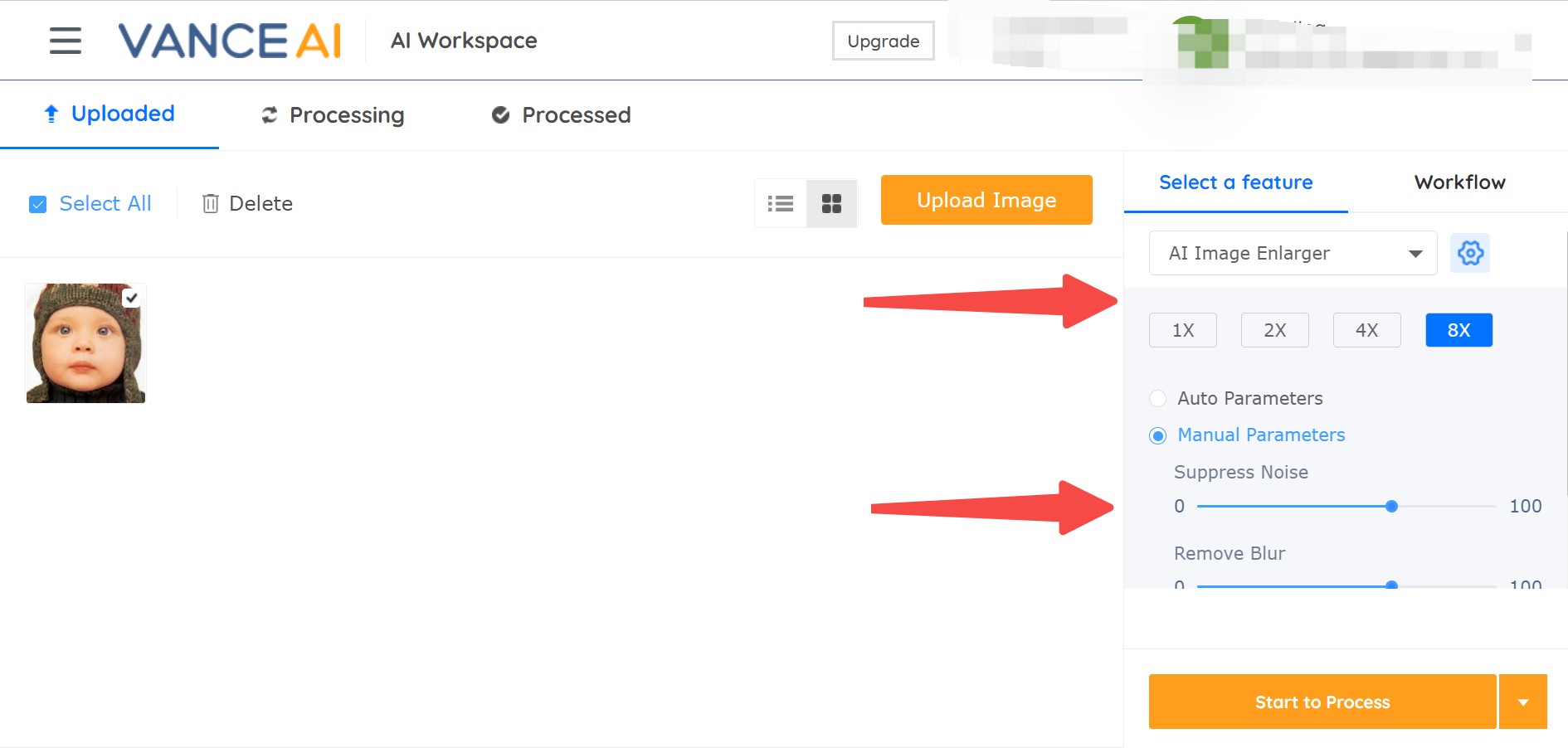 Step 3: Download Your Enlarged Image

Start the upscaling process whenever you're ready and wait a few seconds until the tool finishes working its magic. In the process, you have already unknowingly changed the dpi of your image, that is, increased the dpi of the image. Once the process is complete, you can either preview the image or download it directly.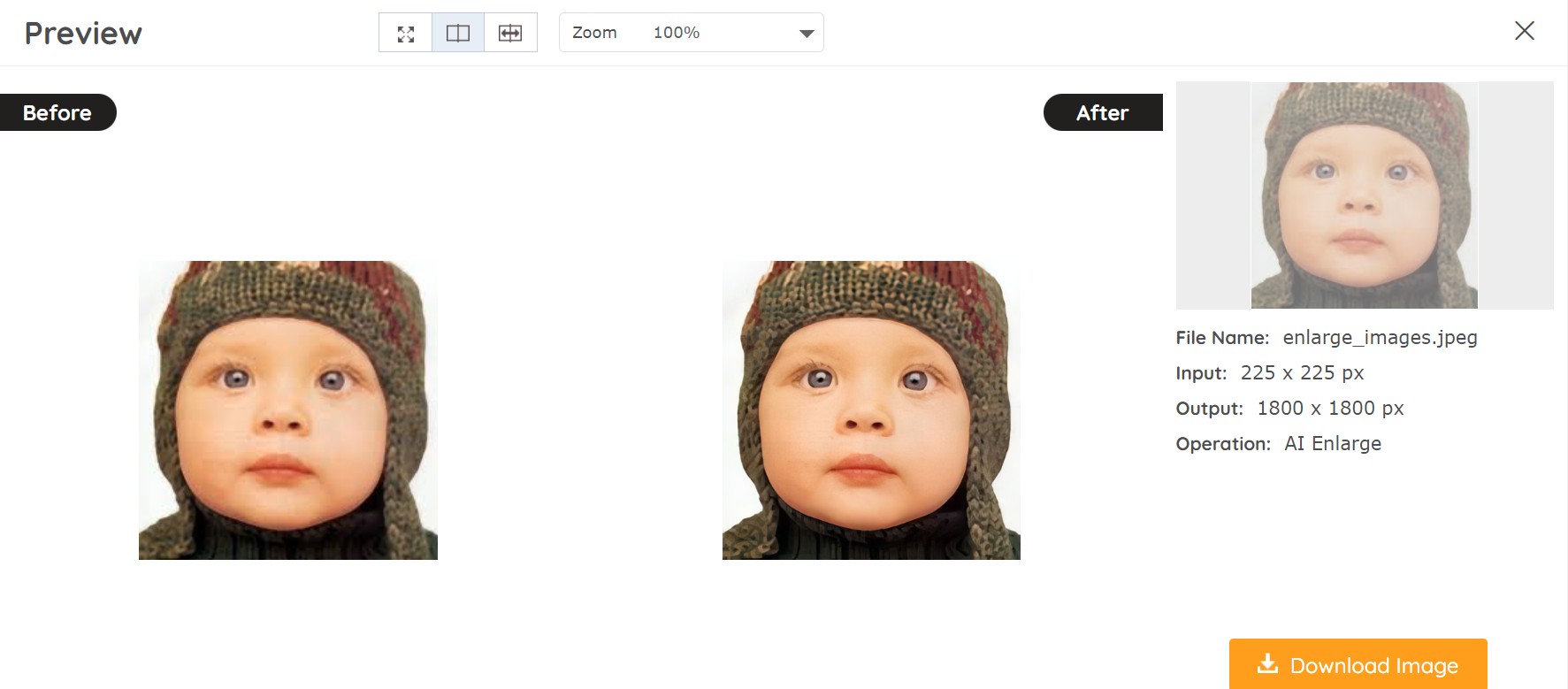 Performance of VanceAI Image Upscaler
This first image was originally 225 x 225 px and we used the 8X option to upscale it to 1800 x 1800 px. The image was processed in just a couple of seconds by VanceAI Image Upscaler and we haven't noticed any quality loss. For reference, the left side of the before-and-after image above shows what the original picture would have looked like if it was upscaled without AI.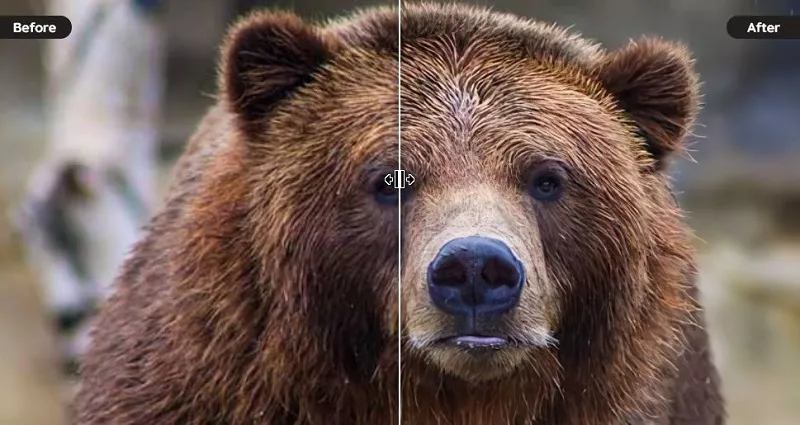 For this next test we cranked things up a notch and enlarged the image by a factor of 4. The original was 620 x 330 px and we went up to 2480 x 1320 px. The process took a bit longer, around 5-6 seconds, but as you can see the resulting image is clear. It's so easy to make higher-resolution image with the Image Upscaler from VanceAI.
VanceAI now also launches its software version. VanceAI PC is full-featured desktop software developed by VanceAI that lets you instantly process local photos in bulk with more customization options, which will significantly simplify your workflow and boost your productivity. Free Download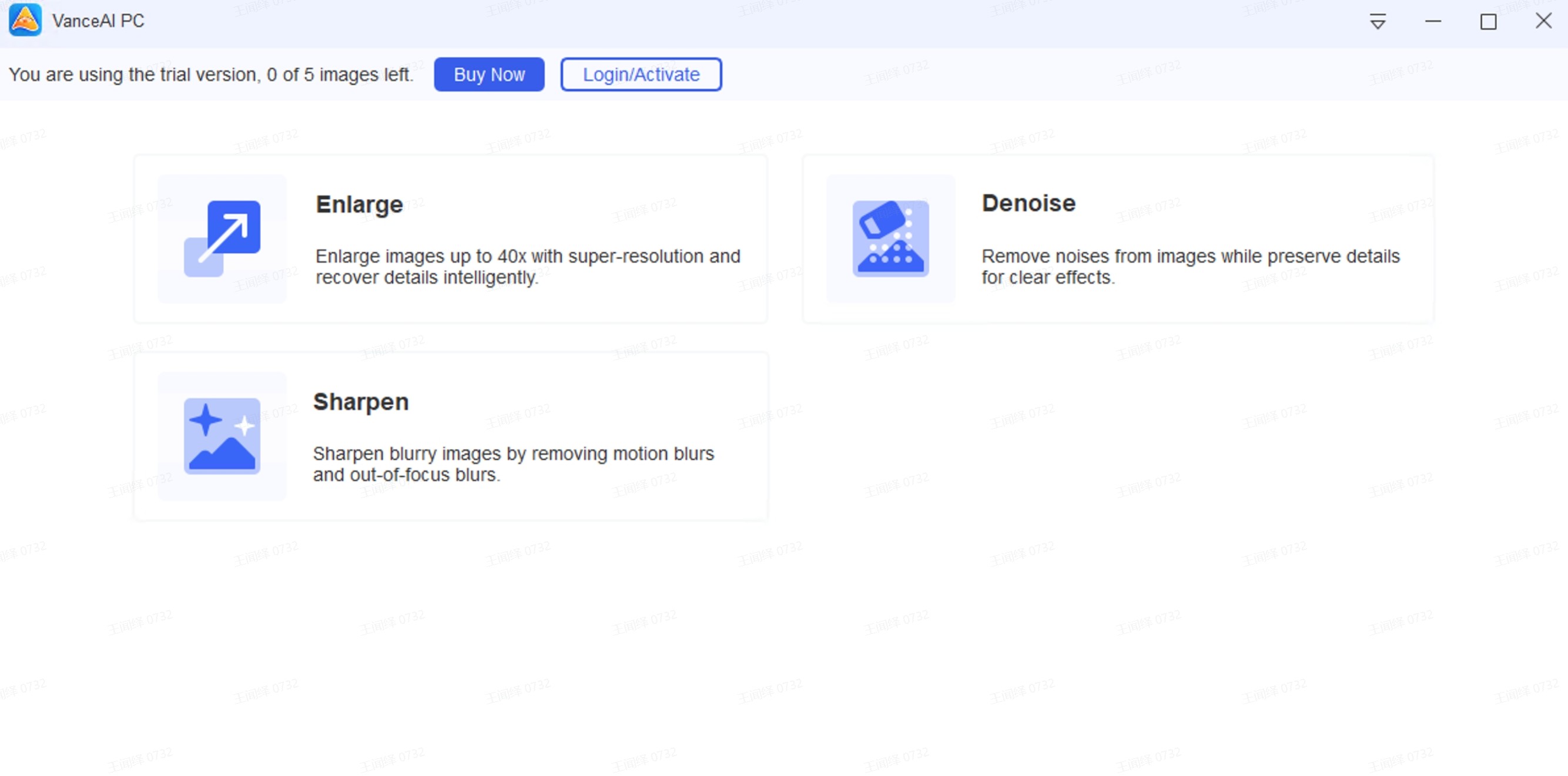 Diverse AI upscaling models
VanceAI Image Upscaler provides 5 different image upscaling models. Let's see how to get your most desired upscaling effect.
Standard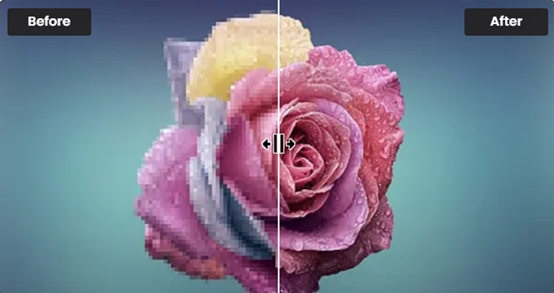 One of the upscaling models from VanceAI Image Upscaler is the Standard model, which is called EnlargeStable. It enables you to upscale any kinds of images, including photos taken by camera, paintings, landscape photography, and so on. If you have a general photo to upscale, never hesitate to try this Image Upscaler to enlarge image online or on AI upscaler software.
Anime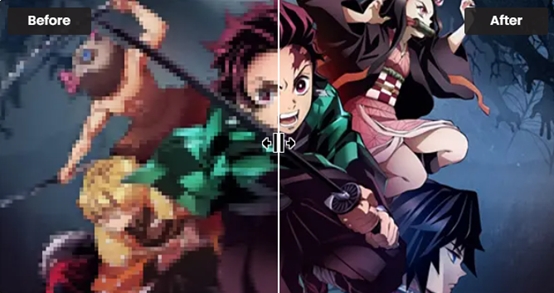 The Anime model of VanceAI Image Upscaler is the best option for anime upscaling. This model can convert old cartoon, anime, and comics to high definition and improve the details. It is divided into 3 submodels: Anime_4x_AnimeSharp, RealEsrganStable and Upconv_7. Simply choose one and start to upscale image from animation to 2K, 4k, or 8K with this AI Image Upscaler now! If you prefer software, image upscaler software is here for you.
Art & CG
The Art &CG model of this Image upscaler allows you to enlarge CG, art image, drawings or paintings online and restore the original texture instantly. This model is called Universal_UltraSharp_4x. If you want an AI art upscaler to improve image resolution to show the image details more clearly. VanceAI's online Image Upscaler can do this perfectly. And you can have AI image upscaler software to upscale CG images if you need.
Text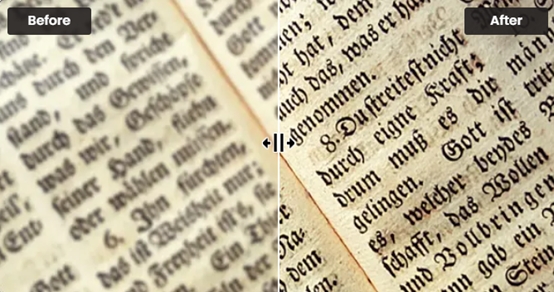 Legible text images can be very essential, including e-signature, e-contract, and scan files. VanceAI Image Upscaler provides you with a text model called Text_4x_TextSharpV1 to AI upscale image with blur text. If you are having trouble upscaling blurred text on a mass of paper documents, this online image enlarger from VanceAI is here for you.
Low Resolution & Compressed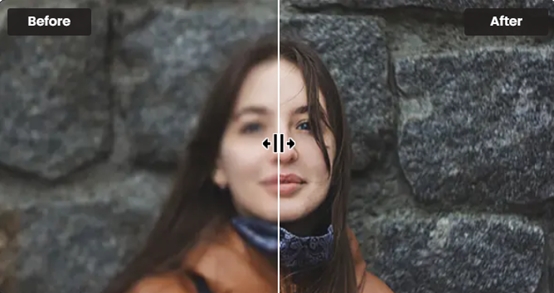 Low Resolution & Compressed model from VanceAI online Image Upscaler can upscale low resolution and compressed pictures to HD in one click. If you need more delicate product photos, portraits or wallpaper, this model will always satisfy you. It will never be too late to upscale such images online with VanceAI Image Upscaler or with upscaler software for PC!

Final Thoughts

You should now have a pretty good idea of how to increase DPI of image and why you would want to do it. There are many tools out there capable of upscaling but if you want to enlarge images without losing quality you'll need a tool powered by AI. We recommend trying out online image upscaler from VanceAI because you can test it for free and see the results for yourself. We promise you won't be disappointed. 

FAQs

How to avoid taking a photo with a low DPI?

If you take photos by mobile phone, it is important to keep your hand steady to avoid taking blurry photos. Because now the camera on the phone can take pictures in very high resolution. If you are a photographer, try to use a good SLR camera and pick a proper time to take a picture. If you want to know more about how to upscale images, you can also read: How to Remove Blur Online with VanceAI
How to tell the dpi of an image?
In Windows, right-click the file name and choose Properties > Details to view an image's DPI. The DPI is shown by the labels "Horizontal Resolution" and "Vertical Resolution" in the Image section. You must open the image in Preview on a Mac and choose Tools > Adjust Size. It is designated Resolution.
Do you find this post helpful?
Jason Moth
I have been writing for a living for nearly a decade now and always had an interest in innovative new technologies, so writing for Vance AI was an opportunity I just couldn't resist. My main goal here is to teach you how to use artificial intelligence tools in ways you may not have considered before. So if you want to learn how to have fun with Vance AI just check out my articles. You can see even more of my work over on my own website
FictionTalk
.