There are some great reasons to make Discord emojis bigger or even other emojis for that matter. Emojis are and will get increasingly popular as we get newer messaging apps. Many users think of how to enlarge emoji and the answer to that is VanceAI Image Enlarger tool, which can automatically increase Discord emoji size. Simply read ahead if you want to make emoji bigger.
Review of VanceAI Image Enlarger
VanceAI Image Enlarger has been launched on Product Hunt. To help it get featured and have greater influence, click here to upvote this image enlarger now
You don't have to worry about how to make Discord emojis bigger if you are using an application like the AI Image Enlarger due to its technology and overall design. The basics are that VanceAI Image Enlarger, as well as all other VanceAI applications, are built from AI and Deep Learning based technologies. This makes the tool capable of automatic conversions and image processing. As users, you can easily process images with a simple upload. The Image Enlarger can make Discord emojis bigger by sharpening it and increasing its resolutions at the same time. You will then have a Discord emoji size that is increased and sharpened.
How to Make Discord Emojis Bigger with VanceAI Image Enlarger?
If you want to know how to make emojis bigger on Android, iPhone, desktop, or anywhere online, follow this simple step by step guide.
1. Access the Application
You can use the image upscaler link in order to access the website and the tool. Now, you will need to click on Upload Image to prompt the Workspace window.

2. Select the Image
The Workspace window is used for checking remaining credits, selecting a particular workflow, and to upload photos. Use the plus sign to upload an image and use the Start to Process option.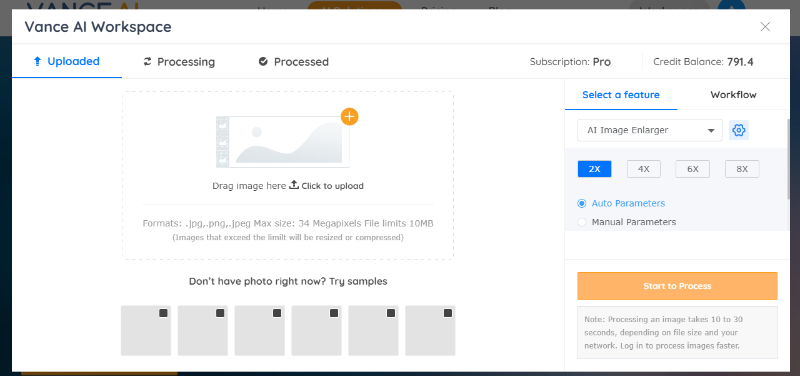 3. Download the Image
Shortly after, you will see a pop-up on the Processed tab. Go there and click on Preview on the right of the image. Use Download Image to save the image into your device.
It doesn't matter if you want to know how to make emojis bigger on iPhone or any platform, these steps will give the result anywhere and anytime.
Performance of VanceAI Image Enlarger
Now you will see a few conversions made by the image enlarger application online.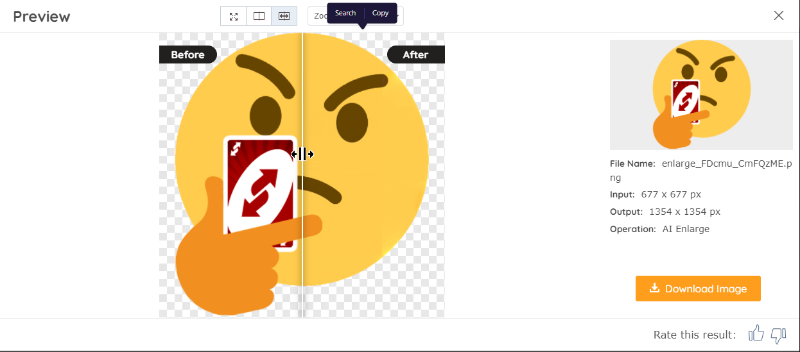 The original image here is upscaled twice its size and the application manages to uphold the image quality pretty easily. Other than that, the tool has also made sure the image is sharp even at double resolutions. The processing didn't take much time either, producing this result in just a few seconds. They have done a good job with comparisons too, as you can compare both images in multiple ways.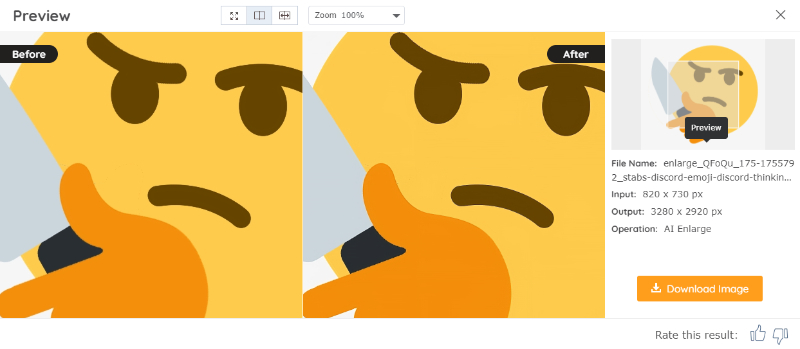 In this case, the original image is upscaled upto 4 times its original size. Naturally, the image processing this time took a bit more time that it did for 2 times upscaling but it was still quick enough. Furthermore, the increase in image quality is still strong. The colors of the After image are a bit brighter too, especially when you consider the knife.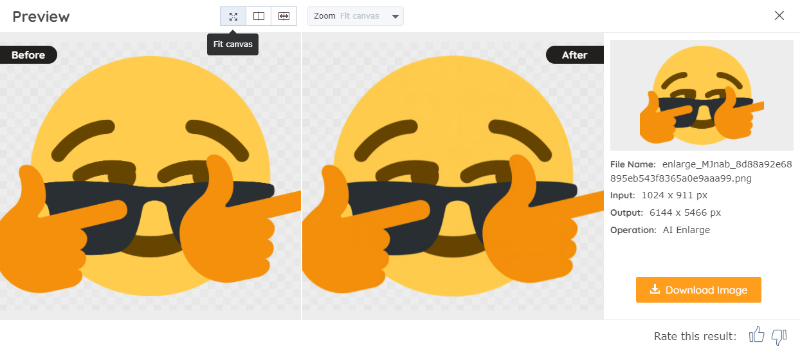 Finally, the original image in this case has been upscaled 6 times its original size. Again, it is great to see that the image upscaler tool has managed to heighten the quality of the image enough to support its increase in resolutions. Other than that, the image still has the sharp colors and edges that make it ready to use.
Conclusion
VanceAI is a remarkable online application that manages to increase resolutions and quality simultaneously. This feature is something that is missing in a huge number of other online image editing tools. You can also make Discord emojis bigger with this AI image enhancer online and for free. Also read: How to Make Image Bigger Without Any Quality Leakage.
FAQs
1. How to make emojis bigger on iPhone?
Fortunately, it is not that difficult to know how to make emojis bigger on iPhone due to the fact that VanceAI's applications can be used online by browsers on desktop and mobile. You can simply follow the steps given above and get yourself bigger Discord emojis in a matter of seconds. If you want, you can use other VanceAI products such as the Image Retoucher to enhance your output.
2. How to make emojis bigger on Android?
The process of making emojis bigger on Android with VanceAI is the same as the one for iPhone. You can use the Image Enlarger link to access the website and press on Upload Image. From there, you will need to upload an image and press on Start to Process. Finally, download the result from Processed > Preview and Download Image.
Also read: How to Enlarge Anime Image Easily with AI.