Emojis are getting increasingly popular as we get newer messaging apps with social characteristics. Also, some of us are in favor of making custom emojis and sharing them with friends through the Discord platform. For custom emojis on Discord, users may come across trouble unable to see clearly the details of custom emojis. Many users think of how to get Discord larger emojis and the answer to that is VanceAI Image Upscaler tool, which can automatically increase Discord emoji size. Simply read ahead if you want to make emoji bigger.
What causes Discord's emoji small?
Discord only accepts emoji files with a resolution of 32*32 pixels. If you try to share emojis with a resolution higher than 128*128 pixels, Discord will convert them to 32*32 pixels automatically. The Nitro subscription will increase the size of your emojis compared to the free version of Discord. However, some of us may not pay for expensive yearly or monthly VIP subscriptions just only to get some Discord larger emojis.
Part 1: How to make Discord Emojis bigger with VanceAI Image Upscaler?
Review on VanceAI Image Upscaler
You don't have to worry about how to make Discord emojis bigger if you are using an application like the image enlarger due to its technology and overall design. As well as all other VanceAI applications, it is built from AI and Deep Learning technologies. This makes the tool capable of automatic conversions and image processing. As users, you can easily process images with a simple upload. Image Enlarger from VanceAI brand can make Discord emojis bigger by sharpening them and increasing their resolutions at the same time. You will then have a Discord emoji size that is increased and sharpened.
Pros & Cons
Pros
Reserve definition without quality loss
Professional enlarging performance
Cons
Only support JPG and PNG file
If you want to know how to make emojis bigger on Android, iPhone, desktop, or anywhere online, follow this simple step by step guide.
Guide to use AI Enlarger step by step
1. Access the Application
You can visit the website of AI Enlarger to make it a try on enlarging Discord emojis. Now, you will need to click on Upload Image to prompt the Workspace window.

2. Select the Image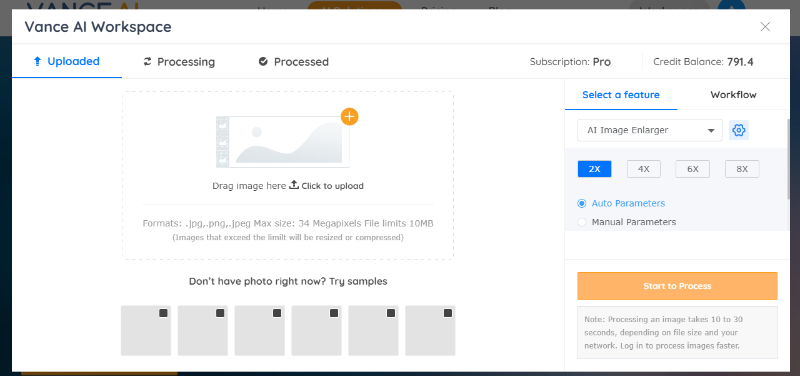 The Workspace window is used for checking remaining credits, selecting a particular workflow, and uploading photos. Use the plus sign to upload an image and select the enlarging times you need in the options area, and then click the Start to Process button.

3. Download the Image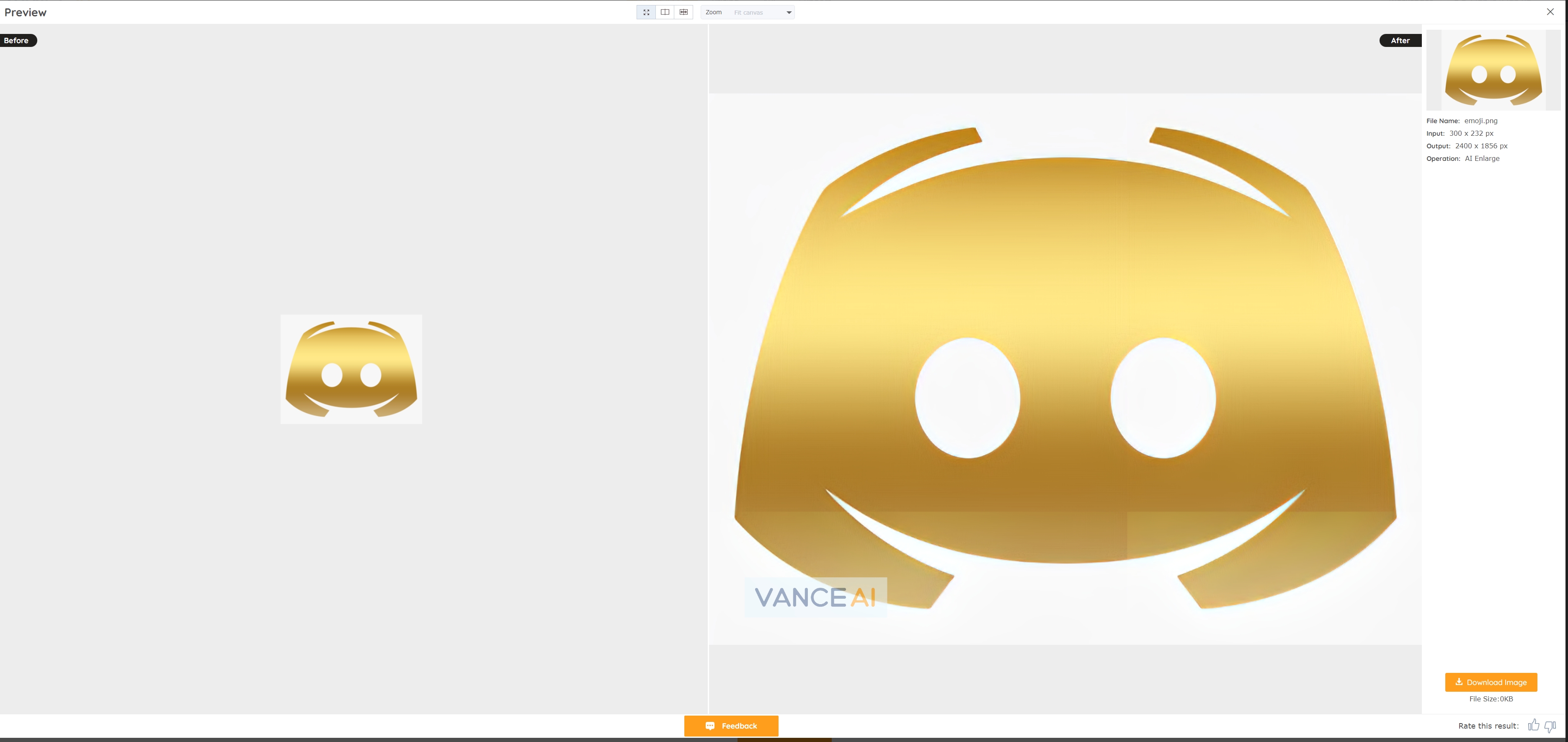 Shortly after, you will see a pop-up on the Processed tab. Go there and click on Preview on the right of the image. Use Download Image to save the image to your device.
VanceAI now also launches its software version. VanceAI PC is full-featured desktop software developed by VanceAI that lets you instantly process local photos in bulk with more customization options, which will significantly simplify your workflow and boost your productivity. Free Download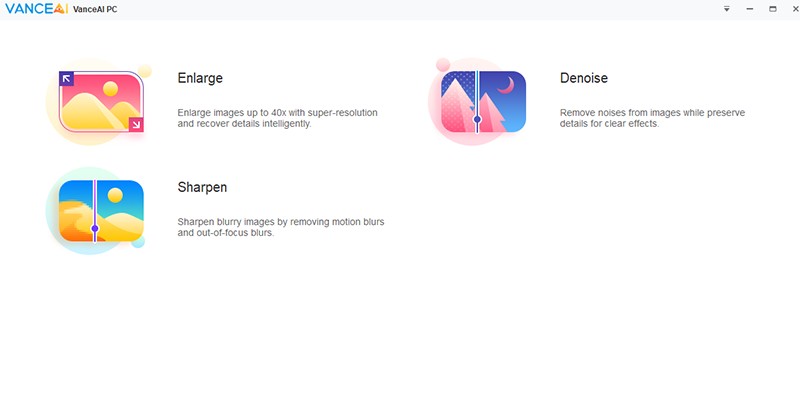 Part 2: How to make emojis bigger with Discord?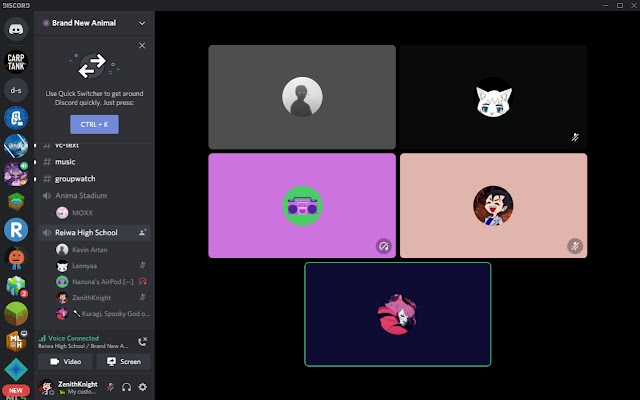 Discord was designed to be a multi-user VoIP platform that allows users to share voice, text, images, and files. It's the ideal choice for anyone searching for a voice chat tool that's simple to use, low on resources, and capable of doing just about everything.
Users can use Discord like any other chat program in the center of the screen to send files, links, messages, photos, videos, and other data. You can connect to channels to talk with others over chat by moving your cursor slightly to the left. Due to Discord's limitations on emojis' size, some may find it difficult on making them bigger. Now Discord official has allowed normal users to enlarge emojis with a few clicks. Check the belowing guidance and have a try!
Pros & Cons
Pros
Friendly to Nitro user
Provide emojis for editing
Cons
Limit functions for online users
Resolution loss through enlargement
Only support JPG and PNG file
Guide to enlarge emojis step by step
Create a Discord server for yourself.
Have someone else use the emoji you want on a different server, or upload it yourself. Simply right-click it, select "copy link," and paste it into your own Discord server.
Paste the link into any chat channel on any Discord server you want to use your larger emoji on when you want to use it. The emoji will be larger, and if it's a GIF, it will be animated. Except for acquiring the emoji at first, no nitro is necessary.
Part3: Performance Review: VanceAI Image Upscaler VS. Discord
In this part, the original emoji is enlarged by VanceAI Image Upscaler and Discord separately. The illustrated picture could give you a clear comparison of enlarging performance of the 2 tools.


From left to right in this picture, the 2nd image has been upscaled 6 times its original size through VanceAI's image enlarger. What makes me surprised is that AI enlarger from VanceAI has managed to heighten the quality of the image enough to support its increase in resolutions. Other than that, the enlarged emoji still has sharp colors and edges that make it ready to use or post-editing. By comparison, the 3rd picture which was enlarged by Discord has a lower resolution and off-color by zooming in comparison with the original small emoji.
Conclusion
VanceAI Image Enlarger is a remarkable online application that manages to increase resolutions and quality simultaneously. This feature is something that is missing in a huge number of other online image editing tools. You can also make Discord emojis bigger with this AI photo enlarger online and for free.
Also read: How to Make Image Bigger Without Any Quality Leakage.
FAQs
1. How to make emojis bigger on iPhone?
Fortunately, it is not that difficult to know how to make emojis bigger on iPhone due to the fact that VanceAI's applications can be used online by browsers on desktops and mobile. You can simply follow the steps given above and get yourself bigger Discord emojis in a matter of seconds. By the way, there is a good news to know. VanceAI Image Upscaler will be launched on App Store and Google Play soon.
2. How to make emojis bigger on Android?
The process of making emojis bigger on Android with VanceAI Image Upscaler is the same as the one for iPhone. You can use the Image Enlarger link to access the website and press on Upload Image. From there, you will need to upload an image and press on Start to Process. Finally, download the result from Processed > Preview and Download Image at last.
Also read: How to Enlarge Anime Image Easily with AI.
Do you find this post helpful?
Yes
No