Imglarger.com is an online photo enhancer and editor application that offers a variety of tools that can provide all kinds of solutions to users. By using this platform, you can improve the quality of your images by a great margin and use them online for business, advertisements, and for other creative purposes. With that said, we will be comparing Imglarger tools with corresponding tools from VanceAI in this Imglarger review.
Some of the tools that we will be looking at are image enlargers, image denoisers, image sharpeners, and more. These photo editing tools are used commonly by many users online and are sure to be of use to professionals as well as casual users.
Imglarger AI Image Enlarger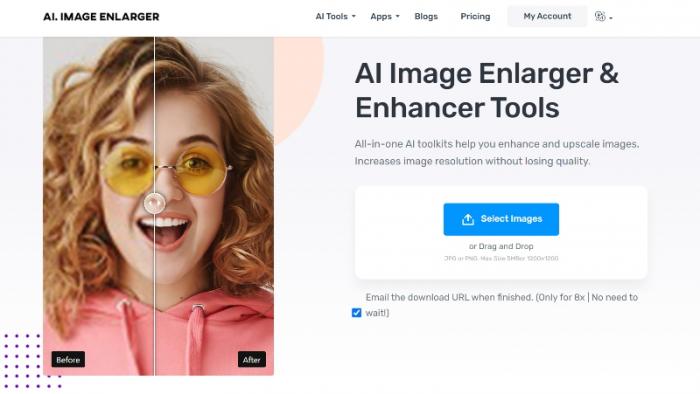 Key features
Advanced algorithm: ImgLarger uses a sophisticated algorithm to enlarge images without losing quality, resulting in clear and detailed images.
Quick Results: Due to the AI based technology and algorithms used by the application, users can expect their images to be ready within seconds.
Simple Website: Users simply have to use the link given above, upload an image, and wait for the tool to work on their image.
Pros
You can either select a file or drop it directly to the upload button.
Quick processing of images.
Cons
Only supports JPG and PNG file formats.
No additional features.
Alternative: VanceAI Image Upscaler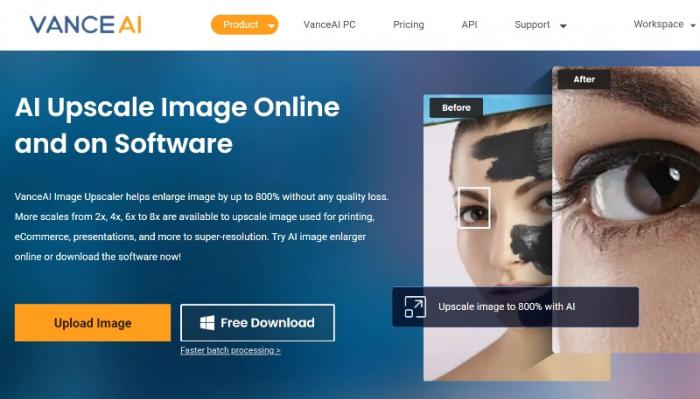 Key features
Multiple resolution options: VanceAI Image Upscaler provides multiple resolution options for enlarging images, allowing users to choose the resolution that best meets their needs.
Batch processing: VanceAI Image Upscaler supports batch processing, allowing users to enlarge multiple images at once.
Preferences: In the Enlarger Workspace, you can choose how strong the sharpness effect should be on the output image, which gives users more flexibility.
Pros
Provides additional useful features outside the automatic image upscaling.
Processes images quickly.
Cons
Supports JPEG, JPG, and PNG image formats only.
Imglarger AI Anime 16K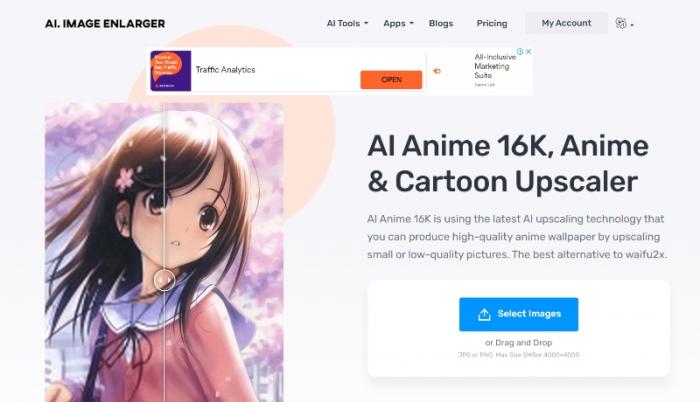 Key features
Focused on anime images: ImgLarger AI Anime 16K is specifically designed for enlarging anime images, providing users with the best results for their anime images.
Large Resolutions: With Imglarger AI Anime 16K, users can upscale their cartoon or anime based photos to extremely large resolutions.
Easy to use: Considering that the UI design of this tool is similar to the Image Enlarger tool from Imglarger, it is similarly easy to use as other tools.
Pros
Provides users with the option to upscale anime images to a large resolution.
Easy to use and quick results.
Cons
File format compatibility is still limited.
Alternative: VanceAI Anime Upscaler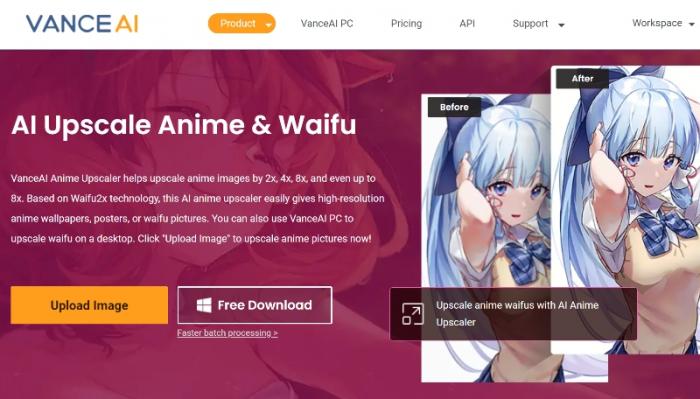 Key features
Additional Functionality: When using VanceAI Anime Upscaler, you can choose various algorithms that provide different features, such as image noise reduction, image upscaling, etc. along with enhancement.
Specialized Tool: Similar to AI Anime 16K, the Anime Upscaler is also designed specially for enhancing and improving the details of anime and cartoon based images.
VanceAI PC: You can also enhance and upscale anime based images on VanceAI PC, which is a desktop software version of the online tool.
Pros
VanceAI Anime Upscaler offers other features besides image enhancement.
The VanceAI PC option adds more accessibility to the tool.
Cons
The online version of the tool can upscale the image up to 8 times the size of the original. For more, you will need to install VanceAI PC.
Imglarger AI Sharpener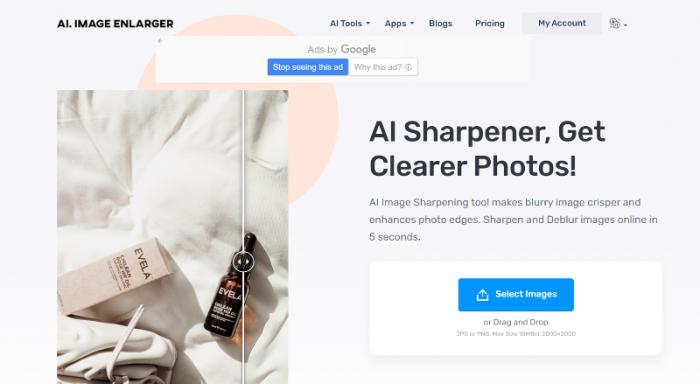 Key features
Image Contrast: AI Sharpener is an Imglarger software that is capable of reducing or even eliminating image blur from photos to make them look sharper than before.
AI Processing: Image sharpening can be a complicated task because image blurs are difficult to deal with. With this tool, however, users simply have to upload their images and stop worrying.
Wide Use: The tool has been around for a long time and its algorithms are capable enough to improve any kind of image, be it a landscape, product photo, or something else.
Pros
Get high contrast images within seconds.
Provides high quality results in most cases.
Cons
No additional features.
Alternative: VanceAI Image Sharpener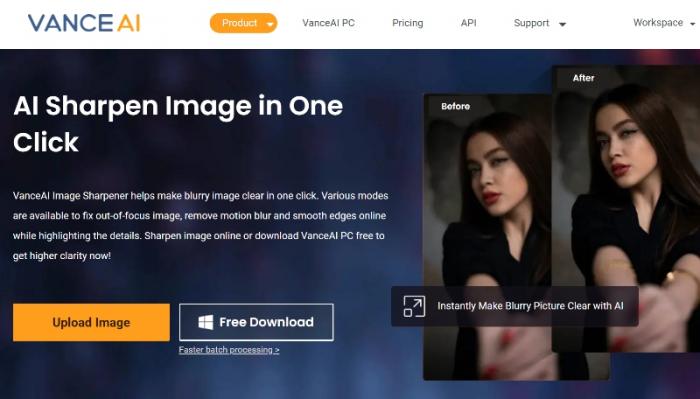 Key features
Automatic Tool: VanceAI Image Sharpener also makes use of AI and Machine Learning algorithms to provide users with excellent output images.
Combined Usage: With the help of the Workflow feature, you can combine the Image Sharpener with other VanceAI tools, such as the Image Upscaler, to sharpen and upscale an image at the same time.
Customization: In the Workspace, you can select from various blur types, such as motion, soft, and lens blur to specifically target them in an image.
Pros
Provides extra features that are uncommon in other apps.
Easy and efficient design online.
Cons
Using the blur type feature can be improved by giving users more info.
Imglarger AI Cartoonizer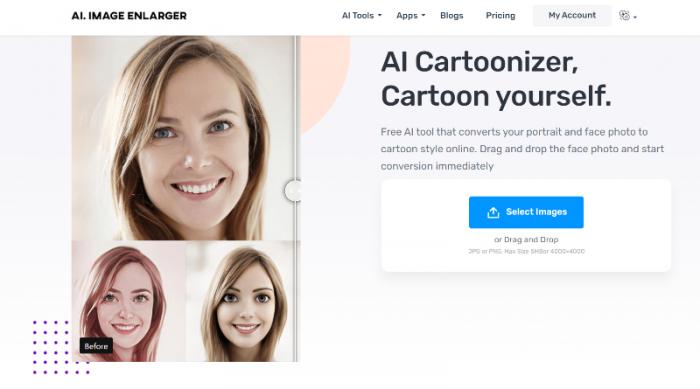 Key features
Creative Editing: The AI Cartoonizer is an Imglarger program that leans more towards creativity based photo editing and has the capability to transform your portraits.
Fast Results: Creative changes to an image can take time, but with AI algorithms, it can be done within a few seconds only.
Safety: All images uploaded on the website will be removed by the next day.
Pros
Makes images look interesting and artistic.
Provides results quickly.
Cons
It doesn't convert images that have no faces in it.
Alternative: Toongineer Cartoonizer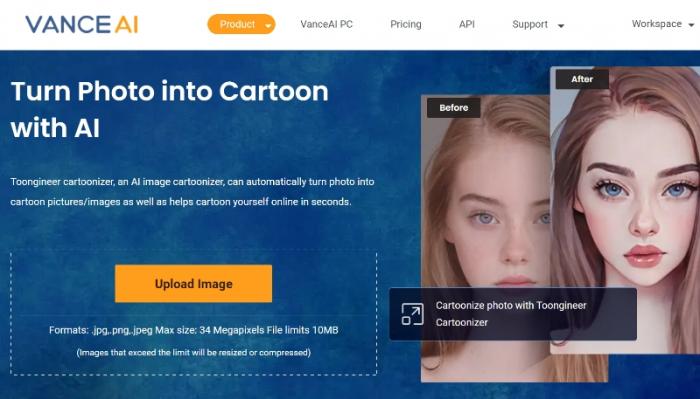 Key features
Transform Any Image: Toongineer Cartoonizer can be a good Imglarger alternative and more, as it can not only convert portraits but also normal images into cartoons.
Multiple Choices: When inside the Workspace, users can choose from 3 different options that determine how their image will be converted. As such, users have more options for outputs.
Sample Images: The VanceAI tool also offers a range of sample images that users can experiment with first.
Pros
The tool is easy and enjoyable to use, especially with portraits.
Results are provided within seconds.
Cons
The tool may not be able to convert all types of images.
Imglarger AI Face Retouch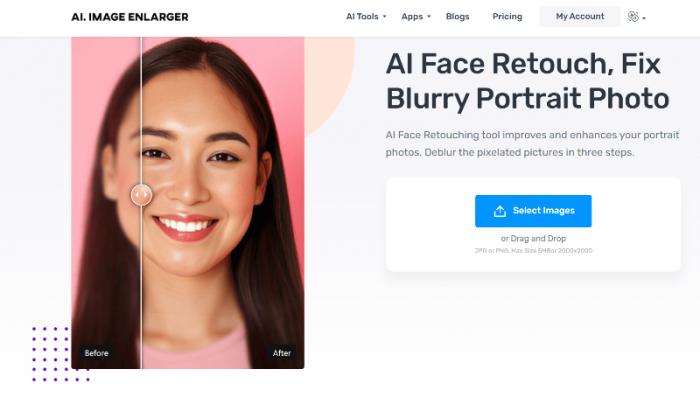 Key features
Improve the Appearance of Faces: ImgLarger Face Retouch is specifically designed for retouching faces, allowing users to improve the appearance of faces in their photos and create more visually appealing results.
Special Algorithms: ImgLarger Face Retouch uses advanced image processing technology to retouch faces in photos automatically.
Pros
Makes it possible for users to improve their selfies and portraits easily.
It is an easy to use tool.
Cons
No extra options for customization.
Alternative: VanceAI Portrait Retoucher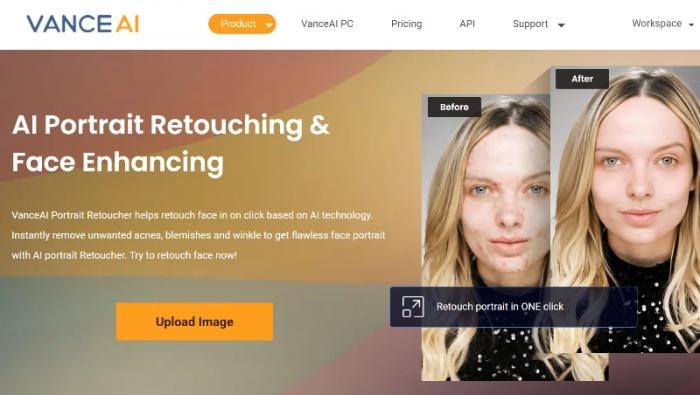 Key features
Provides Options: With VanceAI Portrait Retoucher, you can either enhance the overall quality of the image or improve the image by removing blemishes and other marks.
Quick Output: Given that the tool makes use of AI based image processing, you will get results pretty quickly.
Pros
Multiple ways of improving portraits and personal photos.
Provides good looking results consistently.
Cons
Shows the output online in a smaller size than the original at times.
Imglarger AI BG Remover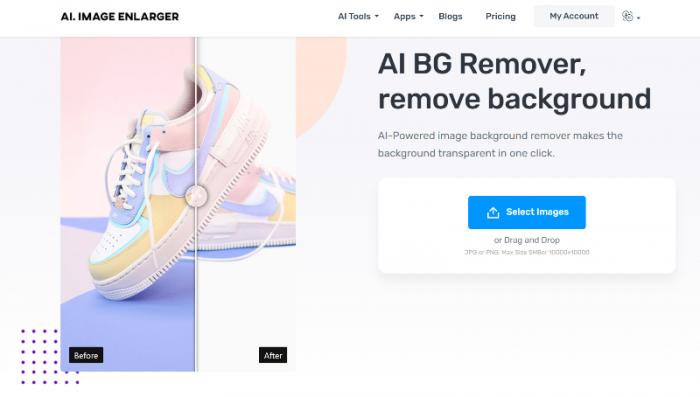 Key features
Easy Background Removal: When using the Imglarger program, you can upload an image and wait for the tool to remove the background automatically.
AI Processing: By using sophisticated AI algorithms, the tool is able to offer accurate results to users.
Pros
Make images ready for further editing instantly.
Get accurate enough images with no effort.
Cons
No tools for additional editing.
Alternative: BGremover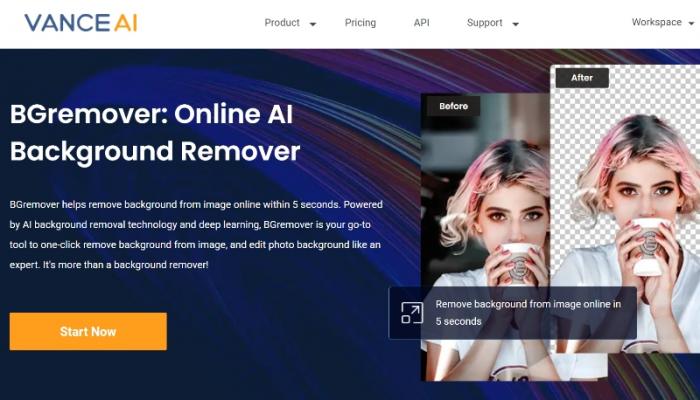 Key features
Customization Options: VanceAI BGremover is not only useful for automatically removing background from images, but also for adding new backgrounds to the image.
Options: It provides options to users that enable them to retain the focus object or person in the image.
Brush Tool: After processing the image, you can use the brush tool to further remove anything if needed.
Pros
Offers additional features and ways of editing images.
Provides users with high quality results.
Cons
Some complex images may require the brush tool editing.
Imglarger AI Denoiser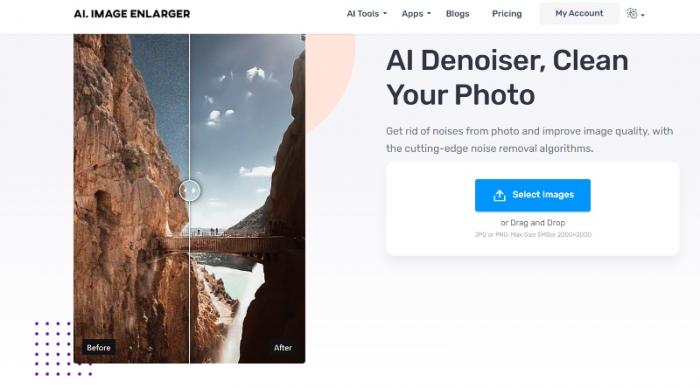 Key features
Clean Images: The AI Denoiser from Imglarger makes sure that your images are as clean as possible.
Automatic Results: Image noise reduction or cleansing can be tedious. The AI algorithms make it easy and quick to clean images.
Pros
Easy to use and quick to process images.
You can finetune images by clicking on the Edit option.
Cons
No additional features.
Alternative: VanceAI Image Denoiser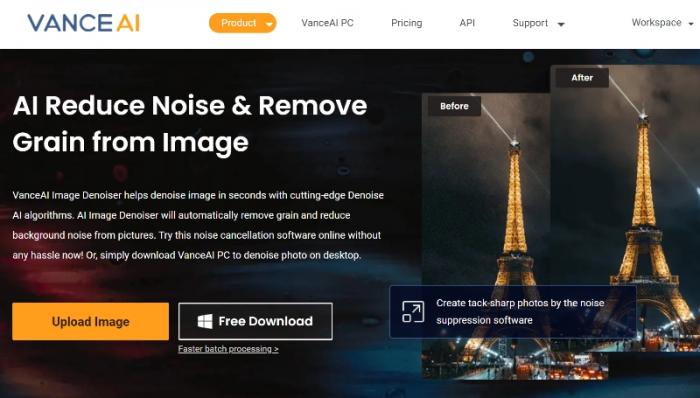 Key features
Productivity Tool: VanceAI Image Denoiser is a really useful tool to use on a daily basis as it makes images look clearer than before.
Wide Range: The Image Denoiser tool from VanceAI has strong algorithms that are able to denoise any kind of image instantly.
Pros
Excellent UI design.
Offers one of the best results in terms of image denoising.
Cons
Can increase support for other image file formats.
Conclusion
Imglarger is a highly useful and popular platform for image editing and enhancement. In this Imglarger review, users can get a good idea about the scope and capabilities of the various tools that Imglarger offers. Also, with the comparison to Imglarger alternatives, such as VanceAI, users have a better idea which tool to use. When it comes to tools such as image upscaler, image denoiser, background remover, and image sharpener, VanceAI tools tend to offer more features and better results. Imglarger tools definitely are excellent in other areas, such as portrait retouching and anime image enhancement.
The tool you choose also depends on many other factors, such as the prices, features, usability, website design and responsiveness, and more.
Do you find this post helpful?