Jewelry retouching is an art. Jewelry pictures can be taken for selling it or just posting it on Insta. Good jewelry photos focus on the design of the particular piece, however, the best one brings out the sparkle in that ornament.
However, cameras are not always able to capture the best representation of the jewelry in question. It could either be because the camera was not of a good quality, or the photographer could not handle it. There are many more reasons, but the end game is that the photo does not turn out what you wanted it to be. You need a photo enhancer like AI Photo Enhancer to bring out the best in your jewelry. It then helps you finish the task of image enhancement with one single click even if you have not sophisticated skills. So the work of enhancing the image is merely a breeze if you take advantage of the tool. Your picture will be enhanced to a newer level with no effort. Fear not though, there are services which can help you improve the quality of your images.
We also offer jewelry sellers with several websites that can offer jewelry retouching services, which we hope will help you in your business. The following are 10 websites that offer Jewelry retouching services, and we have ranked them according to the services they offer, their pricing, delivery time and their website interface.
Best 10 Jewelry Retouching Services and Tools Review
1. Color Clipping
Price:$3.5-9.99
You can get your premium jewelry photo editing service here as this website understands that jewelry photography is not always perfect and visible scratches may be left behind. It offers a jewelry retouching service which brings out the metallic texture of the jewelry. Its services include adding metallic luster, removing dust and scratches, background retouching, and sharpening of diamond and stone, all of which make your jewelry look splendid. They even offer a free trial and up to 5 revisions if you are not satisfied the first time. Moreover, they promise to deliver within 24 hours, and you can order in bulk up to 250 images per day!
Pros
Quick delivery
Bulk offering
Low pricing
Lots of services under one roof
Free trial
Cons
You cannot edit it yourself
2. Ephotovn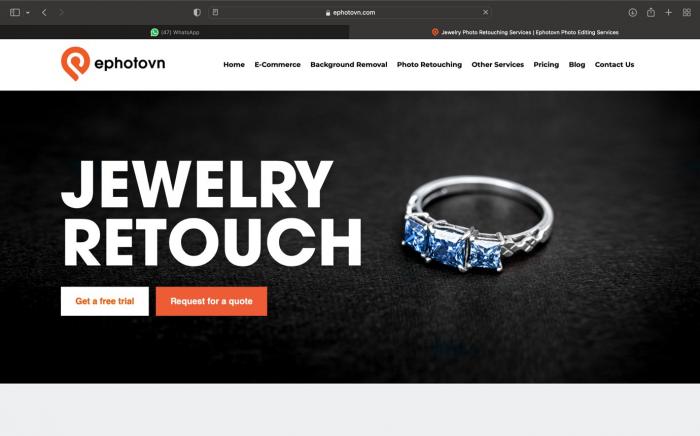 Price:$5 per image
Ephotovn is a website with an amazing interface and jewelry editing services on the go. It has huge number of offerings. Its background retouching is alone enough to make your jewelry's features stand out. Its other high end retouching services which include metal polishing diamond recoloring, adding hallmark stamps which just make your photos as stunning as possible. You get a free trial at first and a quick delivery is promised. In addition, a personal Account manager is assigned to you who will assist you throughout the process.
Pros
Quick service
Personal account manager
Lots of services under one roof
Easy access
Cons
A bit expensive
Can't do the editing yourself
3. Paper Boat Creative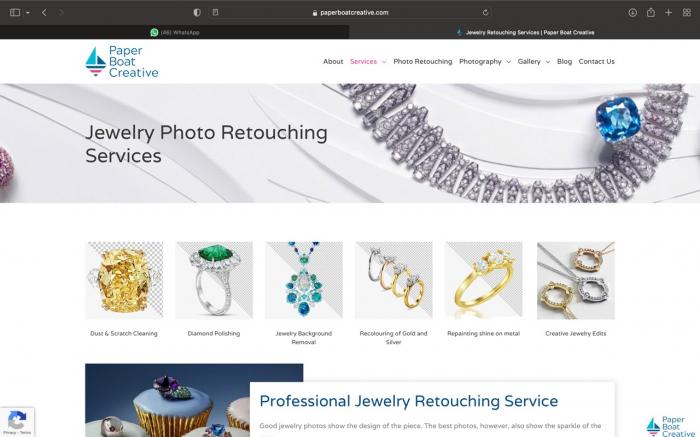 This website has it all. It offers one of the best Jewelry retouching services to its users. Its Jewelry retouching services include dust cleaning. It involves making a digital sweep of stones and removes dust and scratches. Any dust that touches the jewelry is edited away through photoshop. Moreover, it offers base level adjustments where qualities such as curves, saturation, selective colors, and levels are adjusted to bring out the best in the photo. Furthermore, they perform digital masking and color preservation for jewelry image editing before making the final adjustments. They make sure that you go home with the best representation of your Jewelry.
You must be wondering that all of this must take a lot of time. However, this can get done in 5 hours at most but for as little as 2 hours too.
Pros
A lot of services offered under one roof
Task is done quickly
Editing done by professionals
Cons
Have to contact them for any services
They make the edits themselves; it is not a do-it-yourself service
4. VanceAI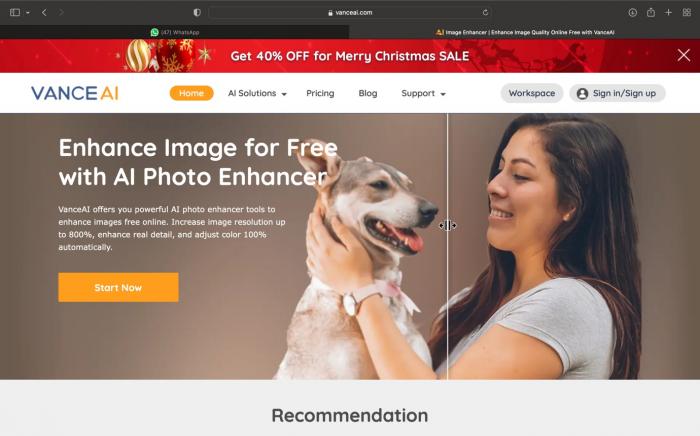 Price:$5.99 per month
VanceAI offers an AI solution to all your photograph troubles. This could be your Jewelry or any other photograph you want to edit. The VanceAI software allows you to work on your Jewelry photos and bring out the best in them. Through this tool, you can increase image resolution up to 800%, adjust color up to 100%, and enhance real detail, and as talked about earlier, this is all you need to improve in your Jewelry photographs.
That is not all. VanceAI offers a service known as BGremover. This can help you in jewelry retouching by making the background white. A white background brings the focus where it is needed, on the jewelry in question. The best part? You make the edits yourself! You know your jewelry best and it is you who should work on it!
Pros
Do it yourself service
Lots of services which can improve your photos
Additional feature which helps you unblur image online
Cons
It is paid
No specific jewelry retouching service
5. Jewelry Retouchers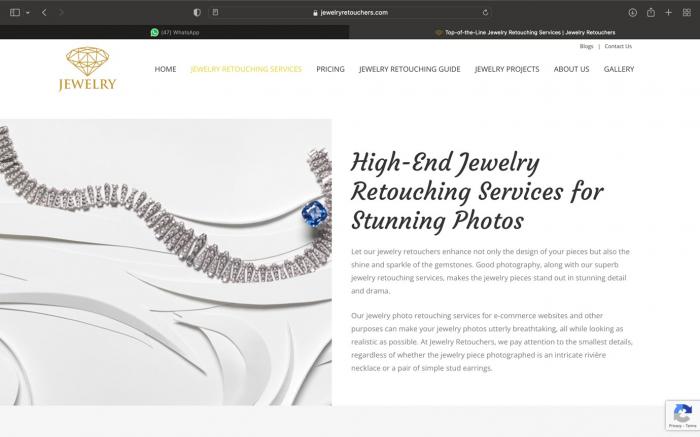 This is a website that offers jewelry photo retouching services. Their editing makes the jewelry stand out in stunning details and drama. The services it offers include dust and scratch cleaning, which makes your jewelry look great. Also, its reflection removal option removes any unwanted glow that might hide the features of the jewelry. It even creates a shadow or your jewelry which makes your two-dimensional photo look three-dimensional. Their background removing and jewelry recoloring features are just a cherry on top. All these features make your jewelry stand out.
Pros
A lot of services under one roof
Editing is done by professionals
They offer a free demo session
Cons
Need to contact them for pricing and editing
Cannot make adjustments yourself
Also read: Photos Makeover with VanceAI Photo Retoucher
6. Clipping world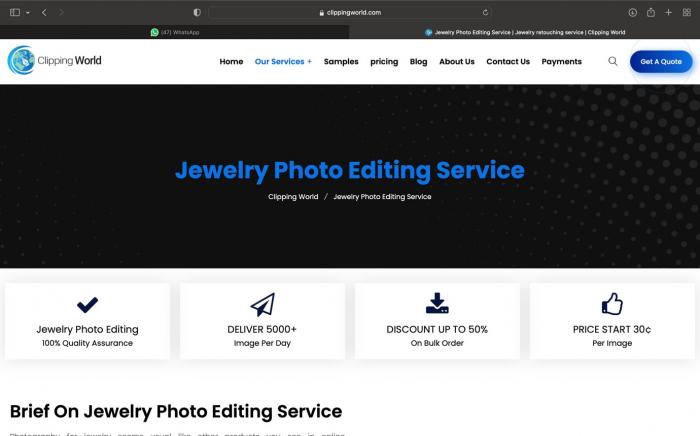 Price: starting at $0.3per image
With up to 3000 images per day edited per day, clipping world promises to offer the best jewelry photo retouch service there is. Its services include background removal, color enhancement, shadow editing etc. they offer up to four trial options so that you order only after you are satisfied with their editing skills. Their service brings out the best in your jewelry.
Pros
Very cheap
Can be ordered in bulk
Lots of services
Cons
Website interface is not up to the mark
7. Perfect Retouching
Price: Starting at $3.99
Perfect retouching uses skilled retouchers to edit the jewelry picture to perfection. Their services include clipping path and removing background, metal polishing, adding clarity to diamond and stones as well as focus stacking. They also offer lower price for larger projects. You can get real time notifications about your project if you so desire as well as a free trial. Just sign up and send your pictures to perfect them!
Pros
Offers value added services such as notifications
Offer a free trial
Cons
8. Foto Valley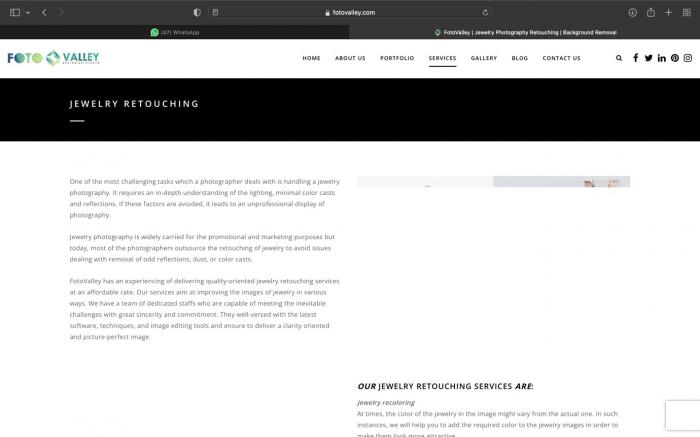 Foto Valley boasts a team of dedicated staff and advanced software, which are bound to enhance your jewelry images. Focus stacking, which refocuses the image on the said jewelry, shine enhancement, background removing are only some of the features they offer for you jewelry photo retouch. Their pricing differs from project to project but they are happy to offer you a free sample!
Pros
Offer a free sample
Lots of services under one roof
Cons
Pricing is not explicitly mentioned
Have to contact them to get work done
9. Zenith clipping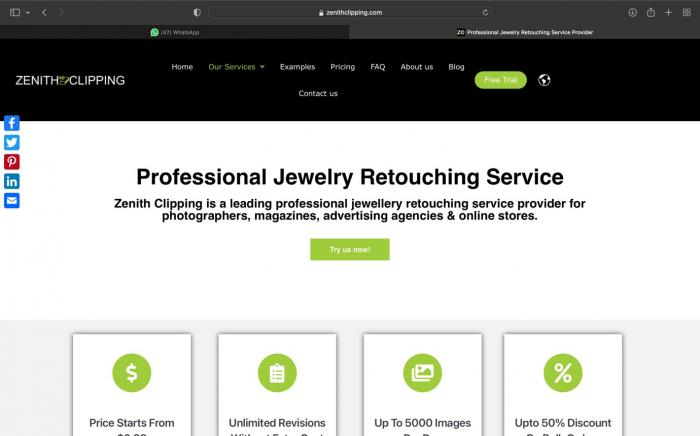 Price: starting at $0.39
This is just another website offering extensive Jewelry retouching services. They offer a large number of features ranging from Gem editing, adding shine to your photos which just add to the glamor of your jewelry. Apart from these their color and shine enhancement bring out the texture of the jewelry. Besides these they offer a very low price and free unlimited revisions. You can order up to 5000 images here per day and ordering in bulk enables you to get a 50% discount. Have a try!
Pros
Very low pricing
Can order in bulk
Unlimited free revisions
Cons
Website interface is a bit confusing
Limited contact option
10. Clip cutout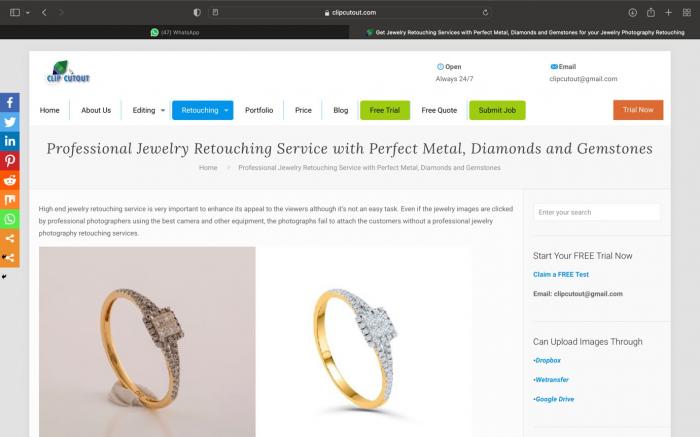 Price: starting at $1.49 per photo
The clip cutout team uses photoshop and other software to offer a high end as well as light jewelry retouching services. Their services remove dust, scratches, add shines, enhance the color of your photos. Also, there is a higher and lower pricing option for you to choose from with a slight difference in service. They offer a free test
Pros
Free trial
Less expensive
Cons
Limited editing options offered
Conclusion
All these services bring out the best in your jewelry and make them more attractive. These are very important since jewelry easily catches dust, is not easy to position the right way and is very difficult to photograph perfectly. These websites offer many services under one roof to solve all your jewelry related problem!
Do you find this post helpful?