One of the most notable advantages of dropshipping is there's no need to hold any inventory. However, you must still source products for your suppliers to send to the customer. This is where Oberlo enters the mix. 
Oberlo makes setting up a dropshipping store so easy that you will begin to miss the difficulties you once faced before using it. In this comprehensive Oberlo review, we look at what Oberlo is and how it works, its features, pros and cons, pricing plans, and many alternatives.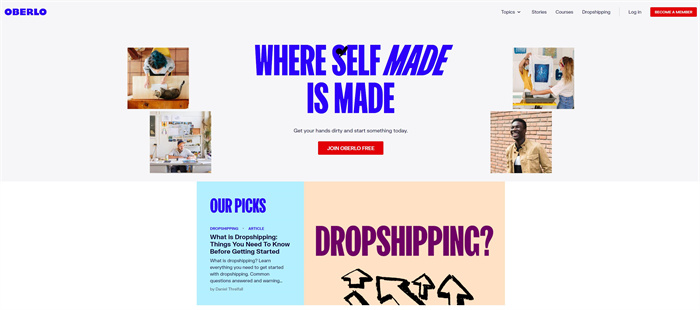 Also, once you master the Oberlo, what comes to you the most important is how to make your products attractive, which would also be suggested in this article, such as using an AI image upscaler. 
An Overall Review of Oberlo
What is Oberlo?
Oberlo was founded by a group of close friends in 2015. Since then, it has become a leading dropshipping app in the Shopify app marketplace, thanks to its ease of use and powerful features. It has nearly 7000 active Shopify stores that have made more than $36 million in sales so far.
Oberlo enables you to easily import all kinds of products from AliExpress straight into your Shopify store and have the Oberlo products shipped to your customers directly, in just a few clicks.
It's dedicated to helping people succeed wherever they are on their e-commerce journey, regardless of whether they're just starting out or looking for unique and new ways to grow their online business.
Features of Oberlo
1. Easy Order Fulfillment
Oberlo enables you to streamline the process of fulfilling orders with your dropshipping suppliers. This allows you to efficiently run your business and spend more time focusing on actions that will help your business grow. 
2. Inventory Updates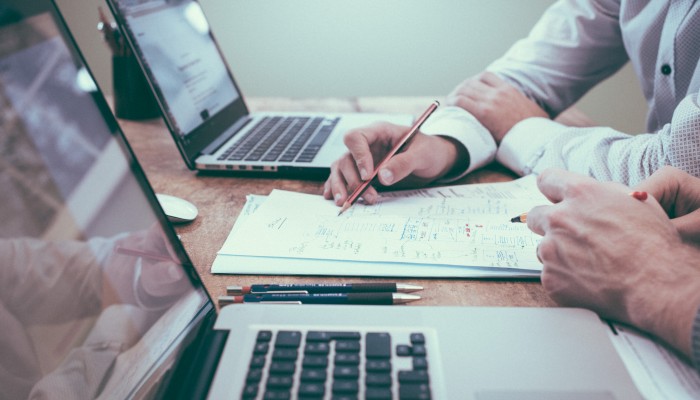 While adding products to your Shopify store via Oberlo, the dropshipping app will sync the inventory of your store to that of the seller on AliExpress. This makes sure that any updates to their inventory level are automatically pushed to your online store so that you don't mistakenly sell a product that's out of stock. 
3. Google Chrome Extension
Oberlo's free Google Chrome Extension helps streamline the process of searching and including products in your eCommerce store. Downloading and activating the extensions allows you to directly add products from the AliExpress site. 
You can then browse AliExpress as you do in a regular shopping experience. When you come across a product you wish to add to your store, you can just click on the "Add to Oberlo" button. Then the product(s) will automatically get pushed to your Shopify store. It'll then be on your Import List for you to make changes before the product goes live. 
4. Free Business Tools
Oberlo has an array of free business tools that you can directly access on their website. These tools enable you to plan your dropshipping business in a better way.
5. Find A Business Name
Using this tool, you can provide a word you want your business name to include. After that, Oberlo will create hundreds of potential business names that contain the word you chose. 
6. Slogan Generator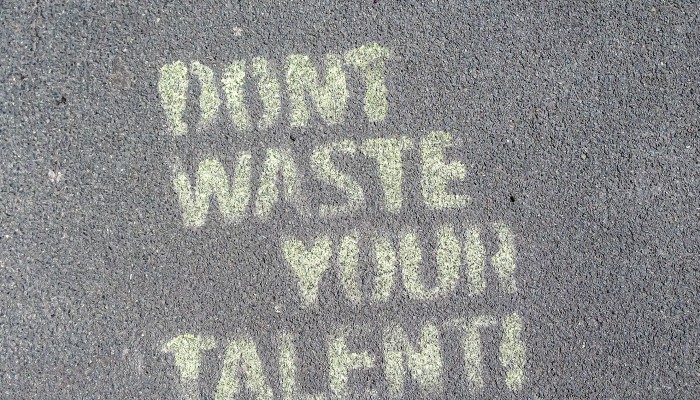 Like finding a business name tool, the Slogan Generator enables you to give the word. Oberlo will use this word to come with all the possible slogans for your business, yielding more than 1000 results. 
7. Traffic Calculator
Using the traffic calculator, you can guess how many visitors you require to reach a specific target amount of income. Oberlo uses a 2% conversion rate, 2x margin, and a $45 average order value while assessing the traffic required to hit your income objective. 
8. Profit Margin Calculator
The profit margin calculator enables you to estimate the profit you can earn depending on your product cost and the percentage markup you'll apply to the selling price.
Oberlo Pricing Plans
Oberlo offers a free 30-day trial, which includes "all the main features" of the software. At the end of the 30-day free trial, it transitions your account into the Starter Plan. Here are the three Oberlo pricing plans.
The Starter Plan is intended for people who have started their dropshipping store and are relatively new to selling products online. As per Oberlo, the Starter Plan works best for people in their initial months. Using this plan, you can process up to 50 orders and import 500 products per month. 
The Basic Plan costs you $29.90/month and is intended for people who import up to 10,000 products and process up to 500 orders per month. Besides including all the benefits of the Starter Plan, it also provides bulk orders and fulfillment monitoring. 
The Pro Plan is the most expensive pricing plan and costs you $79.90/month. It includes everything mentioned above, with the addition of multiple user accounts. The Pro Plan is intended to help dropshippers scale their business and includes up to 30,000 products and unlimited orders. It is ideally suited for larger dropshipping companies. 
The Pros and Cons of Oberlo
The three different price plans and the ability to access Oberlo services enable you to customize your account according to your dropshipping business size and needs. 
Pros
Secure and quick product imports
User-friendly interface and modern dashboard
Simultaneous integration with Shopify
Ability to scale
Outstanding customer support
Daily product sync
Top-quality app with a convenient Chrome extension
Easy product customization – Enhance, restore, or upscale your product images for free with a picture enhancer from VanceAI.
Locate trending, bestselling products
Automated order fulfillment and processing
Loads of video tutorials, learning materials, and even access to online coaching and courses
Cons
Incompatible with other eCommerce platform providers.
Oberlo restricts some products, but the terms and conditions may be unclear on what or why.
The "Bestsellers" category can raise the competition, making it harder for your online business to stand out. 
Items can only be imported from AliExpress (even when using the internal marketplace).
How to Use Oberlo?
Oberlo has been devised with the utmost care, with straightforward controls and a user-friendly interface, making it easy to use and effortless to get started.  

Once you have chosen the right payment plan for your online business model, you can look through the Oberlo marketplace: look for products on AliExpress, add stuff to your import list, personalize descriptions, complete orders, and ship the products quickly and easily using the Oberlo application. 
1. Signing Up
Creating an account with Oberlo is super easy and quick. All you need to do is head over to the Oberlo dropshipping home page and click on "Become a member." Here onwards, you will have to enter your email address and create a password, then hit "Join Oberlo free" to sign up and explore the tons of features and services on Oberlo without spending a cent.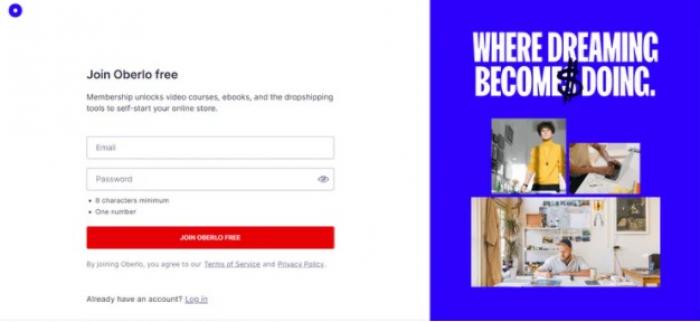 On the other hand, you can also start using Oberlo directly through the Shopify app store by logging into Shopify and navigating to the "Products" section. You can click on "more actions" followed by "more products to sell" to add the application to your online store to permit the system to create an account for you.
2. Connecting to Shopify
If you've created your account on Oberlo via your Shopify store, then you can automatically connect to Shopify. However, if you sign up through the Oberlo official website, you'll have to link your account to Shopify. Simply head over to the Oberlo admin page and click on "connect or create a store.

A pop-up page will load, asking for your online store's URL. If your store is not ready to go, then you'll have to click on "start your free trial of Shopify." This leads you to the Shopify store site, where you can complete the signup process to get your business up and running. 
3. Finding Products to Sell 
Now that your Oberlo account is created and connected to Shopify, it is time to look up products you want to sell. You can look for products with the Oberlo marketplace by entering a product category or type and using the search tab to narrow down the list of products you want.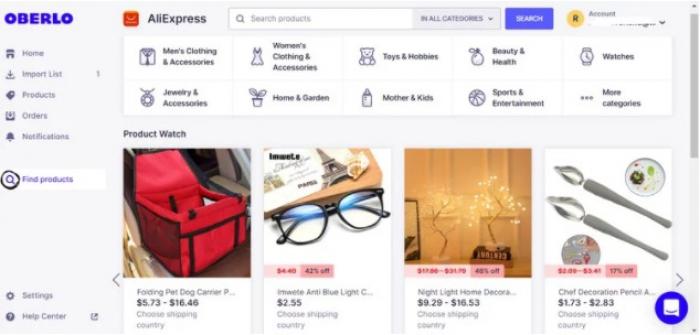 You can even import stuff from AliExpress directly by downloading the Oberlo Chrome extension. If you are using the app, you only have to look out for the blue icon on your Google Chrome browser to see when you are on a page with items you can add to your import list.
The products can be added to your Shopify store in just a few clicks, and now your store is ready to sell. 
4. Bestsellers
Want some inspiration for your online business? You're in for great news as Oberlo enables users to look through their bestsellers' categories. This simplifies store owners' search for the best-selling and trending products for their own stores. 

5. Connecting With Suppliers
There are 3 types of suppliers included in Oberlo: Oberlo suppliers, AliExpress suppliers, and Verified suppliers.
Oberlo Suppliers
These suppliers are thoroughly checked and assessed by Oberlo to make sure they are legitimate suppliers. This includes Oberlo thoroughly checking the suppliers' warehouses, operations, and business documents, so you do not end up with excessive shipping times, faulty products, or dissatisfied customers. 
Verified Suppliers
These verified suppliers have all their warehouses, operations, and documentation checked and verified. They are identifiable by an orange tick and a "verified" badge on their listings.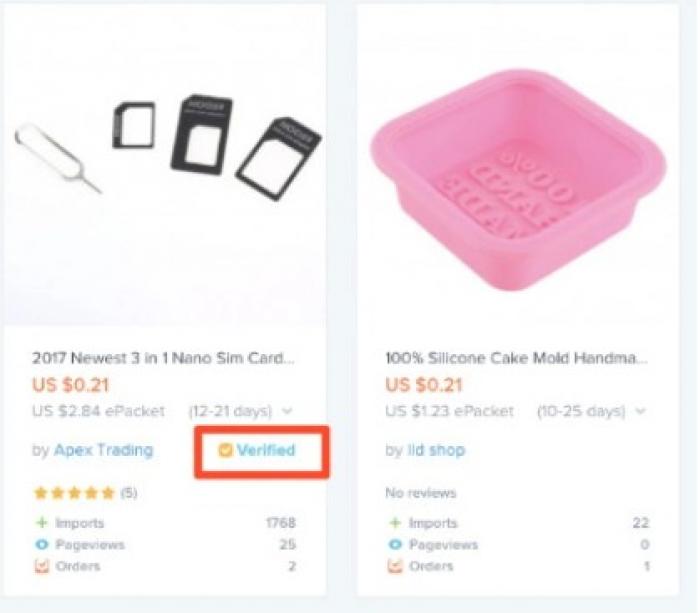 In addition, they need a proven track record of the most successfully best selling items. A verified vendor should have processed at least 1000 orders, have under 2% dispute rates, and an on-time delivery rating of 95%.
AliExpress Suppliers
Apart from shopping on the Oberlo marketplace, online business owners can add products to their store straightaway from AliExpress. Oberlo does not check these vendors, so you will have to do your own due diligence and research to ensure any seller is reliable and legitimate when importing products from AliExpress directly. 
6. Importing Products
While browsing the Oberlo marketplace, you will see the products have a blue colored "add to import list" button in the product description and on the main page. Upon clicking this button, your product will be ready for customization and importing.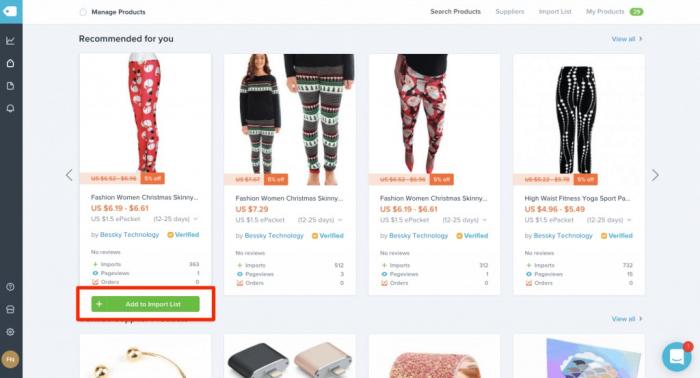 7. Setting Prices
After finding the products you wish to sell and adding them to your import list, Oberlo enables you to easily tailor the products and set the prices. Head over to the import page and click on the "Variants" tab to do it manually. You can see the default prices for each product here and adjust these manually. 
8. Managing Orders
Oberlo will also be there to assist you with ongoing customer support, including order management and fulfillment. Firstly, when your customers place an order, it appears unfulfilled on the "Orders" Page. There will be an "order products" button next to the product, so click on it to order the stuff from the supplier.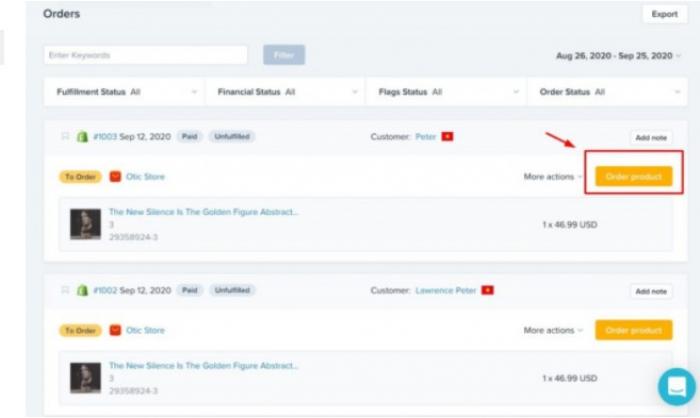 Oberlo will complete the order and shipping information. If you ever see an order marked as fulfilled but doesn't have a tracking code, this can mean either of the two things:
A shipping label was generated, but the product has not yet been sent out.
The order was marked as completed on Shopify but isn't placed with the vendor.
9. Canceling Orders
If any customer wishes to cancel an order or change a product, Oberlo makes the process fast and easy. Just head over to your Shopify store and go to the order page. Then, choose "more" from the dropdown menu, and click on "cancel order fulfillment" to cancel the order. This mechanically updates on Oberlo too. 
10. Returns & Refunds
Unfortunately, refunds and returns are all part of something all business owners have to take care of time and time again. Having said that, check the terms and conditions carefully to ensure you do not end up out of money.
As per the Oberlo terms and conditions, Oberlo suppliers do not accept returns. However, they do issue refunds in the case of the following circumstances:
The package was damaged upon arrival.
You received the wrong item (wrong color/size/model) 
The product was of poor quality
The estimated shipping times are prolonged.
The product went missing and did not arrive.
The customer has to provide evidence for most of these situations to prove they are entitled to a refund. If you are dropshipping products from AliExpress, you must read the Buyer Protection Policy for your rights to refunds and returns. 
Oberlo Alternatives
For whatever reason you may need it, plenty of Oberlo alternatives are available. 
1. AliDropship
Both Oberlo and AliDropship offer a vast array of products to choose from with AliExpress. In a nutshell, the latter gives you the ability to start your dropshipping store, import items, and automate order fulfillment. All those looking for a premium dropshipping tool will definitely find AliDropship worth it. 
2. Spocket
Spocket is a relatively new platform taking the dropshipping market by storm. This tool lets you come across dropshipping vendors from the original EU and US products. With over 60% of vendors based in Europe and the US, shipping is reliable, fast, and effortless. You can get samples straight from the dashboard in a few clicks and try these products yourself. 
3. SaleHoo
SaleHoo is an excellent dropshipping platform and wholesale directory for finding merchants. It offers an extensive library of complimentary training videos to get started with your eCommerce store. 
4. Sellvia
Sellvia is an eCommerce merchant for dropshipping items with 1-3 working day shipping times from their US warehouse. Using Sellvia, you can import and sell products from their proven bestseller items. Being a top alternative to AliExpress, it is no wonder when you can get lower prices and swifter shipping. 
5. Dropified
For an entirely automated dropshipping app, you can come across quality sellers with Dropified that take mere seconds to complete orders. With Dropified, you can add and ship products quickly on your online store, earn more money with less management, and save time.
6. Sell The Trend
Sell The Trend is a comprehensive dropshipping solution that you can switch to from Oberlo. This tool features AI product discovery to enable you to find and research stuff for your eCommerce store. It offers integrations with the most prevalent online platforms for dropshipping, such as WooCommerce and Shopify. 
7. uDroppy
As a one-stop shop, uDroppy allows you to start and scale your brand, whether dropshipping, a private label store, or cash on delivery. 
8. Modalyst
Modalyst is an incredible Oberlo alternative that comes with excellent profit margins. It has clear policies, is easy to set up, and has a decent selection of dropshipping products. 
9. WooDropship
WooDropship enables you to add and sell products from AliExpress for your online store. The products can be easily added to your import list via their Chrome extension. 
10. Duoplane
Duoplane is yet another dropshipping and automation solution that you can use to save a significant amount of money and time, serve your customers more efficiently, and scale your business.
Final Thoughts
Oberlo can make your life so much easier if you use Shopify for dropshipping. The app enables beginners to set up lucrative dropshipping stores with minimal effort. Start with the free Starter Plan to get a gist of how dropshipping with Shopify and Oberlo works. Then you can consider upgrading your plan when your business kicks off, and you start making consistent sales.
Do you find this post helpful?