Convert photo to stencil, that is something we often search for. Luckily, we have hundreds, if not thousands, of applications available. However, sketch maker applications are hard to come by. These applications are an awesome catalyst to a user's creativity. You could simply get a stencil maker program, give it an image, and just start making something amazing out of it. Not to mention that many of these applications have started to create sketches out of given images automatically. Besides that, more people also seem to be interested in AI Face Generator. You can know more from the link.
So, let's say you want to upload an image of yourself but in a sketch format, all you need is a sketch maker program to do the job for you in seconds. This is a review of the kind of product just mentioned now, it's called VansPortrait. This is one of the potentially good applications that can convert photo to line drawing outline and a plus point is that it is a free tool. This application is one of the many designer applications that VanceAI provides. Let's go over some pictures to sketch conversions, features, etc to help you decide about this application. 
How does sketch maker work?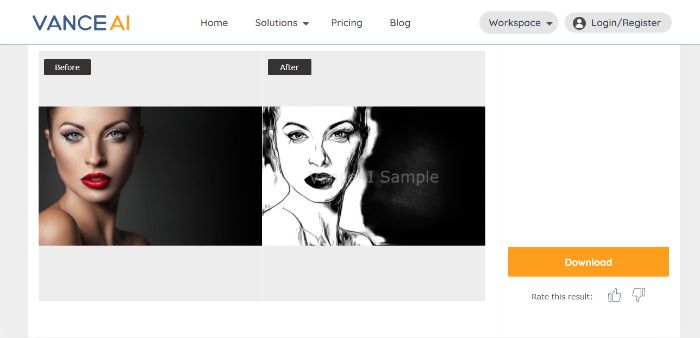 The difference in the background apparently comes from the fact that the original image has a blend of grey and black in the background. This program is an AI Sketch Converter, which means that it is run on artificial intelligence-based techniques. This image has a remarkable effect by using VansPortrait to convert image to sketch, as you can see from the various details that the application has caught on to. There's a perfect amount of shading on the side of the face and they aren't simply drawn like a pencil mark.
There are wavy lines that make up the shading which goes from dark to light tones based on the shadow. Each section of the eyes is distinct and catchy. The other features of the face such as the nose, lips, etc. are accurate enough too. The only minor noticeable error is the jawline since it is not sketched straight like it is supposed to. Overall, this is a good sketch. Apart from that, there comes some fancy AI Portrait Generator, making fancy selfies at a fast speed. Get to know more about it.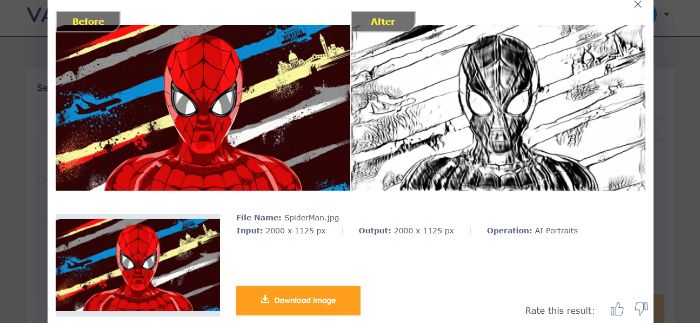 This is of course an animated image that has been converted to a sketch, just to see how the online tool makes use of it. You can see the background objects are recognized by the AI since they are drawn clearly on the left and right of Spider-Man, airplanes, and buildings. In another way, trying cartoon styles by using an AI cartoon generator is also a great idea.
The web lines on Spider-Man's costume are drawn with good precision as well. Moreover, there are small sections on the costume that are brightened due to light and you can see that too on the sketch, with the white segments. There's good shading too though much of it is just black. The tool only got confused with the spray paint effect on the background, which is understandable. More interestingly, there are also some popular Vtuber Maker which use similar technology. Try it if you like.
Features and Prices
VanceAI is a whole product that contains multiple features it, such as the AI Background Remover, AI Photo Retoucher, etc. So, if you subscribe to VanceAI, all these features come into play as well because you can edit an image in many ways using these complementary features. As for AI Sketch Converter, it gives you the option to convert either just the face or the entire picture. If you already have your own background somewhere, the face option can save you a lot of time. Also, this program works on its own, meaning, there's no need for you to click around aimlessly and figure out the application at all. You will upload the image and that's it. 
VanceAI PC is full-featured desktop software developed by VanceAI that lets you instantly process local photos in bulk with more customization options, which will significantly simplify your workflow and boost your productivity. Free Download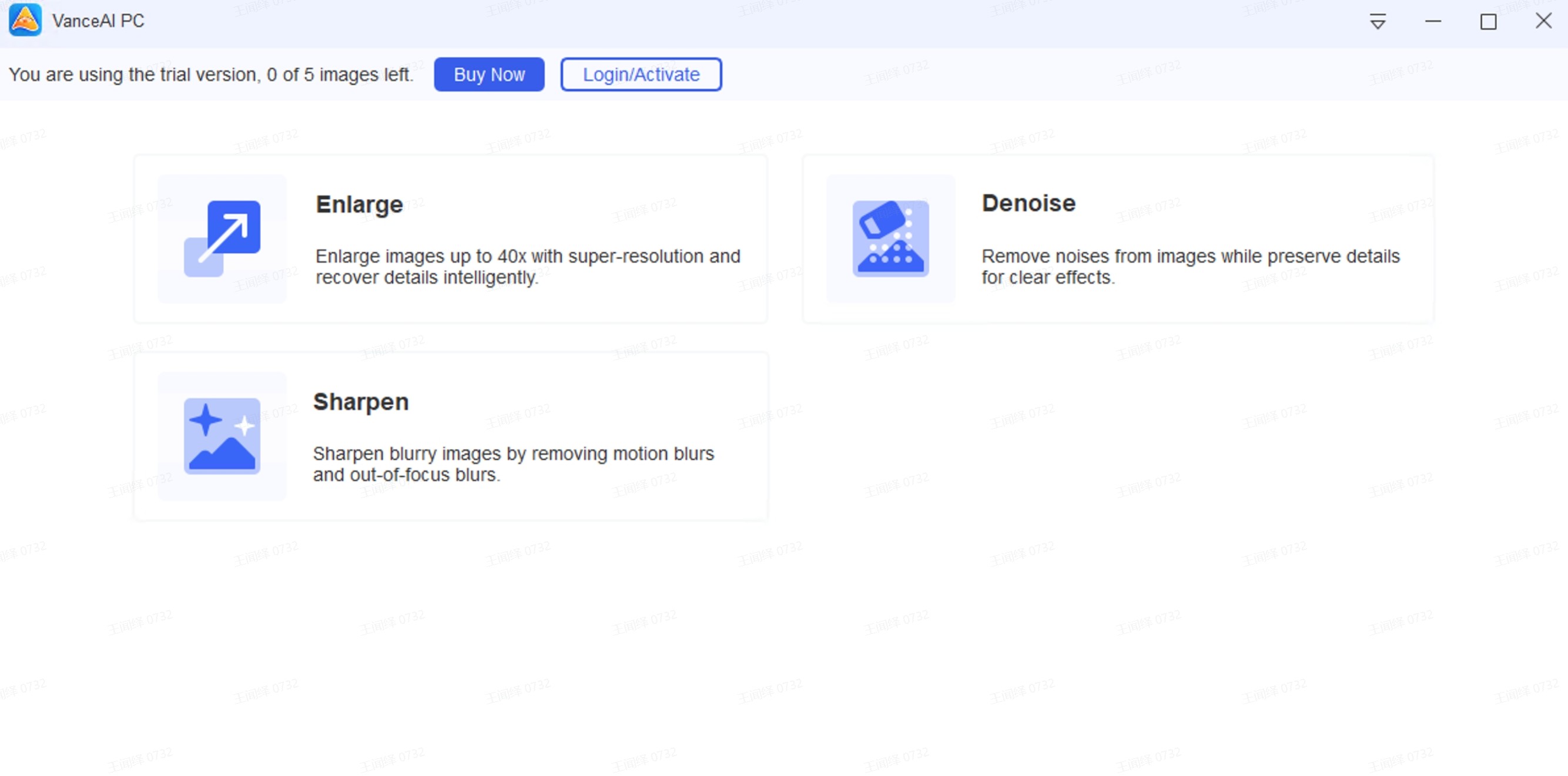 The Sketch Converter is free to use up to five times per month. This is recommended for anyone who does not use applications like this much and does not need additional features. 
If you are looking for the upgraded VanceAI experience, consider its Basic and Pro plans. They cost $9.90/mo and $19.90/mo respectively. They both also enable batch processing, faster host server speed, 24/5 customer service, and more. You can opt to use any of these plans through their software tool, AI Image Enhancer. 
How to use:
VansPortrait is an automatic tool, so you can turn photo into sketch   in no time. 
1. Access the homepage. Click on Upload Image to open a prompt window. 
2.The small window you see has a Continue button on it. First, upload an image by clicking on the small Upload option with a plus sign. Now, select the image and hit Continue. 
3.Select any of the options for the AI Sketch Converter and click on Ready to Process. Later, click on Download to get the image. 
Conclusion
For any kind of user, professional or not, VansPortrait offers enough to turn picture into sketch and make you want to keep using it. It is simple, does the conversion well, and provides various subscription types that cater to your needs and budget. That's not to say that the application is absolutely flawless. As seen from the images above, there are minor issues that you will face, though they are pretty less. The sketch maker program deals with real faces and animated ones well, so that is certainly something to be considered. Click to get to know more about how to fix underexposed and overexposed photos.
Do you find this post helpful?