What is PFPmaker?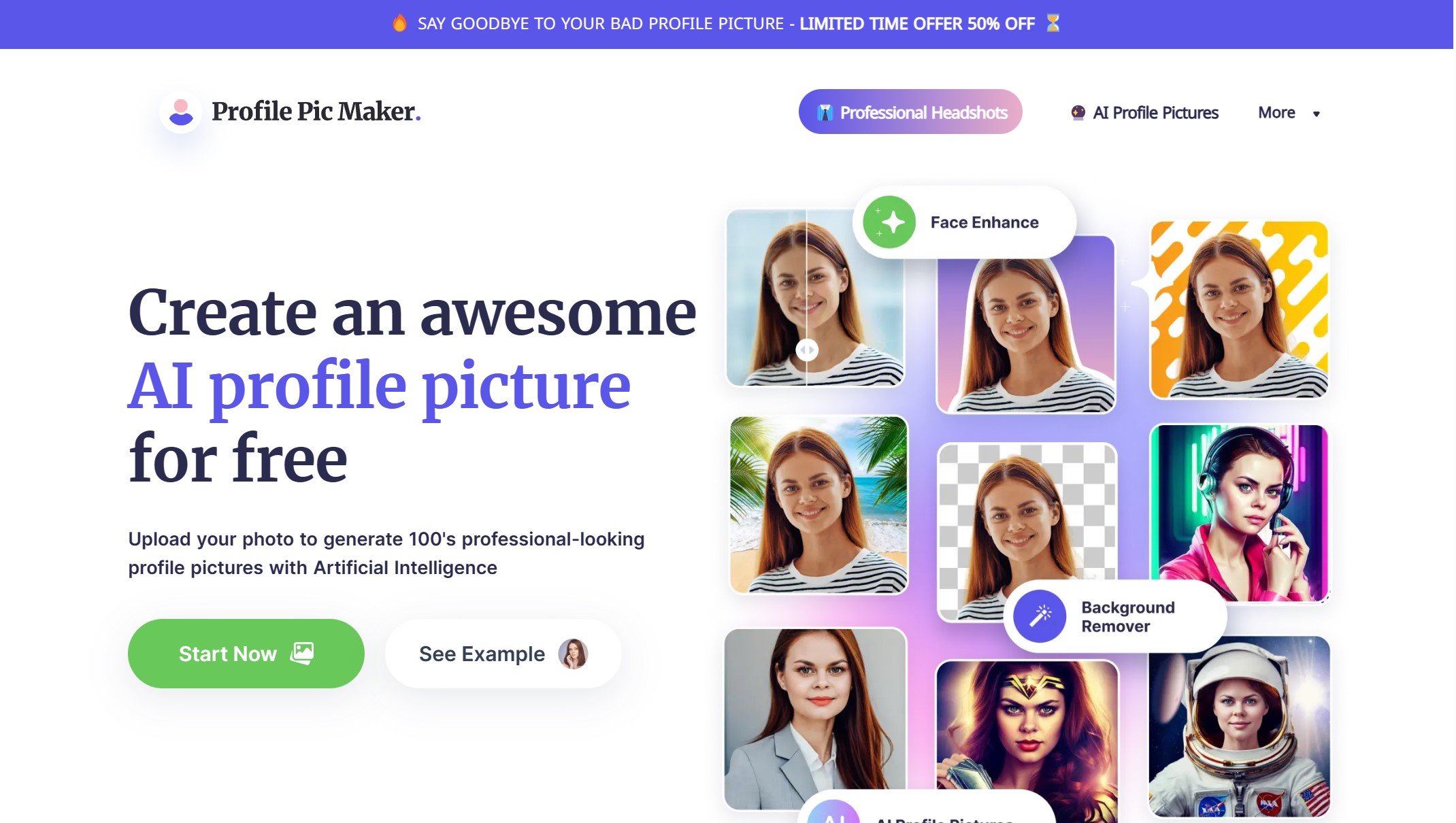 Enhance your online presence with PFPMaker, a professional AI profile picture creator that empowers you to make a lasting impression. Whether you're a business professional, influencer, or simply want to showcase your unique personality, PFPMaker.com offers a seamless and efficient solution to create stunning profile pictures with ease. With the paid version, you can make various kinds of visuals, including a PFPmaker anime version of your image.
Key Features:
AI Profile Picture Generation: With the PFPMaker app, you can effortlessly generate hundreds of professional-looking profile pictures using the power of AI. Simply upload your photo, and the PFPMaker AI will work its magic to produce a diverse range of captivating designs.
Automatic Background Removal: PFPMaker's AI technology intelligently removes backgrounds of any complexity, ensuring that the focus remains solely on you. Say goodbye to cluttered or unappealing backgrounds and elevate your profile picture to new heights.
Customization and Personalization: Take control of your profile picture with PFPMaker's intuitive editing tools. Resize your photo, adjust colors, shadows, and positioning to create a truly personalized image. PFPMaker also provides a matching background cover, allowing you to achieve a cohesive and professional look across your online platforms.
Pros:
Time-Saving: PFPMaker's AI-driven process eliminates the need for manual editing, saving you valuable time. Within seconds, you can access a wide range of professionally generated profile pictures, sparing you the hassle of complex editing software. Since the app is online, there's no need for a PFPmaker download.
Professional Appeal: With PFPMaker, you can effortlessly achieve a polished and professional appearance. The generated profile pictures boast a high-quality aesthetic that can elevate your online presence and leave a memorable impression on viewers.
Versatility: PFPMaker's profile pictures can be used across various platforms, including social media, messaging apps, email signatures, and more. Enjoy the flexibility to showcase your unique identity in different online contexts.
Cons:
Limited Features with Free Version: While PFPMaker offers a remarkable range of features and customization options, some advanced functionalities may only be available with a paid subscription. Users utilizing the free version of PFPMaker might experience limitations in accessing the full spectrum of tools and customization capabilities. To unlock the complete potential of PFPMaker, upgrading to a paid subscription is required.
How to Get PFPmaker Photos?
Follow the steps given to use PFPmaker free version to edit photos with ease.
Step 1: Click on the link given to PFPmaker and it will take you to the website. From there, click on "Start Now". Select the option under Free AI.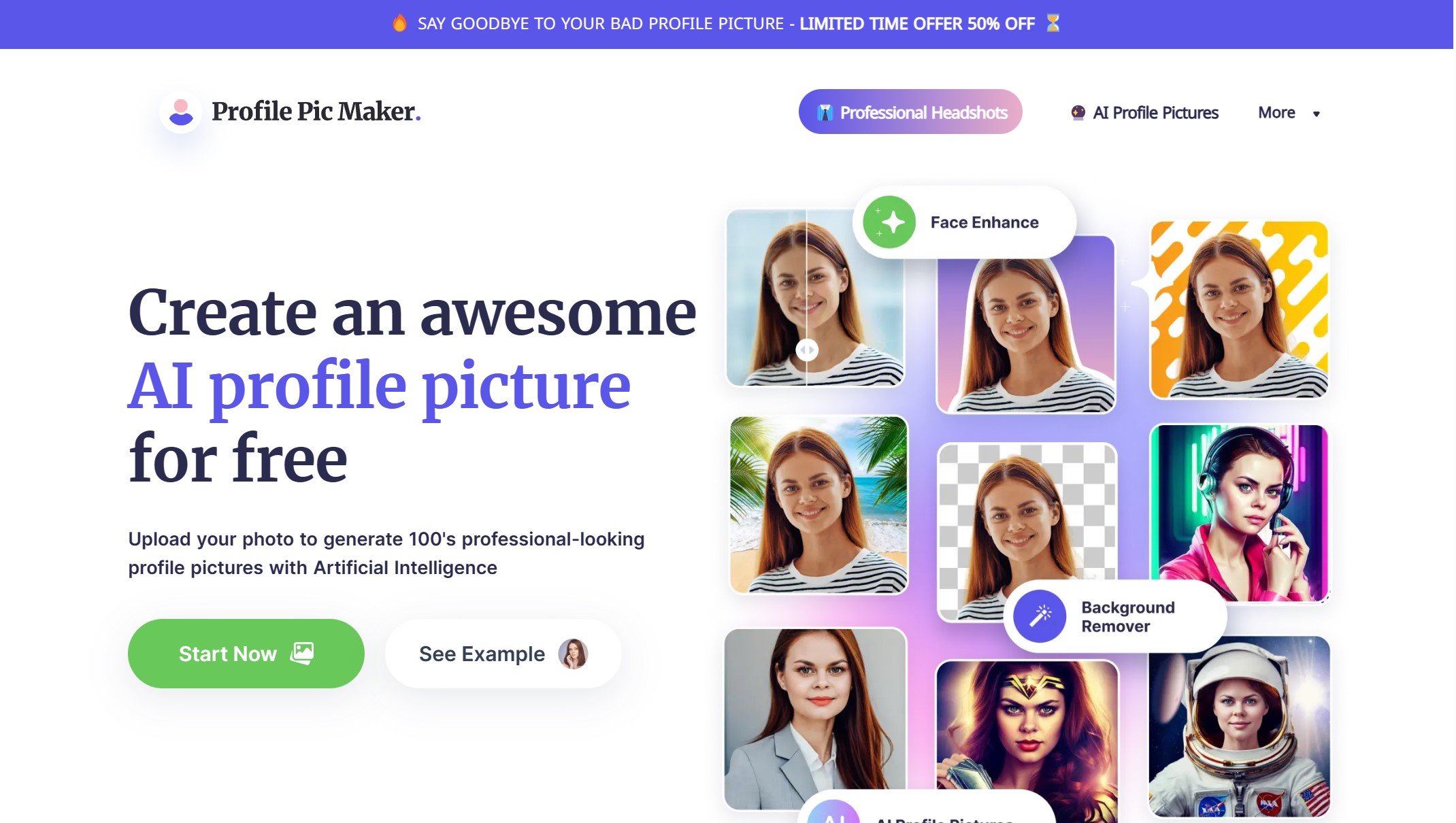 Step 2: Click on the Upload Photo option under the Free AI box and the PFPmaker app will start generating various profile pictures. You will see the progress made on the screen. Within a few seconds, you will see a range of photos.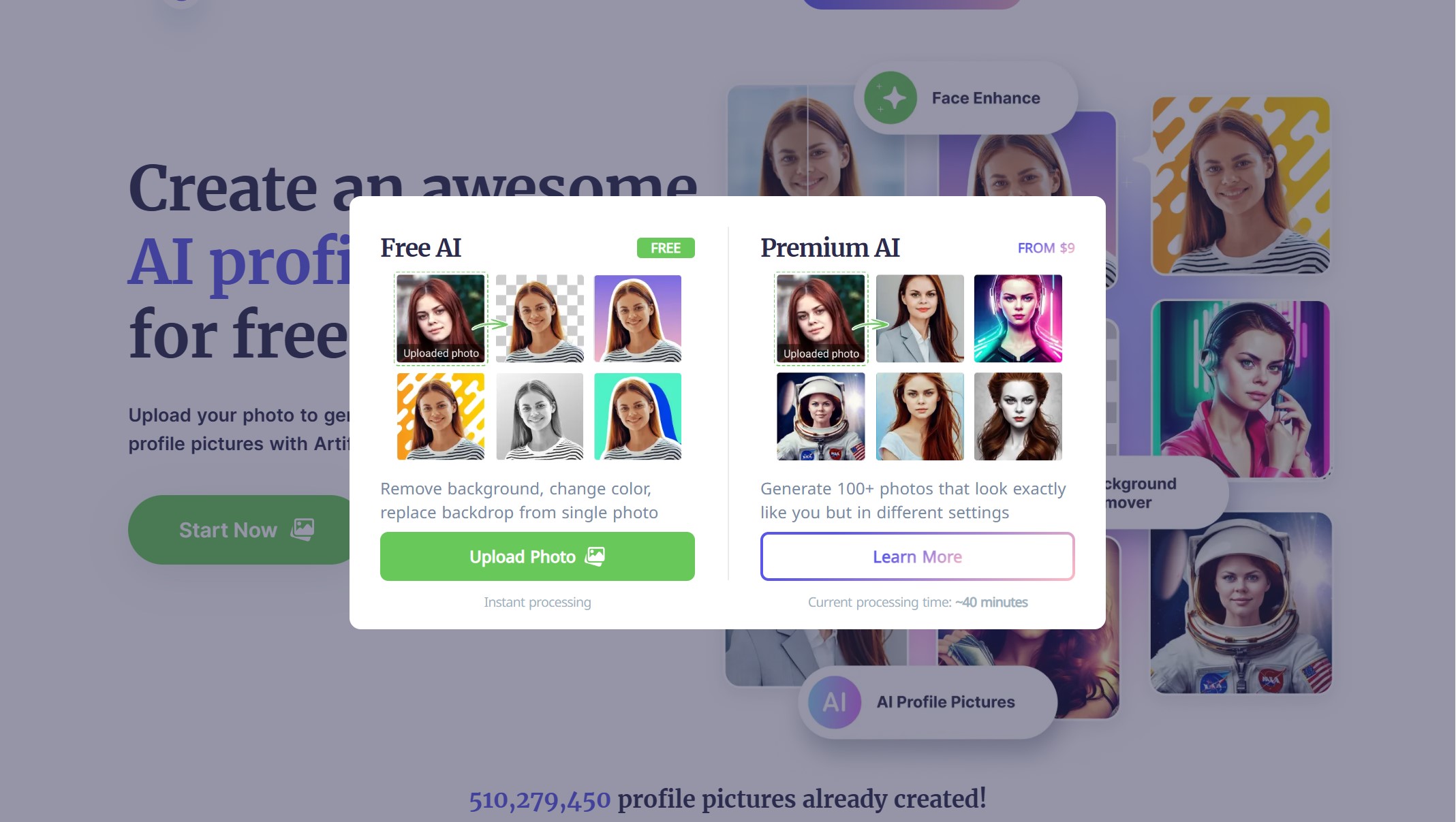 Step 3: Simply hover over the photo that you like and click on the green download icon. The image will be downloaded automatically on your device. More interestingly, there are also some popular Vtuber Maker which use similar technology. Try it if you like.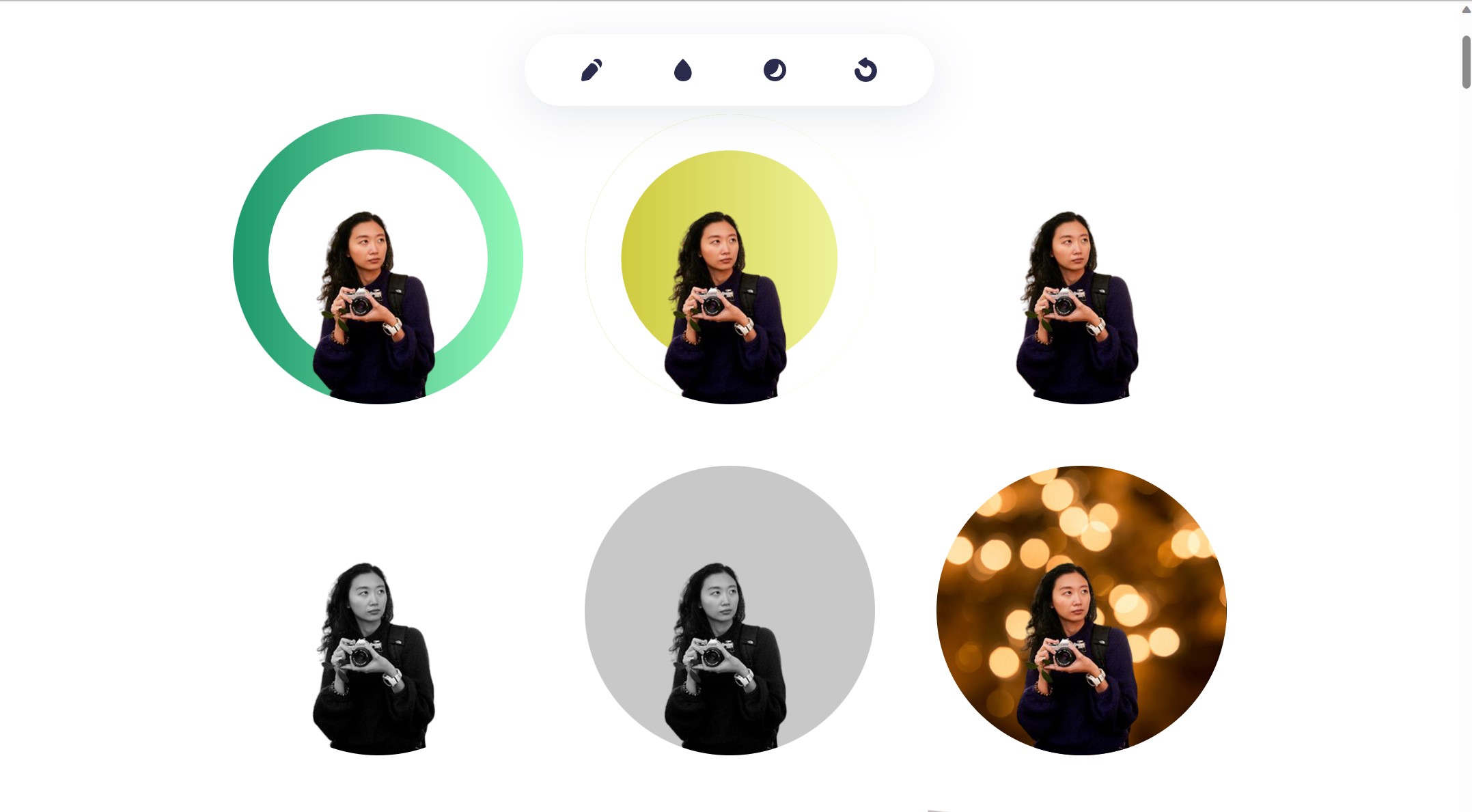 Best 5 PFPmaker Alternatives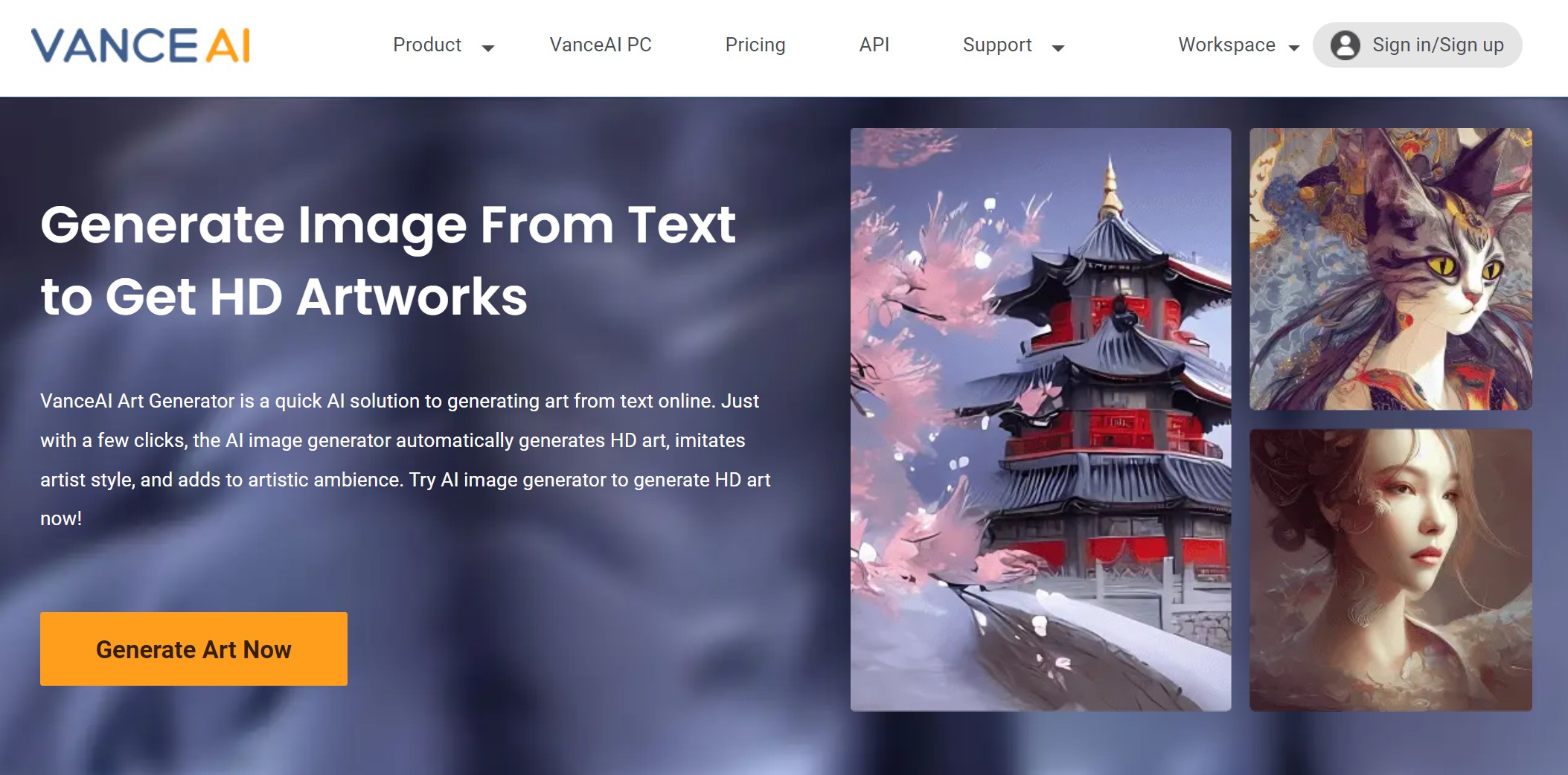 VanceAI Art Generator is a tool that enables users to experiment with their ideas and generate unique visuals for creative profile photos. By leveraging advanced AI algorithms, this powerful tool creates stunning artwork based on the text prompts provided by users. With customization options and the ability to upload reference images, VanceAI Art Generator offers a dynamic and interactive experience for users seeking to add a touch of artistic flair to their profile photos. Besides that, more people also seem to be interested in AI Face Generator. You can know more from the link.
Key Features:
AI-Powered Image Generation: VanceAI Art Generator leverages advanced AI algorithms to generate visually appealing and unique artwork based on text prompt and customization options. The AI technology ensures that the generated visuals exhibit artistic qualities and creative interpretations.
Versatility in Applications: VanceAI Art Generator offers versatility in its applications. The generated visuals can be used for various purposes, including creative profile photos for social media platforms, artwork for digital presentations, and more.
Pros:
Creative and Unique Profile Photos: VanceAI Art Generator empowers users to go beyond traditional profile photos by generating visually striking and one-of-a-kind artwork. By inputting text prompts and incorporating reference images, users can create personalized and captivating visuals that reflect their individuality and creativity.
Customization Options: The Art Generator provides users with a range of customization options to tailor the generated artwork according to their preferences. Users can adjust colors, styles, and other parameters to achieve the desired look and feel, ensuring that the final result aligns perfectly with their artistic vision.
Cons:
Longer Processing Times for Free Users: While VanceAI Art Generator offers a comprehensive set of features in its free version, users may experience longer processing times when generating their artwork. Paid subscribers, on the other hand, benefit from faster processing speeds.
Portrait AI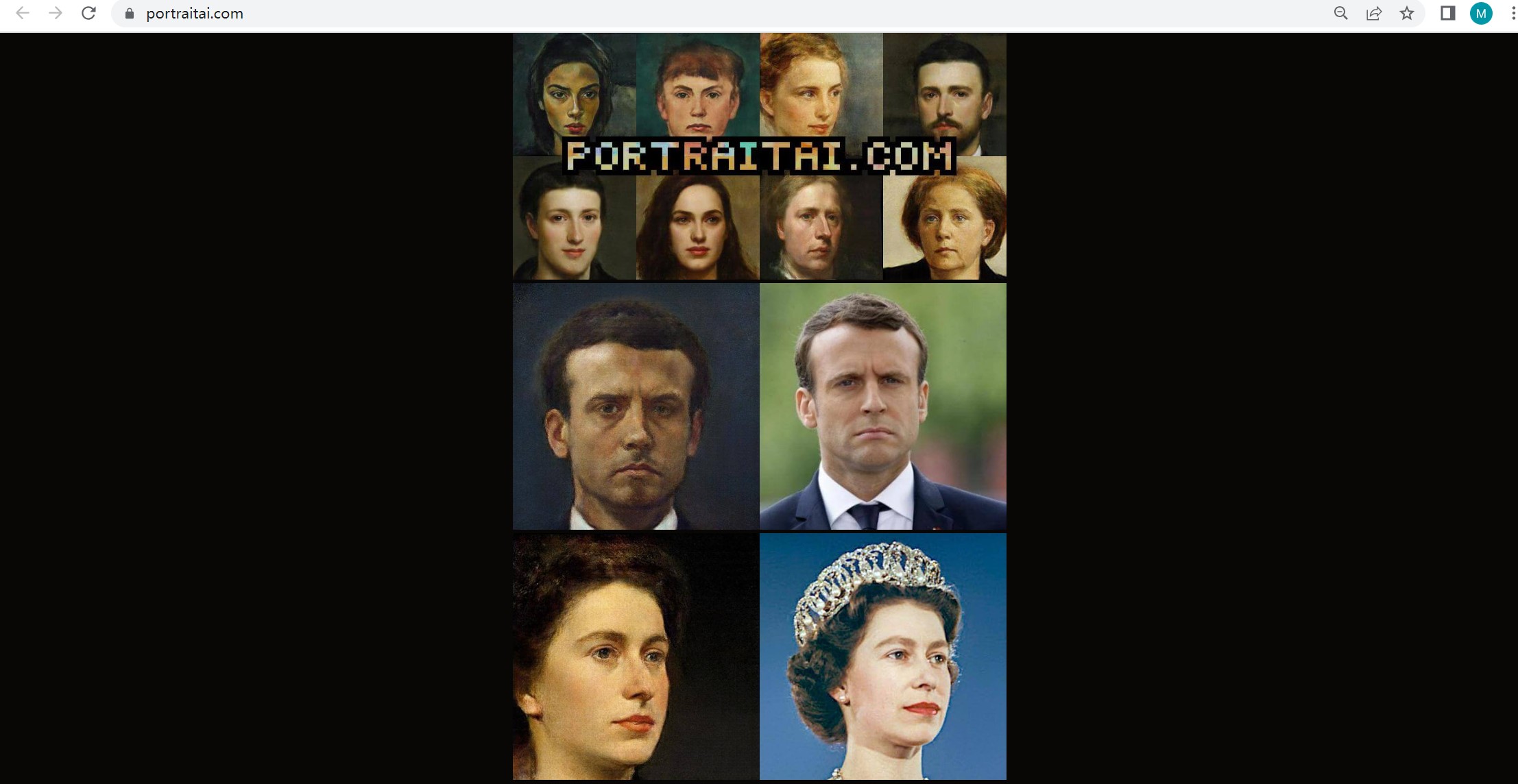 PortraitAI is an interesting PFPmaker alternative tool that offers a captivating twist to traditional profile photos by transforming them into stunning 18th-century-style portraits. With PortraitAI, users can easily give their profile photos a touch of timeless elegance and artistic flair, reminiscent of classical paintings from the past. Apart from that, there comes some fancy AI Portrait Generator, making fancy selfies at a fast speed. Get to know more about it.
Key Features:
18th-Century Transformation: PortraitAI utilizes advanced AI algorithms to analyze and recreate profile photos in the style of classical 18th-century portraits. It brings forth the essence of old-world charm, with attention to intricate details, lighting, and composition.
Easy-to-Use Interface: The tool boasts a user-friendly interface that makes it accessible to users of all skill levels. With just a few simple steps, users can effortlessly upload their photos and witness the magic of transformation unfold.
Pros:
Interesting Twist to Profile Photos: Offers a fresh and creative twist to traditional profile photos, making them stand out from the crowd.
Ease of Use: Provides an accessible platform for users to explore and embrace the beauty of classical art styles.
Cons:
Limited Style: The transformation into an 18th-century portrait may not be suitable for all types of profile photos or personal preferences.
Fotor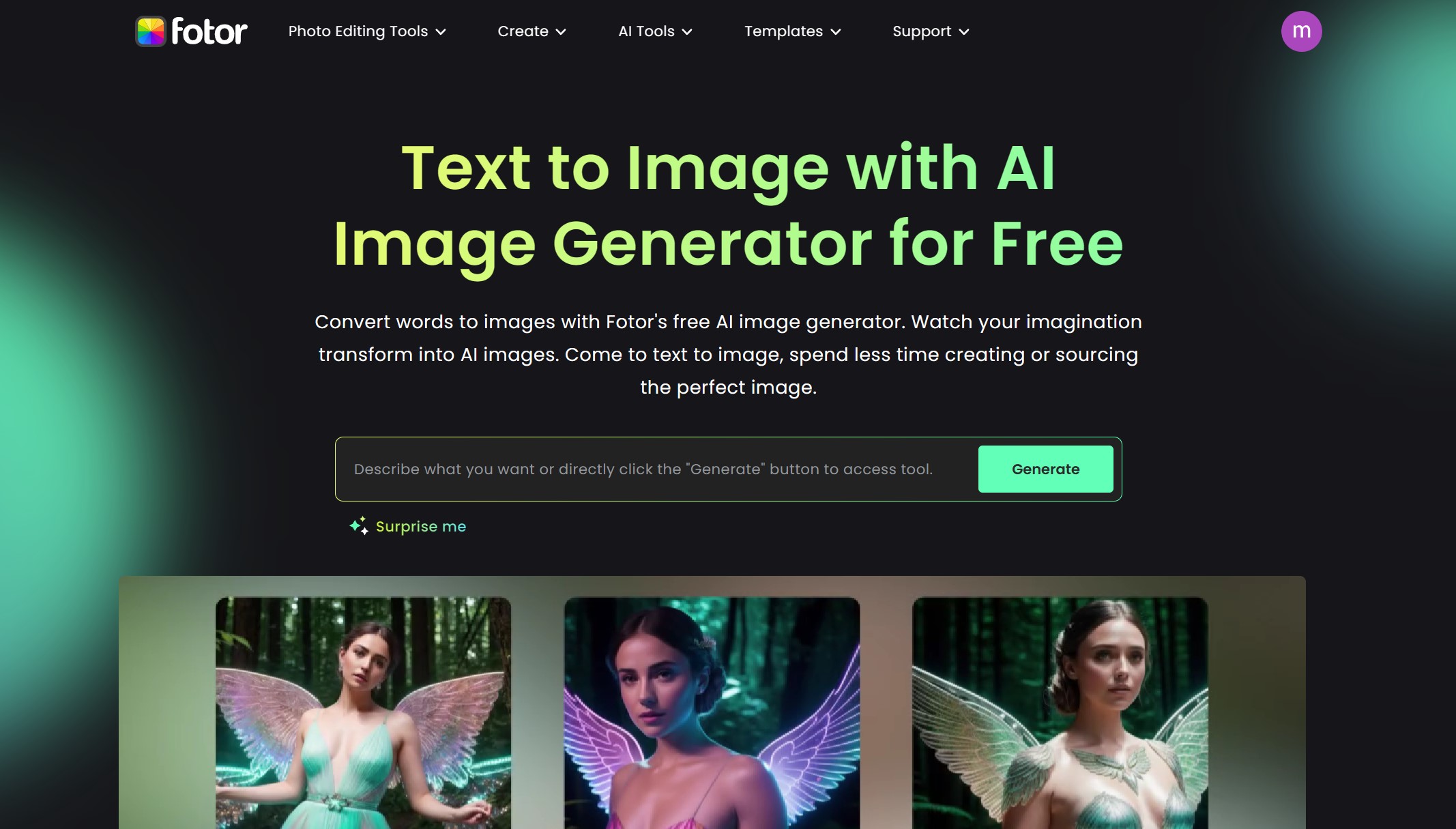 Fotor is a versatile online tool that empowers users to create captivating and creative profile pictures with its AI Avatar Generator. With Fotor's AI Avatar Generator, users can effortlessly craft unique and stylish avatars that reflect their individuality and persona. With its range of features, you can easily make PFPmaker photos and more.
Key Features:
AI-Generated Avatars: Fotor's AI Avatar Generator leverages powerful artificial intelligence technology to transform personal photos into various types of avatars. Users can choose from different styles, ranging from realistic to cartoon, and effortlessly generate stunning avatars that mirror their desired aesthetic.
Persona Profile Enhancement: Enhance your presence on platforms like YouTube and Instagram with Fotor's AI Avatar Generator. By importing your selfies and utilizing the generator, you can create a diverse collection of avatars that align with your persona. Elevate your digital presence and stay up-to-date with social media trends.
Pros:
Many Styles: Offers a wide range of avatar styles, from realistic to cartoon, providing flexibility in creating avatars that suit individual preferences.
Automatic AI: Simplifies the avatar creation process with its AI technology, enabling users to generate avatars quickly and effortlessly.
Specialised Features: Enhances digital presence on social media platforms, gaming channels, and professional networks by providing eye-catching avatars.
Cons:
Free Version Limitations: Users may encounter occasional limitations or restrictions in the free version of the tool.
AppyPie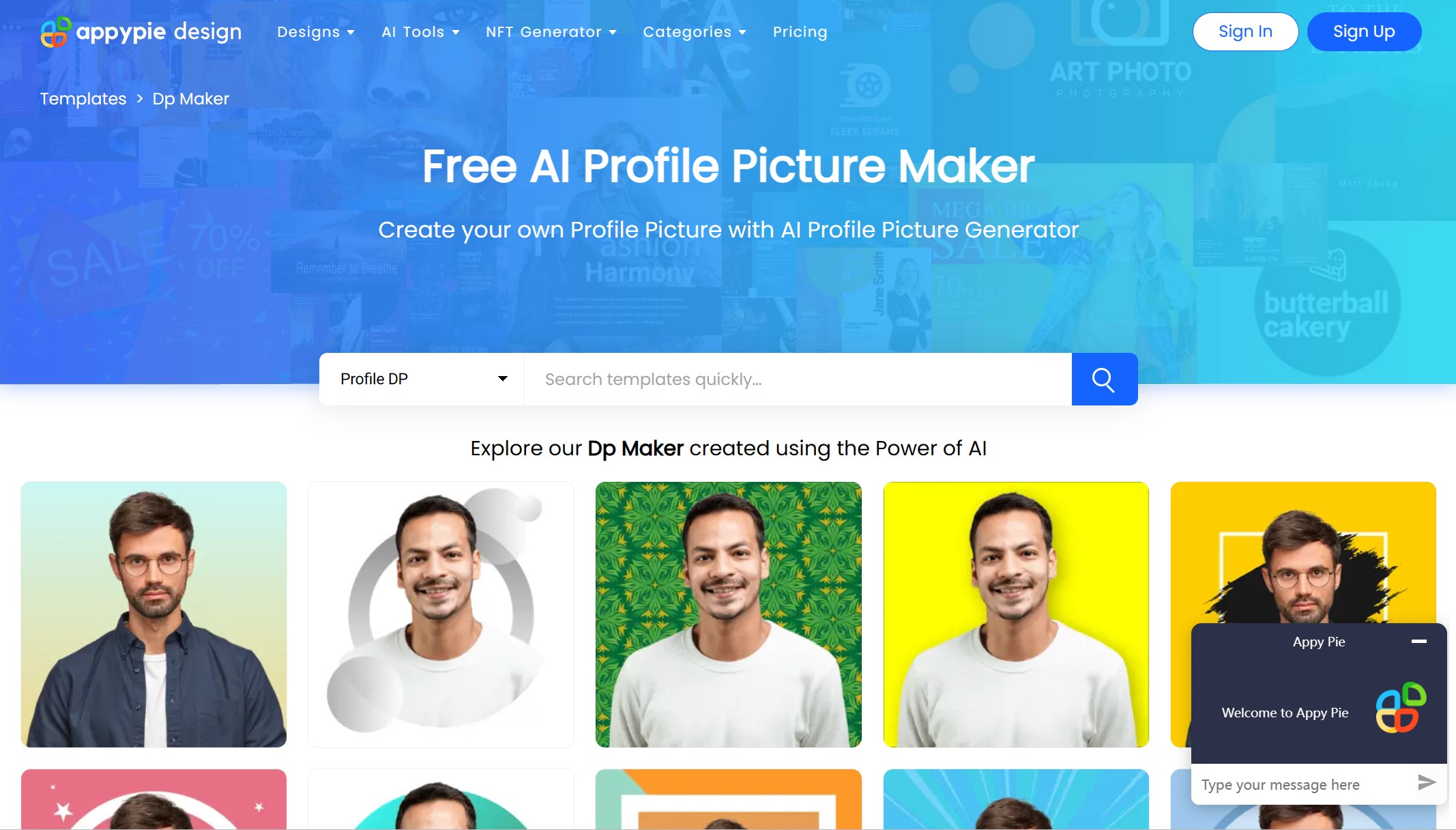 Appy Pie Design is a powerful online design platform that offers a range of features and tools to create personalized profile pictures, with its DP Maker feature being a standout tool. Whether you're an individual looking to enhance your social media presence or a business aiming to showcase your brand, Appy Pie Design's DP Maker can help you create creative and professional-looking profile pictures in just a few easy steps.
Key Features:
User-Friendly Interface: Appy Pie Design provides a user-friendly interface that doesn't require any graphic design or photo editing experience. Anyone can use it to create stunning profile pictures.
Vast Template Collection: The platform offers a wide range of pre-designed profile picture templates to choose from. These templates cater to various styles, themes, and purposes, allowing you to find the perfect one for your needs.
Pros:
Customization Options: The ability to customize text, fonts, colors, and images gives you the flexibility to tailor your profile picture to your unique style and persona.
AI-Powered Features: AI suggestions for text and images provide inspiration and make the profile picture creation process more efficient.
Cons:
Dependency on Templates: While the template collection is extensive, users looking for highly customized and original designs may find the options somewhat limiting.
Picofme.io
Key Features:
Simple Four-Step Process: With a straightforward workflow, Picofme.io makes it easy for users to upload their photo, remove the background, select desired elements, and save the final result. The intuitive interface ensures a seamless experience.
Simple Four-Step Process: With a straightforward workflow, Picofme.io makes it easy for users to upload their photo, remove the background, select desired elements, and save the final result. The intuitive interface ensures a seamless experience.
Pros:
High-Quality Results: By utilizing AI technology, Picofme.io delivers high-quality background removal, resulting in professional-looking profile pictures. Users can expect clean and accurate cutouts that enhance their visual appeal.
Wide Variety of Options: With a diverse collection of backgrounds, outlines, and filters, Picofme.io offers users numerous possibilities to explore and create profile pictures that align with their personal branding or desired aesthetic.
Cons:
Limited Control in Background Removal: While Picofme.io utilizes advanced AI for background removal, users may encounter occasional limitations in precision, particularly with complex or challenging photo compositions.
Do you find this post helpful?