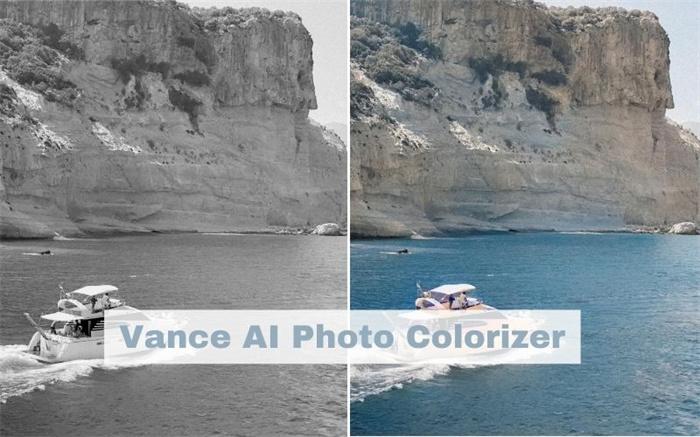 "A picture is worth a thousand words". Nothing more true. We live in a world where the visual is paramount. An image means emotion and/or a transfer of information. that's why it's important for a photo to look as flawless as possible. I am absolutely sure that you have black and white photos with your family and not only. These photos are the anchor to memories and nostalgia.
Have you ever considered an online tool to colorize photo? To get a complete idea of ​​what your family looks like, the scenery or the landscape? If you want to see an old world in colors, in this article I propose a recolor app free online from VanceAI that is handy and very easy to use. It will serve you very well in order to recolor an image which is dear to you.
A Short Description of VanceAI's Web-based Recolor App
It is one of the best recolor App online that will not disappoint you, developed by VanceAI. With this tool, you can recolor an image that is old, black and white, yellowish, or grayscale and it adds a consistent and natural color. When it comes to recolor an image, this web-based tool does this job impeccably. At the base of this program is a multitude of artificial intelligence algorithms, trained with millions of B&W and colored images.
The whole process is automatic and with just a few clicks you can recolor an image online. You can say goodbye to advanced editing programs such as Photoshop and others alike. These tools are very useful if your job is to create websites, blogs, product photos, and so on. But this is another story and I will discuss in this article only how to recolor an image online with VanceAI Photo Colorizer.
Also read: Top 10 AI Tools to Recolor Image.
How to recolor a picture with VanceAI
1. Go to the VanceAI website, click "Solutions" and find this tool.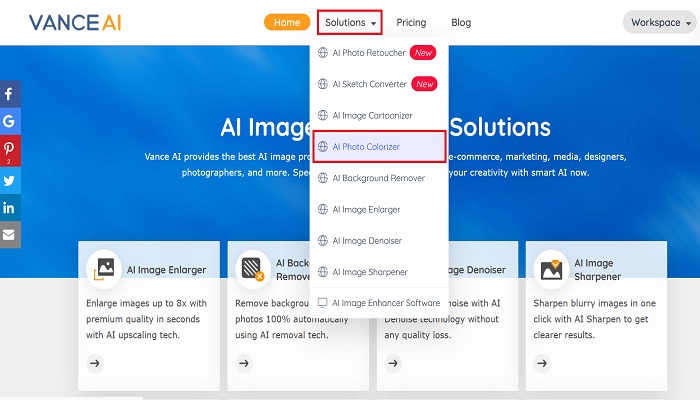 2. Click "Upload Image".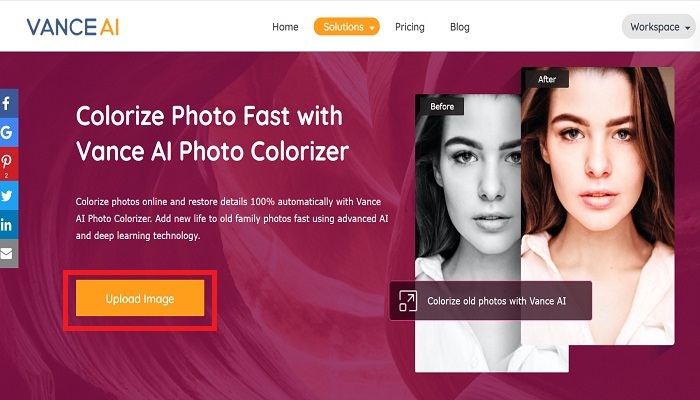 3. A new window will appear, where you must upload the photos. In the right corner, you will see your available credits. Click " Continue".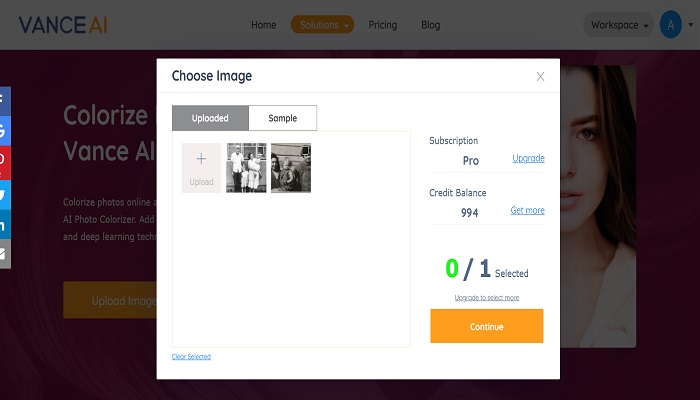 4. As you can see, the B&W is on the left, and on the right, it will appear the result, once you press the " Start" button. Don't forget to opt for the PSD file if you are interested in that. You can find this option under the "Start" button.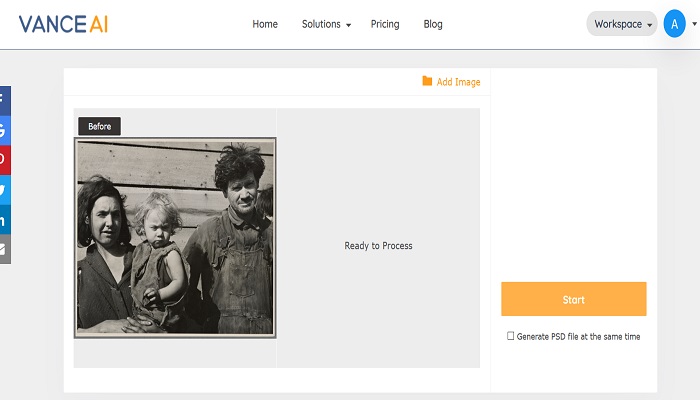 5. Now your new image is ready to be downloaded. On the right, the colored photo appeared. This web-based recolor App is beyond expectations. Now, all you have to do is to download the recolored photos.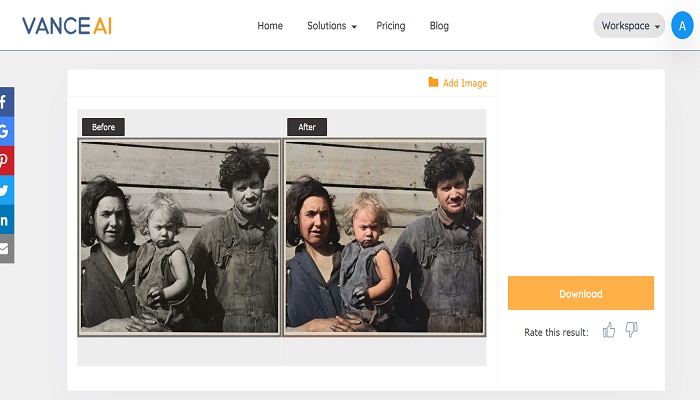 I must say that this is an exceptional result. The colors of the clothes are exactly what you need. You can even see that they are stained. The color of the skin is just as successful. The downloaded image has 1600x1271 pixels.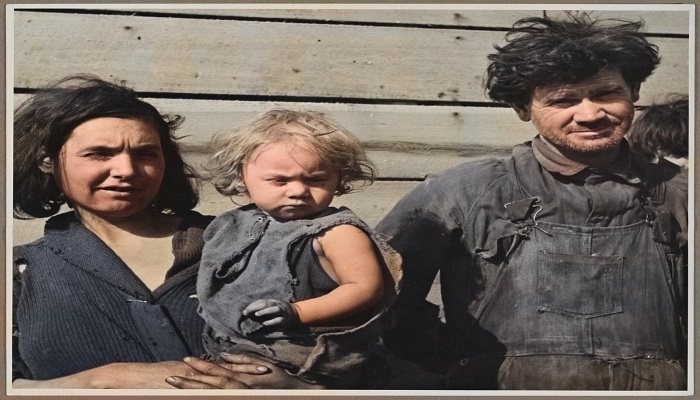 You will definitely be able to bring a little joy to your family if you will present them with the recolored photos. It will be like a breath of fresh air brought to the family memories. Of course, you can use this tool for other purposes. Maybe you're curious about how to recolor an image that is historical or B&W photos you took. It doesn't matter what your reason because the process of an online photo recolor app is the same. Fast, easy, accurate with great results.
Also read: How to Colourise an Image with Best Alternative to Colourise.sg
Examples: Recolor an Image Online
Because I can't help myself and I am amazed by the capacity of this tool, I will present some more examples. An image is telling more than 1000 words, right?
For this example, the recolored image is perfect, even if the background has some faded colors. However, we must keep in mind that this image is the result of many algorithms based on artificial intelligence. When others manually struggle to recolor an image and achieve this result, we can get great results with a single click.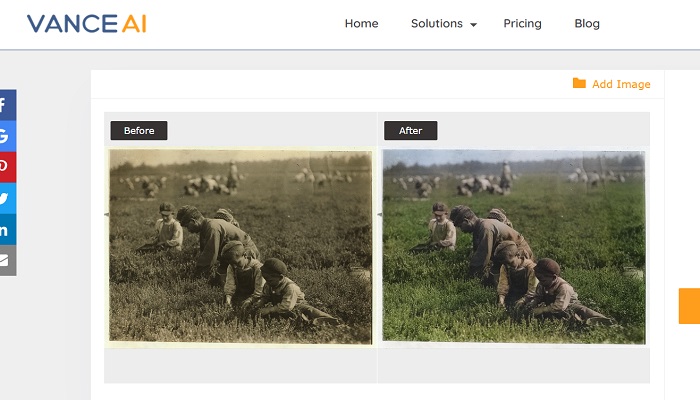 For the second example, I was curious how this web-based recolor App will work with a sepia photo and I am blown away and again by this online recolor app process.
The last recolored photo is also breathtaking. What do you think?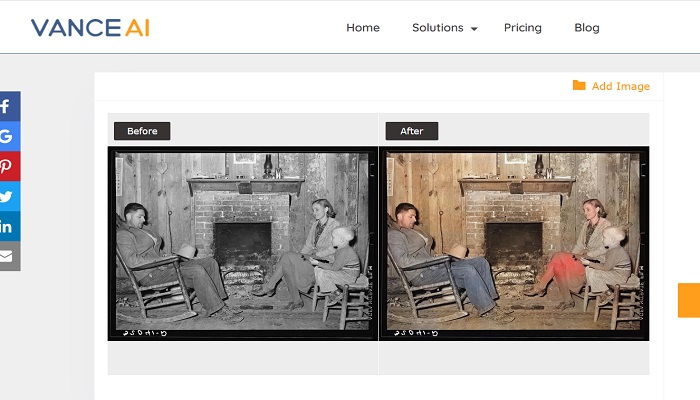 I can only conclude this article on a positive note. AI Picture Colorizer is one of the best recolor App online that generates stupendous results. Recolor an image online with this tool is really straightforward and the "evidence" speaks for itself. Give it a try and you will reach the conclusion presented in this article for sure. Click to know more about 10 Best Ways for Photo Restoration.
About VanceAI
The developers of this program provide a free trial, in which you can transform 5 photos/month. These are enough to convince you that this tool is one that not only promises but also delivers astonishing results. Besides this free plan, you can opt for a basic subscription ( $9.90/month for 200 credits/ month) or a pro subscription ( $19.90/month for 500 credits/month). Keep in mind that 1 credit means 1 photo. Also, a subscription means that you have access to 8 image editing tools such as AI Image Enlarger, AI Image Denoiser, and AI Image Sharpener.