The point at which technology has reached post-image processing is amazing. Now the artificial intelligence can help you to do old picture restoration ( black-and-white, sepia, and so on ) in seconds with two or three clicks. You don't have to resort to expensive photo restoration services or learn Photoshop. You can do this with an AI picture restorer very easily. One of the best online solutions to complete photo repair is VanceAI Photo Restorer. Or if you want to further enhance the photo by adding some colors to it, you may also use VanceAI Photo Colorizer.
What is VanceAI Photo Restorer?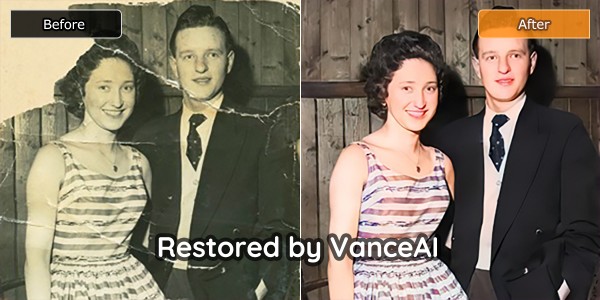 VanceAI Photo Restorer knows what you want from the moment you upload the picture. Restore photo online it has become a simple task. This AI picture restorer is intuitive and you can count on this every single time. The Internet is full of all kinds of photo editing services, but none of them impress as much as the AI picture restorer developed by VanceAI. The company has developed a "deep learning" algorithm that analyzes old images and repair them by removing scratches, fractures, and spots. The process is fast and automatic, all processing is done in the cloud. Now, you can click here to try this AI picture restorer. Or if you want to further colorize your black and white photo, VanceAI Photo Colorizer is as well as possible to provide color images as naturally as possible. Read this short tutorial on how to do a picture restoration with VanceAI Photo Restorer. 
If you are interested, you can try to restore your image now or download it directly from the pop-up window on the right without leaving this article.
With its dedication to AI image processing solutions, VanceAI also restores small old pictures with its AI-driven VanceAI Image Upscaler. You can turn a small old picture into a larger and crisper one so that you can print it out for photobooks. 
VanceAI PC is full-featured desktop software developed by VanceAI that lets you instantly process local photos in bulk with more customization options, which will significantly simplify your workflow and boost your productivity. Free Download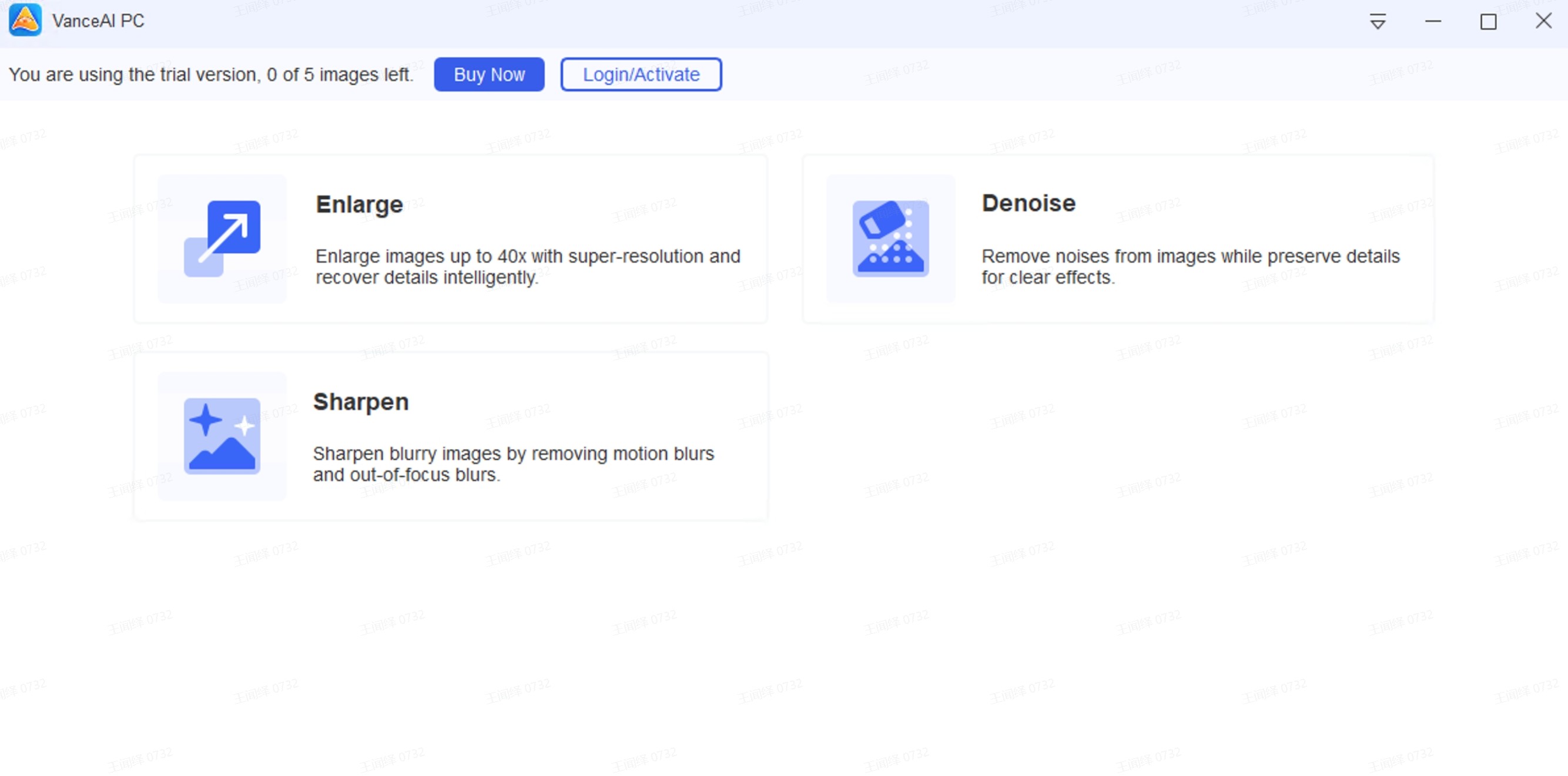 Old Picture Restoration Tutorial
To be honest, you don`t need a tutorial on how to use this AI picture restorer, because VanceAI offers very easy-to-use tools and solutions. But in order to see for yourself how simple is to bring to life old photos, I will show you. The best part is that you do not have to create an account to use VanceAI Photo Restorer or any others offered by this platform dedicated to automated post-processing based on AI technology.
# Step 1: Access the official website of this AI old photo restoration online tool or you can click directly on repair solution for old picture restoration. Click "upload image".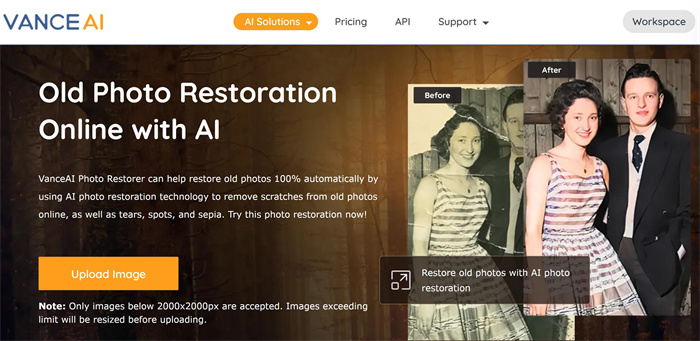 # Step 2: A new window will pop up, where you can drag and drop or upload your desired image. From the free version of this AI picture restorer, you can benefit from 5 photos/credits every month.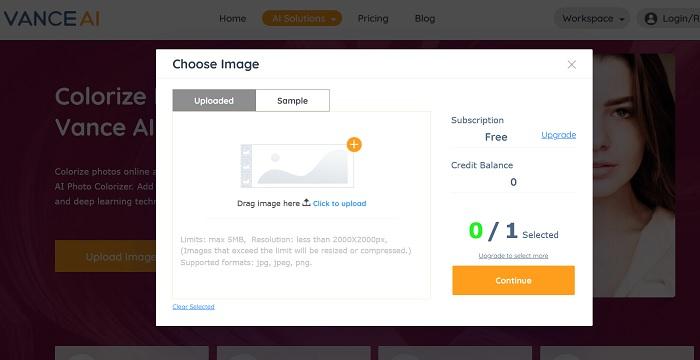 Select the photo then click " Continue ", in order to continue the picture restoration. You can upload up to 5 photos, but if you are using the free account, you need to work with one at a time.
# Step 3: Reaching this point, you have to click "Start to Process", in order to restore the old picture.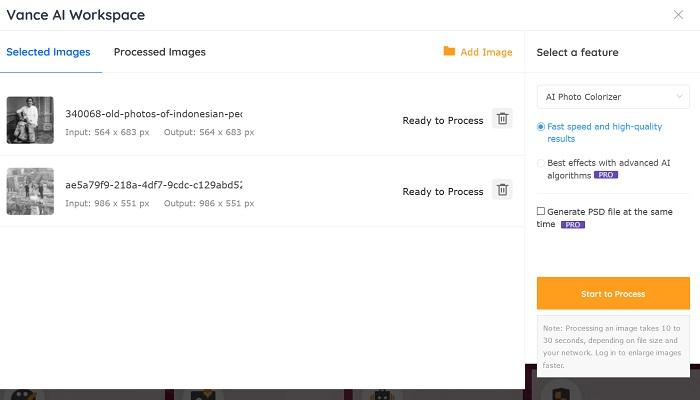 If you will opt for a subscription, you can select "best effects with advanced AI algorithms" to get a better result. Also, you can opt for downloading the enhanced old picture in a .PSD format.
# Step 4: Only after a few seconds, you can download your picture from the AI picture restorer interface. Make sure that you click the " processed images" button from the upper menu. From there, you can compare the original photo with the enhanced one, or you directly download the picture restoration result. The downloaded result will have the same specifications as the original photo. For example, if you will upload a photo at a 600x600 px, then you will download the result at 600x600 px.
If you are interested, you can try to restore your image now or download it directly from the pop-up window on the right without leaving this article.
I must confess that this AI picture restorer is brilliant. To colorize photo online has never been easier with this tool. Just have a closer look at the photo. Basically, this AI picture restorer brought the picture back to life. Simply amazing.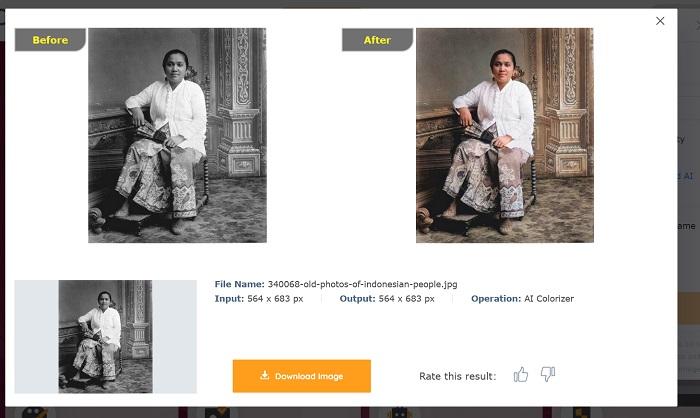 The skin tone is just right and the brownish colors are just right enough to give a vibrant note to this picture. The second one is gorgeous. The clothes, background, and skin are really vivid.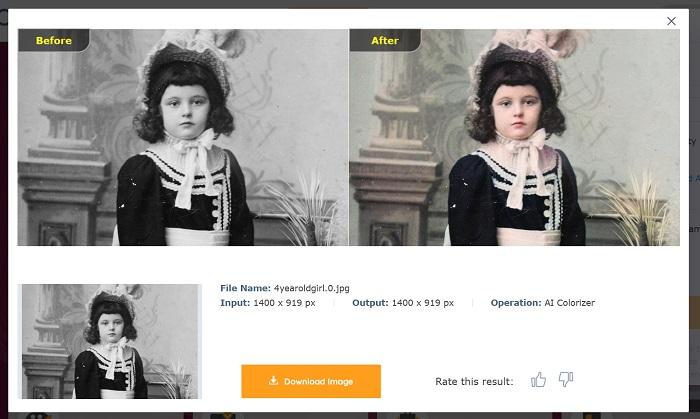 Also read: How to Fix Old Pictures with VanceAI?
Pricing
If you need to use this AI picture restorer more often and the free subscription isn't enough, then you should think of a paid subscription. But don't roll your eyes like you do every time you read about having to pay for a service. The paid subscriptions of this AI picture restorer are really cheap and you can use the other 7 AI image enhancer tools (helping you finish the task of image enhancement with one single click even if you have not sophisticated skills.) offered by the VanceAI developers. For example, a basic subscription costs only $ 9.90 per month. This includes 200 credits/ 200 photos which you can use with this VanceAI Photo Colorizer or others such as AI Image Denoizer, AI Background Remover, and so on. Also, you can download a desktop app. This pack is perfect for photographers, for those who work online, for e-commerce, but also for individuals. The decision is yours. You can use these services for free up to 5 pictures per month. And just because is suitable for every pocket, doesn't mean it will compromise the quality of the results. On the contrary.
Also read: 5 Selective Tools to Apply Vintage Filter 2022
Final Thoughts
VanceAI Photo Restorer to help you restore old photos by removing scratches and give your photos a new life. It is one of the best AI Photo Restorer which is based on the deep learning technology and bring your old photos to life in seconds. Of all the similar tools available, VanceAI Photo Colorizer is a professional one, easy to use, and every time it will guarantee results that will not disappoint you. Don't forget that VanceAI Photo Colorizer and the other tools such as Image Enlarger online are based on AI technology. This means that you will do only a few clicks – everything is automatic and can accurately predict what needs to be restored, colored, and improved in any type of photo. Also Read: Colorize Old West Photos with Mind-Blowing AI Image Colorizer.
Do you find this post helpful?