Ever since those Facebook applications came about, all of us have at least tried one cartoon generator, mostly just to have a laugh. That's the magic of a cartoon generator app, pretty simple to use yet a lot of fun. Now that we have a wide variety of cartoons and anime all over the world, all extremely popular and ingrained into the culture as well, many of us find ourselves imagining what our cartoon counterpart would look like. We end up with a bunch of cartoon self-portraits.
It is, however, important to know that using a cartoon generator such as Toongineer Cartoonizer from VanceAI can be more than just a harmless hobby. When used creatively, it can help you in business and in other areas as well. Not to mention that the world's most famous mascots are humanized cartoon and anime characters, such as Colonel Sanders of KFC. In this digital age, appearances or rather presentations go a long way and a good cartoon generator software stays with you for the journey.
VanceAI PC is full-featured desktop software developed by VanceAI that lets you instantly process local photos in bulk with more customization options, which will significantly simplify your workflow and boost your productivity. Free Download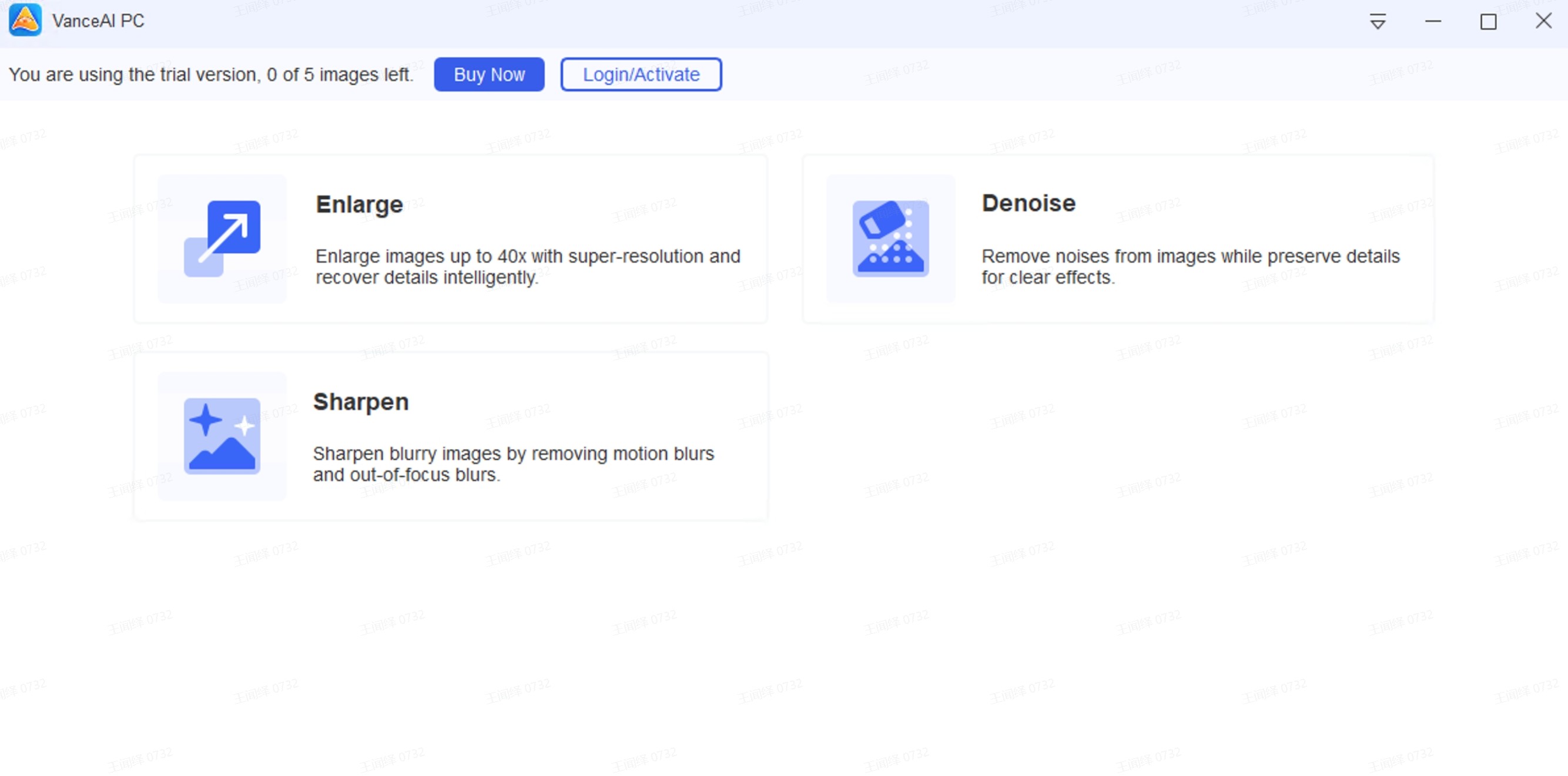 So, keeping that in mind, we will present to you the best available cartoon generator applications. You don't even need previous experience or expertise.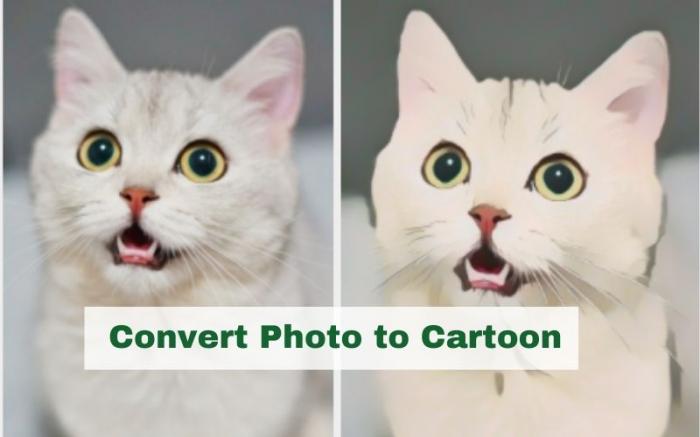 Recommended Product: AI Image Cartoonizer
The newly launched Toongineer Cartoonizer is able to automatically turn photo into cartoon and produce realistic cartoon effects due to the deep learning algorithm. Just upload the photo you want to cartoonize and wait a few seconds to get the astonishing cartoon output.
Also read: How to Create Deep Art Effects with Deepart.IO
Part 1: Cartoon Generator Online
1.
Photocartoon.net
Price: Photocartoon is an easy-of-use and free cartoon generator, without needing to download any kind of software. You also do not need to have an account. However, to access all features, you can purchase its Pro version which costs around $26 approx.
Compatibility: It is a cartoon generator that is a website based and hence works online on browsers. It also offers a software edition on Windows and a mobile app version on Android.
Features:
This application holds a huge number of art effects that you can apply to your photos, from painting effects to cartoons.
You can share your work on Facebook, WhatsApp, or Mail immediately via the buttons given on the website.
It also provides a text editor to modify texts or watermarks. You can change font size, type, background color, and more.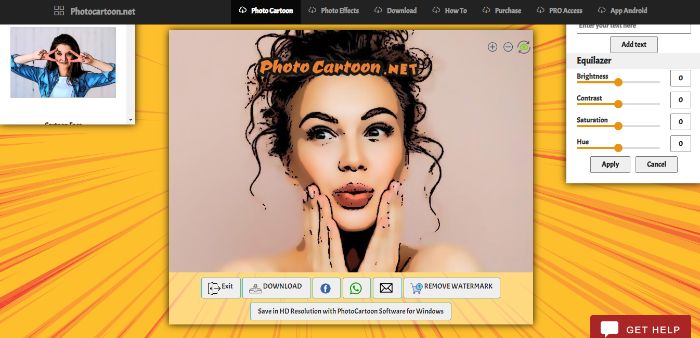 How to use:
Click on the link given to reach the home page of the online application.
You can either upload an image from your local device or paste the image link into the textbox by choosing the Upload from URL option.
Click on Cartoonize Online to start converting the portrait to cartoon.
You will see the cartoon version of your portrait. However, you can scroll down on the left bar to choose other cartoon effects. Click on them to apply.
You can also use the Text Editor box on the right of the page to edit texts.
Click on Download to save the image.
Pros:
It applies filters instantaneously.
Straight-forward design.
A good amount of options.
Cons:
The cartoon generator online website's UI can be better.
2.
BeFunky
Price: BeFunky is an image editing tool with options generate cartoon online. It is partially free whereas all the features can only be accessed by purchasing it.
Compatibility: It works online on browsers.
Features:
It has cartoon generator features that can match photoshop features though this app has more art-centric features by comparison.
It also has a multitude of pure image editing options blurring, softening the edges, beautifying images, and more.
Batch processing is possible with the paid options.
You can also add shapes and texts on top of your image which can be used for advertising.
How to use:
When you reach the website, click on Get Started to proceed to the editor. Choose Photo Editor when you are prompted.
Search for the Artsy tab from the sidebar on the left and select Digital Art.
There you will see the options of various cartoon effects. Choose any one that you prefer and click on it to apply.
The software will process the image and show the output on the screen.
You can click on Save to download the image onto your device or any other outlets listed there.
Pros:
The art effects overall are really attractive.
It has a comprehensive list of editing options.
You can save the image to Google Drive directly.
Cons:
Not all of the features are for free.
3.
Adobe Photoshop Express
Price: To find a cartoon generator in Photoshop, Photoshop Express does it for free. You need a free account but you can always use your Google, Facebook, or Apple account.
Compatibility: Photoshop Express works online on browsers. It is also available on Windows Phone, Android, and iOS as a mobile app.
Features:
Despite being a Photoshop product, Photoshop Express is remarkably easy to use and get into.
It offers a few modification options such as being able to set the intensity of your cartoon effects from 0 to 100.
It has a handful of art effects, mostly the popular ones.
It has a touch-up feature which can be used alongside the cartoon effect for better quality images.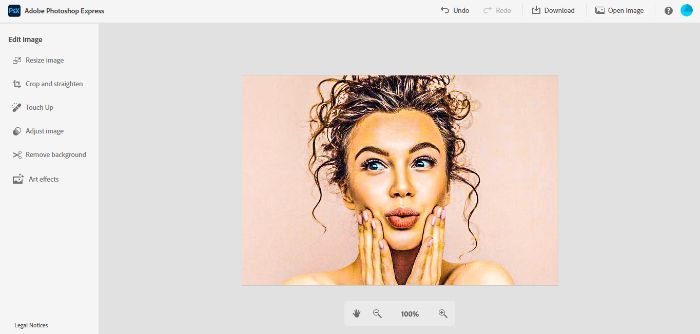 How to use:
Visit the website and click on the Edit photos now function.
You can upload images by clicking on Upload file or select any one image from the samples shown below.
When you reach the next page, click on Art Effects, and choose the Cartoon style on the right-hand side.
Wait for the application to process and apply the changes.
Click on Apply at the bottom right and then click on Download to save the file.
Pros:
Fully free to use with just a free account.
The touch-up image-enhancing option is a good addition.
Cons:
They can easily offer more cartoon image effects or filters.
4.
Colorcinch
Price: It is free to use with limited options and features. The paid options start from $3.99/mo billed annually.
Compatibility: It is an online tool for browsers. Click to check out more best alternatives to selfie2anime.
Features:
It is an app similar to BeFunky, hence it too contains several features for editing and enhancing images.
You can use the Mask feature to apply a mask over a figure in the image and the masks themselves come in various themes.
You can add text or drawings on top of the image as well.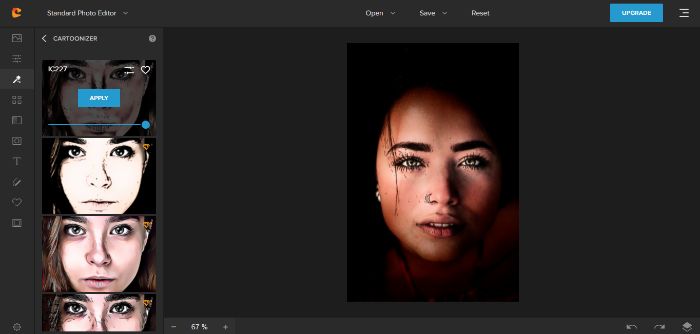 How to use:
Once you reach the home page by clicking on the link given, select the Upload photo button.
This will now open up the editor of the application. Now, click on Open to select a file from your device and upload it.
Click on Effects on the left sidebar, then go to Cartoonizer. From there, you can select the kind of cartoon effect you want and click on it.
Wait for the software to apply the changes.
Click on Save on top to download the image.
Pros:
The UI is efficient and easy to use.
The Cartoonizer has diverse options.
Cons:
Many effects require payment.
Part 2: Cartoon Generator—Apps
1.
Prisma
Price: Prisma is a free to use mobile application with a free trial.
Compatibility: Prisma supports Android and iOS operating systems.
Features:
Prisma has more than 300 in its library, which is a huge collection, especially for designers.
It is an active app as it adds a new art filter every single day.
They have a dedicated Community section wherein you can see other's artwork and share your own. What's more? You can chat with other users as well.
It has a bunch of image editing options as well.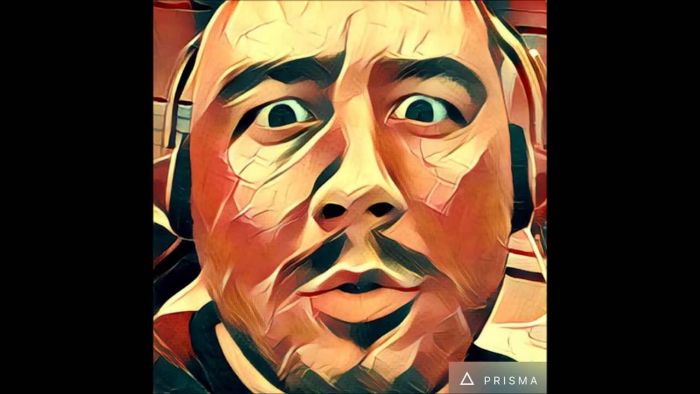 How to use:
You can access the free trial by choosing not to pay right now.
Click on the Camera icon to access your gallery and choose a photo. Otherwise, take a photo first.
Use the effects from the bar below and press on the one you want to apply it to the image.
Select Save to download the image.
Pros:
An active community where you can share and view art.
Lightweight yet packed with features.
Cons:
It offers a free trial after which users need to pay for the app.
2.
Cartoon Pictures
Price: This app is free to use.
Compatibility: Cartoon Pictures is a mobile application that works on Android systems.
Features:
It features its own version of a selfie camera to capture photos.
There are different types of cartoon effects, such as pencil effects and sketch effects.
It is simply designed as a cartoon generator and so it is naturally easy to use.
You can view different kinds of art through their exhibition feature.
How to use:
Launch the app and press on the Camera icon to upload an image.
Select from the list of cartoon effects that you want. Press on it to apply the effect.
Save the image after the application is done with processing.
Pros:
A lightweight, simple to use software that is accessible for anyone.
Cons:
Even for a free app, it has too many bothersome ads.
3.
ToonCamera
Price: The application costs $1.99 as a one-time purchase.
Compatibility: ToonCamera works on iOS operating systems at 8.1 or above versions.
Features:
It has a variety of cartoon effects to choose from. Also, you can design further by incorporating other kinds of effects such as pencil, sketch, etc.
You can take photos or record videos simultaneously viewing their previews.
You can instantly share your work via the app to multiple social media platforms such as Facebook, YouTube, Twitter, etc.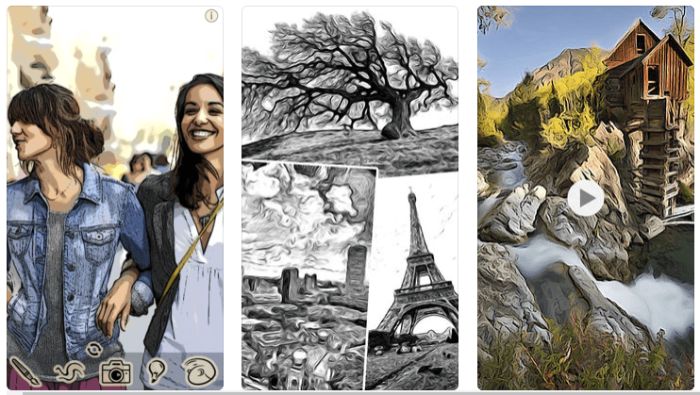 How to use:
It works similarly to other mobile apps so there is not much to figure out. You can easily upload your image by launching the app and selecting the upload option.
Choose any cartoon effect to implement into the picture and wait.
After it is done, just save the image in your gallery.
Pros:
It is one of the most feature-heavy mobile apps that you will find.
Cons:
You need to have an updated iOS.
Part 3: Cartoon Generator—Software
1.
FilmoraPro
Price: You can get a free trial download from the website or buy it for a lifetime at $149.99.
Compatibility: It works on Windows and macOS systems.
Features:
It is one of the premier editing apps and so it contains ample features.
You can simply drag and drop files into the project space.
It can create cartoon effects for images and videos too.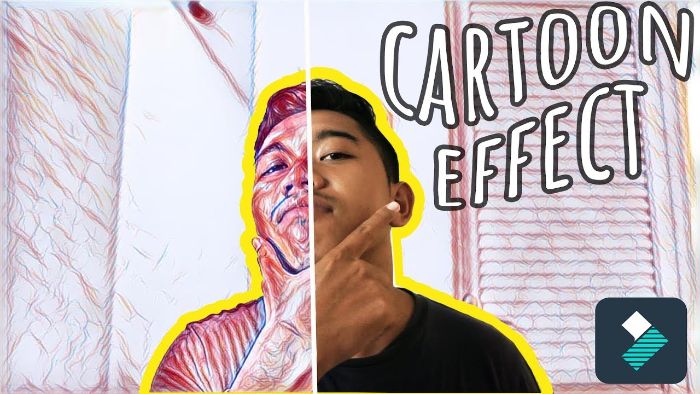 How to use:
Use the Import Media button to select the image or drag and drop it into the workspace.
You will find the Cartoon option under the Effects tab.
Use the editing tab to modify the effects and save when you are done.
Pros:
Cons:
The software can lag sometimes.
2.
XnSketch
Price: Free to use.
Compatibility: It supports Windows, Linux, and macOS.
Features:
Contains over 18 different effects.
Provides other editing options for images.
You can reset instantly to undo changes.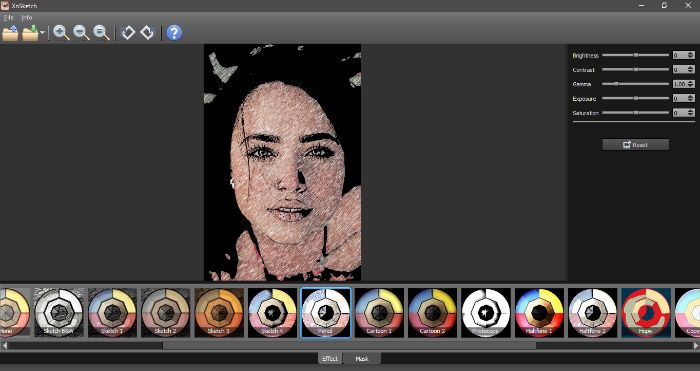 How to use:
Launch the app and click on the Open button.
Search for the image and open it in the app.
Select any of the cartoon effects given below.
Click on Save located at the top left to download the image.
Pros:
Cons:
It could use better effects.
3.
Sketch Me!
Price: You can use this cartoon generator with the free version. For all features, you can buy its upgraded version.
Compatibility: It works on Windows 10.
Features:
It is a basic cartoon generator app with basic conversion options.
You can also include a mask to the image.
You can share the image through social media functions.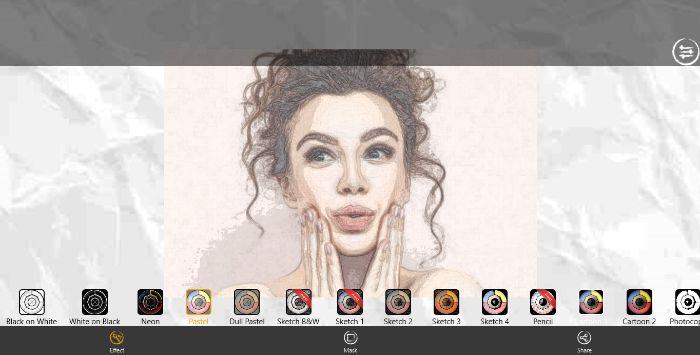 How to use:
Launch the app and select the image from the gallery or camera.
Click on effects and select any of them to apply it.
Click on Share to either save it or share on social media.
Pros:
Cons:
Conclusion
With almost everyone trying to find a good cartoon generator app, it becomes valuable to provide an app that has it all. The user's requirements and usage pattern matter too. So, when it comes to basic conversion needs, tools such as Sketch Me! and Cartoon Pictures are perfectly apt whereas, for consistent users, Prisma, BeFunky, and other heavy applications are the go-to. Or try our featured recommendation—Toongineer Cartoonizer.
If you're interested in enhancing photos, you can try our photo enhancer, an efficient tool provided by VanceAI, which helps you to remove disgusting blurry, or noisy parts. Moreover, it also helps you finish the task of image enhancement with one single click even if you have not sophisticated skills. So the work of enhancing the image is merely a breeze if you take advantage of the tool.
And also, when you have needs for enlarging your animated or cartoon photo, feel free to use VanceAI image Upscaler. You can effortlessly upscale image with simple clicks while restoring its resolution. Read more: 10 Selective Tools to Convert Photo to Paintings.
Do you find this post helpful?
Yes
No