Countdown of the Top 10 Tools For Converting Photos to Paintings
How to make a photo look like a painting in Photoshop?
So, how to make a photo look like a painting in Photoshop? Well, the good news is that Adobe provides a free and simple way of doing this, meaning, there's no need to worry about going through the notoriously difficult learning Photoshop software. You can easily turn photos into oil paintings from Adobe Photoshop Express, a free online and mobile tool. Besides that, more people also seem to be interested in AI Face Generator. You can know more from the link.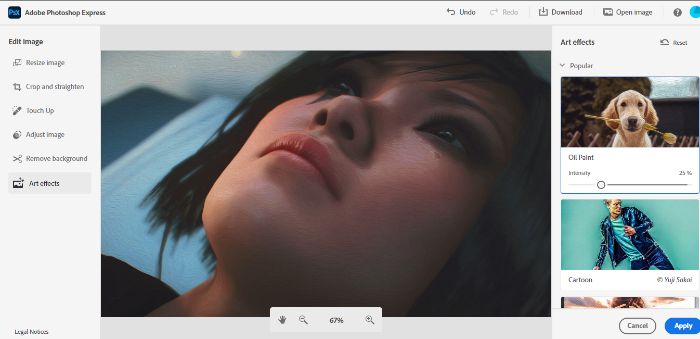 Let's go through the steps on how to make a photo look like a painting in Photoshop:
1. You can access the website version of Photoshop Express from here. This will take you straight to the upload page of the application. 
2. You will see there the option to Upload files and a few sample images in case you do not have a photo of your own yet. By clicking on Upload file, you can browse for an image from your local storage or even drag and drop the image directly into the box. Otherwise, simply select any of the sample images. 
3. When an image is selected, you will be redirected to the editing page of the application. Here, you will notice a toolbar on the left. Click on Art Effects. You will need a free account for it but a Google sign-up should hasten the process. 
4. On the right-hand side, you will see a number of Art Effects listed down, which includes the option to convert photos to oil painting. Simply click on any art effect and wait for the application to process it. 
5. Click on Download on the top right bar to apply the changes and save the image. You can also set the quality of the image according to your from the Download dialog box. 
It is free to use and is available on multiple platforms such as Android, iOS, etc. All you need is a free account and you are good to go. Though there are not many art effects to choose from, if you want light software for basic needs then Photoshop Express will do perfectly. Apart from that, there comes some fancy AI Portrait Generator, making fancy selfies at a fast speed. Get to know more about it.
Recommended Alternative Product: AI Image Cartoonizer
Toongineer Cartoonizer is an AI web solution newly added to its big AI family. This Image Cartoonizer is designed to automatically turn photo into cartoon. With it, you can create realistic cartoon effects easily. Just upload a photo and this Image Cartoonizer will automatically cartoonize the photo you upload and produce stunning results, whether it be a person or pet. The whole process usually takes you less than 5 seconds.
Also read: A Tutorial On How To Draw A Realistic Face With DeepFaceDrawing
How to convert photos to paintings with Toongineer Cartoonizer?
Step 1: Upload your image to this online tool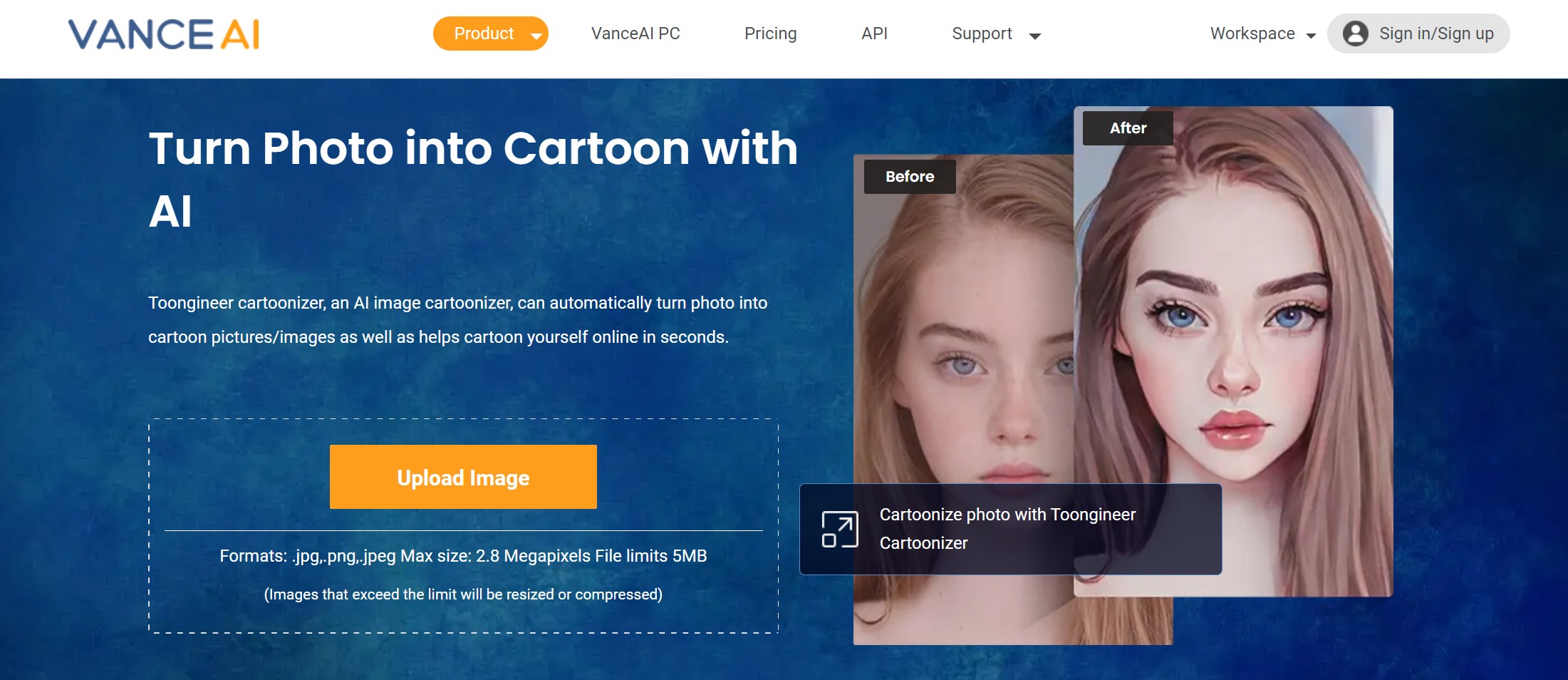 Step 2: Start to process of converting photos to paintings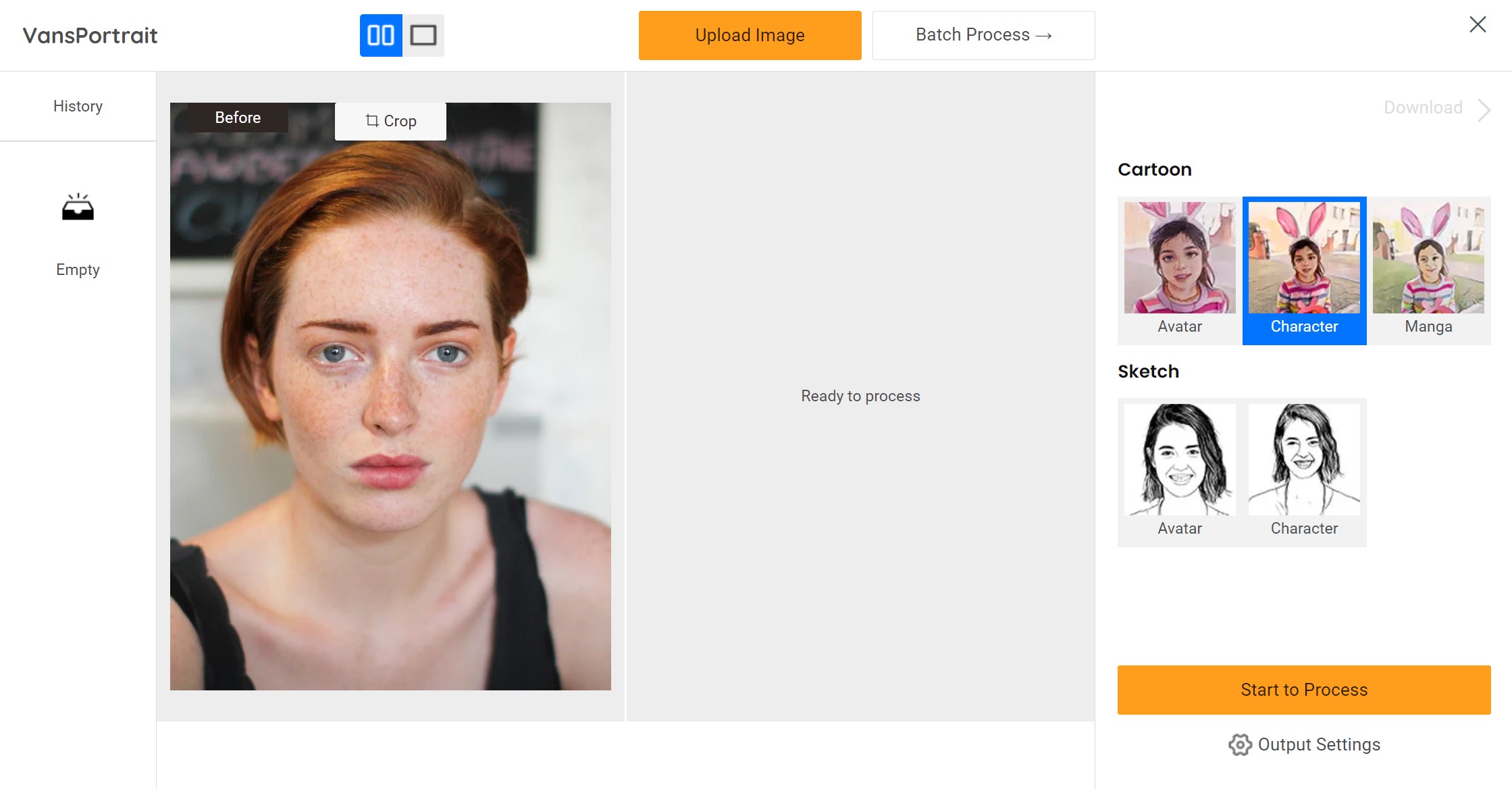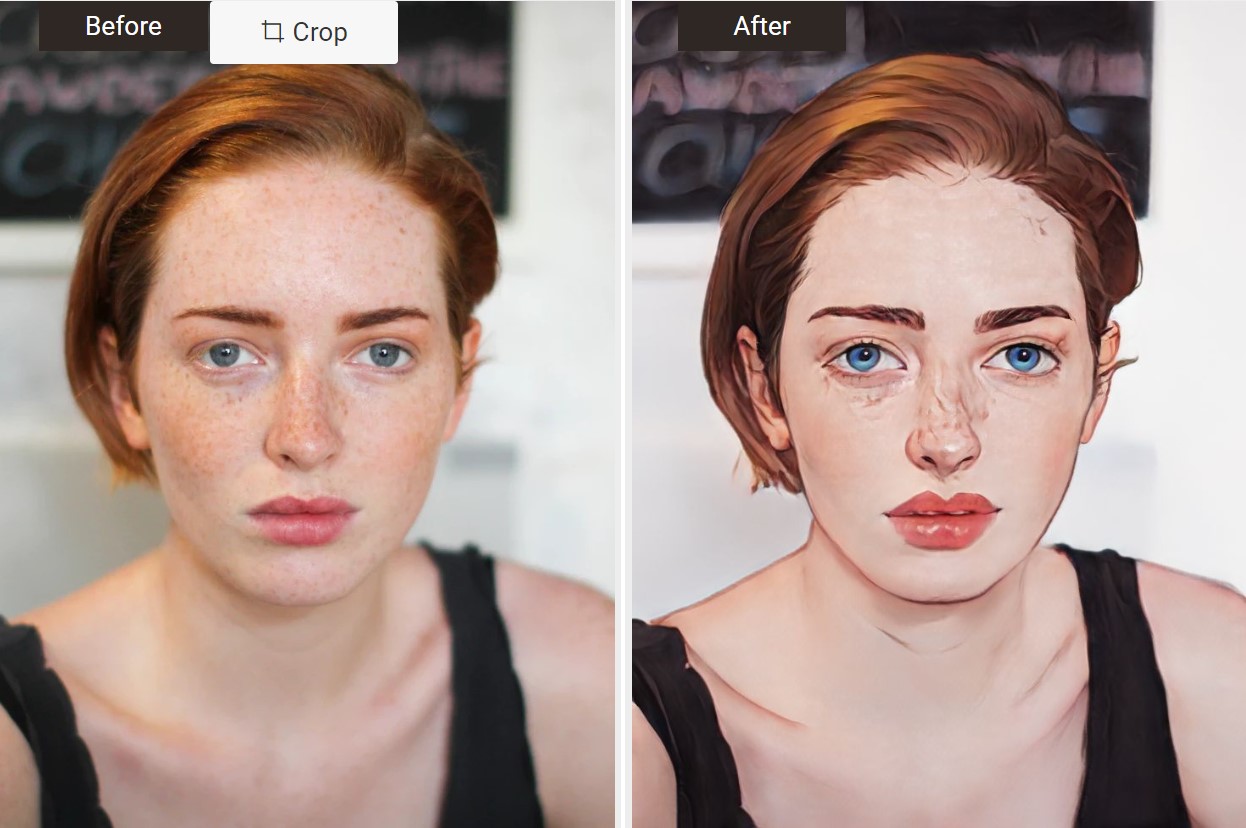 Also read: Top 10 AI Painting Tools Review.
VanceAI PC is full-featured desktop software developed by VanceAI that lets you instantly process local photos in bulk with more customization options, which will significantly simplify your workflow and boost your productivity. Free Download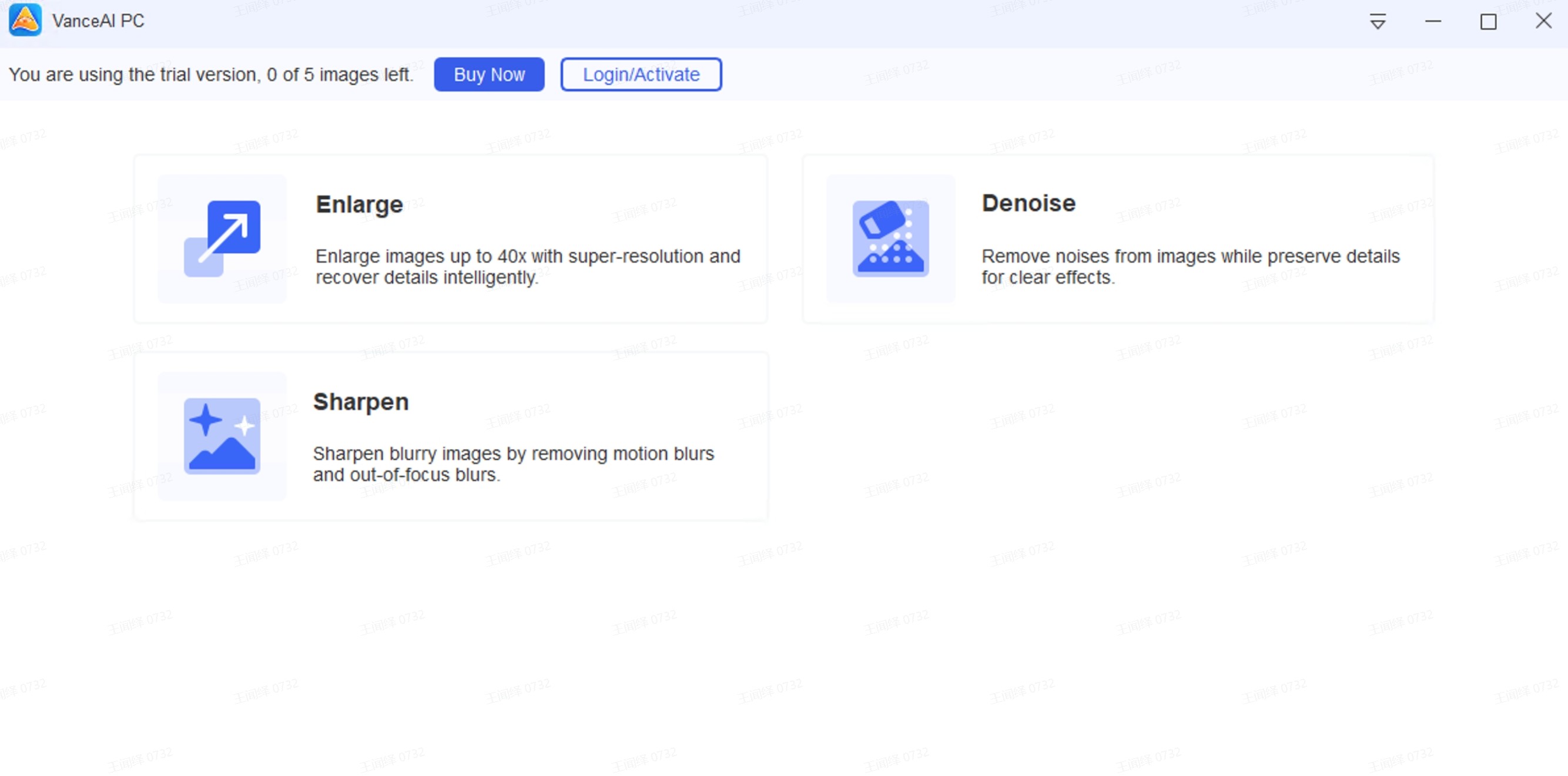 So here's the review and list of the 10 applications that we think are the best at the task to get oil paintings from photos, including tips on how to make a photo look like a painting in photoshop, which you can read below.  More interestingly, there are also some popular Vtuber Maker which use similar technology. Try it if you like.
List of 10 Free Methods for Photo to Oil Painting Including Canvas
Let's get to know how to convert photos to paintings free with the following tools:
| | | | | |
| --- | --- | --- | --- | --- |
| Application | Quality | Features | Style Options | User-Friendliness |
| Instapainting | Top quality results | Wide variety of tools | Classic art filters | Below average |
| Tuxpi.com | Good quality results | Image editing features | Multiple filter options | Lightweight and intuitive |
| Photofunia | Worth the process | Many filters | Christmas, Halloween, etc. | Quick and efficient |
| Dreamscope | Varies | Extensive library | Painting options | Slow processing |
| LunaPic | Efficient | Abundant features | Classic filters | Old-school look |
| FotoSketcher | Basic needs | Fundamental editing options | Classic filters | Simple and basic |
| Funnyphoto | Varies | Extensive editing options | Multiple filter options | Easy to use |
| Fotor | Varies | Basic filtering feature | Multiple filter options | Limited features |
| Prisma | Cool editing options | Hundreds of painting filters | Classic filters | Free trial and subscriptions |
| Pikazo | Varies | Library of effects | Painting filters | Time-consuming |
1. Instapainting
Instapainting offers a wide variety of painting related tools which convert your image into the selected style. Luckily, they also offer a free online tool for the same. Instapainting is a really art-centric website, possessing designs and art filters that are considered classics. A quick guide on how to use this app to get oil painting from a photo: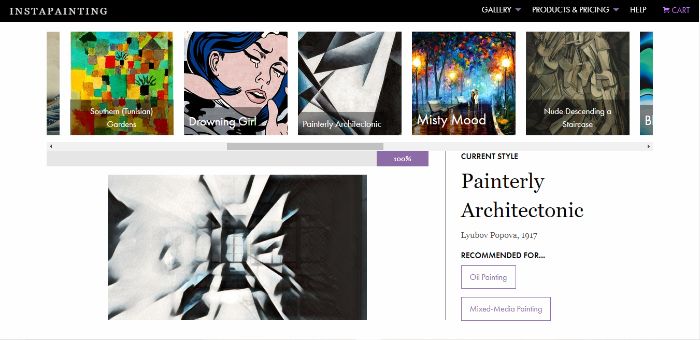 1. Visit the online tool from here and click on Upload Photo to progress ahead. The preview image on the right shows the application's work. You can also view other such images below on the page.
2. Select a photo from your device and wait for it to upload onto the server. 
3. You will now see your image and a slider above which includes all the paintings and art styles. Browse by using the slider. 
4. Once you decide on a style, simply click on it to apply that to the image. It may take a few seconds for the application to apply the filter. 
5. You will then see the resulting image. To download it, right-click on the image and select Save As. Choose a destination to save. 
Pros:
The website is a household of art. It is sophisticated and offers top quality results.
There are a good amount of styles for a free tool.
Cons:
The website itself is below average when it comes to loading times. 
2. Tuxpi.com
Tuxpi.com is an online editor tool that offers many image editing features, one of which is its Photo Editor. You can use it to create artistic visuals on the uploaded images. For example, converting a photo to look like a pencil sketch. It is free to use the software of course but an extra feature worth noting is that you can directly share your work on social media from the website itself.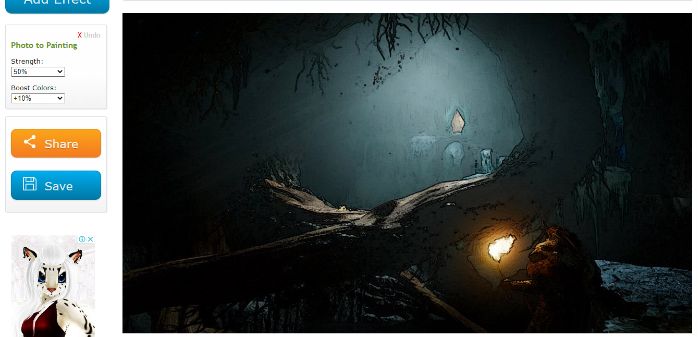 How to use:
1. Click on the link to visit the website. You can read about the software or just click on the green button to upload your image. 
2. Select an image from your device and you will then be taken to the editing section. Here, click on Add Effect at the top and choose any filter from the page. 
3. You can modify the intensity of those filters by writing down or selecting the percentages. 
4. Click on Save to download the image. If not, you can also click on Share to spread the image across your social media platforms.
Pros:
The lightweight online tool that does not make you wait.
A high amount of filter options to choose from. 
Cons:
The UI design is too cluttered. 
3. Photofunia
Photofunia on the first look gives out the look of an e-commerce website and it surely works like one too. A stand-out quality of Photofunia is the number of devices and operating systems it works on. Blackberry, Nokia, Windows, Android, Firefox, etc are only a fraction of what Photofunia supports. This website also allows converting photos to oil painting on canvas though in a limited way. You can browse through their Christmas, Halloween, Easter, etc, and many more collections. You can select their Frames style for a taste of canvas type images.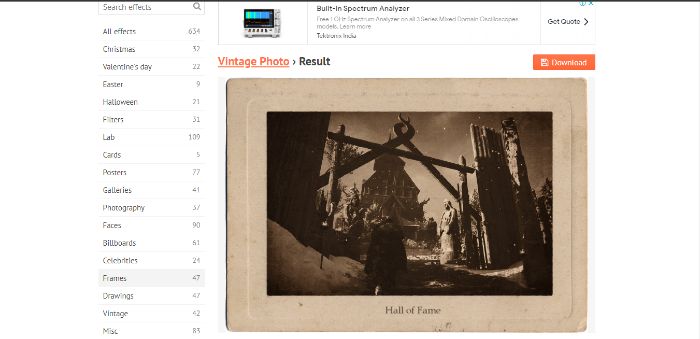 How to use:
1. First, visit their home page from the link given. Photofunia has the home page filled with sample images that are not only art based but also scenario-based such as an image on Times Square in New York. 
2. From the left sidebar, select any stylized effects for your image. Click on Frames for similar styles. 
3. From the several preview images, click on any one of your choices. 
4. On the page, click on Choose Photo to upload an image. You can use the Camera option to capture an image on the spot as well. The textbox below lets you type your own text to go along the canvas frame. 
5. Click on Go to start processing and editing the image. 
6. You can then click on Download at the top right of the image to save it. 
Pros:
It offers one of the biggest amounts of filters compared to other free apps. 
The website is quick and the image quality is worth the process.
Cons:
The website is not designed cleanly, which can make first time users want to use simpler looking apps instead. 
4.

Dreamscope
Dreamscope is a photo to oil painting converter online software. The home screen contains hundreds of images stylized with specific painting filters. It is free to use and offers a few editing options on images as well.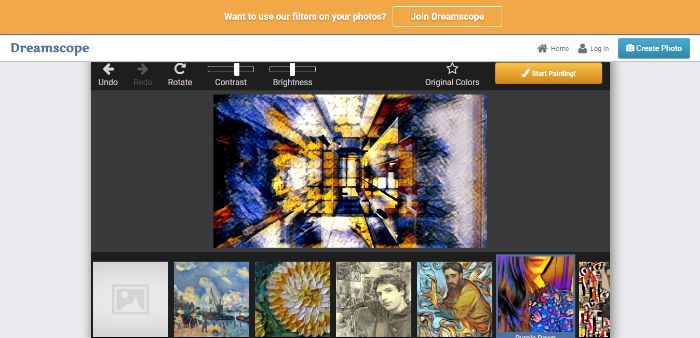 How to use:
1. Use the link to reach the editor page of the application. Use the upload button to select an image and send it over to Dreamscope. 
2. You can use the slider below the image to select any of the filters given. Before that, you can also change the contrast and brightness of your image. 
3. Once decided on the filter, just click on Start Painting and let the application take over. It will process the image and display the output image to you in a while. 
Pros:
A huge library of painting options to choose from.
Cons:
The website is too slow when it comes to working on the output. 
LunaPic is one of the popular image editing tools out there. It has a really old-school look, so users might have to get used to it. However, that does not affect the efficiency of the tool itself. Additionally, this software does pack ample features and filters, including some of the classics. It is also free to use. Click to check out more best alternatives to selfie2anime.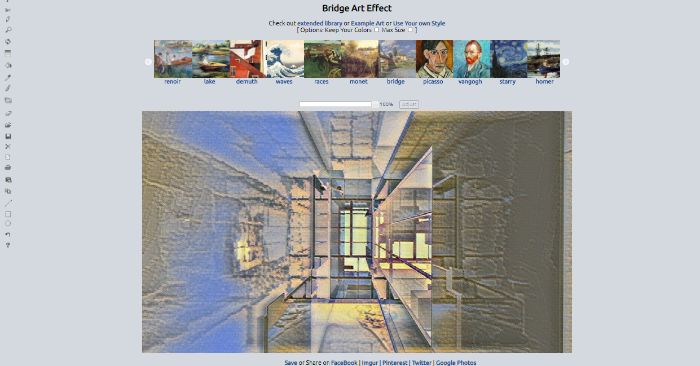 How to use:
1. The process to get oil painting from a photo is fairly easy here. First, use the link provided above to reach the website. You will come across a bunch of preview images with respective filters. Scroll down for artistic filters such as the Picasso filter. 
2. Click on the one you want and upload the image. 
3. The app will then apply the selected filter to the image you uploaded. Simply wait for the application to process. 
4. At the bottom, you will see the Save download link. Click on it to download the image or use the Share option to send it across your social media directly. 
Pros:
A free online tool with rich features and classic filters. 
Cons:
A few filters are not upto the standard as compared to others.
6. FotoSketcher
FotoSketcher is a free downloadable software that specializes in getting oil portrait from photograph and more. It is a light software that you can download in an instant and quickly edit your photos on its software. It offers fundamental editing options. 

How to use:
1. Click here to download the app, it is around 10 MB in size. 
2. Run the installer and just follow the simple instructions to install the app.
3. Run the app, and click on Open a Picture to select your image for upload. 
4. When the editor dialog box opens, select the type of painting you want and modify it using the options provided if you want. 
5. Go to File > Save As to download or save the image in your device.
Pros:
It is pretty apt for a basic needs tool.
Cons:
There are no filters provided beforehand like in other websites. 
It is not meant for sophisticated use. 
7. Funnyphoto
Funnyphoto is online free software that lets you edit images to a good extent. They too have a catalog of options to choose from for turning photos to oil paintings. 
How to use:
1. Visit the website by clicking on the link given. Scroll down to upload an image from your device, URL, or Facebook. 
2. Wait for it to process. It will display the output once done. 
3. Click on Save & Share to download the image. 
Pros:
Cons:
It doesn't have all features on the free version. 
8. Fotor
Fotor is a popular image editing application online but this feature is not heard of. It is a basic image filtering feature that allows you to add a painting effect to your photo in a few clicks. 

How to use:
1. Visit the site by the link and click on Get Started to upload the image. 
2. Choose any of the filters from the options below the image and click on it. 
3. Wait for it to process the image. Once done, you can click on Save to save the output.
Pros:
Cons:
9. Prisma 
Prisma is a free mobile application that works on Android and iOS. It comes with a free trial so the usage is limited but the application is still worth using. Not to mention the hundreds of cool painting filters that it offers.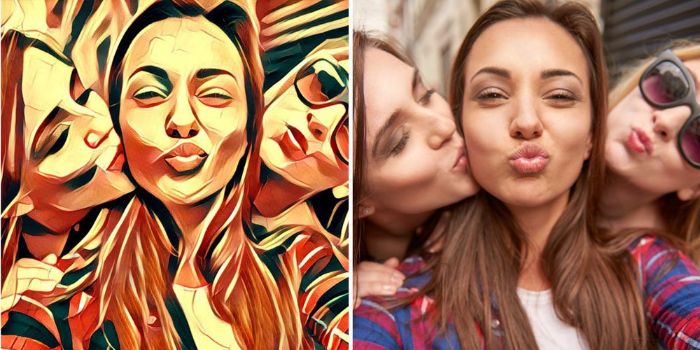 How to use: 
1.Launch the app and opt for a free trial by denying purchase options. 
2.Open the image and use the slider to apply a filter effect. 
3.Press on Save to download it into the gallery.
Pros:
Cons:
Free trial and subscriptions are a bummer. 
10. Pikazo
Pikazo is another similar application to Prisma. Pikazo though lets you create your own presets that you can use later on too. This app has a library of effects and hence is one of the sophisticated apps out there.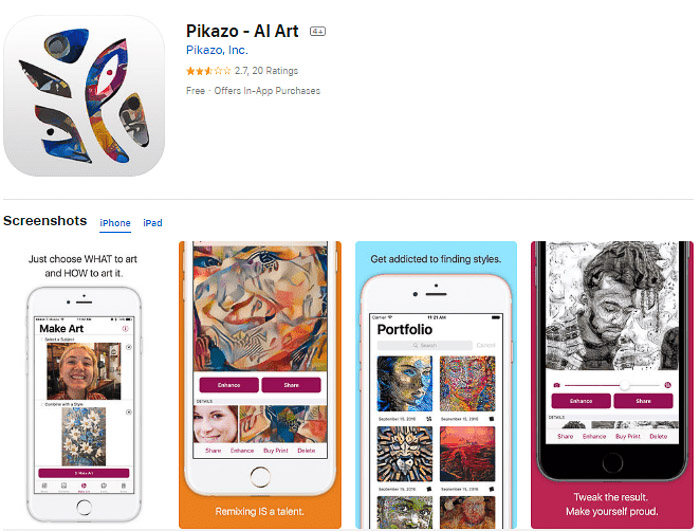 How to use:
1. Launch the app and get through the signup process. It is free and you can use your Google account to signup quickly.
2. Press the plus sign button, select an image, and the painting filter. 
3. The application will take some time to process, but you can do something else till then. 
4. Save the image once the application is done with the image. 
Pros:
An app for professionals and beginners alike.
Cons:
Takes time to create the output.
Conclusion
With this review list, you can find applications that are universal in their uses. From specific to diverse tools, you can select any of these free applications whether you are a beginner or a dedicated artist, and start creating amazing work right now. If you prefer an image with higher definition, the AI image enlarger offered by VanceAI would be the best alternative.
Click to know more about how to turn photo to cartoon.
Do you find this post helpful?
Read More to Know Deeper: