Anime is watched by over 90-100 million people all around the world, consequently becoming one of the largest industries in the cinematic world. People simply love anime characters!
However, making anime characters by yourself is a tough job, in matters like these the internet always comes in handy. Read on to know about the 10 best anime creator online and the amazing VanceAI Anime Upscaler.
Enhance high-quality anime character photos with VanceAI Anime Upscaler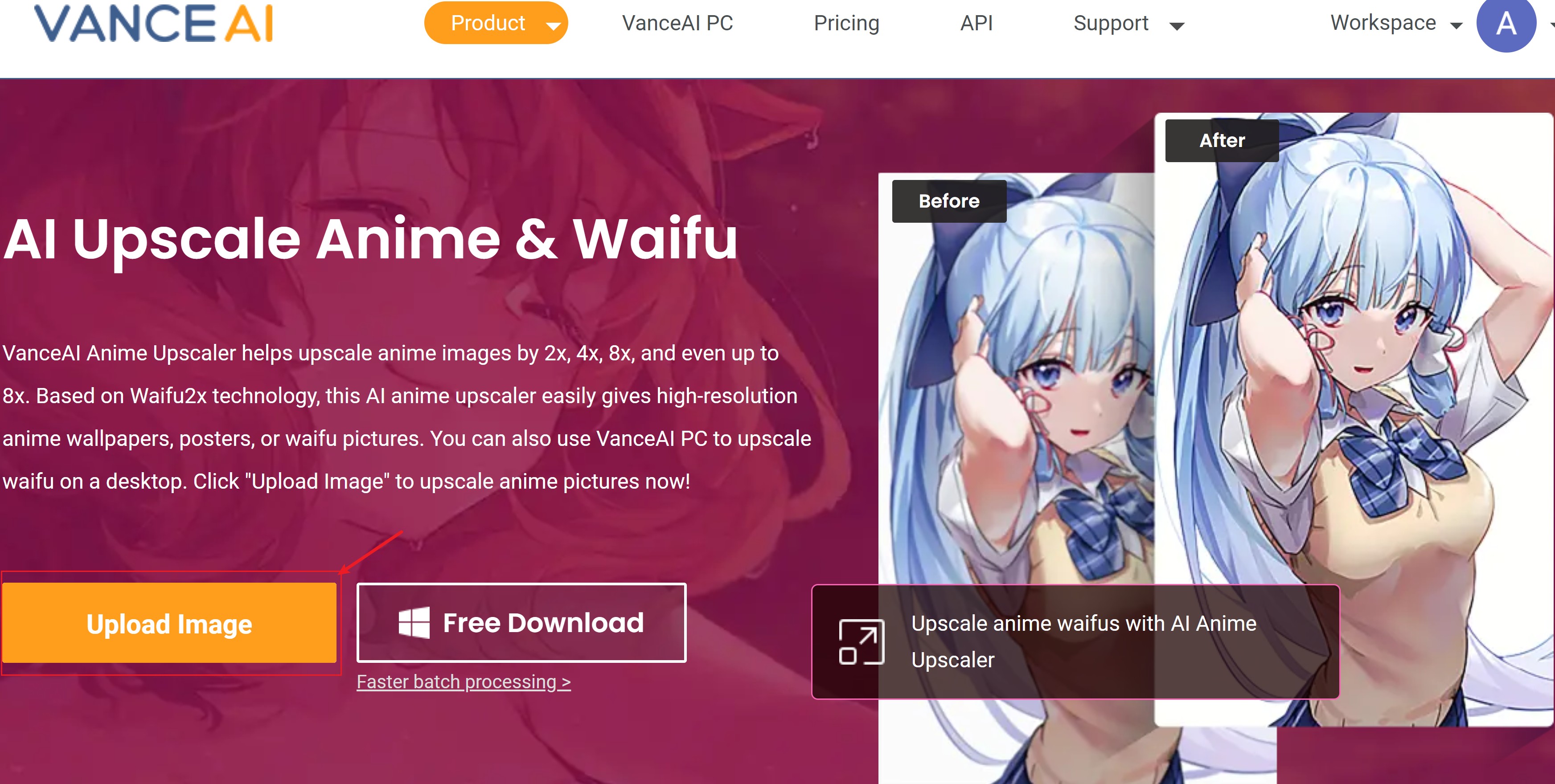 When it comes to image enhancing and upscaling, VanceAI, AI photo enhancement and editing tools, has always been the number one choice of customers. The unique VanceAI Anime Upscaler and its AI photo enhancer is made solely to enhance the quality of pictures of your favorite anime characters.
The VanceAI Anime Upscaler is a waifu-2x-based online image upscaler, which can upscale anime images by 2x, 4x, 8x, and even up to 16x while increasing the resolution of the image.
| | | | | | | |
| --- | --- | --- | --- | --- | --- | --- |
| Product | Free | User-friendliness | Multiple languages | Multitasking | Special advantage | No "Download" |
| VanceAI Anime Upscaler | ×(3 free credits each month) | √(concise UI) | √(four languages) | √(give HD anime despite upscaling) | √(SRCNN) | √(online) |
Using the waifu2x upscale algorithms you can convert small 480p anime photos into something super HD. Additionally, it removes noise and blur, and compression artifacts from the images 100% automatically.
VanceAI always believes in the safety of its customers. It removes the uploaded pictures from the website after 24 hours to ensure that your work never gets stolen by any other party. Of course, the premise of improving the photo is that you need to know why the photo is blurred, and how to make photo HD. If the reason is clear and VanceAI Anime upscale can help you, then the following steps can start to act.
Using the VanceAI Anime upscale is a piece of cake. You can get remarkable results in a matter of a few seconds. Here is an easy guide to help you:
Step 1: Go to the VanceAI website
Visit the VanceAI website and search for the AI Anime Upscaler. Click on the yellow button to get started.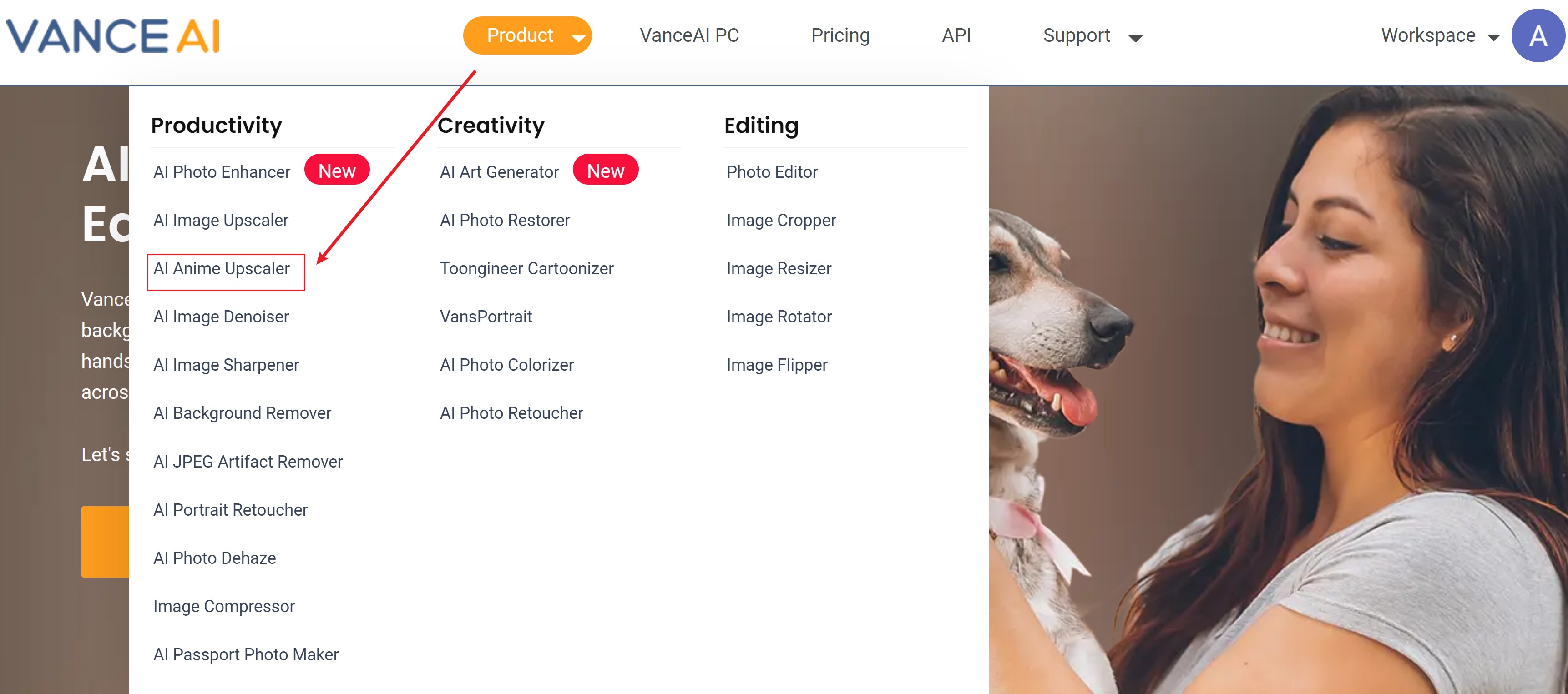 Step 2: Pick the image
Now it's time to select the anime photo you want to upscale using the anime upscaler online. Once you pick the photo from your computer, it will be added to the website and will be ready to be processed.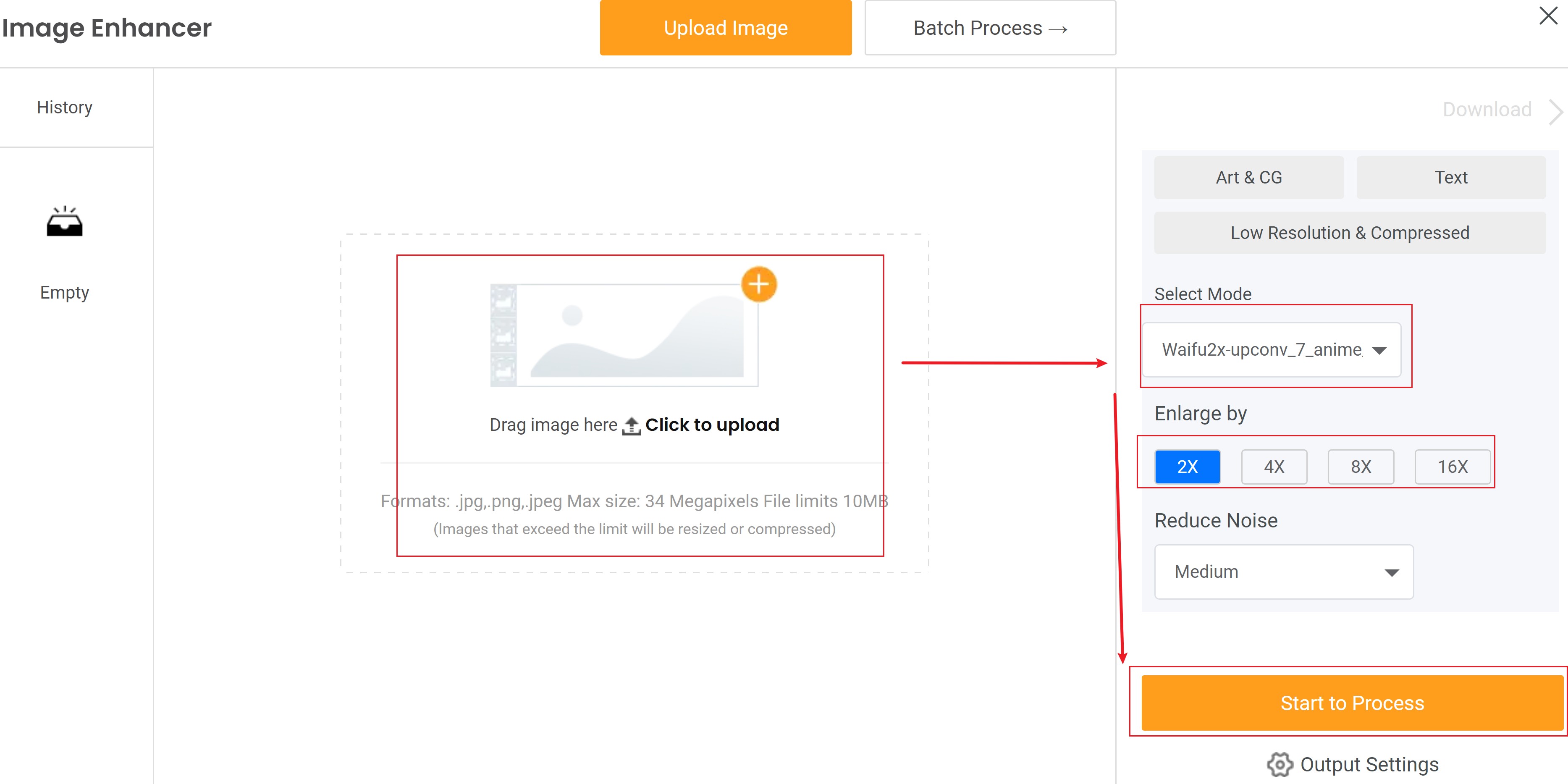 Step 3: Start processing and preview
Now that you have selected the image, click on the "start process" button to begin the procedure and refine image. The image will be upscaled within a few seconds. You can select the settings according to your requirement and can also preview the end product.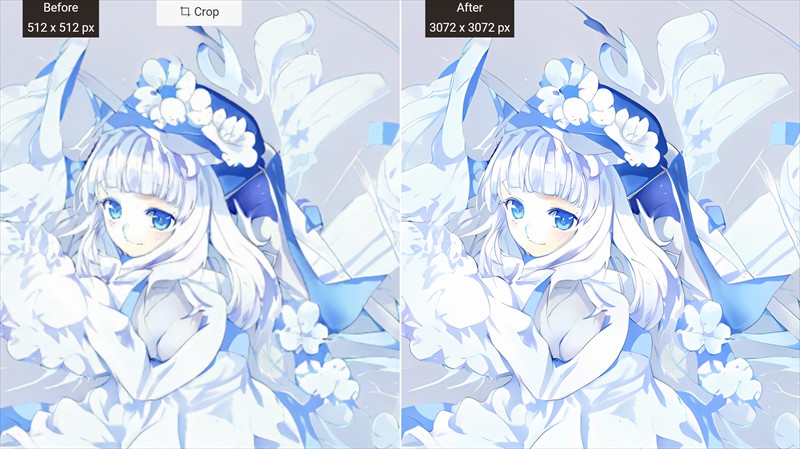 Step 4: Download the result
Download the result easily.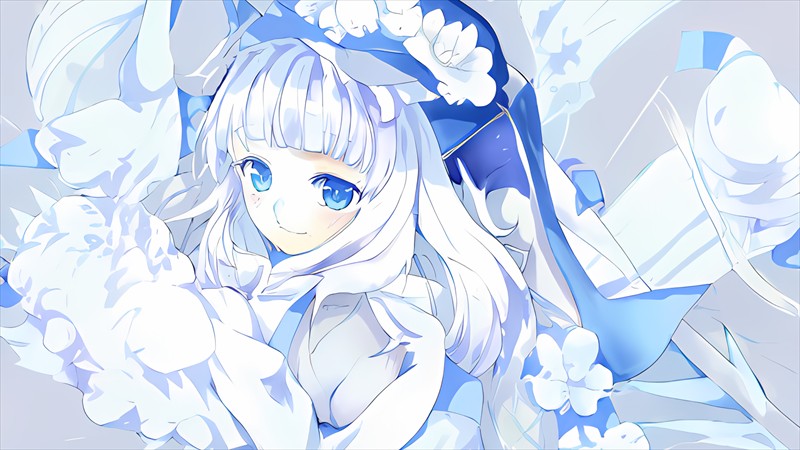 The difference between the before and after images is proof that the free VanceAI Anime Upscaler works wonders. Before the image was blur and had noise in it, the colors were dull and pale. After using the VanceAI Anime upscaler the image has become sharper and the colors have improved evidently. There is less noise in the image as compared to before resulting it in looking more lively and vibrant. It does look easy, doesn't it? Then try to upscale your anime in the pop-up window on the right. Of course, you can also choose to download it directly.
Subscribe to VanceAI to upscale unlimited watermark free images and gain access to the 18+ special AI features. You can renew your membership anytime. Visit the VanceAI now to get started.
Best 10 websites to create anime character online
Product
Free
User-friendliness
Multitasking
AI-based Product
No Watermark
VanceAI
×
(3 credits/month for trial)
√(concise UI and easy to use)
√(one workspace supports multiple functions)
√(no manual effort involved)
√
Avatar Maker
√
√
×
×
√
FaceYourManga
√
√
×
×
√
My Blue Robot
√
⍻(some avatars are unreal)
×
×
√
League of Legends Avatar Creator
√
√
×
×
√
Anime is basically a hand drawn and computer-generated animation originating from Japan. There are millions of fans of anime all around the world and it has encouraged many people to pursue their talents in drawing and sketching.
If you wish to draw an anime character of your own, you can do so with the help of many free anime character creator online. Below are 10 best anime character creator:
1. Avatar Maker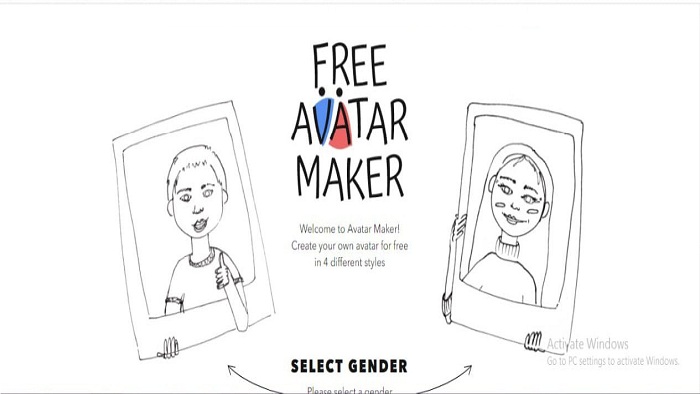 Avatar Maker is an anime character creator free online. It is super easy to use and allows you to create your own avatar for free in four different styles. You may then use the photo enhancer tool to improve the quality of your avatar.
This amazing anime maker helps you customize your character according to your preferences. You can download your work or sharp it with your friends. It is the most convenient and fun free anime character created out there.
Pros
Simple and user friendly interface
Color palette to go for exact complexion
Share avatar directly on social platforms
Cons
No option for other gender
2. FaceYourManga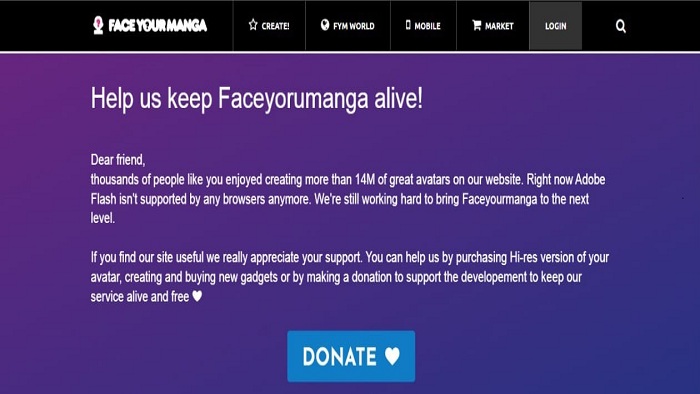 Looking for a hot anime character creator? Don't worry! Face your manga is here for your rescue. It is one of the best anime character creator you could find. You can get a high resolution version of your avatar and get advanced gadgets to make anime characters of your choice. It is a best place to unleash your creativity and go wild with your imagination.
Pros
Add stickers
Easily download and share the avatar
Add moles, blemishes, or freckles to create an avatar similar to you
Cons
No customizable option for hairstyle
3. My Blue Robot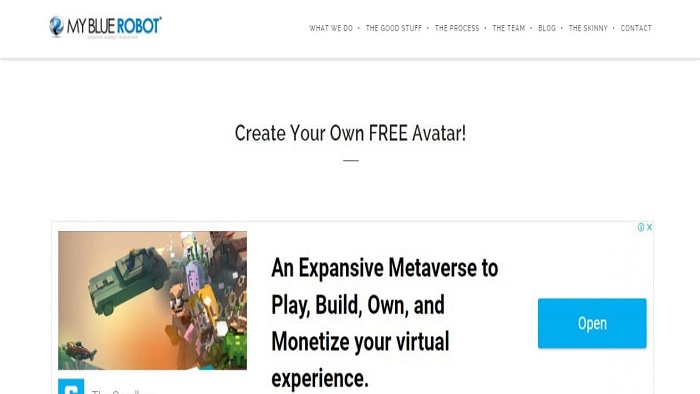 By using My Blue Robot you can get access to over 400 custom design elements for your anime character. You can create and download your custom avatar for free and show off your creativity to your friends.
Pros
Simple and user friendly interface
Option of changing the dress of the avatar
Add characteristic features to look more realistic
Cons
Avatar more cartoon like than anime
4. League of Legends Avatar Creator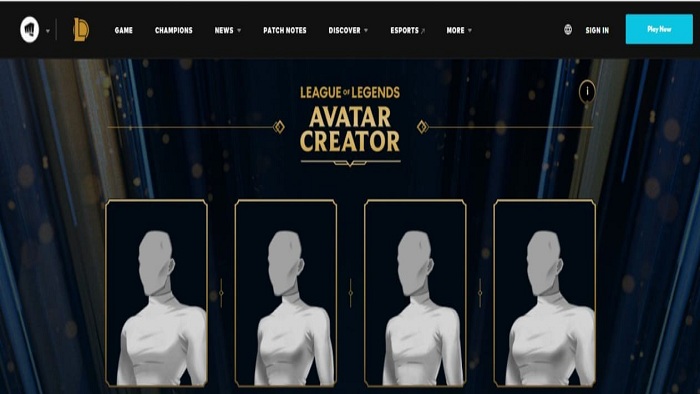 League of Legends Avatar Creator is the best free anime game character creator out there on the internet. With never-ending possibilities, you can create a character according to your taste with a wide range of distinct hairstyles, facial features, skin tones, outfits, and accessories.
Pros
Fashion accessories according to different regions
Number of options in customization
Cons
Can't use the avatar in game
5. Avachara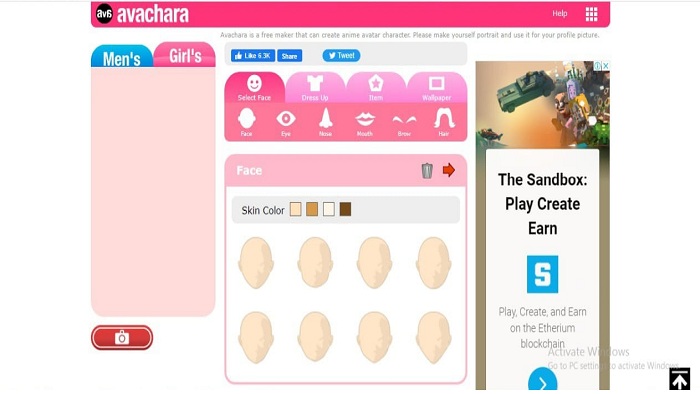 When searching for a free anime character creator, Avachara is usually the most used free website. It is a very convenient and effective avatar maker which helps you make fun illustrations and characters by choosing from different head shapes, eyes, mouths, outfits, hair, and wallpapers.
Pros
Number of options for fashion accessories
Help make avatar from scratch
Cons
Creating it from zero is time taking
6. Portrait Illustration Maker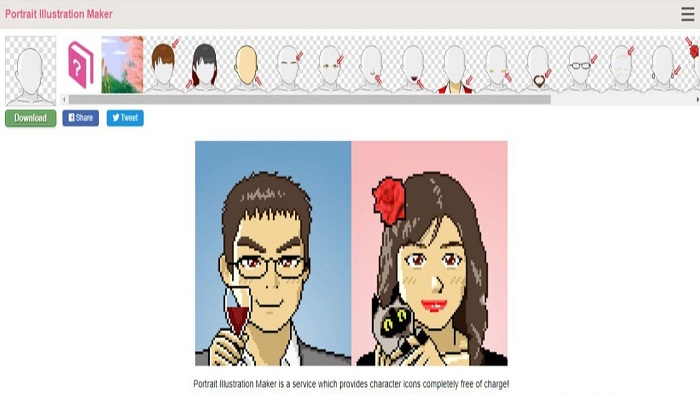 Do you want to make interesting anime character icons? Portrait Illustration Maker is a remarkable service allowing you to develop graphic anime icons for free. There are no limitations, put your imagination onto the screen and create a masterpiece now!
Pros
Randomizer button creates random avatars for ideas
Make avatar from scratch
Cons
Outlook of the site is not attractive
7. Marvel HQ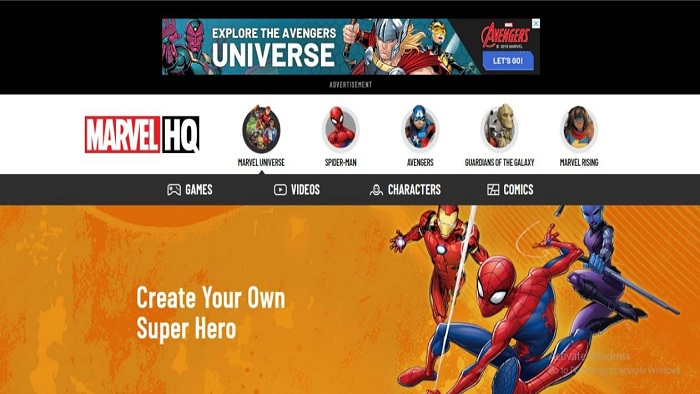 Creating your own superhero is all fun and game with the Marvel HQ. With high level graphics and features, Marvel HQ lets you pen your fiction into reality. Choose a gender and then a pose you like. Customize your character and download it to your computer.
Pros
Simple user interface
Regularly updated with new poses
Cons
Confusing on-page instructions
8. Custom Anime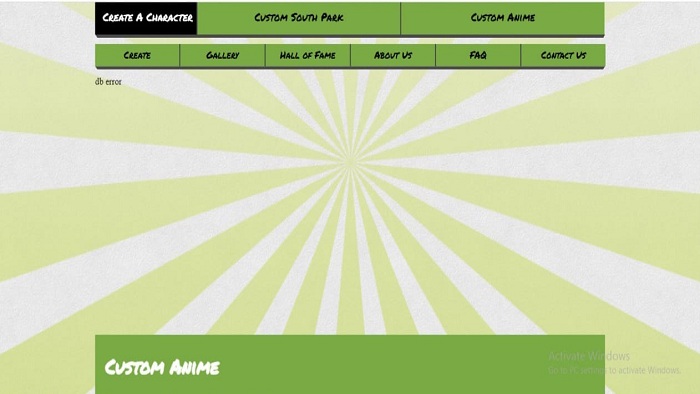 Custom anime is a hot anime character creator and very simple to use. It is intended to give anime fans a chance to have some fun by making their own custom avatar. It uses a special flash program that helps you customize and download your character.
If you look at the left of the page, you can see different tips on how to use the tools which is indeed a notable and useful feature for one trying out this anime creator for the first time.
Pros
Super friendly for first time users
Shares recent creations in a gallery
Creates full body avatars
Cons
No option to download avatar in high resolution
9. Picasso head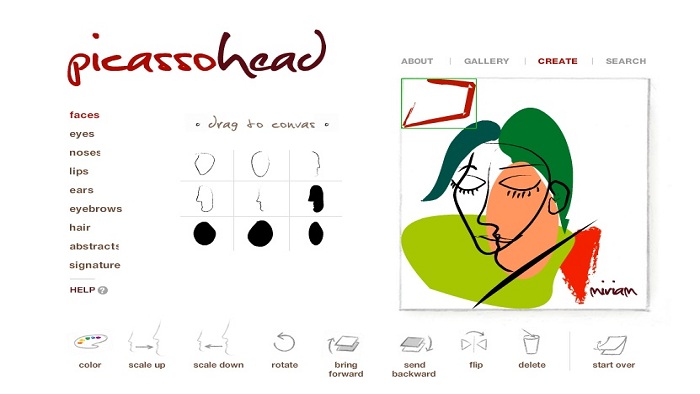 Picasso head is a digital tool that allows users to create endless anime characters using famous features drawn by Picasso himself. It is very easy to use and has been popular among the masses for ages. Visit their website now and get started!
Pros
Add signature at the bottom
Creates unique paint like avatars
Cons
No download option- screenshot the avatar
10. Pick a Face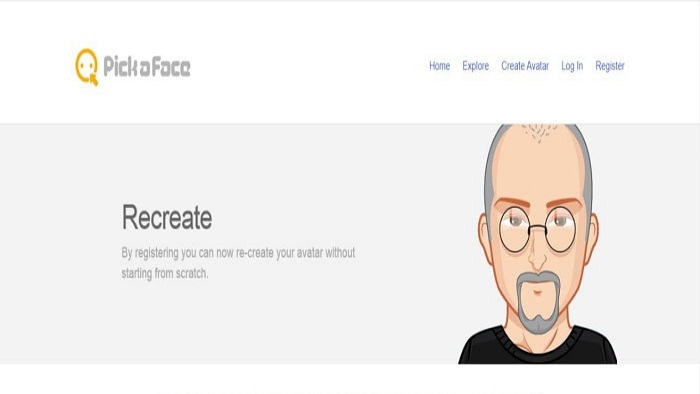 You can register free on the Pick a Face website and start creating your own avatar. There are a ton of featured avatars on the website to help you get an idea of how to get started. There are approximately 550+ design features especially crafted for the registered members.
Pros
Free to download high resolution avatars
Social platform allows connectivity to friends
Cons
High Res avatars require premium subscription
Conclusion
Anime art is all about the expression of human creative skill and imagination. When artists started drawing anime characters, they spent hours and hours on a single template but now the technology has made all of this just a matter of a few clicks. Above mentioned websites are listed among the top free anime character creator online. For more tools used to produce better anime or drawing pictures, you can read Alternatives to Selfie2anime That Transform Selfie Into Anime 2022 to realize more tools.
Do you find this post helpful?
Yes
No