If you are an anime fan, this article will help you find the best anime wallpaper sites to put as your screen saver. Anime or Japanese animation has become so much popular around the globe. It has attracted people from all over the world because of its engaging content. As a result, you are reading this article and hopefully finding something of your interest here.
This article has all the amazing websites that you can visit if you are an anime fan. The websites mentioned in this blog are anime wallpaper websites to help you find your favorite character's picture to save as your desktop background.
The article also informs the user about the best anime wallpaper and background upscaling tools including VanceAI Anime Upscaler, which helps you magnify anime images by multiple times online. Thus you are more likely to get high-resolution anime wallpapers or images.
Best Anime Wallpaper Sites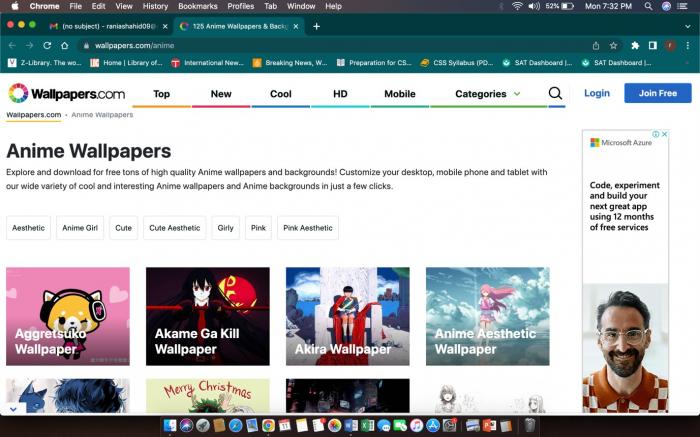 The website is a heaven for anime lovers. Wallpapers.com has all the wallpapers you need as an anime fan. The wallpapers, posters and anime background wallpaper are unique in design and beautifully illustrated.
This anime wallpaper site has different categories of anime wallpapers to treat the anime fans with an aesthetic anime background. The categories include, aesthetic, anime girl, cute, cute aesthetic, girly, pink and pink aesthetic.
The website has everything an anime fan needs. From anime drawing wallpaper to anime city wallpaper to anime Christmas wallpaper. Wallpaper.com has wallpapers of every category and every occasion.
Pros
The website is everything you need, literally!
There is so much variety of anime wallpapers.
The website allows free of cost download of anime wallpapers.
Cons
The website shows a lot of ads.
Quality of some pictures is compromised.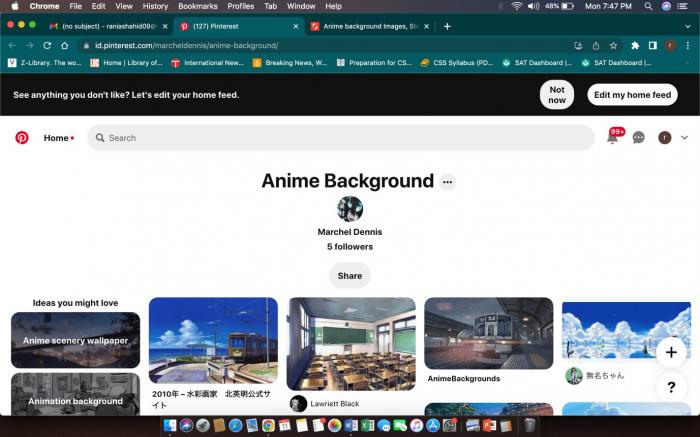 This profile on Pinterest contains so many unique anime wallpapers. Most of the pictures saved in this folder are anime backgrounds which are artistic and colorful. You can save the pictures from Pinterest from this profile's folder.
The ideas on this Pinterest account reminds one of the days we would watch anime with our friends. Anime backgrounds and wallpapers on this profile are beautiful and eye-catchy.
Pros
Pinterest is an easy place to save and download images.
The profile has beautiful anime wallpapers to offer.
Cons
There are no categories.
The wallpapers are less in quantity, hence no variety.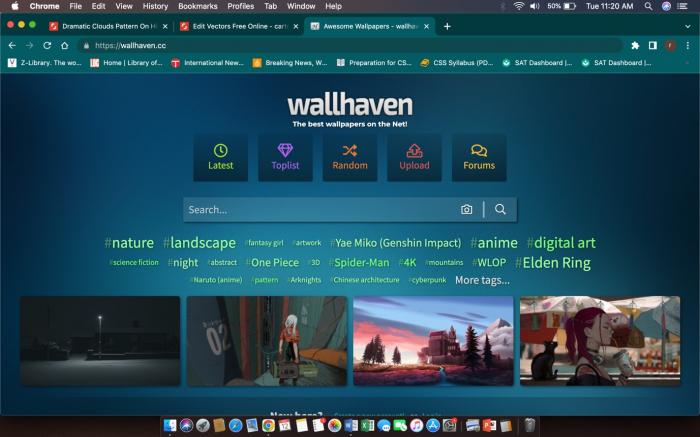 The Wallhaven anime wallpaper site contains a variety of anime backgrounds. The user can search their desired anime backgrounds by selecting the image type, which can be selected from the options in green given below. There is also a search bar for this purpose.
The websites has so many options to select from, it makes it hard for the user to download one image. Every image on this website is one of a kind. On top of that, you can have the picture of your choice without any hard work of scrolling and searching.
However, there is a limited variety of anime wallpapers and backgrounds. But the wallpapers offered on these websites are high-quality and the backgrounds look very artistic in nature.
Pros
You can easily search the type of picture you want.
There is variety for anime fans.
Cons
Some search filters have no results.
There is not much anime content shown when you search something.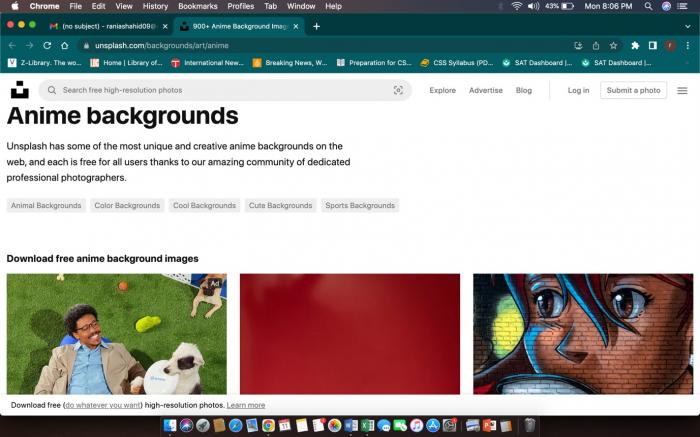 Unsplash, another popular anime wallpaper site, offers the users some of the best and creative anime wallpapers and backgrounds. The wallpapers are captured and designed by professional photographers which makes them unique.
Unsplash has different categories to select anime backgrounds and wallpapers. These include animal backgrounds, color backgrounds, cool backgrounds, cute backgrounds and sports backgrounds. The professional nature of these wallpapers and backgrounds is what every anime fan wants.
Pros
The anime wallpapers are unique.
High quality of backgrounds and wallpapers.
Cons
There is a very limited variety of anime wallpapers.
The anime wallpaper search shows images from other categories as well which might be unpleasantly unexpected.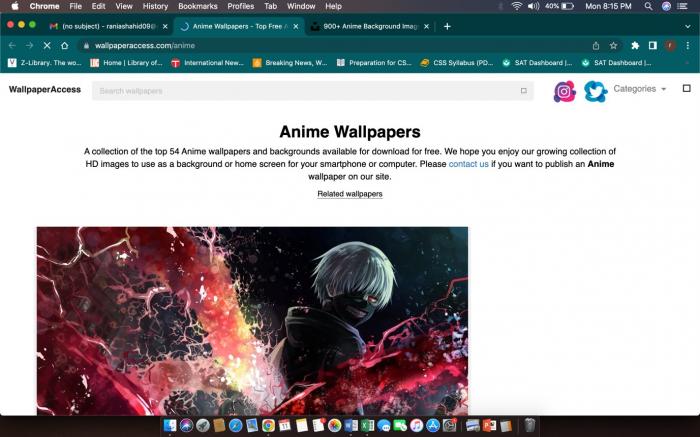 The anime wallpaper site, Wallpaper Access allows the user to download HD quality pictures for free on their devices. Wallpaper access also allows anime wallpaper or background artists to publish their work on their website.
The quality of anime wallpapers is at its finest. Colors, composition, contrast and sharpness all of them are top notch. The wallpapers look very professional which makes the user satisfied with the website's collection of wallpapers and backgrounds. Above all, the website allows free download, what else can a anime lover want?
Pros
There are high-quality images on the website.
The quality is not compromised and free download makes it even more popular.
Cons
Limited variety of anime wallpapers and backgrounds.
There are no sub categories for different anime movies which limits anime fans to some movie wallpapers.
Upscale Your Anime Background With VanceAI Anime Upscaler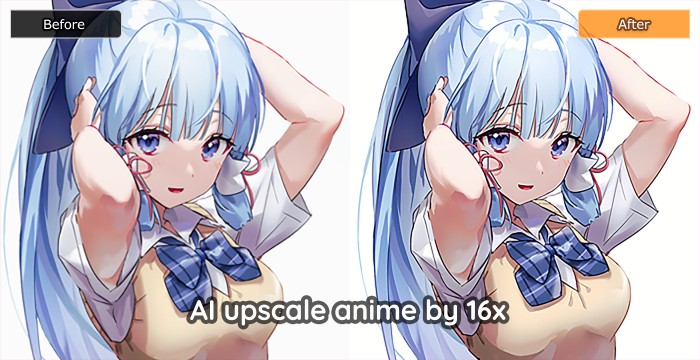 VanceAI serves the users with the best features like VanceAI Anime Upscaler. Now you can upscale your anime wallpapers chosen from other anime wallpaper sites using the anime upscaler online. The website allows the user to upscale images by 2x, 4x, 8x and even up to 16x. This vast variety of picture scales gives the user an opportunity to upscale their pictures however they want.
The anime upscaler allows the user to turn low-quality, blurry and pixelated photos into high-quality, clear and crisp photos. Waifu2x algorithm makes this task easier by helping the user remove pixilation and artifacts while using the upscaling photo feature.
VanceAI offers the feature of the anime upscaler which upscales anime wallpapers 100% automatically. The user gets a high-resolution, clean and crisp outcome thanks to Waifu2x algorithm.
Moreover, the anime upscale feature allows the user to reduce noise and compression artifacts in photos for high-quality, unpixellated results. The feature is safe to use as the website has data safe guarantee which deletes the picture in twenty four hours after the feature is used.
The Waifu2x AI algorithm is inspired by super-resolution convolutional neural network (SRCNN). The VanceAI Anime Upscaler makes it possible to create gigapixel waifu and anime photos to fit a device's screen.
The following comparisons are enough evidence for the user to trust VanceAI anime upscaler feature. Hopefully, anime fans will love and use this feature as it saves time and unnecessary effort of editing anime background.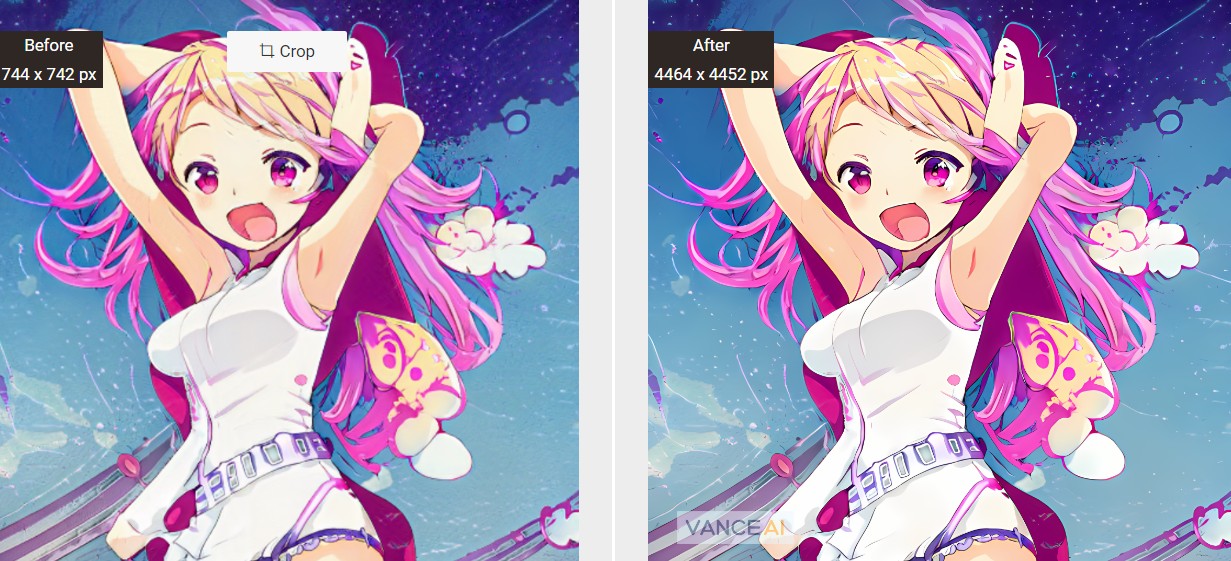 Conclusion
You can even set up these wallpapers as your anime bedroom background! The anime wallpaper sites mentioned in this article have a lot to offer to anime fans. Each website is unique in its own way and offers the best anime backgrounds and anime wallpapers to the users.
It is a unique way to upscale anime to attract anime fans with VanceAI Anime Upscaler. If you are one of those people who adores anime then this website will help you edit and upscale anime wallpapers and backgrounds. The website also allows the user to remove noise and blurriness from the anime backgrounds and wallpapers.
If you are an anime fan, this article will hopefully help you find the best wallpaper or background to set up as your desktop wallpaper, screensaver or phone wallpaper. Every website this article has mentioned contains a variety of anime wallpapers and backgrounds which is a treat for anime fans.
Do you find this post helpful?
Yes
No