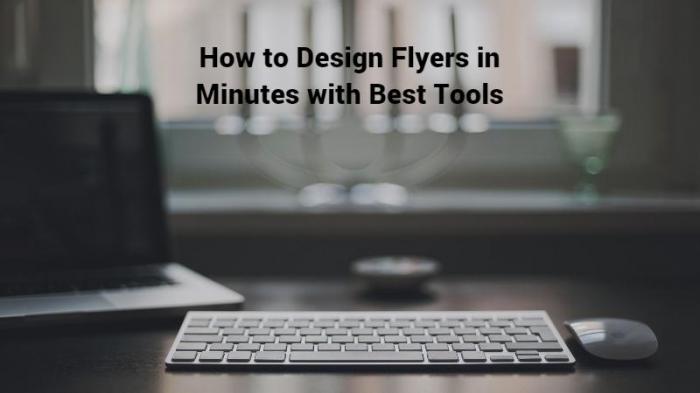 How to make a flyer is the right question to ask when you are looking to promote your business in a creative and effective way. The best thing about flyers is that users can make a flyer online and don't even need to pay for anything. There are many flyer backgrounds and make a flyer tools available online, such as Canva flyer tools. In this guide, we will recommend six of the best flyer maker apps while also giving you tips on how to make a flyer. With this, you can make a flyer for our own business, event, or anything else that is both attractive and effective. Flyers contain vital info in a small space cleanly, which makes viewers want to look at them. This can be a powerful tool for you to drive in more engagement from others.
By the way, if you get a low resolution flyer and need a tool to upscale its quality, VanceAI iamge enhancer will be your good companion.
Recommendation on 6 Flyer Maker Tools
Price: Most features are offered for free to use. To get full access, you can purchase the Premium account for $9.99 per month.
Features:
Offers an auto-save feature that saves every change you make along with cloud storage of up to 2GB.
Access to a wide collection of stock images, which can be extended with a Premium account.
Apply a flyer background simply by clicking on any of the free flyer templates and make changes.
This Adobe application can be used on desktops and mobile devices.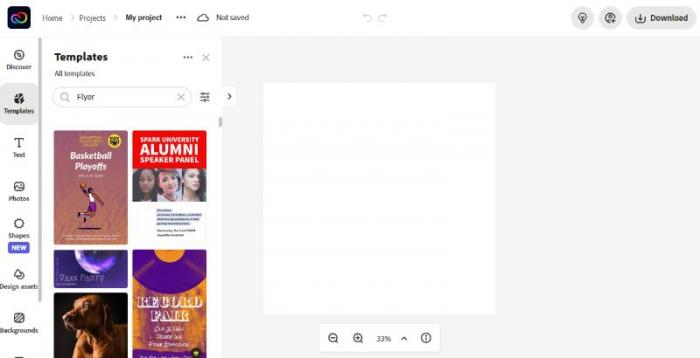 Pros:
Offers comprehensive tools and editor mode.
Mostly free to use.
Popular online app.
Cons:
No automatic process.
Can add more flyer templates.
Can be unresponsive.
Price: The free account from Canva offers enough to make the best flyers with customized flyer size and backgrounds. The paid accounts start from around $4.99 per month.
Features:
The Canva flyer maker offers one of the most creative and eye-catching flyer backgrounds and templates on the Internet.
The highly customizable editor from Canva ensures to give users control over every bit of elements found within a flyer.
One of the most popular online tools for designing, capable of making all kinds of visuals.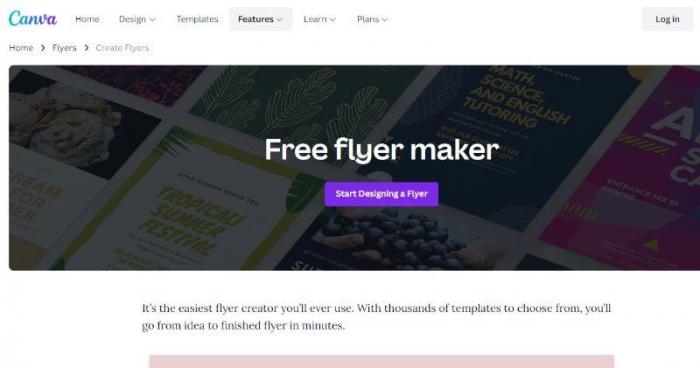 Pros:
Mostly free to use.
One of the best templates.
Efficient and modern make a flyer app design.
Cons:
Can have more download options.
A bit confusing to use on mobile.
Price: Users receive all the basic features with the free account to make a flyer. To get more and better features, users can buy paid accounts that cost around $8 and $25.
Features:
You can know how to make a flyer from the website itself as it offers video tutorials for it.
The app is designed to make images as well as video flyers and offers templates for both.
Lists down all kinds of flyer types according to events and occasions for better access.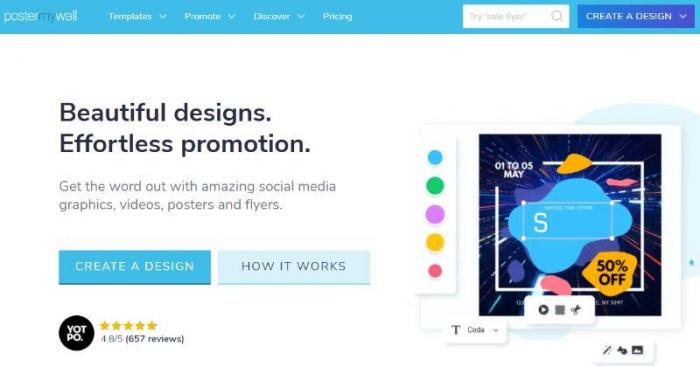 Pros:
Offers tutorials.
Most tools are free to use.
Video flyers.
Cons:
The UI can be better.
The search option can be better.
Takes time to learn the app.
Price: The free account gives you access to some storage and other basic features. The paid options start from $29 per month for a monthly plan.
Features:
Visme offers an intuitive editor mode for making flyers and more.
Offers distinguished and categorized templates for easier access and better results.
Match your brand colors with the templates in order to create a perfect mix and identity.
Offers stock photos, widgets, and more interactive tools to make flyers.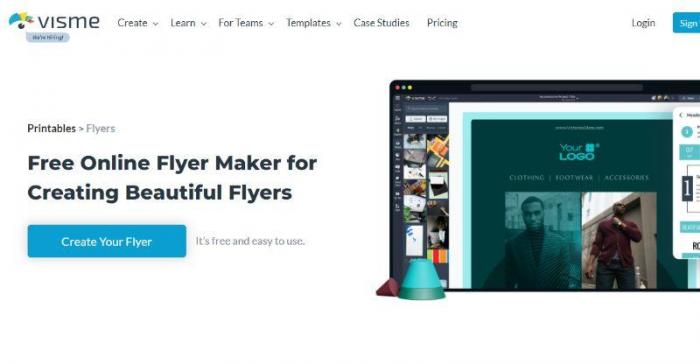 Pros:
Easy to use app.
Great flyer backgrounds.
Responsive editor mode.
Cons:
Can be buggy.
Need an account to use.
A bit expensive.
Price: With the free account, you will receive templates, fonts, tools, and more to make a flyer. The pro version will provide additional benefits for $10 per month.
Features:
Offers a team based account, which can be really useful for organizations and digital marketing agencies.
The make a flyer app is highly accessible as it is available on mobile devices operating on iOS and Android.
Makes the creation process faster by offering premade dimensions of social media such as Instagram, Facebook, and more.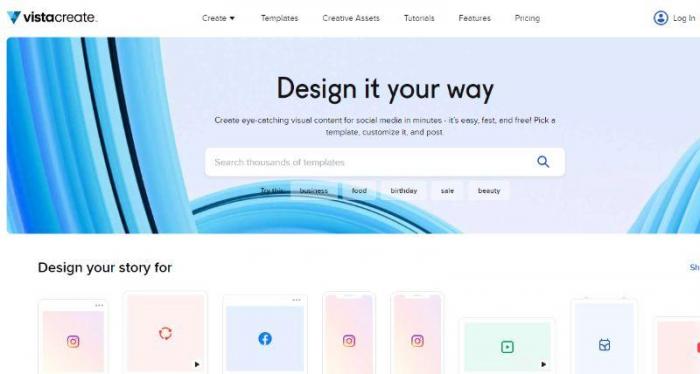 Pros:
Easy and intuitive UI design.
Good payment plans.
Useful templates.
Cons:
Can add more creative tools.
Can be unresponsive at times.
Price: This make a flyer online app offers a lot of paid options. The free account gives you all the basic features while the paid options offer more and start from $16 per month for an annual plan for each user.
Features:
Offers users more freedom when it comes to file formats since it allows PNG and High-Res PNG exporting.
With a team based design, you also get similar features such as email and chat support, real-time collaboration features, integrations, and more.
Offers features helpful to make a flyer, infographic, poster, and many more similar visuals.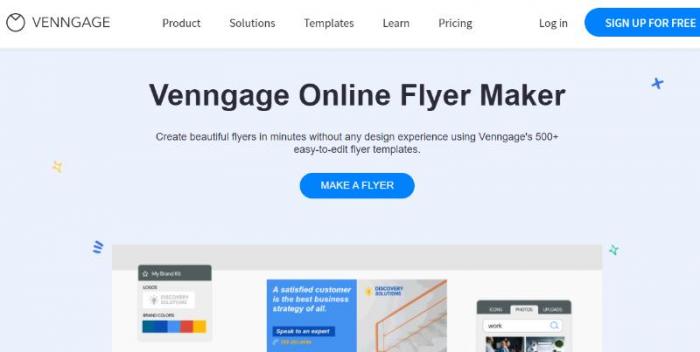 Pros:
You can make a flyer in addition to posters, menus, certificates, and many more.
It is an amazing app for businesses and teams because of its many collaboration features.
Good app design.
Cons:
Can have better templates.
Need an account to make a flyer.
How to Make Flyer Clearer with VanceAI
Now that you know how to make a flyer as well as the apps for making flyers, it is also important to ensure that your flyers are of high quality. For that, VanceAI and its tools are the ideal choice.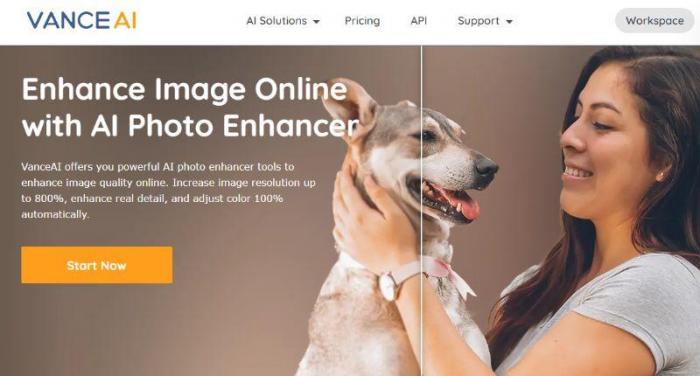 VanceAI is an online image editor and enhancer that provides a huge list of tools that are all powered by AI, Machine Learning, and other appropriate algorithms to offer you the best results. With tools such as VanceAI Image Enlarger, VanceAI Image Sharpener, etc you can enhance the quality of your flyers and photos significantly. Apart from that, you can also use creative tools like VansPortrait, Toongineer Cartoonizer, and more to give your flyers or photos a completely new look.
1. Click on the link given in the header to access the official site of VanceAI. From there, scroll down and click on the AI Super HD option. This will take you to the VanceAI Workspace.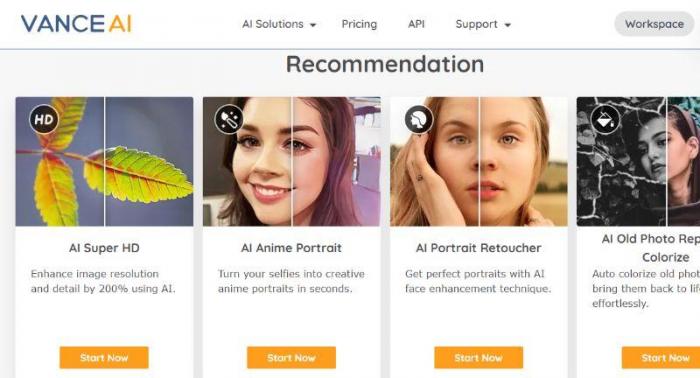 2. Click on the upload button to select an image for uploading. You can also drop an image there directly. Next, click on Start to Process to proceed ahead.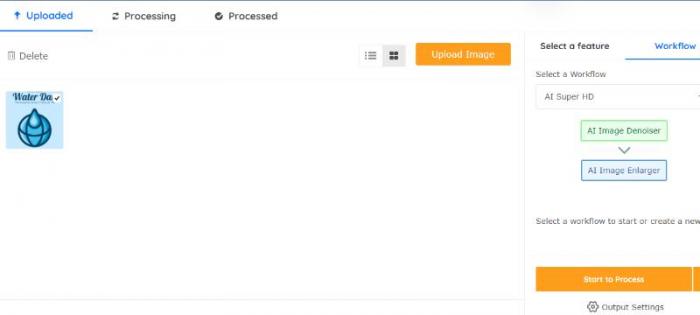 3. Go to Processed and click on the Preview icon on the right. Use the Download Image option to save the image.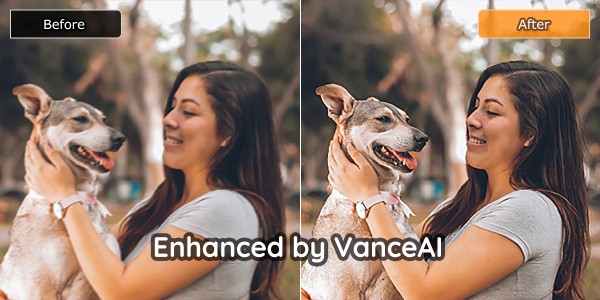 As you can see from the above comparison images, the before image on the left has blurriness and image noise present. This makes the image a bit obscure as you can't see the richness of the colors and the text lacks depth. The after image on the right, after being enhanced by VanceAI's AI Super HD algorithm, has better contrast and the text is much better looking.
Conclusion
With this guide, you know how to make a flyer along with the best tools for it. These six make a flyer applications will offer you with all the tools and features you need for making a flyer and other infographic type visuals. Not to mention that you can also make video and animated flyers as well by using online apps. After making a flyer, you can also enhance them in three easy steps by using VanceAI. With good quality flyers, you can then go on to promote your business and more in creative ways that will surely catch the attention of your audience. Read more: Best Guide to Make Best Retro T Shirt Design